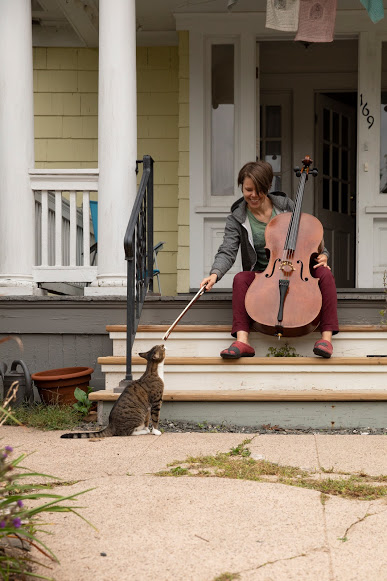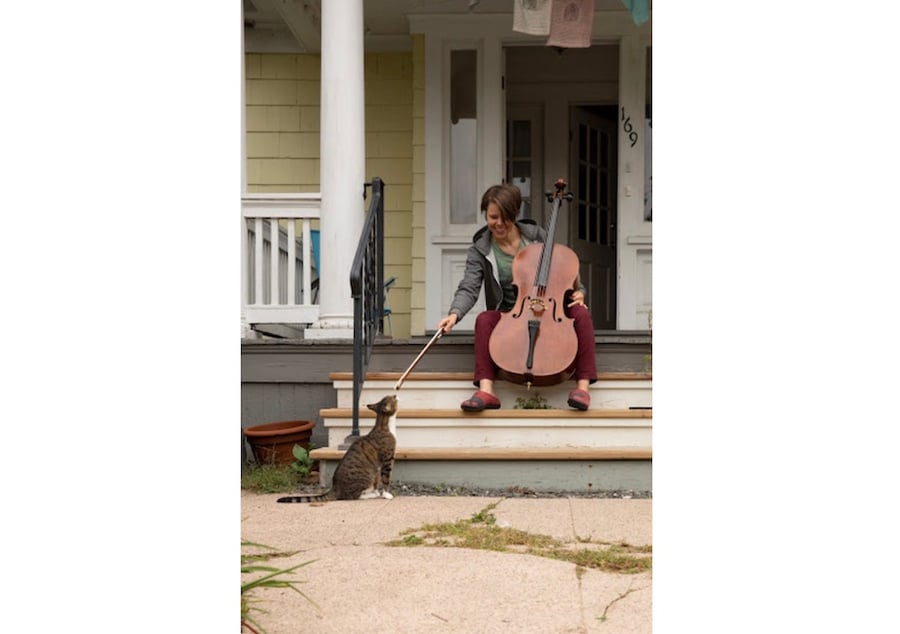 Ravenna Michalsen. Jessica Smolinksi Photo.
A trailblazing Black woman who made music history in the 1930s, then faded largely into obscurity until a surprise discovery of her work in 2009. An abolitionist who became Brazil's first prominent female conductor. A German pianist and educator who is better known for the love triangle between her, Johannes Brahms and Robert Schumann than her mellifluous and enduring footprint.
Composers Chiquinho Gonzaga, Florence Price and Clara Schumann are a few of the names featured in a new six-week Zoom course from cellist and music educator Ravenna Michalsen, who will be teaching on women composers starting this Thursday evening.
Classes are $150 for the full six weeks, although Michalsen said that no one will be turned away for lack of financial ability and that student can join late for $25 a class. There are two sections, running Thursdays from 7 to 8 p.m. and Fridays from noon to 1 p.m. To register, interested participants can email ravennam@gmail.com.
"I was listening to [these composers] thinking, 'Oh man, I wish I could share this with more people,'" Michalsen said. "Then I started thinking, 'Oh, of course I can,' so I structured a class."
The class grew out of Michalsen's own frustration with the classical music world, and how few women composers were recognized. As recently as the 2019-2020 orchestral concert season, pieces by female composers consisted of 8.6 percent of repertoire played by the nation's top 21 orchestras, according to Women's Philharmonic Advocacy.
Following the murder of George Floyd and nationwide advocacy for Black Lives Matter in summer 2020, many orchestral institutions decided to shift gear toward new, diverse voices. Now, pieces written by female composers consist of 15.1 percent of works played during the 2021-2022 concert season.
For Michalsen, the disparity didn't go unnoticed. A musician herself, she decided to learn more about female composers, and took up reading Sounds and Sweet Airs by Anna Beer.
"Over time, I've realized how little we perform and know about female composers," Michalsen said. "I read [the book] and some of them I had never even heard of, which was kind of cool."
Michalsen's class will cover a range of composers over the next six weeks. She plans to start with the Renaissance era—composers like Magdalena Cassano—and go through the Harlem Renaissance with Florence Price. Along the way, she plans to feature the under-told stories of Chiquinha Gonzaga and Fanny Hensel among others.
Together and apart, they tell the story of women pushed to the margins of history because they were women, and sometimes also because they were women of color. Price, for instance, has come to the forefront in recent years after being overlooked for more than half a century. Her work is influenced by the Harlem Renaissance era, when some art critics and patrons, such as Marcus Garvey, believed Black artists should stick to their "African" roots when creating art.
Price, however, lived in the United States her entire life and wanted to portray the Black American experience.
Many compare Price's work to that of composers like Antonin Dvořák, who once lived in Manhattan, but with a flare of her own with Black American influences, such as a Juba lilt, incorporated into her pieces. There's also a New Haven connection: her work will close the New Haven Symphony Orchestra's season with Helen Hagan and Margaret Bonds later this spring.
Michalsen said several composers covered in the course are ones she had never heard of before and found their stories interesting. She looked to Maddalena Casulana, the first woman in Western music to have an original book printed and published, as an example. She also said the course will take a historical approach versus an academic, music theory-heavy perspective.
"I'll definitely talk about what was happening at music in music at that time," she said. "So the late Renaissance Italy, what was happening? Was this woman's compositions out of the ordinary, or was this really in line with what other composers were doing at the time?"
Michalsen said the $150 class will be held virtually so attendees can discover these new composers from their homes without having to drive at night. It is being offered through her own private teaching studio with registration taking place via email at ravennam@gmail.com.