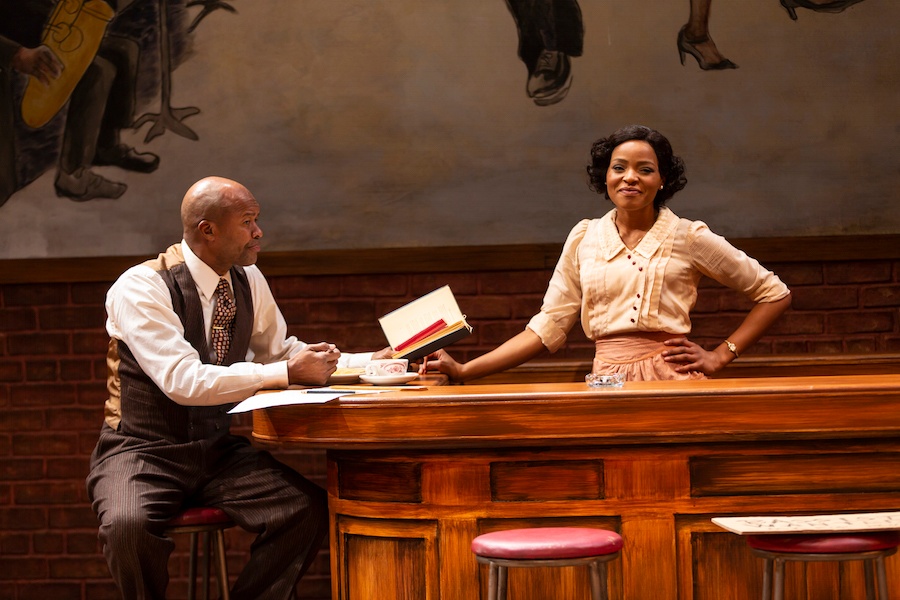 Long Wharf Theatre | Arts & Culture | Theater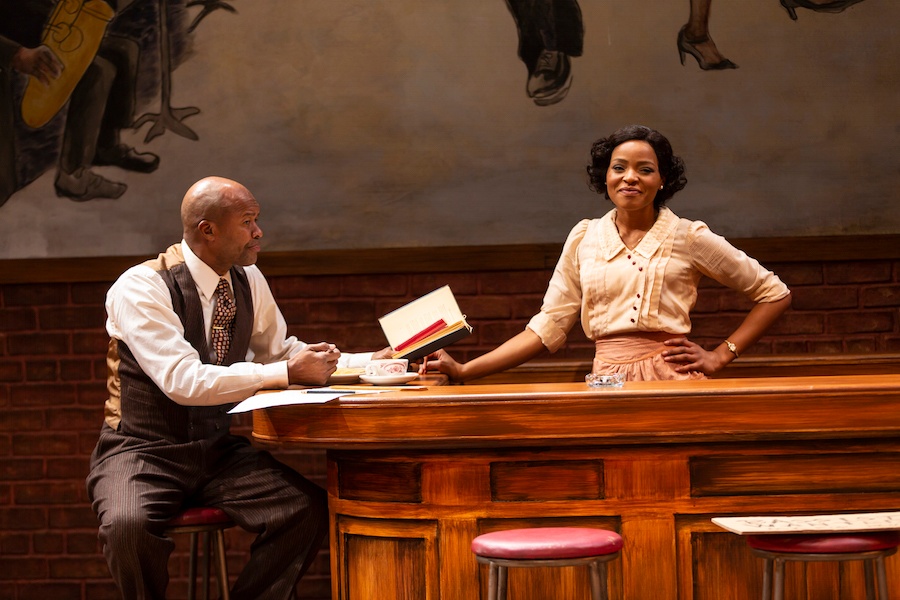 T. Charles Erickson Photos.
Pumpkin is leaning on the counter, watching Corn take bites of his food while it's still hot. Georgia Douglas Johnson spills from her lips like spun sugar. Her voice is a bell: the Paradise Club is clean and quiet as a tomb around them. And she's radiant, even in her day dress and apron.
I'm folding up my little dreams/Within my heart tonight,
And praying I may soon forget/the torture of their sight.
"I know what that Miss Johnson mean," Corn says. "Bury something deep inside so you can forget the hurt of not havin' it."
That hurt is at the core of Paradise Blue, running at Long Wharf Theatre now through Dec. 16. Written by MacArthur Genius Dominique Morisseau and directed by Awoye Timpo, the play tells the story of one American city that is in fact countless American cities, unspooling a history of bias, redlining, and white supremacy one jazz standard at a time. Tickets and more information are available here.
The first work in Morisseau's The Detroit Project, Paradise Blue chronicles life in Detroit's Black Bottom neighborhood in 1949, just a year before the city claimed slum clearance and urban renewal, and razed the area for a section of Interstate 75 and an architectural "superblock" called Lafayette Park. Before that move displaced thousands of families, Black Bottom was a mecca for Black-owned businesses, the jazz-kissed Paradise Valley at its mellifluously beating heart.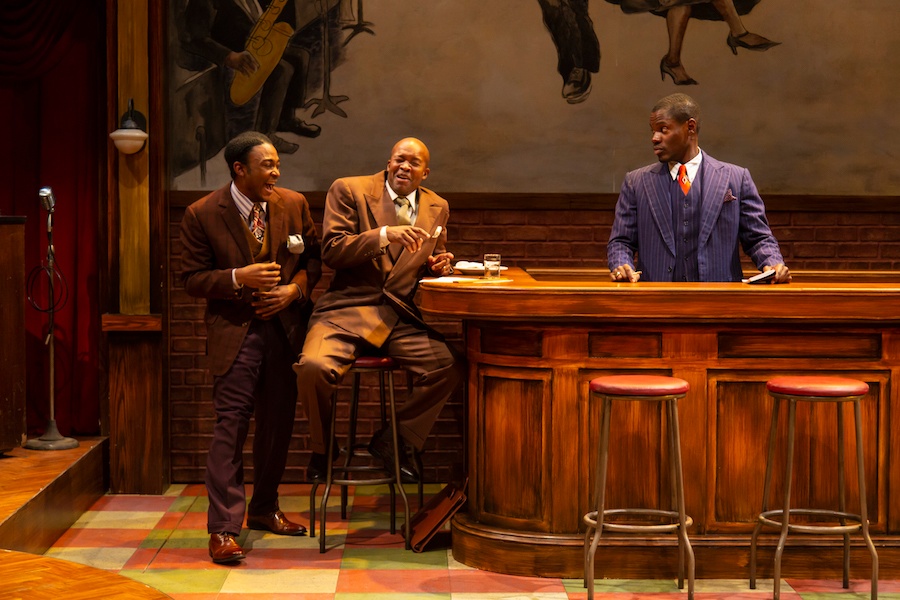 In the play, which takes place inside the neighborhood's Paradise Club, not all of the characters know they're on the precipice of change they can't control. From the moment he steps onto the stage with a trumpet glinting in one hand, it's clear that Blue (Stephen Tyrone Williams) has a sense that something is shifting, vexed by demons that no one else can see.
When he lifts it to his lips, there's a sorrow there, mewling softly before it blooms into a fierce and frightened thing. So too Silver (Carolyn Michelle Smith), a "Creole witch" who rolls in from New Orleans with secrets in her luggage and cash money in her bra. Silver knows exactly what the neighborhood is, and exactly what she wants from it before it goes, and that's what makes her fearsome.
But around them, there's a kind of willing blindness to the neighborhood's imperiled status. P-Sam (Freddie Fulton) and Corn (Leon Addison Brown) have their own aspirations, but they also just want to keep playing, and bury their concern in a can-do attitude that extends to the other jazz clubs. Pumpkin (Margaret Odette) is broken—we count the ways as the play goes on—but she finds that she can disappear into the words of Georgia Douglas Johnson, lyrical queen of the Harlem Renaissance. Even Silver wants to believe that Black Bottom isn't going anywhere, because it's a paradise of its own making.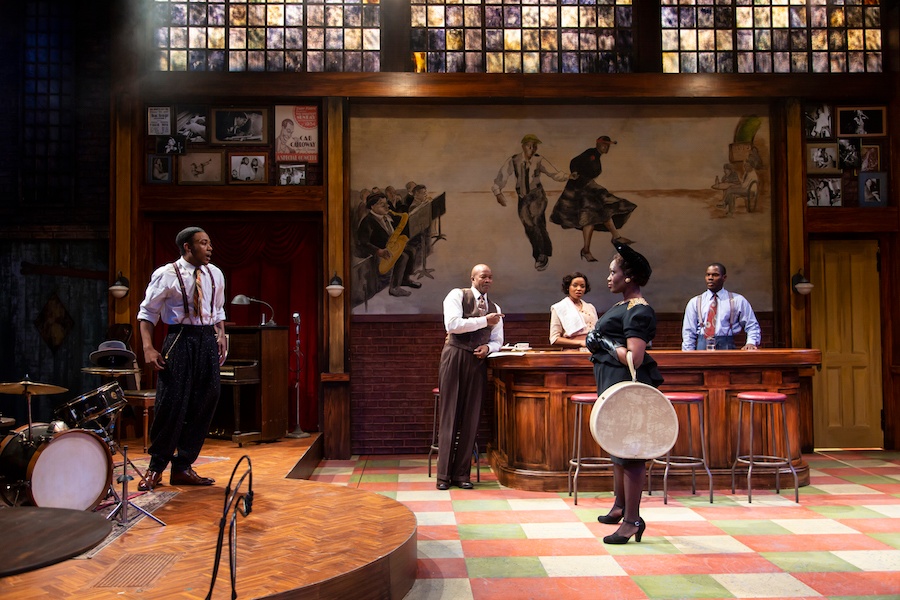 In this cast's hands—and thanks to a spellbinding production team—Morisseau's text is an homage to thousands of elders and ancestors, not only the jazz greats who played at the real life Paradise Theatre, but also the residents of Black Bottom who came out night after night to see them, and the ones before that who grit their teeth migrating North for better work and the promise of equitable pay.
Set designer Yu-Hsuan Chen has delivered a tour de force that is this group's sanctuary, with a two-story set that gives us a whole picture of what the Paradise might have been in its heyday. On either side are windows that glow blue and purple with text, heaven-kissed when they vibrate with dusk or crepuscular blue light (a deep nod to lighting designer Oona Curley, whose sense of drama and sublimity is literally pitch-perfect).
As Blue, Williams gives a devastating performance, his whole body overcome by a madness only history can know. There is a fire in his brain, but we see it in all of him—the lift of his arms each time he plays, sudden arch of his spine, the way his head cocks back, and freezes when Blue thinks he sees a ghost. We learn, through Williams, how much a man's voice can rise and catch when he is angry, and wail and plea when he is scared.
Brown's Corn balances him out, even-keeled and paternal, but still young enough for his own desire to be reawakened. Alongside him, P-Sam, played by a particularly eager Fulton, fills the stage with his presence.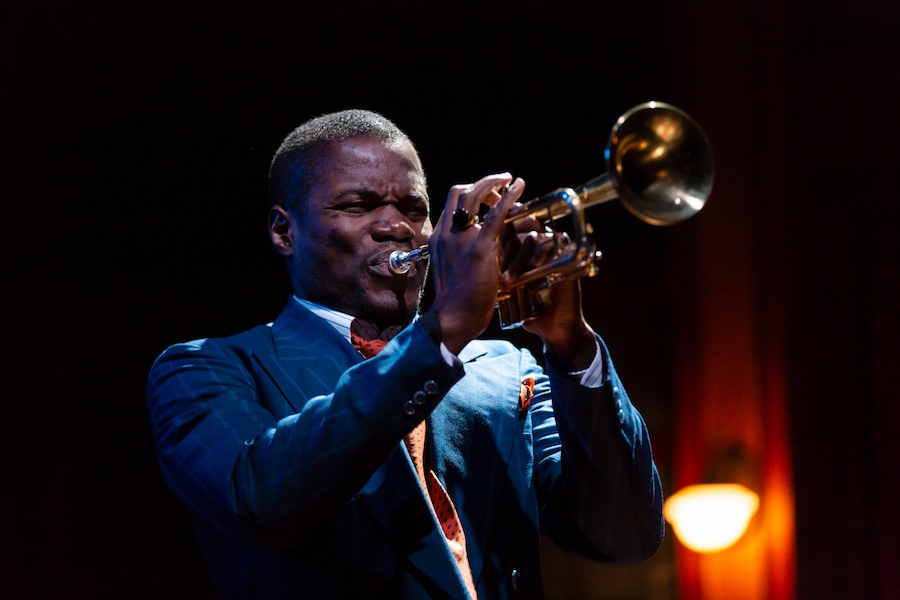 Talking a page from Smith—who is far more nuanced when she does it—Fulton seizes on Morisseau's sense of comedy. But he also speaks truth to power, in a way that transcends time. When he tells us, for instance, that Black Bottom "is the only place where I can be a percussion man before being colored," it's hard to think about how little has changed in the years since, where music venues may be fully integrated, but second-class citizenship remains a pervasive force.
But the play's propulsion, and so much of its pain, comes from its leading women. As she takes on Pumpkin, Odette is mesmerizing—bird-boned and mistreated by her man, but so bowled over by his talent that she's learned to mistake it for love. She's weak until she's not. On stage, Pumpkin's love for language suffuses every fiber of Odette's being, pure poetry in her performance. There's no mistake that it is in words—in this case, the words of another woman—that she learns what she must do.
As Silver, Smith is so expressive that she could do the show without any words at all, and still convey 99 percent of what needs to be said. But her voice, more melted gold than silver, is a luxurious and steely thing, sealing her fate as a most magnetic kind of outsider, and unlikely teacher to Pumpkin. Paradise Blue is at its most dynamic during their exchanges with each other, tinged with fear and longing, but also the kindness of women helping each other, because no one else is going to help then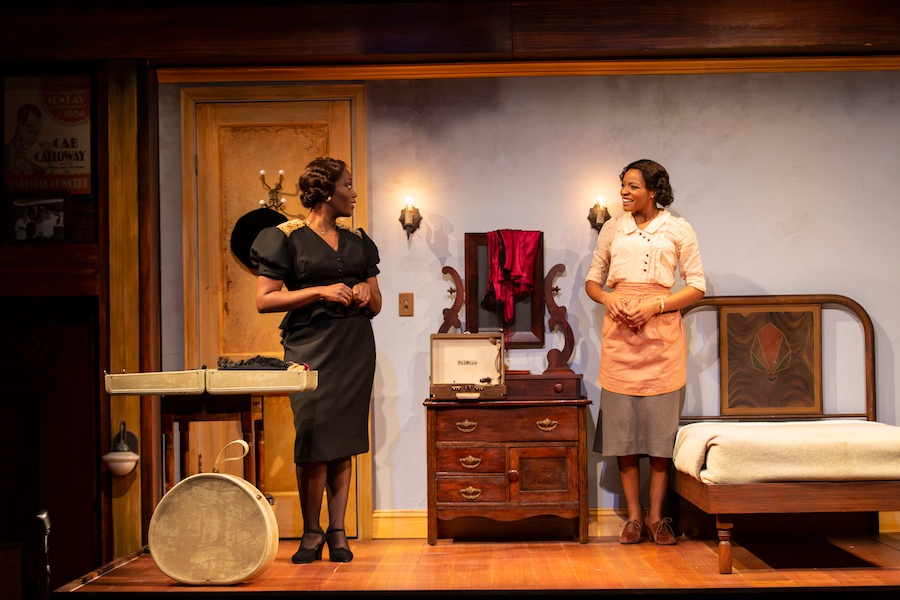 It's a chilling, deeply feeling tribute to a Detroit remembered mostly in the city's Historical Society and public library. A Detroit native, Morisseau writes as if maps of the city are grafted on her brain, piled on top of each other to show seven decades of displacement. The sense of spatially being in Black Bottom is so strong that it has a way of breaking your heart over and over again.
When, at one point, Blue urges Pumpkin to grab her coat and take the streetcar down Woodward Avenue to J.L. Hudson's, it's like the playwright is watching a human heart split in two. The streetcar stopped running in 1956, only to be replaced by a fraction of its original self 61 years later. Hudson's closed in the 1980s and was demolished in 1998, with enough dynamite to leave downtown in a cloud of dust for days. The site is now a planned mixed-use development, with 912 soaring feet of space and huge glass windows.
But it's a heartbreak—a hurt, Douglas would say—that is subtle and full of humor and feeling and life. Together, characters let us feel the full weight of history as it continues to unspool. And to ask, as Pumpkin does, what is the way to put a full stop to this madness, and just continue making it to another day?