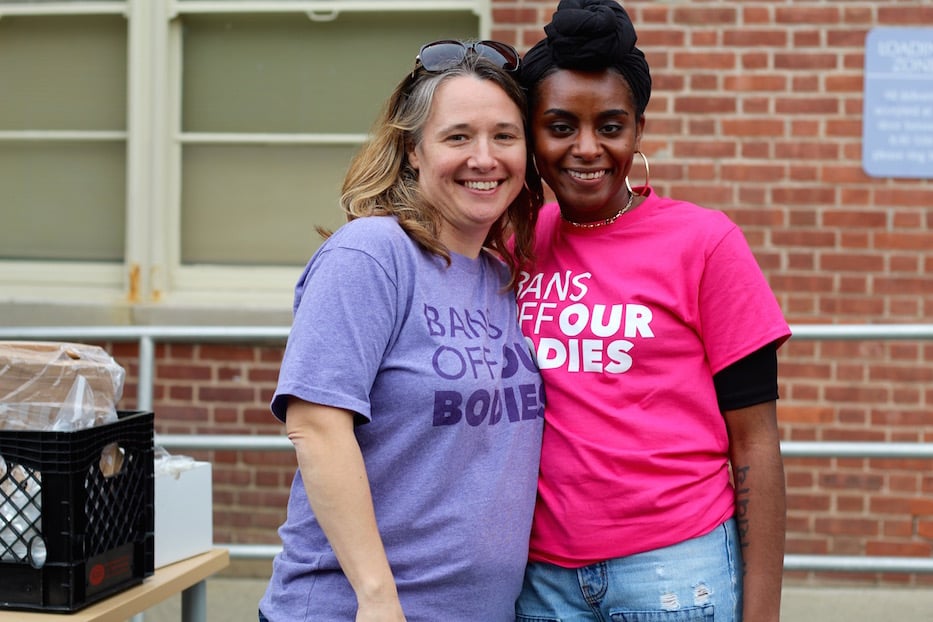 Culture & Community | East Rock | Planned Parenthood of Southern New England | Politics | Arts & Culture | Abortion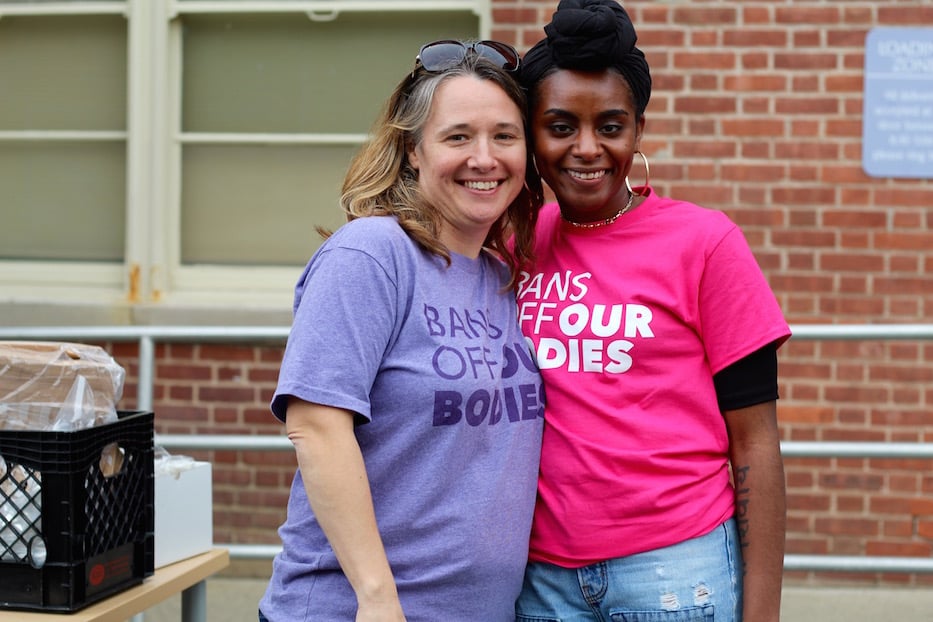 PPSNE's Erika Ulanecki and Sorceres Rivera-Tamarez. Lucy Gellman Photos.
Sorceres Rivera-Tamarez doesn't regret her abortion. Now, she's telling her story—and fighting for reproductive justice—as a way to harness collective power for millions of Americans whose rights hang in the balance.
Wednesday evening, Rivera-Tamarez was one of four dozen people to attend "Bans Off Our Bodies Volunteer Night," an artmaking and letter-writing workshop in the parking lot of Planned Parenthood of Southern New England (PPSNE) at 345 Whitney Ave. In the wake of the U.S. Supreme Court's leaked draft opinion on Dobbs v. Jackson Women's Health Organization last week, PPSNE dedicated the evening's activity to poster painting, chalk art, and writing 247 "love letters" to abortion.
That figure—247—is the average number of miles a pregnant person must travel in Texas to access a safe and legal abortion. In 2017, a study from the Guttmacher Institute found that pregnant people in other states, from California to the Great Plains, may be traveling anywhere between 180 and 393 miles one way for an abortion. Tim Yergeau, director of strategic communications at PPSNE, said that the notes may become an installation at the Whitney Avenue office, or at one of PPSNE's 14 satellite locations in Connecticut and Rhode Island.
"Someone said recently to me that words are tools, and necessary in this moment," said Rivera-Tamarez, PPSNE's Volunteer Service Specialist, a position she has been in for four months. "The laws reflect, namely, the politicians who are writing them. History belongs to all of us. The way that we are remembered is by sharing our stories, letting others share our stories, even if you're just speaking those stories."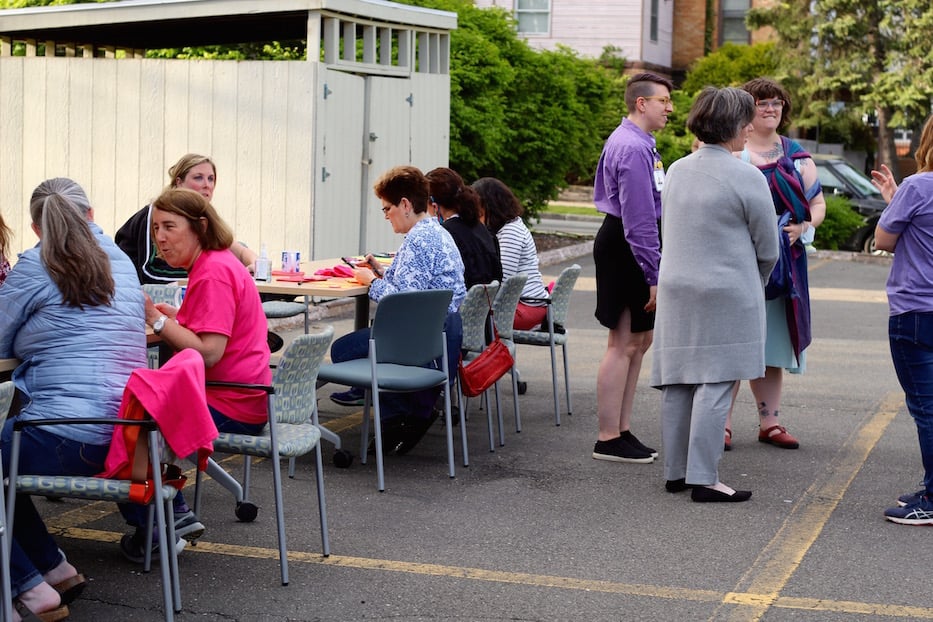 It has compelled her to start sharing her own story. Rivera-Tamarez was born in Puerto Rico, and spent the first years of her life in the Dominican Republic. When she was six, she moved to the U.S. with her mom and brother. The three settled in Torrington, a town of roughly 35,000 nestled in Litchfield County. While it was and still is very white demographically—and very red politically—"my childhood was phenomenal," Rivera-Tamarez said. She and her family lived in High Woods, low-income housing where they were surrounded by other Dominican families. "Within that community, everyone looked the same."
That became harder when she was 12, and moved to a largely white middle-class neighborhood in Torrington (her neighbor, a Trump voter, later told her family he thought the value of his house would fall after they moved in). In her home, abortion "was never named," she said. While she knew that multiple women in her family had sought abortion and other reproductive care, the word itself was always a euphemism, shrouded in a deep darkness and described in terms of sacrifice. Years before her own choice to get an abortion, "it created these emotional land mines" with her mother. Rivera-Tamarez never knew exactly where they were, and always risked stepping on one.
As she got older, Rivera-Tamarez developed an interest in constitutional law that is still propelling her studies today. At 22, she enrolled in Northwestern Connecticut Community College as the first step in pursuing her goals of becoming a lawyer. Outside of school—where coursework often kept her up until two or three in the morning—she was in a consensual relationship with a partner whom she loved and trusted.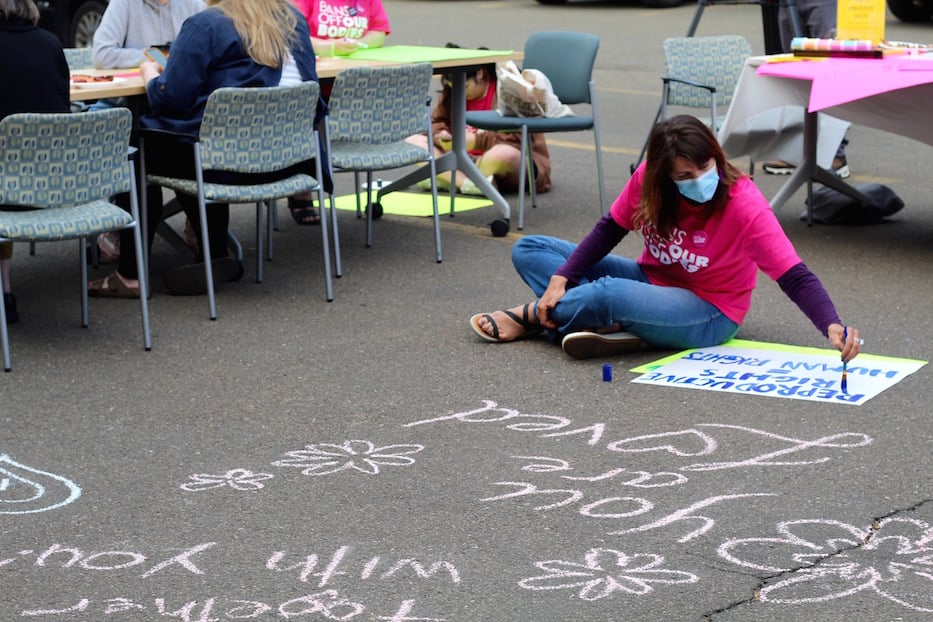 Then in the summer of 2019, Rivera-Tamarez returned from the Oxford Consortium for Human Rights and was living at home when she discovered she was pregnant.
Initially, "I wanted the baby," she said. "I named that baby. I wrote poetry for that baby." She figured out an adult housing situation at school, where she could live with other parents who were also students.
"And then someone said to me: 'How are you gonna be constitutional lawyer with a baby?'"
It was a crystallizing moment. She looked at the country to which her mother had been so proud to immigrate—ostensibly the greatest country in the world, she said—and saw a place that had very little infrastructure for parents, particularly women (this was before Covid-19 pushed millions of moms out of the American workforce). Around her was a nation that championed babies—and lauded mothers—but did not provide reliable postpartum and early childhood care. While Rivera-Tamarez has always wanted to be a mother—"and I know I'm going to be a mom," she said—she realized that she didn't want to become a mother before she was ready.
After ending her pregnancy safely, she remembered feeling "the madness that happened after the abortion." No part of her regretted the decision, she said—and she was still angry at a country in which her choices felt so constricting. Right now, she does school work until two or three in the morning, and then wakes up to get ready for work at PPSNE at 5 a.m. There isn't space—yet—to be the kind of parent she wants to be.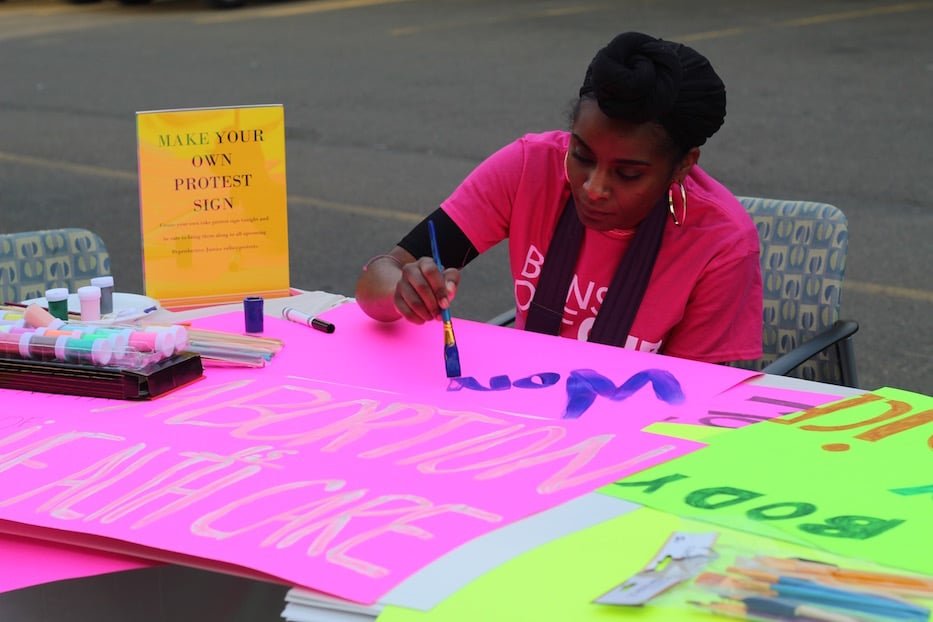 Her story comes in the same week that the Connecticut legislature voted to delay the state's baby bonds program, focused on narrowing its massive racial wealth gap. Wednesday, she spoke just hours after Senate Democrats lost a vote to codify Roe v. Wade.
"If I want this thing so badly, and I live in, quote unquote, 'the best country in the world,' why can't I have it?" she said. "It became a thing of, 'Maybe I'm not good enough for this child.' It was a maddening time. I couldn't reconcile what we're taught about this country and the reality."
When she read the leaked draft opinion last week—the same opinion in which Justice Samuel Alito acknowledged the possibility of fetal personhood and cited a seventeenth-century judge who was also a proponent of witchcraft trials—anger coursed through her body. She thought back to watching the 2018 confirmation hearings for Justice Brett Kavanaugh. Through the anger, another feeling seeped in.
"I was like, 'Is this it?'" she recalled. "Is it worth it? What am I fighting for? Does it matter?"
That line of questions gave way to resolve. Her answer was unequivocally yes.
"This matters more than ever now," she said. "People talk about, like, a 'Post-Roe' world. I've never felt like it was 'Post." It just feels like, now we know the truth. It's just a continuation of the work that we've been doing consistently. Except now we know exactly what the folks who are against us are thinking of doing."
"It's About Humanity"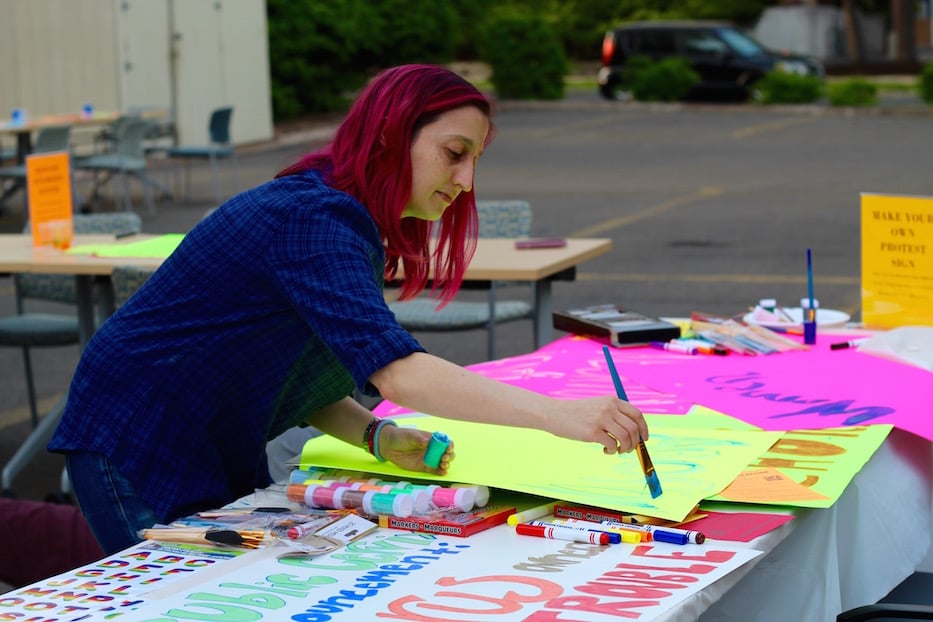 Lynda Paul: "You cannot be forced to be life support for someone else."
The volunteer night—and marches planned in Hartford and across the country for this weekend—come at a time when Connecticut has become a legislative trailblazer in abortion access. During the most recent legislative session, Gov. Ned Lamont signed Public Act 22-19 (also called the Reproductive Freedom Defense Act), which extends protections to medical providers and patients who come to Connecticut from states in which abortion is no longer legal.
In addition, it allows "qualified advanced practice clinicians"—nurse-midwives, advanced practice registered nurses (APRNs), and physician assistants—to perform a first trimester aspiration abortion. Prior to this session, and despite the fact that the state codified Roe v. Wade in 1990, only a physician could perform that procedure. It meant that even though pregnant people could access abortion, they were sometimes waiting two weeks for an extremely time-sensitive procedure.
One in three pregnant people don't discover they're pregnant until after six weeks—halfway through the first trimester, and the cutoff in Texas—according to the research group Advancing New Standards in Reproductive Health (ANSIRH). One in five, or 20 percent of all pregnant people, don't realize they're pregnant until seven weeks or later.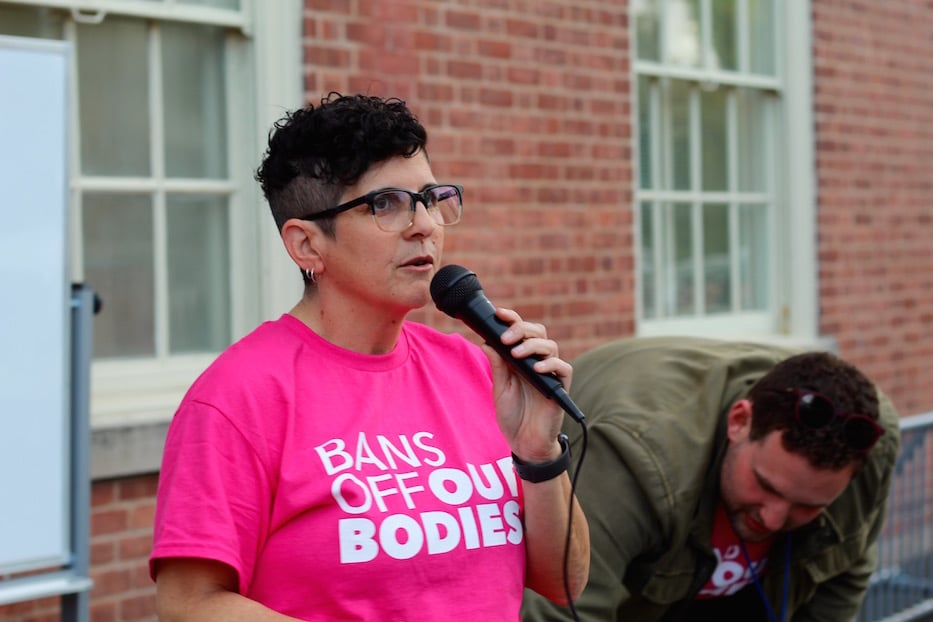 Gretchen Raffa, vice president, public policy, advocacy and organizing at PPSNE.
"Even in Connecticut, patients are facing barriers to care," said Gretchen Raffa, vice president of public policy, advocacy and organizing at PPSNE. Just moments earlier, she had gotten attendees' attention with the call-and-response "Abortion is healthcare! Healthcare is a human right!"
"I've cried a lot in the past week," she continued. "But it's moments like this that I know we have the power to win."
With fellow members of PPSNE, Raffa handed out blank "love letter" templates and information cards with action items, including reaching out to state and federal representatives, talking openly about abortion, and donating to abortion funds across the country. She stressed the importance of directing resources to the funds, many of which are providing lifesaving care in states where abortion access has become nearly impossible.
Abortion funds are grassroots, typically not-for-profit initiatives that raise money for people seeking to terminate their pregnancies. They cover not only the cost of an abortion—which alone can be hundreds to thousands of dollars—but also transportation, lodging, and childcare. As of 2019, the Centers for Disease Control and Prevention reported that 60 percent of people who seek abortions already have at least one child.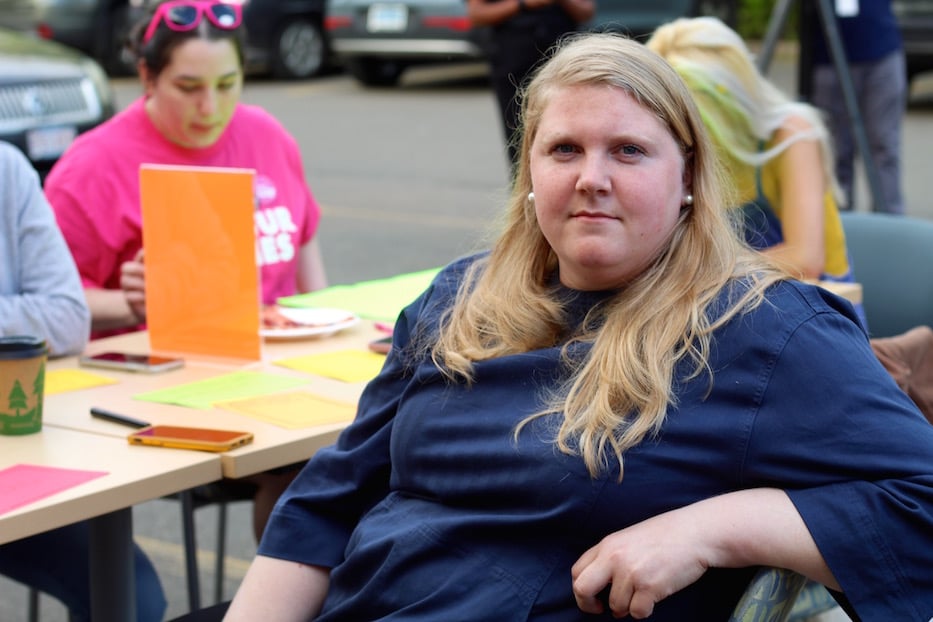 Xanthe Hilton.
Volunteers fanned out across several long white tables, several working their way through a stack of love letters. Xanthe Hilton, who drove from Torrington for the event, carefully wrote out the words You are loved/Stay strong on one. Originally from a very conservative part of Pennsylvania that she described as "Pennsatucky," Hilton ranks reproductive choice among her top priorities as a voter. For her, "it all comes down to autonomy," she said.
Now in her thirties, Hilton first learned about abortion when she was seven years old, and heard the term "pro-life" for the first time. A curious kid, she remembered asking her mom "why anyone would be against life," she said. Her mom explained that it was a false dichotomy: you could be pro-choice, and still respect life. In her case, her mom believed in a person's individual right to choose what to do with their body. "And that's the answer I come back to," Hilton said.
In college, Hilton volunteered for a chapter of a pro-choice organization, proudly sporting a pin that read "Never Go Back." She went on to work as an organizer for the American Federation of Teachers (AFT) and the Democratic Party of Georgia. As an "aspiring educator" and volunteer at her local arts council, she said she felt angry, then inspired to do something, after reading the leaked draft opinion next week. She turned to Planned Parenthood, which has provided her with safe reproductive care for years.
"Millions of women will lose access to care," she said, starting to cry. She added that she wants to see "access to care in a judgment-free, safe space," rather than the opposite.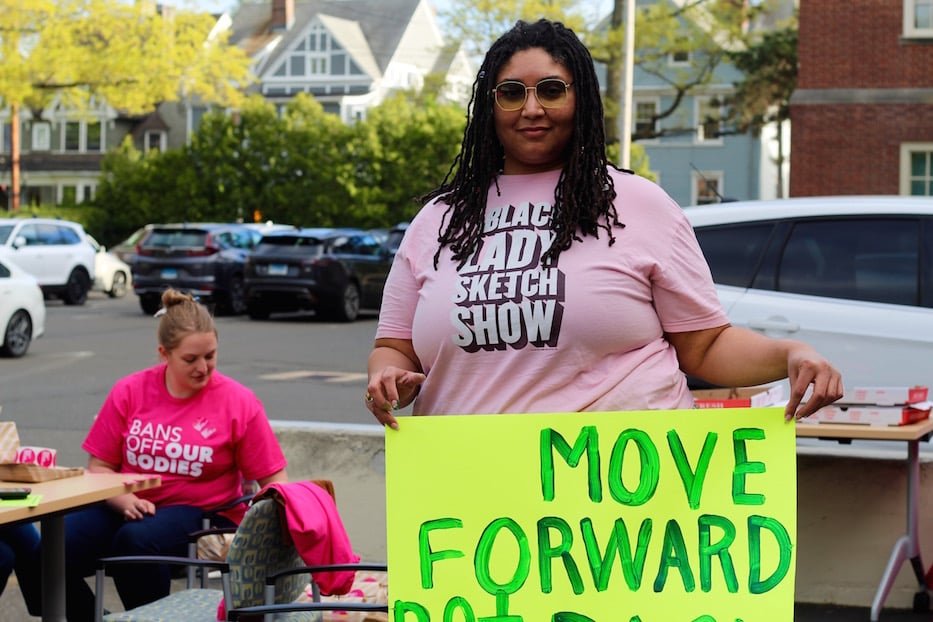 Milford resident Alyce Coleman: "It needs to be something we can talk about commonly."
Working on a sign that read Move Forward/Not Back—with the O and T connected as a female♀ gender glyph—Milford resident Alyce Coleman said she wasn't surprised when the draft opinion came out last week ("Hillary Clinton told you this was gonna happen," she said), but still wanted a space to be in community with fellow reproductive advocates. On Wednesday, which marked her 43rd birthday, she found it in a parking lot off Whitney Avenue.
Growing up, Coleman said, she knew she never wanted children, and was careful to practice family planning as part of her life. In her 20s, she relied on Planned Parenthood for reproductive care, from her first pap smear to annual checkups. Now in her 40s, she wants to see an end to the stigma surrounding abortion, even as the country seems to move in the other direction.
"It needs to be something we can talk about commonly," she said. "We need to be more open in our discussions about this."
As Coleman completed her poster, chalk designs bloomed across the parking lot. More attendees rolled in, some with strollers and sun-dappled toddlers curled up in slings on their backs. A few volunteers walked around with their young kids, stopping to admire chalk flowers or bright pink "Bans Off Our Bodies" t-shirts that sat piled by the building's back door.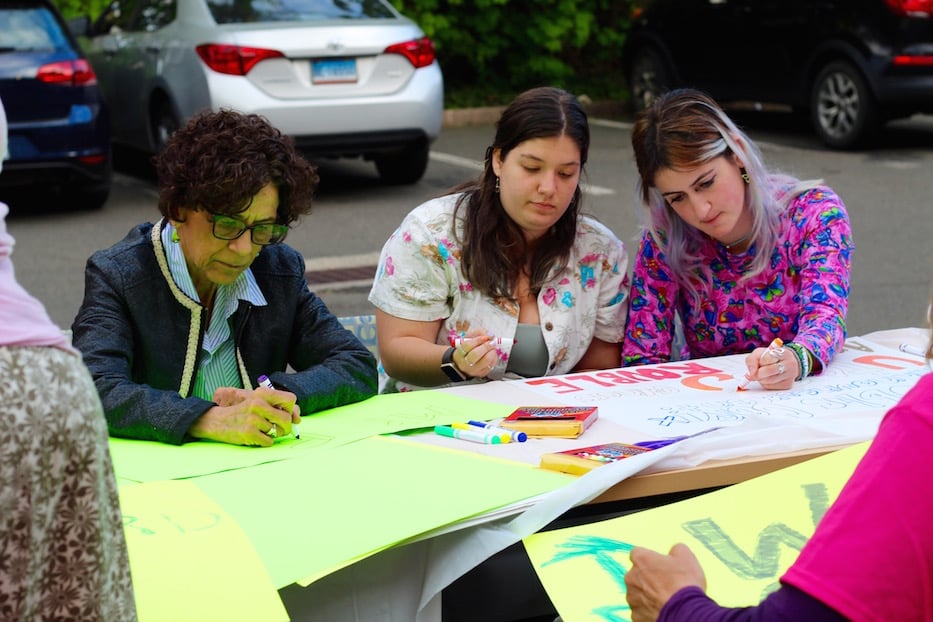 Nearby, longtime friends Jordan Mallis and Naomi Listokin worked on a large poster together, filling in the words "Public Cervix Announcement" with magic markers.
Growing up in Stamford, Mallis and Listokin learned about reproductive health not in the classroom, but from friends in PPSNE's peer education program, which is called STARS (Students Teaching About Responsible Sexuality). Mallis, who just finished her freshman year at the University of Connecticut, remembered watching a friend draw and label a vagina in the snow, pointing out its different parts and describing the function of each. The same friend taught her how to put on a condom safely.
Both were at their respective schools when Politico first published the leaked opinion last week. Listokin, who is studying at American University in Washington, D.C., went down to the U.S. Supreme Court to express her frustration. She remembered being surprised—and then upset—by the number of anti-abortion protesters who also showed up to celebrate the decision.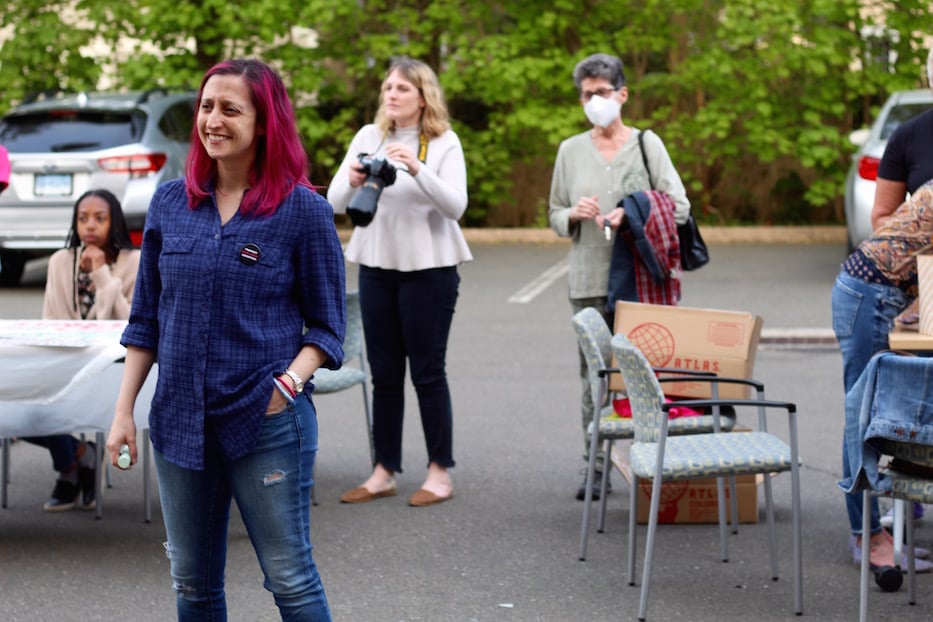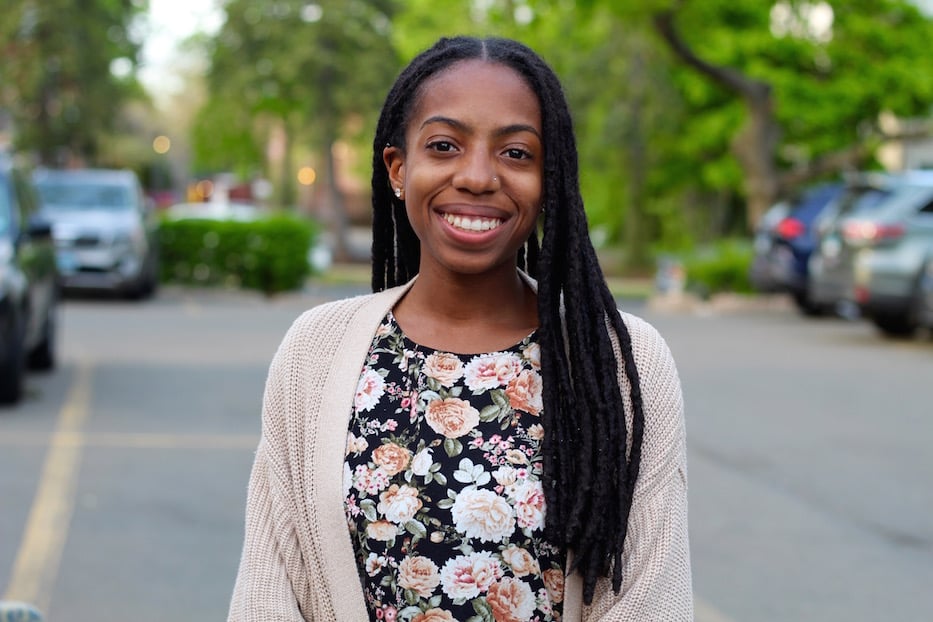 Top: Lynda Paul. Bottom: Vanessa Brown.
One table over, multimedia artist Lynda Paul said that she felt despair, followed by "extreme urgency," when she saw the draft opinion last week. A dramaturg, public historian, and educator at Yale—as well as a mentor to LGBTQ+ youth—Paul described "watching this amnesiac relationship with history that this country seems to have."
"It's about humanity and human bodies," she said, "You cannot be forced to be life support for someone else."
On her way out, preschool teacher Vanessa Brown said that the event helped her address "lots of anxiety, nervousness, fear, and anger" that she has been feeling since last week. When she thinks about access to safe, legal abortion, she's thinking not just about herself and her peers, but the families she works with every day as an educator.
"I think it [her anxiety] comes from the worry that overturning Roe won't be the end game," she said. "Where does it end?"
This weekend, action continues with "Bans Off Our Bodies" protests across the country, including one on the New Haven Green Saturday, May 14, from 10 to 11 a.m. and in Hartford on Sunday, May 15, from 12 to 2 p.m.