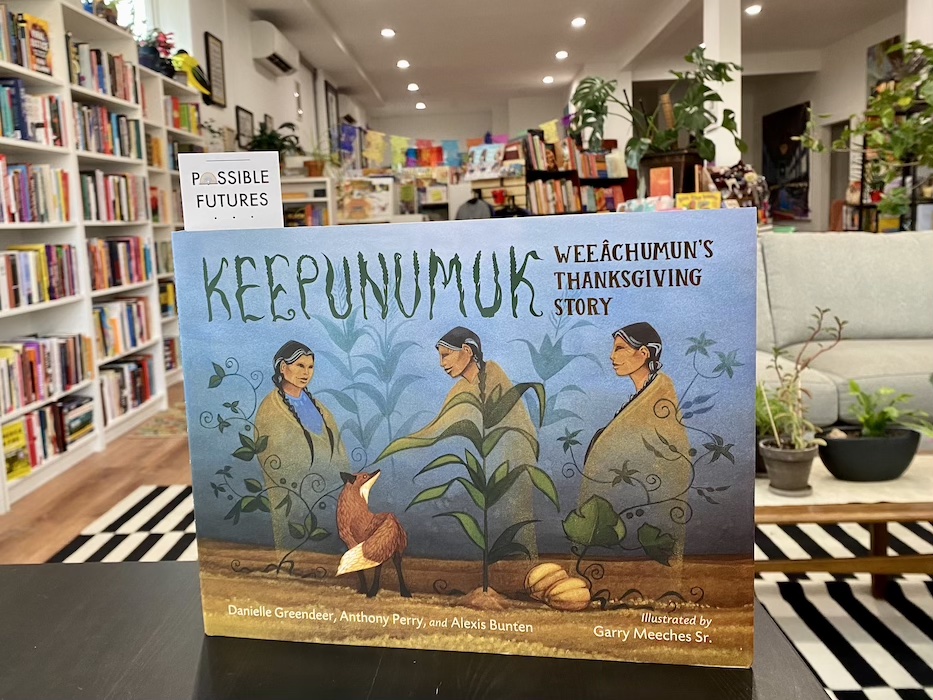 Books | Culture & Community | Arts & Culture | Arts & Anti-racism | Possible Futures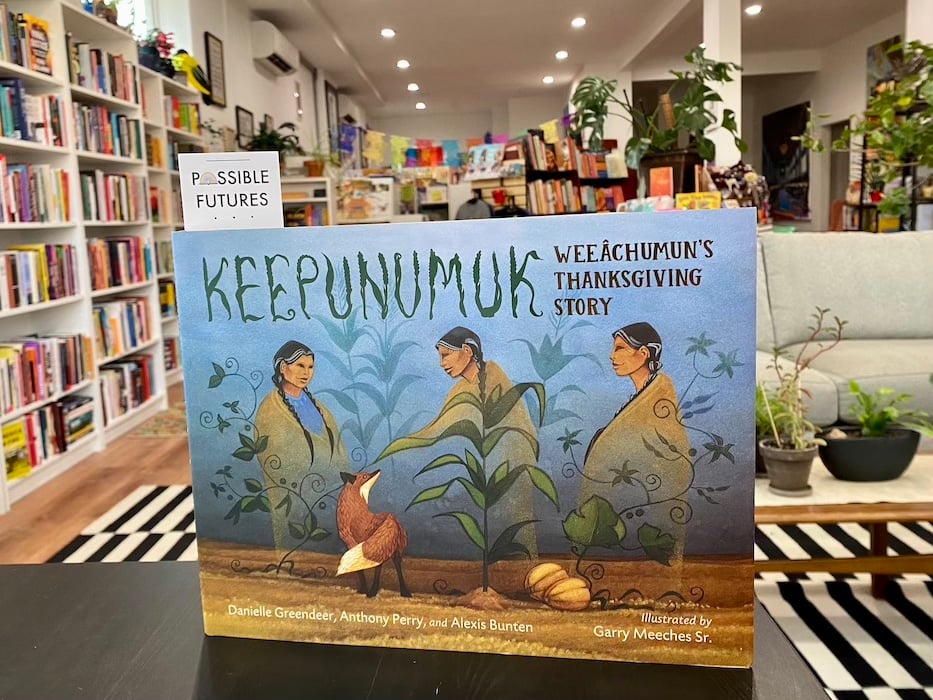 Lucy Gellman File Photo.
The following was submitted by Lauren Anderson of Possible Futures bookspace at 318 Edgewood Ave.
Possible Futures is rooted in a love of books and how they help us build community. So it's always a special joy to be asked to offer recommendations around a time of year, theme, or community need.
Thanksgiving should be an opportunity for reflection, contemplation, and connection. The selections below are ones that can help to cultivate a historically situated and place-based sense of gratitude, keeping in mind and in heart the generations that have come before us and will continue long after we have gone.
The list below includes some recommendations offered in previous years, but still relevant as ever, and some beautiful new additions.
Reading and sharing what we have read is a sacred part of how, to quote one of the authors below, "we hold each other up" and, in so doing, enrich our own lives and make our shared world a better place. May this list do just a small bit of that for you.
You Hold Me Up / Ki Kîhcêyimin Mâna
By Monique Gray Smith, Illustrated by Danielle Daniel
A bilingual book about love, reciprocity, and the way our relations feed us. Written in Plains Cree and English with a simple color block palette, its text and images offer a clarion call to recognize our common humanity. With brevity and care, the author's note explains the specific (Canadian and First Nations) context from which the book emerges; that said, the issues it addresses via themes of healing, reconciliation, and love are applicable beyond borders.
Berry Song
Text and Illustrations by Michaela Goade
A lush new offering from author and illustrator Michaela Goode, a member of Tlingit Nation. Centered around meditative exchanges between a child and her grandmother as they listen and respond to the natural world, its simple story carries lessons of gratitude, humility and reciprocity – "we speak to the land as the land speaks to us; we take care of the land as the land takes care of us; we are part of the land as the land is a part of us."
Keepunumuk: Weeâchumun's Thanksgiving Story
By Danielle Greendeer, Anthony Perry & Alexis Bunten; Illustrated by Garry Meeches, Sr.
A beautifully illustrated Wampanoag telling of what really happened at the first "Thanksgiving," featuring grandchildren learning from their grandmother about the story of Weeâchumun (corn) and its sacred relation to other aspects of the natural world, including human beings. The trio of Indigenous authors are citizens of different tribal nations, but united in their invitation to readers "to be a part of shifting the Thanksgiving narrative to honor Indigenous perspectives."
Be A Good Ancestor
By Leona Prince & Gabriella Prince; Illustrated by Carla Joseph
A lovely and profound book about what it means to be a good ancestor, to consider how one's actions connect to larger cycles of life and death, and how our choices impact future generations. For example, "Thoughts become ideas / Ideas become actions / Actions become movements / Movements become change" What then will each of us think, do, move, change with our choices?
We Are Grateful / Otsaliheliga
By Traci Sorell, Illustrations by Frané Lessac
A vibrant picture book that focuses on expressing gratitude - otsaliheliga (oh-jay-LEE-hay-lee-gah) - as an essential aspect of daily, yearly, lifelong existence. Written by an acclaimed children's author and member of the Cherokee nation, the text traces gratitude across the seasons, incorporates Cherokee words, definitions and pronunciations, and explains in the author's note the importance to Sorell of being able to present "a contemporary view of Cherokee culture" from the perspective of those who know it and live it.
Thanku: Poems of Gratitude
Edited by Miranda Paul, Illustrations by Marlena Myles
A timely and gorgeously illustrated collection. It puts gratitude, and poetry, in broad context. Its poems, by a diverse group of beloved poets, speak to the mundane and the major things - from dinosaurs, to the dear sky, to puppies, family members and friends - for which we have good reason to give thanks. The anthology is also a teaching tool with different poetic forms briefly explained and exemplified throughout.
The People Shall Continue
Text by Simon J. Ortiz, Illustrations by Sharol Graves
Back in 2000, the only copy of this classroom essential—originally published in 1977—that I could find was a library castoff. Thankfully, Lee & Low Books, a celebrated family-owned, multicultural publisher that has long advocated for greater diversity in children's literature, printed a 40th Anniversary Edition and included an open-access teacher's guide, too.
The 2017 reprint is a vibrant, affordable paperback version of this classic by beloved poet Ortiz and collaborators. Written in poetic prose, and available in English and Spanish, the text celebrates Indigenous peoples' survivance in the face of systemic oppression and includes a lyrical yet straightforward account of histories that are otherwise rarely told in U.S. schools.
If You Lived During the Plimoth Thanksgiving
By Chris Newell; Illustrated by Winona Nelson
Debut nonfiction for young readers by Chris Newell (Passamaquoddy), who many in Connecticut know from his wonderful work through Akomawt Educational Initiative. With middle graders and young adults as its audience, the book provides an account of the arrival of English colonists to the region where the Wampanoag had been living for thousands of years and covers events leading up to the creation of the holiday called "Thanksgiving," as well as its subsequent evolution. The voice and illustrations (by Nelson, a member of the Leech Lake Band of Minnesota Chippewa) make this an accessible, informative resource.
An Indigenous Peoples' History of the United States for Young Readers
By Roxanne Dunbar-Ortiz, Adapted by Jean Mendoza and Debbie Reese
A resource for young readers (of all ages) that honors them with its handling of serious content. Adapted from its American Book Award winning counterpart for adults, this is a perfectly appropriate read for those long out of their tween years, too. It integrates definitions, archival images, maps, reading recommendations, and topical sidebars to engage its audience and ensure that its disruption of "discovery," critical appraisal of the "American dream," and myth-busting writ large are as substantiated they are compelling.
Imaginary Borders
By Xiuhtezcatl Martinez
One of the latest publications in the "Pocket Change Collective." This small but mighty essay by Indigenous environmental activist and hip-hop artist Xiuhtezcatl incites deep appreciation for those taking urgent climate action, calls all readers to reconsider their relationships to environmental justice efforts, and compels each of us to move more and quickly in the direction of this shared human concern.
Our History is the Future
By Nick Estes
A perfectly titled text that zooms in to tell the story of the resistance efforts at Standing Rock in 2016, and scopes out to place those ten months in the longer, larger history of anticolonial struggle and native survivance. Its prologue opens by juxtaposing the "stock" story of Thanksgiving against Thanksgiving 2016, "a bitterly cold night at a Wyoming gas station off I-80," which the author spent "among a half-dozen other cars loaded with camp supplies and Water Protectors," en route to Oceti Sakowin Camp. With proximity and legitimacy, Estes offers an account we will all be better informed for having read.
This Land Is Their Land: The Wampanoag Indians, Plymouth Colony, and the Troubled History of Thanksgiving
By David Silverman
An historical account of Thanksgiving published 400 years later and told with the Wampanoag people at its center. In its pages readers will find: an unraveling of mainstream mythologies; an accounting of Wampanoag survivance rooted in extensive written records; and a contextual grounding that conveys clearly why some Native people and those in alliance with them hold a Day of Mourning on this "national holiday."
The Painted Drum
By Louise Erdrich
The story of a woman, in many ways alone and seeking connection, who takes a ceremonial drum from an estate in New Hampshire with the aim of returning it to its rightful Ojibwa owners. The process requires re-engaging painful memories and reckoning with complex histories (the drum's own, and her family's). This hard work is our work, as humans, Erdrich argues: "Life will break you. Nobody can protect you from that. And living alone won't either, for solitude will also break you with its yearning. You have to love. You have to feel. It is the reason you are here on Earth. You are here to risk your heart."
Erdrich's latest novel, borne of the pandemic, celebrates books, the people who love them, and the relations that form around both. Set in Minneapolis, home to the author's own beloved Birchback Books, it follows Tookie, who turned to reading to survive incarceration and later to a bookstore, ultimately a haunted one, for meaningful work upon reentry. With some distance now between us and the summer of 2020, this story and its complex characters help to remind us what we lost, what we learned to appreciate anew, how we stayed connected, and why those connections remain so vital.
How We Became Human
By Joy Harjo
Given Joy Harjo's recent tenure as U.S. Poet Laureate, so many people will pick up American Sunrise. As they should! It's gorgeous. But so, too, are many of her other, earlier works. This collection is a wonderful introduction, spanning nearly three decades, to a prolific, powerful poet. Some lines from a favorite among its pages: "Remember you are this universe / and this universe is you. / Remember all is in motion, is growing, is you. / Remember language comes from this. / Remember the dance language is, that life is. / Remember."
Living Nations, Living Words: An Anthology of First Peoples Poetry
By Joy Harjo
The companion piece to Harjo's signature Poet Laureate project, which drew together into a "digital map of story, sound and space" the work and words of contemporary Native poets. This dazzling collection reflects the theme of place and displacement, and thus is imbued with pain but also pride, hope, strength and joy. With its interactive components available online, the anthology beautifully introduces the poets Harjo has picked via their poems with accompanying brief biographies and (online) their audiorecorded readings.
Catalog of Unabashed Gratitude
By Ross Gay
Ross Gay - to borrow from the title of his recent book of essays - is one of this world's true "delights." Loving son, enthusiastic sports fan, master gardener, gentle spirit, and unshakable optimist, Gay somehow always manages to find new ways to put the human heart on the page. These poems cover all manner of things for which to be grateful, including ripe figs, friends, feet, and even, "dear reader, you, for staying here with me…" These are poems for the people, for all of us, calling us to slow down, breathe deeply, and shine light on the beauty all around… even, especially, in dark times.
Inciting Joy: Essays
By Ross Gay
What might Gay offer us after delivering a 'catalog of unabashed gratitude' and a 'book of delights'? Joy! This book will stir your soul with its content while woo-ing you with its poetic prose. At their core, these essays are about how life's deepest pleasures arise from caring for one another, whether via the garden, orchard, skatepark, or hospicing of a loved one. They tell us what our hearts already know – that when we break or bruise, shatter or grieve - we have the opportunity to expand into one another in ways that make our lives even more worth living, even more joyful.
Everything, Beautiful: A Guide to Finding Hidden Beauty in the World
By Ella Frances Sanders
This book came into the bookspace via a community member and has called out to so many people from its spot on the shelf since. A mix of meditation, illustration and invitation, it is a gorgeous graphic reminder of the beauty all around and of how we can find it in our daily lives, even when we struggling to do so. Start by slowing down, looking around, listening.
Dawnland Voices: An Anthology of Indigenous Writing from New England
Edited by Siobhan Senier
Drawing 'in' the wisdom of 11 community editors, this multi-genre collection and companion website gathers together classic and contemporary writing from across ten Indigenous tribes of the Northeast: Mi'kmaq, Maliseet, Passamaquoddy, Penobscot, Abenaki, Nimpuc, Wampanoag, Narragansett, Mohegan, and Schaghticoke. The anthology is an education unto itself in terms of offering tribally specific perspectives on our region and its Indigenous histories, traditions, and literary creation.
World of Wonders: In Praise of Fireflies, Whale Sharks, and Other Astonishments
By Aimee Nezhukumatathil
A debut collection of non-fiction essays that teaches about some of nature's "astonishments," and also about beloved poet, Aimee Nezhukumatathil, the daughter of a Filipina doctor and an Indian father, a traveler who has called many and varied places home, and a true lover of the natural world, which her kin and lived experiences have taught her to study, marvel in, and revere. Getting to know Nezhukumatathil through these wandering, wonderful essays brings us closer to awe, and closer to nature, which feels like soul medicine heading into winter.
The Sioux Chef's Indigenous Kitchen
By Sean Sherman
The first lines of another loved poem by Joy Harjo reads: "The world begins at a kitchen table. No matter what, we must eat to live." The centrality of food to our shared humanity and healing is something Sherman, as a chef, caterer and food educator, knows well. This critical cookbook remains a great staple for the holiday season and beyond.
Organized to reflect "where ingredients are gathered with a mind to how most meals progress," it's accessible, lovely to look at, and links our nourishment back to the land and to the legacies of "real food" that the land's longest, loyal stewards offer us all, if we are curious enough to (re)learn.
All About Love: New Visions
By bell hooks
It's always the right season to return to this gift from bell hooks, this manual for living and loving. So much of what we (mis)learn about love takes root when we are young and disserves us, but we are capable of new visions, new horizons in our relationships to ourselves and others. More caring, compassionate futures are possible, and this book – also the first pick for the Radical Thinking Book Club - can help us build them.
Afterward
The above list is by no means comprehensive. It compiles just a few offerings for across the age span, listed in order from child to adult audience (though the so-called "children's books" are appropriate for – and worthy of appreciation by – everyone).
If you're seeking any of these books, most can be found at the New Haven Free Public Library. All are in stock at Possible Futures (open Tuesdays through Saturdays, 11 a.m. to 6 p.m. and most Sundays 12 to 5 p.m.), and other local booksellers like BAMN Books can order them for you, too, if they're not on their shelves.
If you're itching instead for an immediate, accessible, online read, consider starting with Philip Deloria's "The Invention of Thanksgiving" published a few years back in the New Yorker. If you're looking for classroom-related resources, specifically, there are lots to consult, and you could start with the links listed here. And of course, you're always welcome to pop by the bookspace for conversation in community.
Possible Futures is open at 318 Edgewood Ave. from 11 a.m. to 6 p.m. Tuesday through Saturday and 12 tp 5 p.m. most Sundays. For more information, visit the website or follow on Facebook and Instagram.