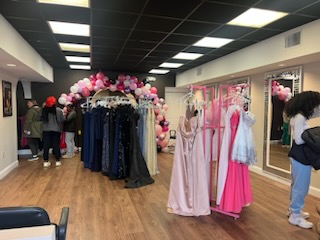 Fashion | Arts & Culture | Cheshire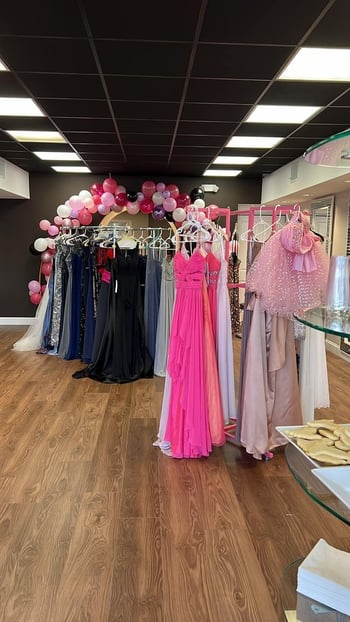 When Maddie Falcone started shopping for a prom dress her sophomore year of high school, the sticker shock didn't take long to sink in. Over three years and one graduation later, she's called in reinforcements to grow her effort—and make sure no one has to choose between a dress and their basic needs.
Falcone, now a student at the University of Connecticut, is the founder of Cheshire's "Prom Closet," a multi-week, free clothing closet that gives new and gently used prom dresses a second lease on life. Now a project of her younger sister, Jillian Falcone, it runs at Allin Hair Studio in Cheshire through March 15.
The Hair Studio is located at 1034 South Main St. in Cheshire, in the former home of Top Notch Cleaners. In the lead up to the closet, which began last month, Jillian collected 125 dresses. That's nearly double last year's 74, in a testament to both community interest and growing need.
"Prom itself is a pretty costly thing," Maddie Falcone said in a recent interview with the Arts Paper. "Besides the whole dress aspect, there's the paying for the dress tickets, the makeup, hair, shoes, nails. I even know some people who rent a limo and get prom pictures."
It all adds up to hundreds of dollars that a family may or may not have. The closet, in turn, is meant to be a glamorous antidote. In February 2020, Maddie opened the first prom closet in a dry cleaning shop, with the early goal of expanding it even as Covid-19 turned the world on its head. For the past four years, it has continued to grow—including in the pandemic. When she graduated from high school last year, she passed the endeavor on to her younger sister.
Jillian gladly took it on, she said. She found an ally in Beth Markette, a colorist and hair stylist who owns Allin. Last month, the two set up the salon as a sort of glammy prom shop, with color-coded racks of dresses, jewelry, assorted sweet treats, raffle prizes, and an arch of pink, purple and white balloons through which people could walk as if they were stepping onto the runway.
As light filled the space, the salon became a dazzling display of silk, taffeta, satin and pastel-colored polyester. To help students out further, Markette offered free hairstyling as a raffle prize. Nobody left empty handed, she said. To the contrary, many of February's attendees told their friends, and word of the closet spread.
"It's a very important event," Markette said in an interview afterward. "Honestly, I think any time you can give back, even in the smallest ways to your community and the communities around you, I think you should do it."
The response has been overwhelming. After dozens visited on Feb. 19, the phone kept ringing with requests to browse and try on dresses. Together, she and Jillian decided to keep the closet running through mid-March. Now, students are invited to drop into the salon and try on dresses anytime during business hours.
For the organizers, it's worth it for the difference they're making—and the dollars they're helping students and parents save. During a try-on session last month, Markette remembered looking over, and noticing a young girl with her hands over her mouth, tears rolling down her cheeks. When Markette came to ask her if she was ok, she exhaled the words "I feel so pretty."
That's what it's about, said Markette. So far, the prom closet has given away over 50 dresses, and the request for more is still growing. While Jillian runs it now, she doesn't expect it to end when she graduates. She joked that her 10-year-old sister is already in line as the sucsessor.
"[Prom closet] helped out lots of girls and made a difference," Jillian said. "They loved their prom dress and were able to receive one for free. Future kids will be able to get dresses and benefit from this event."
It's also the gift that keeps on giving. Each year, millions of prom dresses end up back in a dark closet—where they will stay for years, or forever—after a single wear. Recycling the dresses is not just financially prudent: it's environmentally sustainable. It also helps families save hundreds of dollars that would otherwise go to food, rent, everyday clothes, school supplies, and any number of other things.
It also left an influence on the Falcone sisters. While Maddie is now in college, she said the prom closet convinced her to pursue a career that would help the community. She is now studying speech language and hearing science, both preparation for a career in speech pathology. She is also a part of Cheshire's Lights of Hope.
The Prom Closet is located at Allin Hair Studio in Cheshire through March 15. The Hair Studio is located at 1034 South Main St. in Cheshire. Juliette Lao is a senior at New Haven Academy. This piece grew out of her 2022 internship at the Arts Paper.