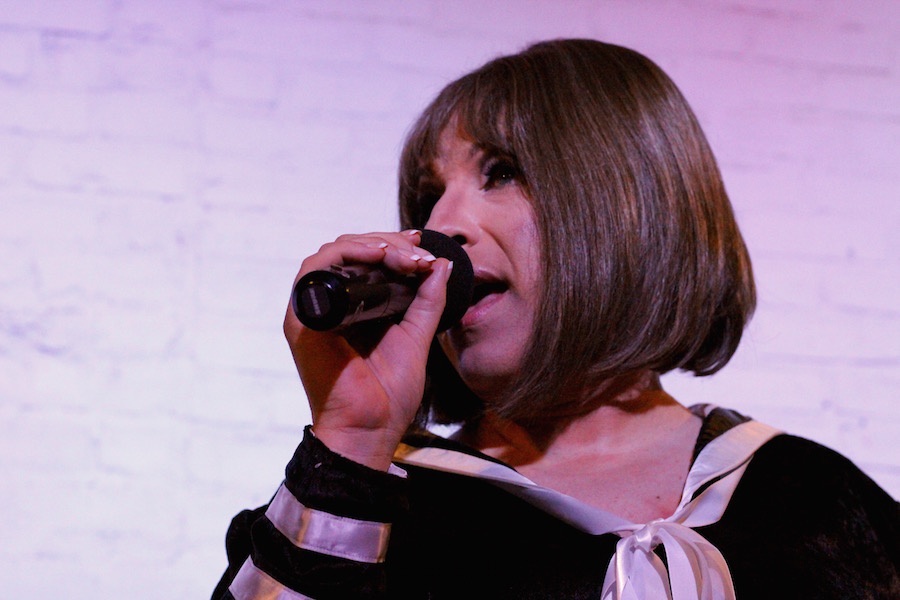 Drag | Arts & Culture | New Haven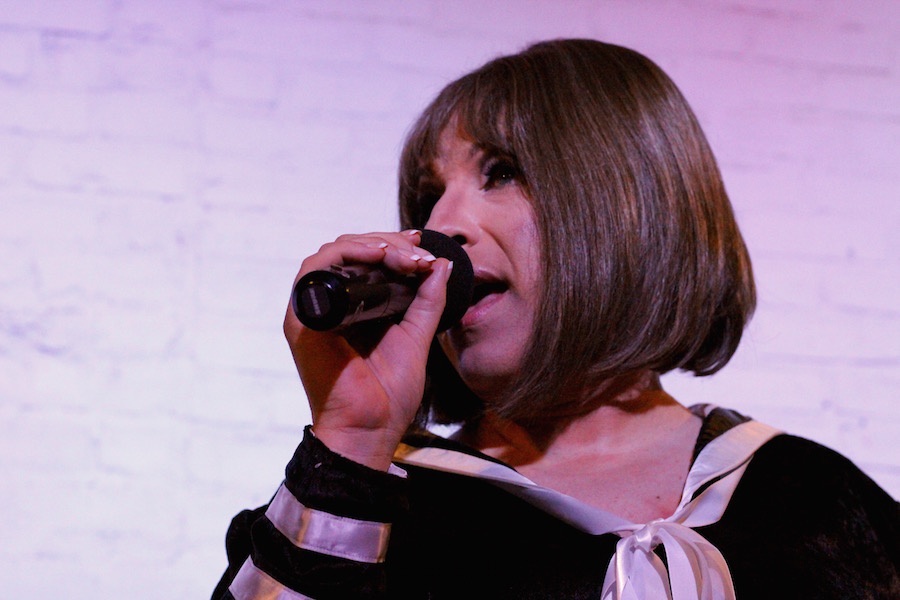 This is the third installment in 2018's "Queen Of The Week" series, which we will be running each Friday this September for PRIDE New Haven. In the last weeks, we opened the month with Xiomarie Labeija and Rory Roux Heart. Last year's installments profiled #NHVDrag, Robin Banks, Malaya Love Nations, and Tiana Maxim Rose.
Halfway into this year's annual Dragapalooza, Barbra Joan Streetsand was in a bit of a bind. Her face was on, costume fixed just so. She'd made it onto the 168 York Street stage in one piece. But the music wouldn't start. The crowd was getting chatty. So she looked out into the audience, and started riffing on "Yentl The Yeshiva Boy."
"Papa can you heaaaaarrr me?" she half-sang, half laughed into the microphone. "Papa can you see me?" From the balcony above, the deejay gave her a sign: all good. The music to Barbra Joan Streisand's "People" swelled over the audience. The words tumbled off her tongue.
But performance hasn't always been so comfortable for Barbra Joan Streetsand, one of New Haven's older queens who audiences can catch in performances each month with Summer Orlando. Now known around the city for her live singing, blue-and-white sailor suits and blonde bob, and drag fundraisers for cancer, she has followed a long and winding road to drag, always wrapped in song.
Before Barbra was Barbra, she was Tony Di Pietro, born and raised in Bristol, Conn. in the 1970s. Bristol was not, by her estimation, a welcoming place to grow up—kids at school bullied her for effeminate behavior, neighbors and fellow parents talked, people stared. If she identified as anything other than biologically, sexually male and straight, she knew to keep it to herself from an early age. Home was a mix of siblings and half-siblings from a previous marriage, with whom Di Pietro didn't become close until she was was much older. While growing up, Di Pietro's mother told her that if she was gay, she couldn't love her anymore.
"It was pretty miserable growing up," she said in a phone conversation earlier this week, adding that she knew she wanted to be a girl, but chose not to pursue transitioning because she was afraid of rejection at home and in public. "When a person's bullied, they're going to take on that Stockholm Syndrome—you just become adaptable to to what your life experience is, and then you expect people to treat you that way."
"I only know being gay as this horrible, horrible thing you didn't want to be," she added. "That internalized homophobia."
Her saving grace during that time, Di Pietro recalled, was music. As a self-described "weird-ass kid," she would sing while walking around the neighborhood almost every day, lyrics blooming in her head before they made it to her mouth, were whispered into being, and then burst over the street. She wouldn't realize how loud it was getting, she said, until neighbors or fellow kids stared. And after a certain point, those stares didn't cut quite as deeply anymore.
"I was like Rachel from Glee," she said.
In particular, she found herself swept up in the discography of Barbra Joan Streisand, then 20 years into her own career and still discovering the limits of a big, rolling voice. Each time Streisand came onto the radio, Di Pietro would turn on her tape recorder, and roll the tape for a copy of the song. The songs stuck with her—not just hits like "People," "Enough Is Enough" and "The Main Event," but jazz standards Streisand had recorded in the 1960s, including a cover of Ella Fitzgerald's "Cry Me A River" that hooked Di Pietro and wouldn't let her go. Quickly, the diva became "my unofficial voice teacher," and her role model.
As Streisand's career matured, so did Di Pietro. In the mid 1980s, she moved away from home, realizing that she was "definitely gay" when she was 20, after her first sexual experience with another man. Around the same time, she said, she went out for Halloween in drag. A number of people noted the resemblance to Streisand—it was uncanny, they said. So she tried it.
"When I did dress up as Barbra Streisand, when I consciously did it, I almost had a heart attack," she recalled. Barbra Joan—the Streetsand came later, she said—was officially born.
In the beginning, "I'd be considered what you'd call a basic bitch," Di Pietro said. For a while, she channeled the Barbra Joan Streisand of the 1960s: a big bouffant, followed by a pageboy cut just a few years later. But what stuck was Barbra's natural look: the late 1980s were a time for femme realism, when RuPaul was still new and natural and Cindy Crawford was a modeling sensation for just being herself.
But those first years of coming out were difficult and sometimes exhausting: a handful of friends were supportive ("they said, like, finally," she recalled), but she felt she had to remain in the closet with her family. A few months after coming out, Di Pietro was sexually assaulted by a police officer in New Britain. To get away from all of the baggage that was following her, she made the move to Hartford in 1992.
The city was a revelation. Soon after arriving, Barbra Joan Streetsand found herself competing in a ball, crooning her way through competition with a full-lunged arsenal at the ready. Another performer gave her a run for her money—the two went back and forth for several rounds, judged by the level of audience applause. Barbra went home with a trophy.
By 1993, Di Pietro wasn't just making friends in Hartford, but entrenching herself in the city's queer community, jumping onto the city's still-nascent Gay Pride Committee and exploring Hartford's growing house system and ball culture. With new friends and colleagues, she became a voice in the community, asking for more legislative support from then-Mayor Carrie Saxon Perry.
While Paris was burning in New York, Di Pietro recalled, Hartford sizzled—the city's houses rallied around charity, each forging its own personality. There was the still-extant House Of Nations, the House Of Freedom, and House Of Pleasure, a "more campy and political" community of which Di Pietro was a part. It was a time of great growth: in 1993, local queens started hosting "The Snowball" (renamed from "Hartford Sizzles" in 1991) a fundraiser for AIDS Project Hartford. At other times of the year, they branched out to other charitable causes, including pediatric AIDS and breast cancer. It was Di Pietro's entry into a world she hadn't been able to fathom as a kid.
"I think that's what saved me," she said. "It definitely made me happy to be empowering myself, to lobby on behalf of my rights. It helped me gain a lot of inner power."
In the late 1990s, Di Pietro stepped away from drag for personal reasons. She had other things going on in her life: she was meeting a partner and falling in love, and found that the drag community in Hartford could be nasty and divisive. In 2004, she moved from Hartford to New Haven, starting work as a hairdresser in nearby Hamden. But people begged her to bring Barbra back. There was nothing like the act in the state, they said. They missed it.
In 2007, she did. By then, Di Pietro said, Barbra had been a part of her for close to 25 years. And so, when she reentered the scene, she soon became as much a mentor as a performer. She started doing more with the New Haven Pride Center. She networked with local queens. And she grew her own niche—drag fundraisers for cancer, which started in 2013 and have grown prodigiously since. After an event raising funds for women's reproductive cancers earlier this year (read about that here), she will host another fundraiser on Sept. 29 for Bobbie's Wish, a charity that fights lung cancer in honor of the late Roberta Ross.
"As I've gotten older, people will refer to me as Auntie Barbra," she said. "That's a badge of honor. It makes me cognizant of how I should … it helps me to behave."
"It [cancer] just really angers me and I want to do whatever I can to fight it," she added of the fundraisers specifically. Twenty-two years ago, she watched her dad succumb to prostate cancer that metastasized to his bones. More recently, she's seen several of her friends battle breast and reproductive cancers, brought to their knees by the disease.
She's also still growing her act, she said. After years of performing as Barbra—the Streetsand came as a MySpace fluke several years ago—she has added numbers from ABBA and Pat Benatar, testing out new music whenever she has the chance to. Earlier this month, she hosted New Haven's PRIDE Block Party as definitively "not Barbra," decked out in a feathered headdress and long red wig. As the party unfolded, she watched as friends did double takes, delighting in their disbelief. As the afternoon went on, she said she was thrilled to see new attendees—many of whom came with their kids. That next generation, she said, is why she continues doing what she does.
"We may be your past, but we're opening you up to your future right now," she said. "Especially in this year, I have to be there for those kids in my community. I have to teach them activism. This younger generation, I have to get out there and I have to teach them how to fight. It's for all of us together."
Barbra Joan Streetsand will hold a benefit for Upstage Lung Cancer Saturday, Sept. 29 at 168 York St. Cafe in New Haven. Cocktails and appetizers start at 7:30 p.m.; a variety show will follow at 9 p.m. The co-host in Lucia Virginity.