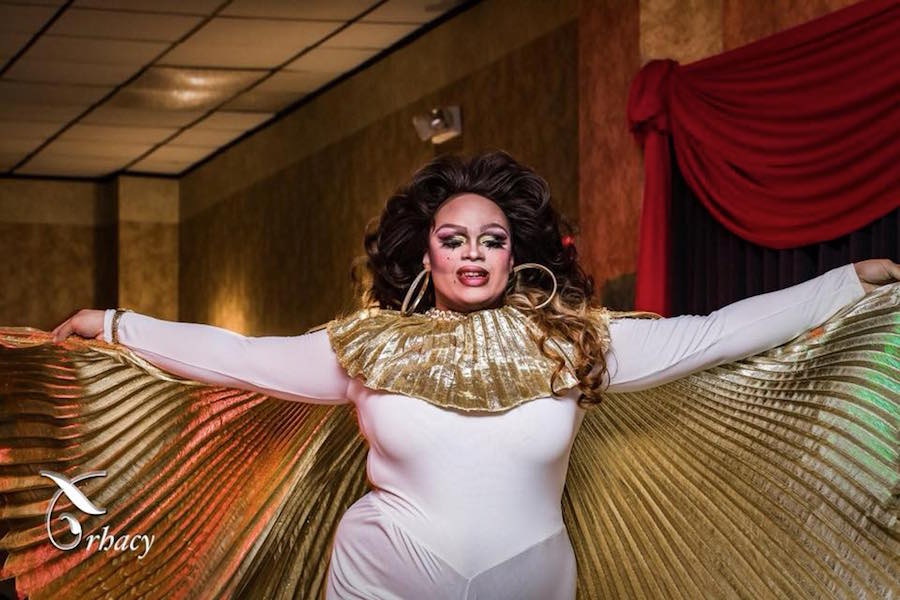 Culture & Community | Queen Of The Week | New Haven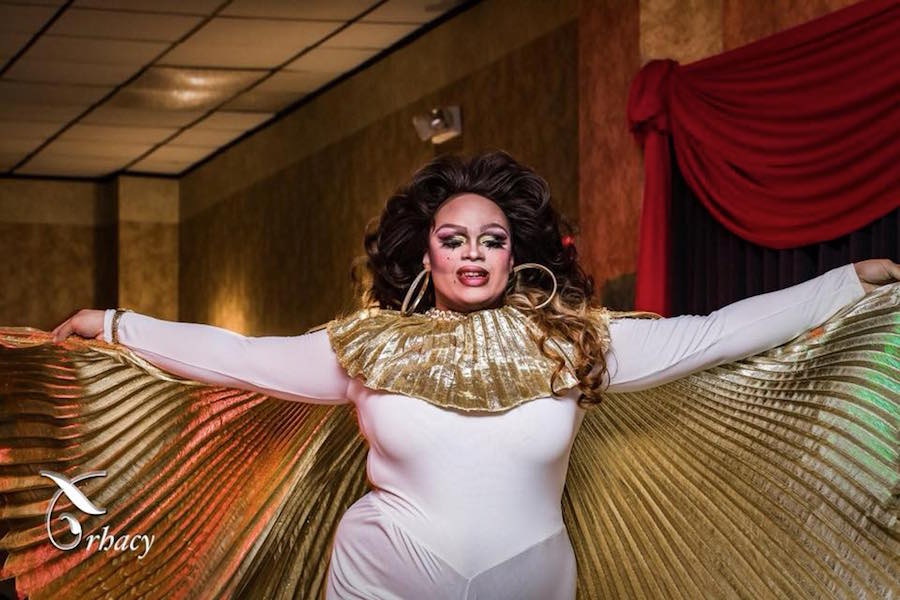 Photo courtesy Xiomarie LaBeija.
This is the first installment in 2018's "Queen Of The Week" series, which we will be running each Friday during Connecticut's PRIDE celebrations this September. Last year's installments, in order, profiled #NHVDrag, Robin Banks, Malaya Love Nations, and Tiana Maxim Rose.
Xiomarie LaBeija cocked her hips just slightly and put one leg in front of the other. Creamy white leotard. Crinkly gold cape. A corset to keep everything in just so. Brown curls cascaded past her shoulders, caramel at the tips. She had the room on the edge of its seats, and she was just getting started.
Xiomarie—"Xio" for short—is a Connecticut queen who burst shyly onto the scene seven years ago, preaching self-acceptance through her full-bodied acts and punchy, ambitious routines. She has since become an unapologetic force, using her curves and intricate performances as a talking point for both audiences and LGBTQ+ youth still navigating their way through the world.
"I'm just very comfortable with who I am," she said in an interview earlier this week.
But that hasn't always been the case. Xiomarie has spent most of her life as Bridgeport-born Jovanni Cabanas, a baby boy who entered the world in January 1993, in the midst of a tumultuous winter and tumultuous marriage at home. As his mother worked multiple jobs to pay bills, he grew up watching mental and physical abuse from her husband. There were often fights, during which his stepfather "threatened to blow my brains out" if Cabanas told anyone what was happening at home.
He adopted, he said, a "mother's mentality," making sure that homework was done, the house cleaned, and food prepared for his mother when she came home from work. He looked after a younger brother, careful to set an example as he passed his tests, attended a nearby Spanish-speaking church, and became active in the religious community. His life slipped into a routine: school, church, home. Repeat.
But by his early teens, Cabanas had a sense that something was different. Something he couldn't talk to his family about. He found refuge at church, where he could dance, sing, and preach, filled with a power that seemed to come from somewhere far outside of his body. He stood out in his youth choir, choreographed dances at the church, did pantomime. But the same religious family that embraced him for being Christian said that homosexuality was a disease. Cabanas, who said he didn't completely understand what "gay" meant, found himself searching for answers with nowhere in Bridgeport to turn.
Things were getting harder at home. During his youth, Cabanas recalled that he would hold a hand midway in the air and let it hang, unconscious of his movements as he worked around the house. When he was home to see it, Cabanas' stepfather would take the nearest objet, and hurl it at him. Cabanas' mother would intervene, to the threat of more physical violence.
"He's say, 'fix your hand, that's what faggots do,'" he recalled.
Cabanas said it felt as if he was living two different lives, pushed deeper into the closet before he knew exactly what the closet was. At home, he was a doting and attentive son and older brother, making sure that the people close to him were taken care of. At school, he was trying to figure out who he was, called a "fag" in the hallways on a nearly daily basis. By the time he was in eighth grade, "things kind of hit the pole," he said. He began to fall in with gang members and get in fights at school, with both other students and his teachers. He fought with his pastor at church. Everywhere he turned, he said, he felt like he was battling something.
After intervening in a physical altercation his freshman year of high school, he attempted suicide for the first time. It was the day after Christmas, at a time that Bridgeport still didn't have resources for LGBTQ+ teens in his neighborhood (there is now an LGBTQ+ resource center run by True Colors Inc. at Hall Neighborhood House). When he returned to school, administrators encouraged him to try therapy. But the practice, he said, only "reopened doors I'd tried to shut." Before the end of the year, he had attempted suicide again. And that's when other students started reaching out with stories he'd never heard before: of coming out, finding an LGBTQ+ network, and surviving. There were other gay kids in the school and in Bridgeport, he learned. And they loved who they were.
"I had an amazing support team," he recalled. "It was a group of youth that were hurt, that were trying to find answers within themselves, and we ended up finding each other."
"I'd been told that homosexuality was a disease, but I was seeing so much success coming out of it," he added. "These were people I felt more comfortable with than the people I had spent my entire life with. We all made sure to take care of each other."
His sophomore year of high school, Cabanas attended his first True Colors conference at the University of Connecticut, hosted each year by the eponymous not-for-profit. Among thousands of attendees, he bobbed around wide-eyed, soaking information in as quickly as he could absorb it. It was there, he said, that volunteers from the foundation explained that sexual preference didn't make him sick, or render his conscience unclean. It just made him human.
"I didn't know what liking guys was," he said. " I still didn't know what gay was. I always thought it was a sickness. I'd been called 'fag' on a daily basis at school. It wasn't until I got there that I then got to talk to the True Colors organization, and little by little start gaining enough confidence to call myself gay."
After the conference, Cabanas came out as bisexual, then gay, but remained in the closet at home. His junior year of high school, he started hanging out with other members of Bridgeport's LGBTQ+ community, exploring the city's now-defunct Favella Bar. It was the first time, he said, "that I got to see the life of a homosexual, lesbian, trans woman, trans man, drag queen, and drag king" all under one roof. And he was dazzled.
He could feel his double life forking yet again. At home, he watched how he spoke, what he wore, the way he walked around his mother. Her husband "had walked out of our lives" by then, but didn't think he'd be accepted—she still believed that being gay was a sickness, and wasn't going to hear it another way. He experimented with clear fingernail polish, seeing if she would comment. If she noticed anything, he said, she stayed quiet about it. When she went to church on Fridays, he headed to Favella.
"I was like, 'I'm going to a friend's house,'" he said. Instead, he was growing a kind of extended family he never knew he could have.
"No one really knows what family means means until they're put into a predicament when they have to prioritize family," he added. "My blood family—they weren't looking out for me. I had no connections with them, unless it was church."
The transformation into Xiomarie started on Halloween of his junior year, as he "dabbled in drag" for what he thought would be the first and only time. Putting on that new face, Cabanas said, "triggered something in me" that he hadn't anticipated, a sort of rush as he stepped from one persona to another. Passers-by and store clerks called him "ma'am," and he liked it. Later that year, he dropped into Favella for a drag competition, watching intently as a queen named Natasha Red Rose took the stage. A members of the House of Rose, Natasha Red had just arrived in Connecticut from Puerto Rico, Cabanas recalled. Her picture popped out as different on the wall. And on stage, "she took it to a whole other level."
From that moment, Cabanas wanted to be part of that world. Unsure of where to go next, he was nurtured by gay mothers Willa and Vnessa Sichelle, both trans women, and Natasha Red Rose, who became his (and Xio's) drag mother. As both he and his respective "moms" realized that drag was a calling, they helped plan a performance in a huge show. They preached a language of body positivity and acceptance that Cabanas, who had always thought of himself as fat, had never heard before. It was a whole new sort of baptism, centered on personal happiness and self-confidence. Natasha Red Rose created the costume. And Xiomarie, not yet a Labeija but very much a queen, was born.
"It almost feels like a dream now," she said. Natasha Red Rose pushed Xiomarie, urging her to book gigs, hone her performance style, and grow her audience base from Bridgeport to Connecticut, Connecticut to New England. After high school, Cabanas was accepted into Johnson & Wales University in Providence, soon known as "Xio" around campus.
She became a celebrated Labeija, part of the iconic drag family and royal house founded in 1977. For the second time in just three years, she found solace in an extended family: house father Derek Davis, and gay father Willyum LaBeija. By the end of freshman year, Cabanas was working multiple jobs in providence, as Xio performed three to four nights a week. Derrick Davis and Willyum Labeija "had her back," Cabanas recalled—they made sure that Xiomarie was booked in the clubs, that there was always a seat at an ever-expanding LGBTQ+ table, and "that no one messed with her."
Things were good. Really good. Except that Cabanas had introduced Xiomarie to his biological mom, and it sent her act unraveling at the edges.
"I just remember that she wasn't happy," Cabanas recalled. At first, it seemed like his mom was going to try accepting Xiomarie—the two would count her tips together, flattening them out one by one and reserving half the total for the family's phone bill or groceries for the month. But the longer she sat with Xiomarie, the more upset Cabanas' mother became.
"It got to a point where she didn't want drag in the house," Cabanas recalled. He wrenched a part of himself shut again, purging Xiomarie from the house, and then from within. He filled a bag with all of Xio's drag costumes and threw them in the trash. He swore off performing. When he returned to campus, he corrected people who greeted him jubilantly as "Xio." His name was Jovanni, he said. Xio was a distant memory.
"I I ended up really closing up, really trying to figure things out," Cabanas said. "It was a very tough time. I never knew what I was doing."
Xio's disappearance marked the beginning of what would ultimately be a year that tested Cabanas. Midway through the semester, he got a call that his mom had gotten sick after a surgery. Overnight, his world flipped again: he withdrew from school and moved home, taking a second and then third job to support his family while she recovered, and his brother stayed in school. As she got better, Cabanas looked at moving away from home again. As he prepared to move in with a friend in New Britain, his mother gave him advice he wasn't expecting.
"She said I should just follow my heart," he recalled. "She said, 'whatever you're doing, just make sure you're doing it right.'"
A week later, Xiomarie was reborn. Not much had been left over from the big purge—just two wigs and a case of makeup. But when faced with the chance to perform with Shangela, famous from her appearances on RuPaul's Drag Race, there was no question that Xiomarie Labeija would be there. It kicked off a seven-month run of weekend performances across New England, from Connecticut to Massachusetts, New Jersey, New York, and Rhode Island. During the week, Jovanni Cabanas was just a guy who worked at Target. But come Friday, Xiomarie LaBeija reigned supreme.
Since, she has become recognized for her routines, which embrace her size and often end between a spinning, gyrating space on the floor and somewhere in the air. Before the closure of Hartford's celebrated Polo Club, she became a Polo Girl, performing routines that she had dreamed of just a few years before. Now, she is concentrating on not only how to push herself, but support LGBTQ+ youth who may need mentorship or role models. That extends to Cabanas' life too.
"There are so many youths that are in need, there are so many things that our community can offer, but it seems that our community either gets shunned or walked by," he said in an interview earlier this week. "I think my biggest goal is to create some type of platform for LGBT youth to know that our community is whole, that we have enough talent to offer."
"I'm allowing myself to be vulnerable, allowing myself to be open, living myself for me," he added. "Loving myself and trying to create that acceptance within myself. I'm very blessed and thankful for where I am in life, and with everything that I've gone through. I'm doing what's right, but not what's easy."
Xiomarie LaBeija will be performing this month at several PRIDE New Haven events, including a drag brunch at 116 Crown on Sunday Sept. 16. To find out more, visit her online at her website. If you or someone you know is LGBTQ+ and struggling with depression, bullying, or suicidal ideations, there are resources to help. Nationally, The Trevor Project is accessible 24/7 at 1-866-488-7386 and Trans Lifeline is at 1-877-565-8860. Connecticut resources also include the New Haven Pride Center, Triangle Community Center, and True Colors Inc.