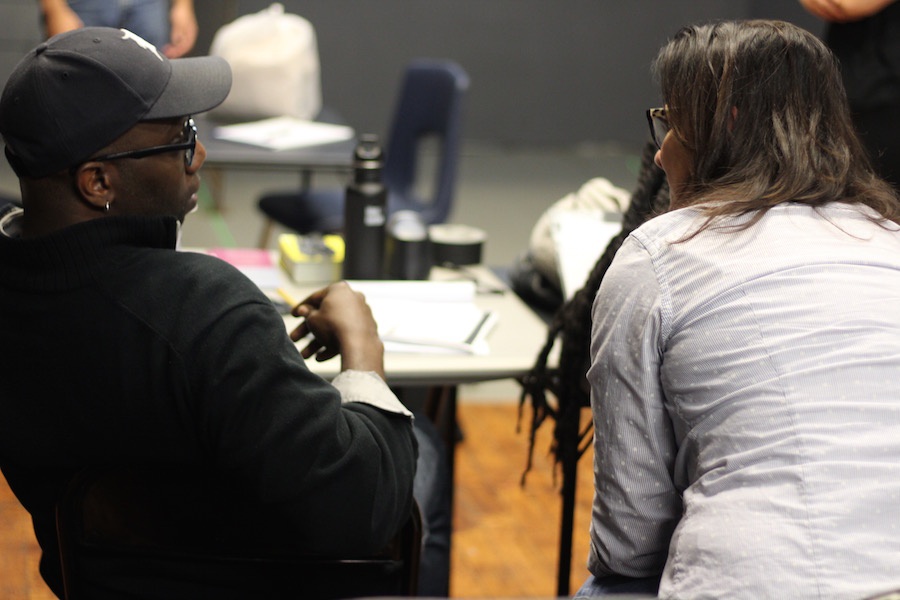 Collective Consciousness Theatre | Arts & Culture | New Haven | Theater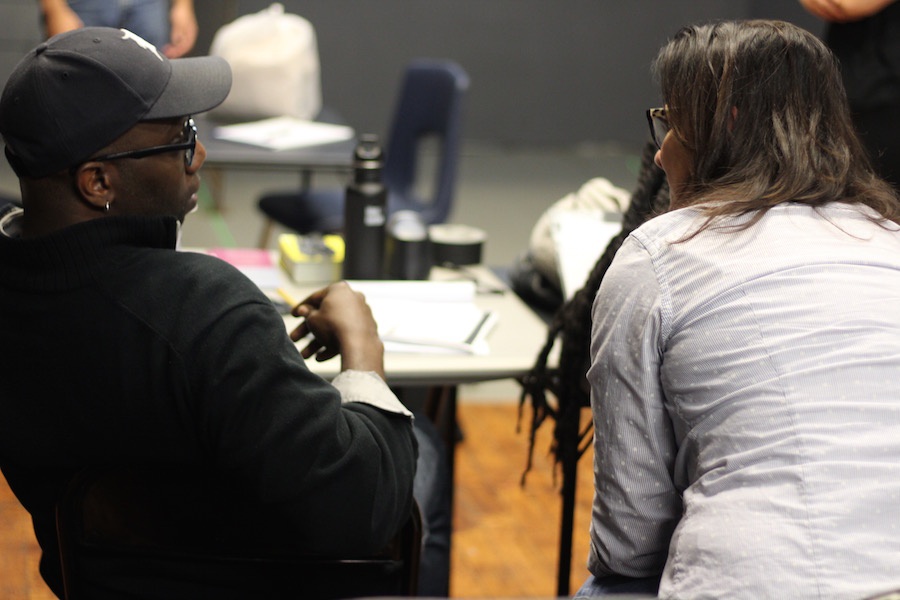 Angel Cruz is learning to lie. His lawyer, Mary Jane, has started pacing in front of him. She's visibly nervous: this could cost her her job, but she's sure it's the right thing to do. Angel sits at a simple steel table, not sure how to hold his body. Light glares overhead. He just wants to do the right thing too. The problem is, he doesn't know what that means anymore.
Mary Jane swivels to face him. Her eyes are laser beams.
"Tell me a lie," she says. "Anything. Lie. Right now."
So unfolds Stephen Adly Guirgis' Jesus Hopped The A Train at Erector Square, where it begins a three-week run at Collective Consciousness Theatre (CCT) this Thursday. Directed by CCT Co-founder Dexter Singleton with a tight cast and crew, the show runs Thursdays through Saturdays through Nov. 11. Tickets and more information are available at CCT's website or below.
On its face, Jesus Hopped The A Train is a morality tale that gets into the weeds, pulling organized religion, systemic racism, toxic masculinity, and the prison industrial complex along with it before it has run its course. Guirgis wrote the work in 2000, but it is set at present-day Rikers Island correctional facility, where 30-year-old Angel Cruz is awaiting his sentence for shooting Reverend Kim, the megalomaniacal leader of a popular faith cult, in the butt. Or, as Cruz says to his lawyer in a brusque exchange, "with the intent to bust a cap in his lyin, bullshittin ass."
He's done it for what he thinks are all the right reasons: the leader has corrupted his best friend, leaving Cruz to take matters into his own hands. Putting a bullet in that ass—and "mothahfuckah got an ass like a water buffalo"—is a form of vigilante justice at its best. Or so he thinks until he meets Lucius Jenkins, a notorious serial killer who has conveniently found God in prison, and challenges Cruz' sense of morality.
From its first breath, everything about the play is explosive: Rikers Island is a delicate tinderbox waiting to blow with all the electricity and heat inside. Inmates fret and fume and pray without knowing to whom exactly they are speaking; lines between ethical and not, just and unjust are constantly blurred; and the script is a thick, full-lunged soup of obscenities from page one, where several iterations of "fuck," "fucking," "motherfucker," and "shut the fuck up" greet audience members like the cacophonic cry of a Greek chorus.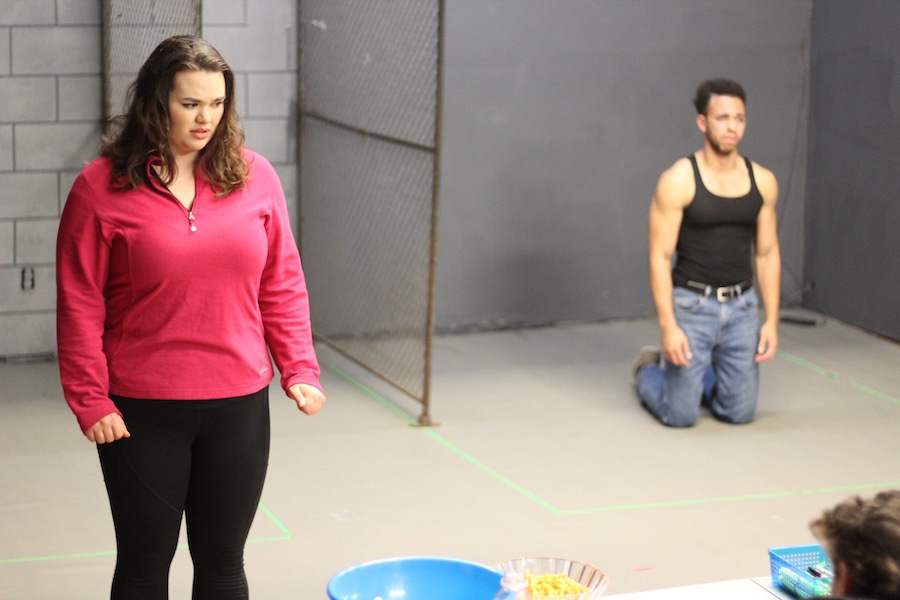 But this world is not made for our shock value, or without dark humor: harsh, rage-fueled language becomes integral to plot and character development, lyrical even at the height of obscenity. Even as he presents as crazed and short-fused, Jenkins speaks truth to power, telling Cruz that as he carried out eight documented murders, it's "funny how people start payin' attention when white people start droppin.'"
That hardened, no-nonsense kind of writing is exactly what drew Singleton back to the play when he was planning the current season. Ten years ago, he and Bregamos Community Theater founder Rafael Ramos brought the work to the Atwater Senior Center, staging the show in the center's all-purposes common area. It was a gamble: when the lights came up after the first act on opening night, they discovered that half of attendees had walked out, incensed by the language. They worried, momentarily, that it had been too much for New Haven, where none of Guirgis' works had ever been produced (or have been produced since). But the play's remaining nights sold out.
In the years since, Guirgis kept writing, producing The Motherfucker With the Hat on Broadway in 2011 and winning a Pulitzer Prize for his play Between Riverside and Crazy in 2015. Last year, Jesus Hopped The A Train surged in popularity at New York's Signature Theatre, where it performed to sold-out audiences for two months. As Singleton thought about tie-ins with contemporary prison reform, including the inhumane treatment and subsequent release and death of Kalief Browder in 2015, he could feel the pull of the show once again. While he and CCT Associate Director Jenny Nelson had some initial apprehension with bringing the work back, "that lasted for about 10 seconds," after which they decided it was the right show to open the season with.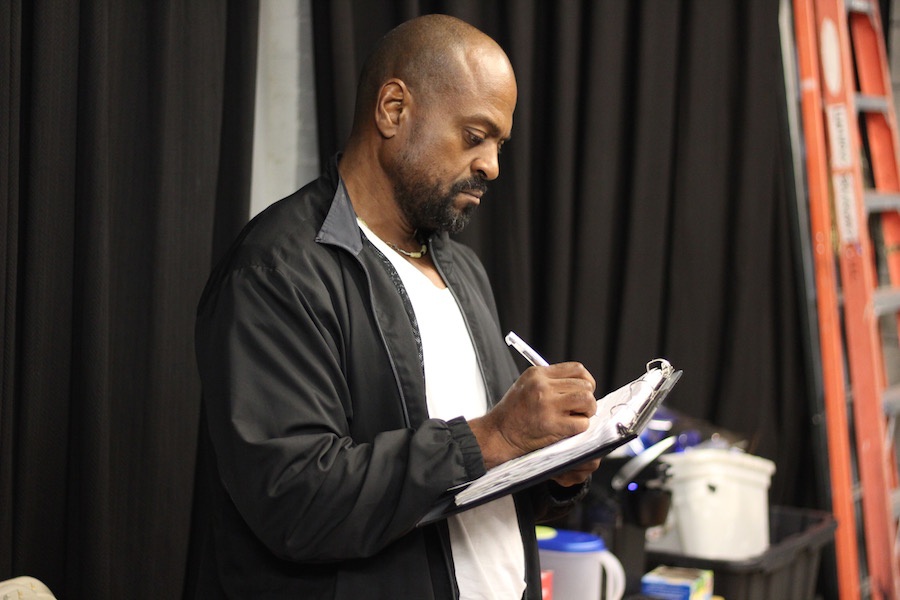 "I think a play set in a prison, a play that's so timely like this one, and is so explosive, we want to make sure that people can look past the language," he said during a five-minute break at a recent rehearsal. "We know that people who are incarcerated are easily forgotten about, we easily throw them away and discard them, and it's a part of life that a lot of people want to forget about."
"A lot of people have family members that are incarcerated, and they don't go and visit them, friends, and it just becomes like an exile," he added.
As it comes to Erector Square, Singleton has worked with a creative team to take the audience psychologically inside the prison's walls, as artists did with Jireh Holder's 50:13 at the Yale Cabaret four years ago, or in the National Religious Campaign Against Torture's "Inside The Box" installation at the New Haven Free Public Library in 2017. The set—grey brick walls, concrete floors and fencing that rattles in the prisoners' fists all designed, painted and installed by David Sepulveda—is affecting in its minimal design, becoming an additional grim-faced character in this inescapable and deeply psychological drama.
So too lighting by Jamie Burnett, harsh in all the places it is meant to be. Spend enough time in this world, and it's easy to feel trapped inside something cold and foreboding, where the law of the land does not weigh all lives equally. Onstage, that feeling takes on a persona—prison officer Valdez (Jason Hall), who sees wrong and right as completely binary, with nothing in between. But also something that is darkly, unsettlingly funny—like we've lived through it before, and we will again.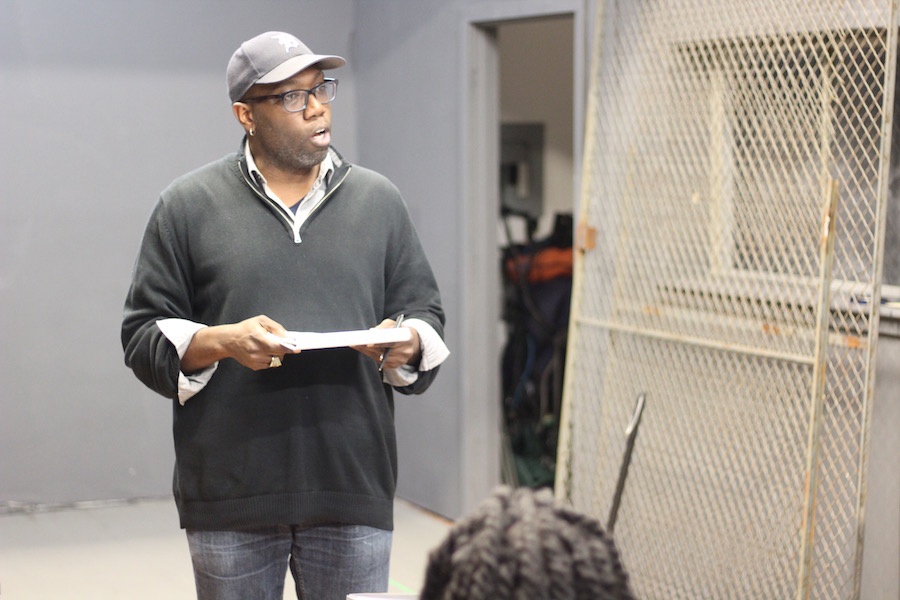 In a recent rehearsal, Singleton credited that sense to having the right team of actors. CCT veteran Terrence Riggins has returned as a particularly maniacal Jenkins, stepping into a role that is as physically as it is emotionally demanding. Until his exit, Jenkins rarely stays still, communing with the lord (whatever lord that really may be) as he cycles through push ups, running in place, and jumping jacks, sweat pouring down his face. Bridget McCarthy is on fire as public defender Mary Jane Hanrahan, taking us on her tightrope between good and evil, ethical and not.
And playing Cruz—the first name of Angel seems no mistake at all—Jhulenty Delossantos is captivating, taking on this frightened, angry boy who is stuck in the body of a man, and exploring him from every possible angle. Before trying out for the role, Delossantos had read Gurgis' The Last Days of Judas Iscariot, performed at New York's Public Theatre in 2005. He had also been eager to get back to CCT after his debut in Idris Goodwin and Kevin Coval's This Is Modern Art in spring 2016, and felt that this gave him the right chance to do it.
"I like the fact that it's a very meaty role—there's a lot of ways to go about it," Delossantos said at a recent rehearsal, adding that he's been watching documentaries including The Kalief Browder Story and Hard Time to prepare for the role. "A lot of pain, and frustration, a lot of sadness, a lot of rejection. It's something that I kind of wanted to harness and just go all out."
"We just kind of forget about them [people that are incarcerated]," he said. "It just made me think. Like, wow. Some of these people are in here because they actually did something wrong, and some of these people are in here because they made a mistake and now they gotta pay for it with 20 years. And after those 20 years, it's still not gonna be great. What jobs are gonna take them? And now they've got all this debt. It's kind of like a major cluster f, you know? And it made me want to … it would be nice if we were a little more compassionate and understanding."
Performances of Jesus Hopped The A Train run Oct. 25-27, Nov. 1-3 and 8-11 at Collective Consciousness Theatre, 315 Peck St., Building II. For tickets and more information, click here. To find out more about prison reform in the state of Connecticut, check out the work of the Connecticut Bail Fund on Facebook or at its website.