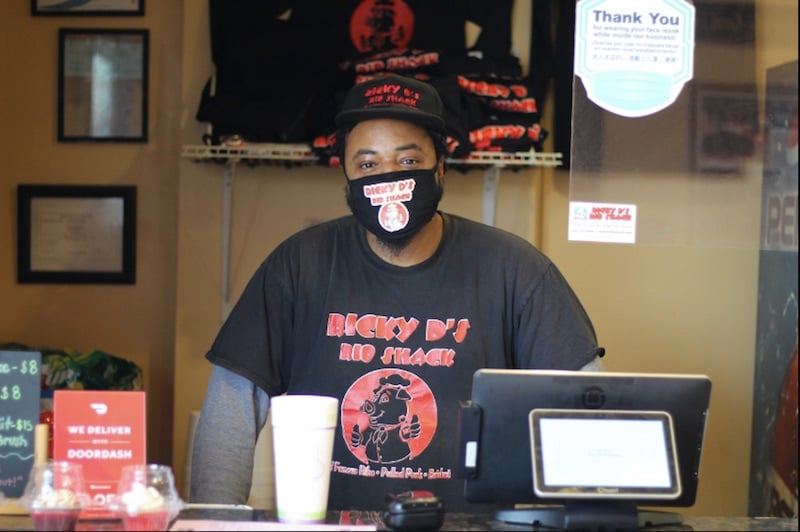 Black-owned businesses | Economic Development | Science Park | Food Business | Culinary Arts | COVID-19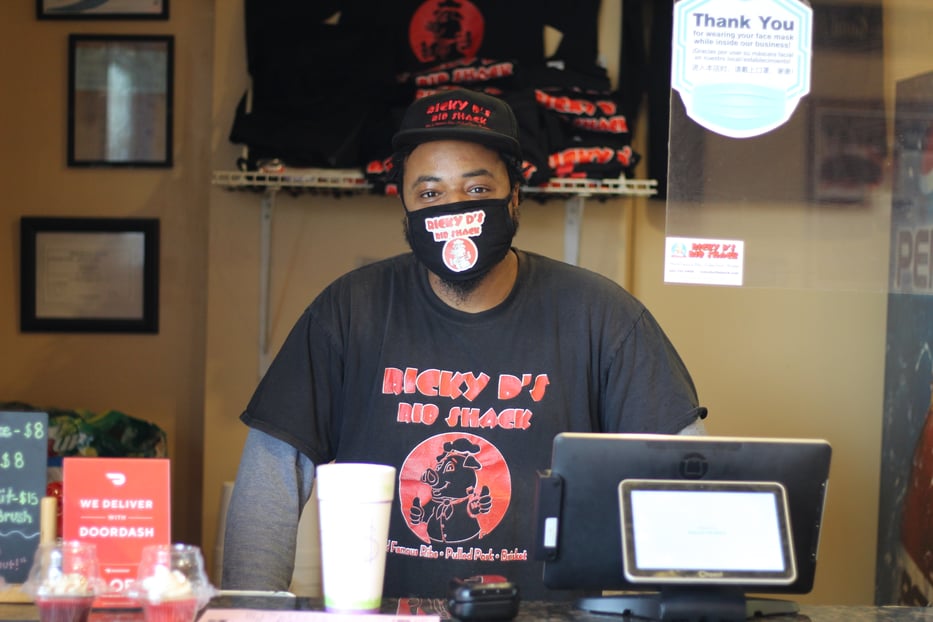 Owner Ricky Evans manning the counter at Ricky D's Rib Shack. Arturo Pineda.
This year was going to be Ricky Evans' biggest year on record. His restaurant, Ricky D's Rib Shack, was in the talks of catering a 1,000-person event, the largest in its history. It was going to be one of the 40 or 50 catering events for the year. Then a global pandemic wiped it all away.
On a quiet December afternoon inside the restaurant, Evans mapped out the ups and downs of the restaurant from March to December. After a successful transition from food truck business to brick and mortar in 2016, Ricky D's quickly rose to fame, known for its Kansa-Lina sauce. The sauce is a combination of the sweet and savory barbecue flavors from Kansas City , paired with the vinegar-heavy barbecue flavors of the Carolinas.
Some things hadn't changed. Frankie Beverly played in the background. Local artist Chris Ferguson's paintings were still hanging on Evans' red diner walls. Historically Black College and University (HBCU) pennants were still mounted right above the counter, to greet patrons as they walked. A thick, tangy barbecue still filled the air.
The pandemic has marked a period of massive ups and downs for the restaurant. In March and April last year, business decreased by 25 percent compared to the previous year. The sudden drop reminded Evans of his first two winters in Science Park, when he wasn't sure whether he was going to survive financially.
"I even had days where I questioned myself," he said. "Like 'what I am doing man?' Expenses are still coming in, bills are still coming, and then you have an abundance of bills."
Then as the summer approached, things looked up. Evans managed to secure a $26,000 loan through the federal Paycheck Protection Program (PPP), all of which went to cover business expenses. He also mined his partnerships with the city and Yale University.
From early May through mid-October, Evans partnered with the New Haven Food Policy Council and local relief efforts, delivering 55 meals a day at a discounted rate to homeless people across the city. There was little profit, but it was enough to keep the business running until the summer. Then June 2020 was the restaurant's best month on record.
It was a mixture of different factors that led to June being so strong, Evans said. At the time, delivery apps such as UberEats and others highlighted Black-owned restaurants and waived delivery fees through the duration of 2020, despite there being little verification around if a restaurant was Black-owned. Around the same time, Connecticut rolled back some of its COVID-19 restrictions, permitting restaurants to be at 50 percent capacity. While Evans did not reopen in-person dining, he saw an increase in foot traffic.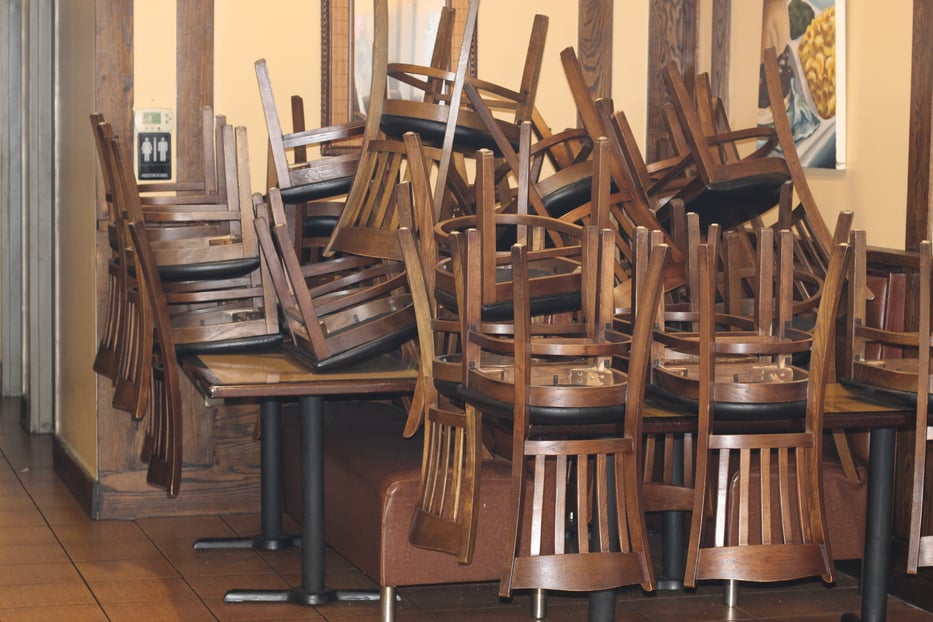 The chairs and tables or "furniture" stacked in the corner of the business since March.
"I think that was such a big push to want to get out of the house, and see something." he said. "I also think there's a lot more awareness when it comes to racial justice and the importance of small Black businesses,"
In November, the restaurant was profiled on 94.3 WYBC as part of the Yale University salute to small, Black-owned businesses. More recently, the city launched the "Eat New Haven" campaign to encourage people to order from local restaurants to help them survive the COVID-19 pandemic.
He has also seen several unexpected streams of customers, including the contractors and construction crews working on nearby projects (the Q House is less than half a mile away) and essential healthcare workers who have continued working through the pandemic. The contractors took such a liking to the food and made it their regular joint, he said.
Regulars from the surrounding office buildings have also started to return, although some of their buildings remain closed. Recently, Evans recalled, a regular dropped by after eight months to pick up a slab of the famous ribs he'd been craving.
He is quick to say it hasn't been an easy year. He and countless other small-business owners are waiting to secure relief funding through the round of PPP that passed as part of the December COVID-19 relief bill. Most Black-owned businesses in New Haven were left out from the initial round of funding, in line with a national trend.
He hasn't done it alone, he added. At the peak of the relief efforts and rolled back restrictions, Evans hired two more employees, both Newhallville residents, to keep up with the demand. To balance out his team, a total of seven employees, he cut back hours and went from opening seven days a week to closing on Sundays.
"These guys live right around the corner," he said. " When folks come from the Newhallville area, they know it is someone from their community."
From the outside sales looked solid, but inside Evans was constantly facing daily challenges of meat prices skyrocketing, shortages of gloves, and the constant debate of whether to open in-person dining. It was a constant battle of trade offs, said Evans.
In May, the price per pound of brisket skyrocketed from around $2.60 to $6.60 at Minore's Market. During the summer, slaughterhouses experienced massive coronavirus outbreaks across the country, leading to a lower supply and increased prices. The restaurant can easily go through hundreds of pounds of brisket depending on the week but with the uncertainty of orders, Evans had to constantly guess and adjust how much meat would be used.
"I'm just one restaurant," he said. "I'm not a big enough company that I can buy pallets and save them. I was going every couple days going back and forth buying enough."
Evans had the choice to go to larger commercial distribution centers with lower prices, but remained loyal to Minore's Market. He's bought from the store since the beginning of the storefront, he said. It was important for him to continue supporting a local business instead of a commercial one even if he had to pay a bit more.
"You know their family has run the business for more than 100 years. You know?" he said (the business is actually not quite a century old: it was founded in 1927 in Fair Haven). "They know what I need and how I want it."
Disposable gloves, a necessity for preparing the meat, became scarce and tripled in price. At their most expensive, they reached $90 a case. Evans and his crew easily go through two to three wholesale cases of gloves a week, but finding them was an even bigger issue. Some stores limited sales to one case per person. There were times he would drive around for hours trying to find the gloves wherever he could find them.
The minimum wage increase from $11 to $12 in September was also hard for the business. Evans said he knew that it would pose a challenge, particularly after hiring two new employees. It remained important to him to hire from Newhallville and create jobs in the middle of the pandemic.
He expects that the new Paid Family and Medical Leave act will put further strain on small business after a harsh winter. As of Jan. 1 of this year, there is a new deduction of 0.5 percent of the first $142,800, the same as Social Security. Rep. Vincent J. Candelora, a republican from North Branford, called for the state to delay the payroll deductions for 90 days.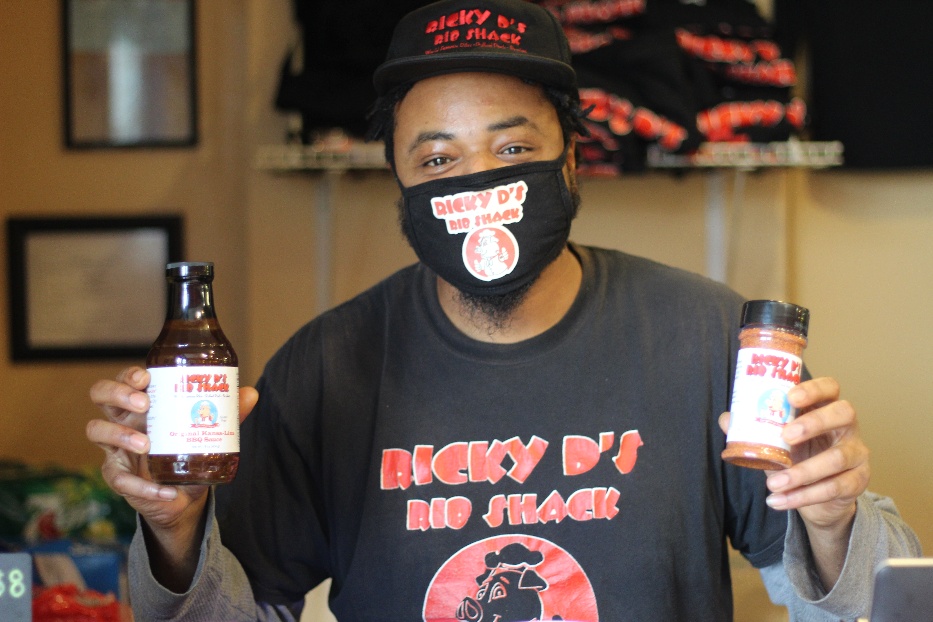 Evans holding a sauce version and dry rub version of his famous Kansa-Lina seasoning.
Evans recognized that his business remains an outlier in both local and national statistics. Across the country, 41 percent of Black-owned businesses have closed due to COVID-19, In Connecticut alone, roughly one in three small businesses closed doors last year due to COVID-19 fallout. He said his 2020 fiscal year was ultimately fairly similar to the 2019 year.
"I recognize that every business isn't making that many sales or driving business," he said. "That much that's why I'm completely grateful to be where we are."
Despite having the option to return to in-person dining at different points throughout the year, Evans never opened up the restaurant for indoor dining or had an outdoor dining space. For him, the choice was a mixture of safety precautions, reputation, and finances.
"This thing [COVID-19] was so new that no one knew what was going on," he said. "So I decided not to even risk it. The last thing you want to hear is that an outbreak happened at your restaurant."
He also feels that as a small Black owned business, people may still hold certain stereotypes against them, impacting business. The possibility of a COVID-19 outbreak only made his worries worse.
"The first thing that comes to mind is a hole in the wall, unprofessional, and inconsistent," he said. "I always tell my staff 'We don't have big investors, we don't have a corporate behind us.' We got to work a little bit harder because we don't have any room to mess up anybody's order."
As of now, sales come from 60 percent pickup and 40 percent delivery. Although UberEats and Doordash take 30 and 20 percent respectively of a sale, Evans said he has little choice but to rely on them as he can't afford a car and the required maintenance.
He considered establishing his own delivery system. In March and April, he was playing the role of chef, owner, and delivery driver. He quickly realized it wasn't sustainable and only increased liability for himself. In November, officials from the city's Economic Development Administration said that the city is looking at multiple models to help restaurants, from seeking caps on third-party delivery services to following something like Charleston's "Adopt A Restaurant" program.
"For me, it [delivery apps] is working but it is a lot. I would always welcome cheaper rates but it's either that or not offer delivery," he said. "It's always better for us if a customer picks up or orders on our website."
As of now, he has no intention to return to in person dining. The chairs in the corner are a remembrance of these times, he said. He's even considering shutting down in person dining permanently and expanding the space into a large prep station.
"I'll just leave them [chairs] right there, see how the winter goes, and decide what happens in the spring."
Learn more about Ricky D's Rib Shack here.