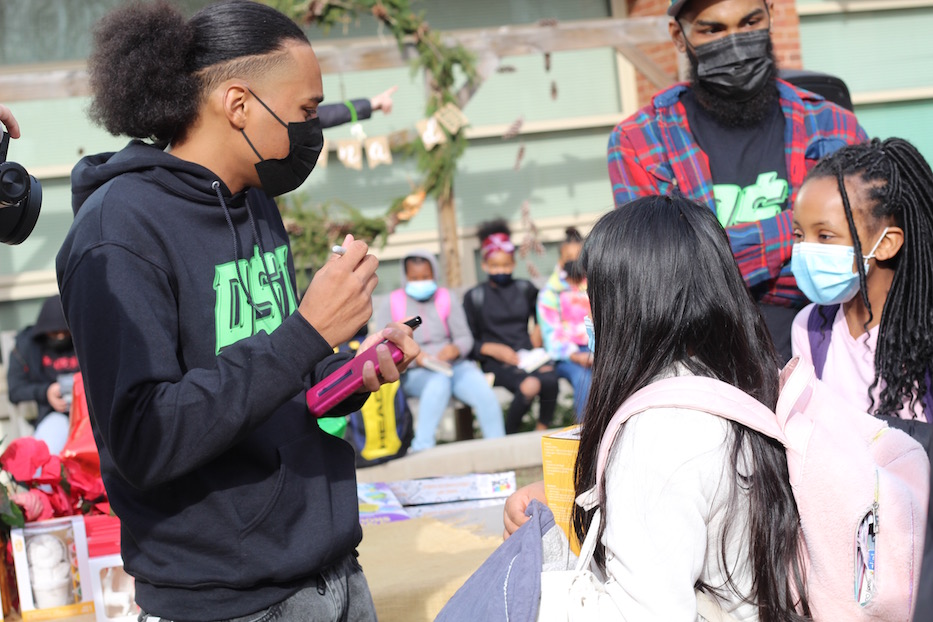 Education & Youth | Music | Arts & Culture | Christmas | Barnard Environmental Science & Technology School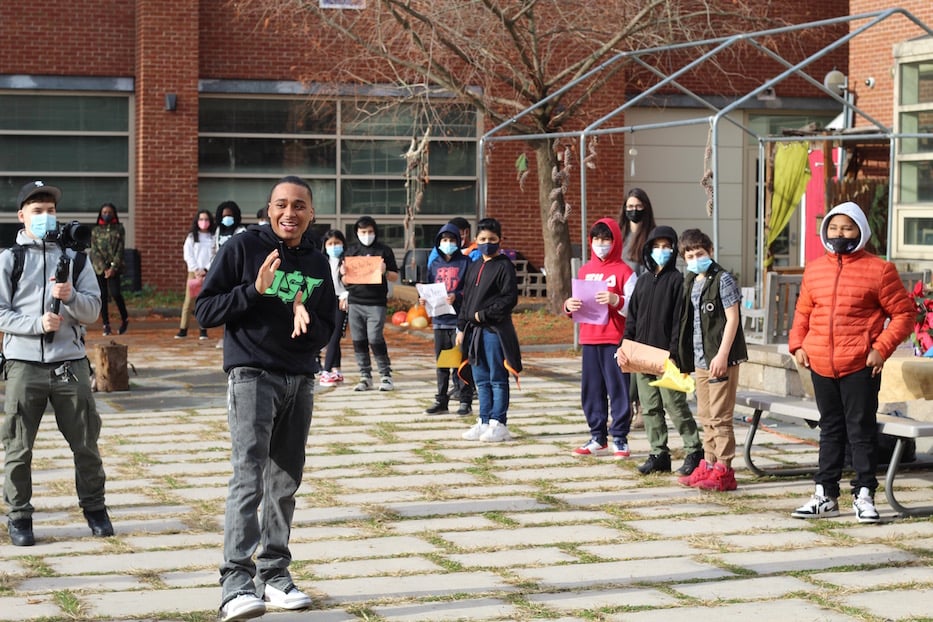 The artist surrounded by students Thursday morning. Lucy Gellman Photos.
DustyStayTrue stood in the center of a school cafeteria and paused, watching as dozens of students followed his every move. Fifth graders wiggled in their seats, their eyes huge over their masks as they waited to see what wisdom he was going to drop next. His words drifted through an open door, audible to teachers still outside.
"I want y'all to make sure y'all doing your homework!" he said. "Y'all doing your homework for real?" A high-pitched roar of agreement rose from the students.
Thursday morning, the New Haven born-and-raised musician returned to his roots at Barnard Environmental Studies Interdistrict Magnet School, where he was a student from third to eighth grade. Now 22 years old, he is making it part of his mission to give back to the place that helped him become an artist.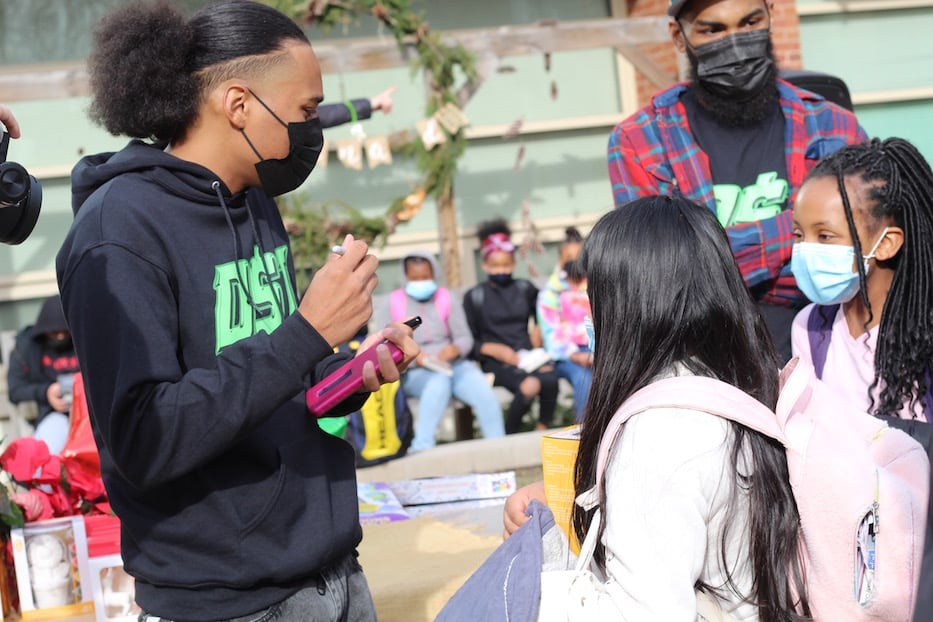 Some students had him autograph their phone cases.
After talking to students about his life and work, he stayed for hours to deliver gifts in the school's courtyard and chat via Zoom with the seventh and eighth grade classes, who are all in quarantine after a wave of positive Covid-19 cases at the school last week.
"Barnard, it was a real formative time for me, in my youth. It really made me who I am today," he said Thursday, after hundreds of students welcomed him onto school premises with cheers, raucous applause, pumping arms and hand-drawn signs. "It really started here, to be honest. I remember going home, writing raps and coming back. It's crazy that I'm able to do this today."
DustyStayTrue—who his teachers knew as a baby-faced kid named Xavier Segarra—grew up in the city's West River neighborhood, just blocks from the school on Judson Avenue. As a student, he soaked up knowledge from every special guest that came to the school, from Cab Calloway's daughter, Chris Calloway, to the Harlem Globetrotters. He fell in love with music while playing the recorder and then the trumpet in band class, and only later realized that "my instrument was my voice."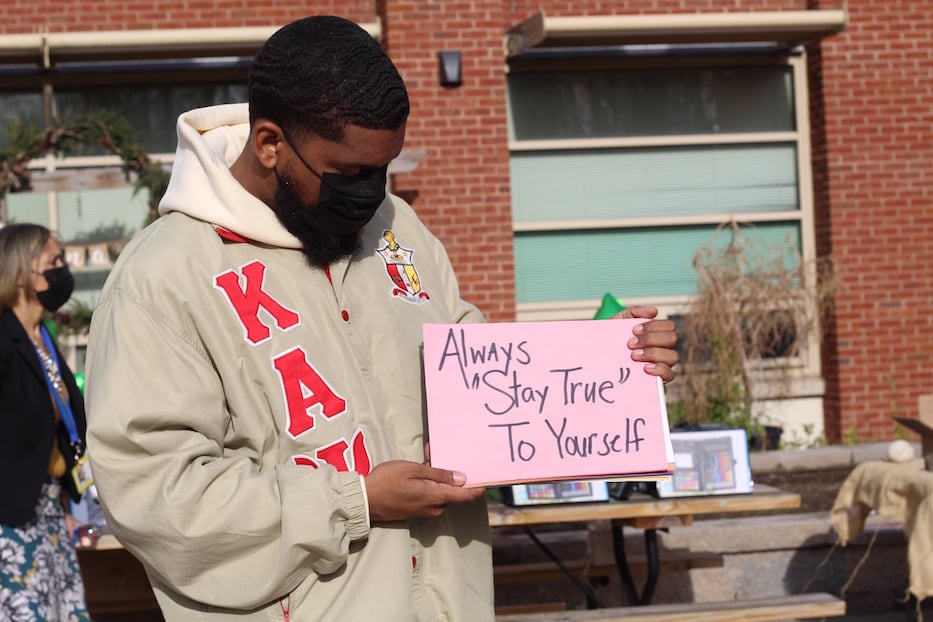 Earle Lobo, who worked as an NHPS family resource liaison at Barnard when Dusty was in school there and still follows his work. "I think it's important," he said of the visit. "We don't often get emerging artists coming back to the schools."
Outside of class, he started writing rap lyrics, and bringing them into school to practice and polish at lunchtime. With a friend affectionately nicknamed "Nugget," he hammered out beats and started cyphers in the cafeteria. He looked up to boxing legend Chad Dawson and several of the city's up-and-coming musicians for inspiration. Inside, he paid attention to his lessons, particularly to his sixth grade teacher Rosa Velasquez. Thursday, he made a beeline over to her for a hug.
"She pushed me to think further beyond what I thought I could do," he said.
After graduating from Barnard, the artist went onto Metropolitan Business Academy and then briefly took classes at Gateway Community College before making music a full-time profession. Last year, his single "Never Change" went viral, and led to a deal with the record label South Coast Music Group and spot in the video game Fortnite. He went on tour with it this fall, while working on a new project entitled "True To Me." After hitting cities across the country with the rapper ​​Toosii, he said he was excited to return home and give back to a place that has given so much to him.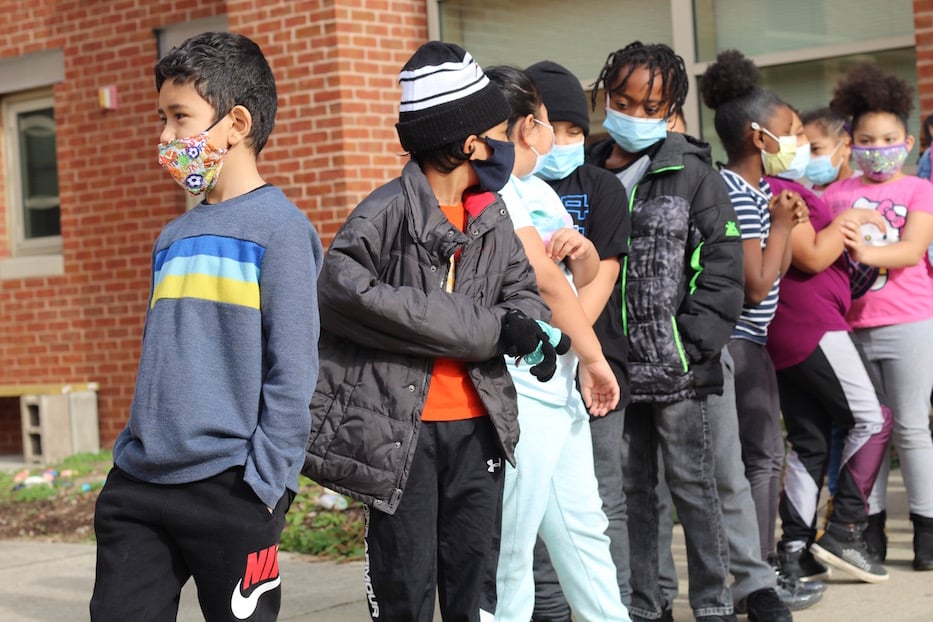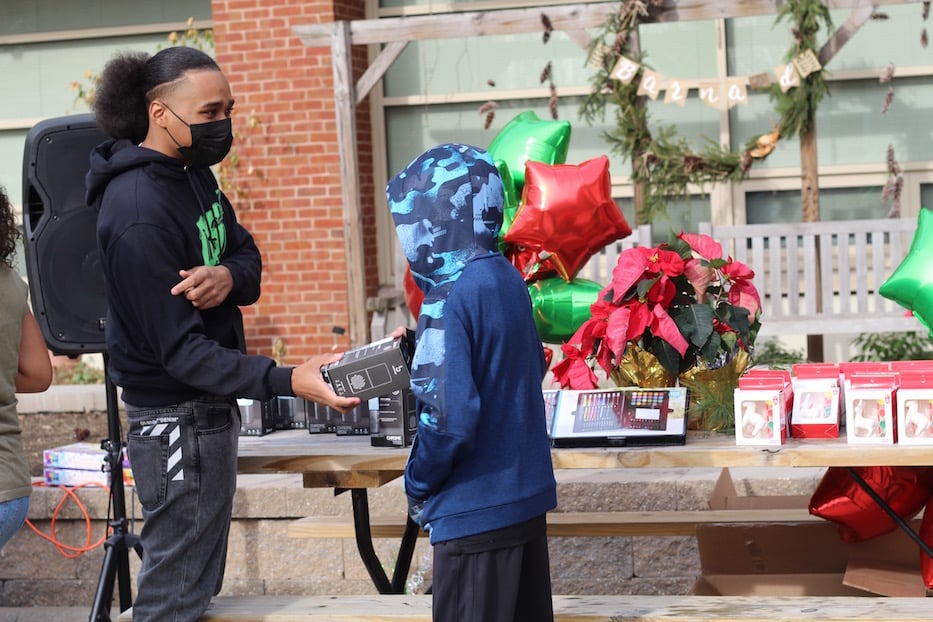 "I want to just get to know them [students] and show them that everything that I'm doing is achievable if they want it," he said as teachers laid out packages of slime, painting kits, sand art, necklaces, sensory bubble toys and hundreds of books. "In whatever they want to do. Some kids might not want to rap or do music. They might want to be a lawyer or doctor … it's all possible."
As he walked into the courtyard to strains of "Never Change," it was hard to say whether current Barnard students or his former teachers were more excited to see him. Within moments, he was embracing Velasquez to cheers from kids who now know her as their math intervention specialist. Walking out to the center of the space, he addressed the hundreds of kids who had gathered for his arrival. Signs that read "Always 'Stay True' To Yourself" and "Barnard's Big Brother" looked out across the expanse of cobblestone and moss.
"Make some noise for your teachers!" he said, and a cheer went up from the students. He told them that he knows how overwhelming school can be, particularly in the midst of the pandemic.
Close to the school, teachers beamed with smiles so large they glowed even beneath their masks. A 14-year veteran of the district, Velasquez is the teacher who first turned him onto reading, simply by nudging him toward books she thought he might enjoy. She was amazed that he remembered her over a decade later.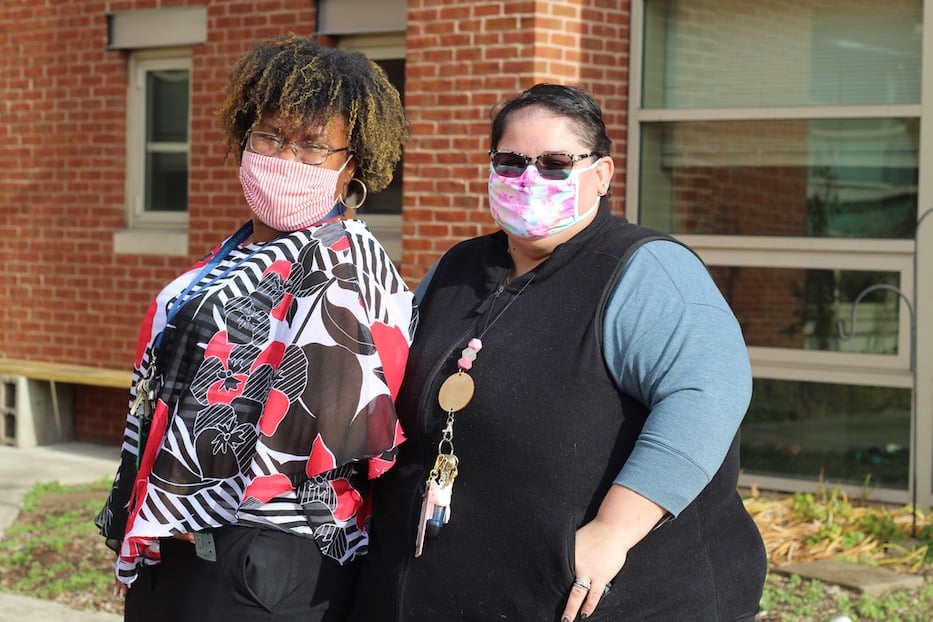 Kimberly Phillips and Rosa Velasquez.
"Things like this show that the kids you've taught haven't forgotten you," she said. "Sometimes coming in during the day to day, it's like: 'Am I making a difference? Is what I'm doing important?' This says yes."
As the artist ducked inside to talk to students, Velasquez and fellow teacher Kimberly Phillips remembered him as perennially upbeat, eager to try any challenge at least once and keep his classmates smiling in the process. Phillips recalled running into him a few years ago, when he was still working a part-time job at Chuck E. Cheese. He didn't miss a beat in greeting her excitedly, eager to hear about her life and catch her up on his.
So when he reached out about a potential gifting event earlier this year, the two were excited to help him get it off the ground. He said that he tried to find age-appropriate gifts, from rainbow-colored slime to bluetooth speakers. Books came from the school's literacy department.
"That's just who he is," Phillips said. "And the fact that he thought this much of kids he doesn't even know? Based on the reputation that he had from the teachers that he had—that says a lot about his character. This place imprinted so much on him."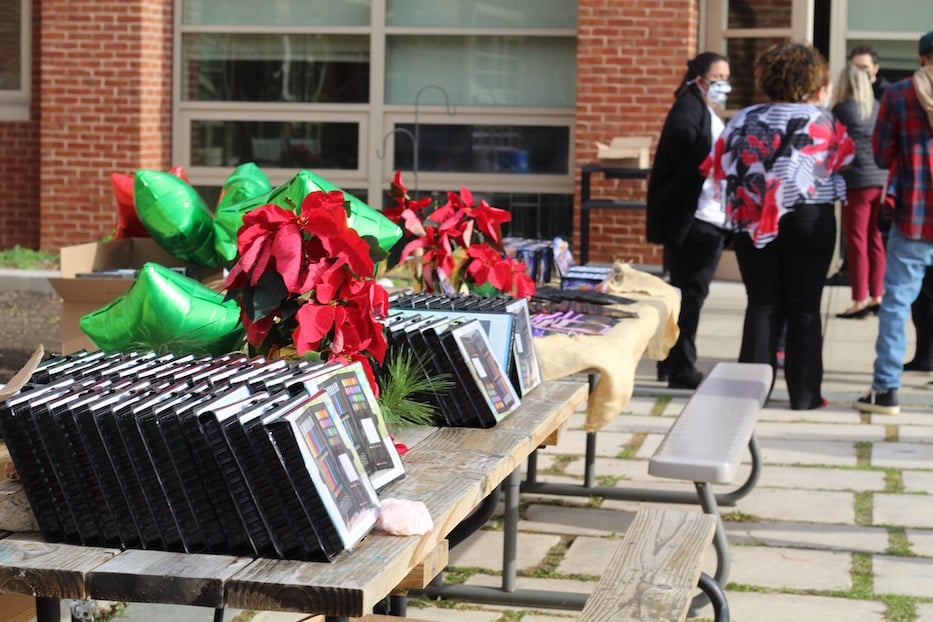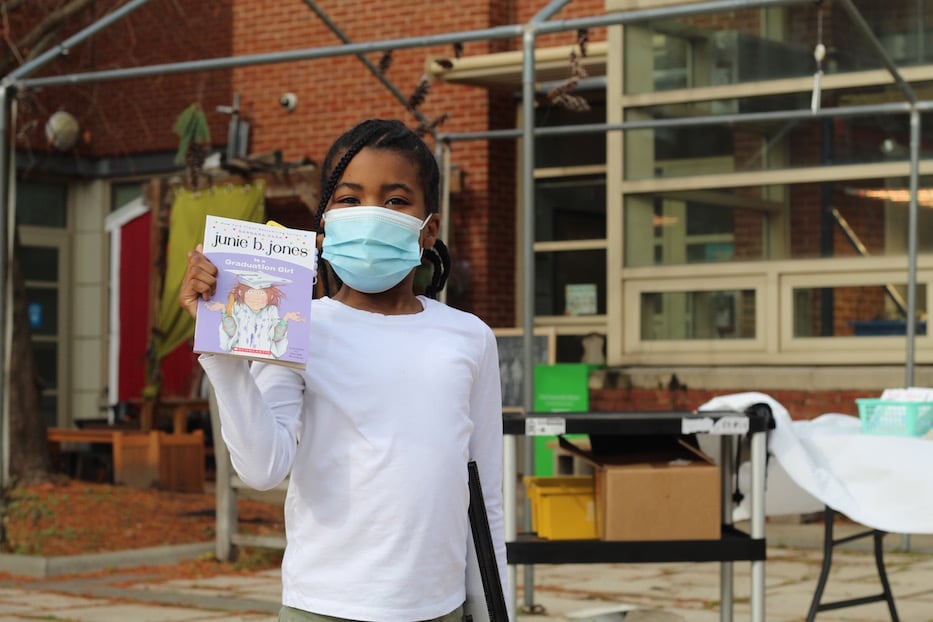 Second grader London Dobbs. "I don't even know how to feel," she said.
As they streamed out of the school cafeteria, second-grade students headed toward a table piled with paint kits. Some elbow- and fist bumped the artist; others looked away shyly and trotted over to their friends.
Her new supplies—and brush with celebrity—in hand, London Dobbs headed over to a group of friends to chat. Growing up in New Haven, she's already nurturing a passion for drawing and the ukulele, which she plays at home. When she realized there were tiny cakes of paint in the kit, she backed up and let out a high-pitched scream of delight.
"I don't even know how to feel," she said, navigating a mix of wowed and excited as it washed over her. She held up a copy of Junie B. Jones, eager to read it.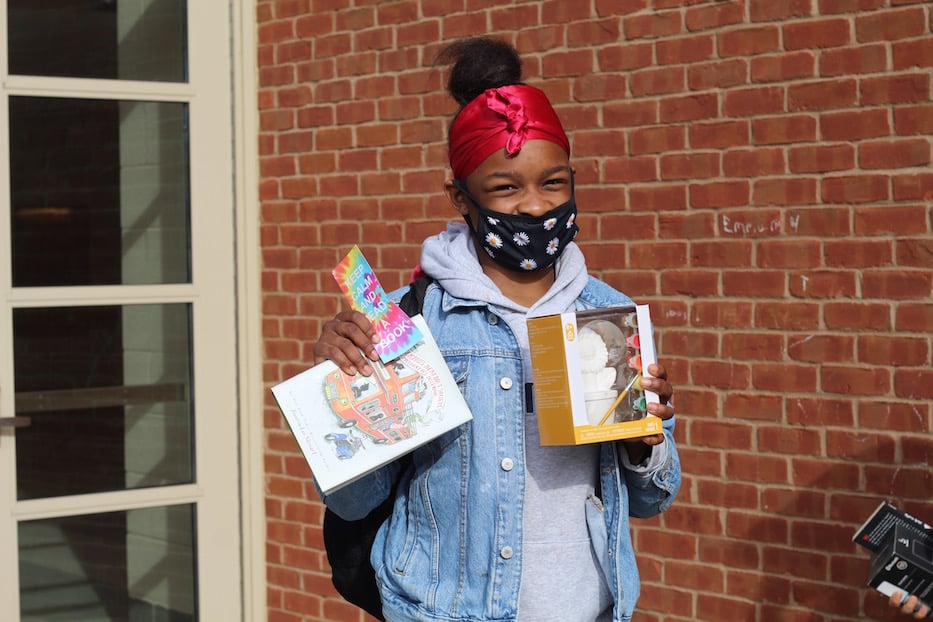 Fifth grader India Watson.
Fifth grader India Watson, who received a ceramic sculpture and container of paints, was still smiling minutes after meeting Dusty. After hearing "Never Change" on TikTok last year, she started listening to his music. Her older brother, a Barnard grad who is now 20, is also a fan. As a young dancer, Watson said she loves seeing other artists who grew up in her city and pursued their craft alongside school. As she spoke, a censored version of "Never Change" looped over the courtyard at least three time. No one seemed to get tired of it.
"I've never met a rapper before," she said. "I think it's very cool. Maybe you want to follow in the footsteps of an artist—become a rapper or a singer."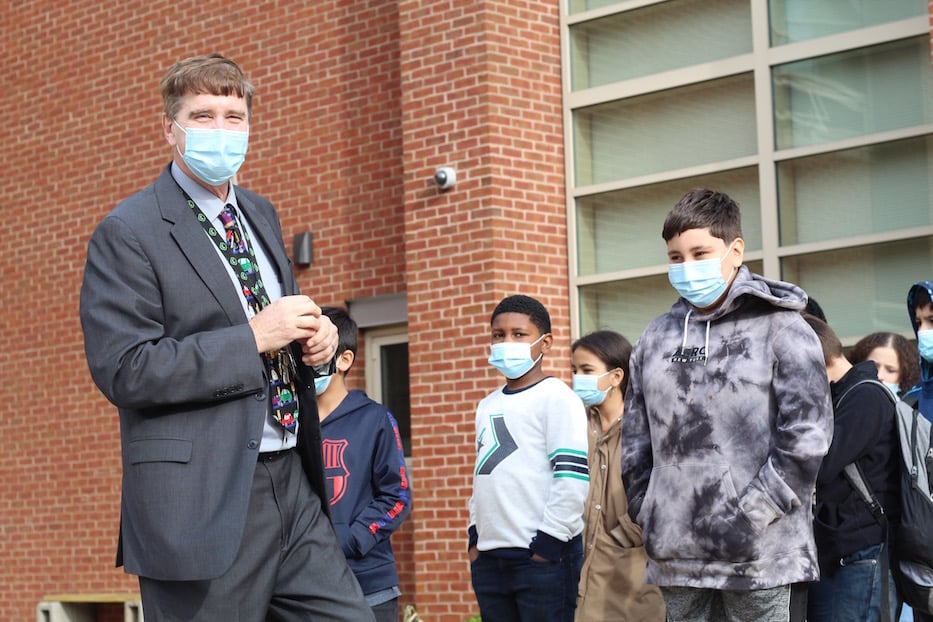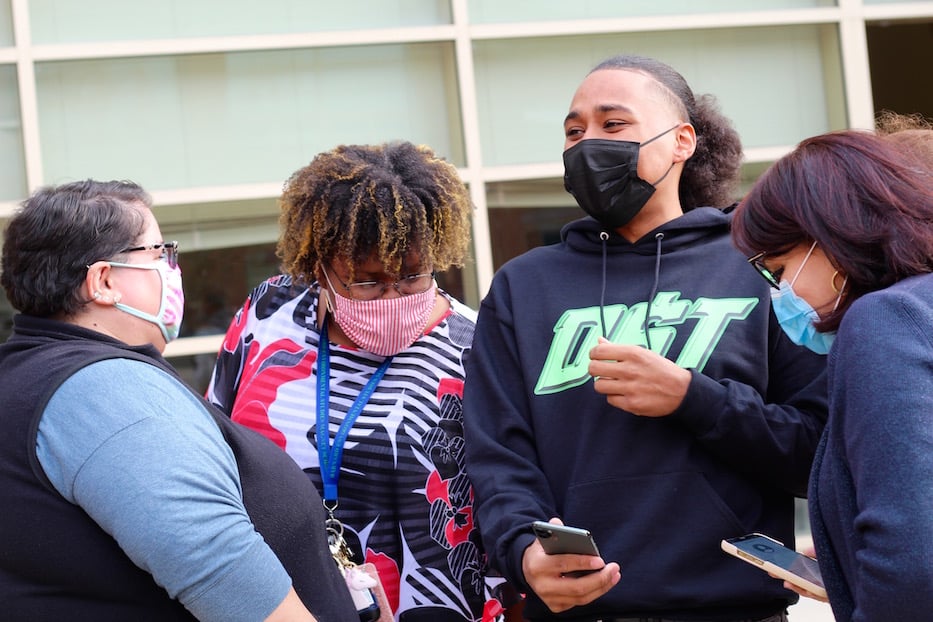 Top: Principal Robert McCain, who called it a powerful reminder to thank teachers. Bottom: The musician with former educators.
Before leaving, DustyStayTrue added that he knows several students may be dealing with some of the same loss and emotional exhaustion he dealt with as a kid—and is still dealing with as an adult. Seven years ago, he mourned the premature death of 15-year-old Jacob Craggett, a close friend and fellow Barnard alum who was shot and killed in the city's Hill neighborhood in 2014. Thursday morning, he learned that a family member had died unexpectedly shortly before the event. He said it was important for him to show up anyway.
"Being back here brings it back home to the reality that not only I had to face, but these kids are probably going through the same types of things," he said. "To kind of come back and be an inspiration for all the kids that are where I was, and probably going through what I'm going through, that's big for me."