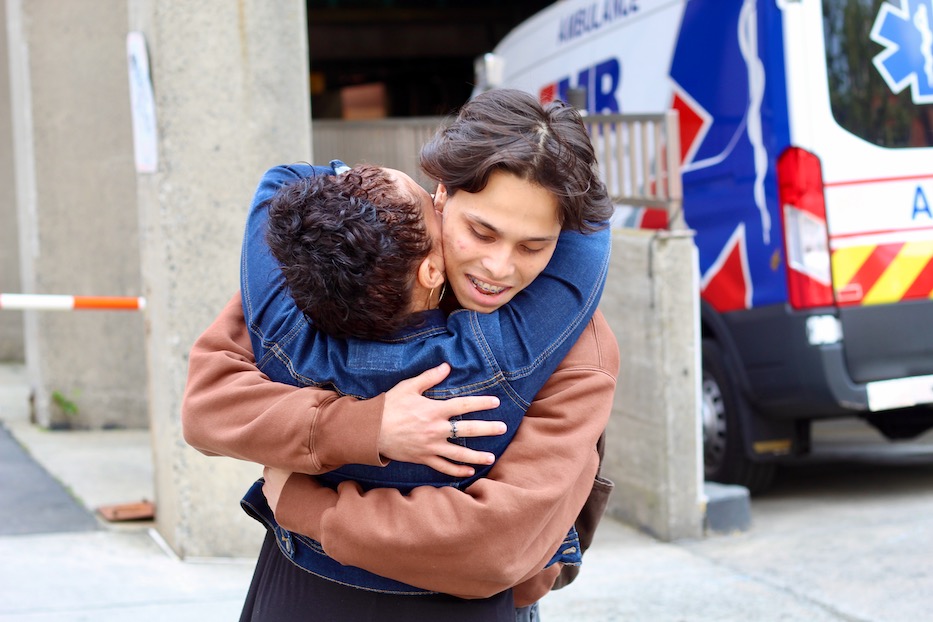 Co-Op High School | Culture & Community | Downtown | Education & Youth | Arts & Culture | New Haven Public Schools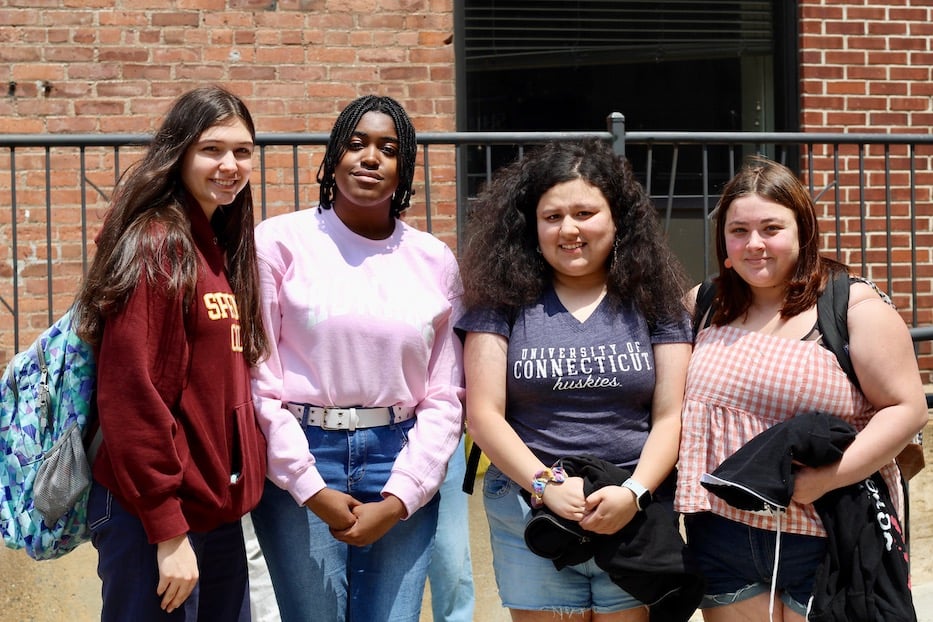 Left to right: Seniors Lillian Palluzzi, Chelle Swaby, Selena Zamora and Kayleigh Householder. Lucy Gellman Photos.
Co-Op senior Chelle Swaby started her Tuesday morning ready to learn about the First and Fourth Amendments. Instead, she and her classmates spent almost three hours in the corner of their third-floor constitutional law classroom, trying to remain as quiet as possible. Now, she's emotionally exhausted—and wondering what the district will do to better communicate with its students.
Tuesday morning, Swaby was among hundreds of students, staff and teachers at Cooperative Arts & Humanities High School who went on lockdown for nearly three hours, as New Haven police investigated a potential gun threat at the school. The lockdown ran from just before 8:50 a.m. to almost noon, when students were released from the building floor by floor.
The school declared a half-day, and postponed a dance showcase that was scheduled for Tuesday evening. One other school, the Educational Center for the Arts (ECA), canceled afternoon classes.
"I'm so tired," Swaby said Tuesday afternoon, as she stood outside the Shubert Theatre on College Street with a few friends from her constitutional law class. "Not only physically, but emotionally. I get that they can't tell us everything, but why did we have to find out [what was going on] from a Yale alert?"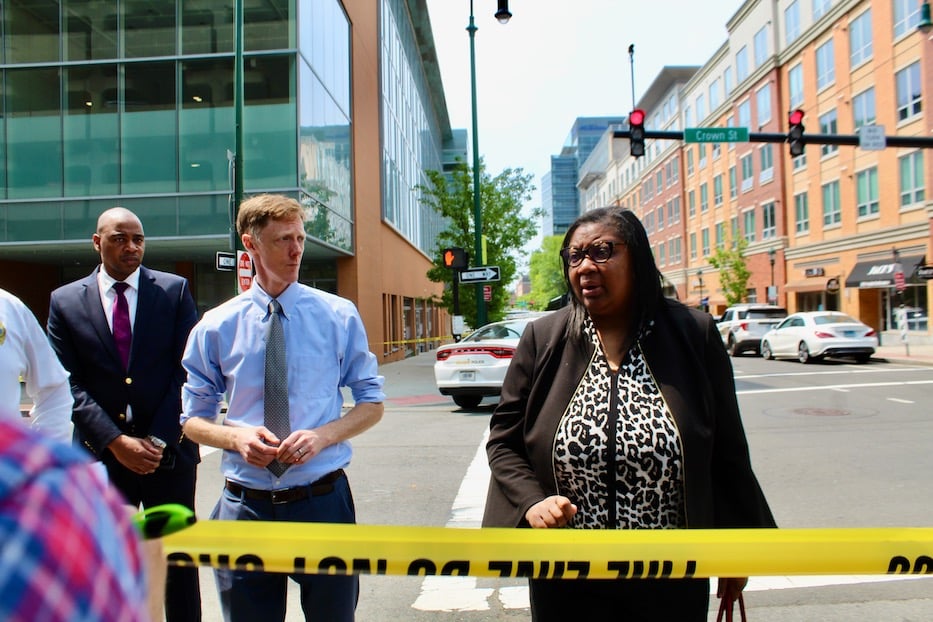 Mayor Justin Elicker and Keisha Redd-Hannans, assistant superintendent of curriculum, instruction, and assessment. Lucy Gellman Photo.
Here's what happened, according to the New Haven Police Department and New Haven Public Schools spokesperson Justin Harmon. Shortly before 9 a.m. a student told his parents that he thought he saw a peer with a gun inside the school. The parents spoke to the school. Then outgoing Principal Val-Jean Belton alerted Keisha Redd-Hannans, assistant superintendent of curriculum, instruction, and assessment, to the threat.
From that point, police "acted quickly" and "out of an abundance of caution," Redd-Hannans said during a press conference outside the school Tuesday, before lockdown had been lifted. Police looked over surveillance footage, and saw that there was a suspicious backpack that had been brought into the school.
Police officers then entered the school, where they both searched for the bag in question and checked a number of student lockers and school areas with police dogs. As of Tuesday afternoon, New Haven Police Chief Karl Jacobson said that police had recovered the bag in question and that three students had been detained.They ultimately did not find a gun but are continuing to search.
As of 8:07 p.m. on Tuesday, NHPD Spokesperson Captain Rose Dell said that a 14-year-old student had been found to be in possession of a knife and "was immediately arrested and charged with possession of a dangerous weapon."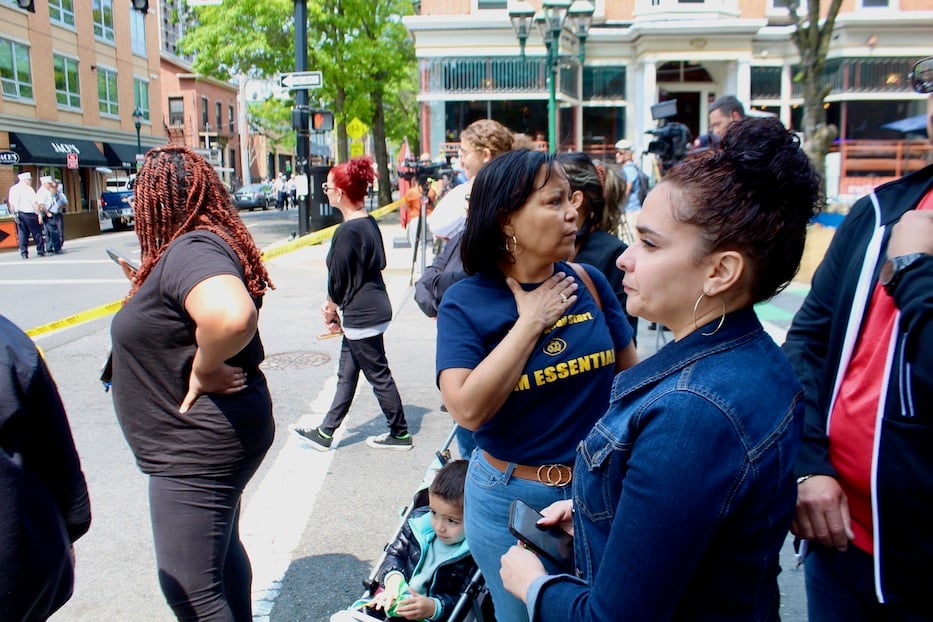 Parents gather outside the school. Elsa Rodriguez, pictured in the denim jacket above, was one of them. Lucy Gellman Photo.
"We are taking every precaution by investigating further and making sure something wasn't taken out of the bag at some point," Jacobson said before lockdown had been lifted, as parents gathered on College Street. "During this time, the students have been in classrooms, comfortable, safe."
According to police, the lockdown began officially after 9 a.m. According to a student in the school, a junior who asked to remain anonymous, it began closer to 8:50 a.m. Kim Householder, a Co-Op parent who spoke to the Arts Paper Tuesday afternoon, said that she began hearing from her daughter, senior Kayleigh Householder, about the lockdown at 8:47 a.m.
At the time, Kayleigh was supposed to be tying up her lessons in constitutional law before heading to her second period class. Instead, she and fellow students sheltered in place for hours.
For over an hour, close to a dozen students and parents said they were in the dark about what was happening. Parents did not receive notification from the New Haven Public Schools until 9:42 a.m. An alert from Yale University, specifying that "police are responding to reports of a possible person with a gun at the New Haven Cooperative High School" went out at 9:43 a.m.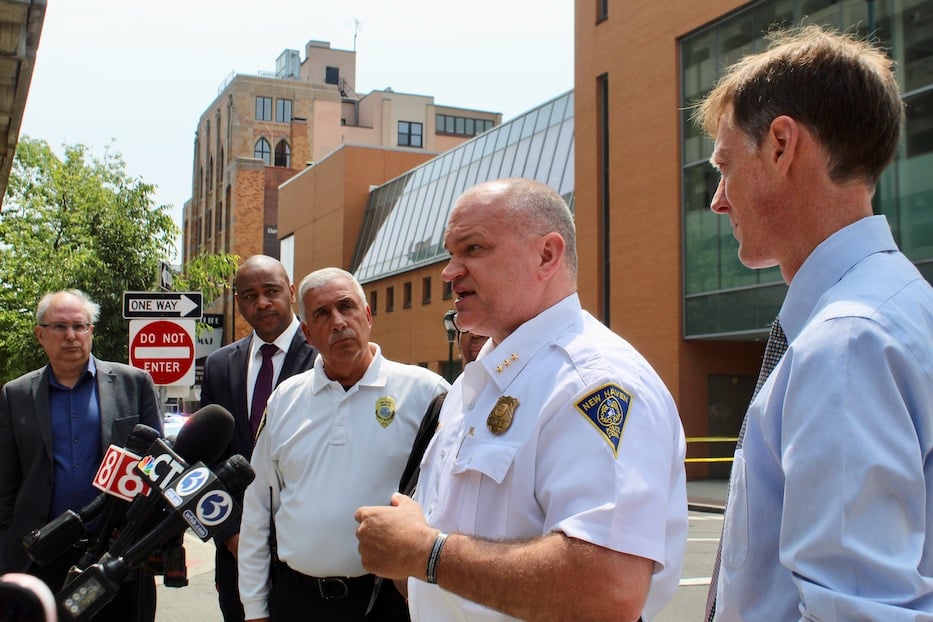 Police Chief Karl Jacobson: Every precaution taken. Lucy Gellman Photo.
For many students in the building, it also came as both a shock and a too-close reminder that gun violence, including in spaces dedicated to education and the arts, has become a widespread and very American epidemic. Standing outside the Shubert Theatre after lockdown had been lifted, seniors Kayleigh Householder, Selena Zamora, Swaby and Lillian Palluzzi said that they had imagined a lot for the final month of school—but not this.
"The door was locked and we were all sitting in a corner trying to keep everything quiet," said Householder, who is studying theater and recently starred in Hairspray at the school. "It feels scary. School should be a safe place."
"You don't really think it's gonna happen to you," Palluzzi chimed in, adding that her senior capstone is dedicated to the epidemic of gun violence in the U.S., with a specific focus on mass shootings. "At least everyone is safe. But I'm so tired. I'm angry. I feel like there are so many things that we [as a country] could do."
Zamora, who is also studying theater, said that it makes her sad to see this kind of violence come to Co-Op specifically. In her four years, she has felt embraced by the school for who she is, with roles in Sister Act and Hairspray that let her get loud, silly and expressive. This isn't how she wants to remember the end of her time in high school, already derailed by a pandemic.
"It sucks that this has to happen at our school," she said. "It puts our school in a negative light. Co-Op is so beautiful because it lets us be who we are."
Chelsea Thomas, Breanna Dawson, and Nychelle Lowery. Lucy Gellman Photos.
Chelsea Thomas, a junior studying dance, spent her first moments back on College Street anxiously looking for her peers, while also trying to figure out what would become of Wednesday evening's dance recital. She and fellow dancers were in the middle of rehearsal in the auditorium when students heard the announcement, and filed quickly into an office next to the theater.
After spilling out into the sunlight on College Street Tuesday afternoon, she and several of her peers said the experience had been a frightening one, particularly for how little communication they received.
"I was scared," she said. "There was people saying stuff, but no adults were saying anything. I was nervous. I didn't know what was happening."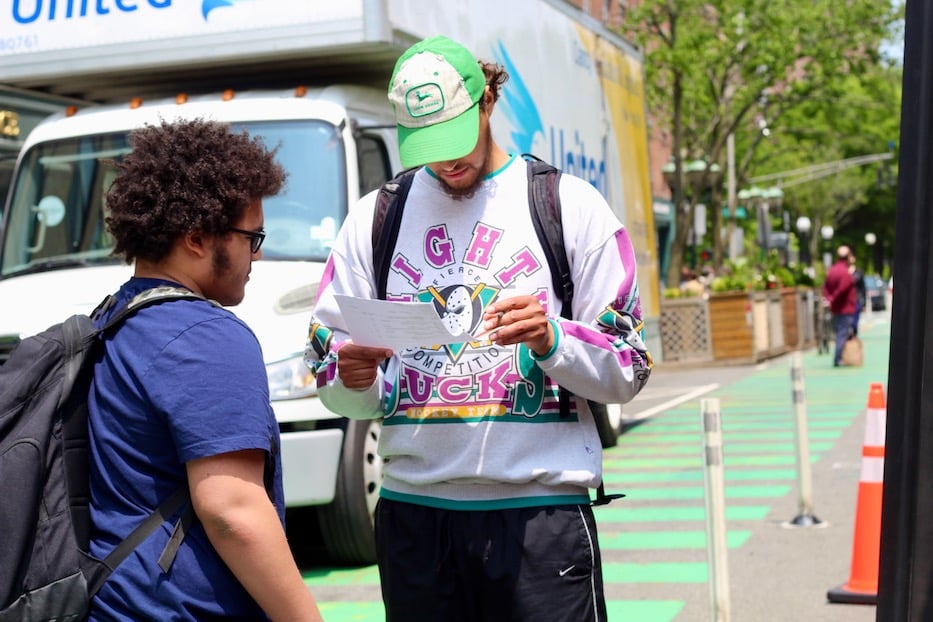 Matt McClain helps students get on the buses. Lucy Gellman Photo.
"It was very crowded and very scary," added Nychelle Lowery, a fellow junior studying dance. "We kept hearing stories about there possibly being a shooter [in the building], so it was traumatizing." Lowery added that she sees stories of school shootings not infrequently on the news, but still felt shock when the threat came to her high school.
"With the way that the world is right now, this is very traumatic for students and for parents," said Taylor's mom, Julise Penn. "There are kids who already suffer from anxiety."
"I'm sure she's gonna want to go to school tomorrow," she added of her daughter. "But I'm totally afraid."
Matt McClain, a math teacher who has been at the school for two months, recalled hearing the announcement on the speaker, locking and barricading the door, and getting his students out of sight. As he was working to keep his students calm—he became a teacher because "it runs in the family"—he also reached out to those close to him to let them know what was happening.
"This Is Where They're Supposed To Be Safe"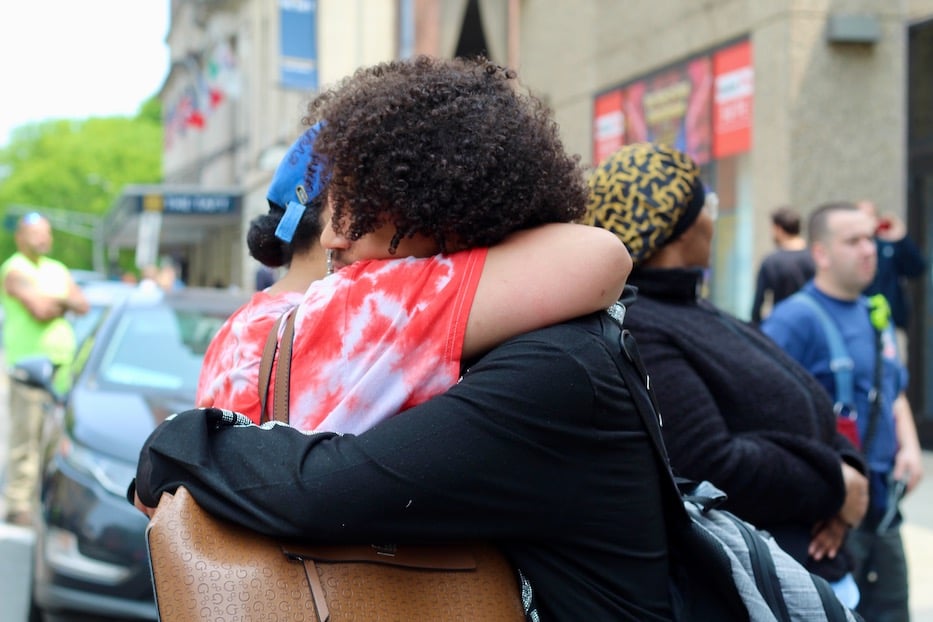 Aisha Wheeler and Maurice Wheeler. Lucy Gellman Photo.
In the nearly three hours between the beginning and end of lockdown at the school, dozens of parents gathered outside the building on College Street, watching as police blocked off a perimeter and closed down the road. Most kept their eyes glued to their phones, waiting for updates from their kids. A few exchanged snippets of information with each other, comparing what little they had before a formal press conference.
Parent Elsa Rodriguez, whose twins Alex and Angel Negron are seniors at the school, said that she was feeling both anxious and frustrated with the lack of communication as she waited. Around 9:25 that morning, she'd headed to Co-Op for a scholarship event. It was only after she arrived and saw the police presence that she learned what was going on.
One of her sons, Alex, had texted her that the door to his classroom had chairs pushed up against it, because it didn't lock. Later, as he made it out of the school and up College Street, she wrapped him tightly in her arms while keeping one eye constantly trained on the sidewalk, where Angel had yet to appear.
"They have to change the protocol, because this is unacceptable," she said. "The protocol has to change."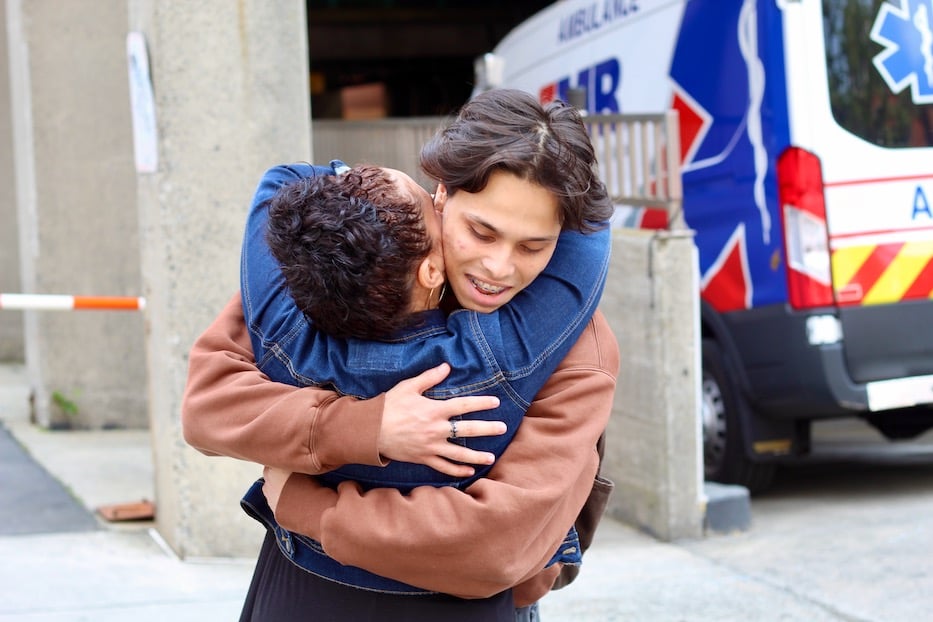 Elsa Rodruguez and her son Alex.
Janna Ellis, whose daughter Alayna is a sophomore at the school, said that she'd heard more detail about the situation from her daughter than from the district. This morning, Alayna was in rehearsal for the school's spring dance recital when lockdown began, and students were shepherded to one of the nearby classrooms. Ellis, who works nearby at the Yale School of Drama, ran down to the school to wait.
"She said, 'Luckily I know lots of places in the theater to hide,'" Ellis said with a deep breath. "This is hard. It's just hard. This is where they're supposed to be safe."
Meanwhile, several students inside the school also felt as if they had little or no information. By 10 a.m., rumors were flying, students said after the fact: that someone had been shot, that a student had overdosed in the bathroom, that there was an active shooter inside. Only after they reunited with their families and got on school and city buses to go home did they learn that none of that was true.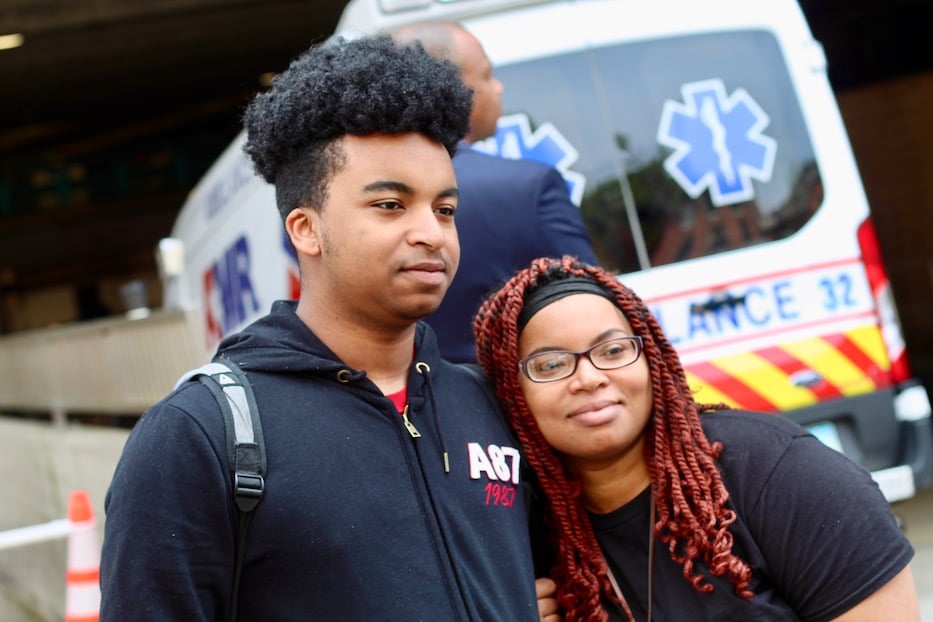 Amari Cloud-Smith and his mom, Alexis Cloud. "I just felt a bit nervous, overwhelmed," Cloud-Wheeler said. Lucy Gellman Photos.
A junior, who asked to remain anonymous, was in her math class when she first heard the announcement crackle over the PA system. Normally, students would be spending this week reviewing for their exams, she said. Instead of logarithmic functions, she and her classmates watched the teacher lock the door and crowded into a corner of the classroom for hours.
"I am in a classroom and we're all in a corner away from the door where we can't be seen," she texted the Arts Paper at 10:01 a.m., shortly after members of the media first learned about the lockdown. "I am surprisingly very calm and so are my classmates. We're just on our phones."
By then, she and her peers could hear police inside the school opening lockers and bringing dogs through the halls. She said that students were calmer knowing police were inside the building.
"We don't have lockdowns frequently but there have been a lot of fights throughout the year," she texted minutes later at 10:11 a.m. "There was a fight that happened where we had to go on lockdown because of it."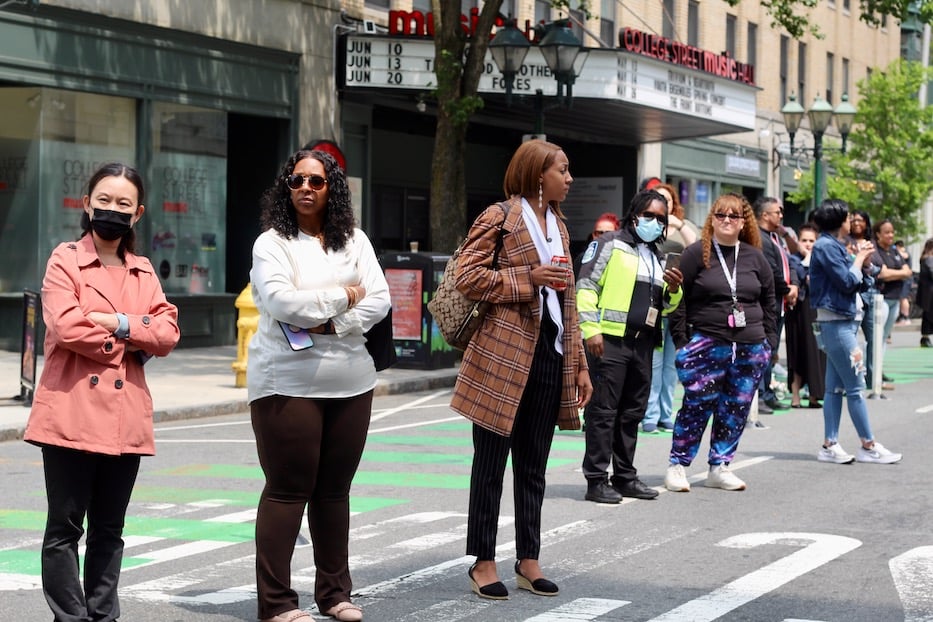 Parents wait outside for their children. Lucy Gellman Photo.
Outside, Mayor Justin Elicker, Redd-Hannans and Jacobson were taking questions. Jacobson described a timeline of events in which a bag was left at the school's Crown Street entrance, brought into the school, and "touched by two or three different students."
"We are taking every precaution," Jacobson said. He said that when Co-Op reopens tomorrow, it will have a temporary School Resource Officer (SRO) posted at the school.
"What about tomorrow?" asked Qahteesha Brown, whose daughter K'niyah Glover is a sophomore at the school. "What about our children who have to come here tomorrow?"
"We understand our families, their anxieties," Redd-Hannans said. "We're anxious as well. But we want to, out of an abundance of caution, make sure that our students and staff are safe."
Aisha Wheeler, who has two children at Co-Op, waited nervously outside on College Street as lockdown lifted minutes later, and a floor-by-floor dismissal out of the building began. As she scanned the street for her kids, a sophomore and junior named Maurice and Anajah, she shook her head. Tears rolled down her face as she watched students walking up the sidewalk, some hand in hand and some with their heads on each other's shoulders.
"Look at these kids. Look at how upset they are," she said. "This is not ok. This is not ok."
Both Redd-Hannans and NHPS Supervisor of Special Education Kara Buontempo said that social workers and trauma counselors will be on site tomorrow to provide assistance to any student who requests it. As students left Tuesday, Buontempo also asked each of them if they needed to speak to anybody immediately.
Reached Wednesday morning by phone, Dr. David Johnson pointed to both the trauma embedded in such events, and the importance of a swift and serious response from the city and New Haven Police Department. Each time a lockdown or school shooting threat happens, he said, students and their communities are triggered. "It completely erodes their ability to attend to attend to homework, schoolwork, and academic progress," he said.
"Obviously these kinds of events—actual shootings and fears of shootings—do a great deal of damage to everyone involved," said Johnson, the co-director of the Post Traumatic Stress Center in New Haven. "Students, teachers, parents, and families."
He added that the stress and trauma of such events can add to tensions already mounting in schools, contributing to fights between peers and students and teachers after the fact. What helps, he said, are "buffers"—concrete examples in which students can see that the adults around them are responding in real time.
"In this case, the entire system got activated and moved into action," he said.
New Haven Academy student Ale Cruz, who is currently doing their three-week junior internship with the Arts Paper, helped report this story.