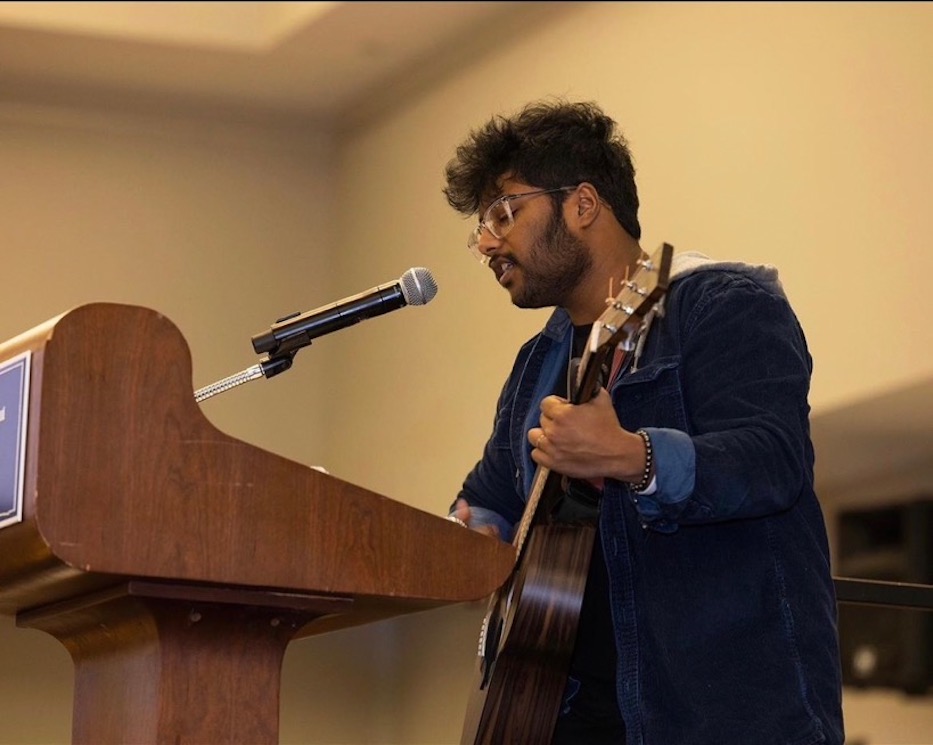 Beaver Hills | Music | Southern Connecticut State University | Arts & Culture | Youth Arts Journalism Initiative | Public Health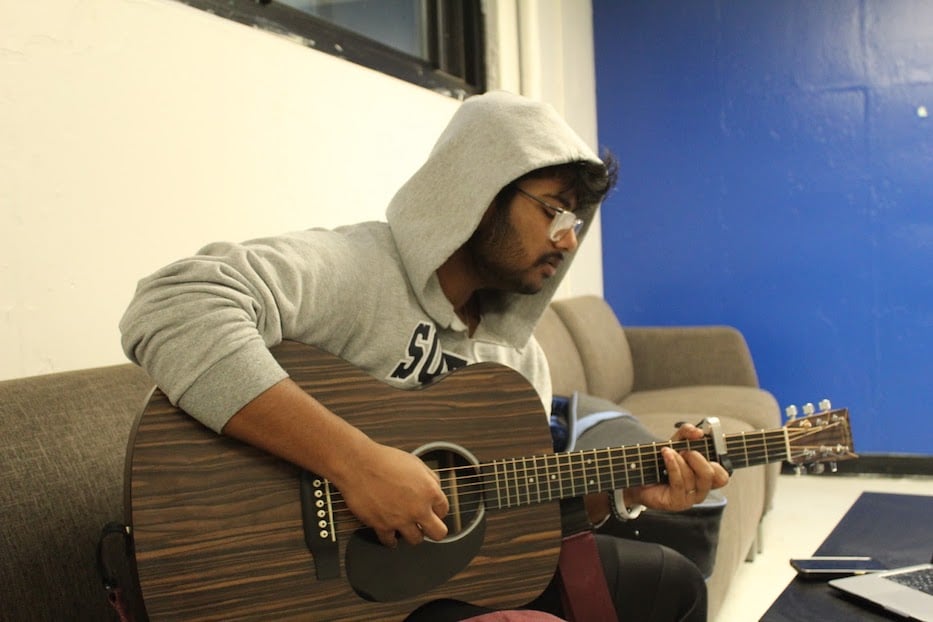 Abiba Biao Photos.
The strumming of guitar filled a dorm at Southern Connecticut State University, light and airy as it travelled down the hall. As it spread, it lulled its listeners into a tranquil state. Behind the sound, Akaash Vincent's song "Dream" was still in the works.
Vincent is a freshman at SCSU and member of the Honors College, where he is majoring in nursing. Born in India and raised in Ellington, Conn., he is also a singer and songwriter, tying his craft in with his growing interest in medicine. When he's not studying or creating, he also works as a DJ and does live music on the side, dabbling in multiple forms of musical expression. His first single, "You," came out in December 2020, and he has released several singles and an EP since then.
Beginnings In Music
Vincent began playing the piano when he was six, following in the mellifluous footsteps of his dad, grandpa, and great grandpa. In fifth grade, he added the guitar to his repertoire—and then singing, bass, ukulele, and drums between middle and high school. He was largely self-taught, using YouTube to learn the ukulele and percussion. He leveraged his existing understanding of the fundamentals to learn the guitar and other instruments.
He attributes his attachment to the guitar—and a gradual fall out with piano—to his bonds with different music teachers. He praised his guitar teacher, Kathy Nativo, for showing him the breadth of music outside the classical canon. Outside of class, he would often play pop covers and hits off the top 100 chart.
"I love my guitar teacher. Like me and her, we were like, homies," he said. "And that's when I like, really fell in love with music because I was like, music's not all about playing 'Ode To Joy.'"
Vincent started teaching music his freshman and sophomore years of high school, curious to see whether his skills translated to mentorship. After getting a large response, he decided to start charging money by posting on the town of Ellington's Facebook group chat. He now currently has 10 students ranging from 6 to 11 years old.
Vincent said that the hardest part of teaching is balancing his own time commitments—school, instrumental practice, and gigging and deejaying—with teaching. He goes back to Ellington on the weekends to teach Friday evenings and Saturday mornings before returning back to SCSU'S campus.
Vincent goes out of his way to give his students that same love and energy he's received in the music classroom, he said. He knows the influence teachers have on their students.
"I started teaching them the way that I wished that I was taught," he said. " So it's kind of like I feel happy that I'm like, kind of making an impact on these kids' lives to like learn music and like learn something that I love at the same time."
Creative Process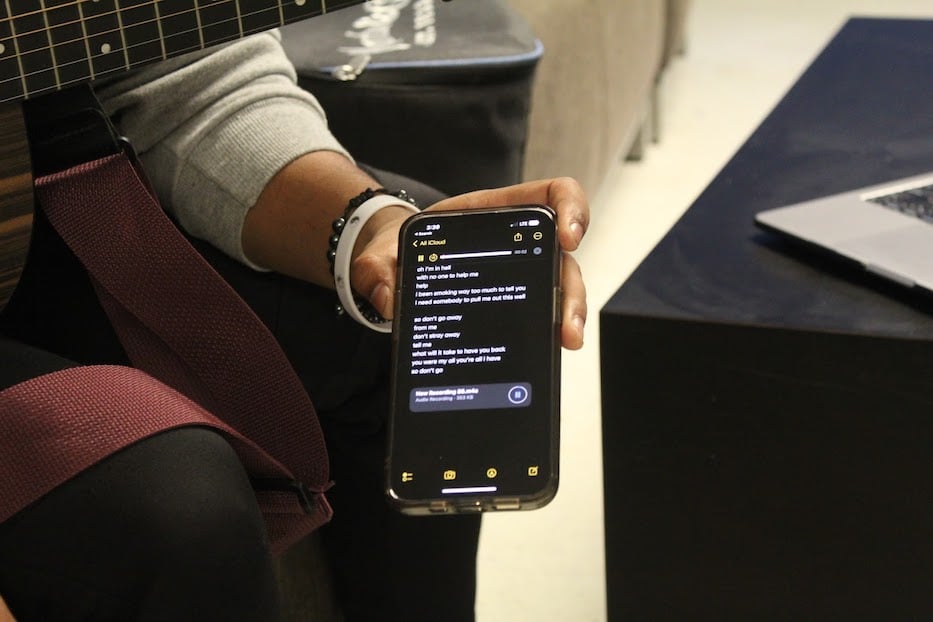 Vincent's process is quite lengthy. He produces everything himself, from his beats to his lyrics and chord progressions.
Once he writes lyrics (often, they begin as a poem), he plays along with his guitar, strumming to find a chord progression and riffs. He records a clip of himself playing and singing and inserts it under the piece in his notes app.
"And then usually what I'll do is I'll make a voice memo because I forget things super easily," he said. "Like I have a horrible memory. So I'll make voice memos of it. And like for stuff that I really like, stick with and that I really like. What I'll do is I'll put them underneath the [computer] file."
After he records a draft he brings it into post production. That means he adds guitar and then layers piano on top, then violin and drums to bring depth to his chorus. When he finishes mixing and remastering his tracks, he sends his completed works to a sound engineer to get some touch ups and a professional set of eyes on it.
His creative process is sporadic and happens in bursts of energy, he said. It occurs often at night when he "be in his feels," with lyrics forming as he lays in bed. Instead of trying to control the creative process, he lets it control him and goes with the flow.
"I don't like to like sit down and dedicate hours to just making music. So that's why I like to have a home studio rather than go in and pay for like a production studio."
The Love Connection
The inspiration for many of Vincent's songs also comes from his love life and people he's encountered.
During quarantine, one of his friends suggested that he try journaling after going through a breakup. It was sophomore year of high school, and Vincent was isolated. With his usual outlet of going to the gym and working out being unavailable, quarantine pushed him to confront his feelings.
Skeptical of the idea at first, he gave it a try . He tapped into his feelings by writing poetry, which he now transforms into lyrics for his songs.
"I found like I enjoyed that more [than journaling], the creative process of, like, writing poems," he said. Music was (and still is) a way to combat societal standards of toxic masculinity, he said. It gives him a healthy space to process his emotions. Other outlets, such as the gym, were just "distracting myself from the moment," he said.
"I felt like it was more important to understand why you're feeling like this," he said. "And like, understand what you're feeling and kind of realize that it's okay to be feeling that and that it's going to be better."
He doesn't get nervous in front of big crowds, he said. Instead, he experiences stage fright when performing in front of small, intimate crowds because it's easier to read the room and gauge audience reactions.
"Every time I get into a room and it's like 10 people or like 15 people, my knees start shaking and shit."," he said. A simple trick he does to combat this is closing his eyes while performing. It lets him be in his own element and create a mental separation between himself and the crowd, he said.
Vincent also draws influence from pop stars such as Ed Sheeran and his loop pedals and drums. His song "A Memoir" is modeled after Sheeran's 2014 hit "Photograph." He also takes influence from other songs such as Giveon, Drake, and Alec Benjamin.
A Career In Caring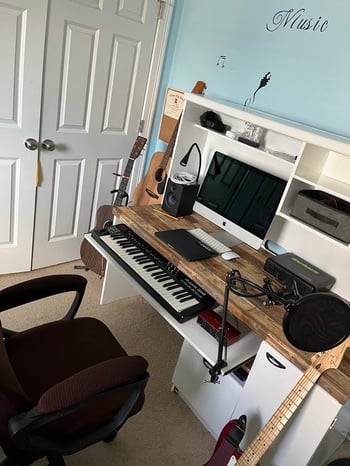 Vincent's interest in moving past societal gender norms extends from his music to his burgeoning interest in healthcare. Traditionally looked upon as a domestic and feminine career, nursing has long been dominated by women, despite the fact that they make less than their male counterparts in the field. In 2021, the U.S. Census Bureau reported that women comprise 87 percent of the nursing field and 86 percent of essential health care support workers
Vincent believes it is important to have every kind of diversity among staff—including sex and gender—to give the best possible care to patients. "Men can show the same compassion as a woman," he said during an interview at SCSU.
He discovered his interest in the healthcare field in high school working as an Emergency Medical Technician (EMT). While he initially wanted to become a neurosurgeon, his experience working as an EMT helped him fall in love with patient care. He is drawn to creating a bond with patients, something that he sees is lacking in the medical industry.
"And I looked at like, regular like doctors and stuff, and like their curriculums more based on like, diseases and how to fix them," he said. "It's like how to treat the disease but not how to treat the patient."
He wants to hold tight to his patient-first mentality, he said. By majoring in nursing, he believes he can put the social and emotional needs of the patient first, and not just focus on treating a disease. He hopes to get a Doctorate in Nursing Practice (DNP) and go into plastic surgery, which requires eight more years after obtaining his undergraduate degree.
He believes he can balance both his passions in the future, he added. After his studies are completed, he hopes to work in a music firm on the side.
Campus Community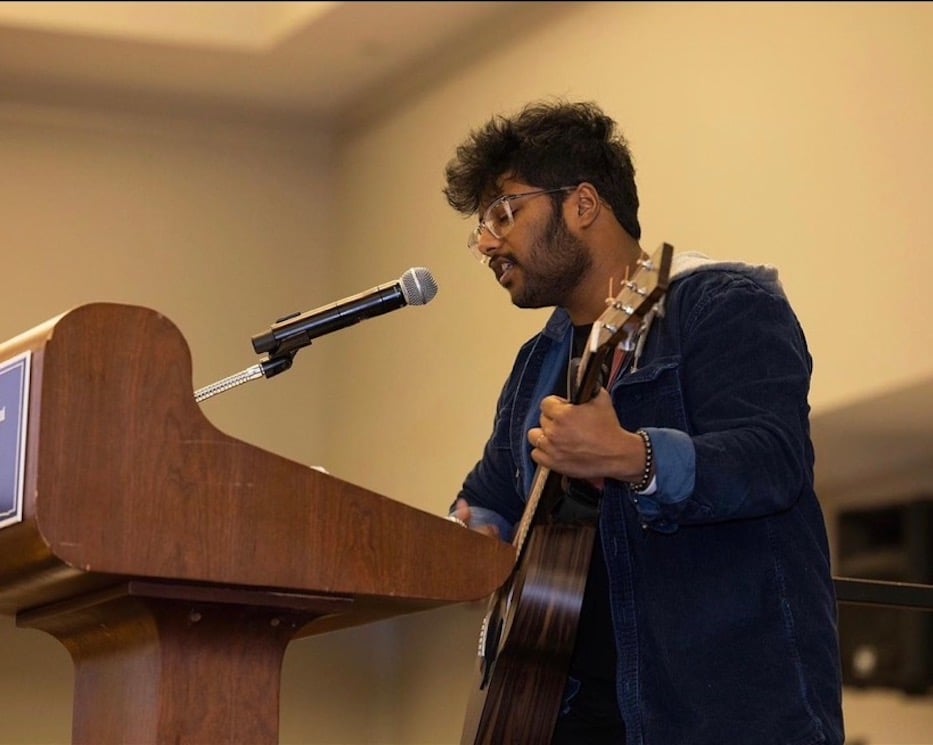 Vincent performing at SCSU last year.
In his first year at SCSU, Vincent has already become a musical presence on campus. In November, he performed at the university's Multicultural Explosion, a ceremony celebrating Southern students at the end of the semester.
While there have been some rough spots he's been grateful for his journey and supportive family members and people around him.
"I know it gets, like, overwhelming sometimes and I know it gets super frustrating sometimes," he said. "But like at the end of the day you're making music because you love music. And that should be the reason why you're making music or the reason why you're doing anything."
Find Akaash Vincent on Spotify, YouTube, and Instagram and stream his latest single "Stand By Me." Abiba Biao is a graduate of the Arts Council's Youth Arts Journalism Initiative and has stayed on with the Arts Paper as a freelance writer and photographer. She is currently a freshman at Southern Connecticut State University (SCSU).