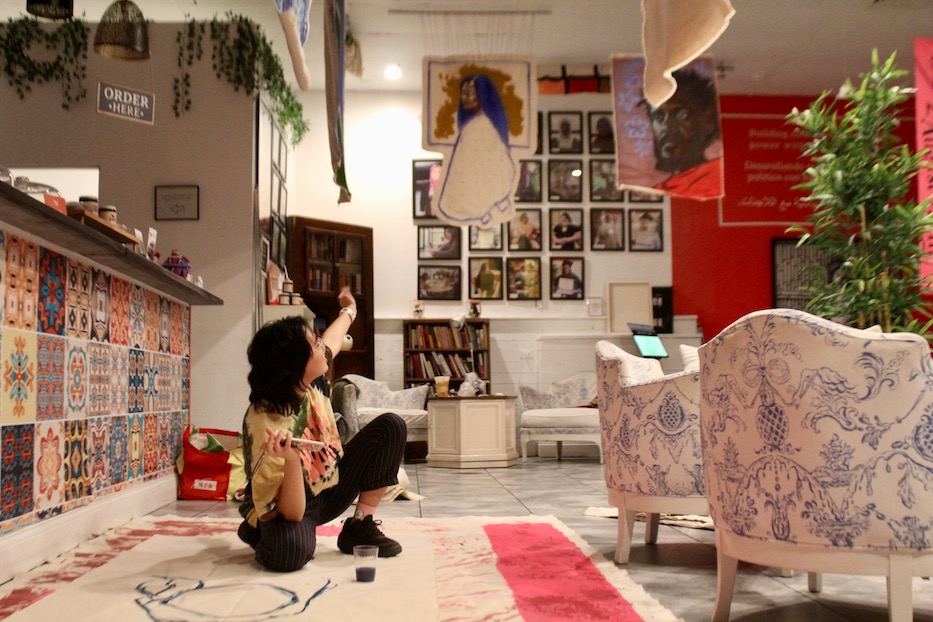 Downtown | Painting | Arts & Culture | Visual Arts | Havenly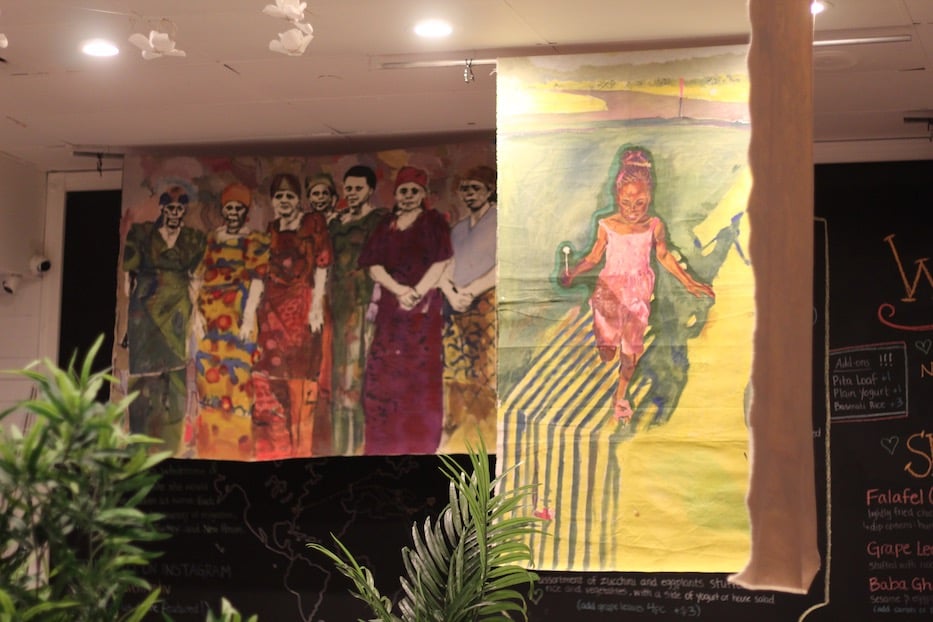 Lucy Gellman Photos; all artwork by Jisu Sheen, Kulimushi Barongozi, and Sita Sunil.
It's a portrait of childhood, frozen in time. The little girl runs, arms rising, as fields blur behind her in smears of yellow, brown and green. In one hand, she holds a dandelion puff still on the stem. The other flutters upward, cutting the still air. Her shadow is a long, skinny thing that stretches in the background as she prepares to lift off. As her left foot strikes the ground, the path itself bursts into bright yellow, as if it is made of pure light.
The girl—in real life, her name is Nana—is one of roughly a dozen renderings in "Folk Festival: A Festival for Folks," a nightly creative space and exhibition from Second Floor Hardware School (2FHS) running at Havenly's 25 Temple St. storefront through Friday. The brainchild of artists Jisu Sheen and Kulimushi Barongozi, the festival is designed to give artists the space to convene, create, and collaborate with each other.
It is funded by a grant from the New Haven Free Public Library. Artist Sita Sunil, who is based in New York, also has work in the space.
Since the end of August, Sheen and Barongozi have invited speakers, musicians, and most recently dance instructors into the space for a kind of multimedia artists' salon. It closes Sept. 23 with performances from Nehway Sahn and Forager starting just after 8 p.m. Attendance is free; more information is available here.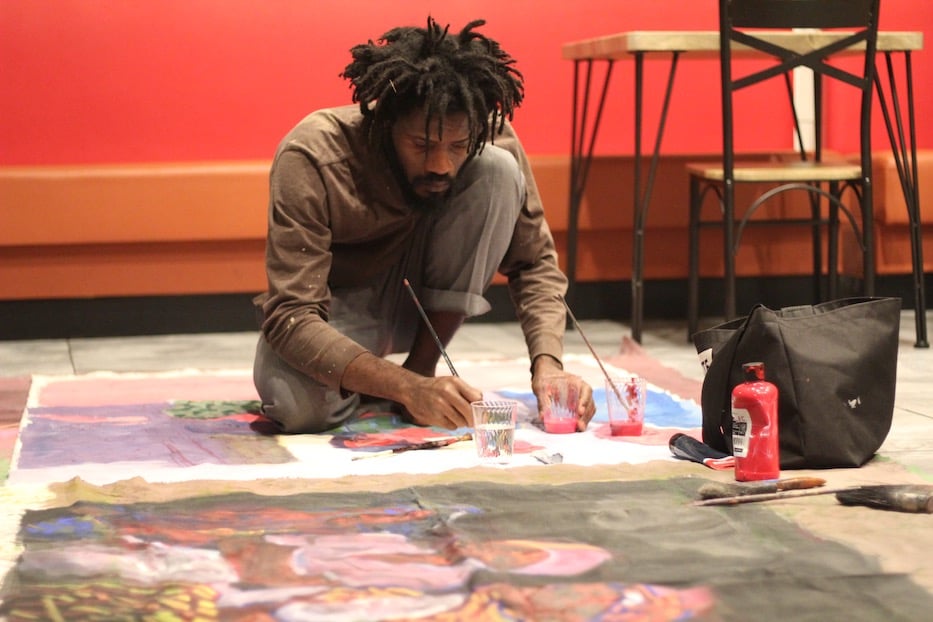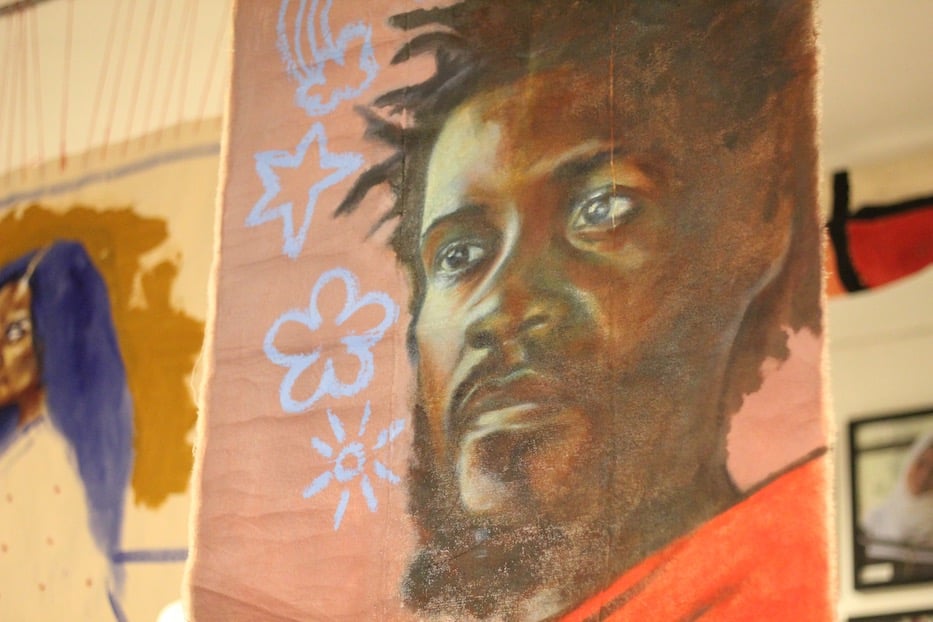 Lucy Gellman Photos; all artwork by Jisu Sheen, Kulimushi Barongozi, and Sita Sunil.
"We're just seeing what happens," Barongozi said on a recent Thursday night, as he worked on a portrait of his aunts and grandmothers. "We've already learned a lot about ourselves and about the community. We want to keep exploring. Usually, most visual artists don't collaborate much, but we're lonely people."
In some ways, 2FHS grew out of both artists' need for a safe and supportive home base. Three years ago, Sheen and Barongozi met through a roommate, and realized they shared a love for the visual arts. Both are professional artists in their mid-twenties, finding their way in the gig economy. Both work at Artist & Craftsman Supply, just a few blocks away on Chapel Street. For over a year, both have also shared a vision for an art school that is at turns a cafe, 24-hour studio, donut shop, coworking space, and gallery.
The Folk Festival has grown from that dream, and a certain rudderlessness that they're trying to solve through the arts. Before her time in New Haven, Sheen grew up in conservative, rural Pennsylvania, where she was one of very few people of color. If she wanted to experience live performance, she had to drive to the closest town—Scranton, of Dunder Mifflin fame—where people gathered to read poetry in an abandoned warehouse without heat. She now jokes that it was her aesthetic long before it was cool.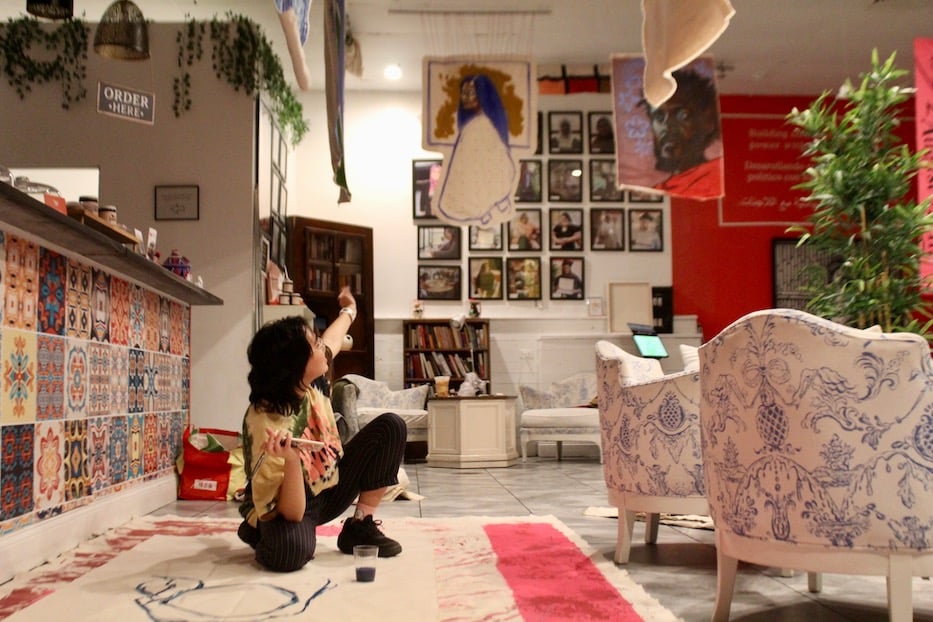 Lucy Gellman Photos; all artwork by Jisu Sheen, Kulimushi Barongozi, and Sita Sunil.
"I spent my whole life waiting to get out," Sheen said as music from Ibeyi and Gil Scott-Heron floated overhead. A smile teased at the edges of her mouth. "I thought, 'I can't wait to go to New Haven, where racism doesn't exist.'"
She still says the last part with a little rise in her voice, to emphasize the punchline. But in earnest, her excitement for New Haven never went away. After earning a degree in psycholinguistics at Yale (her quip that "I went to school to learn how to talk to people" is still funny in its self-conscious, candid awkwardness) she stayed. She met Barongozi in 2019, through a friend she'd gone to school with who was living with him.
For Barongozi, raised in Congo before moving to Uganda, then Baltimore, Pennsylvania, and briefly Iowa, there's also a sense of being adrift that informs his practice. Growing up, "I was used to the older siblings taking care of the younger siblings," he said. When he left home for Dickinson College several years ago, something felt instinctively wrong.
"I didn't like the fact that I left my family," he said. "It's hard to find a place that you belong. The idea of capturing that generational connection—I feel like that has pushed me to make art."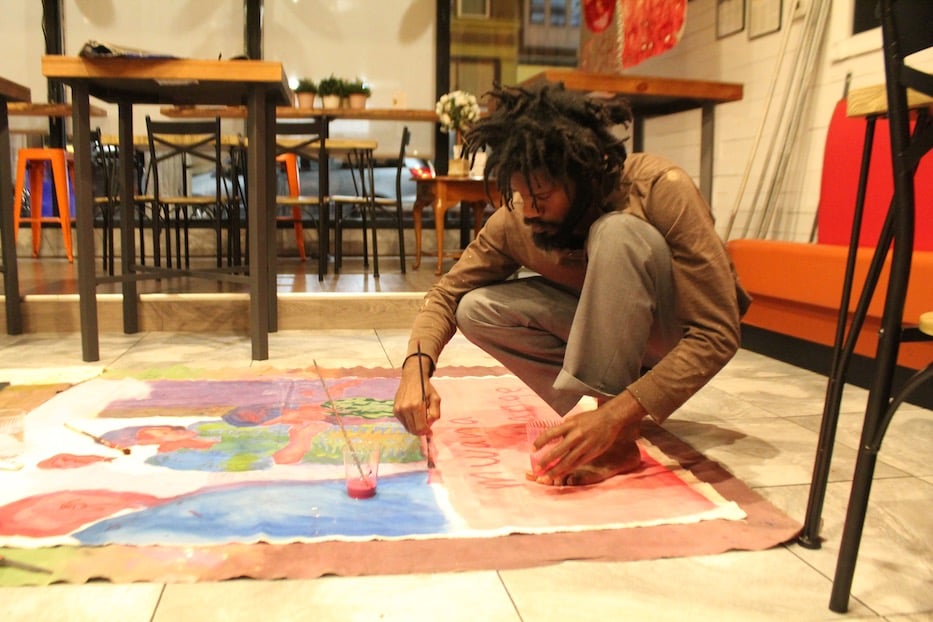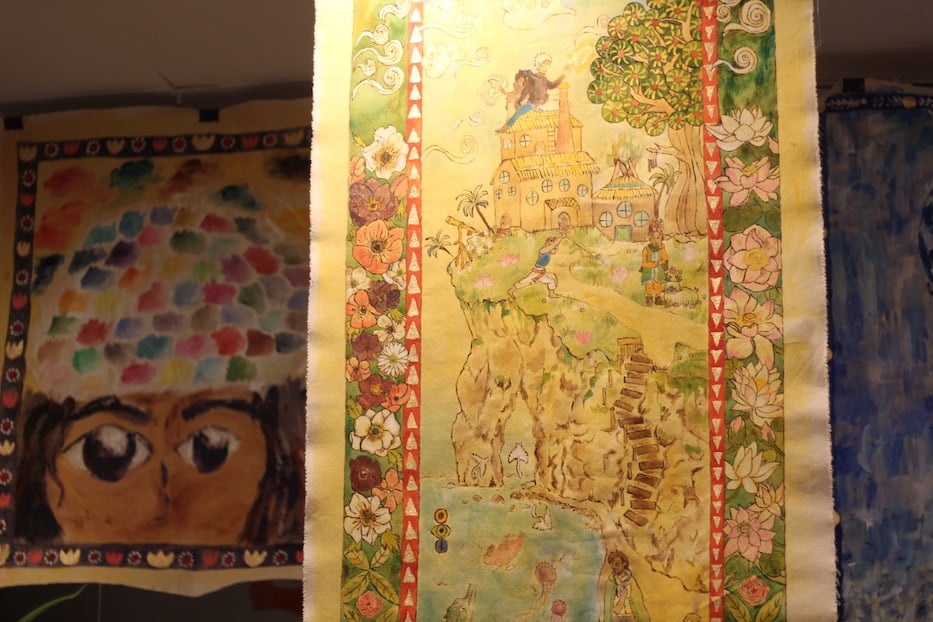 Lucy Gellman Photos; all artwork by Jisu Sheen, Kulimushi Barongozi, and Sita Sunil.
In New Haven, he's often acutely aware of how far away he is from home, and the multiple forms that it takes. While most of Barongozi's immediate family now lives in Iowa, his extended family is still in Congo. When he works, family members like his niece Nana, mother and three siblings, and grandmothers fill his canvases.
Last Thursday, he returned to a portrait he'd been working on, across which his grandmother and her sisters stood side by side. He hasn't seen them since visiting two years ago. Gingerly, he picked up a brush, dipped it into a mixture of water and red paint, and started where he'd left off the night before. From a speaker somewhere in the room, Baba Ayoola "Kokoroko" hit a horn solo that filled the room with shrill and deep-bellied brass.
Most evenings are fairly quiet, which neither of the artists seem to mind. When they arrive each night, the two unfurl canvases that hang a foot and a half from the ceiling, neatly rolled during the day so as not to disturb the people in Havenly's training hub and cafe. The act of unfurling them is itself ritual: the bright works mark the transition from day to night, from refugee-run cafe to grassroots gallery.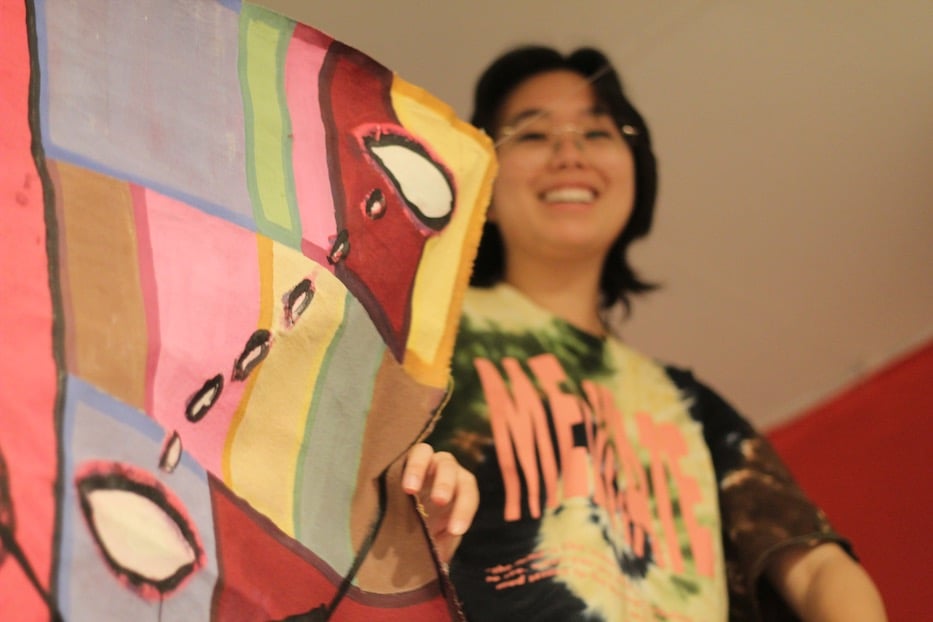 Lucy Gellman Photos; all artwork by Jisu Sheen, Kulimushi Barongozi, and Sita Sunil.
As the images come down—cows trudging through a field, a mother cradling her child, a self-portrait of Sheen in blue and gold, eyes blazing—the canvases make the transformation complete. On a given night, Sheen and Barongozi may work alone for hours, with a global folk soundtrack playing quietly in the background. As the festival has progressed, they've hung a series of newly completed canvases, from self-portraiture to abstracted design, in the space. Around them, the smells of hibiscus and cardamom routinely hang thick in the air long after Havenly's day has yielded to their night.
Both the month-long festival and Second Floor Hardware School grew out of that love they had for working together—and their hope to give more artists that room to grow and experiment. By last year, "I was tired of making art and not knowing what to do with it," Barongozi said. By then, he and Sheen had been collaborating for two years, and were interested in having shows. In August of 2021, they held an exhibition at Volume Two, the 810 State St. collective where Never Ending Books stood until the end of 2020. But when they started asking around, including at a number of vacant storefronts downtown, the answer was always no.
Then earlier this year, the two were talking about their vision while meeting at Havenly. They looked around, and realized it would make an ideal workspace to pilot their vision for 2FHS. "I was like, let's just ask," Sheen remembered. While other places had turned them away, Havenly was open to the idea. Since late August, they have been in the space each night from 7 to 11 p.m., open to anyone who wishes to come through.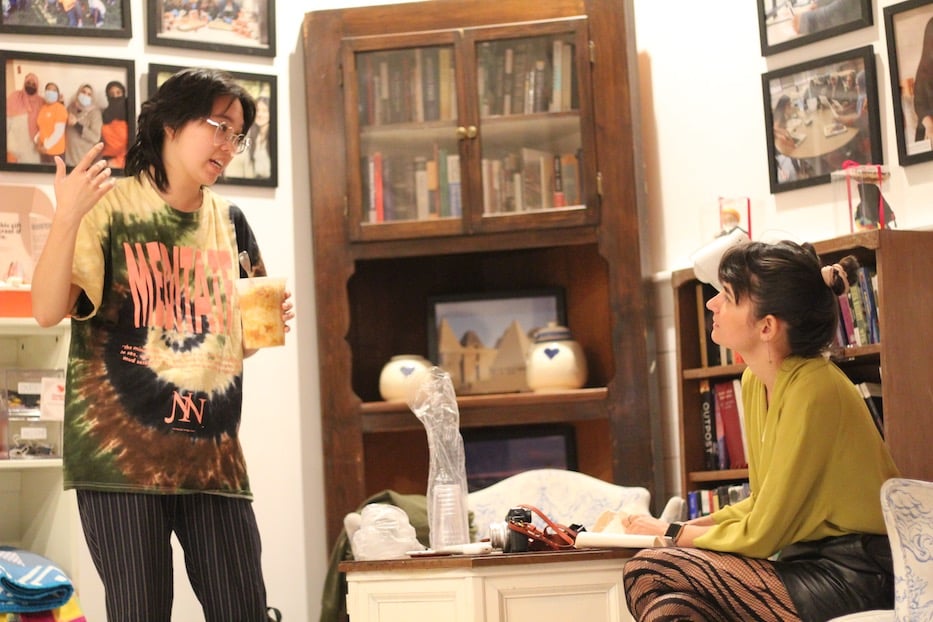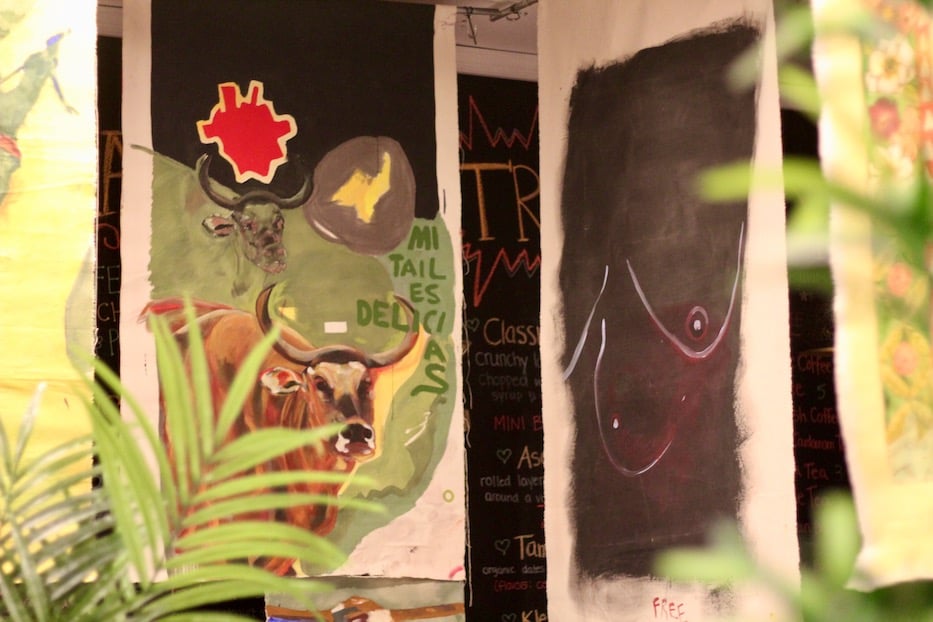 Top: Jisu Sheen and Madalina Ene. Lucy Gellman Photos; all artwork by Jisu Sheen, Kulimushi Barongozi, and Sita Sunil.
Last week, that included Madalina Ene, a friend of Sheen's who works during the day in biotech, but has become a bartender, extra set of hands, and frequent presence in the space by night. Last Thursday, she caught up with Sheen after a long day, then relaxed as music swelled around her. As she talked about a presentation she'd given at work, Sheen picked up a tupperware of lentils and rice and began to nibble gingerly, like a small bird.
"I think it's fun to see a place that's not a typical art gallery or something like that," Ene said, pointing to a sort of "unintended networking" that happens when a group of artists comes together. "There are a lot of fun, impromptu activities, and it's just fun to hang out with people."
Across the room, Barongozi worked noiselessly beside his cup of red-pink paint, crouching over the image as a face took shape. In front of him, bolts of canvas spread out across the floor, layered to prevent any leakage onto the tile. Further down the fabric, a row of matriarchs caught in the light, the black and blue paint of their garments glistening.
Overhead, the soundtrack switched to Baloji's "Peau de Chagrin: Bleu de Nuit." He painted steadily, occasionally looking up as Sheen across the room.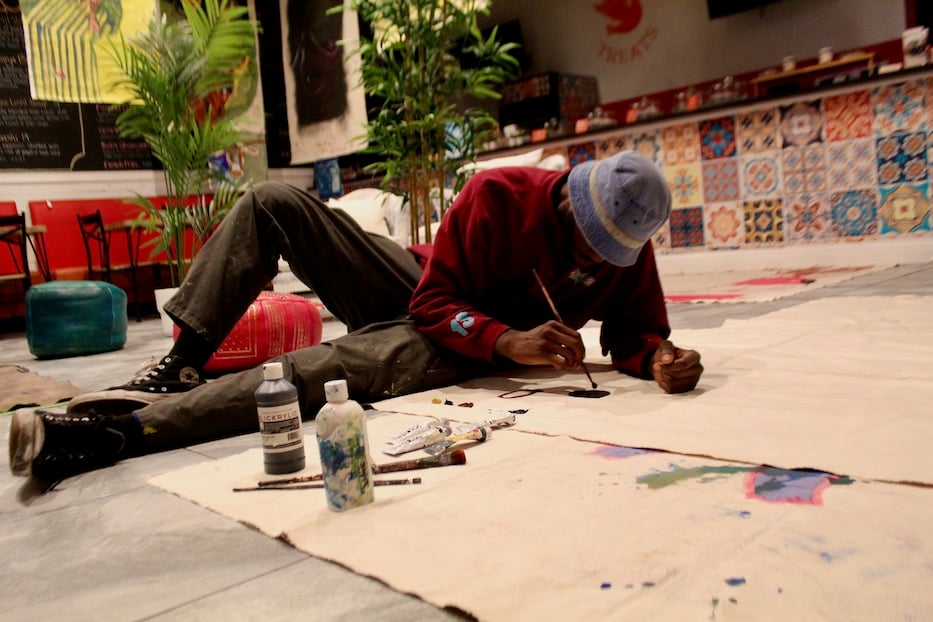 Steve Roberts in the space. All artwork by Jisu Sheen, Kulimushi Barongozi, and Sita Sunil.
It is an example of the kind of space they would ultimately like to call their own, both said. Last week, 2FHS received a grant for a second iteration of the folk festival, although they cannot yet announce from whom. After Friday, they don't know where their work will next pop up—but now know that the template works, and that there's a desire for it in the community. Throughout the month, artists and their friends have dropped in regularly, some for just an hour or two and some for the whole evening.
"We want a place where we could bring our mothers," Barongozi said. He explained that he means spaces focused on creative joy and healing, rather than the basic fact of survival. "Really, we're trying to create spaces for people to feel at home."
A little before 9 p.m., it seemed that that mission was in full swing. In one corner of the storefront, Ene relaxed after a long day, sinking back into the upholstery of a blue-and-white patterned chair. Skateboard educator Steve Roberts walked through the door, found a space to work, and sprawled out across the floor. The playlist, which runs over three hours, cycled on to works from TootArd and Ruby Ibarra.
"I think it's cool," Roberts said. "You can wander in at your own pace."