Culture & Community | Education & Youth | Arts & Culture | Youth Arts Journalism Initiative | Achievement First Amistad High School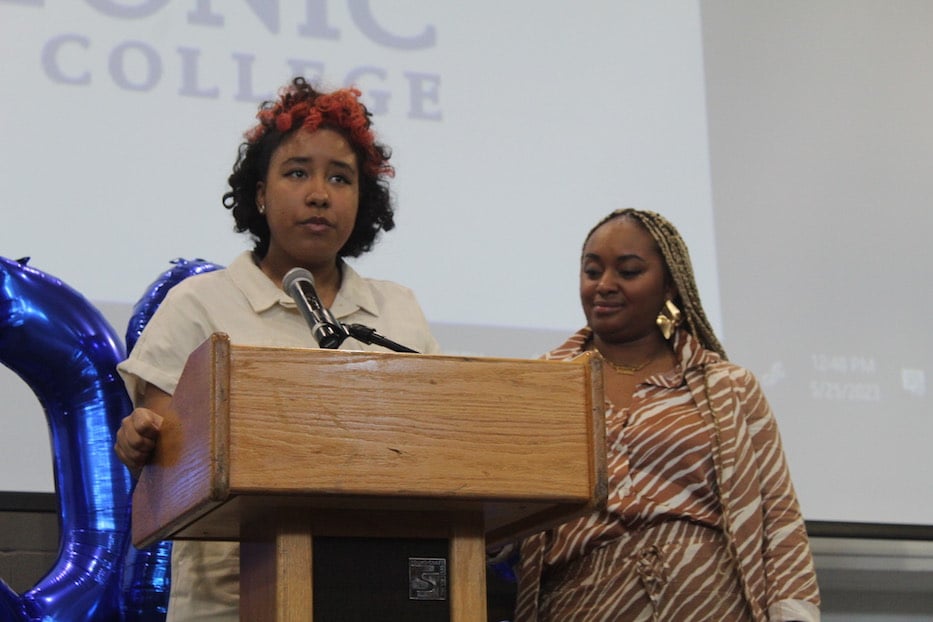 Senior Brianna Suero and Dean of College and Career Services Attallah Sheppard."Through all this I'm happy to say that I am pursuing in fall of 2023 Housatonic Community College!" Suero said and a sea of claps and waves followed as she walked off the stage. Abiba Biao Photos.
Prepped with a box of tissues, Brianna Suero walked up the stage with Dean of College and Career Services Attallah Sheppard by her side. Facing an audience of parents, teachers, and underclassmen, she stepped towards the podium, took a deep breath, and began her speech.
"Being a senior has enabled me to understand my full potential and the limitless opportunities that lie ahead," she began. "I want to thank my parents and my sister—" Suero paused to wipe the tears in her eyes and the crowd cheered in support. She lifted her head and continued.
The jubilant energy filled the gymnasium last Thursday, at Achievement First Amistad High School's annual "senior signing day." One by one, students announced their post-secondary plans, some in English, others in Spanish, and some using a mixture of both.
This year, graduating seniors paint a snapshot of a class that has pressed through a global pandemic to make it to the end of high school and beyond. Thursday, most students announced that they are staying in state and matriculating to Connecticut state colleges and universities, as well as trade school. A few are heading to colleges and universities out of the state.
Throughout the ceremony, they kept their peers laughing—and sometimes crying joyful tears—in a testament to the work they'd put in to get to this point.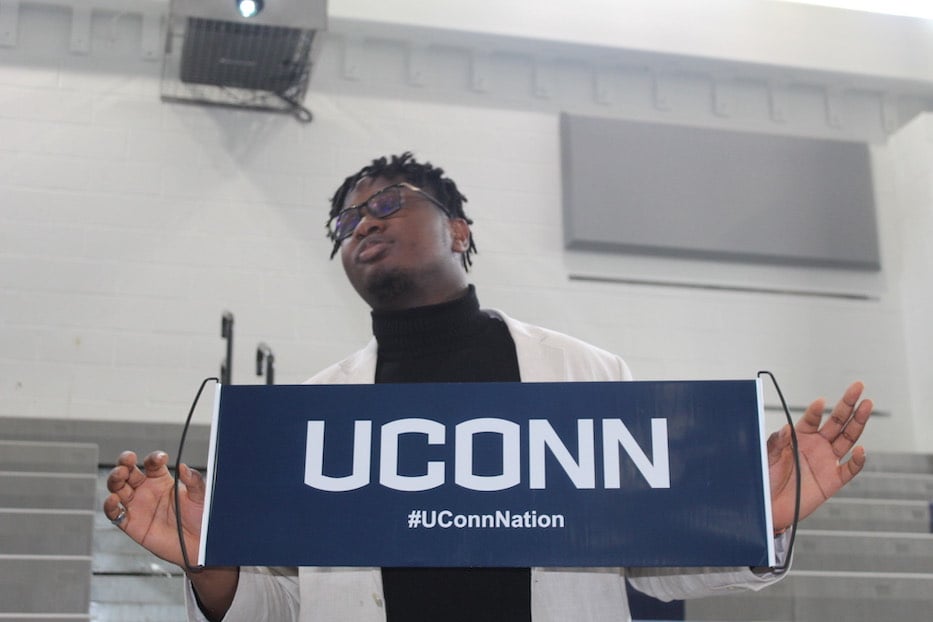 Victor Adeniji. Abiba Biao Photos.
The first senior up to the stage was Victor Adeniji, who served as co-emcee of the signing alongside school Sheppard.
A proud Nigerian American, Adeniji has taken part in a number of entrepreneurial ventures during his time at Amistad. He has sold homemade meals at school and in February launched King Vic's Art, where he sells graphic t-shirts and sweatshirts with his original sketches.
Adeniji's speech focused on finding himself and building identity outside of his skill sets and passions. "I have two older sisters. I feel like I'm always in their shadow," he said. That changes now, he added.
"In 2023 I'm going to continue being myself at UConn in the fine arts program!" he screamed and the crowd erupted in cheers and applause.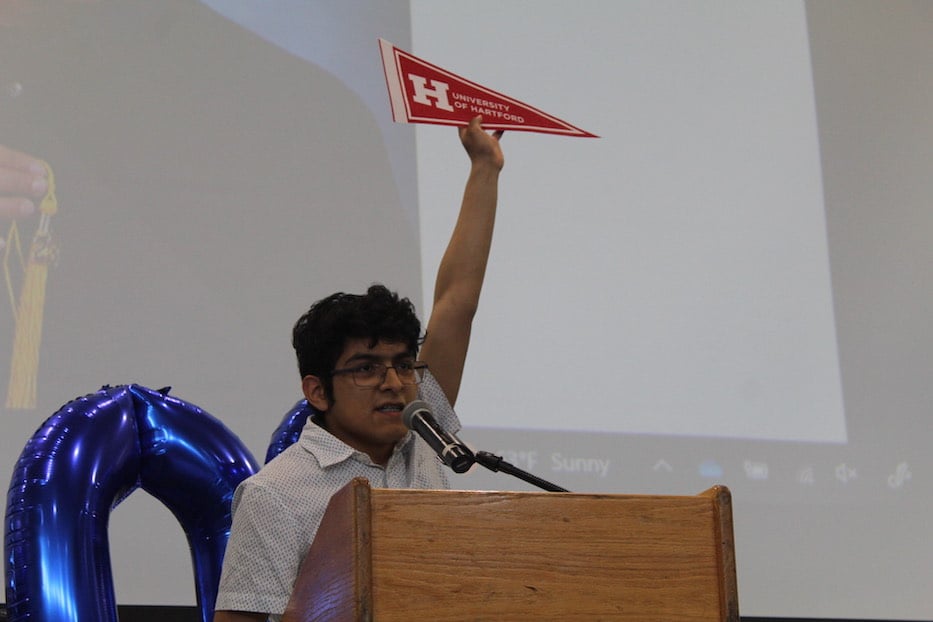 Angel Vivan. Abiba Biao Photos.
Unafraid of jokes, Angel Vivan opened up his speech with a quote from Anakin Skywalker to Ahsoka Tano in Star Wars: The Clone Wars.
"A very wise jedi once said 'nothing happens by accident,'" he said. "Because for the past four years, I've realized something that there is so much you can learn about others, as well as yourself, when you get the courage to connect with them."
During his time in Amistad, Vivan said he learned about his interest in business through Caprice Samuel, who teaches financial literacy at the school. "If it weren't for her, I would have been so scared to get into the world of business," he said.
"I am very grateful to be here and to announce that for the next four years, I am proud for you to find me at the Barney School of Business at the University of Hartford!"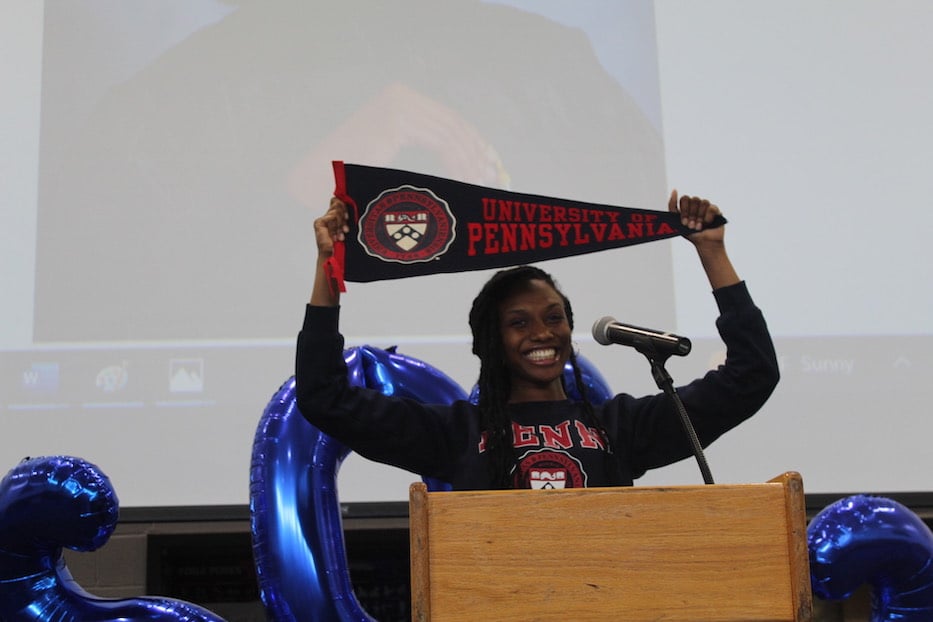 Senior Alyssa Carter: "Freshman year me would be so proud of myself for how far I've come, because in the end it was all worth it." Abiba Biao Photos.
Senior Alyssa Carter noted how hard it was for her to adjust during the pandemic. She, like many of her peers, felt that it stripped away part of her normal high school experience. After Covid-19 hit New Haven in March 2020, she completed both her freshman and sophomore years online.
"It was a difficult time for all of us, adjusting to such drastic changes in space facing things we never expected," she said. She added that she wouldn't have made it through high school without the support of her mom, who "helped me realize my full potential." Carter finished out her junior year with a 4.5 grade point average.
"Freshman year me would be so proud of myself for how far I've come, because in the end it was all worth it," Carter said before raising the shiny red and blue pendant for the University of Pennsylvania above her head.
Betzaida Rodgriguez. Abiba Biao Photos.
Betzaida Rodgriguez, an aspiring firefighter, will be going to Gateway Community College to receive her Firefighter 1 & 2 certification. For her, entering that career path has already been an uphill battle, because it is still very white and very male, she said. At times, other people belittled or second-guessed her future career choice.
"Ever since my sophomore year, I knew that I wanted to pursue a career in the fire service, but when I first researched programs within my dream career I was definitely hesitant," Rodriguez said. "As a Hispanic woman in a male dominated field, technically a white male dominated field I felt like I wouldn't belong."
Rodriguez thanked her parents, family, and college and career counselor Anastasia Tabasco-Flores in her speech for helping her get over her imposter syndrome and supporting her decisions.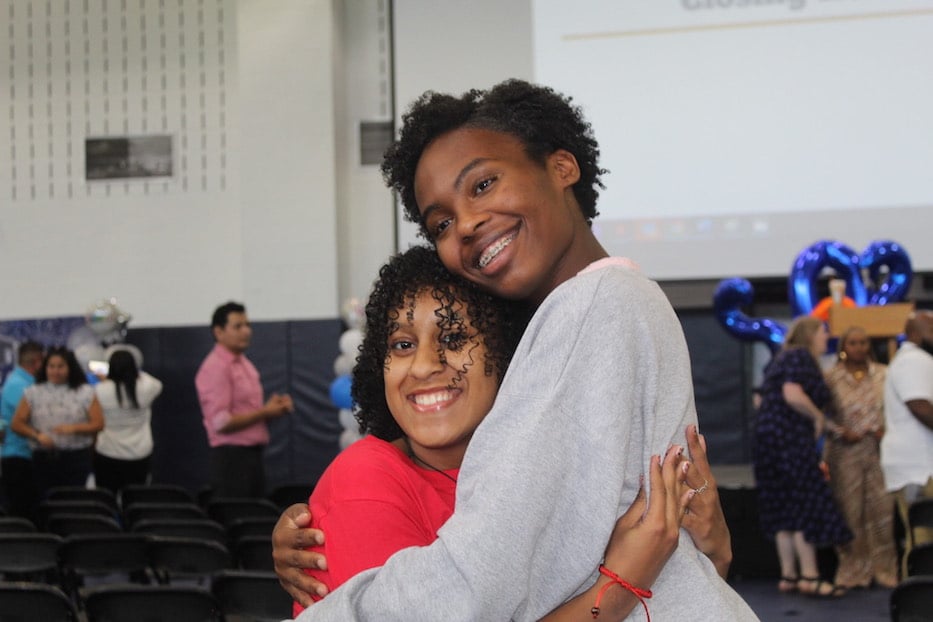 Alyssa Hodge and Ja'Meka Chambers. Abiba Biao Photos.
Taking those new paths was a recurring theme that also appeared in senior Ja'Meka Chambers' speech.
"A month ago I felt like I had to attend a private school like my sisters did, in order for my hard work to pay off, but one thing I've learned is that everybody's journey to success will be different," she said.
Chambers is going to Eastern Connecticut State University to major in health sciences. Her goal is to pursue a graduate degree in physical therapy and become a doctor. Chambers chose Eastern for the minimal financial costs, she said—she wants to be in a stable financial position to go to graduate school.
"I wanted to go to UNH, but I realized that UNH was not going to give me enough money," Chambers said in an interview after her speech. "So I had to put aside my want for a big fancy college and realize that you're still going to have fun at Eastern."
Chambers encouraged her peers and attendees to focus on themselves and their journey rather than comparing themselves to others.
"Don't feel discouraged because what's for others does not have to be for you."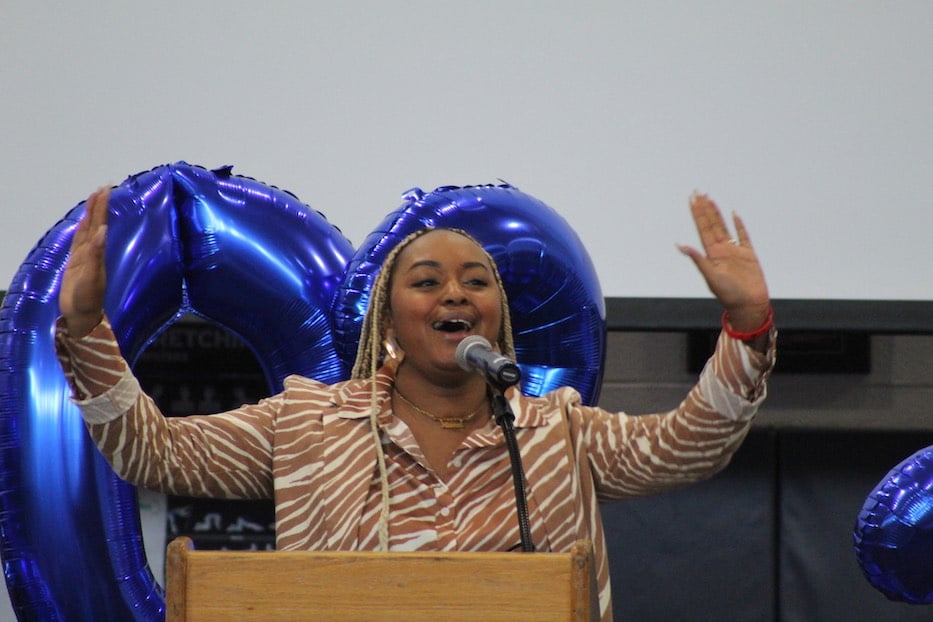 Sheppard praised the Amistad class of 2023 for their perseverance, even in the face of a global pandemic and a world turned on its head. She said it was a welcome challenge for this year's college and career team to work with students as they navigated their next academic steps forward.
"I had to kind of work at their pace, because if they feel like they lost so much time here, it's really hard for them to think past here," she said. "A lot of things moved a lot slower this year because we had to meet students where they were because of the pandemic."
Despite these challenges though they were able to overcome the odds. Sheppard described this year's class as "persistent."
"Regardless of the challenges and the disconnection and the many hurdles that they face as a class, they always came together and they have made it through and so I am thankful, and I'm proud of them."
"It's truly been an honor and a privilege to be their dean."
Abiba Biao is a graduate of the Arts Council's Youth Arts Journalism Initiative and has stayed on with the Arts Paper as a freelance writer and photographer. She is currently a rising sophomore at Southern Connecticut State University (SCSU).