Beth El Keser Israel | Culture & Community | Faith & Spirituality | Arts & Culture | Visual Arts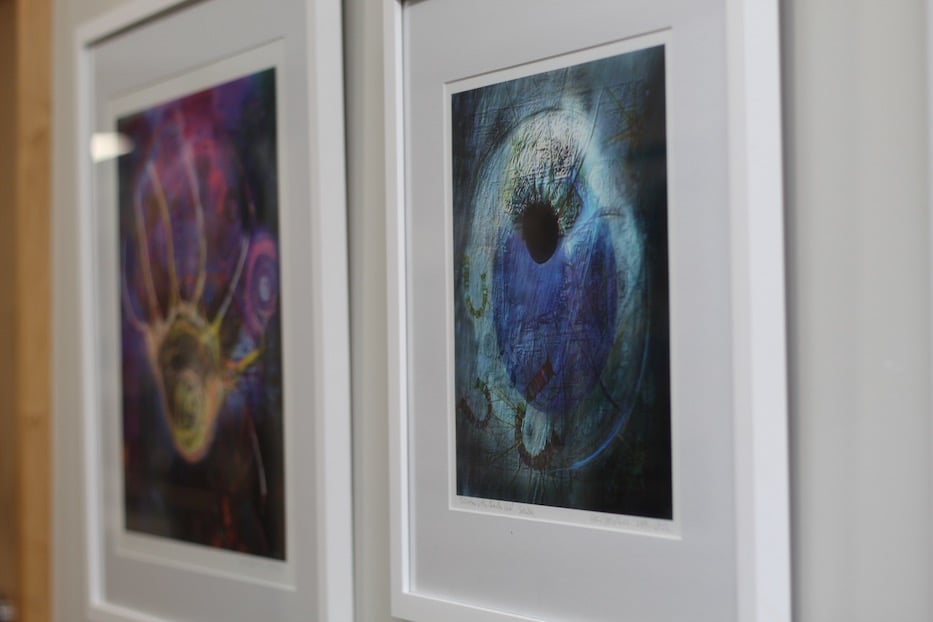 Cynthia Beth Rubin's Ciliates in the Circular Void, 2020 (in foreground). Her 2020 Drawing Ciliates into Old Cairo Text is pictured at the far left. Lucy Gellman Photos; all artwork by Cynthia Beth Rubin.
Maybe the first thing you see is a black hole, an imperfect, sunken circle that looks like it could tunnel to the ends of the earth. Above it, clean slices of color turn it into an open eye. Green-and-red shapes bend and glow as they dance around the outer edge, worm-like and phosphorescent. A green-and-gold star explodes in the upper righthand corner of the paper. Ancient text blooms beneath all of it.
Welcome to Cynthia Beth Rubin's Sensing Connections: A Retrospective Exhibition, running at Congregation Beth-El Keser Israel (BEKI) through the end of March. Pulled from over four decades of Rubin's work, the exhibition gives viewers an intimate look at an artist's evolution—and leaves them with a reminder of how small, delicate, and worthy of care the world around them is.
While it spans decades—and on Rubin's part, extensive and sometimes breathtaking travel in France, Senegal, Japan, Brussels, Canada and domestically—it feels more like the beginning of a conversation than the end of one. Viewers can email art@beki.org to set up an appointment to see the work.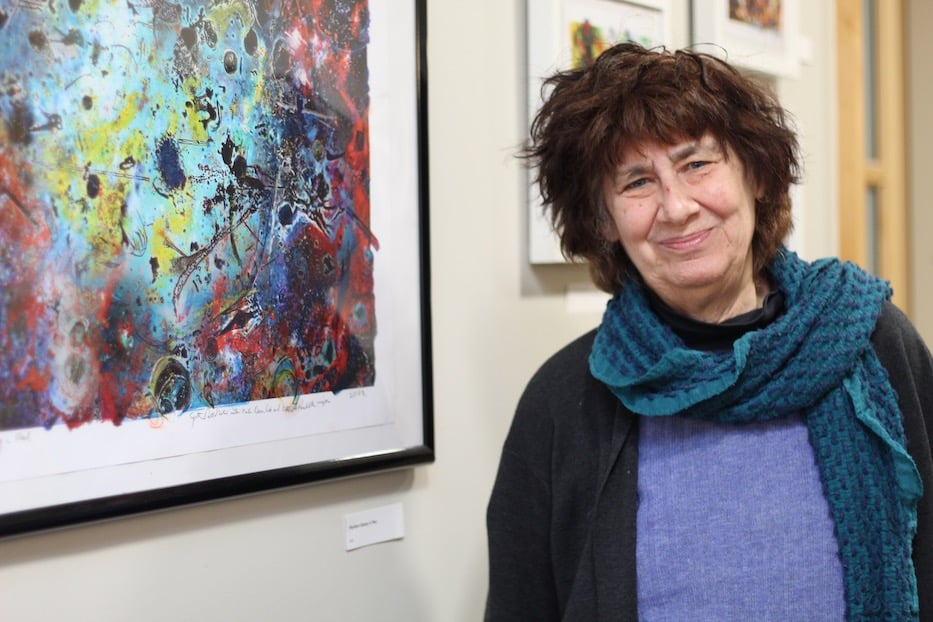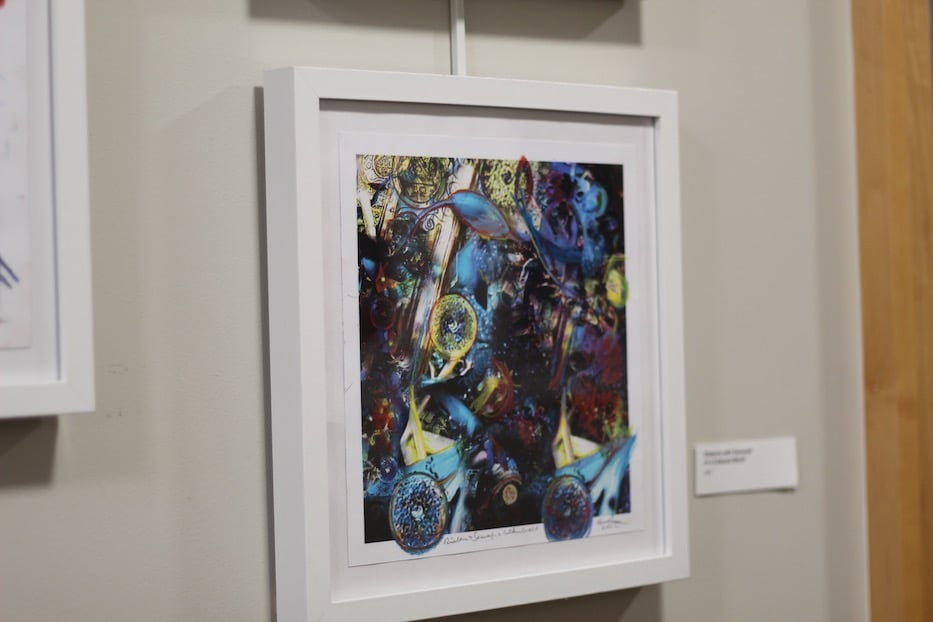 Top: The artist with her work Plankton Galaxy in Red. Bottom: Diatoms with Seaweed in a Cultured World, 2020.
"It's interesting for me to see how some things are coming back into my work that were there long ago," Rubin said on a recent Friday, walking through the exhibition just hours before shabbat services began in the building. "It's a way of activating forms in a way that we can relate to them."
Two forms in particular take center stage in her work. The first, and perhaps her most well-known in New Haven, are microscopic phyto- and zooplankton, tiny organisms that are vital to both marine and terrestrial life. She also dives deep on a decades-long interest in memory, ritual and text, from Dead Sea Scroll Fragments and the Old Cairo Manuscript to woods that she once knew in college, and returned to decades later as an established artist.
Nowhere, perhaps, is her work more meditative than when she blends and synthesizes those interests, reminding viewers that they are a speck in that long, layered continuum of history. The treat—and it is a treat—is the time and pleasure a viewer is able to take in getting there.
From the beginning of the show, installed across BEKI's open atrium, first-floor hallway and downstairs gallery, her work stands out in its alive-ness, telling a story that is both about the natural world and her place as a creative in it.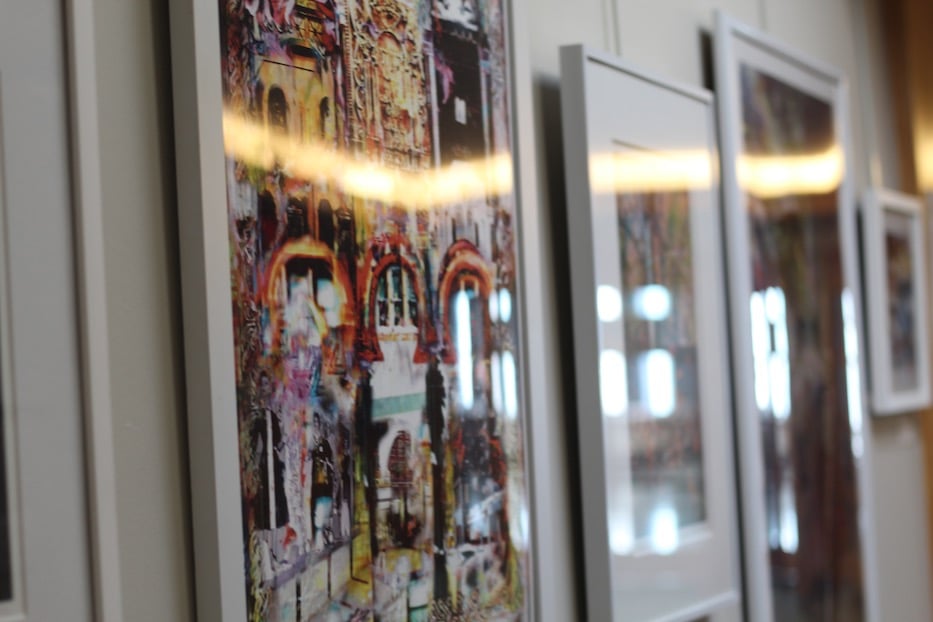 Detail, Cynthia Beth Rubin, Two Layers of Memory (1998).
Upstairs, works like her 2022 "Diatoms and Seaweed in an Open World," "Then There Were Two" and "The Wilder Building" all explode into brilliant color, so full of movement that it is hard to believe they are frozen in space and time. Indeed, it feels entirely possible that a viewer may turn their back, and have shapes rearrange themselves when they aren't looking.
It's the natural world—and the built environment—not quite as anyone has seen it before. In one digital print, for instance. Rubin has started with an image of diatoms beneath a high-powered microscope, part of her ongoing residency at the Menden-Deuer Lab at the Graduate School of Oceanography at the University of Rhode Island.
From the original, she has created a whole universe, with a layer of drawing on top that further activates the shapes. Blue, red, and yellow-ringed spheres shoot through a blue-black ground, as if they are comets. Two squiggly, fish-like ovals swim through the upper register of the page. A band of bright light slices through the left hand corner, drawing a viewer in. The longer they spend with it, the more minuscule, detailed shapes appear.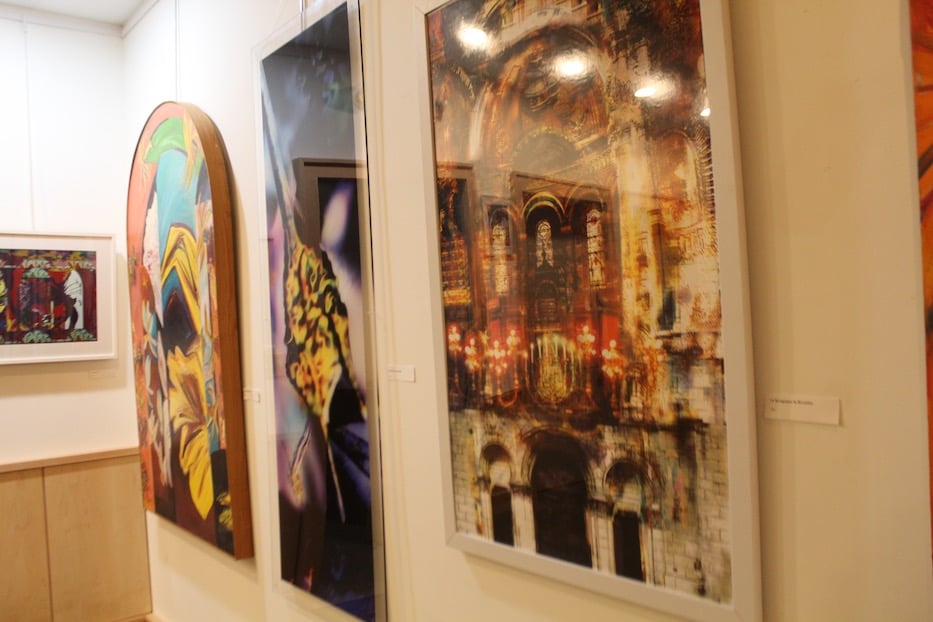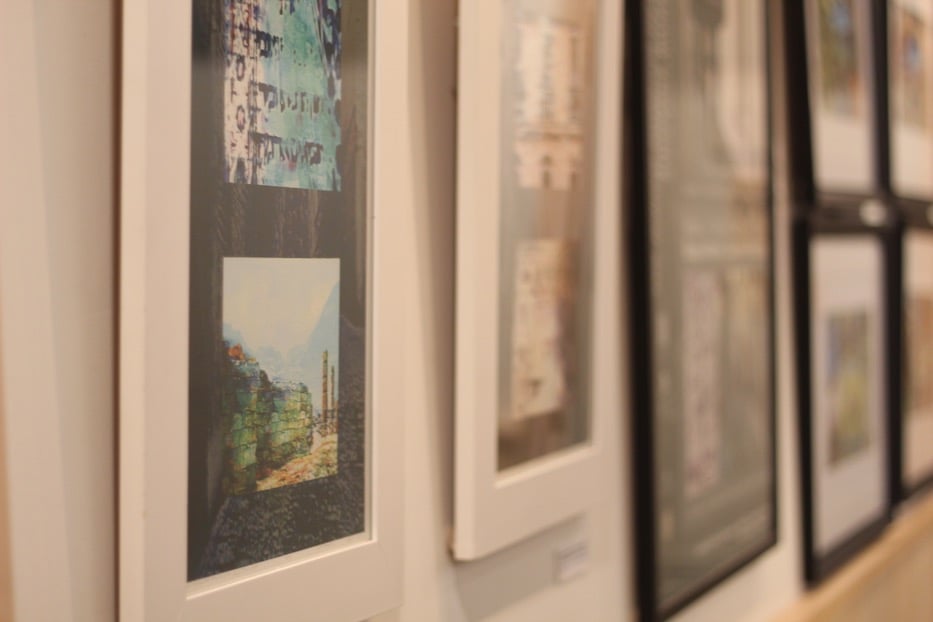 Top, from left to right: Cynthia Beth Rubin, Interior Daffodil Arch (1986), Portrait of a Ceratium (2013) and La Synagogue de Bruxelles (1999). Bottom: Layered Histories, The Wandering Bible of Marseilles, composite of still images, produced with Bob Gluck.
In translating marine science and text alike into digital form, she has added movement, color and texture that leave the works totally transformed. And no wonder: she's been doing the same with living history, memory and centuries-old, largely non-Western text for years. Take for instance "The Wilder Building," in which a historic building in downtown Rochester becomes a controlled riot of color, layered with images of text and architecture from halfway across the globe.
In an accompanying label on her website, she explains that the building, a 19th-century feat of architecture that became Rochester's first skyscraper, holds personal significance. Not only was it, "a building of detective stories and shadowy black and white movies;" her father also worked there as a young attorney. Nearby, her 1997 "Two Layers of Memory" feels like a logical pendant, as a viewer pulls out images of downtown Rochester, Eastern Europe, and an illuminated Spanish manuscript.
The style, which is now instantly recognizable as hers, has been decades in the making. "I was a different learner in school and art gave me a sense of my own strength," she said. "Like, 'I can do this.' I realized that I could problem-solve in this way."
"I'm really committed to the idea of different ways of looking at art," she later added, as she paused by her piece "The Song of Diatoms in Old Cairo."
And she clearly is: the works are at once foreign and familiar, reminiscent of the splitting of cells, the movement of stars and planets, the sprouting of seeds and gentle motion of insects that allows life to continue as we know it. Often, one image seems to chatter and converse with the next, blurring the hard boundary between alive and inanimate, that which will die and that which will stand the test of time. Rubin also often blurs the line between sacred and secular, giving a viewer pause as they probe how much distance really exists between the two.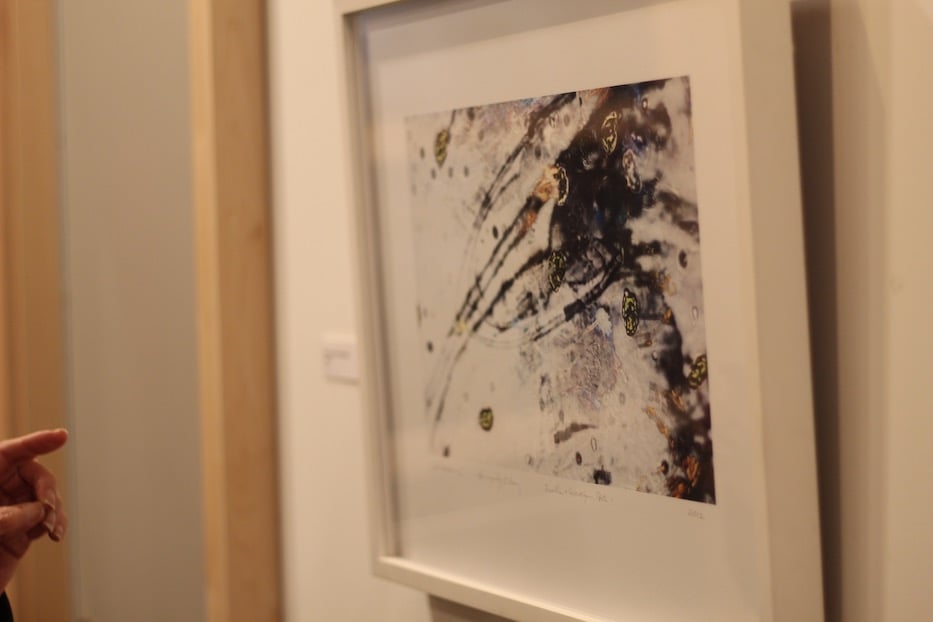 A digital rendering of Favella and Heterosigma, or ciliate predators and their prey. "The experience of transforming the image capture served as a kind of drawing exercise," she writes of the images on her website.
It's a guide for the rest of the show, in which those connections blossom joyfully from one wall to the next, following a viewer across the lobby, downstairs, and back up to the first floor. In the synagogue's basement gallery, viewers get a rare look at Rubin's early paintings of flowers, stretched over arch-shaped canvases that break from the expectation of a square or rectangular frame. Beside and around them, some of her early digital pieces give a viewer a chance to trace her interest in pattern and repetition from painting to early digital art.
There's also the chance to savor her evolving interest in holy text and equally holy spaces, in pieces that range from her layered, light-drenched 1999 "La Synagogue de Bruxelles" to her "Layered Histories: The Wandering Bible of Marseilles," a multimedia collaboration with musician, writer and rabbi Bob Gluck. In a quiet corner of the basement, viewers would do well to spend extra time with her "Zodiacs and the Lower East Side," a 2018 collaboration with Yona Verwer and Kris Tonski that brings together astrology, Judaism, storytelling and decades of built- and human history from the Lower East Side of Manhattan and the Ashkenazic diaspora.
There's a sense, throughout, that Rubin also trusts her viewers to make (or sense, if one prefers) their own connections. Other than a single text that introduces the show and the artist, works are accompanied only by their labels (for viewers who want more information, it is readily available on Rubin's website, where there are also a number of talks and videos that contextualize the work). There's nothing heavy-handed or overly didactic here, and the show benefits from it.
It's a rare opportunity to see not just how her style and approach has evolved, but also how certain themes—memory, history, connection, and the natural world—have become a through line from the 1970s to the present. In that sense, the exhibition speaks to her work as not just an artist, but also an educator, an early adopter of new media and an extremely active and instrumental member of BEKI's gallery committee, where art is inherently part of ritual.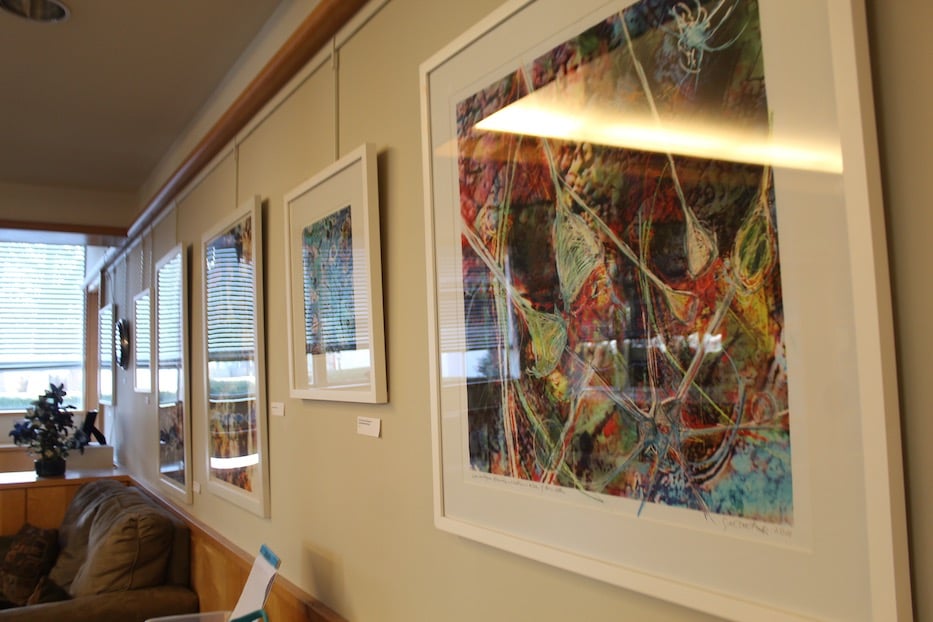 Asterionellopsis Glacia with Ceratium and Hebrew Letters, 2022.
Or in her words, "You have to live your whole life to see the pieces come together." In addition to her time painting and teaching at Frostburg State University, Connecticut College, and the University of Vermont, Rubin has held internships at the Pacific Science Center, artist residencies across the globe and years looking at and integrating Indian, Persian, Egyptian and Hebrew manuscripts into her work.
She's a digital pioneer in that way: in the 1980s and 1990s, she was one of the first and only artists to do so. It was also during that time that she developed her interest in plankton, which she has continued to depict in her work for the better part of two decades. In the 1990s, she was teaching a course on cultural motifs at the Rhode Island School of Design (RISD) when she connected with their Nature Lab, which had gotten a number of high-powered microscopes. "I jumped on that," she recalled. She's expanded that body of work since, growing more experimental as she continues.
Taken as a whole and in parts, Sensing Connections is a reminder of how delicate, how precarious the world is, and how connected to it humans are. At BEKI, where she has worked with other artists to grow the gallery into a serious and sustained endeavor, the works feel as though they have always belonged on the walls, reminding humans where they came from, and how their rites and rituals will survive them after they are soil and dust.
In this sense, it's also deeply spiritual. To see Rubin's work and not come away with a sense of responsibility for the earth and its tiniest creatures feels fairly impossible. In other words, she's actively practicing the idea of tikkun olam, or repairing the world, through her work.
"What's accurate?" she mused as she looked at 2012 and 2013 prints of Favella and Heterosigma—ciliate predators and their prey—on a gray-blue background. She took a deep breath. "Ultimately for me, it's the idea of creating empathy."
Congregation Beth-El Keser Israel (BEKI) is open Monday and Wednesday from 9 a.m. to 5 p.m., Friday from 9 a.m. to 3 p.m., and otherwise by appointment. To see Sensing Connections: A Retrospective Exhibition, contact art@beki.org