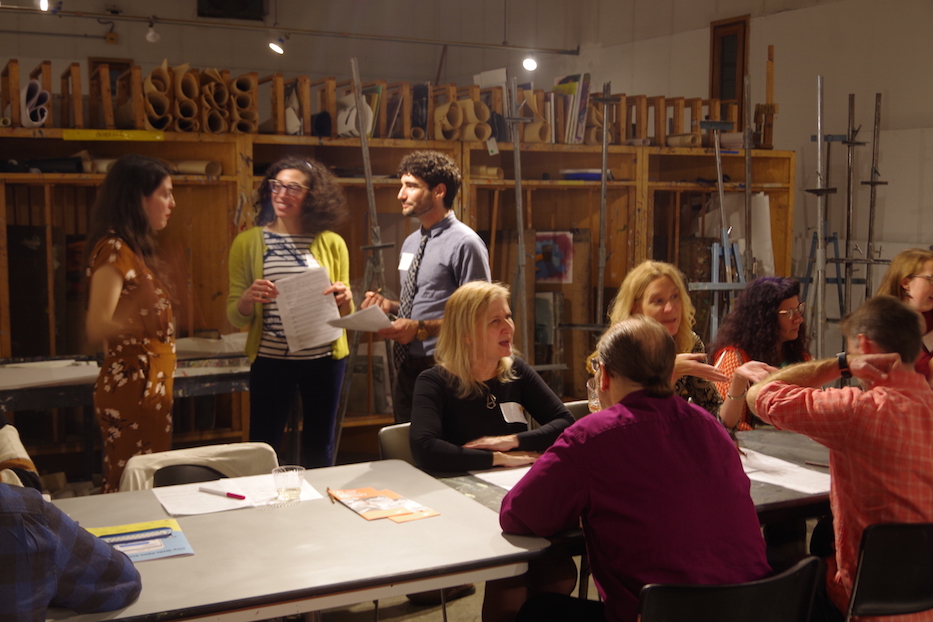 Audubon Arts | Creative Arts Workshop | Arts, Culture & Community | Elm City Speed Dating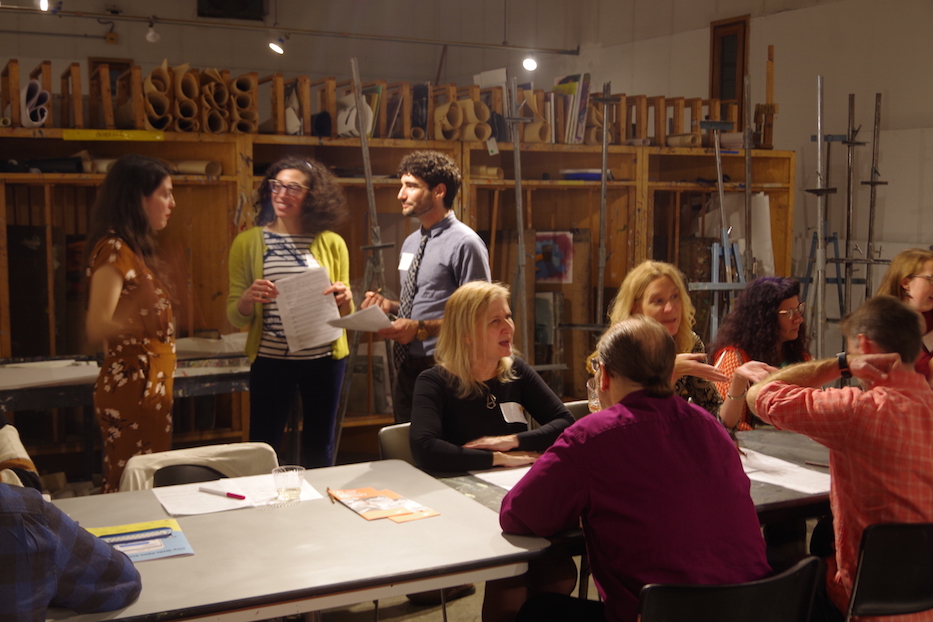 Facilitator Antonietta Delli Carpini and Organizer David Weinreb. Ashleigh Huckabey Photos.
Hammering winds, flooding streets and warnings of a "bomb cyclone" last Wednesday night were no match for the third iteration of Elm City Speed Dating, a rotating series for New Haveners looking for romance—in the real world. On Wednesday, the event rolled into Creative Arts Workshop (CAW) in collaboration with Artspace's 22nd annual City-Wide Open Studios and artist Cathy Reeve.
The event was organized by David Weinreb, an educator who lives in Fair Haven. Fellow collaborators included Artspace Executive Director Helen Kauder, CAW Director Anne Coates, and Elm City Speed Dating prompt co-author and logo artist Sarah Alummootil. Weinreb said he wanted to do something different for singles who were looking for alternative social events outside of the bar scene to meet and mingle with new people.
For years, Weinreb has been playing a matchmaker in his own life, trying to set his friends up. Earlier this year, he started Elm City Speed Dating as a way to spread it to the community. He has held sessions at 116 Crown Downtown and Elm City Brewing Company in Erector Square.
"Datees are tired of dating online," he said. "They don't want to go to bars anymore to meet new people. It tends to be too loud; you can't hear what the other person is saying, and it isn't personal. We wanted to create a more efficient way to engage datees."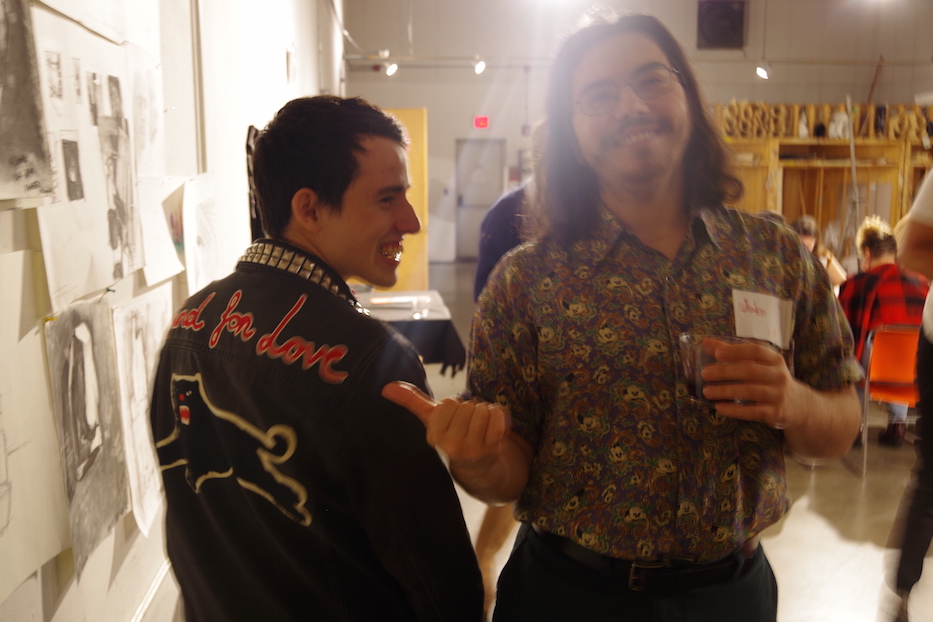 Dennis Caroll from New Haven showing up in style all in the name of love.
Wednesday, those so-dubbed "datees" saw that plan in action. Three soft hand claps brought chatter and laughter to a hush as Antonietta Delli Carpini, facilitator for the night, explained what was going to take place next. On the tables, a series of questions, creative tasks and romantically-tweaked games sat at the ready.
The evening—and the setting—captured the magic that can happen with you mix a date night with art. The night began with a creative version of BINGO, in which each participant was encouraged to ask questions that revealed various personality traits, experiences, and interests of each date.
Some of the prompts included: was their fellow participant an enthusiastic early riser? Did they grow up in New Haven? Can they illustrate? Have they been bullied? If they had to plan a creative second date, what would it be?
"Compared to other speed dating events, this one was really fun," said Dawn Cummings, an acrylics painter. "I go to speed dating events to meet new people, and this event is very comfortable. At other speed dating events, it's hard to be yourself because usually there is such a huge age gap, and that tends to make it hard to be compatible with other participants."
For some, this was a first experience speed dating. For others, it was their third time returning to the group, hoping to create connections that would travel beyond a conversation or an exchange of social media handles. True to his goal, Weinreb said this event brought creatives and non-creatives out to learn more about each other in safe, creative, and open environment.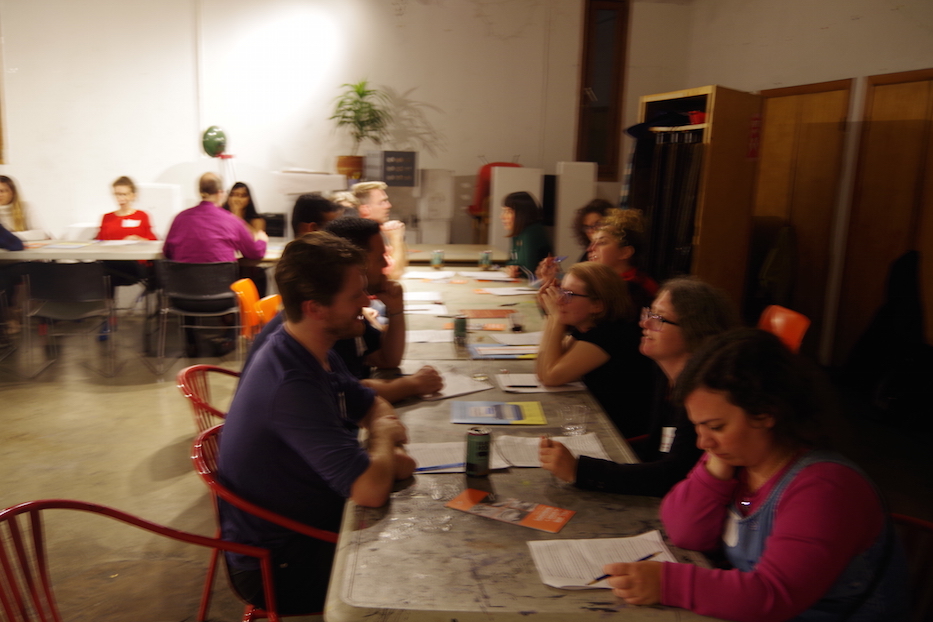 One of those was Fair Havener Cristina Kane, who participated in speed dating for the first time on Wednesday night.
"My friend Amanda said I should come, and I said, 'hey why not,'" she said. "I already know what's on Netflix tonight. I love to laugh, so I wouldn't mind meeting someone who makes me laugh and blush."
"If they are able to do that, then tonight will be a success," she added as she gazed in excitement around the room. A warm smile appeared on her face.
With 22 creatively-themed prompts from Weinreb and co-facilitator Sarah Alummmotil, one could feel the excitement, a little vulnerability, and creativity flowing. Each person in the room became artists themselves, in the moment, creating a new story, sharing a different experience every three minutes as the speed dating began.
The first prompt: Dating is your palate, what are your primary colors?
Warmth filled the room. One could feel community connections taking place.
Or another: Voicelessly draw (with finger or artistic instrument) an autumnal activity. Your partner should narrate your every move.
Strangers begin laughing together around the room. The volume rose: quiet chatter that turned into loud, exciting, and colorful conversations. Across the space, attendees seemed genuinely curious to learn more about each other.
"David and I wanted to find a way to engage those interested in dating through art and creativity," said Anne Coates, executive director at CAW. "Art opens our eyes wider, our minds, and that creates new opportunity to meet people in a more relaxed setting."
"Helen [Kauder, executive director at Artspace] is the woman behind this collaboration," she added. "We wanted to host this speed dating event at CAW to open up the possibilities of new opportunities, new ideas, and a place for non-creatives and creatives to engage and create art through personal connection."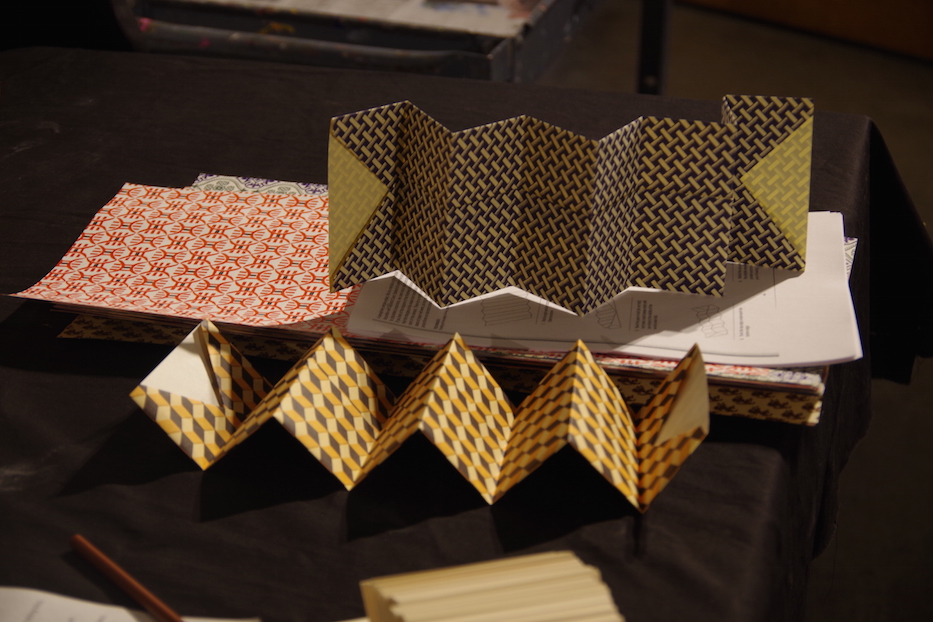 As the speed dating rounds ended, Reeve had one more task for attendees. As an artist and instructor at CAW, she spends her free time making accordion paper booklets, which expand like wallets. She instructed the speed daters to work together to make the booklets, which were paired with little sheets of precut cardstock on which they could write and exchange contact information.
As the night came to an end strangers-turned-friends hugged and exchanged contact information. Plans were discussed regarding the next time they would see each other.
"We are hoping that people here tonight will make some great connections," said Kauder. "Learn about each other, create art, and maybe make plans for a second date at City-Wide Open Studios this weekend."
Elm City Speed Dating will be hosting its next Speed Dating event Dec. 3, 2019 at Cave à Vin, 975 State St. For more information, check out the event on Facebook. In the meantime, City-Wide Open Studios continues Nov. 2 and 3 at Yale's West Campus for Alternative Space Weekend.