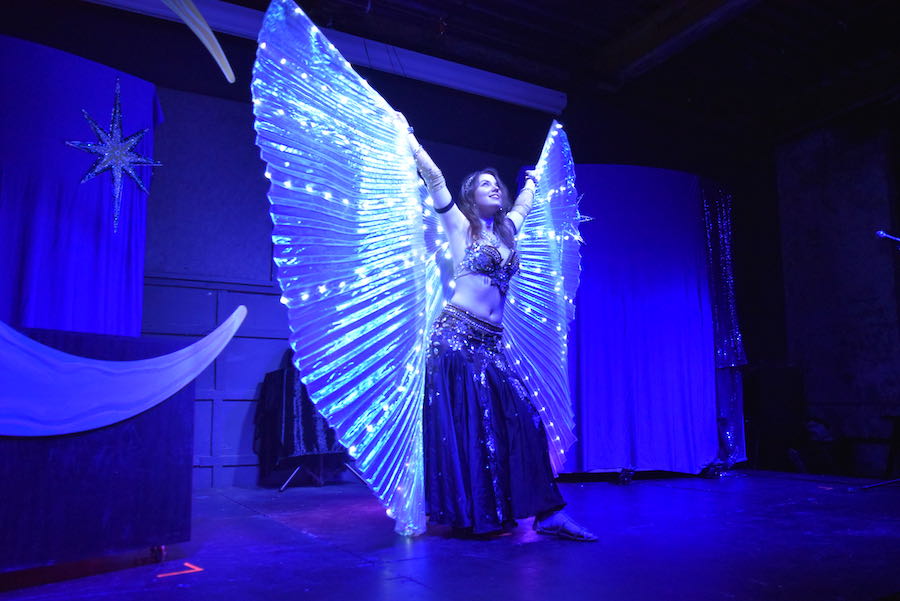 Arts & Culture | The State House | Cabaret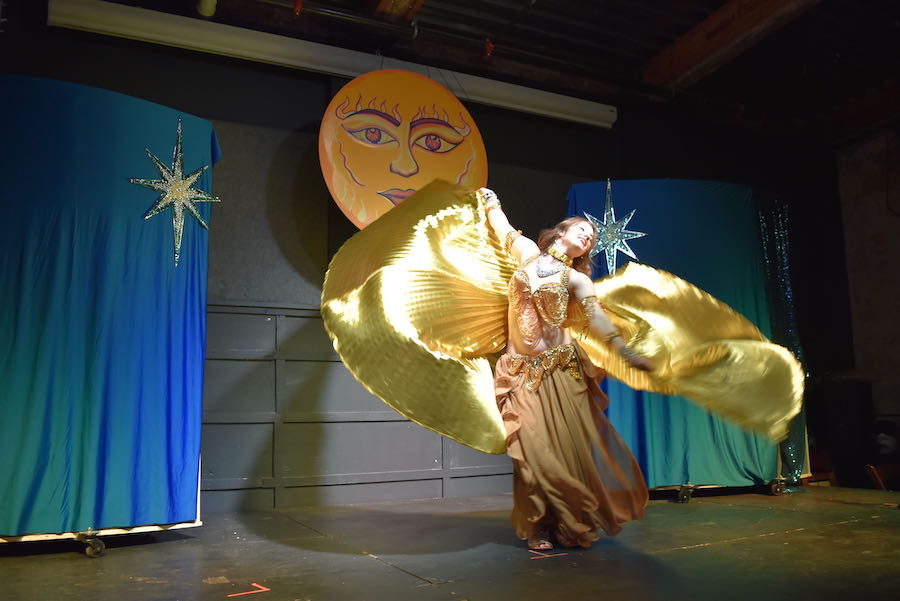 Local belly dancer Emiliah from Middle Eastern Dance Academy. Leah Andelsmith Photos.
Emiliah's costume was covered in shimmering, golden strands of beads and the chimes at her wrists jingled along to the music. One minute she was smiling broadly, the next she was pulling up the corner of her mouth in a flirty wink and the audience added their supportive cheers and applause as she rippled her tummy and rolled her hips. Behind her, a giant, painted sun rose towards the rafters as she took the ends of her golden skirts in her hands and started spinning, the golden fabric swirling and shimmering like a burning sun.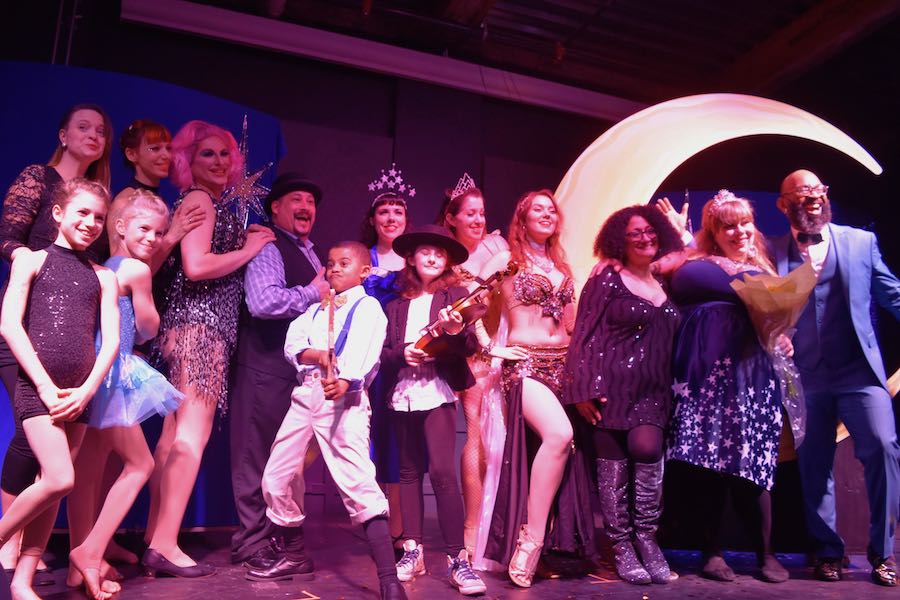 Local belly dancer Emiliah was just one performer in the first seasonal State House Cabaret put on last Saturday night by producer Lipgloss Crisis. The cabaret featured local artists whose talents ranged from comedy and magic to drag and burlesque, and they performed for a lively crowd of well over 100 attendees who filled the State House. The evening's theme, "Day and Night," was a thread that connected the dots between diverse performers, framing a performance that was both fascinatingly varied, yet satisfyingly cohesive.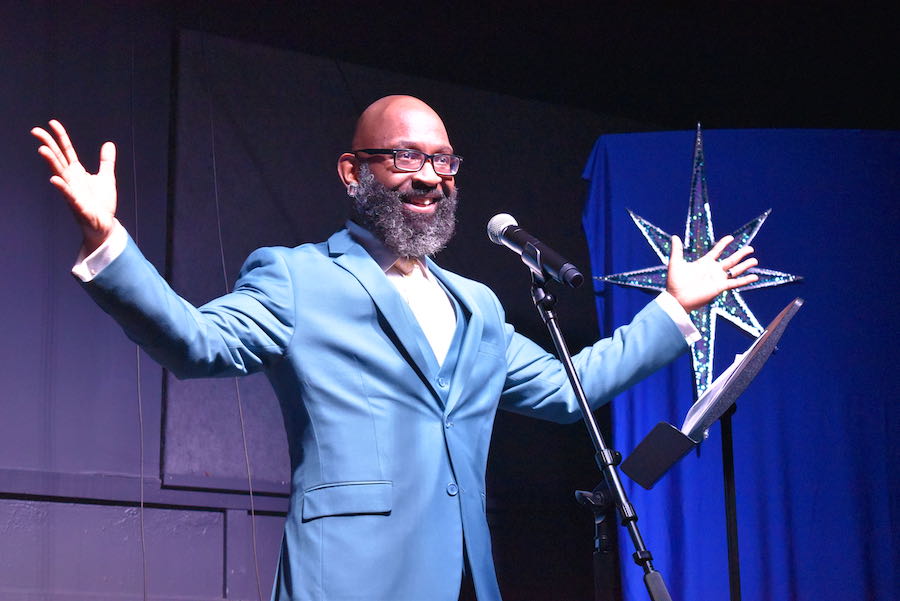 Emcee Professor M was dashing in a perfectly-tailored, three-piece suit in a stunning, saturated cerulean, which he paired with velvety, embroidered loafers and jeweled stud earrings.
He led the audience with an endearing, whimsical showmanship, his vibrant, even musical, speaking voice weaving its way through each act. He told the audience they were in for "a lush journey that will take you from dawn to dreamland."
"Welcome to the first ever State House Cabaret," he said. "We're planting a flag in Connecticut variety."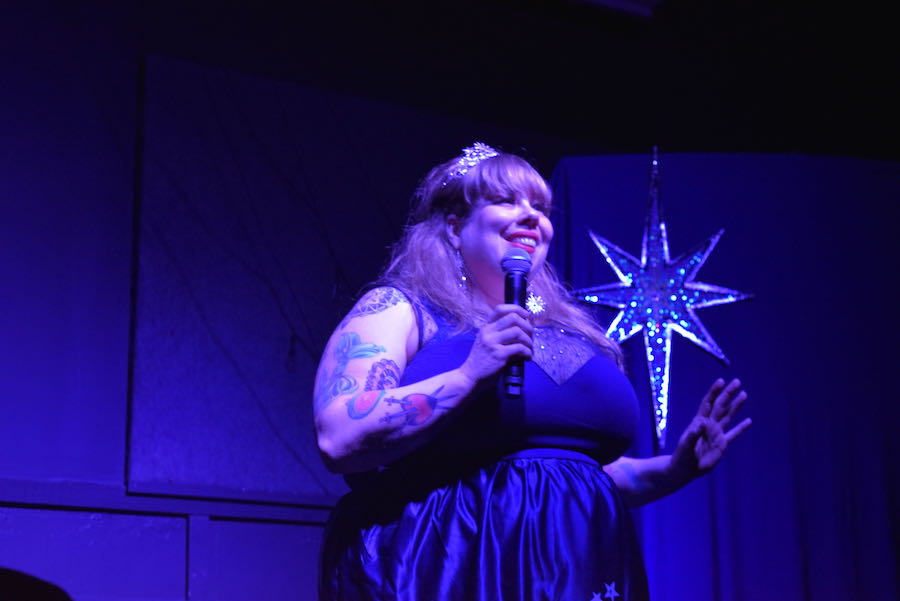 Lipgloss Crisis opened the show with Professor M, performing "L.O.V.E.," a song that has been a staple at her cabarets for years, and she also led the cast in the finale.
After producing cabarets at Cafe Nine for nearly a decade, Sara Scranton, the woman behind Lipgloss Crisis, said she decided to take a break.
"I'm so thankful for that opportunity. It taught me so much," she said, but "I wasn't planning on ever doing it again."
But then State House co-owner Carlos Wells approached her about doing a theatrical production in the venue, and she came for a tour, fell in love with the space, and changed her mind. She said she loves that there's not a bad seat in the house and the way the staff went out of their way to prepare the sound and lighting.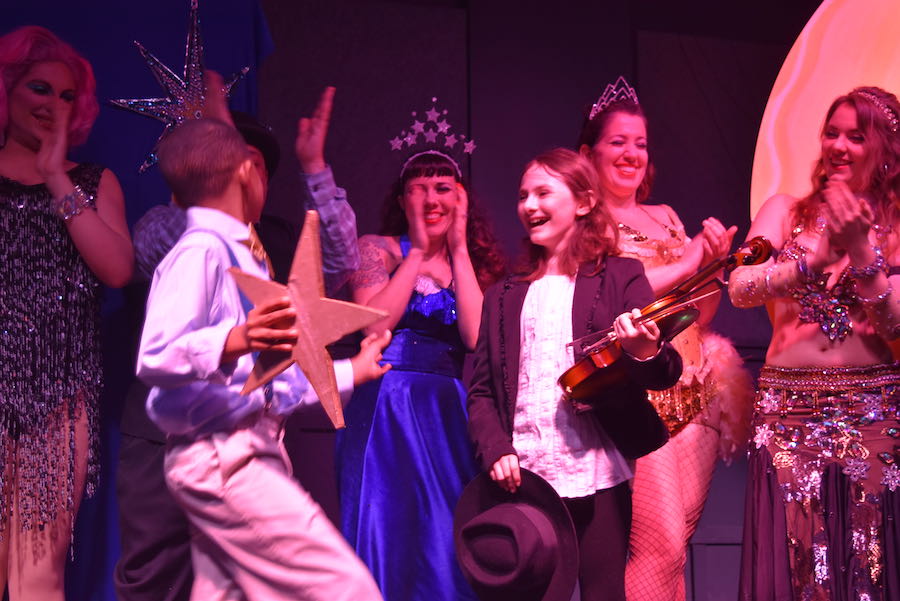 While for this first iteration Scranton turned to performers she's worked with before, she's hoping to include a wider variety of local acts in the future. She plans to make the State House Cabaret a seasonal event starting in summer 2019, booking live musicians to accompany the acts and reaching out to other artists who'd like to curate a themed show.
The theme for this summer's show is "Under the Sea" and will feature live music by New Haven band Roses Wild. The Frankenstein Twins are lined up to produce a Halloween show and Scranton's dream to put together a murder mystery cabaret, in which all the acts connect to create one storyline. But she's also looking forward to "more props," like moving waves for the summer show, and, of course, "more rhinestones."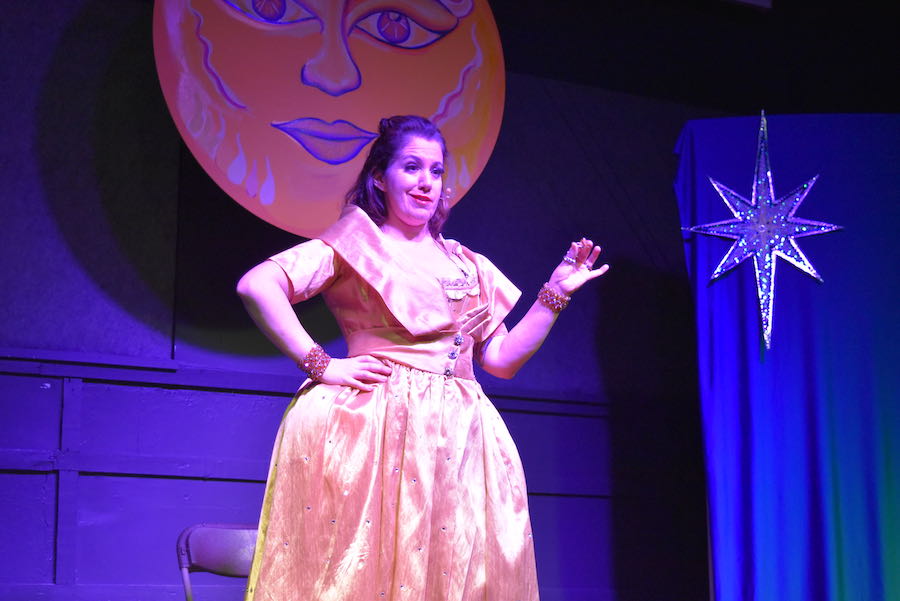 Introduced as "the juiciest jewess this side of the Wailing Wall," burlesque artist Dot Mitzvah took the stage bedecked with jewelswearing a gold dress. She performed "Glitter and Be Gay" from Candide about a young woman mourning her "lost honor" but reveling in the wealth of her "gentlemen friends."
Midway through the number, Mitzvah hit a heavenly high note as she dropped a bracelet to the floor, followed by each of the jewels, one by one. Her soprano voice was an easy match for the difficult coloratura sections of the song, as she vacillated between crying over her misfortune and gushing with greedy joy at her new-found riches.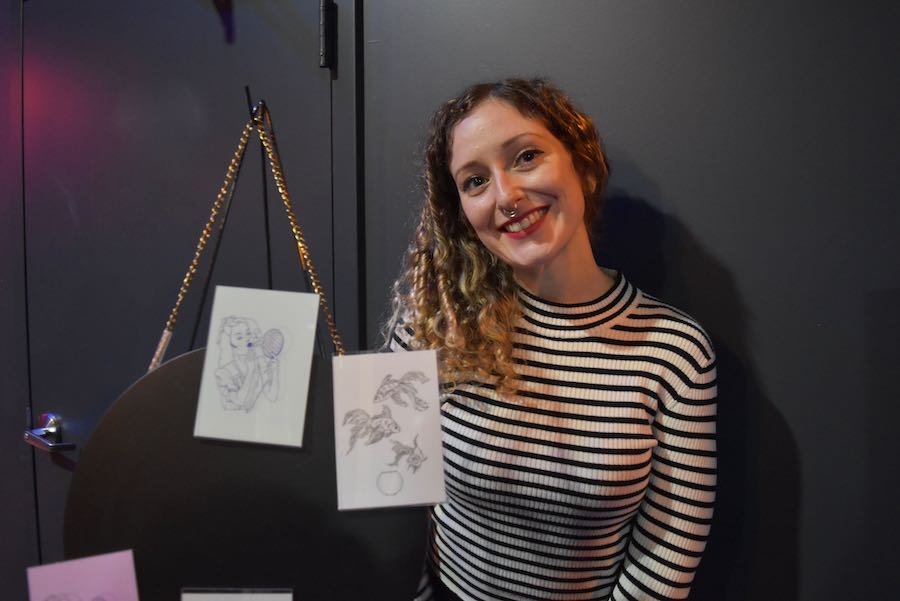 Professor M encouraged the audience to check out the "witchy macabre realness" of visual artist Demon Daisy's offerings.
Magician Adam Parisi waltzed on stage, munching from an oversized bag of chips. His act combined magic tricks with comedy, though he joked that he "gets paid less than a musician or a comedian."
After inviting a couple of volunteers up to the stage, Parisi deftly manipulated a handful of small red balls, pulling them one after another out of the palm of his hand, making them appear and disappear from underneath a metal cup. He got the audience involved, passing imaginary balls around like a hot potato, then pulled two real potatoes from the cup and a "hot and sexy" Mrs. Potato Head from his bag of chips.
Drag queen Summer Orlando sang "Life is a Cabaret," bedecked in sparkly fringe and a confection-pink wig. Her delightfully boisterous performance covered every inch of the stage, as she kicked, strutted, and sloshed a glass of wine. Her voice was bold and strong, and she layered in a gravelly tone as she hit the bridge of the song and sailed through the ending.
Later, Orlando came back out to help Professor M lead some games, still swirling her glass of wine and using her sass to charm audience members into participating. She cajoled three pairs of strangers onstage "to dance," but then set them the task of popping a balloon between their bodies. She also asked for a dollar bill to do a magic trick—"Watch out, Adam, I'm gunning for your gig"—and upon receiving two, promptly stuffed them into her bra.
"You just got robbed by a drag queen," she said. "You're welcome."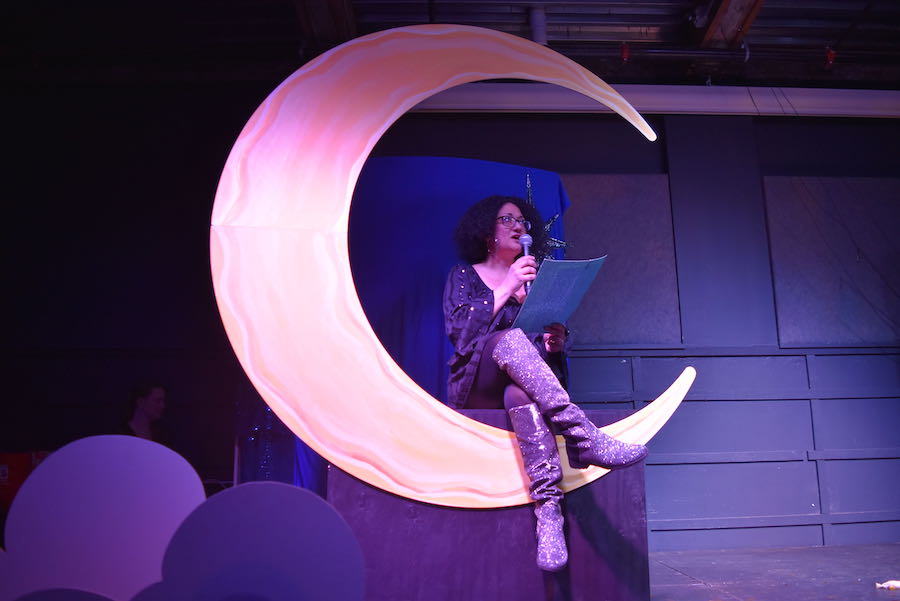 Karen Ponzio, seated. Carpenter Travis Smith created the set pieces for the show, including the rising sun and the paper moon.
Karen Ponzio's original poetry added a literary dimension to the evening, nicely rounding out the scope of the show. The sound of chirping birds accompanied her first entrance as she read a poem about the rising sun. In the second act, she sat on the moon as she read a piece about a love-filled night under the stars.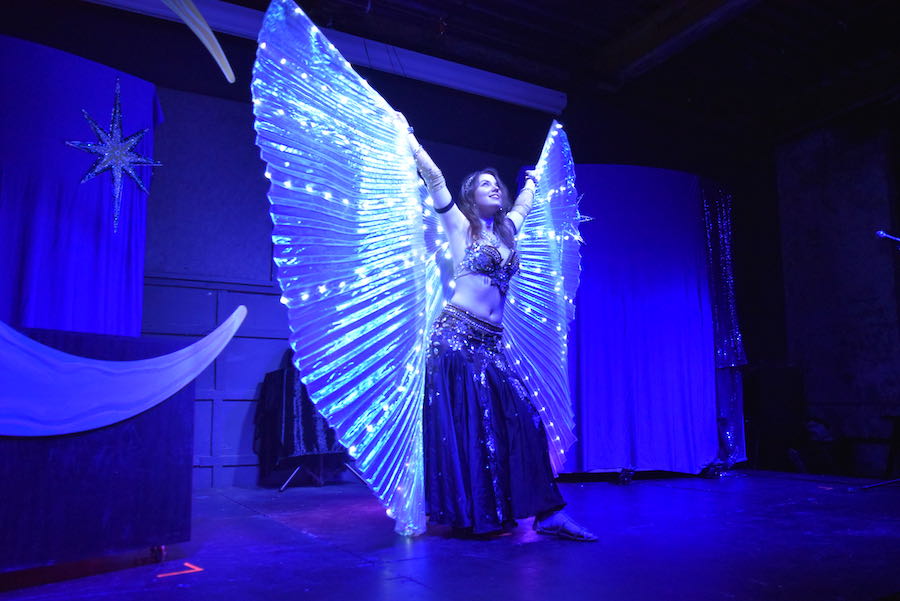 Belly dancer Emiliah lights up the stage during the second act.
As a mist rolled out over the stage, Professor M closed the first act with a classic performance of The Platters' "Twilight Time" in his sweet and smooth baritone voice.
Deepening shadows gather splendor as day is done
Fingers of night will soon surrender the setting sun
I count the moments, darling, 'til you're here with me
Together, at last, at twilight time
As he ended on a flutter of high notes, it marked the transition between the sunlit day of the bright first act to the "nighttime frolics" of the moonlit second.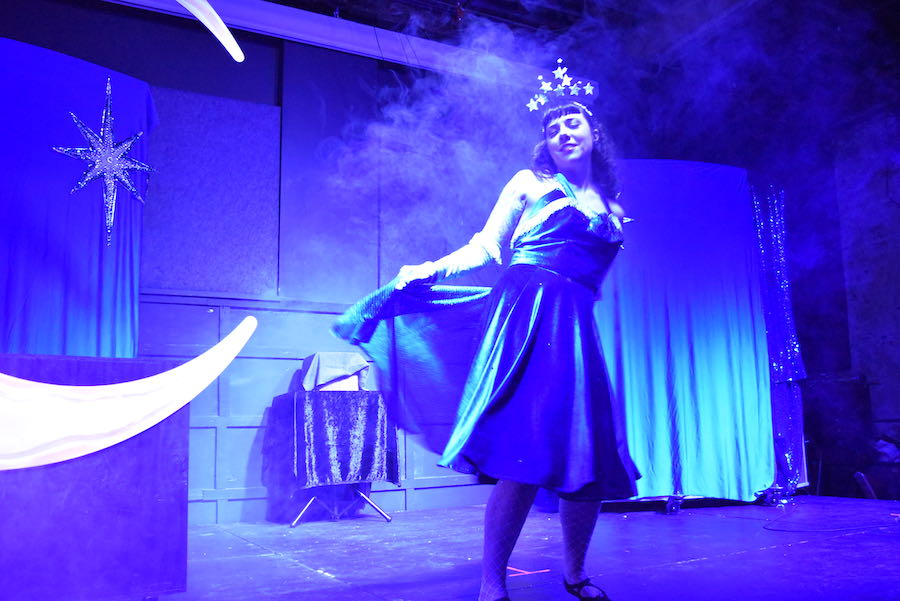 Kitty Katastrophe took the stage as "Blue Moon" played over the speakers. She twirled and smiled in a blue velvet dress and a tiara covered in floating stars. Then she perched on the moon and winked at the audience while she changed into tap shoes, doing a few toe taps, brushes and drags.
As she pulled off her first glove, gold sequins the size of coins fluttered to the floor, and for the finale, she teasingly pulled off her wrap-around skirt like an apron, kicking her white-stockinged legs high behind it.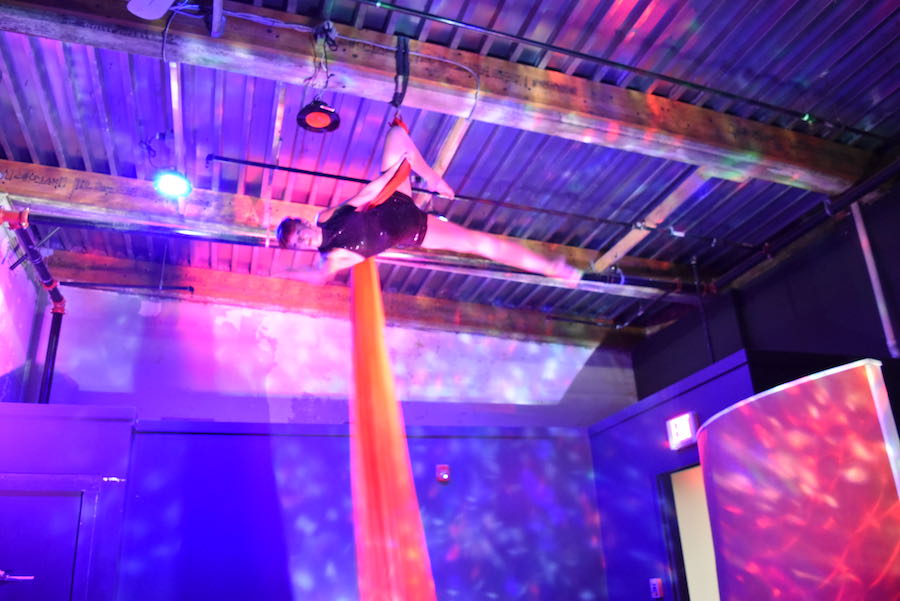 Aerial artist Svenja climbed up and down her long, red silks, wrapping and unwrapping herself in the fabric. Each move she made to twist the fabric around her limbs was so graceful and flowing, it came as a surprise each time she would finish and execute the final flourish of a pose.
In one of those poses, she artfully wrapped the silks around her hips and lower back, encircling each leg and creating a harness made only of flowing fabric. As the audience held their breath, she let go hands and dangled in mid air, arms outstretched as she hung upside down ten feet above the floor.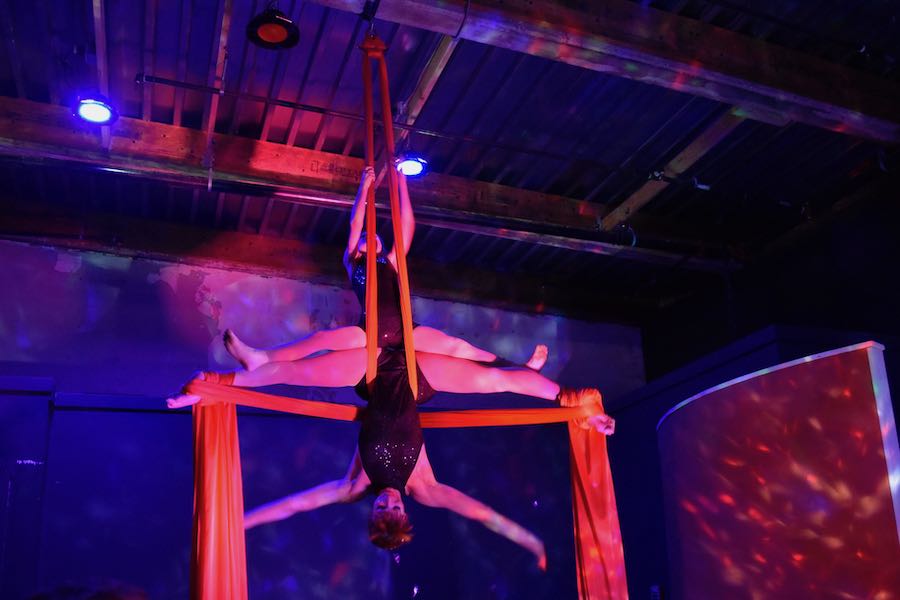 At other points, she hung on with her hands only, and once she flipped the fabric around her legs, dropping several feet before catching herself as the audience gasped with relief and delight.
Svenja was later joined by her two twin daughters, Luna Lux and Stella Rae who have been training in the circus arts for three years.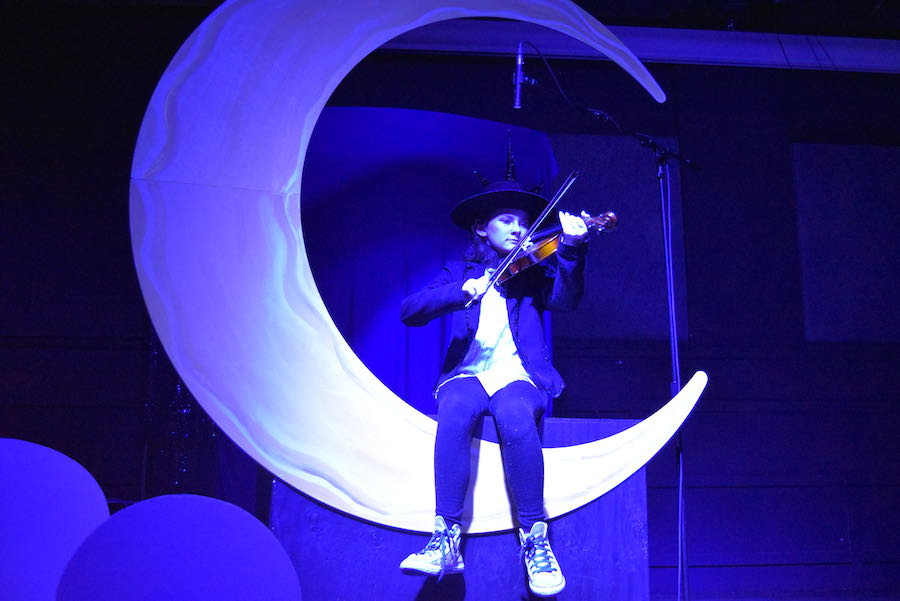 On a night-darkened stage, 11-year old Isling Noir took a seat in the crook of the moon's crescent, her black blazer with ruffled lapels paired with a wide-brimmed boater hat. With a look of intense concentration, she began to play The Beatles' "While My Guitar Gently Weeps," her smooth and expressive playing not just bearing the melody but giving it wings. The audience that had just been raucous almost instantly became pin-drop quiet; not a clinking glass or a whispered comment could be heard.
The lonesome sound of the solo violin added to the haunting nature of the song and the musicality of Noir's playing had the audience captivated. It was a moment of resonance that lasted even after the show's finale, adding to the night's constellation of acts a star that glowed like an ember with its emotional depth.
Noir stretched out the last note and let it fall to silence. The room's pent-up admiration burst open like a water balloon and flowed over the young performer as she sat with a serious expression on her face, quietly taking it all in.
Even Professor M seemed to be wiping a tear away. "That is what we call a show-stopper," he said. "Wherever George Harrison is, I bet he heard that."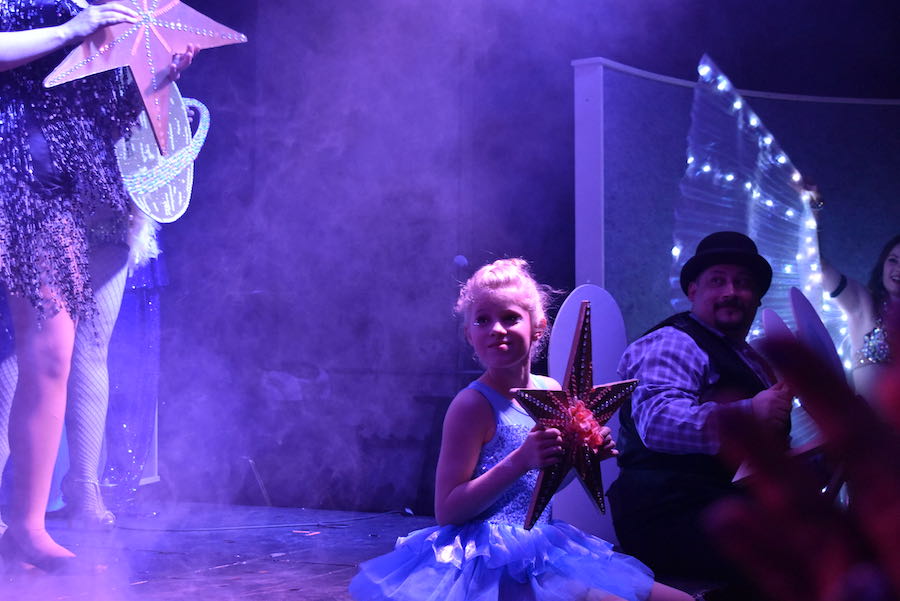 With so many artists in the show, each entertainer had to funnel their talents into one—maybe two—polished morsels of performance. By the end, the audience had collected a basket of gems—each one sparkling in its own way.
Local artists interested in performing in the State House Cabaret should contact statehousecabaret @ gmail.com.