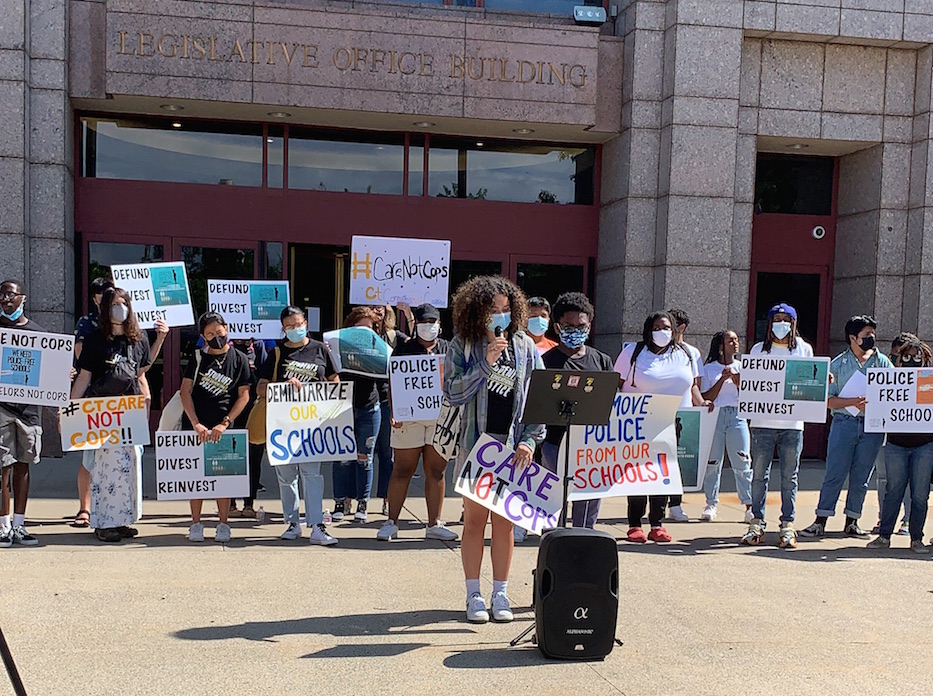 Culture & Community | Education & Youth | Op-Ed | New Haven Public Schools | Youth Arts Journalism Initiative | New Haven Board Of Education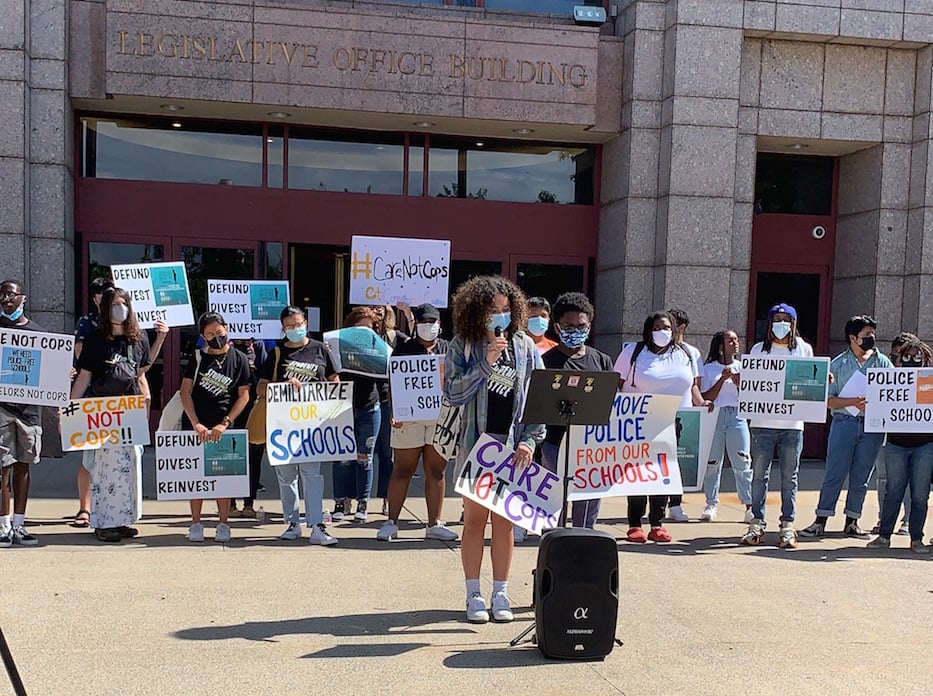 Photo contributed by Elsa Holahan.
The following comes from Elsa Holahan, a junior at James Hillhouse High School, and Kaatje Welsh, senior at New Haven Academy. Both are members of Students for Educational Justice and both are alumni of the Youth Arts Journalism Initiative. This Op-Ed was written in response to the ongoing "Students Over SROs" statewide campaign to get police and other forms of in-school policing out of schools while simultaneously increasing mental and emotional health support services.
Protests and rallies filled the streets of New Haven as thousands of local students and residents challenged the position of police in New Haven Public Schools (NHPS).
The expressed outrage and objection in summer 2020 poured over into the school year as the New Haven Board of Education's Security and Design Committee made a recommendation to keep school resource officers (SROs) in schools—a recommendation that was then approved unanimously by the board in April of 2021.
This decision completely undermines the opinions of NHPS students, disregarding the continuous demands for the termination of in-school police, and the calling for more mental health resources.
Under the guise of mentorship and conflict resolution, SROs and in-school police began lining the halls of New Haven public schools in 1994. However, long before SROs were officially contracted, the policing of young Black and Latinx students prevailed in inconspicuous ways. No-tolerance policies—the enforcement of bans against behaviors or items deemed not acceptable by schools—and dress codes hit Black, Indigenous, and People of Color (BIPOC) the hardest as they were introduced.
Despite research showing that in-school police, punitive policies, and codes do not contribute to the safety of students, school districts continue to employ police officers, enforce punitive policies, and use codes. Majority of in-school suspensions in New Haven Public Schools are made up of Black and Latinx youth, yet the BOE has ignored these statistics and continues to fund the New Haven Police Department for in-school officers.
Before the pandemic, NHPS had 12 SROs stationed in both high and middle schools. According to the New Haven Public Schools and City of New Haven, SROs were intended to be mentors, teachers, athletic coaches, and participate in "handgun violence prevention, conflict resolution, and mediation."
Many of both the mentoring and disciplinary responsibilities were abandoned by SROs.
James Hillhouse High School is one of the largest schools in the New Haven Public School district. It has a student body of 1,250 students, most of whom are Black and Latinx. Hillhouse is also one of the select New Haven Public Schools currently staffed with police officers in addition to the security guards.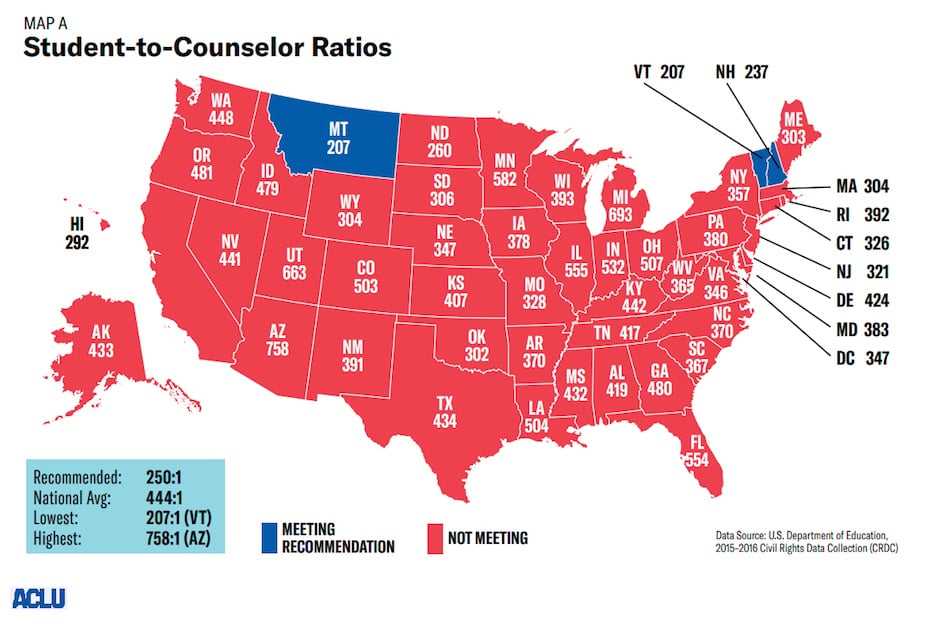 ACLU Photo.
This vision of mentorship and guidance coming from the SROs within NHPS schools never came to fruition; most Hillhouse students were not introduced to the police that monitor our halls. The roles of the SROs were never expressed to the student body as a whole and no programming was implemented to make these staff members an actual part of our school community. One cannot be mentored by someone they do not know.
The relationship between Hillhouse students and SROs undeniably lacks mentorship and guidance. Instead, the presence of SROs in Hillhouse has felt criminalizing as they merely analyze students as we walk in the hallways. The only interactions most Hillhouse students have with the SROs are in quick passings—no conversations, and no connections.
In the 2020-21 school year, Hillhouse had five guidance counselors, three social workers and two psychologists on staff. Each student is assigned a guidance counselor based upon their last name (or if they are ESL/learning disabled). With simple math, we can calculate that each guidance counselor is assigned approximately 240 students, meaning a student to counselor ratio of 240:1. This number, while better than most CT schools, barely meets the state recommendation. Connecticut is one out of 47 states that do not meet the recommended student-to-counselor ratio.
With this dense work load, the school's guidance counselors cannot effectively practice on the entirety of their students. According to survey data run by youth organization Students for Educational Justice (SEJ), most Hillhouse students refer to their counselor for their class scheduling needs—rather than seeking them out for counseling services.
In conversations with our peers, we've all agreed that most students don't know where to turn when seeking emotional support. Many of us don't even know where the offices of our counselors, therapists, or nurses are. Typically, if a student does know where their office is, then they don't know how to make an appointment with them.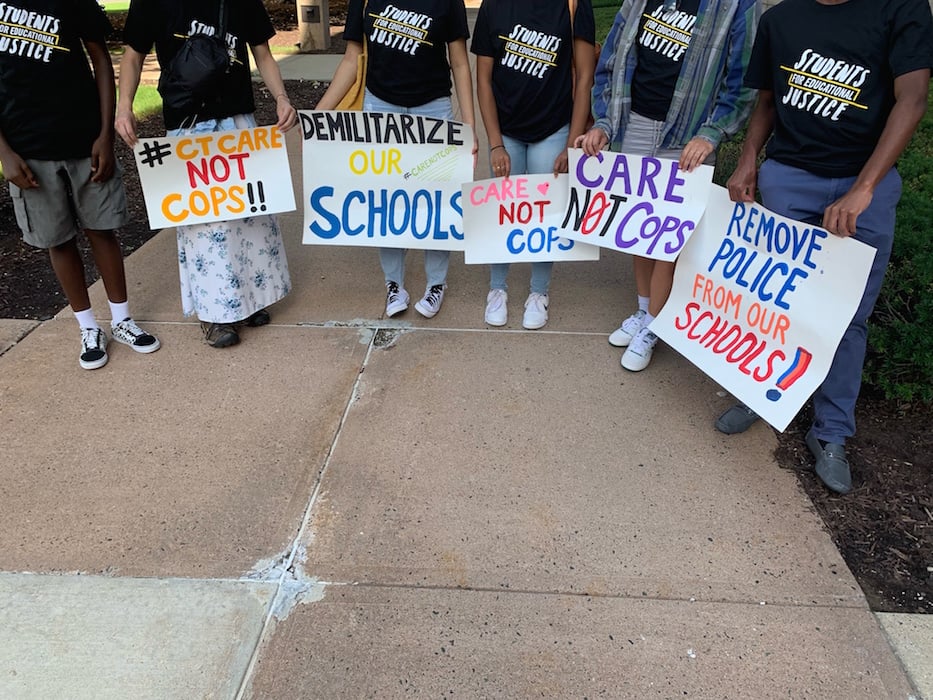 Photo contributed by Elsa Holahan.
Especially during the pandemic, which induced many mental health challenges, most therapists and counselors in schools didn't have the ability to reach students. A study conducted by the Centers for Disease Control and Prevention concluded that mental health related emergency department visits for 12 to 17 year olds increased by 31 percent in 2020 compared to 2019. According to the C.S. Mott Children's Hospital National Poll on Children's Health at Michigan Medicine, one in three teen girls and one in five teen boys have experienced new or worsening anxiety since March 2020.
Additionally, online schooling presented its own issues for many students. Some became overwhelmed by the accumulation of assignments in Google Classroom and felt unmotivated when attempting to complete them. Some had difficulty following along to the remote classroom lessons, while additional academic support was hard to come by. Family and home lives would interrupt the virtual school day, distracting students from their learning. These obstacles, amongst others, made it very challenging for students to receive a suitable education throughout remote learning.
NHPS students do not have the resources needed to successfully overcome the mental health challenges the pandemic prompted. "Wellness Wednesdays," a half day or day off given to students in order for them to prioritize their social-emotional health, were not enough to balance the overwhelming and stressful learning environment. In addition, Students for Educational Justice"s campaign survey revealed that 24.6 percent of surveyed NHPS students were unaware of how to access the mental health professionals in their school as of August, 2021.
For NHPS, students' mental health must be a top priority through and beyond the pandemic. Group and one-on-one counseling sessions must be expanded to accommodate every student in need. Mental health support staff must become more accessible and their roles must be expressed to the students they serve.
The New Haven Board of Education must end its contract with the New Haven Police Department and thus eliminate in-school policing in New Haven Public Schools, then reallocate those funds towards social-emotional support staff and resources.
Students for Educational Justice (SEJ)—a youth-led organization in New Haven—is currently advocating for the complete cessation of SROs from New Haven Public Schools. Additionally SEJ, and other groups like Citywide Youth Coalition and Connecticut Students 4 a Dream, have created campaign demands that center the redistribution of funding and attention to social-emotional resources and staff. We are demanding that adequate mental health support staff is hired, and at the bare minimum, all Connecticut schools meet the requirements for student to counselor ratios.
Our survey (made in collaboration with other SEJ members) to all NHPS students confirmed our assumptions that students don't often engage with in-school police. Without adequate mental health support, or any restorative action for young people, overworked and underpaid teachers jumped in to close that gap and become the aid that students were lacking.
The New Haven Board of Education continues to overlook the students and local youth organizations fighting to increase emotional support staff and services, while removing cops from schools. This omission of student advocacy undermines the purpose of the board: to set the vision for the New Haven Public School system. We believe this vision can no longer exclude the feelings, opinions, needs, and desires of NHPS students.
If you are a current NHPS student, please fill out our ongoing survey to tell us your opinion on police presence in schools, and what you need for your mental health.