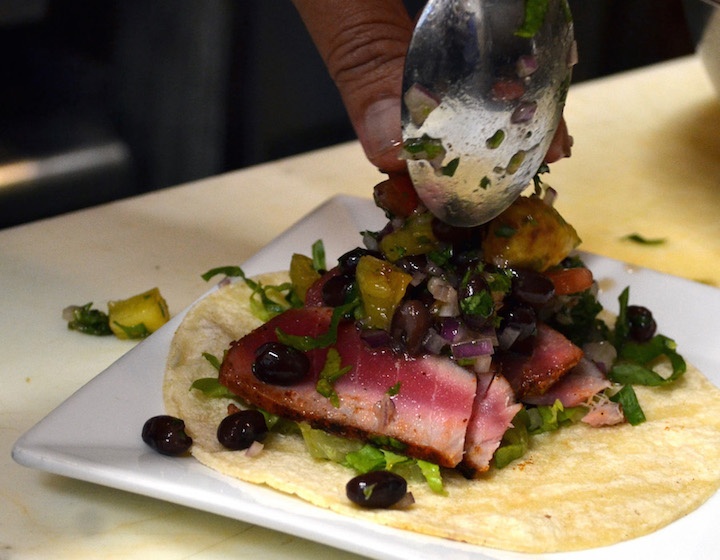 Tacos filled with crispy pork belly and sweet plantain. Tequila cocktails bubbling with champagne. Plush leather couches, flickering candles, and exposed brick.
This is Sonia Salazar's vision for Te Amo Tequila, a new space she is opening at 182 Temple St. this fall. Currently the owner of Barracuda Bistro & Bar on Chapel Street, Salazar said she's ready to add a second restaurant with a slightly different vibe. The restauranteur said she's excited to bring business back to the space, which has most recently housed the short-lived Ah-Beetz and Koji Restaurant.
"We're running out of room at Barracuda," said Salazar's business partner Sarah Cornelius. Instead of turning attendees away on a busy night at the bar, she said they plan to serve everyone by sending overflow to Te Amo Tequila, twice the size of their current spot on Chapel.
In addition to traditional dinner seating, the new restaurant will dedicate significant room for lounging, with comfortable couches and low cocktail tables. In addition, Cornelius said there will be a dance floor, two bars, and a "community table" where diners sit side-by-side.
Salazar said she's is especially excited for the open kitchen, with an open-flame grill—a big change from from Barracuda's limited cooking quarters. That's where she finds her ultimate concept for the space: tacos and tequila.
"South Americans, we just know… simple and beautiful, and a little elegant, is the best," she said. She knows from experience: after immigrating to Connecticut from Colombia to pursue a career in nursing, Salazar fell in love with cooking. Just 18 at the time, she spent the time working for her father, a chef for Hyatt Hotels.
According to Salazar, the kitchen at Barracuda has gotten to a point where it runs itself. So does the front of the house. That's given her the time and energy to create a new menu from scratch, built entirely around the outward-facing simplicity of tacos.
There are experiments that she's already perfected, testing them out during the summer months (including on this reporter). In one, sweet and tender plantains meet salty, crispy pork belly, packing a sweet and savory, layered punch. In another, Salazar serves up tender seared tuna—thickly seasoned outside, perfectly pink inside—paired with a sweet and punchy pineapple black bean pico de gallo.
There's a deep-fried avocado taco, crusted with panko and generously portioned, to satiate tastes of vegetarians and omnivores alike. Or an oyster taco, with the filling breaded and fried and topped with a horseradish-truffle aioli. For a bar owner who began her New Haven career with oyster shooters, it feels like coming full circle.
Plates will range from $7-$14, tacos will be generously portioned on six-inch corn tortillas ("Flour tortillas are Taco Bell, not us," Salazar said), and the restaurant will offer at least 50 brands of tequila.
"People will be able to afford a regular street taco, and somebody who wants to come in and have a more upscale, foodie, gourmet experience will be able to order something priced higher," said Cornelius . She added that the two envision a menu versatile in both flavor and price, with simple yet innovative offerings from happy hour to dessert.
Salazar's sister Jules Mendez is also a member of the team, tasked with creating a comprehensive drink menu at the new restaurant. In addition to at least a dozen signature cocktails, Te Amo Tequila will feature thoughtfully sourced tequilas like family-owned Fortaleza, with roots dating back to the 1800s and a traditional, artisan approach to production.
Mendez, a seasoned bartender and hospitality professional, said she hoped to host tequila tastings to demystify the spirit. She detailed plans for a "mezcal-fizz" as an opportunity to expand New Haven's cocktail palate.
"People are iffy about egg white, and iffy about mezcal, so if I can get them to like that, I'm done," she said, likening Te Amo Tequila to a fun cousin of Barracuda. She added that she sees it as "a place where people can relax, have amazing drinks, and not break the bank."
Salazar acknowledged that opening a new restaurant—just like keeping one running successfully—requires a great deal of energy. During a recent interview, her eyes followed the flow of plates from Barracuda's kitchen to its tables, anticipating the requests of her customers. She called for flatware and bounced between interview questions and drink refills. She even recalled the culinary origins of the scars on her hands, visible still in the dimly lit back corner of Barracuda.
Busy as Barracuda is, Salazar gives herself two days and two nights off per week. Once Te Amo Tequila opens this fall, she plans to split her time between the two restaurants. Both she and Cornelius are working hard to meet their goal for a soft opening in late September.
"Knowing that she's opening up another place makes me exited to check it out," said Barracuda regular Virginia Thomas, there for her second Barracuda visit in two days on a recent summer night. "I love the atmosphere… You actually see [Salazar] where at most places you don't see the owner or manager."
Cornelius also noted Salazar's in-person presence as key to Barracuda's success.
"When you walk into a place that has an owner on site, you can usually feel the difference," she said. "The magic that [Salazar] has been able to create, welcoming everyone into Barracuda, is what's hopefully going to make Te Amo Tequila a success beyond the menu and the drinks and the atmosphere."
Salazar said that her Barracuda family has taken an all-hands-on-deck approach to opening Te Amo Tequila—which she's needed as the mother of two teenage boys who just graduated high school and a full-time boss. Her fiancé, Deirdre Rifenburgh, has taken a break from her physical therapy career to help open the new restaurant.
Cornelius said the team hopes to collaborate with local culinary programs as well. Salazar wants to bring in fresh, young, female talent. She plans to hire local female artists to help decorate the new space, and said she wants to create professional opportunities for underrepresented community members.
Salazar and Cornelius also want to grow supportive spaces for New Haven's queer community, something they've already worked to provide at Barracuda. While the spot does not market itself as a gay bar, Salazar has become a beacon of support, helping reignite Sapphic Saturday at Partners two years ago and supporting the city's annual PRIDE New Haven celebrations and near-weekly drag shows. Earlier this year, she received a Dorothy Award from the New Haven Pride Center (NHPC) in recognition of her contributions to the city's queer community.
"Sonia bucks a lot of trends," said NHPC Director Patrick Dunn. He recalled how excited the award committee was to see Salazar's Dorothy nomination. "She's a queer woman of color running a restaurant in New Haven … and she creates a safe space for everyone in the community, not just queer people."
In an era of shuttering lesbian bars, Barracuda has excelled as a queer space—perhaps for the very fact it doesn't distinguish itself as such. Salazar and Cornelius said they hope that Te Amo Tequila can offer a similar kind of vibe, especially for queer women.
"As queer owners, that's been always very important to us, to have a space that is comfortable for everyone," Cornelius said. "It's been amazing to see that we can have so many different minority groups all together side by side and have them all feel very comfortable … that says something about the community of New Haven in general, how open-minded and how welcoming the city is."
City Deputy Economic Development Director Steve Fontana said he is also excited to see Te Amo Tequila this fall, as it breaths new life into a storefront that's been vacant for months.
"We're very impressed with Barracuda," he said, mentioning a recent weekday visit. "People often think of summer as a quiet time. The fact they could pack it [on a Wednesday] was impressive… We're really pleased that she's opening something new."