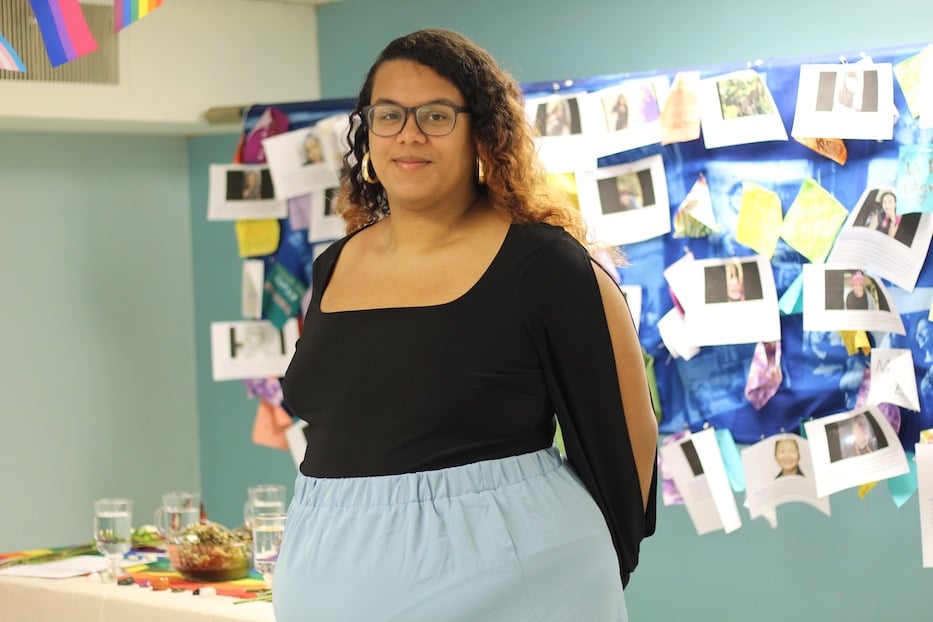 LGBTQ | New Haven Pride Center | Transgender Awareness Week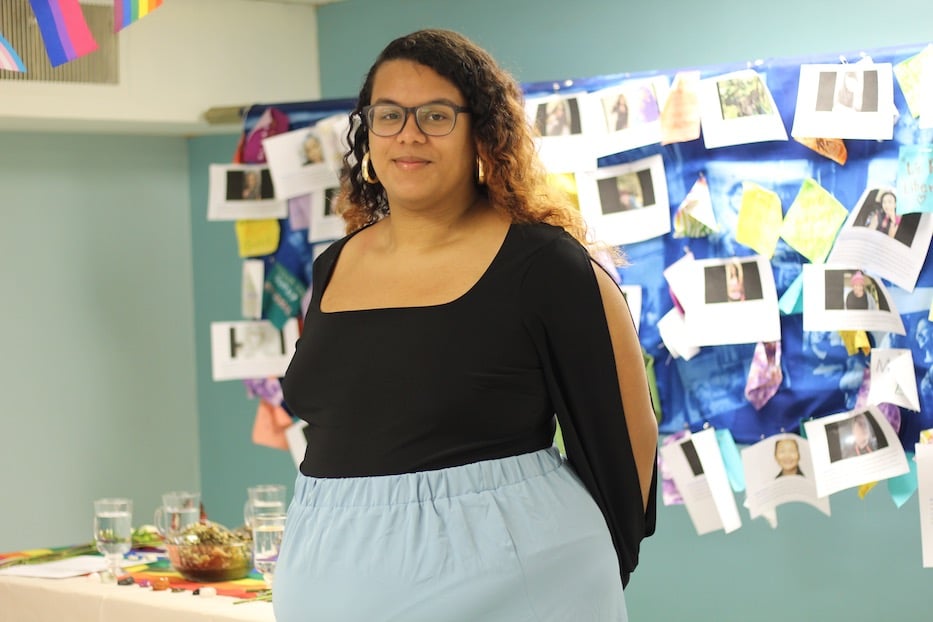 Jahnice Cajigas in front of the altar Monday. Lucy Gellman Photos.
Smells of sage, light-up electric candles, and poetry took over New Haven Pride Center's Community Room on Sunday afternoon, as the organization and its community joined hands to create its first-ever Trans Day of Remembrance altar to honor those lost to violence this year.
"We see altar making as a way of really bringing in the spirits and honoring the lives of those who have passed away," New Haven Pride Center Producer Jahnice Cajigas said. "We will be doing it collectively with our community and folks will be encouraged to write the names of those that they wish to include in the altar, or write affirmation notes that they would like to leave on the altar, or draw an image or print an image out that they would like to leave on the altar."
The Pride Center's event happened less than a full day after a mass shooting at Colorado Springs LGBTQ+ nightclub, Club Q, killed five people and injured at least 25 others. Among the dead are Daniel Aston, a 28-year-old bartender who had moved to Colorado Springs two years ago. He marked the 33rd known trans person killed in the United States this year.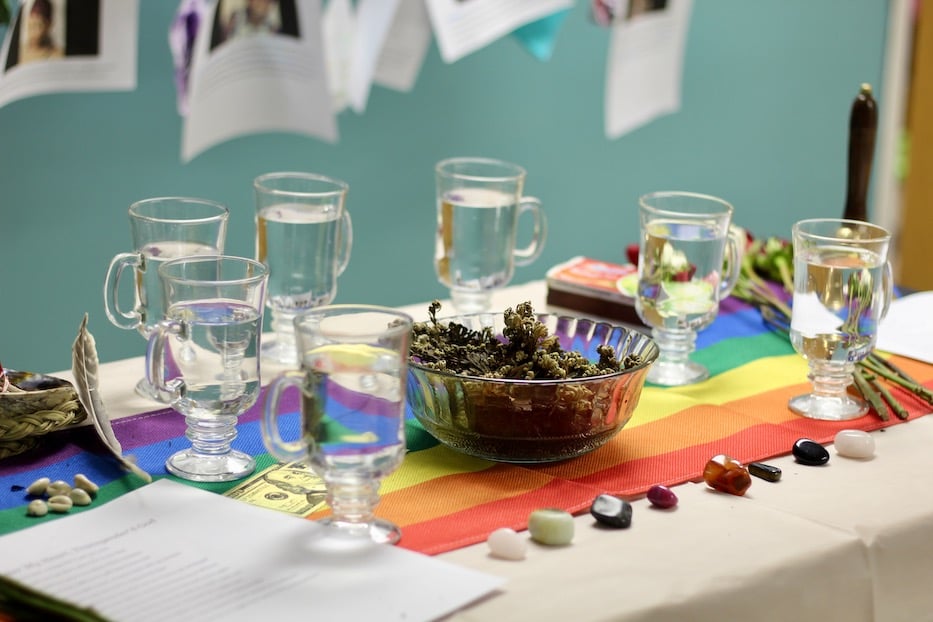 The shooting happened shortly before the clock struck midnight, leaving many waking up to the news on Trans Day of Remembrance. The Club Q mass shooting joins an increasing number of LGBTQ+-related hate crimes and over 300 proposed pieces of anti-trans legislation across the country.
The Pride Center was not alone in marking the day: East Rock House also held a music festival celebrating trans lives at Cafe Nine. Later in the evening, PeerPride held an outdoor vigil for Trans Day of Remembrance on the New Haven Green, part of a statewide organizing effort for trans-led TDOR observances across the state.
The event started off with Cajigas reading Kay Ulanday Barrett's poem "Song for the Kicked Out," which reminds people that the LGBTQ+ community is more than just progress, Boystown neighborhoods, and gay bars. Instead, it's a strong community of people holding each other up.
Cajigas then continued to put together the altar with various spiritual elements to foster connection with those that have been lost this past year. She said this is especially important for Black transgender women, as they experience a significantly lower life expectancy than their cisgender counterparts. Currently, the average life expectancy of a Black trans woman is 35 years. The average life expectancy for a cisgender woman is around 74 years.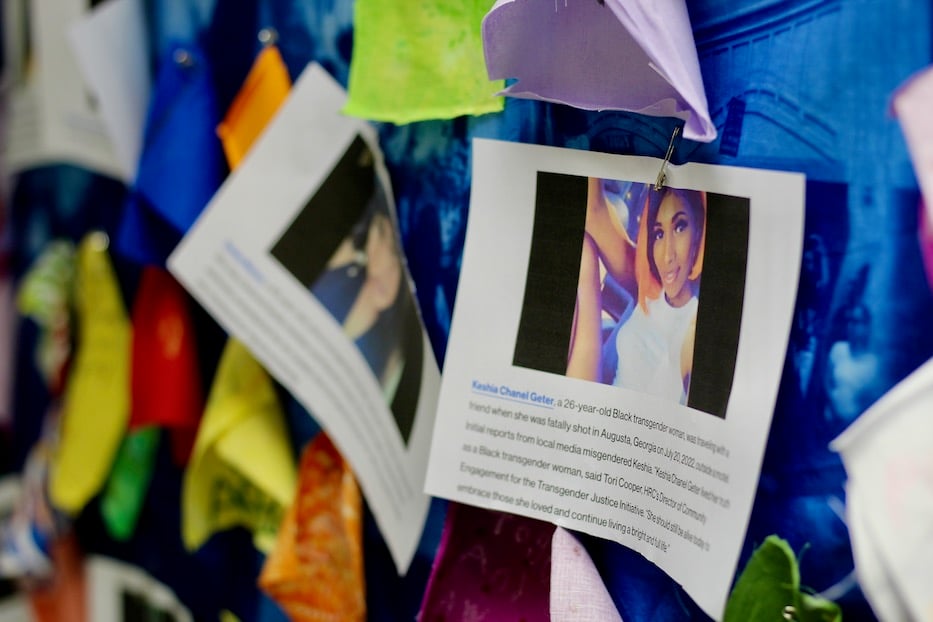 This year, 63 percent of known victims of fatal anti-trans violence were Black transgender women, according to the Human Rights Campaign (HRC). Eighty-five percent of victims were women; 77 percent were under the age of 35.
"This is the time of year for us to really remember the lives of many of those who have been ripped away from us, especially our trans siblings, either right, through communal violence or through systemic violence," Cajigas said.
"It is a time of reflection on the violence many of us experience as trans women and trans men and nonbinary folks face. Oftentimes, it gets a bit heavy to see all the messaging around the many trans siblings that we have lost throughout the year."
After the altar was nearing completion, Cajigas read the names of those lost this year. They include Amariey Lei, who was killed in Wilkinsburg, Pennsylvania, on the first day of January this year, Ariyanna Mitchell, a 17-year-old Black trans woman from Virginia who was shot multiple times during a party when she intervened during a dispute, and Kenyatta "Kesha" Webster who was killed in Jackson, Mississippi among almost three dozen others.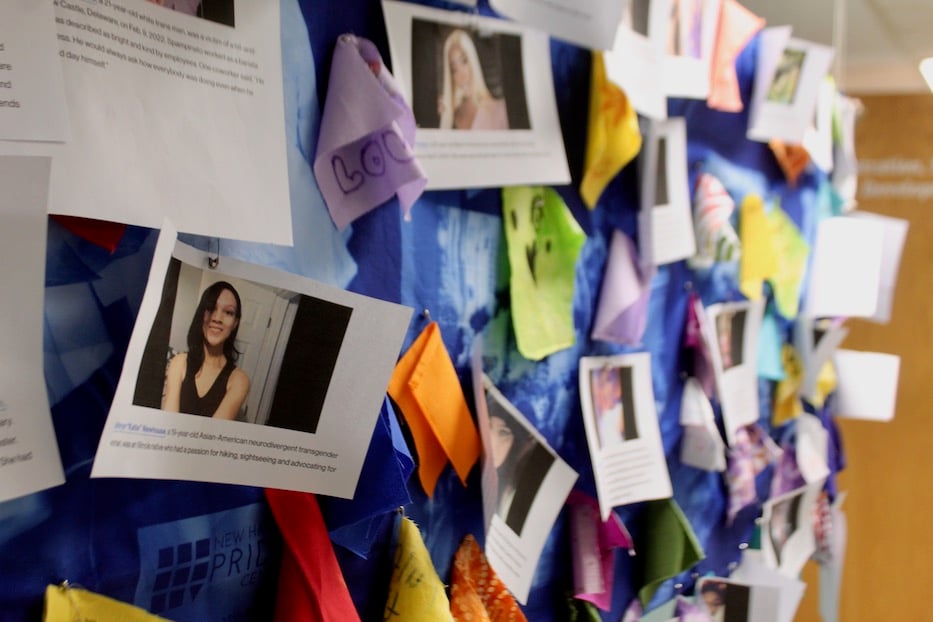 Cajigas said it is upsetting to see the number rise year after year as the LGBTQ+ community continues to see a rise in violence and discriminatory legislation.
"It brings in the reality of systemic violence that the trans community is experiencing across this country," she said. "It is not lost on us how harmful a lot of this legislation is, and just the mere thought of these legislations being able to pass and the impact that just thinking about the passing this legislation could have on many folks in our community.
"It's really a way for us to talk about all types of violence. Because folks in our community are not only dying through the hands of folks within our very own community (people they know or local acts of violence), but folks are also dying because of systemic violence."
She pointed to specific examples across the country that have continued to multiply this year. Florida's legislation, for instance, prohibits teachers from intentionally teaching students about different sexual orientations and gender identities before third grade, punishable by getting their teaching license revoked. Additionally, it requires schools to publicly advertise if they allow students to decide what bathroom they use based on gender identity versus gender assigned at birth.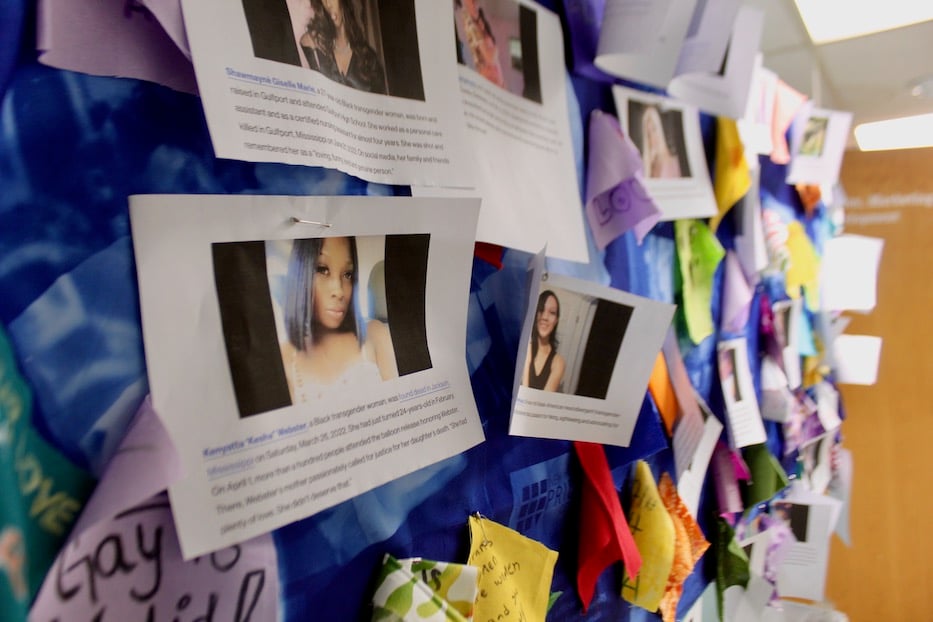 "Elections are so consequential and we must hold our elected officials accountable," Cajigas said. "It is not lost on me that many of these siblings we have lost are from Florida and Texas where some of the states in this country have passed the most restrictive laws against transgender individuals."
In general, hate crimes saw an increase during Donald Trump's presidency, reaching new highs before he left the White House in January 2021. Before Trump took office, there were 6,121 reported hate crimes; in 2019, near the end of Trump's presidency, there were 7,314 reported hate crimes, according to FBI records.
This marks a 19.49 percent increase with LGBTQ+ hate crimes consisting of 19.4 percent of these acts. Many, including Willamette University College of Law Professor Robin Maril, say the Republican party's track record of anti-LGBTQ+ rhetoric during the past six years made the Club Q shooting possible.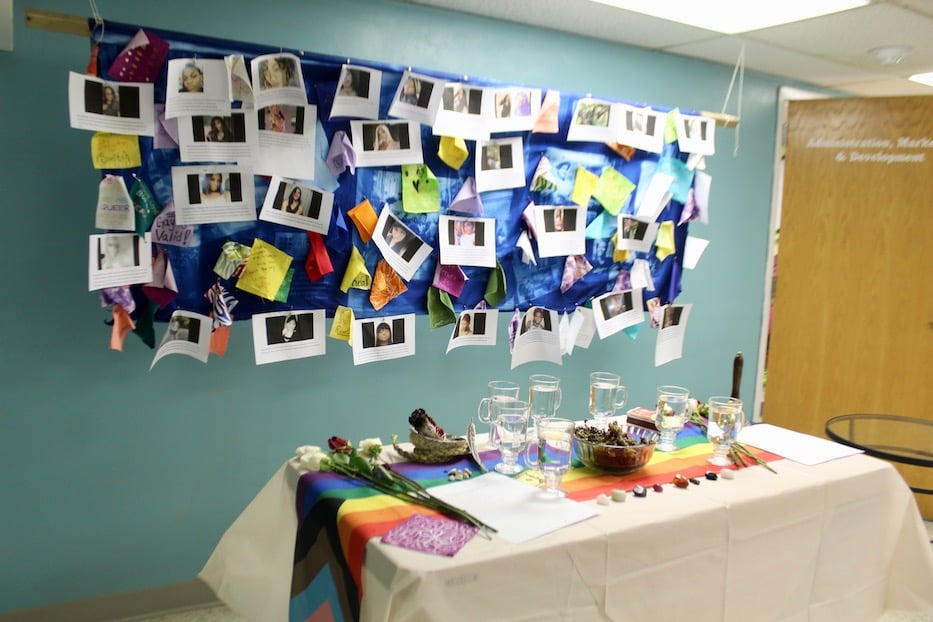 "Studies now show that Trump rallies cast a long shadow of hate-based violence, with host cities reporting a 226 percent increase in violence," Maril wrote in a Los Angeles Times Op-Ed. "The far right's emboldened, retrenched villainization of LGBTQ lives as political fodder has created a powder keg within the context of our fractured democracy.
"In the coming days we will find out the names of the Colorado victims, who they loved, what they dreamed. Their lives, and ours, must be valued as people, not simply specters evoked by weak leaders to frighten people to the ballot box."
The altar will remain at the New Haven Pride Center, 84 Orange St., this week and is available for public viewing. Its supplies were donated by several staff members.