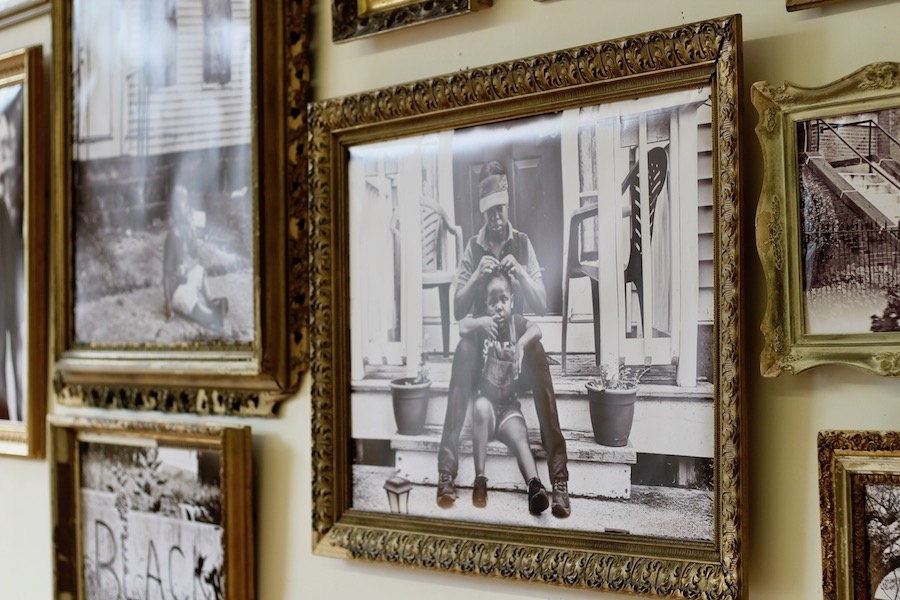 Erector Square | Photography | Arts & Culture | Visual Arts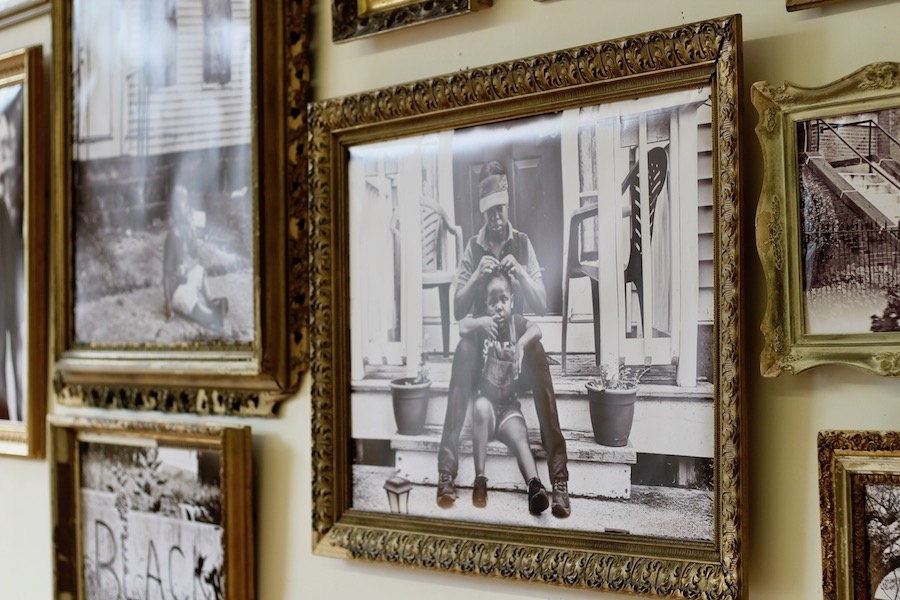 The two are sitting on a front porch, perfectly framed by its white wooden beams. Mom looks down, focuses of two tufts of loose hair, works her magic. The little girl, only half-awake, looks up at the camera with a few fingers in her mouth. Her baby cheeks gleam in the sun. On the porch, paint cracks and chips slowly. Two lawn chairs sit unoccupied. Daytime creeps in.
Wrapped in gold and wood antique frames, these are the images that populate The Beautiful Ghetto, a series of new black-and-white photographs by Ebony Mckelvey of Ebony B. Photography. This weekend, they will be on display at Erector Square as part of New Haven's 21st annual City-Wide Open Studios (CWOS), a month-long celebration of art in New Haven. A formal reception for the show is set for Saturday night at 6 p.m., on the second floor of Erector Square's building number three.
The project began in August, on Mckelvey's drives to visit her grandmother in New Haven's Dixwell neighborhood. New Haven was already familiar territory to the artist—she spent her infancy in the Rockview Housing Development and was raised around the city's Mill River District, right where Grand Avenue kisses Hamilton Street. While she now lives in Hamden, she's in the city several times each week, to visit family and do work at her Erector Square studio.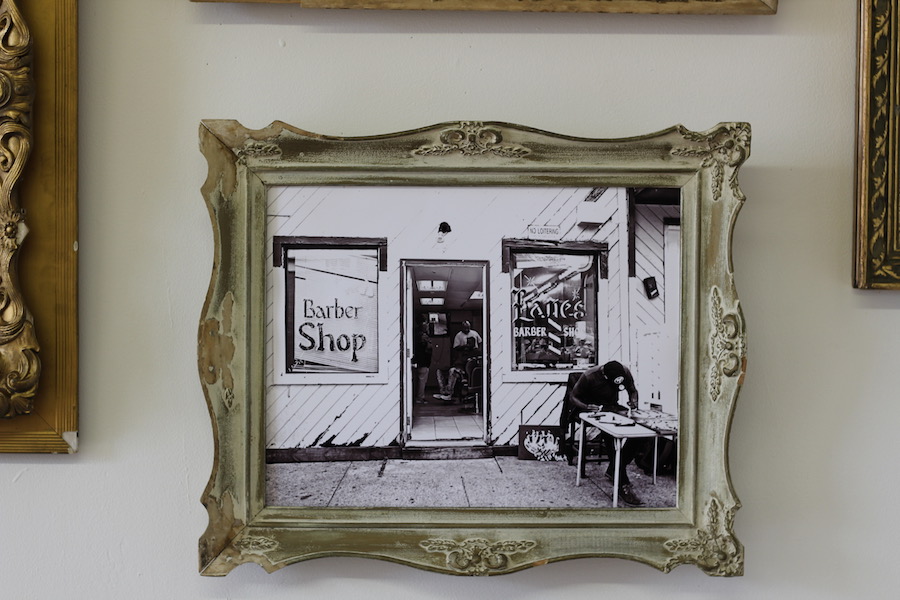 Last summer, she found herself taking a closer look at her surroundings. In neighborhoods she'd heard referred to as dangerous, rough and poverty-stricken—often by people who weren't from those neighborhoods—she spotted old friends, children, and families out on their lawns and porches, "enjoying who they are." There were kids playing in the sunlight, friends cracking jokes, barbershops and restaurants with their doors flung wide open and people communing inside. She couldn't shake the sense that she needed to be documenting it all, to counter misconceptions of this "ghetto" also called home.
"At first, thought that it was going to be too challenging because I'm a studio photographer," she recalled in an interview Thursday afternoon at her Erector Square studio. "But I wanted to show the beauty of these places. I thought—what can I do to make a difference?"
"This is where I'm from," she added. Tracks from Janelle Monae's Dirty Computer filled the space. "We're not crazy people. We're not here to harm you."
She started the project on foot, parking at her grandmother's place and then walking through the city, her camera slung around her neck like a talisman. Her feet led the way: first down Dixwell Avenue, then up and down Winchester Avenue, into Edgewood and Kensington, and back through Fair Haven, close to the intersection where she grew up. Initially, she recalled feeling anxious, worried that people would find her intrusive.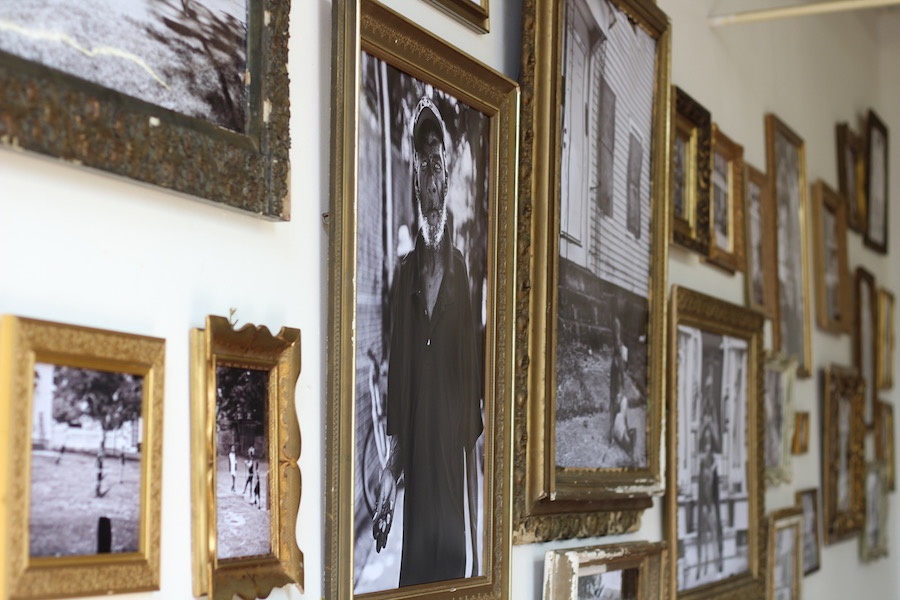 Instead, she found a city that wanted its stories told in full color. A city of lives lived fully, and lives just beginning. Of vibrant local businesses and centuries of history and people who were making it, despite a system that worked against them so much of the time. Of folks who were so welcoming she was often stunned into silence, listening to all they had to say.
On Winchester Avenue, she met a young guy who nodded avidly as she spoke about the project, a smile spreading across his face. Even before she had finished speaking, he interrupted her—would she mind if he just ran and grabbed something before she took the photograph? That was fine, Mckelvey said. Two minutes later, he'd returned with a lone bicycle wheel, the spokes rusty but glinting in the sunlight. In the photograph, he leans back into two friends, the wheel cocked before him like a vintage prop. All of them grin at the camera.
"Anytime you want to come by and walk around, I'll help you," he said afterwards, as she packed up and ventured further into the neighborhood.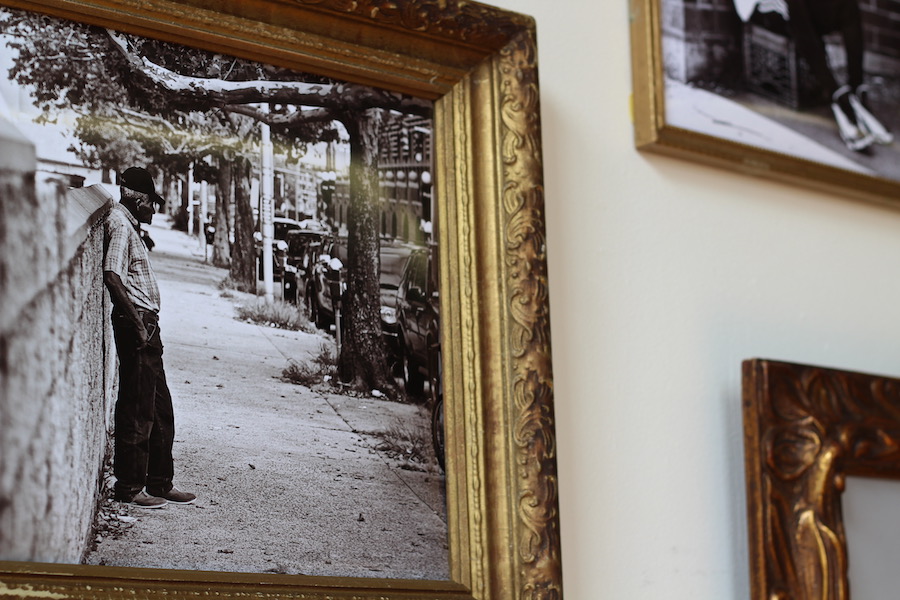 Those stories cropped up constantly. Another resident of Newhallville offered to go door to door asking for donations, so the neighborhood could help with the project. A couple dancing at a cookout in Jocelyn Square told her about their life in the neighborhood, which seemed to have been forgotten by the city. An old friend, Shatoya Gibbs, caught her up on the neighborhood's news as she did her daughter's hair before heading to a new job at McDonald's.
On the cusp of downtown and the Hill, Mckelvey stopped to document the demolition of Church Street South, and found herself talking to an older man. They stood on the sidewalk, watching the buildings come down. He told her he'd grown up in the housing project years ago, before it had been overrun with mold and damp, its living conditions deemed toxic and unsafe. Now 80 years old, he commutes into New Haven almost every day to reminisce about his youth there.
"He was just so proud to tell me where he grew up, and what he had been through, and he was still able to smile," she recalled of their conversation.
In one sense, The Beautiful Ghetto is about this story: a game of local eye-spy in a city where so much changes, and so much stays the same. Absent from the images is the specter of gentrification: storefronts, barbershops, homes and housing projects remain largely untouched by it. But it is not, as Jim Goldberg's Candy suggested at Yale last year, a missed opportunity. These businesses feed the neighborhood. They cut the city's hair. They are exactly where they're supposed to be.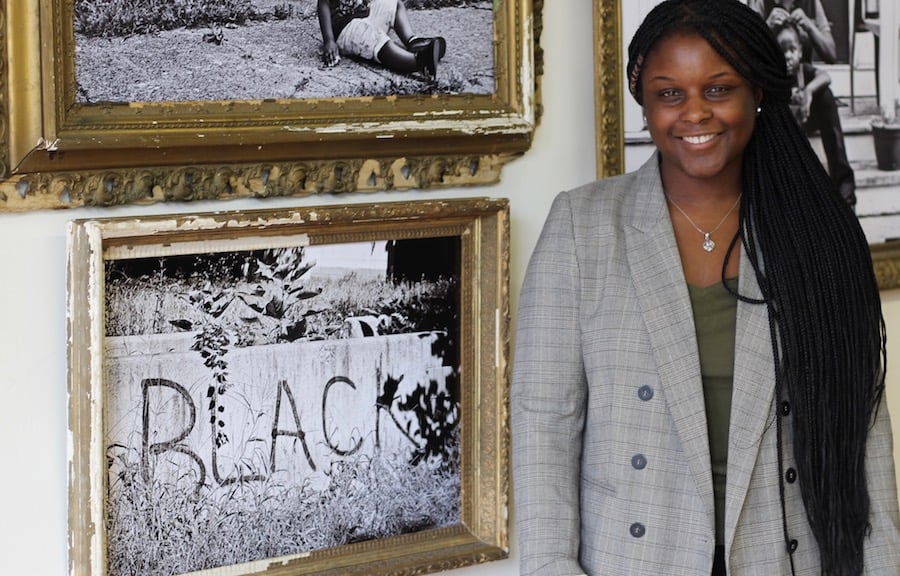 In this sense, The Beautiful Ghetto is alive, a document that hums and pulses. Several photographs center on young New Haveners, just starting their lives in the city. Kids sit on front steps and front lawns, sometimes accompanied and sometimes alone. They play in parks and on playgrounds, sip bottles of Welch's grape juice, and smile at passers-by.
But we also get the city's elders. In a rare photo taken from Mckelvey's car, we find ourselves on Dixwell Avenue, majestic in an early Sunday morning light. At the base of Varick Memorial Zion AME's stone staircase, a man walks by with a broom in hand, decked out in a dark suit, pressed shirt and tie. He's 70, maybe 80. And he is, in every sense of the word, regal.
More radically, the exhibition is a testimony to street photography done right. Breaking from white, male photographers who have taken New Haven as a formal subject—Jim Goldberg, John Hill and Daniel Eugene come to mind—Mckelvey takes a different tack. She asks consent. She does fetishize poverty, or dwell on the misdeeds of urban renewal. She has housed the prints in antique frames from fellow Erector Square artist David Sarrazin, to wrap her subjects in something that has the same sense of history and survival that they do. Like Eugene, she has no agenda, and no ax to grind with the administration.
Instead, she simply engages: as a woman of color, as a New Havener, and as a photographer. Her eye is sharp—not just because of her background, but because of the trust there. A pact, made firm in word, and willingness to listen. It makes a beautiful world of difference.
The Beautiful Ghetto is on view at Ebony B. Photography, 315 Peck St. Building Three, this Saturday and Sunday from noon to 6 p.m. A formal reception with live entertainment will take place on Saturday Oct. 6 at 6 p.m. To watch an accompanying film, click on the video below.