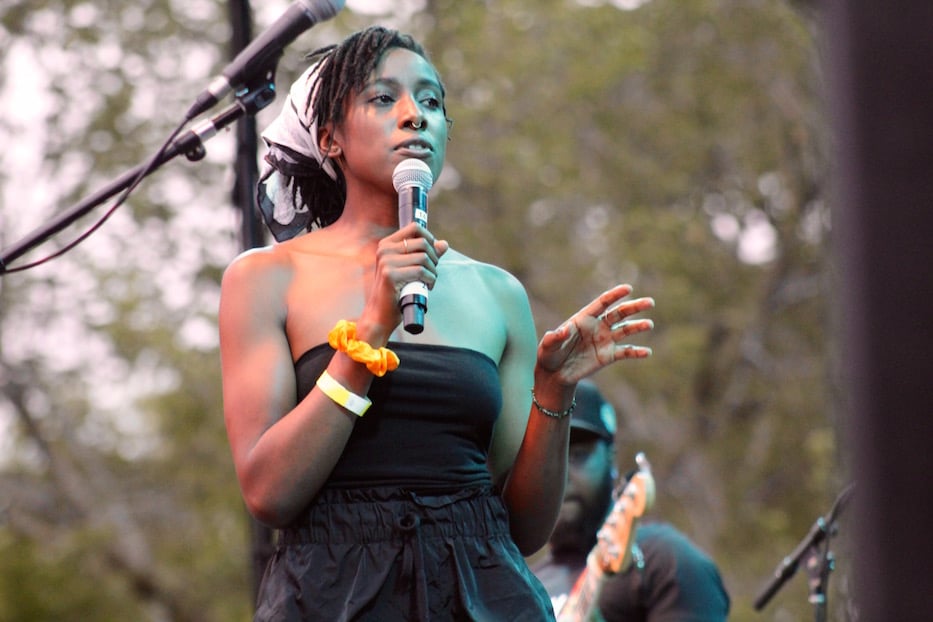 Citizen Contributions | International Festival of Arts & Ideas | Music | Arts & Culture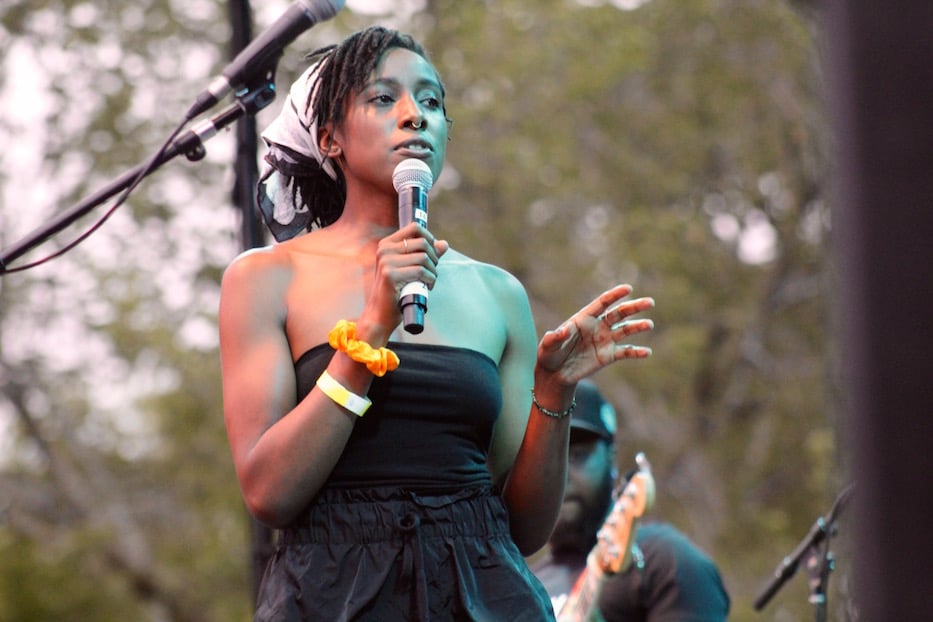 Ro Godwynn performing Friday night. Lucy Gellman Photo.
Local artist and musician Ro Godwynn submitted the following letter about their experience performing on the Green last Friday as part of the opening night of the International Festival of Arts & Ideas. As described below, Godwynn said that they and fellow local Black musicians were mistreated by the sound crew hired by Arts & Ideas to work during the Friday night musical performance. They said that they chose to speak out not only for themselves, but on behalf of other musicians, and particularly Black musicians, who build New Haven's vibrant and tight-knit arts community.
Below is Godwynn's letter, printed in full, followed by a response from Arts & Ideas Executive Director Shelley Quiala, who wrote that the festival is currently conducting an internal investigation into Godwynn's complaint and into what happened last Friday night.
Below is Ro Godwynn's grievance.
To The International Festival of Arts & Ideas,
I'm sending this message to express my disappointment with the unwarranted disrespect, hostility, and unprofessionalism that I and other Black musicians were subjected to at Arts & Ideas' opening show, which occurred on June 18, 2021.
Before the show started, we were called to the stage for a soundcheck. We stood there for a considerable amount of time, waiting to be addressed as our call time approached. When we started asking the crew direct questions and receiving blank stares and eye rolls instead of responses, it became clear that we were being actively ignored.
One member of the stage crew was particularly cruel, even going as far as avoiding giving me a microphone, passing it to someone else so that he wouldn't have to hand it to me—an act of disrespect not foreign to Black musicians.
Similarly, the audio engineer would often roll his eyes at me and other vocalists, when all we wanted was to be informed about what was happening. Communicating with artists is arguably the most important part of being an audio engineer, but this one didn't bother to say a word to me.
Ultimately, out of the two hours allotted for soundcheck, only one of the six opening vocalists had a three-minute mic check. Another felt compelled to leave because of the unprofessional, hurtful behavior from the stage crew. I went on stage feeling incredibly distressed not only because I didn't get a soundcheck, but because of how I had been treated minutes before my performance.
Oftentimes, when organizations such as the International Festival of Arts & Ideas claim to commit to "diversity," the assumption is that the job is done once more (or any) Black performers have been booked. Unfortunately, it's not that easy, particularly since diversity doesn't automatically mean inclusion. The crew made it very clear that we were not wanted, or even tolerated in that space. Leaving Black professionals to navigate this hostility is irresponsible. To rectify this, I'm requesting that monetary compensation be given to each of the Black vocalists for our unpaid emotional labor.
Additionally, I'm requesting the immediate removal of the audio engineer and the stage crew member I mentioned in this letter. Their presence at a festival promoting diversity sends mixed messages to performers and the community, and we all deserve better than to be subjected to the disrespect they showed on that day.
I was so excited to perform for my community and to be featured in one of the most talked-about musical events in town, but that excitement was unfortunately taken from me by the crew that day. I'll be awaiting a response from you all.
From,
Ruth Onyirimba, aka Ro Godwynn
The International Festival of Arts & Ideas sent a response Wednesday evening. It follows below.
Dear Ro and Opening Night Artists:
Thank you for your courage in speaking out. I want to apologize on behalf of the International Arts and Ideas Festival for the unprofessional and harmful treatment that you and other Black musicians who performed at the June 18 opening show experienced from crew members. The Festival does not condone, nor does it tolerate, bias-related acts toward any individual or groups.
Although I did not witness the aforementioned incidents, I heard you when you shared your mistreatment, and I honor the truth of what you name. We are investigating this situation and we will remain transparent as we continue through the process.
The following was brought to my attention regarding the behavior by the crew and treatment of the artists: the production crew was not prepared for the Festival's opening show; artists were kept waiting an unacceptable length of time for soundcheck and many artists were not offered soundchecks at all; and the artists felt disrespected and not welcome to perform. I understand the decision by some artists to leave the Green and the resulting hurt and anger felt by those who stayed and performed.
Your assertion is correct that individuals who demonstrate disrespectful behavior denigrate our artists and greater community and undercut the Festival's mission to promote diversity and inclusion. You deserve better.
We have opened an investigation and, pending the outcome, will take the necessary action regarding staff and crew. Additionally, I will personally reach out to every artist to help repair the harm we have done.
The International Festival of Arts & Ideas is committed to anti-racism, and that commitment is about whose stories are told and whose art is honored and resourced--as well as how human beings are treated.
As the Executive Director of the Festival, it is my responsibility to ensure that every staff and crew member exhibits the values that are the foundation of how the organization functions. Trust is an essential component to anti-racism work at the organizational level. This is ongoing work, and I am committed to it.
I value you and your trust. Thank you for bringing this incident to my attention, and for holding me and the Festival accountable.
Shelley Quiala, Executive Director