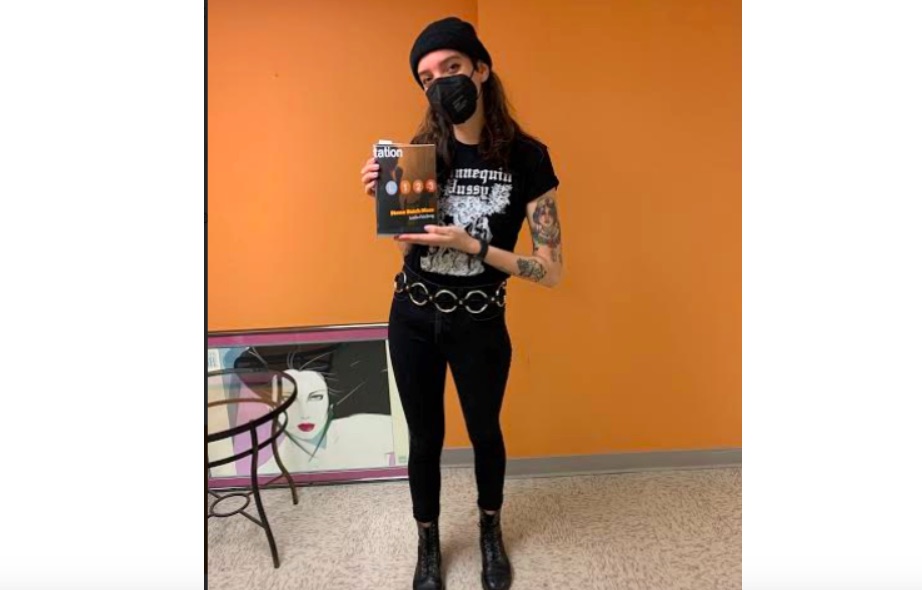 LGBTQ | Arts & Culture | New Haven Pride Center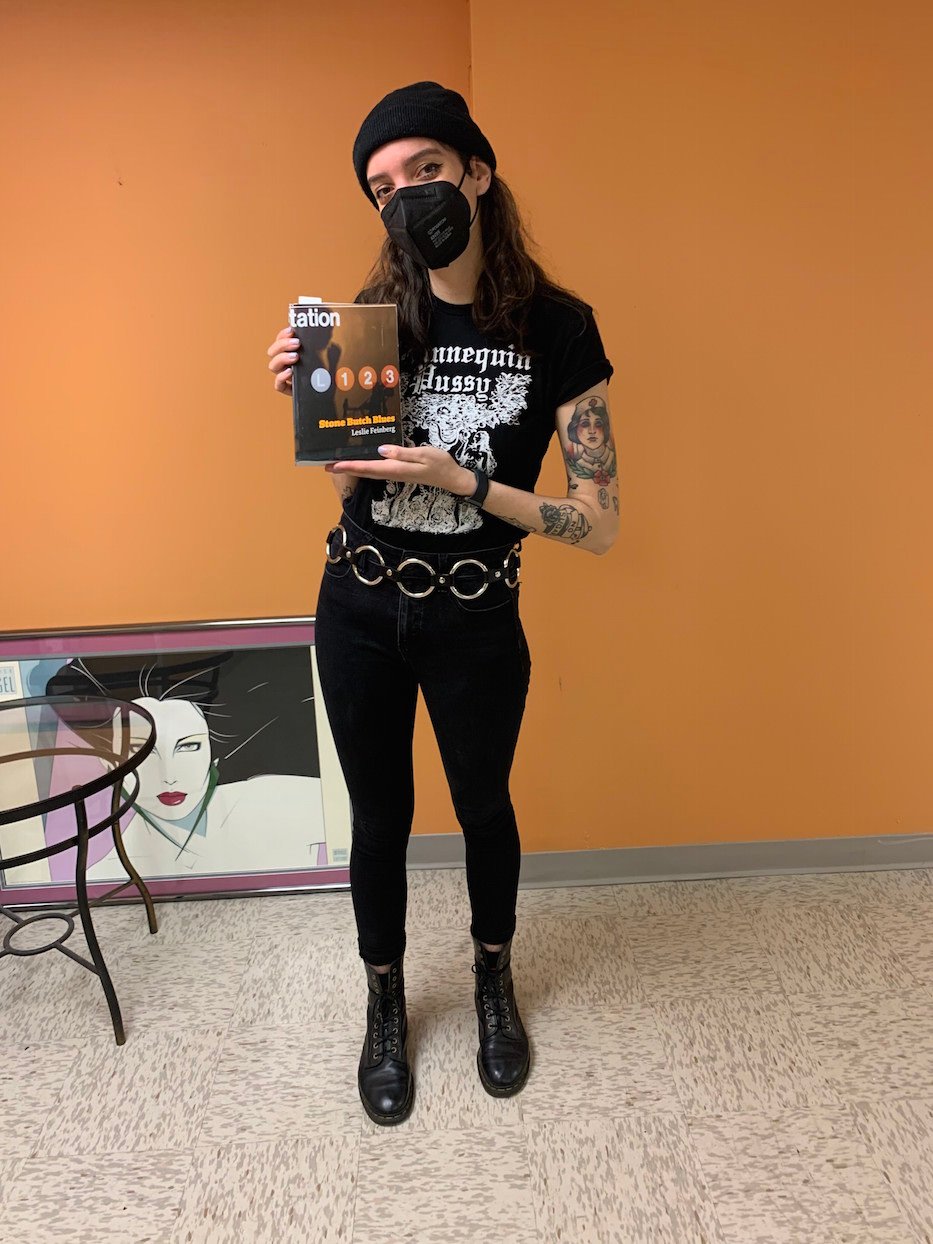 Suyane Oliveira, who leads the Lavender Lit Book Club at the New Haven Pride Center. Benie N'sumbu Photo.
Eleven people sat in the New Haven Pride Center, copies of Stone Butch Blues in their hands. Four more joined on a large Zoom screen at the front of the room. Women's Program Curator Suyane Oliveira threw out the first question: who had cried while reading the book?
Oliveira is the brain behind a reborn, Covid-cautious Lavender Lit Book Club, a program of the New Haven Pride Center dedicated to lesbian fiction. On a recent Friday, the club came roaring back to life with Leslie Feinberg's Stone Butch Blues, a novel based on Feinberg's experience of being a lesbian in the 1970s. It is part of its growing slate of women's programming, which also included a number of panels for Lesbian Visibility Day last month.
The next meeting of the book club, for which the selection is Tonya Boteju's Kings, Queens, and In-Betweens, is Wednesday May 18 at 6:30 p.m. Participants can register here. Boteju will also join the Pride Center for a virtual discussion on May 26.
The Lavender Lit Book Club began as a program under Miranda Rector, the previous Women's Program Curator, and ran from 2020 until 2021. Then last year, Rector left the position. This year, the Center brought Oliveira on for the role. On a recent Friday, she proudly declared it a dream job. The club currently meets once a month at the Pride Center's 84 Orange St. home, with a virtual option for those who do not feel comfortable meeting in person.
Reviving the Lavender Lit Book Club was a no-brainer for Oliveira, who "just like[s] books and wanted to read with other queer people." Having lived in New Haven for nearly three years, she said was disappointed with the lack of safe queer spaces that don't involve alcohol. She found that many of her opportunities to meet other queer people took place at local LGBTQ+ bars downtown.
Then the Pride Center hired her—in the midst of a pandemic—and she had the chance to create a safe, supportive and non-alcoholic space. The book club meets every month at the Pride Center (there is also a virtual option) to discuss a book written by a lesbian author.
The books span genres from historical fiction—like Stone Butch Blues—to nonfiction like Lori Fox's essay book, This Has Always Been a War. Oliveira personally selected each title for the first five meetings of the Lavender Lit Book Club so that she could attract a variety of participants. Beyond that, selections still remain open.
Stone Butch Blues, which Oliveira lovingly refers to as the "queer bible," is a seminal book in the field of queer literature and queer studies.
The book follows the story of protagonist Jess Goldberg, a young working-class butch lesbian who navigates life in New York during the McCarthy era. Although the book doesn't shy away from the ugliness of gender-based violence, classism, and queerphobia, it also showcases the power of community through supporting characters who help Jess.
When sharing what resonated with them, one participant named Harper (they declined to give their last name) noted that "there is so much that gets erased, it was great that Leslie used a fictional lens to tell queer history." They addd that queer history, often minimized or skipped over in schools, is a "huge part of U.S. history."
Many participants—including this reporter—pointed to the lack of queer history in school. Members of the group overwhelmingly agreed that their LGBTQIA education had occurred outside the classroom.
Perhaps the most invigorating conversation occurred towards the final half of the meeting, when a participant brought up the differences between current and past queer spaces and the support they offered to young LGBTQIA people. They pointed out that in the story, Jess was able to find refuge at her local gay bar and found someone to house her immediately.
It's not as common to hear stories like that anymore, they said—of queer people getting support beyond their visibility.
With the increased visibility of LGBTQIA people, they continued, it may appear that queer folks no longer need community support to navigate their trauma. LGBTQIA characters—and actors who have that lived experience—are more common in entertainment. More queer people are out and proud in their (our) daily lives And yet, LGBTQIA folks still face trauma due to queerphobia and transphobia. Queer folks still need material support from their community.
That is why spaces like the New Haven Pride Center and now the Lavender Lit Book Club are necessary, participants agreed. They offer LGBTQIA people the opportunity to mingle with one another in a safe, sober setting while also making connections so that if needed, they can reach out to one another and be given aid.
Following that recognition, attendees took the time to applaud Oliveira for creating the change they want to see.
"I just want a safe space where people can share ideas openly and honestly talk about how books relate to them," Oliveira said. "A space where like people can also be sober and form connections with each other. I hope we have a core number of people so that we can bond and decide on books to read together."
The next Lavender Lit Book Club selection is Kings, Queens, and In-Betweens by Tonya Boteju. The Club will meet both in person and virtually on May 18 at 6:30 p.m. (register here), and will have a virtual discussion from Tonya Boteju on May 26. For more information on future Lavender Lit Book Club meetings, visit the Pride Center's website.