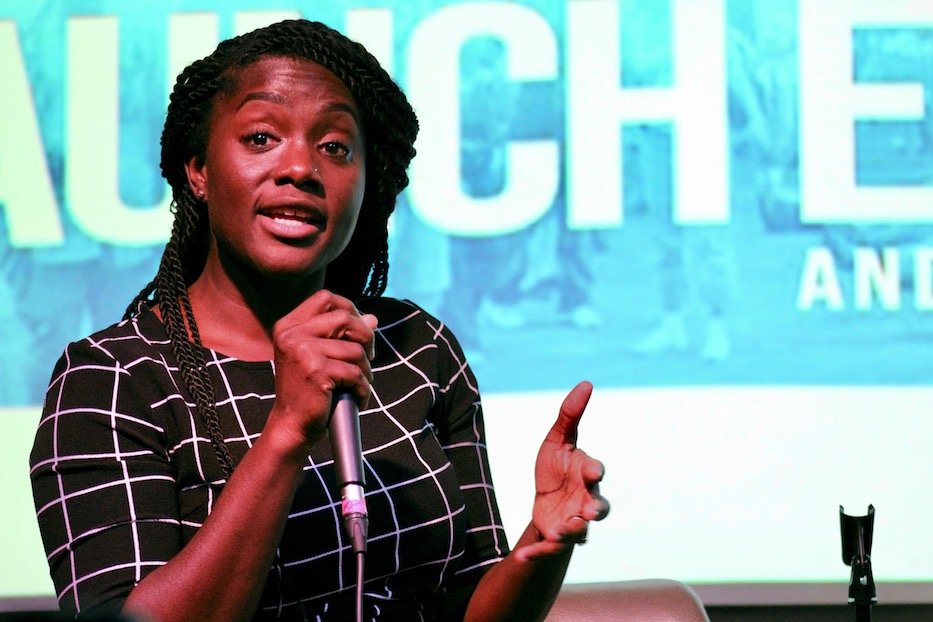 Storytelling | Ninth Square | Arts, Culture & Community | The State House | Mercy Quaye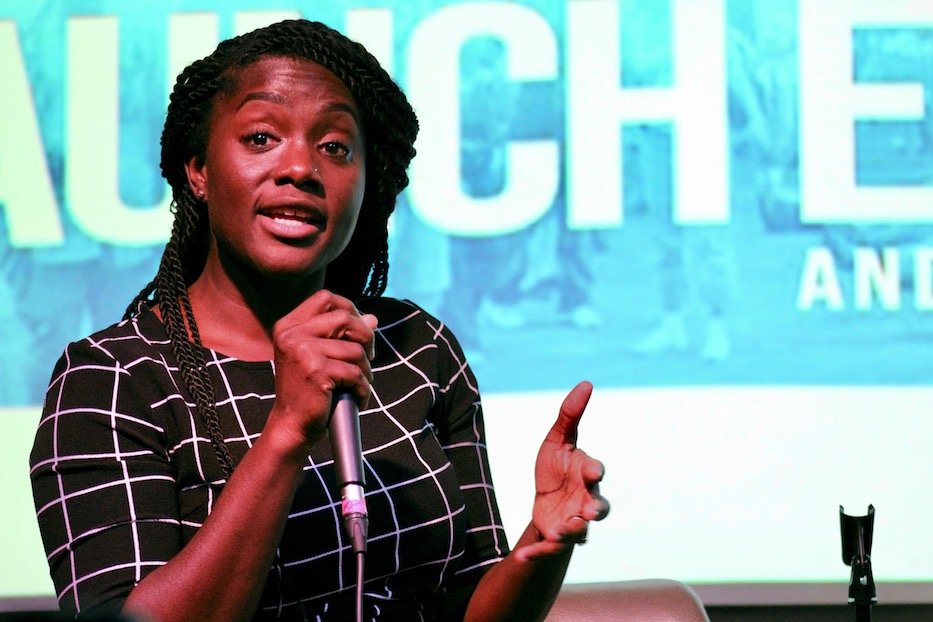 Mercy Quaye. Lucy Gellman Photos.
It started with a tape recorder. Mercy Quaye didn't know it then, but she was already on her way to socially conscious storytelling—and she hadn't even turned six.
Quaye unpacked that history Thursday night at the official launch of The Narrative Project, a new communications and consulting firm with social justice at its core, and of which she is the founder and principal consultant. Close to 75 people attended the event at The State House, which included a "fireside chat" with New Haven Independent Founder and Editor Paul Bass and impromptu dance party led by Quaye's two-year-old nephew, Kwei.
"Our goal is to help level the playing field for those who seek to do good in the world," said Ashlee Niedospial, social media and account manager with the group. "Because now more than ever, narratives matter."
Currently, The Narrative Project works with such groups as the Connecticut Center for Arts & Technology (ConnCAT) and its subsidiary ConnCORP, CT Core-Organize Now!, Connecticut Voices for Children, Connecticut Juvenile Justice Alliance, and Take Action Running among others.
At its center, Quaye is driving that mission with a background that yokes grassroots storytelling, community organizing, investigative journalism and antiracism work. In 2015, the project began as a series of conversations around social justice, at a time when Quaye was working full time as a reporter for the New Haven Register and then as communications director for the city's Board of Education.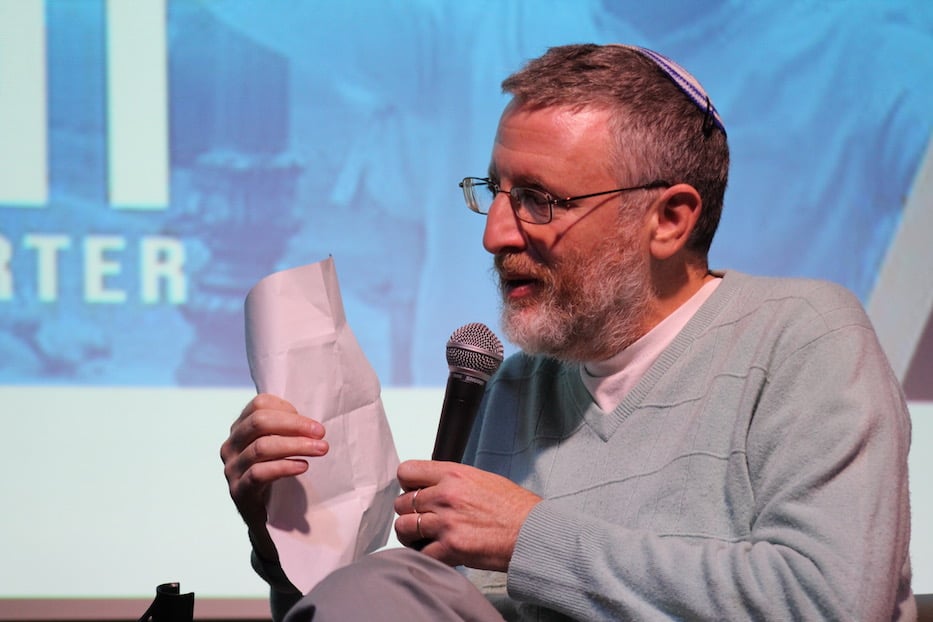 From those chats, it grew outward, extending to socially conscious events, film screenings, privilege walks and panel discussions as Quaye jumped into positions at the New Haven Board of Education, Educators for Excellence, WNHH Community Radio and Hearst Media Group, where she is currently a weekly columnist.
"I've always thought of Mercy as the bridge in New Haven about how we're gonna tell stories," said Bass, noting that Quaye has lived through the decline of the city's print papers and rise of digital journalism. "She knows every single piece of how to get a story out. How to tell it, to whom, what technology [to use]. I think she's gonna hit it out of the park."
But how she got there is a longer story. Quaye—who is proudly a twin—was born and raised in New Haven, where she spent most of her life in the city's West River neighborhood in a home on Judson Avenue that her mom still owns and lives in today. As a kid, her interest in storytelling grew out of an old-school tape recorder she received when she was five.
In those years, she was living on Division Street, in a housing development that was later knocked down for new houses. It was "a full house"—her grandparents, aunt and uncle, mom and siblings all lived under one roof. And instinctively, she knew exactly what to do.
"I went around the house, and interviewed everyone," she recalled to laughs from the audience. "About everything. For a really long time."
It was how she learned to spot sources—and sniff out fake news. To laughs, she recalled hearing from her aunt that her mom was pregnant, a story on which "I was gonna scoop everyone in the house," until she realized that she hadn't verified with the source and ended up getting some major facts wrong. She explained that it was her first taste of giving herself distance from a source, to ultimately get a better and more insightful story.
"With a microphone in between myself and the subject, I was able to, I think, compartmentalize a little bit," she said. "This isn't my family member. This isn't my aunt, my uncle, my grandfather—these are identities in my story. And I think I found that that was a useful tactic in asking better questions."
"If I'm asking my grandfather questions about, what was it like growing up in Beaufort, South Carolina in the 50s … I as a 5-year-old can't tell that story in the same way if I'm talking about my grandfather," she continued. "But if I'm talking about, you know, someone who's on the other side of the microphone with me, I can tell that story in a more authentic way. I can be in your shoes now, because my shoes don't matter when I'm telling a story."
The leap to storytelling wasn't immediate, Quaye said. As a student at Troup School and then Conte West Hills Magnet School, she did what most students her age did—she kept a journal, venturing into poetry and spoken word. When she started high school at Hill Regional Career High School, she majored in information technology, and discovered that the school "had a little bit of a journalism program."
Her freshman year, she jumped on the student magazine, which she ultimately edited for the remaining three years of high school. Inside the classroom, she was able to bounce between journalism and creative writing, a balance that she now finds uniquely well-suited to the kind of storytelling The Narrative Project does.
Outside of the classroom, she honed an interest in becoming a foreign correspondent, reading the work of journalist Tina Susman, who was then working for the Associated Press (and who she would later meet as a member of the Journalism & Woman Symposium), and hundreds of issues of National Geographic. She worked as an intern for the New Haven Independent, which was still in its early days of online journalism.
In hindsight, she said, it was clear that all roads pointed back to her love for New Haven. But at the time, that wasn't where she thought she was going at all.
After high school, Quaye attended the University of Saint Joseph in West Hartford for a year, then transferred to Quinnipiac to be part of its journalism program. At the time, she said, she still wanted to be a foreign correspondent, a path from local to national to international news she planned to follow "until I'm in Benghazi."
"I was going to continue until I was no longer here," she said.
So after college, Quaye jumped right in when the New Haven Register put her in Torrington, where "I was the only Black person" for miles for the six months she lived there ("I walked through the Stop & Shop once, and I saw another Black guy, and we just kind of gave each other a head nod," she said to laughs).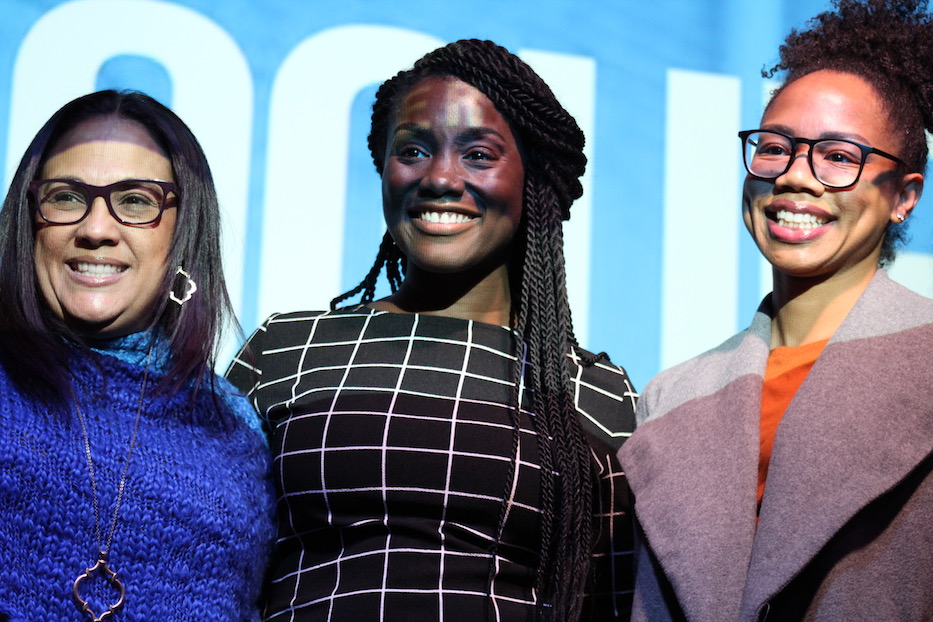 She hit the ground running, part of a team that broke a story about the town of Winstead's then-director of finance embezzling millions of dollars from the tiny town. Just as she had with the tape recorder years before, she sniffed out the story by following the details and talking to people, noticing roads that weren't getting fixed and schools that were no longer getting funding from the city.
The reporting brought her back to New Haven. At the time, Bass recalled, the New Haven Register "was trying to figure out the internet," and brought in Quaye to do a new kind of breaking news that included tweeting, posting status updates, doing six-second stories on Vine, and still scooping the competition.
Quaye was an anomaly: she wasn't just good at technology, but was from the city itself, which meant that she often knew the people she was covering. Among a sea of white reporters, many of whom lived outside New Haven, she had context.
"I knew all these identities, but I also knew all these identities," she said. "So when I was running out to cover, you know, shootings, sometimes I knew those people—whether I knew the shooter or I knew the victim. Sometimes I knew those people and it was hard to cover those stories."
"This became a new skill," she added. "How do you tell a story authentically?"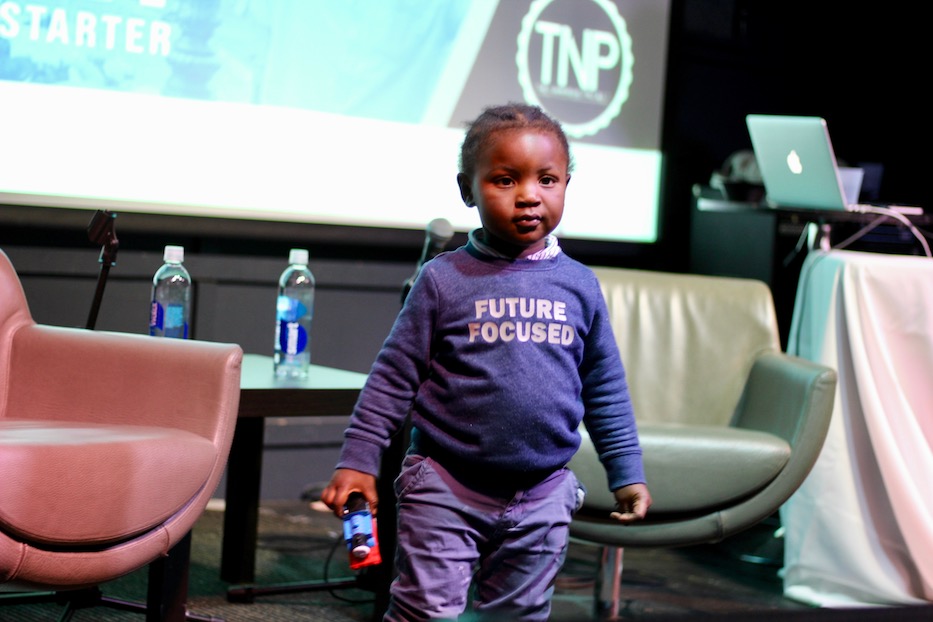 Quaye's nephew Kwei, who led an impromptu dance party after the event. During the chat with Bass, Quaye praised her twin Jennifer Quaye-Hudson, who is also TNP's senior campaign strategist and the director of external affairs for Connecticut Voices for Children. Her brother-in-law, the musician Paul Bryant Hudson, has also been one of her collaborating partners.
It gave her a particularly empathetic way of telling stories. She recalled learning that a friend's sister had died in a car accident in New York City, and calling the friend not to get a scoop for the Register, but to counsel her on how to handle news cameras and reporters that would inevitably show up at her house. She knew that those reporters weren't bad people—but they were under pressure to deliver stories. She also knew her friend was grieving. She didn't think twice about making the call.
That was the kind of journalist she knew she wanted to be, Quaye said Thursday. She brought that skill set to the city's Board of Education, where Bass praised her for her responsiveness to journalists. But she was also starting to use it in a parallel universe, as a community organizer and social justice champion.
In 2013, Quaye watched as George Zimmerman was acquitted after violently killing unarmed Black teenager Trayvon Martin. She watched as the names of Black men and boys murdered by police multiplied—and as those officers walked away from the legal system without charges. Across the country, the Black Lives Matter movement was gaining traction. And for Quaye, that was a local discussion as much as a national one.
"I'm scrolling on my Twitter feed and I'm scrolling through information on Facebook, and I'm seeing that people … people are talking about how Black people are misperceived and misunderstood," she recalled. "And for me, all I keep thinking is: narrative. Right? What's the Black narrative and who is in control of that?"
In 2015 she organized a conversation downtown, at Book Trader Cafe. Fifty people showed up; the cafe ran out of coffee and the group kept going. To moderate the conversation, Quaye passed around a soccer ball that attendees signed at the end. By the time the night was over, she knew she had found a need in the community—and knew how to fill it.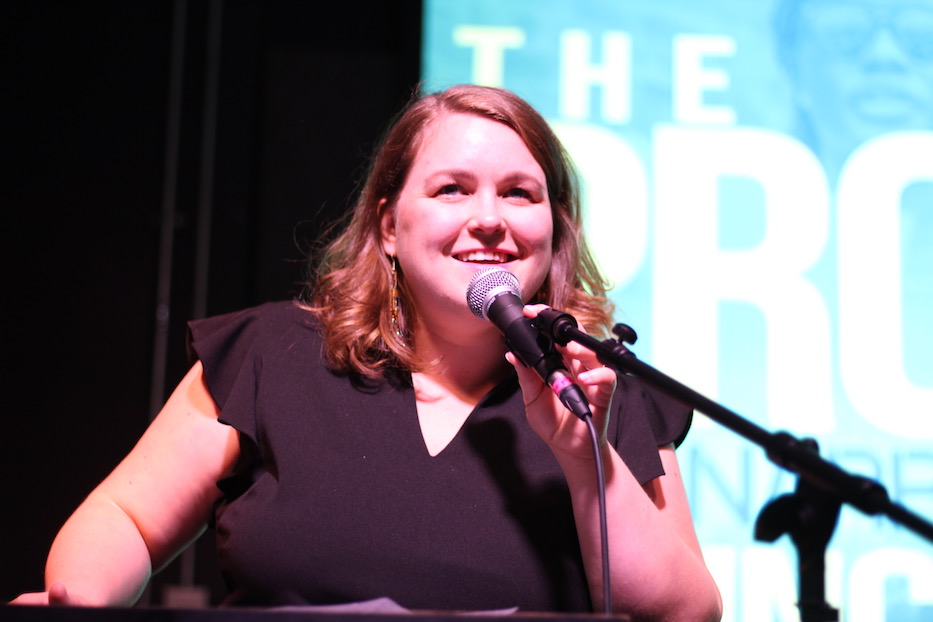 "Our goal is to help level the playing field for those who seek to do good in the world. Because now more than ever, narratives matter."
"What sort of came out of it was part of the reason why we pivoted to The Narrative Project," she said. "We had Black queer people come into the space. And then we had Black gender-nonconforming folks come into the space. And then we had people of color in general come into the space, and white people who were on their various walks and journeys into antiracism and what we call 'wokeness,' and I was like, I'm not actually telling the full story here."
"How do we actually interact with each other, and how do we tell the stories of how we interact with each other?" she continued. "This is more of a project in which we talk about narrative. This is a narrative project."
Quaye built out the project even as she juggled full-time professional work, often fielding requests on social media and turning them into discussions in the real world. One group wanted to talk about the lack of space white feminists made for women of color. Another wanted to talk about the question of representation in futurism. She praised collaborators who have helped her organize events, from film screenings of Get Out and Black Panther downtown to privilege walks at Southern Connecticut State University (SCSU) and in Milford.
In 2017, she turned The Narrative Project into a limited liability company (LLC) to do consulting work professionally. Two years later, she has an office and tiny staff comprising Niedospial and her sister, education advocate Jennifer Quaye-Hudson. She said she is working on 501c3 nonprofit status.
As her base of potential project partners grows, she said she's excited to work with her "Coalition of Communicators," a "boatload of communicators" in New Haven who may be invested in storytelling with a social justice lens and can help her build capacity.
"This is truly something that I believe in," she said. "And because I believe in it, I can put my heart into it, and I can do it really well."
To find out more about The Narrative Project, check out its website.