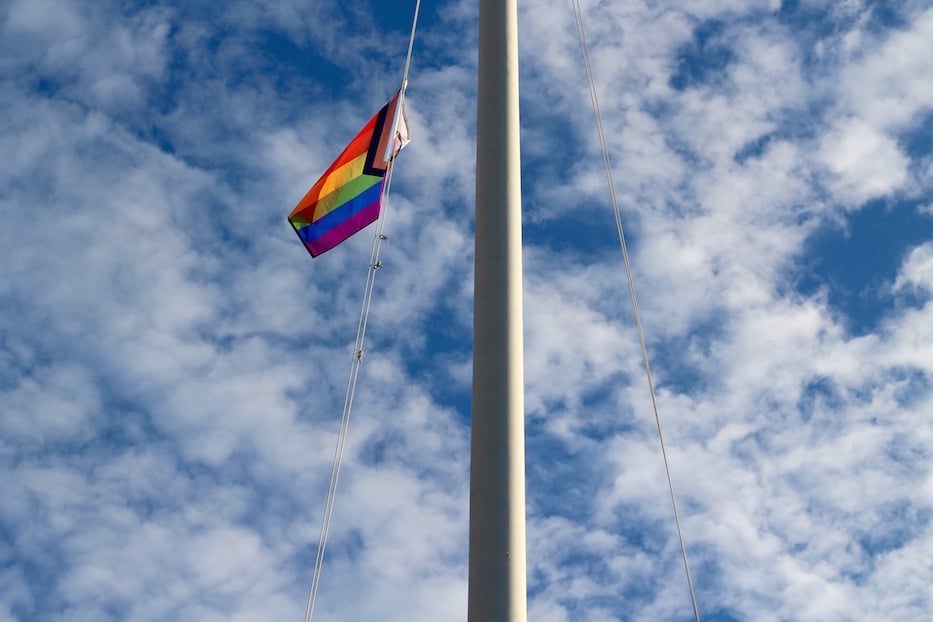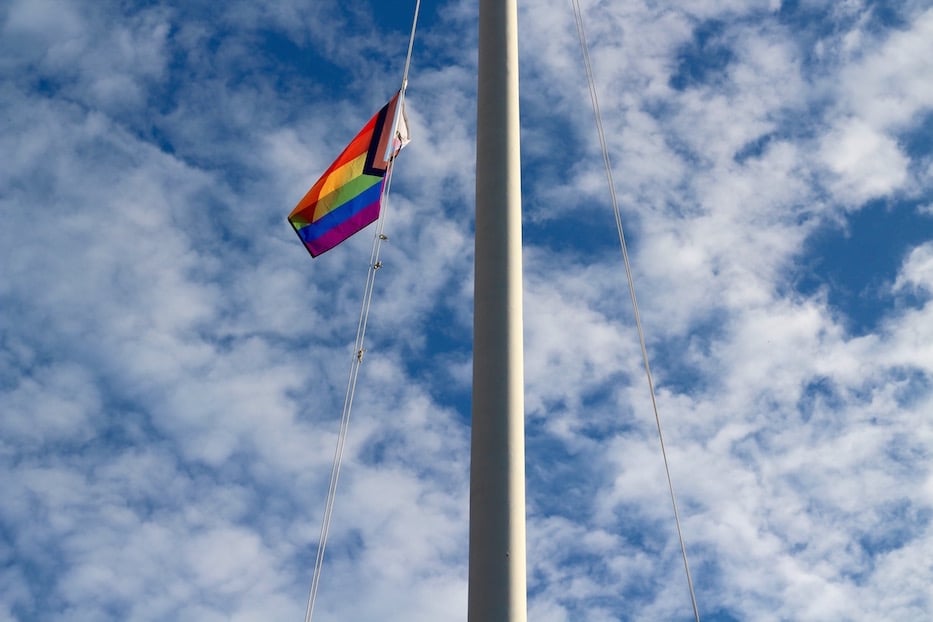 Daniel Quasar's reimagined "progress forward flag" flying in New Haven during PRIDE New Haven in September 2019. The flag is meant to be more inclusive of

queer people of color and trans people.

Lucy Gellman File Photo.
Lindsey Pembrooke was excited to start their week at a AAA office in Hartford. For the first time in Connecticut history, a major state department was recognizing them—as them.
Monday, Pembrooke was one of the first Connecticut residents to take advantage of a new non-binary gender designation on state driver's licenses and identification cards. The change, which adds a "X" as a non-binary gender marker, is offered through the Connecticut Department of Motor Vehicles (DMV) as well as affiliate partners, such as AAA offices across the state.
The change was announced on Friday and implemented at the beginning of this week. It is accessible via a single form that applicants must fill out and submit in person. They must pay a $30 fee to complete the process if their license or ID is not in its renewal period. In what advocates are calling a win for the decision, applicants do not need any medical documentation to make the change, as they once did at the DMV.
With it, Connecticut joins 11 states and the District of Columbia to offer a third gender designation on driver's licenses and state ID cards. The option does not yet extend to other official state documents. State Reps. David Michel, Raghib Allie-Brennan, and Jeff Currey all praised the new policy.
"This is a major step forward to recognize that many people in our state don't identify with a gender," said Lt. Governor Susan Bysiewicz in a press release on Monday. "Adding a non-binary gender or 'X' option on our state ID form sends a clear message that Connecticut is a place where all people will find inclusivity and acceptance."
The change follows two pieces of proposed legislation, neither of which passed during the last legislative session, that would have implemented more sweeping changes across the state.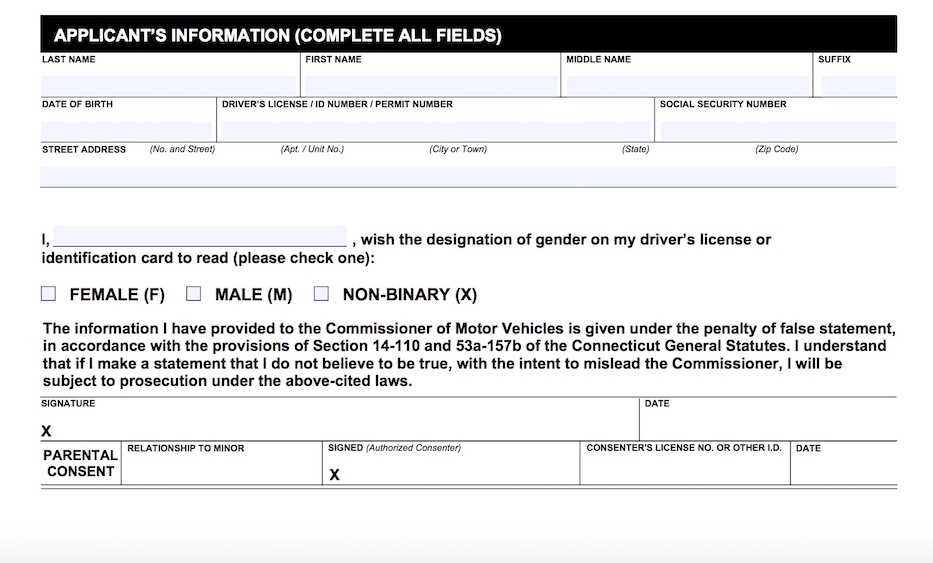 One, proposed by State Sen. Matthew Lesser, would have provided new legal and medical protections to intersex individuals in Connecticut. The other, proposed by State Rep. David Michel, would have required all state agencies to update their applications and forms with a non-binary gender option. Michel praised the number of Connecticut residents who rallied behind the bill, many of whom withstood a six-hour public hearing to give testimony in support.
"I believe my journey could have involved less anguish had a simple theme been introduced … recognition," read one such testimony from Raven Matherne, an openly trans member of Stamford's Board of Representatives. "Recognition that not everyone fits cleanly into male or female definitions of sex and gender. Recognition that forcing people to decide between two incorrect options on a form is an impossible situation. Recognition simply that trans people exist."
When neither proposal made it to a vote last year, Michel said that he and Currey began to sit down with individual departments to talk about what changes might look like when implemented. As recently as last week, they hadn't received any definite commitments (the state Department of Children and Families has included expanded language for protections of LGBTQ+ individuals). So he recalled his surprise last Friday, after hearing that the DMV had made the change.
"We have to continue now," he said. "We have to put more pressure on the agencies that are willing to do it."
Layne Gianakos, a trans advocate and senior manager of community services for Anchor Health Initiative, called the new designation "a huge step" in a continuing battle for legal recognition in the state and the country. While he praised the DMV for adding a third gender designation, he noted that "there might be some incongruences" for individuals using forms across multiple state agencies, some of which still offer only binary gender options.
He added that he is thrilled that the process does not require documentation from a medical professional. Until this year, he recalled, applicants had to bring in a form signed and filled out by a medical professional to change their gender designation.
"The DMV no longer requires medical 'proof' to update someone's gender marker," he noted. "This is a huge step away from gatekeeping trans bodies and identities."
"To be honest, I think it is unfortunate that it took this long," chimed in Patrick Dunn, executive director of the New Haven Pride Center. "CT is usually a leader in queer rights. I am so grateful to all of the advocates across the state who worked tirelessly to press the importance of this recognition. Having gender markers congruent with folks' gender identities has major implications on housing, availability to get a job, and overall mental health—thus this is vital for human rights."
Matherne, who uses they/them pronouns, said they hope the DMV's new option will push other agencies across the state—and around the country—to do the same. They spoke fondly of a new interest they've developed in sites operated by the National Park Service, noting that they worry about having the same recognition in other states, as well as at home in Connecticut.
"It's incredible," they said. "It's a huge step. There are people in our state who haven't had representation, and now they get IDs that actually work."
"But am I going to have an issue if I travel?" they continued. "Am I going to be told that my ID is invalid in other states? Until more states give us more bills that establish legal footholds giving us another option, we need to keep pushing this."
Reached by phone Monday, Pembrooke said they were elated.
"I have the state giving me recognition," they said.