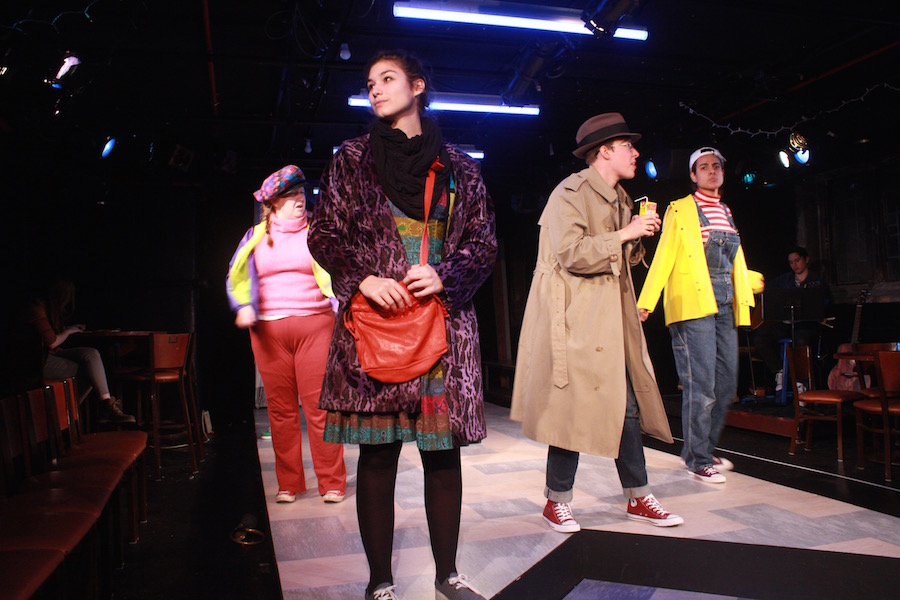 Arts & Culture | Theater | Yale Cabaret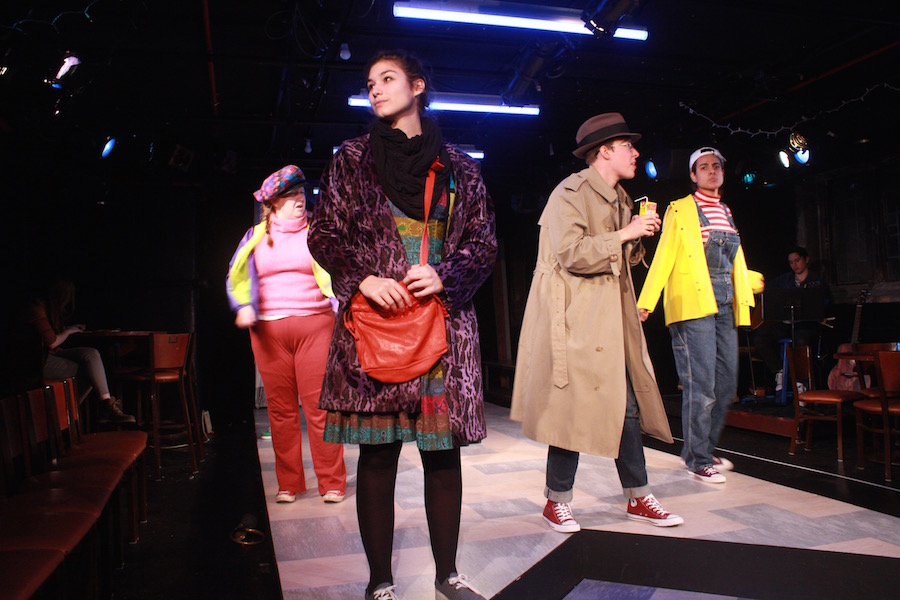 Maeve Brady, Evelyn Giovane, Laurie Ortega-Murphy, and Ipsitaa Khullar in The Whale in the Hudson. Emily Wilson Photos.
Private eye Warren G. Smugeye is on a wild whale chase. In front of them, Poppy Hobnobber is all in, striped shirt and striped socks a blur as she propels herself forward. A pink tutu sits squarely on her small waist. Before them, an imaginary whale mutters and spurts in pink and green pants, a bright house coat, hard pink shell, and big black-and-white eyes.
It's a magic that defines The Whale In The Hudson, running at the Yale Cabaret this Thursday through Saturday with a potential public performance later this month. Written by Brad McKnight Wilson and directed by Maeli Goren, The Whale is the first Cab show in a decade designed for young audiences, with a special matinee, audience interaction, and eye-catching, raucous musical numbers built in especially for kids. Tickets and more information here.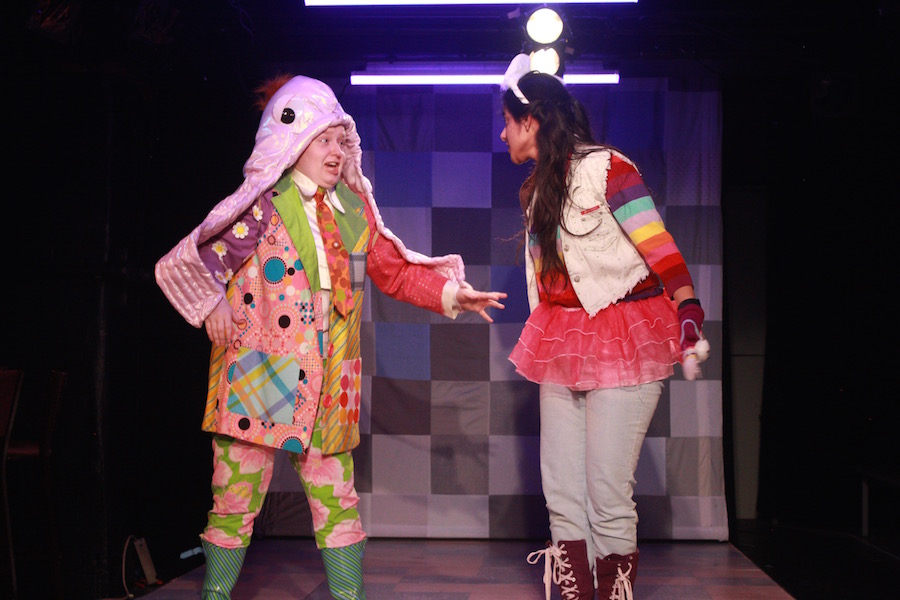 Set just after the 2016 presidential election, The Whale follows fourth grader and self-identified weird kid Taylor Buckley as they become agent Warren G. Smugeye, a private eye with a burning mystery to solve. Just two weeks after Donald Trump has won the electoral college, Buckley's favorite teacher, Miss Mellody (Evelyn Giovine), has taken the class to see a whale that has swum into the Hudson River, a detail based on actual events from that November.
But when she gets there, the small class aflutter over New York style hot dogs and the promise of tag on city blocks, it sends her into an existential tailspin. And it's up to Smugeye—or so they think—to figure out exactly why. They only have one clue: the number 52, which the whale sings to them slowly and low from the river.
The play is, from its outset, a winsome sendup of a film noir. Smugeye (an outstanding Laurie Ortega-Murphy) has all the trappings of a private eye—brown fedora, furrowed brows, and trenchcoat that doesn't fit quite right. But they're also just a fourth grader, whose flask becomes an apple juice container, and cigarette is replaced by a big tootsie pop. Around them, a cast of four shape-shifts into a variety of ensemble roles, building a universe that is ours too, with just a little more enchantment.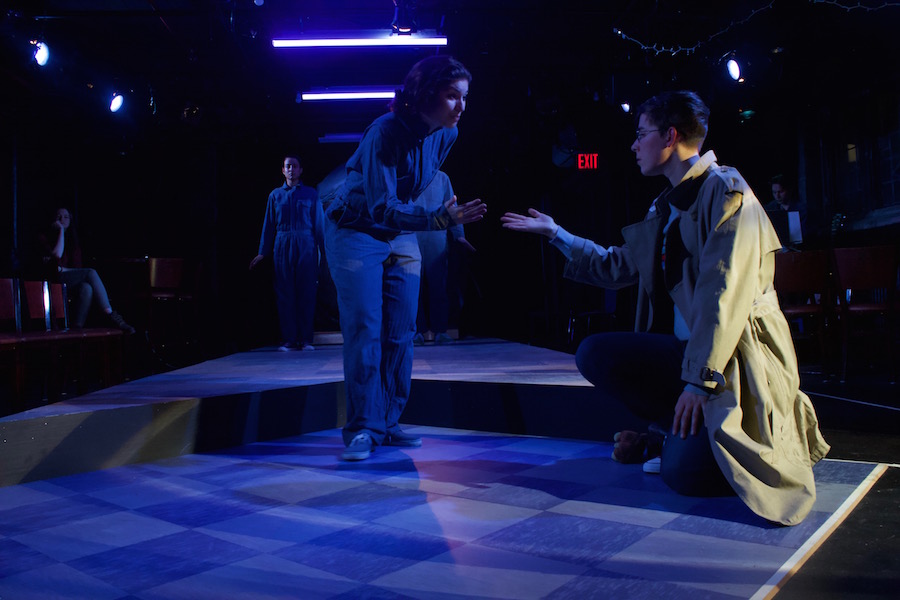 Gone are the sepia-toned fire escapes, smoky insurance offices, and creepy suburban homes of Los Angeles, London and New York City, replaced by AP philosophy classrooms, woodchip-scented playgrounds and locker rooms where boys dare each other to lick the bathroom floor. It's here, like Sam Spade's San Francisco, that Buckley/Smugeye will have their most formative moments of self-discovery—and realize things that have nothing to do with Miss Mellody at all.
Think Maltese Falcon or The Big Sleep, but with exuberant song and dance, bright colors, rainbow thinking caps, and immense, surprising bursts of emotion. There's plenty of magic here: rhyming sequences and spell-like theories that rival Harry Potter, hidden adult humor that puts Disney to shame, and a handful of unlikely friendships, which may still be life's greatest wonder. Jimmy Stubbs and Cab debut David Mitsch have brought the show to life with some awe-inspiring set and puppetry choices, a larger-than life whale taking one's breath as it appears onstage close to the end of the show.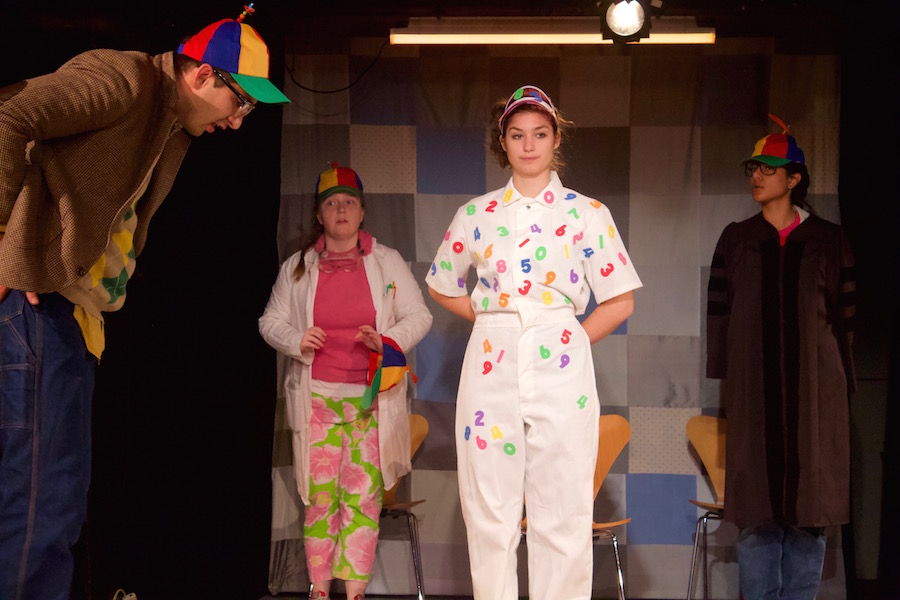 To our delight, Miss Melody is the MacGuffin that's in every good film noir—her existence is more interesting for its effect on Buckley/Smugeye than its actual role in the play itself. In her absence, this cast comes alive, with especially magnetic performances from child genius Reginald (Cab debut Rob Hayer) and middle school jock Douglas (Cab debut Maeve Brady), whose unlikely friendship helps Buckley/Smugeye solve their mystery.
It isn't a perfect play, but it doesn't need to be either. Close to the beginning of the show, whole sections of Miss Melody's dialogue are so morose and overwrought that you hope the school's bus driver (a hilarious and gruff Brady) will throw her into the Hudson. And yet Ortega-Murphy is spellbinding, bringing to both the teacher's role and the whale's a mix of childlike innocence and heavy, almost unspeakable sorrow. The show is at its most moving when she is onstage as the whale with Buckley/Smugeye, recounting the story of how a whale ended up in the Hudson in the first place.
In this way, The Whale in the Hudson is no more or less a kids' play than many of the Cab's shows, flecked with wonderment, awe, a little environmental concern and a lot of feeling. While it may delight the youngest members of the audience, it's as much for the older ones.
By the end, we too find ourselves asking how many of our own friendships have come from initial discomfort. Or how many "eggheads" in our own lives have we second-guessed, probably for the better. Or what Poppy Hobnobbers and grief-stricken whales populate and enrich our own worlds.
And what are the forces by which we too are trapped, and how can we swim out of them with others' help?