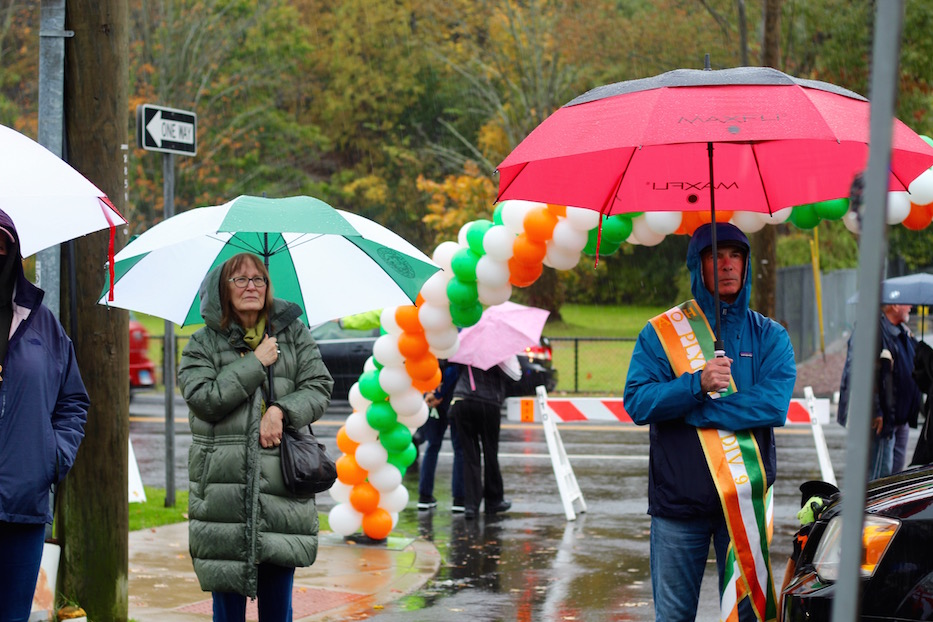 Culture & Community | Hamden | Immigration | Arts & Culture | Quinnipiac University | Ireland's Great Hunger Museum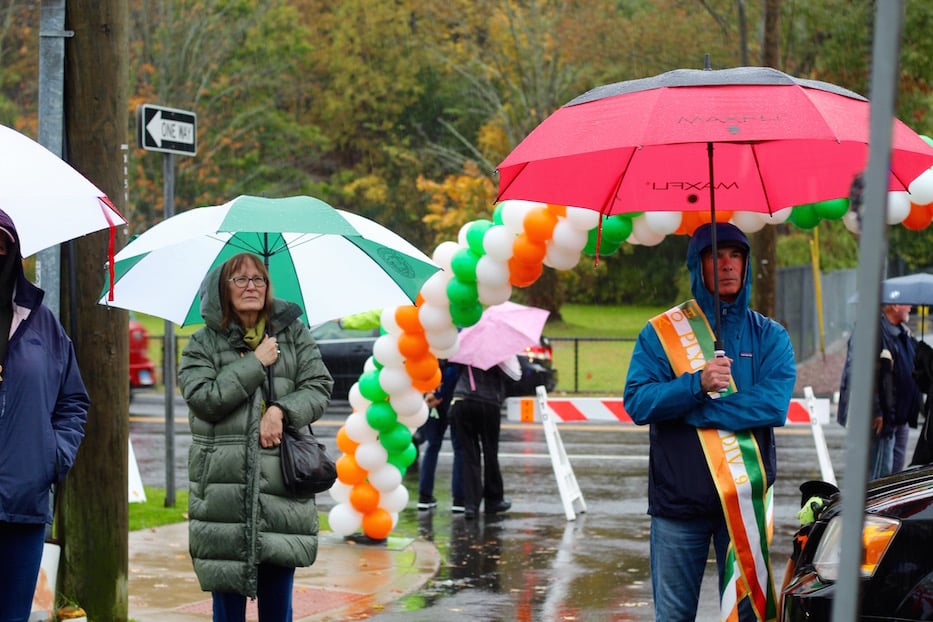 Lucy Gellman Photos.
For a longtime docent, it was the first place he saw a person moved to tears by a piece of artwork. For an Irish-born musician, it was a reminder of everything she had risked to move to the United States. For a former public safety officer, it was the building he could walk into and feel his grandmother's history stirring in the halls.
For each of them, it was a bridge to home—and a reminder that oppression could happen anywhere, at any time, to anyone.
Four dozen attendees gathered in the cold and driving rain Saturday afternoon for a "Salute to Ireland's Great Hunger Museum," an all-hands-on-deck effort to save the museum from permanent closure by Quinnipiac University. The gathering follows Quinnipiac's announcement in August of this year that it would close the museum, which opened in 2012 and has welcomed thousands of visitors since. A Facebook group dedicated to the cause has amassed over 2,000 followers from across the globe in just days.
Over four bone-chilling hours, speakers summoned an astounding show of solidarity, denouncing not just the closure of the museum, but the ongoing systems of oppression that allow famine, food and housing insecurity, climate disaster, and unsafe living conditions to continue across the globe. By the end of the afternoon, even those with umbrellas and thick wool sweaters were drenched, and didn't seem to care at all.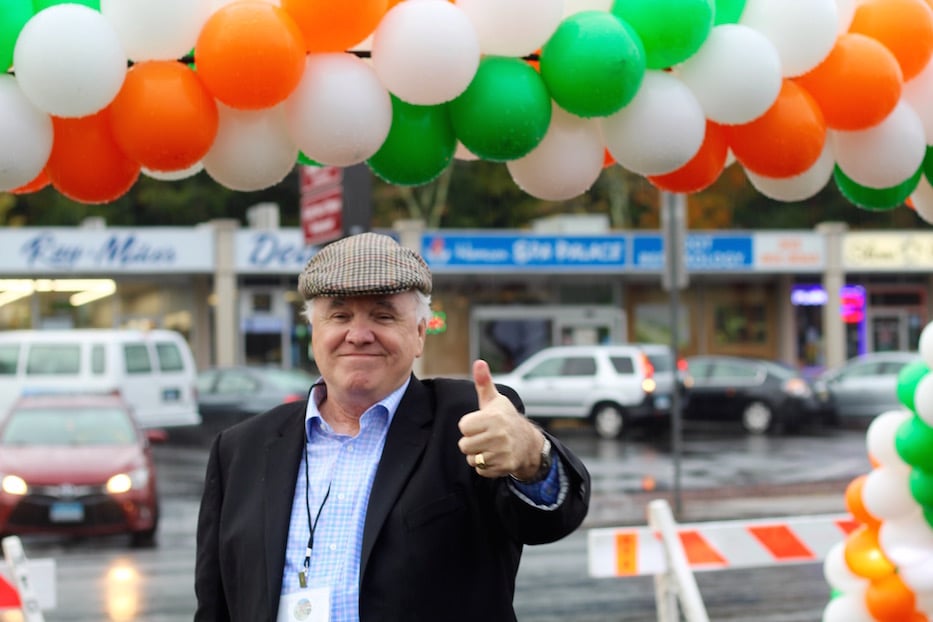 Turlough McConnell , who runs Turlough McConnell Communications. While he lives in Brooklyn, McConnell has been active in the Irish Great Hunger Museum's evolution since its very beginning stages. He came to the United States from County Donegal for love when he was 20 years old.
"It's so important because this is a very unique museum," said Turlough McConnell, an expert in Irish art who served as an early advisor on the museum. "It's not just about the story of the Great Hunger 150 years ago. It's really about bringing public awareness, primarily through education, to the status of refugees, people suffering from food insecurity, people suffering from rotten government policies that make them flee their homes."
"The art is shuttered in there as we speak, which is an absolute crime," he added. "This art needs to speak."
The Great Hunger, sometimes called the Great Potato Famine, refers to the seven-year period between 1845 and 1852 when Irish tenant farmers lost the bulk of their potato harvest to a fungus that ripped through the country. At the time, the Irish were still living under British Colonial rule, meaning that farmers—most of them poor, powerless, and without arable land that belonged to them—were heavily reliant on potatoes to get through the winter.
When the famine struck, families starved. Landlords evicted them from their homes in huge numbers. Britain's government bungled anything even resembling aid—so much so that Prime Minister Tony Blair formally apologized to Ireland in 1997, exactly 150 years after the Great Hunger began. Over one million people died. One million more left the country in an attempt to survive; many found home in the United States.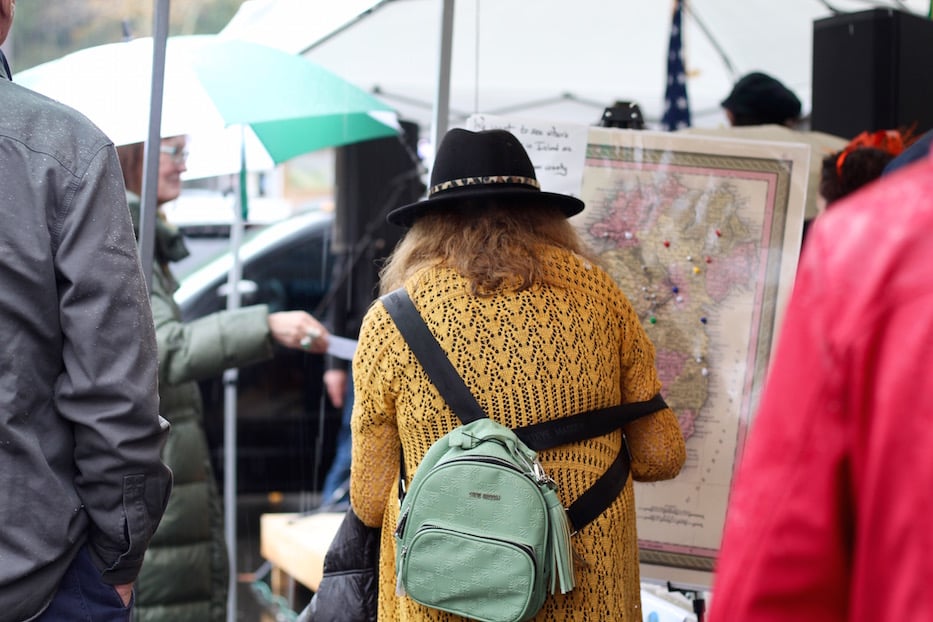 Attendees could put a pushpin into the county or counties from which they or their families had come.
In 2012, Quinnipiac University then-President ​​John L. Lahey opened the museum after years of working with a committee of advisors, university board members and staff, and artists. Before his death in March of that year, bagel baron Murray Lender was one of the greatest and most vocal supporters of the space. In it, he saw a parallel history—of European Jews who fled the Holocaust during the first half of the 20th century.
Lender's own father, Harry Lender, left Poland for New Haven in 1927, 12 years before Germany invaded Poland and World War II began. Decades later, Lender and his brother Marvin provided the funds that became the educational core of the museum.
For its first six years in existence, the museum remained free and open to the public, welcoming in not just students, but adult tour groups from across the East Coast and the country. Sometimes they came by the busload, moved into hushed silence and tears by a collection as broad and kaleidoscopic as the Irish diaspora itself. It received coverage for its impact across the globe, from as close as New York City to as far away as Dublin.
Months after Judy D. Olian began her tenure as president of the university in July 2018, Quinnipiac's Board of Trustees asked the museum to become financially self-sustaining by June 2020. Less than two years later, the Covid-19 pandemic hit New Haven. As businesses shuttered and universities sent students home, the museum closed its doors to the public. It never reopened.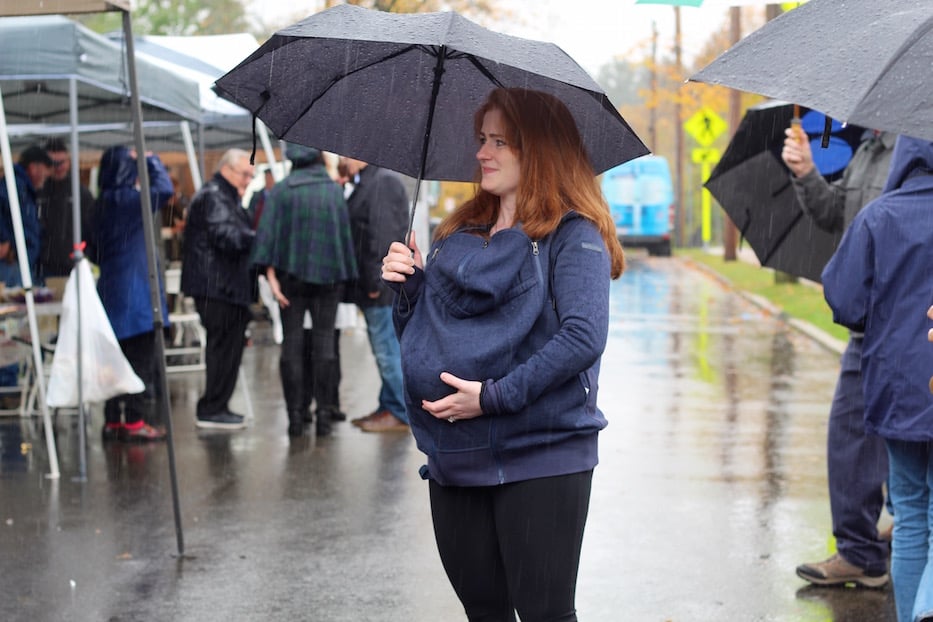 Attendees ranged from small babies and their parents to people in their 80s who had worked at and supported the museum.
"IGHM and university staff invested significant time and resources pursuing philanthropic support from the community and from museum patrons," wrote Quinnipiac University spokesperson John Morgan in an email Tuesday. "Despite these efforts, the museum only generated enough support and revenue to cover one-quarter of its operating budget, averaging fewer than 20 visitors a day in the full year before COVID."
Morgan said that the decision to close the museum's Whitney Avenue home came out of both its relatively low attendance numbers and its inability to reach financial self-sufficiency. He said that the university will not be selling the collection—a move that is considered an ethical can of worms within the museum world—and that the university plans to "provide the necessary information requested" in response to a probe from Connecticut Attorney General William Tong.
He confirmed that two educational resources, Ireland's Great Hunger Institute and the Lender Family Special Collection Room, will both remain accessible to scholars and students on the university's central Mount Carmel campus in Hamden.
"It's important to note that the closing of the museum's space in Hamden is not the closing of the incredible collection or of the story of the Great Hunger," he wrote Tuesday. "We are committed to finding a solution for display of the collection that will ensure it remains publicly accessible, advances the museum's original mission, and preserves the story of the Great Hunger."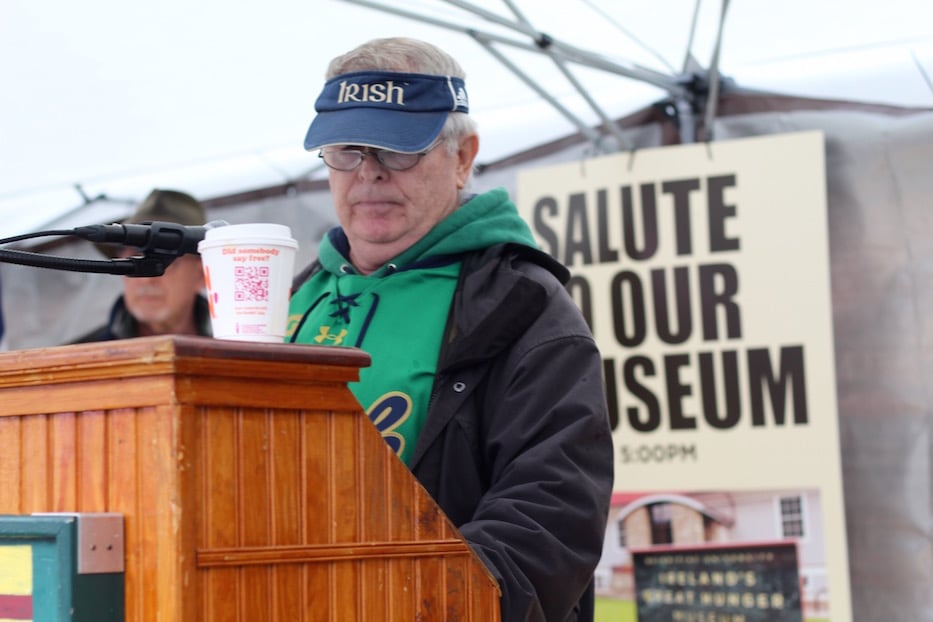 Frank McCarthy.
Saturday, rain-splattered speaker after speaker stressed that they want to see the museum's collection stay in Hamden, and remain fully intact should it head elsewhere. Frank McCarthy, who served as a public safety officer at the museum from September 2012 to June 2019, said that his heart breaks when he thinks about the collection moving elsewhere.
Raised as one of six kids in East Haven, McCarthy grew up learning about his Irish heritage from his grandmother, an immigrant from County Leitrim in the north of Ireland. As he "grew up with no love for the British," he said, he also learned about Quinnipiac from his dad, who had attended the university and was a proud alum.
He noted that most universities have at least one museum—some have several—and Quinnipiac should be no exception. He worries that the art objects, which range from nineteenth-century painting to contemporary sculpture, will not remain together as collectors and fellow museum express interest.
"It was a labor of love," he said of his time working at the museum. "My ancestors' blood is in that great art."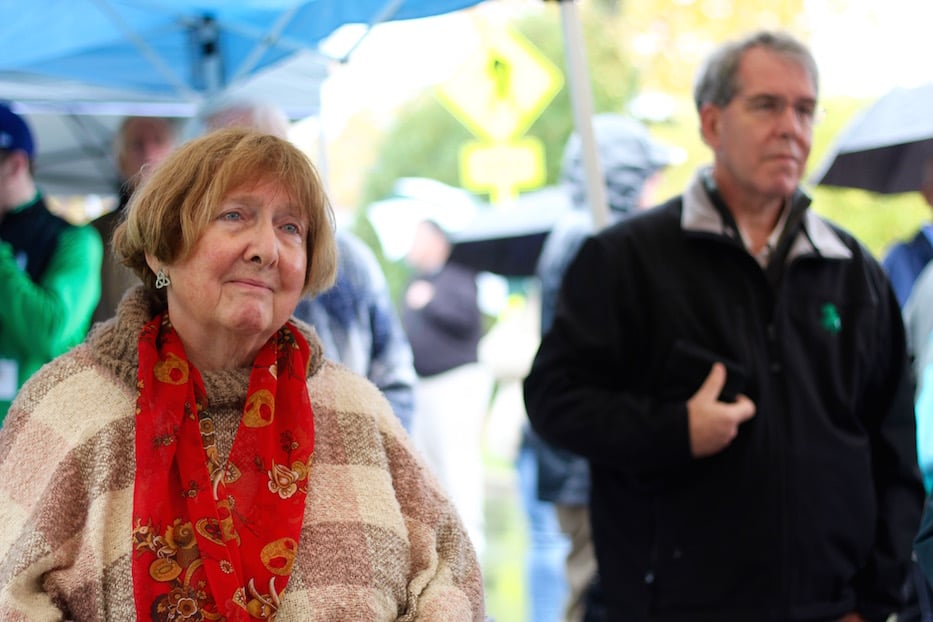 As the rain hardened, Fairfield Gaelic-American Club Vice-President John Foley took the stage, squinting out at attendees. Water pooled and streamed from the tent above his head. He took the audience back in time, to the day before he left Ireland for the United States. That night, a friend asked him how he would remember that he was Irish. Foley said he's spent the years since thinking about the answer.
He turned to the Irish poet William Butler Yeats, who folded Irish history and folklore into his poetry until his death in 1939. Quoting the poet, he looked to the way that generations of Irish immigrants have held onto their history through dance, language, music, and the visual arts. In the closure of the museum, he sees a threat to not just the histories of his own ancestors, but to all Americans who have fled oppression, famine, and class conflict in search of a better life.
"Yeats said, 'The dead are not far from us. They cling in some strange way to what is most still and deep within us,'" Foley said. "170 years ago, we came to these shores, despondent and a broken people. We were filled with anger, shame, and a deep sense of sadness that would pass from generation to generation. But through time, we transformed. That anger became passion. That shame became grace. And that sadness became empathy. These are our stories."
"It's not just an Irish story," he continued. "It's truly an American story … Today, we're gonna appeal for reason. Quinnipiac. Open these doors. Let the collection tell our stories."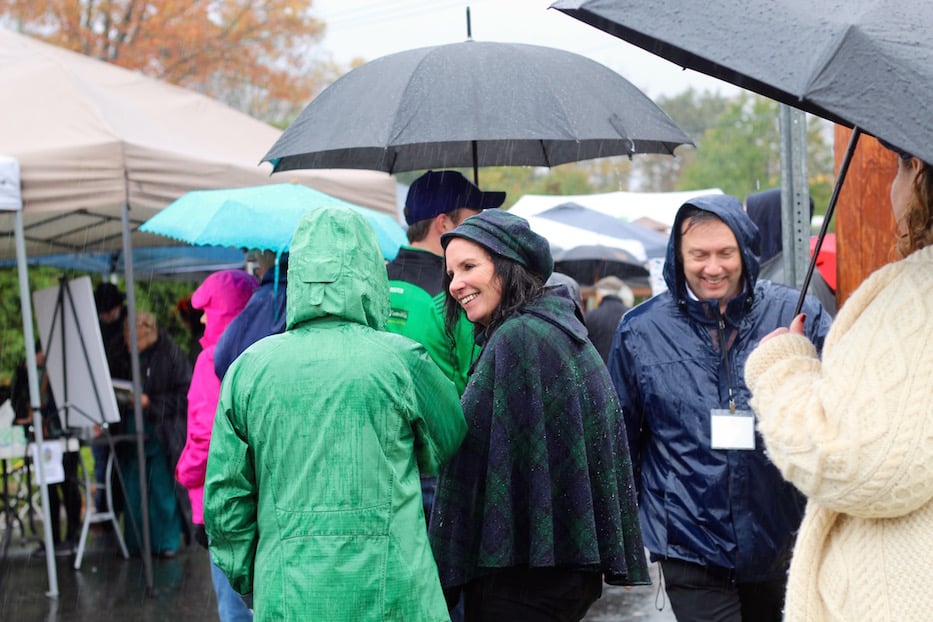 Bernadette Smythe LaFrance, who braved the rain in a tartan cape.
Between speakers, Bernadette Smythe LaFrance stepped onto the sidewalk in a thick, blue and green tartan plaid wool cape. She scanned a green, white and orange archway of balloons that swayed in the rain as people passed under them. Attendees continued to trickle in, a few pushing baby strollers with rain covers.
As executive chairman of the Greater New Haven St. Patrick's Day Parade, LaFrance said she is frustrated at the university's decision to shut down the museum.
"The Hunger Museum is not only a memorial that educates everyone about the atrocities of the famine, and everything that came out of it," she said. "It also represents hope."
It hits her personally, she added. As a first generation Irish-American—both her parents were born and raised in County Leitrim before coming to the U.S.—LaFrance grew up learning about her Irish-American heritage. Every year, her family attended the city's St. Patrick's Day Parade, which began in 1842 and has been on temporary hiatus only due to the pandemic.
In 1994, she became the queen of the Saint Patrick's Day Parade, which launched a deeper personal interest in Irish history, public service, and celebration that has lasted for over two decades. Fourteen years after that first spark, she was named the grand marshal of the parade in 2008. When she became executive chairman several years ago, she was the first woman to hold the position. Quinnipiac ended its decades-long relationship with the parade in 2018, after Olian took office.
"The parade is really a personification of that hope," she said. "Everyone that is there is embracing each other, and cheering, and standing side by side and coming together. That really is what came out of the famine … all the people that built the communities that we see today."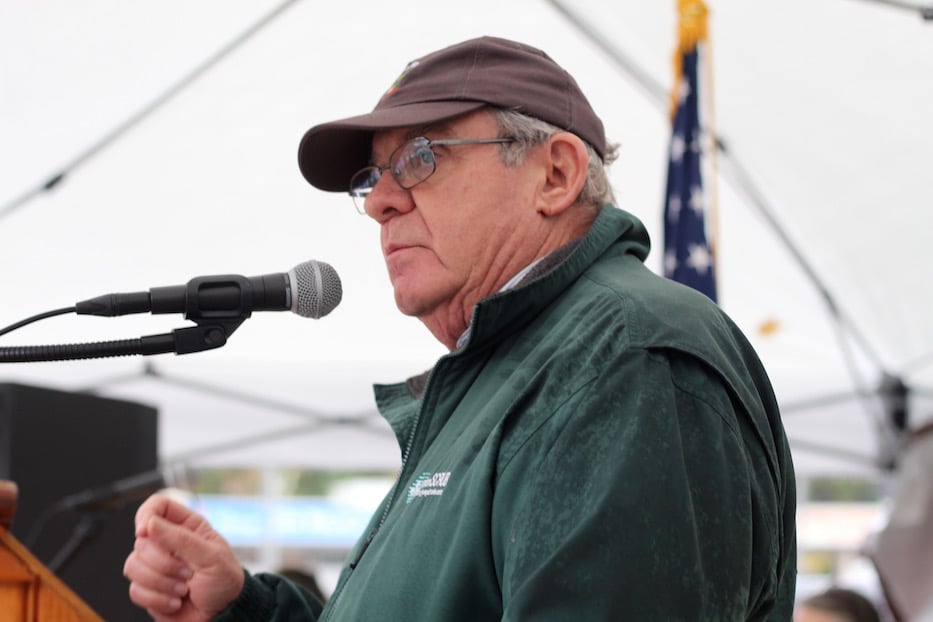 Tom Kennedy: "Sadly that experience, despite the passage of time, continues to repeat itself today."
Back at the podium, retired docent Tom Kennedy blasted Quinnipiac for its decision to close the museum. Before working at the museum, he said, he "knew very little" about the Great Hunger. As a docent, it was part of his work to learn and share the history of each piece. It became a defining part of who he was. Three quarters of his lineage left Ireland during the Great Hunger, he said, and the museum gave him a chance to look closely at their history.
Echoing many of the day's speakers, he pointed to the museum as a vital resource not just for its collection, but its unique ability to teach people about the way oppression can take shape through religious and economic conflict, xenophobia, and colonial grabs at land, wealth, and power.
The museum is a testament to "the nature of prejudice gone unfettered in the hands of a ruling and dominant class," he said. "Sadly that experience, despite the passage of time, continues to repeat itself today."
Between speakers, musicians and Irish dancers attempted to keep the crowd warm. Singer-songwriter Liz McNichol, who grew up in Wilkinstown, Ireland and came to the United States with her husband in 1985, alternated between her own pieces and several upbeat traditional songs, including the well-loved ballad "Whiskey in the Jar." By the second verse, 20 people were clapping along beneath their umbrellas.
McNichol recalled how every time a friend visited her from Ireland, she would take them to the museum, and reflect on the sacrifice her own ancestors had made so that she might have a better life. They were always surprised that this momentous, unique and sometimes chilling place she talked about was three minutes down the road from her home. For McNichol, it never stopped being a reminder of where she came from, a history that she now passes to her children. She and her husband came to the U.S. from Ireland in 1985.
"I have been inside that building many times, and it's quite haunting to walk around the halls," she said before launching into her song "Emigrant Eyes." Her voice sailed over the closed driveway, spanning thousands of miles and hundreds of years note by note.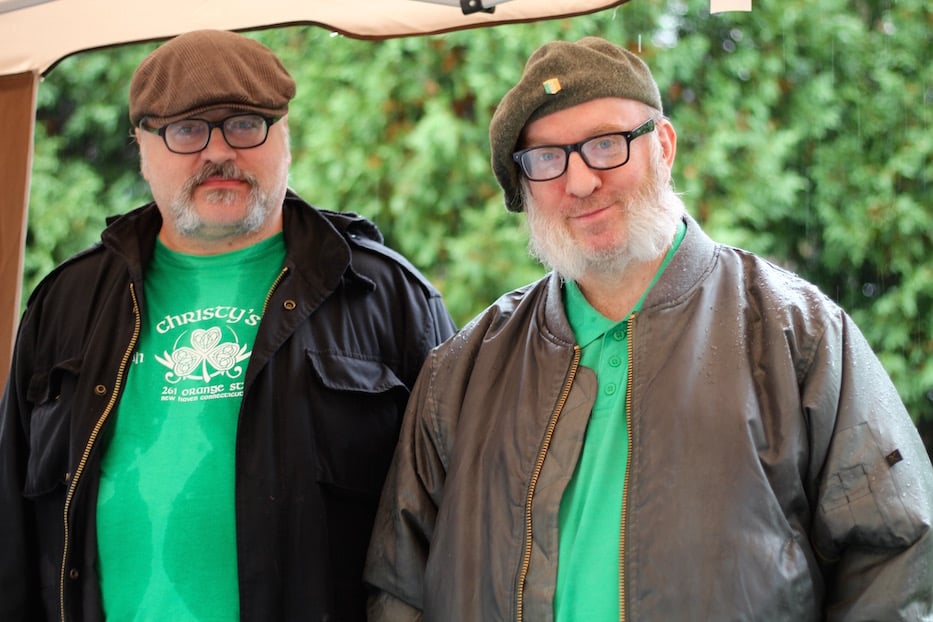 Musicians George Page and Gary "Chops" MacConnie.
Chatting beneath a wet tent a few yards away, musicians George Page and Gary "Chops" MacConnie both said that they hope to see the museum stay open, or reopen elsewhere as a complete collection. Page, who was born on St. Patrick's Day and is an alum of Quinnipiac, has played for years in the Irish and Gaelic traditional music scene, including the beloved group Brannigan's Corner. While MacConnie grew up in Connecticut, his mother hails from County Limerick in the west of Ireland. He plays in the group The Alehounds.
"​​To see it effectively being dismantled is disappointing," Page said. "It's distressing."
"Heartbreaking," MacConnie chimed in.
"Very heartbreaking," Page said.
Learn more about Ireland's Great Hunger Museum at its website, which includes a virtual tour of the collection. Learn more about efforts to save the museum here.