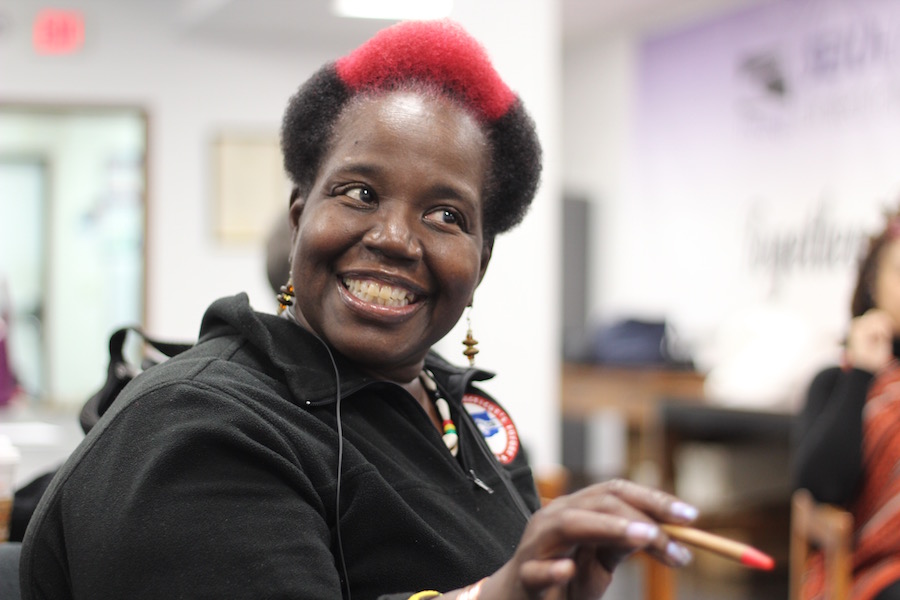 Hartford | Music | Women's March | Arts, Culture & Community
Connecticut Teacher of the Year Sheena Graham had family leave on the mind. She lowered her arms to the keyboard, a blur of white as she adjusted her sweater. Her fingers spread across the keys, rings glinting. A poppy string of notes filled the space, propulsive as her voice coasted over them.
Costs of housing and food, are rising faster than our pay
We're the workers America relies on each and every day
We work to keep this country running then get left out in the cold
Making more than 900 times less than some of our CEO's
The song belongs to a new Labor Union Choir, organized by Service Employees International Union (SEIU) 1199 and Connecticut AFL-CIO for the Women's March Hartford later this month. Tuesday evening, a handful of union members gathered for the first of three rehearsals in a large conference room at SEIU's Hartford offices on Huyshope Avenue. Two more rehearsals are planned for Jan. 14 and 18 at American Federation of Teachers (AFT) offices in Rocky Hill.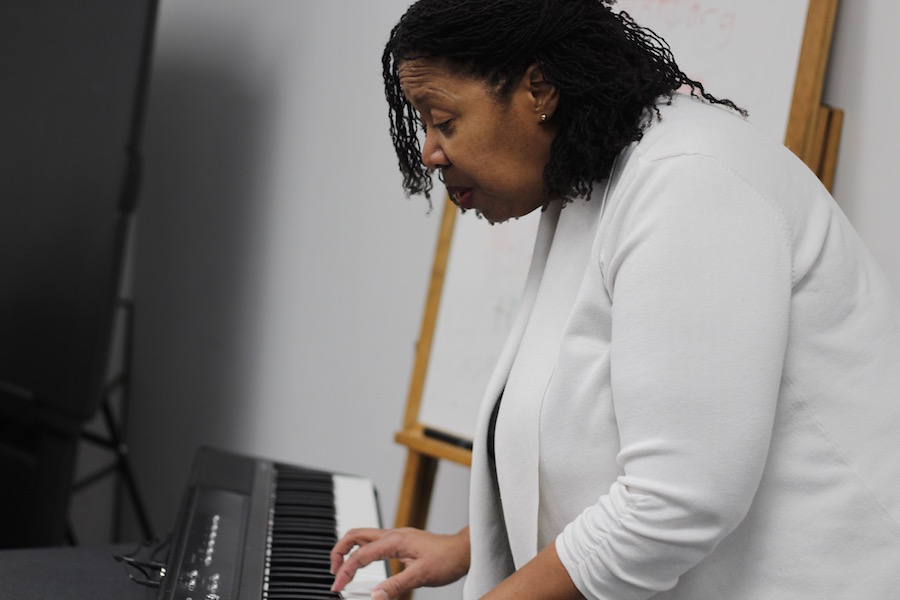 Connecticut Teacher of the Year Sheena Graham. Lucy Gellman Photos.
A month ago, the choir was barely a kernel of an idea. Organizers of the march had approached a coalition of labor unions and labor-supporting organizations to speak on worker's rights, one of eight unity principles that come from from the national Women's March (the eight include reproductive rights, ending violence, LGBTQIA+ rights, worker's rights, civil rights, disability rights, immigrant rights, and environmental justice).
The organizers' rules were open-ended: coalition members got 10 minutes to fill with whatever—or whomever—they saw fit. That meant "speakers, music, poets, rappers, dance, anything that they wanted," said Hartford march organizer Sarah Raskin. So a number of union representatives gathered at the beginning of the month to discuss it.
Members knew they wanted labor champion Shellye Davis to speak. Then came the idea of two union workers who could share stories of their own. But when AFT Organizer Meghan Rozarie first suggested a choir, SEIU Political Director Katie Traber shot it down. She didn't dislike the idea, she explained—but she also didn't think it could come together in a few weeks, either.
Rozarie got her to reconsider, looking to the role of music in the long history of social justice movements. Looking for guidance, Traber emailed Graham, a former teacher of hers in Bridgeport who was still teaching—and still earning high praise from students and parents—after 36 years in the classroom.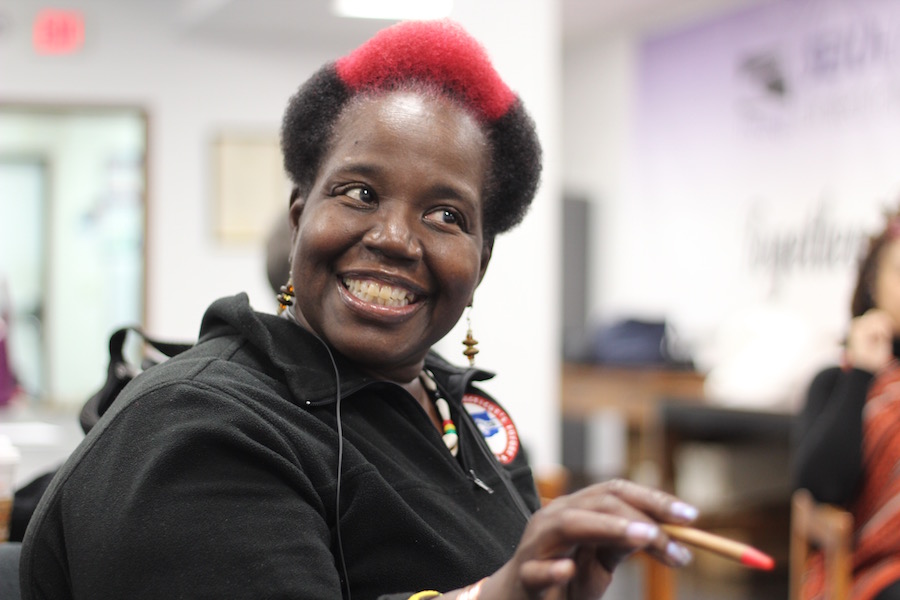 Gwenath Douglas, a gospel and jazz artist

who has been a member of the AFT and AFL-CIO.
Graham, in turn, got right to work. Before writing, she searched the internet for articles and factoids on minimum wage and paid family leave, "dumping it all" into one big word document. The results were eye-opening—one piece from CNN tracked chief executive officers who made over 900 times more than their lowest-paid workers. "Let that sink in," she said as she worked it into the song.
Then on Tuesday, she began to compose the piece between her classes at Bridgeport's Warren Harding High School. She told the group that she had been editing right up to 4:17 p.m., when she got in the car to drive to rehearsal after one last-minute revision. She praised her daughter for help with the lyrics, joking that she had urged her mom to make it a little more upbeat—and warned her that listeners might cry anyway.
The result is a song that soars and dips—but it's meant to be more than a jaunty tune pulled taught over four chords. It makes a compelling case for fair pay, urging listeners to "Treat us like family/the kind you love, not just need/Treat us like family/Help us to live with dignity." Verses are lyrical but direct, voices building with each word.
Treat us equally by raising minimum wage
To meet our basic needs our family leave must be paid
We work hard dealing with challenges just trying to make ends meet
You can make a difference and help reduce poverty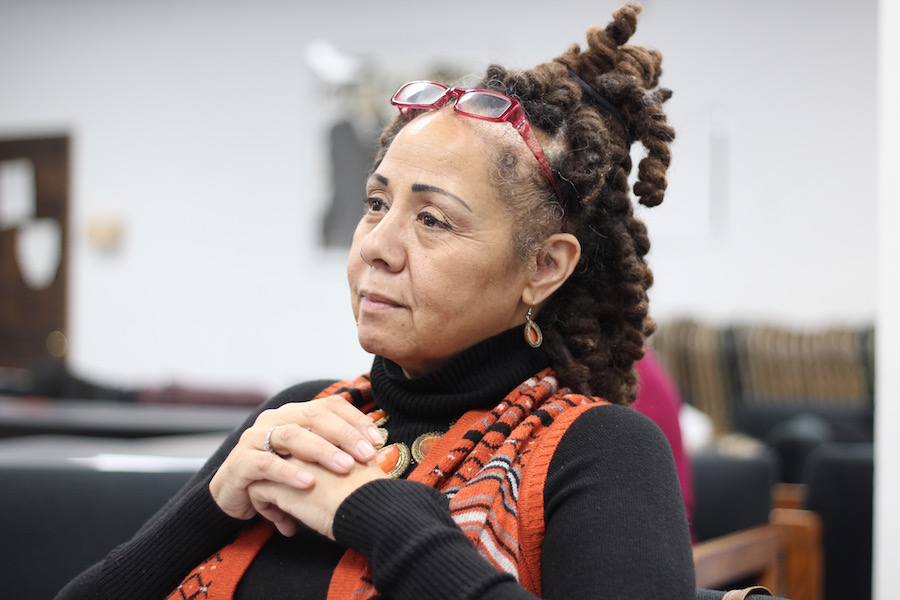 "Union baby" Ruby Ingram.
"It's the kind of song where you, by the end, could have everybody singing it," she said. "The goal is for it to be catchy enough, the hook lines, that everybody can become part of it. So don't worry about not being able to sing, or any of those things."
The piece is right on time, hitting ears (and, Graham suggested, hearts) in a month when incoming Governor Ned Lamont has said he will fight for a $15 minimum wage and paid family and medical leave. Both legislative measures have failed to pass in previous years.
"You know, I like this because it's true to life," said Gwenath Douglas, a gospel and jazz artist who has been a member of the AFT and AFL-CIO. Born and raised in Hartford, Doglas grew up in the city's Bellevue Square neighborhood, watching her Florida-transplant mom and Jamaican immigrant dad adjust to the city.
She was proud of Connecticut's union presence then, she said. When she first took a union job in the 1990s, she recalled hearing from her employer that "we're a family-oriented business."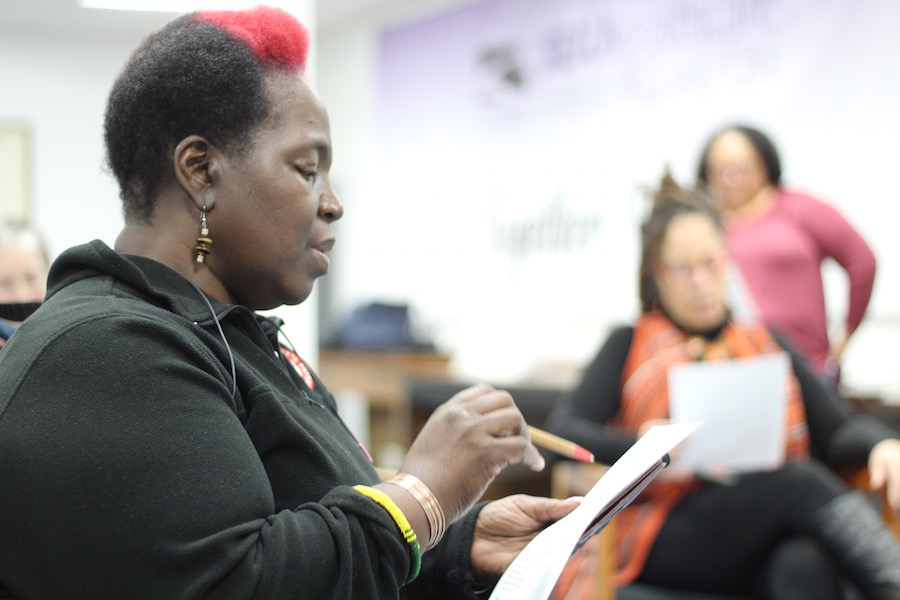 But her wages remained stagnant. Paid family and medical leave never happened. The cost of food and rent went up, until minimum wage wasn't covering them anymore. Her employers seemed to be getting richer, while employees were struggling to make ends meet.
"Somehow, greed, misuse of funds got in the way and family went out the door," she said. "I'm praying that it [the song], it's gotta hit somebody real hard. Because you got away from your statement, your testimony, your market that says family values."
"We're getting that back," she continued. "We're not coming from the back, we're not coming from the side, we're coming from the front. We're coming for you. So treat us like family."
The group launched back into the piece again, Graham tapping her foot on the black-and-blue tile floor as the group kept a sort of call-and-response going. She looked quickly to Terry Spain, a union retiree who had arrived insisting she couldn't sing—"really, my cat is the only one who likes to hear me sing"—who was now letting the lyrics flow. Douglas harmonized, her voice dipping one register beneath the others for a rich, marbled sound.
"You're making this kind of easy," Spain joked. "I don't know if it sounds any better, but it makes sense."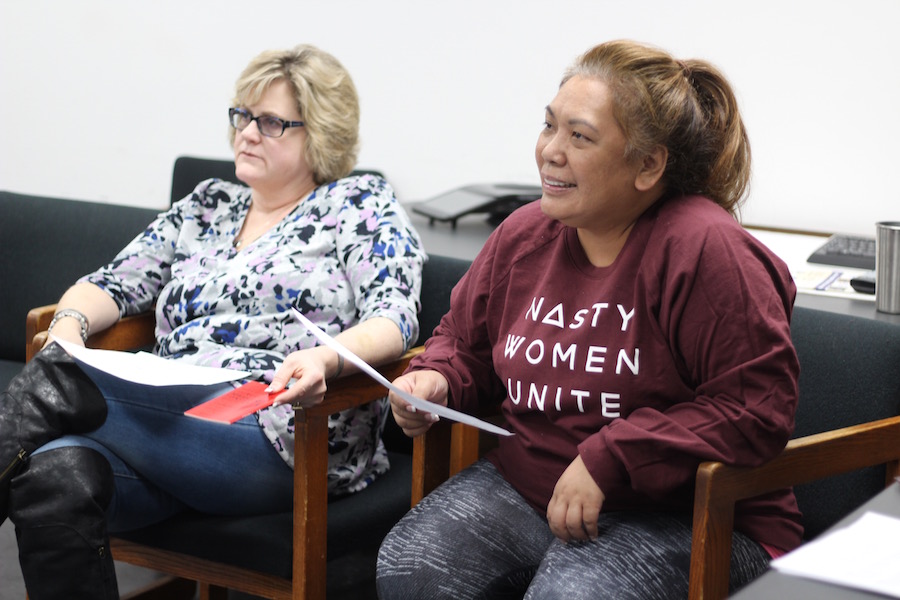 Friends Terry Spain and Lea Mallard.
Along the back wall, a large photograph winked out: Martin Luther King, Jr. visiting SEIU 1199 in 1967, just a year before he was killed. Closer to the singers, a purple, black and white banner read "Together, We Will Rise" in blocky cursive script. Graham went over the song's bridge, her voice lifting.
You have the chance to make a difference
You have the opportunity
To provide a safety net for families
In their greatest time of need
By the time singers had reached the end of a fourth or fifth attempt, dramatist and self-described "union baby" Ruby Ingram had something catching in her throat. Ingram explained that she'd grown up in union offices—her parents were both members of the once-mammoth United Automobile Workers (UAW) in New Britain, with over 70 years of union labor between them.
"Let me just say, I'm real emotional right now," she said. "Being a union kid—you say 'your daughters,' and that just hits me in my heart and brings back a lot of great memories. So I'm sure that a lot of folks will be moved by this in magnificent ways. So I know by this song that this is why I'm here tonight."
So were Spain and Lea Mallard, friends and union members who marched together in the first Women's March on Washington in January 2017, then again Hartford last year. Spain said that she'd been moved profoundly by the march in Washington—both its sheer size and because "it was the most peaceful event that I've ever attended in my life."
Mallard, a New Havener who now works for the state's Department of Mental Health & Addiction Services (DMHAS) in Middletown, recalled boarding public transit on the day of the march, and having a few awkward encounters with Trump supporters who were headed home after the inauguration. Moments later, she was swept up in "all the collective energy and power" of the march, and let them go.
Back on one side of the room, Rozarie helped pack up the piano, chatting with Traber and Graham. "You're a magical human," she said to Graham.
Graham laughed, recalling the moment that everything clicked for the song. As a teacher, she said, there's so much focus on students that "people forget, we are someone's family" too.
"We're union! We are family!" Rozarie jumped in. To her, he continued, it made no difference what union members were from. They were all in it for the same cause.
Traber grinned and nodded. "We're human beings who join together to fight for basic rights."