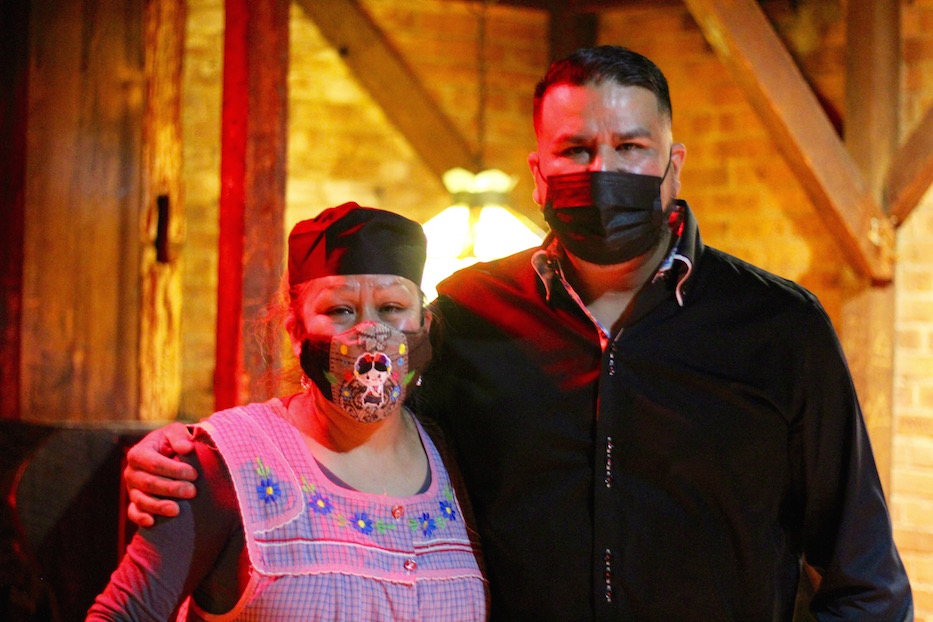 Downtown | Economic Development | Immigration | LGBTQ | Arts & Culture | Culinary Arts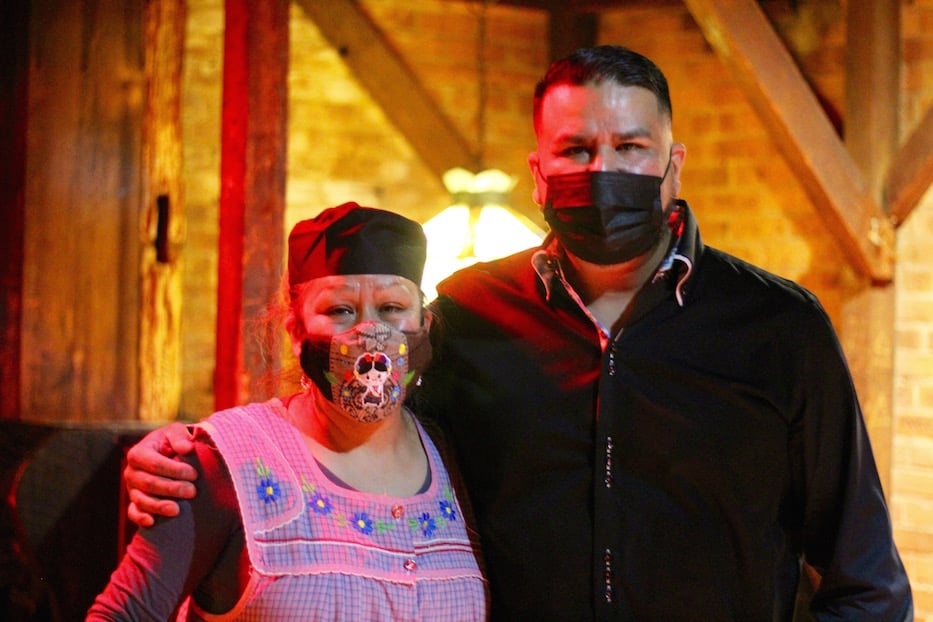 Theodora (Dora) Lanche and Bernard Kleman. Lanche is one of Kleman's older sisters and a chef at the restaurant. Lucy Gellman Photos.
Viva's was back—as Vivaz.
Conversation floated through the restaurant for the first time in years, mingling with old pictures and memorabilia still installed at the rafters. At the bar, masked barkeeps stirred mango puree into tequila and served up gem-colored margaritas. In the kitchen, Dora Lanche plated costillas with salsa verde, and thought back to a childhood in Mexico over 20 years ago. A technicolor portrait of Emiliano Zapata watched as the space bloomed back to life.
Against pandemic odds, Viva Zapata has been reborn as Vivaz Cantina, a Mexican restaurant from Partners Cafe co-owner Bernard Kleman and dozens of supporters who he has met through his work in New Haven. The restaurant pays homage to his youth in Hidalgo, Mexico, and the family matriarchs who were his first culinary teachers. Last Thursday, he opened the restaurant's doors at 161 Park St. to a flood of Viva's regulars who have missed their downtown spot.
While it was not his plan to open as Omicron cases gripped the city, he said he is doing everything he can within state and municipal guidelines to keep employees and customers safe. That includes vaccines and booster shots among his staff and employees. The restaurant is open for dine-in and take-out; view its menu here.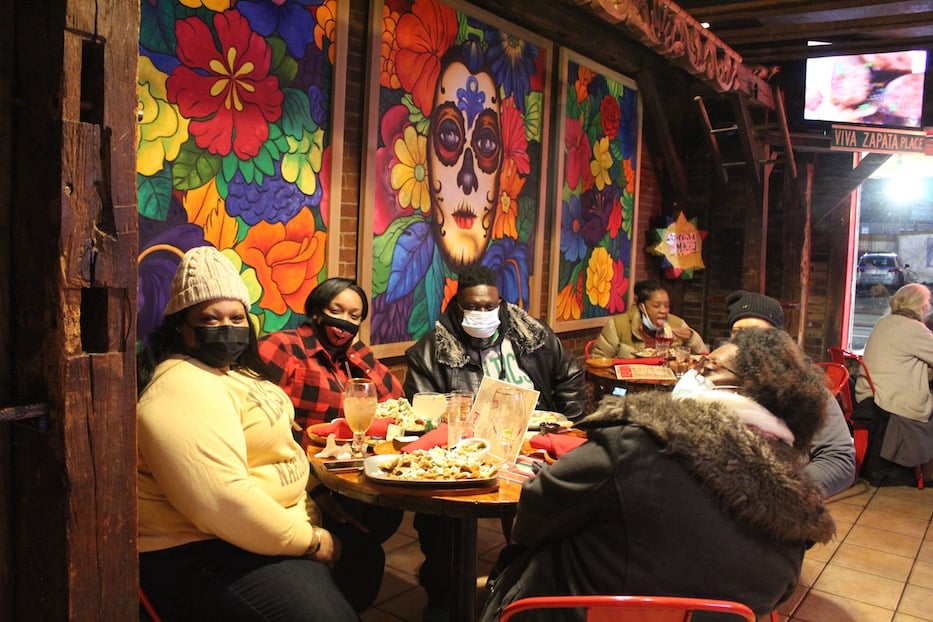 Friends Shaina Baugh, Ruthie Cherry, Lee Jackson, Jason Diggs, and Nellie West. Baugh said that she was a weekly regular before Viva's closed in 2020. Because the prices at Vivaz are higher, she said that she didn't know if she'd come as often, but was definitely willing to give it a chance.
"I wanted to save this place," he said during Thursday's soft opening, as masked waitstaff buzzed around with platters of golden-edged nachos, mole con pollo and tostadas topped with shredded beef and chicken. "As a Mexican, it's this part of my culture that I wanted to share with everybody. Back home, you miss your roots—especially the food. Food brings everybody together."
It is a dream several decades in the making. Kleman grew up in Hidalgo, Mexico as the baby in the family. At home, something was always on the stove, sending up gusts of steam and fragrant clouds of toasting chili pepper, long-simmering beef and pork ribs that glistened with fat. As a kid, Kleman learned to cook by watching his grandmother, mother, aunts, and sisters. He remembered watching as they crowded around each other in the kitchen to make culinary magic.
When he arrived in New Haven over 20 years ago, his love for cooking propelled him into kitchens across the city, and toward the culinary arts program at Gateway Community College. Meanwhile, he also found love. He and Dave kept Partners Cafe, which Jack Garity opened in 1974, flourishing. Kleman said that he is indebted to many members of the city's LGBTQ+ community, who have been extremely supportive during this time.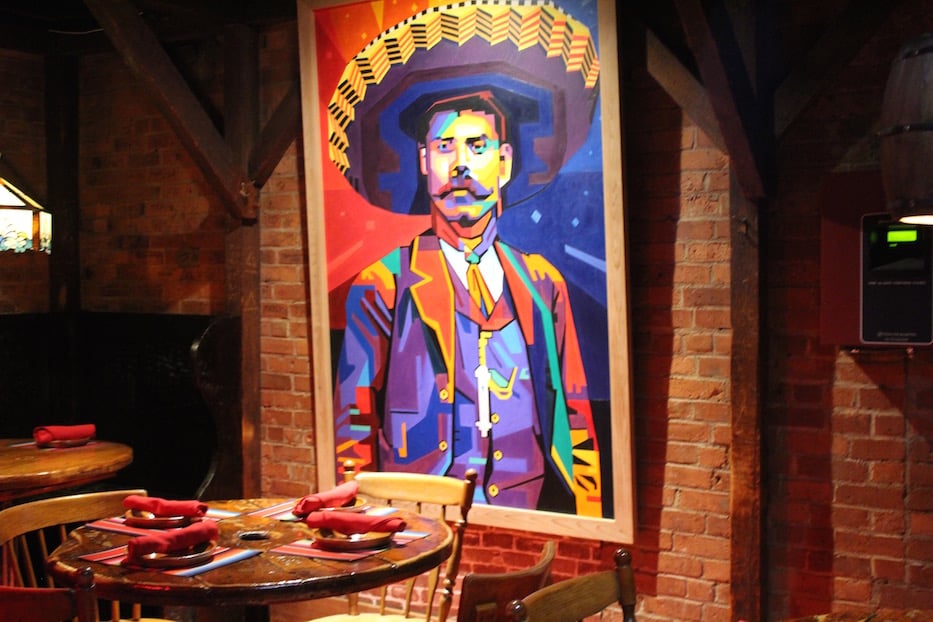 In November 2020, Viva's owner Bruce Keeton announced that Viva Zapata would be closing after 46 years on the block. Klemen was surprised: Partners is just a few doors down the street, and the two have shared patrons for decades. He knew that Viva's, with its jukebox and storied margarita pitchers, was beloved in the community. He proposed taking it over to Dave, who owns the building.
Kleman started building a restaurant that channeled his mother and grandmother, thinking back to the recipes they passed down from one generation to the next. Many of the cooks—including his sister Dora—are also from Mexico, and "we share many of the same stories," Kleman said. Together, they created a menu where every dish reminds someone of home.
Kleman said he's especially fond of the mole con pollo, which transports him back to "every special occasion" that his family cooked for. From birthdays to weddings to quinceañeras, he would watch the women in his family gather around huge, steaming pots, chatting as they stirred, tasted, and adjusted in a love language that is nearly universal.
"I was lucky to do that," he said. "Especially when you migrate somewhere else, that's when you're missing all the flavors. When they're cooking the rice with the ingredients, it brings you back. This is your childhood, your memories. Just a bunch of emotions from one single ingredient."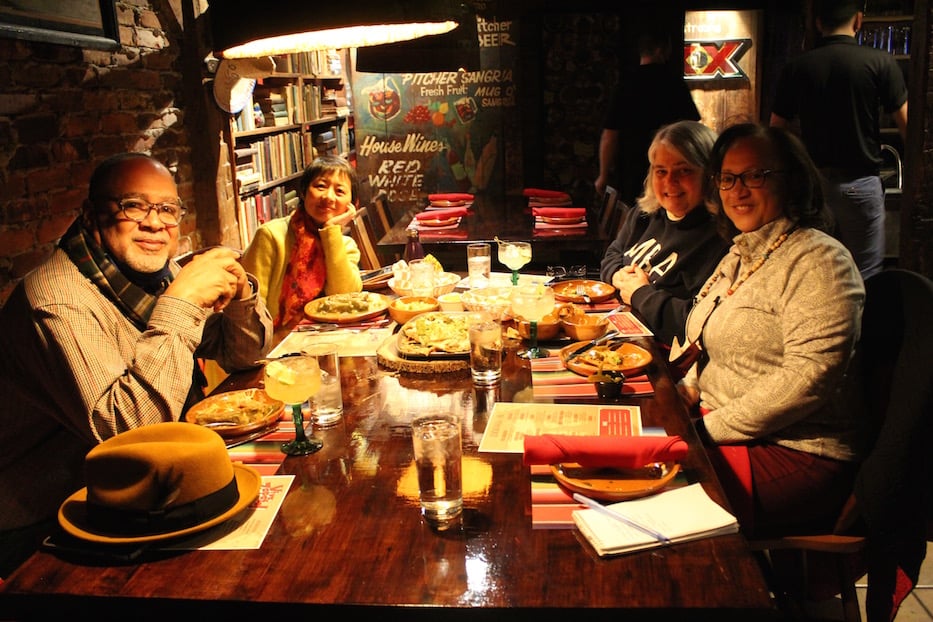 Clockwise from bottom left: Michael Twitty, Yi-Chun Tricia Lin, Stephanie Kelly and Tracey Philpot.
On the restaurant's first night back, patrons drifted into the space, taking off their winter coats and hats as they examined new decor and made their way to tables with gingerly rolled cloth napkins. At a table pressed against one wall, a group of educators-turned-friends examined a plate of nachos with melted cheese, shredded chicken and polite mounds of guacamole before digging in. They clinked waters and house margaritas and toasted their friendship.
The group has been evolving for years. Stephanie Kelly, now a theater teacher at Metropolitan Business Academy, started coming to Viva's when she was a student at Southern Connecticut State University. She loved that she could swing by, and receive a warm welcome from Keeton and his staff. As she made the transition from student to teacher, it became a place for gathering after a long week of work.
"It's the kind of place you can come and chill and relax," Kelly said. "You didn't have to worry about being fancy. You could come as you are."
Beside Kelly, Tracey Philpot said she's been coming since 2005, often to celebrate something as mundane as Friday with Kelly and her friends. Her brother, New Haven Public Schools retention specialist Michael Twitty, lives right across the street and estimated that he started coming in the late 1970s or 80s. At the time, the restaurant was still in its infancy and he was a student at Richard C. Lee High School. He's aged gradually right along with it.
Thursday, their group also included Yi-Chun Tricia Lin, the director of Women and Gender Studies at SCSU, and an honorary place for their friend Erik Brown. Living just around the corner, Lin said she's passed the restaurant hundreds of times. It was always packed.
While Kelly pointed took in differences—the waitstaff now wear matching black polos and black medical masks, new art hangs with old, and dishes come on orange and teal-colored stoneware and carved wooden bowls—she said she was glad to be back. She was especially excited to see that Kleman had kept an old moose head that may be as old as Viva's itself. In college, she and her friends nicknamed it.
Around them, a trickle of patrons picked their tables. A back room waited, completely open with new Emiliano Zapata wall art. To the left and right, the building seemed to expand as waiters bustled through with neatly folded tacos and fresh, onion-studded guacamole. In a main room looking out onto Park Street, three panels showed a calavera looking right out at diners, her eyes wide as flowers surrounded her head. A mariachi soundtrack floated overhead.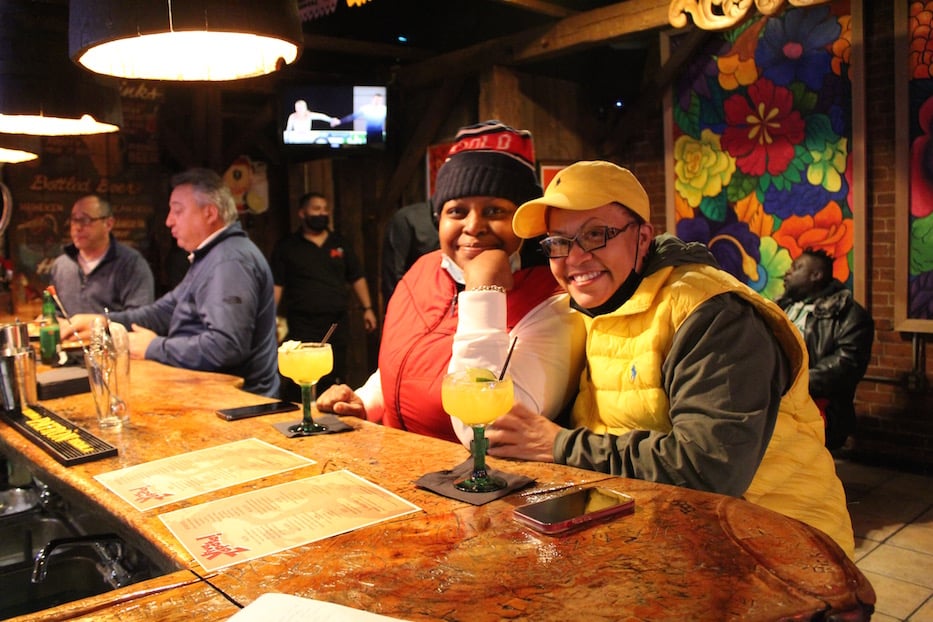 Amanda Ward and Tracey LaFrazier. The two met through their workplace and have been together for 10 years.
Close to the bar, fiancées Tracey LaFrazier and Amanda Ward dropped in for their 10th anniversary, scanned the menu and ordered two mango margaritas. While LaFrazier took a moment to adjust—she missed the old-school jukebox and Tito's, she said—she was willing to give the place a chance.
Before its closure in 2020, Viva's had been her spot, and her dad's spot before that. It was part of the New Haven she grew up with. She remembered multiple birthday parties that unfolded between its walls.
"It really was like a second home," she said, eyeing the Himalayan salt lining the rim of her glass. She took a sip and declared it good—"although I prefer Titos."
As the door opened and closed and opened again, Kleman rose to greet every patron who came in and got them to a table. Even as he buzzed around the space, his eyes twinkled.
"This place was an institution," he said. "I know everybody thinks I'm crazy because of Covid, shutdowns, some of the restrictions, but it's like—I'm willing to take the punches and offer something for people. We gotta work through this … Hopefully we're here for a long time, like the other place was."