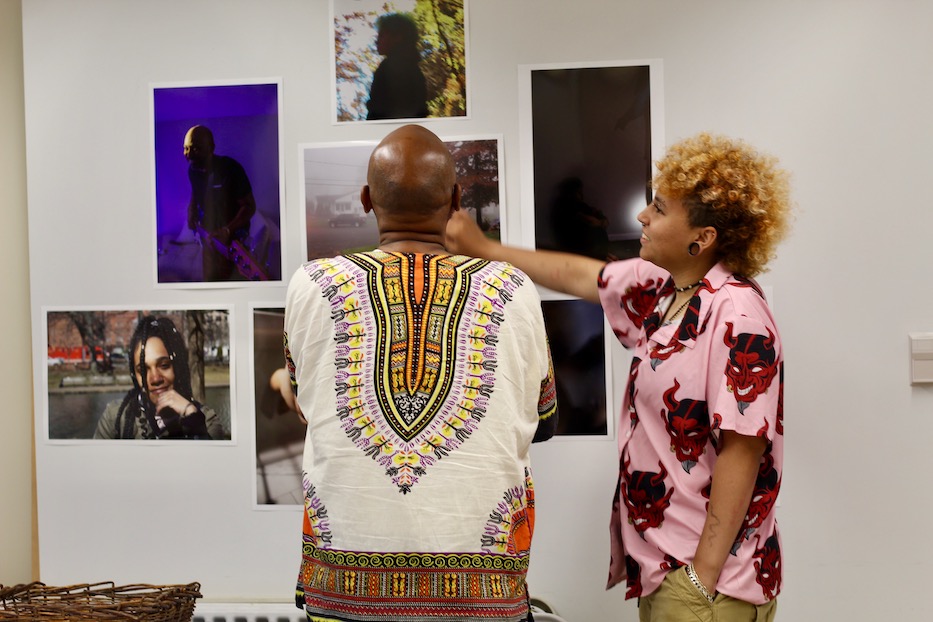 Culture & Community | Photography | Arts & Culture | New Haven Free Public Library | Arts & Anti-racism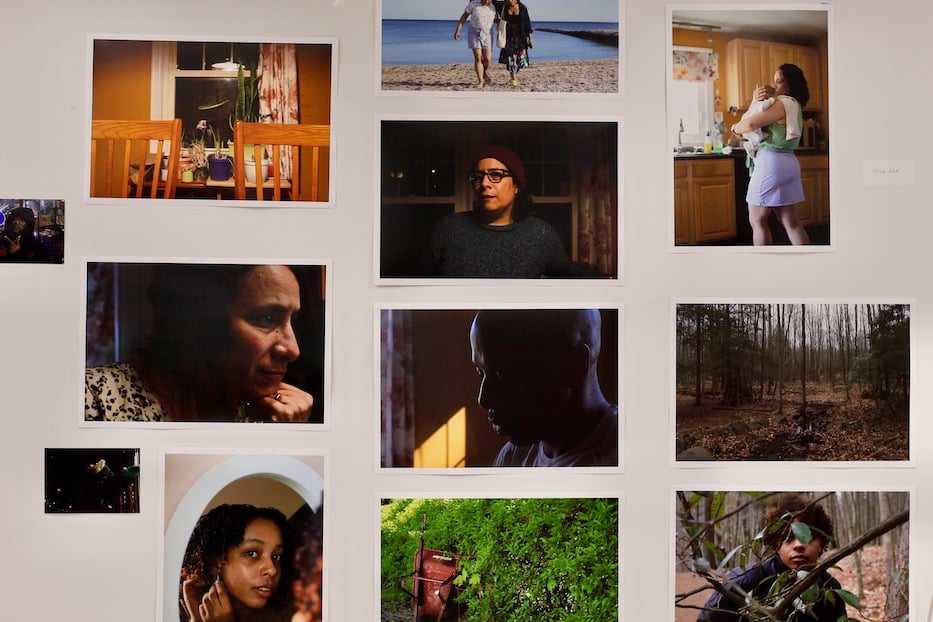 Photography by rising Hamden High School senior Maria Ashe. An exhibition of work by students in Wàbi Gallery's Focus Fellowship Program runs at the Mitchell Branch Library, 37 Harrison St., through June 30.
The woman in the photograph leans forward, her chin resting on her closed fist. Darkness falls around her, creating shadows that flicker across her face, and drip down her fingers to her wedding band. For a moment, she looks like a perfect partner to Rodin's Thinker, lost in contemplation as conversation bubbles up around her. The shutter clicks and the instant freezes.
The image, from rising Hamden High School senior Maria Ashe, is part of the second annual FOCUS Fellowship Program, a year-long study in photography from artist and Wábi Gallery founder Kim Weston. This year, Wábi welcomed close to a dozen students into the program, six of whom stayed for weekly courses in the history and practice of photography. All received a camera at the end of the program.
From now through June 30, students' work is on view in the community room at the Mitchell Branch Library, located at 37 Harrison St. in New Haven's Westville neighborhood. Both Weston and Mitchell Branch Manager Marian Huggins said they are excited for the new collaboration, which marks their first time working together.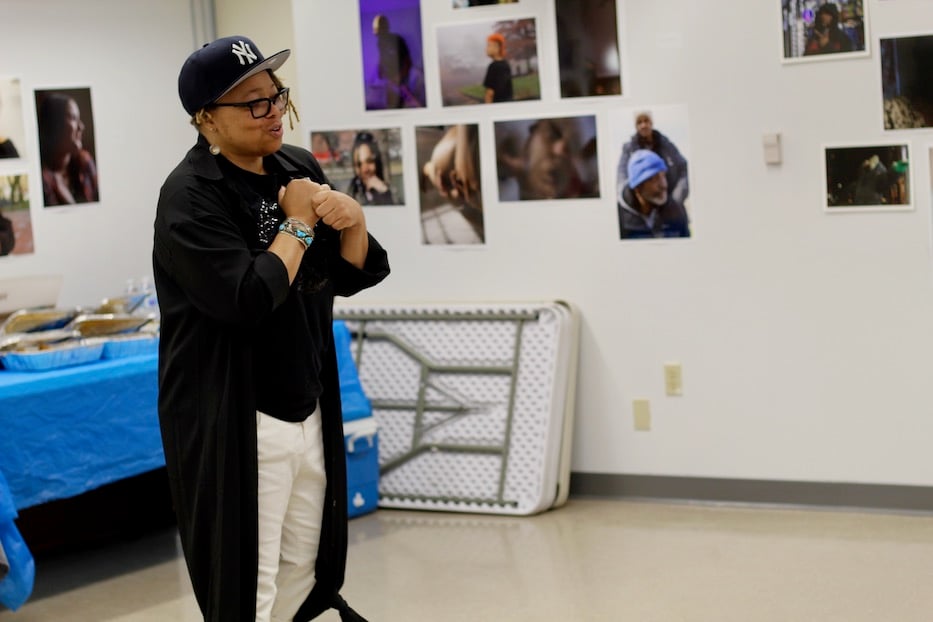 Weston.
"Once we started getting into it, we really got into it," Weston said of the fellowship last week, during an opening reception that buzzed with conversation until the library closed at 8 p.m., and attendees poured out into the warm night. "Photography is light. And the light that we see and are able to capture is beautiful."
The exhibition, which features over 50 prints from six young artists, has been nearly a year in the making. Last October, Weston launched the second year of her fellowship program, with weekly photography classes at KNOWN Coworking in downtown New Haven. Each week, students were tasked with planning, framing, shooting and editing different types of photographs, from intimate shots in their homes to street photography on the New Haven Green.
Meanwhile, they also learned about the giants of the field, particularly those working in the 20th and 21st centuries. Over eight months, Weston introduced students to photographers including Lorna Simpson, Dawoud Bey, Carrie Mae Weems, Dread Scott, Sally Mann, Catherine Opie, Bill Jacobson, LaToya Ruby Frazier, Mickalene Thomas (who is known for her painting but highly influenced by photography), and Nona Faustine. As an artist who is both Black and Native, it was important to her to get beyond the "Great Whites," Weston said with a smile.
"It's not just about being a teacher," she said Monday. "It's about being a mentor to these young people."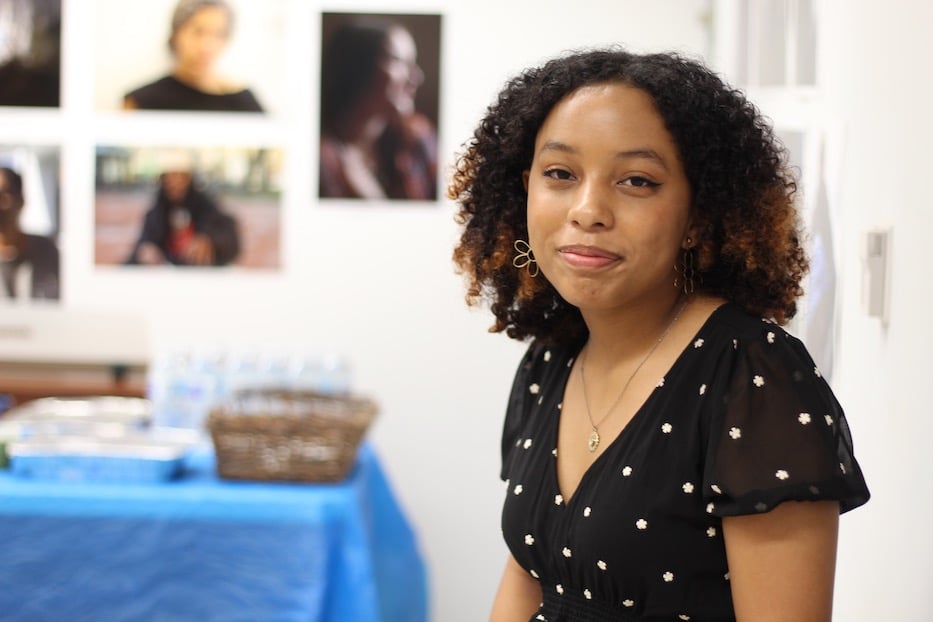 Maria Ashe.
Across the room-turned-gallery, the work of all six artists now pulls a viewer in, with more exercises in close looking, long exposure, portraiture, and nature photography than there are students in the program. Close to the door, Ashe's images of her family becomes a case study in timing and intimacy, full of warmth and candor that seem to seep beyond the clean edges of each print.
In one, installed at the upper left, Ashe has captured her mother, Lourdes, cradling her infant cousin in a gesture that is at once private and universal. In another, her father looks down at something beneath the frame, his face peaceful. In a third, she has put her camera on a timer to take a self portrait in a mirror. In each, light appears differently, showing her experimentation in real time.
"When I was first asked to create the collection, I was asked what was most important to me," she said—and quickly realized that the answer was her family. "I'm really proud that I was able to create this collection and build a foundation for my work."
"I'm super proud of her," said her mother, Lourdes Ashe, as she looked over the images. "This is something that she took on and completed."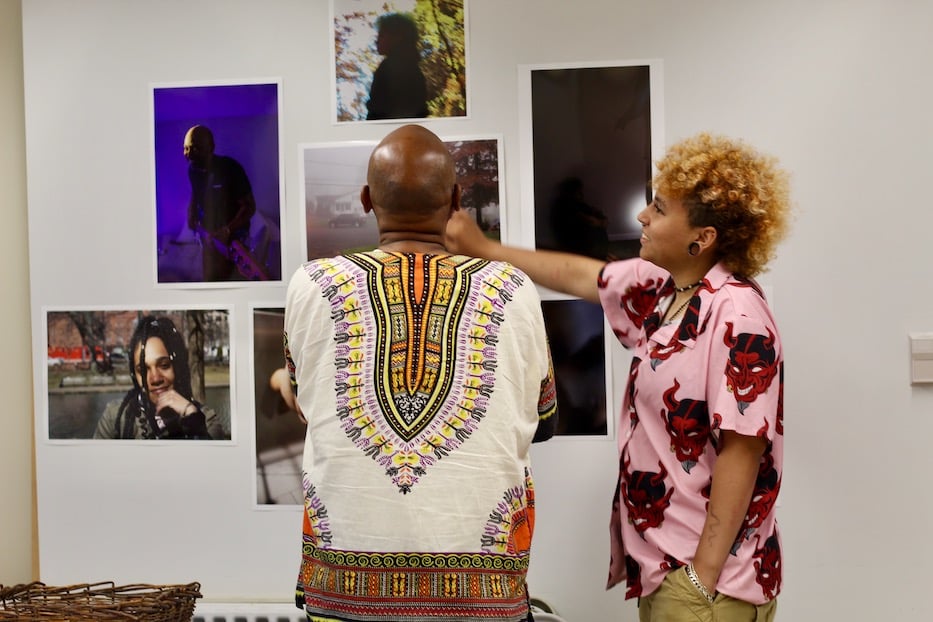 Williams and their dad.
Beside Ashe's work, prints from Chay Williams peek out from the wall one by one, knitting a story of place and people from their hometown of Windsor. A rising senior at LP Wilson High School, Williams first learned about the fellowship through Weston after taking a photography course with her last year. They were so excited about it that they and their dad made the hour-plus trek to New Haven each week.
That enthusiasm comes through the finished images, including a still of their dad rocking out on guitar that crackles with energy, as if he might come right out of the frame with a bracing riff. In the photograph, he is bathed in purple-blue light, and it takes a minute to realize that the background is just a homey interior, rather than a concert hall stage somewhere in the state.
So too in a dramatic self-portrait, for which Williams has used a timer and a perch for the camera. In the print, Williams looks away from the camera, their hair matched with the fiery, traffic-cone orange of their ear gauges. Thick, white fog rolls in around them, obscuring the yard and trees, the house across the street. Above it, a blurry portrait taken by the artists' father feels like the pendant a viewer didn't know they needed.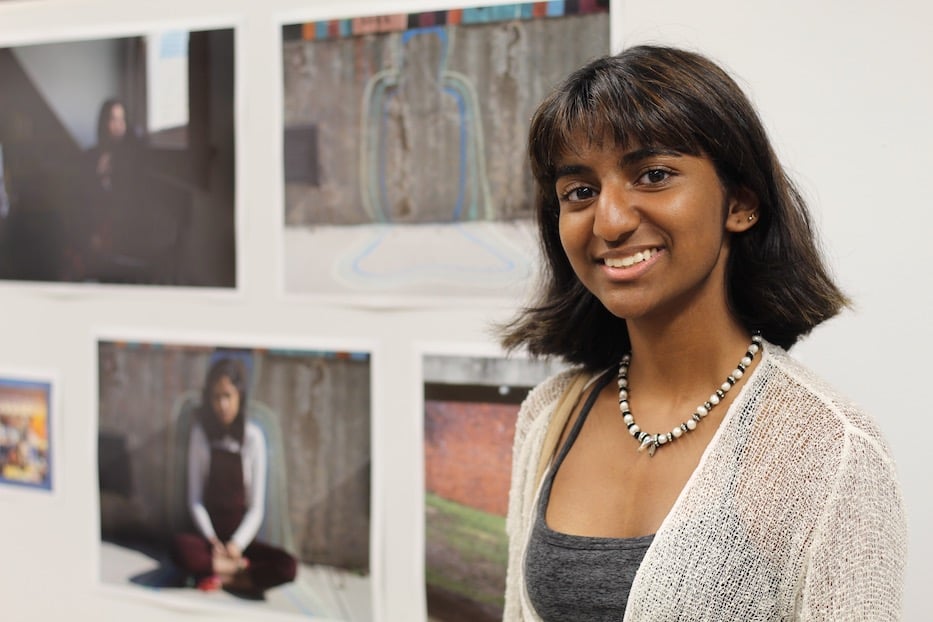 Kamini Purushothaman with some of her images.
"I do my best to shoot photos that have meaning to me," Williams said, praising Weston for her patience with them. "I've learned more about lighting, f-stops … A lot of times, you know, people will make you feel bad for not knowing something. Kim never does that."
Multiple students echoed Williams, grateful for Weston's guidance during the eight-month program. Kamini Purushothaman, a rising freshman at Yale University, said that she was initially hesitant to do photography, because she's more drawn to the written word. Weston convinced her that a photograph, or a good photo essay, could be just as powerful as any article.
In her images, Purushothaman has focused her practice on members of her family and close friends, with portraits taken at school playgrounds, city parks, and in her own East Rock home. At the top of her installation, a bright, embroidered lehenga skirt catches a viewer's eye, photographs and writing from her father laid gingerly atop its pink silk surface. It adds a storytelling element to a still photo.
"I love telling stories and I found a whole new avenue to do that," Purushothaman said. "It ties well into journalism, which is what I want to pursue."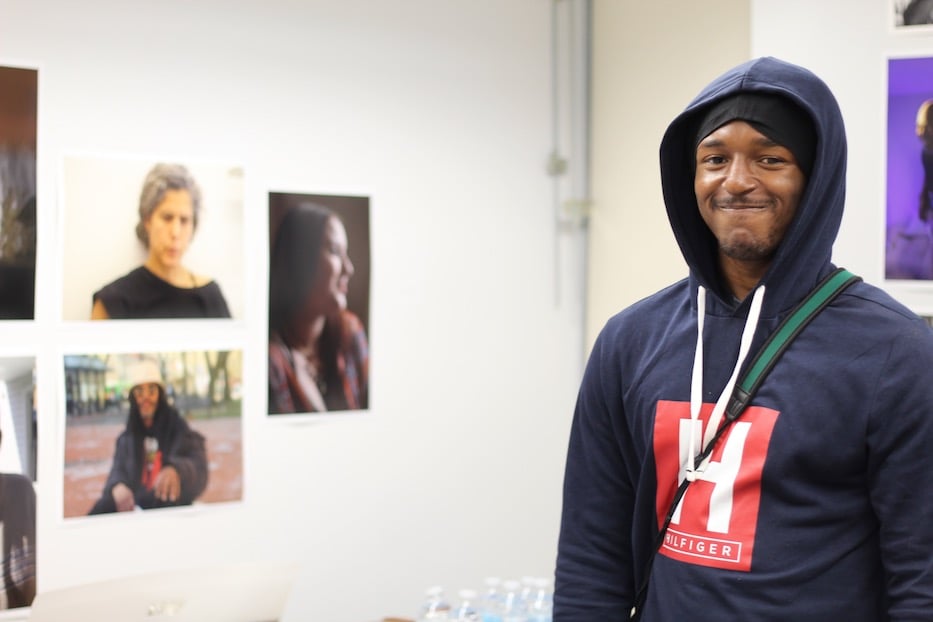 Tywain Harris.
Tywain Harris also praised the class for getting him "out of my comfort zone." After meeting Weston through one of her exhibitions last year, "she was like, come join our program," he remembered. She welcomed him with open arms, and pushed him to keep going. Over the past eight months, he has developed a sharp interest in portrait photography, often done on the street and in the city's less-loved-on neighborhoods.
Some of the images, for instance, come out of the Hill—where one might not expect beauty if they only listen to and repeat stereotypes of the neighborhood. Installed salon-style, they create a canvas of New Haven: couples in their bedrooms and yards, sculptors in their studios, people killing time on the New Haven Green as sun filters over the grass.
When he prepares to take a photograph, he said, it's like time freezes. "In that moment, everything is silent," he said. "I just try to black out everything else."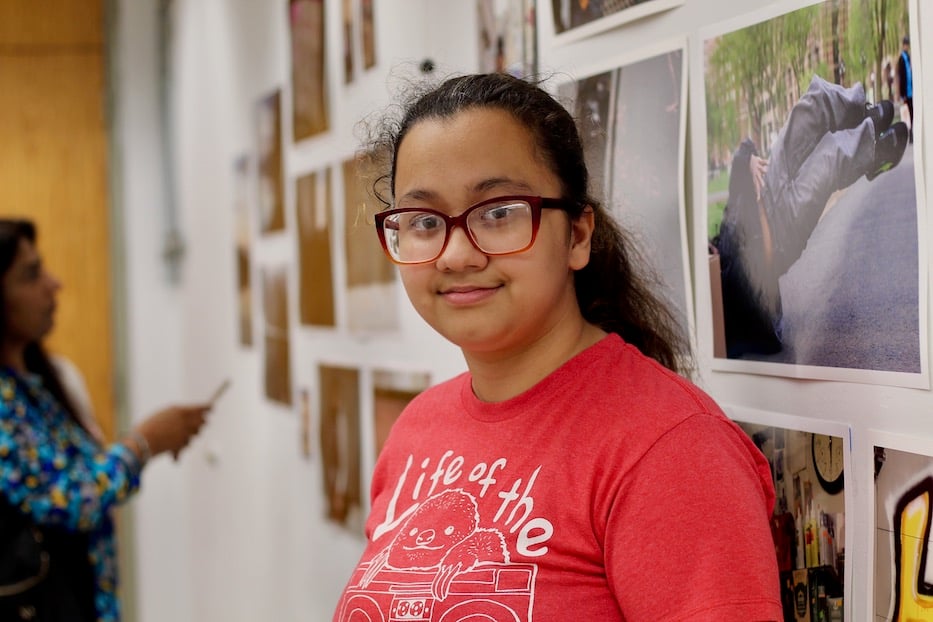 Guzman, who is now Weston's apprentice.
Some have also used it as a chance to grow existing photography skills. On one end of the community room, viewers get a close look at the work of FOCUS alumna and Gateway Community College student Alexandra Guzman, who last year photographed a series of bees and young beekeepers at the Huneebee Project.
When she returned in the fall, Guzman had the chance to join the program as Weston's apprentice, a role that pushed her out of her shell. In addition to a portrait series on friend Forseti Rivera,who she photographed in Edgewood Park, she worked to get images on the lower New Haven Green and Chapel Street downtown, both in and outside of businesses.
"Kim really challenged me to go out and talk to people," she said. Often, she advised Guzman to use a "nifty fifty," a 50-millimeter, fixed lens that forced her to get close to people. It helped her grow as a photographer, she said, particularly when it came to her social anxiety.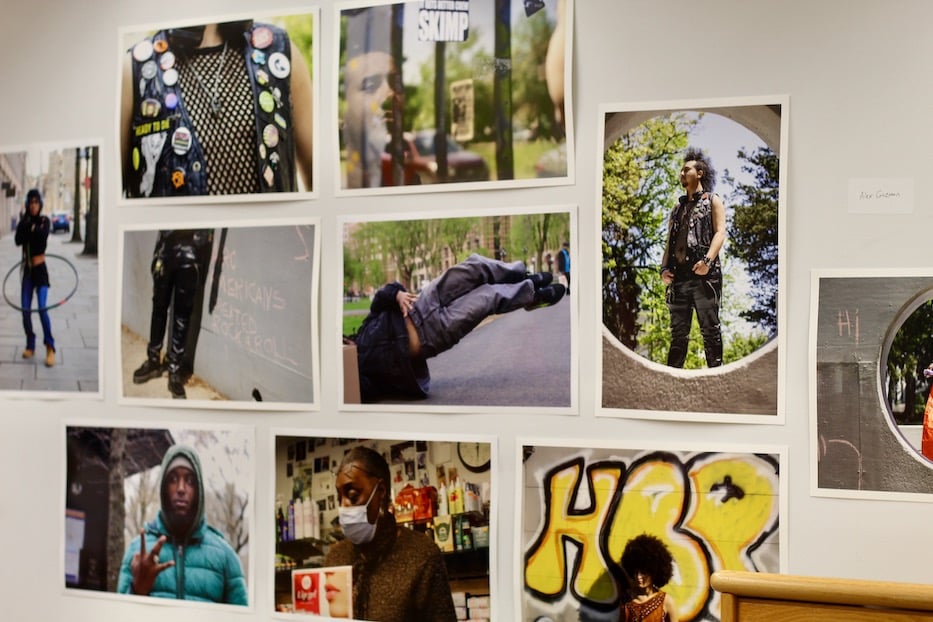 Guzman's work in year two.
In one print, for instance, she has approached the hula hooper Diamond Tree, standing so close that her face is crisp as the hoop moves on her waist.
In another, she's just inches away from a skateboarder on the New Haven Green, close enough to capture his movement as his feet fly into the air, and a hand reaches for his waistband. She's also now showing her photos around the city, including at Claire's Corner Copia Downtown.
Beside the door, 10 photographs from Madeleine Garley-Erb also stop a viewer in their tracks with their chopped-up appearance, as if the young artist had found a way to bend space and time with the click of a shutter.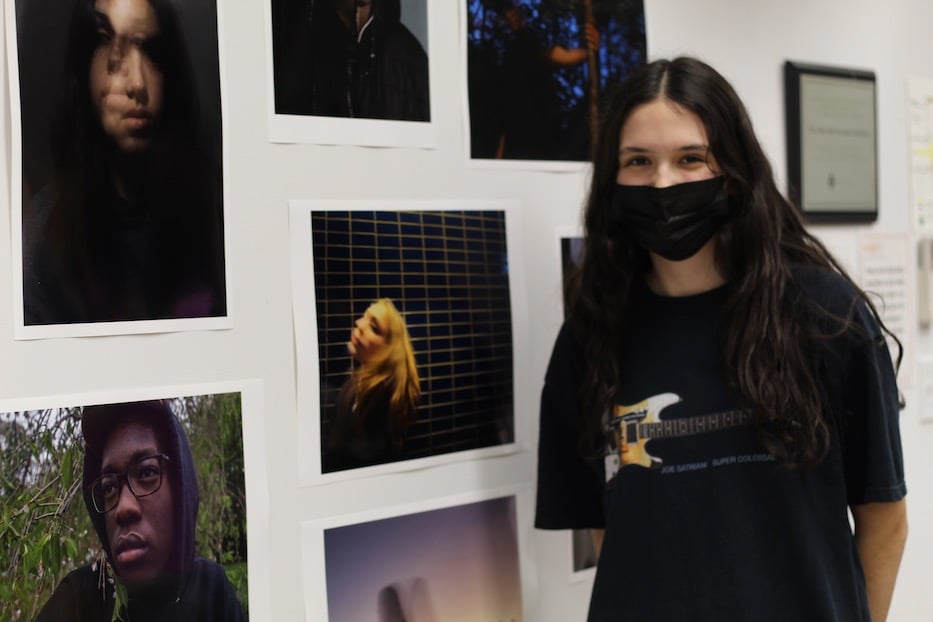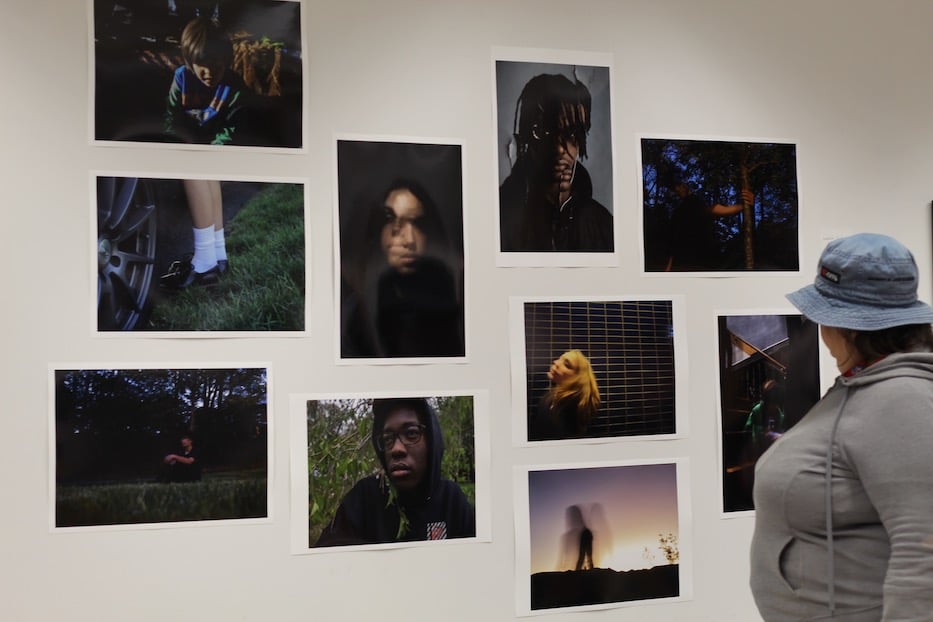 Garley-Erb's images.
In one, a fellow high school student poses for the camera, framed by an off-white wall behind him. At first glance, it's just a portrait, his locs hanging over his eyes as his lips stop just short of a pout. Headphones sprout from his ears, white as bone over his black sweatshirt.
But something is off here: the sides of the model's face don't match up, as if the paper has been ripped and taped back together. His lips and chin replicate themselves, such that it feels like a viewer has double vision.
A rising junior at the Educational Center for the Arts (ECA), Garley-Erb said that the program helped her "take my skill to the next level," from playing with long exposure photographs (which are, incidentally, also Weston's sweet spot) to the nuts and bolts of building out a website. At ECA, she is already studying photography, but had the chance to experiment with and grow her practice.
"It's not what you generally see," she said. That's what drew her to the series, and to a genre she said she plans to stick with.
Before she headed out, Weston nodded to a growing list of supporters, including the Pincus Family Foundation, the United Way of Greater New Haven, Lotta Studios, Fair-Side Founder Ruby Gonzalez Hernandez, Design Monsters, and Known Coworking among others. She also shouted out photographer Bud Glick, who printed students' photographs. The two first met through her exhibition Truth In Three Colors earlier this year.
"To tell a story with a photograph is just a beautiful thing," she said.
Wábi is running a summer photography program for youth titled "Visions Unleashed" from June 26 through August 4. The program is open to youth ages 14 to 19 and is $775 per student. Learn more at Wábi's website.