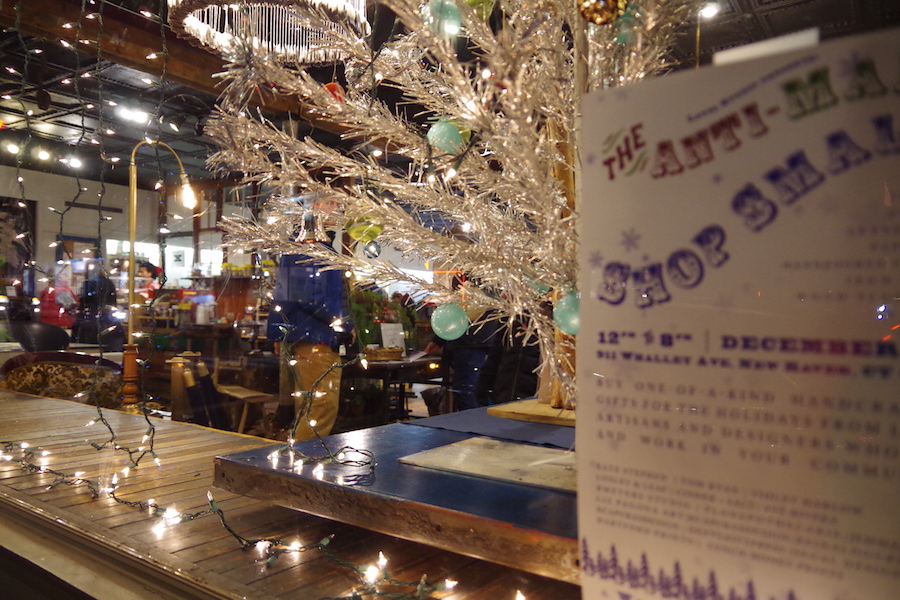 Westville | Arts, Culture & Community
At the corner of Whalley Avenue and Blake Street in the heart of Westville, Ruth Onyirimba stepped up to the mic playing a softly rhythmic guitar. As she started to sing "O Holy Night," LaQruishia Gill joined, their voices resonant and rich. Tim Kane added a trumpet line that was warm and smooth, inspiring a crowd bundled up against the cold, night air to sing along.
The impromptu trio played at Westville's tree lighting Saturday evening, the focal point of a suite of activities in the neighborhood that night. Organized by the Westville Village Renaissance Alliance (WVRA), the tree lighting was preceded by the Westville Second Saturday Holiday Open House, which encouraged participants to visit local businesses and have their "passports" stamped for a chance to be entered into a raffle.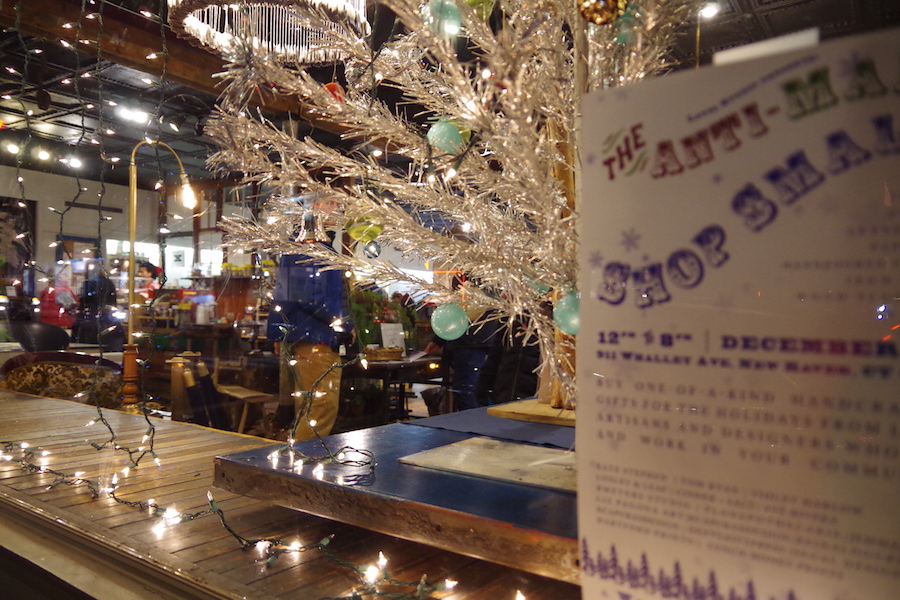 Kehler Liddell Gallery debuted their Functional Art Pop-up, Lotta Studios hosted their third annual Anti-Mall Shop Small holiday market, and Westville's own Snail Market had its grand opening.
"It's been nice having so many people walking around the village," said Melissa Gonzalez, owner of Vintanthro Modern & Vintage and a participant in the Holiday Open House. Vintanthro, which reopened in Westville during City-Wide Open Studios, sells a curated mix of vintage and modern goods .
It's also featuring a special ornament for the holiday season. The ornament represents a three-way New Haven collaboration. Woodworker Bethany Meyer of BMeyerStudio crafted the wooden ornaments in the shape of Connecticut, adding bold, colorful detailing, and Gonzalez designed screen-prints specifically celebrating New Haven, which Pistachio Print Company applied.
"That's one of the great things about New Haven," said Gonzalez. "Stuff like that just happens organically."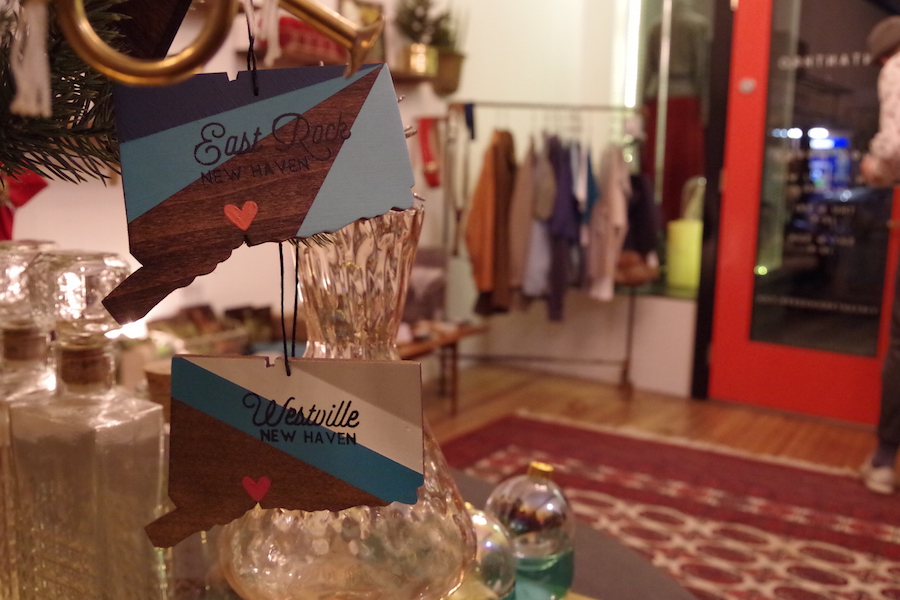 At Kehler Liddell Gallery, participants sipped on glasses of wine as they checked out the crisp, colorful quilting of Whole Circle Studio founder and mastermind Sheri Cifaldi-Morrill. Annie Chittenden's bold fabric baskets popped against a black backdrop and Mary Wolff of Metalfiber displayed shibori-dyed garments and intricate necklaces.
Just down the block, the tree lighting was getting underway. Gill and Onyirimba, who is a newly-arrived Westville resident, were encouraging the crowd to get festive. Though Onyirimba sings with New Haven band Phat A$tronaut and Gill with The Let Loose, the pair met at Elm City Vineyard Church, which is in its third year providing music and cocoa for the tree lighting.
"If you know even a fraction of the words, please sing along," said Gill. "Or dance," she added with a smile to the children down front.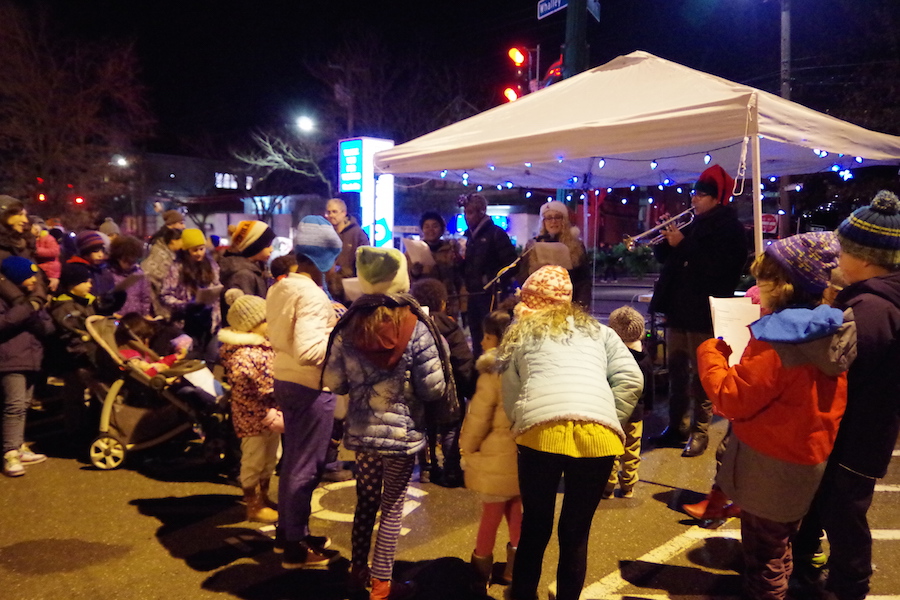 When the two led the crowd in "Silent, night," their voices floated on the melody, and they earned muted, but enthusiastic, applause from many mittened hands. By the time Tim and Jaime Kane were leading a spirited sing-a-long of crowd favorites like "Let it Snow" and "Jingle Bells," the gathering in the Westville Public Parking Lot had swelled to almost 200.
Instead of hauling in a cut tree, WVRA planted a tree last year in the newly-dedicated Chris Engstrom Garden, named after the beloved New Haven artist who lost his battle with ALS last year. WVRA got help from Yale's Urban Resources Initiative on the project— and the team's Executive Director Lizzie Donius, said she expects the tree will grow to 20 feet.
"It's doing good for a two-year old," she said. "Volunteers poured gallons and gallons of water all year so it could live. It grew at least a foot this year."
The crowd moved in close for countdown, and when the lights were turned on, the group sang "O Tannenbaum" and "We Wish You a Merry Christmas."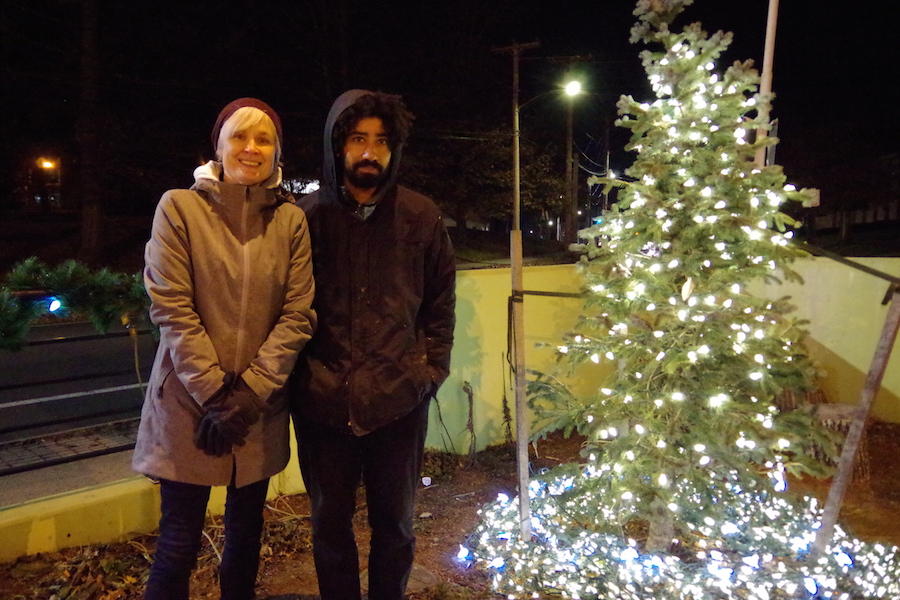 "The goal is to get everybody together to sing and celebrate," Donius said. "It's a big draw and it's always fun … it's love and joy in the parking lot."
Across the street, vendors were gathered inside Lotta Studio, selling goods ranging from spoons to screen-prints. Ceramicist Avé Rivera had a steady stream of customers to her table full of quirky mugs, jewelry, and dishes. Her work is emblazoned with nerdy references, cute creatures, and both bold and pastel colors.
"I like puns," she said. "Just something fun and bright for people to share."
Rivera graduated from Southern Connecticut State University (SCSU) and said she loves being a part of New Haven's art community.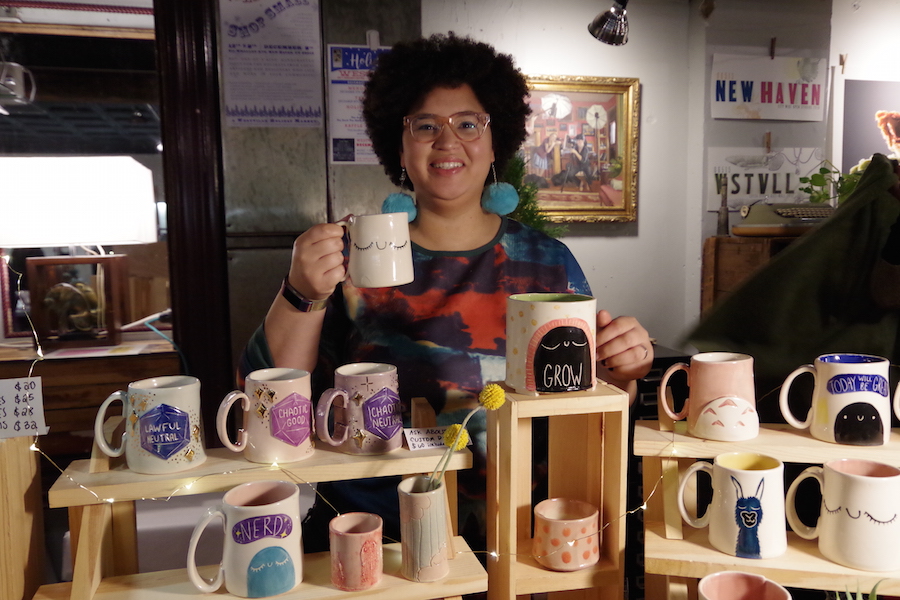 "I love the New Haven Crowd. They're funky and so's my work so we go together," she said.
Jillian Goeler, employee at Hartford Prints, filled the table right next to Rivera with greeting cards, pillows, shirts, and anything else that can be stamped with symbols of Connecticut pride. Goeler herself designed the Connecticut Alphabet print with the help of owner Rory Gale, using images representing the Essex Steam Train, Kent Falls, and Pez, among others.
"We try to keep it Connecticut and Hartford themed because it's a niche missing in this world," Goeler said.
Across the room, Sami Jo Jensen sold rose and sea salt hair spray, dry shampoo, and bergamot and orange beard oil, all hand-made using 1oo percent natural, vegan ingredients. Jensen, Founder and Chief Beauty Maker of Florapothecarie, said the business is PETA and Leaping Bunny certified and sells products at pop-ups across Connecticut.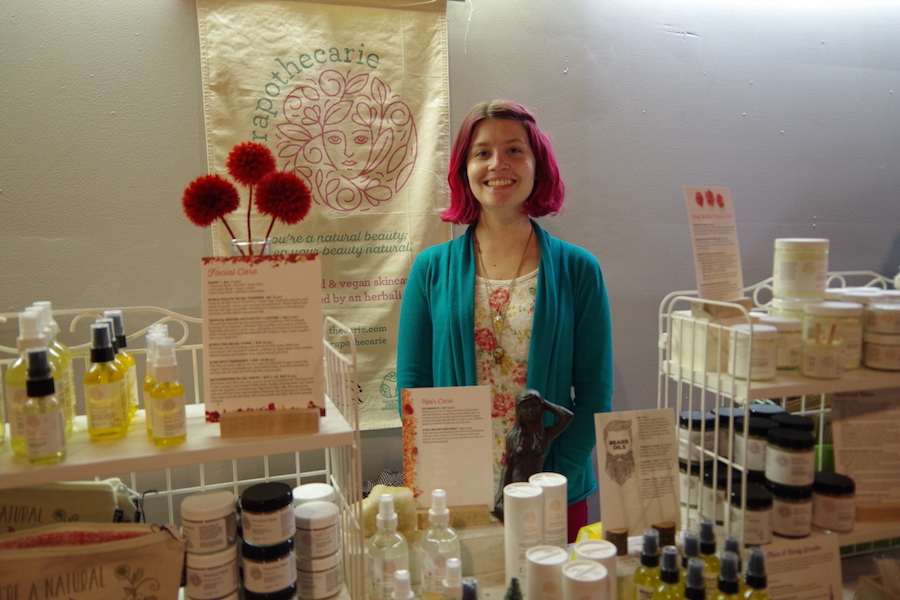 "I make everything myself," she said, explaining that she likes to use ingredients that work together and balance each other, like combining witch hazel with aloe in her facial toner.
Jensen, who started Florapothecarie after leaving an emotionally abusive relationship, said the business was a way for her to build back her confidence.
"As women we receive a lot of negative messaging about how we need to cover up and change ourselves," she said. "I try to inspire women to embrace their own natural beauty and cut back on toxic chemicals and toxic people."
Upstairs, West River Arts denizens Martha Savage and Molly Gambardella were hosting the grand opening of Snail Market. Snail Market will be open in conjunction with West River Arts second Saturdays open studios, and focuses on selling fine art for prices between $1 and $50.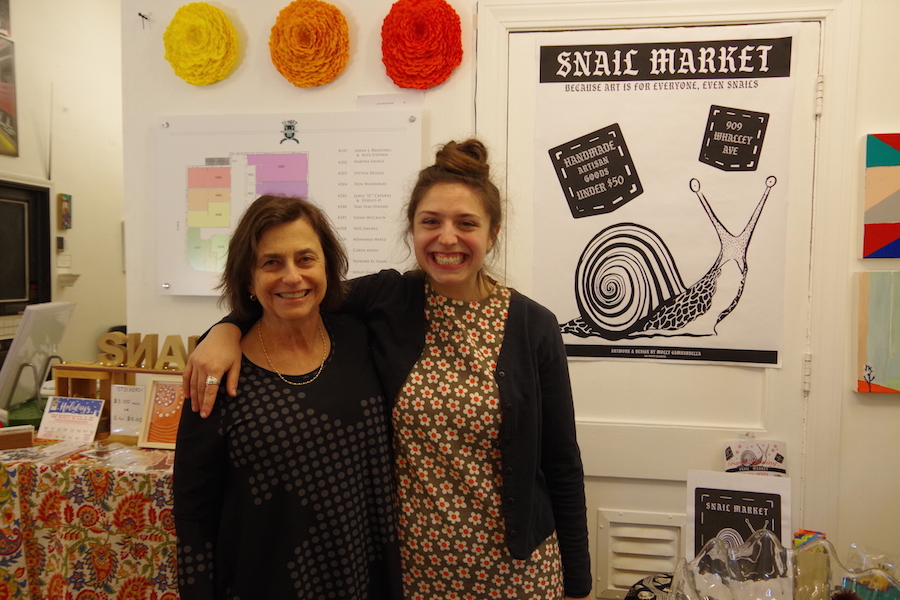 "We want to provide affordable art in a non-intimidating way to everybody," said Savage. "It's approachable and fun, so people can get real art into their homes." And the affordable prices make it "an alternative to IKEA art," added Gambardella. Offerings ranged from oil paintings to stickers; matted, framed drawings to fuzzy, whimsical snail "eye stalks."
The Snail Market made it's first foray in Westville a few weeks ago, selling Hanukkah cards at a pop-up in Lotta Studios and the duo will be taking the market downtown for New Haven's Holiday Village in Temple Plaza next weekend.
For Savage and Gambardella, the snail is more than just a cute name for their market. Gambardella, a graduate of Paier College of Art, got her start making commissioned pieces inspired by a colored-pencil project she created in an experimental painting class. The young artist travelled to Brussels to deliver one of the pieces and then embarked on a European backpacking and camping trip.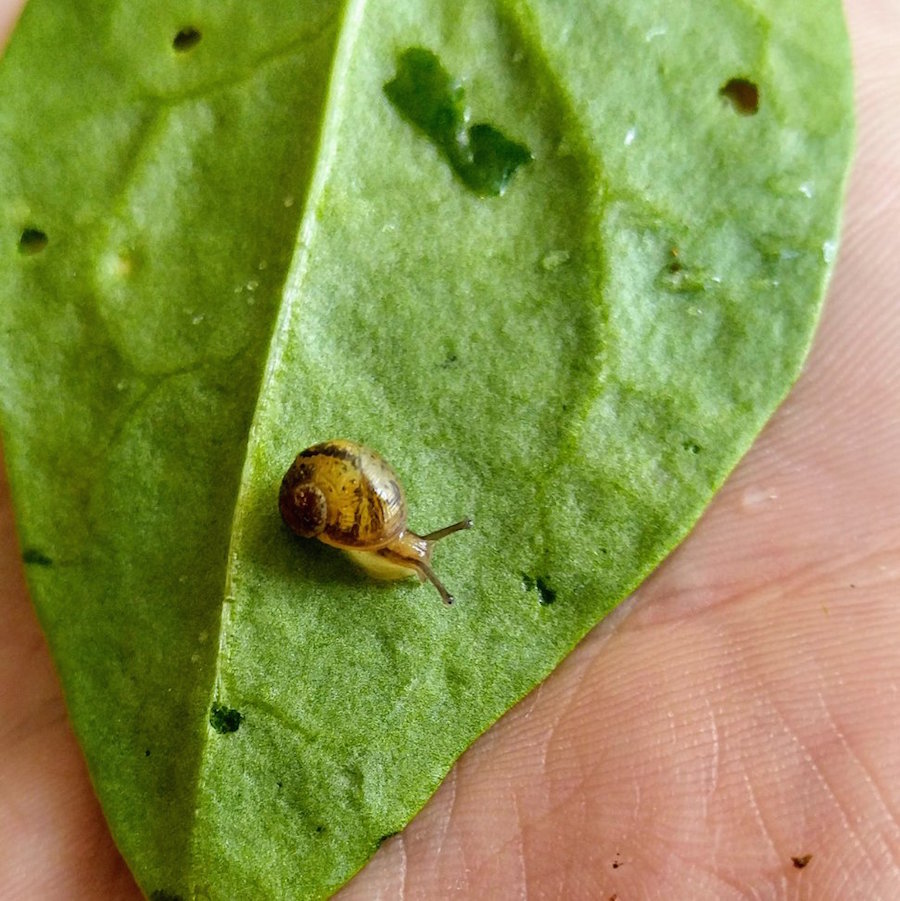 "When I got out of the tent that first morning, there were snail shells all over the campsite,"she recalled. She thought they were the remains of some predator's diner and collected the shells in a box, which she carried in her pack for a couple of months of travel.
When she finally settled into a new apartment and set the beautiful shells out on a shelf, a live snail emerged from one of the shells to greet her.
"Apparently, if they don't like their environment, snails will retract into their shells until they feel comfortable," she said. "It's actually a really great metaphor for humans."
Gambardella got a terrarium for her tiny new friend, moving into her studio at West River Arts just months later. Though the snail passed away just a few months later, the relationships Gambardella has built with clients and fellow artists have flourished since then, and she wanted to grace this project with the snail name.
Savage, a retired art teacher, jumped into the snail metaphor with both feet. "It's led to an interesting rabbit hole for me," she said.
She found out why medieval illuminated manuscripts have knights fighting snails in the margins. She got inspired by a snail trail in Brighton, England. She curated an online film festival devoted entirely to snails. And Savage and Gambardella partnered with local snail enthusiast Kirill Lebedev to host a snail adoption at their recent pop up.
But Savage also made the snail connection simple, summing up the attitude for the whole evening's activities at the same time.
"It's about taking life a bit more slowly and enjoying life with art," she said.