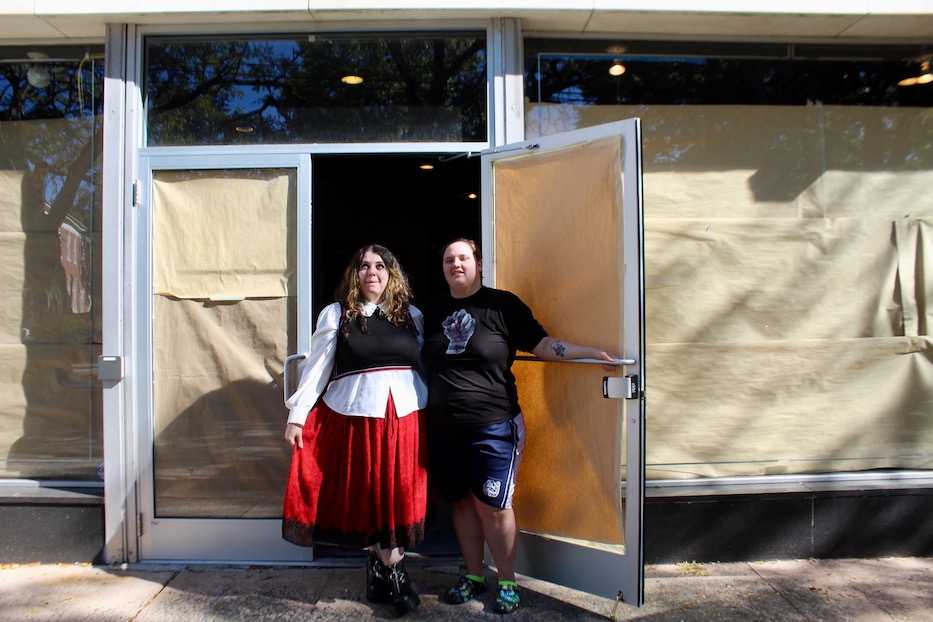 Culture & Community | East Rock | Economic Development | Fashion | Halloween | LGBTQ | Arts & Culture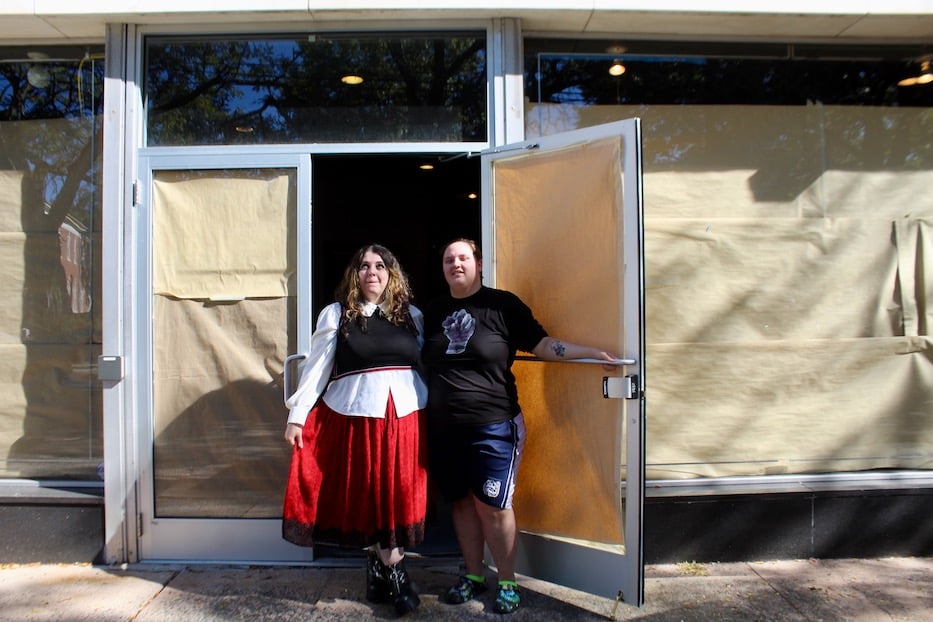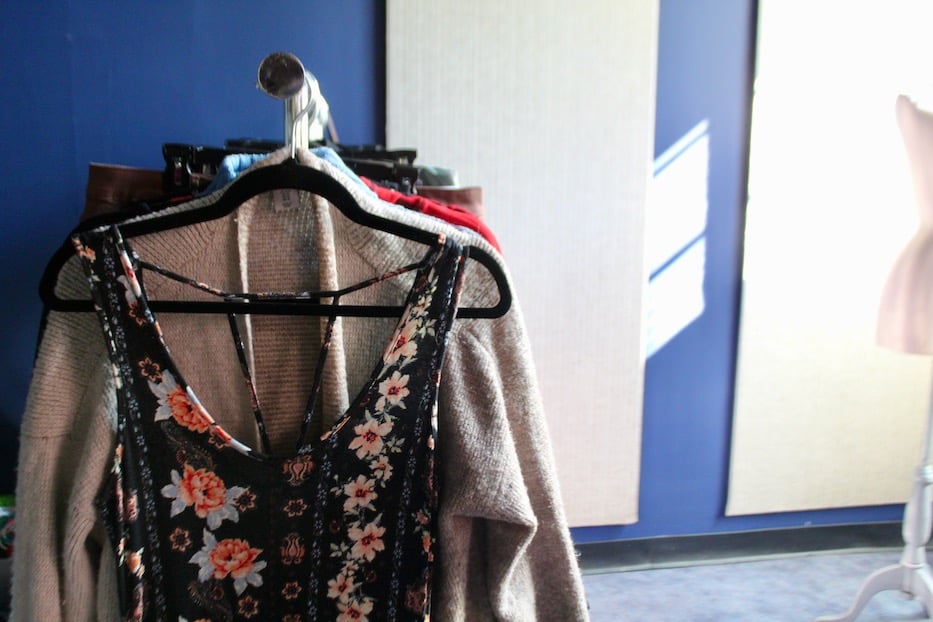 Virginia Semeghini and Eva Ray at the new home of Witch Bitch Thrift on 105 Whitney Ave. Lucy Gellman Photos.
The room is still empty, its walls a yellow that is almost green when the lights turn on. Dark carpet runs along the floor, footprints visible if a viewer looks long enough. On a small step at the front of the room, a pillow and blanket sit unbothered, as if they were abandoned in the dead of night. The hum and honk of traffic from Whitney Avenue rumbles on outside.
Already, Virginia Semeghini can see a bustling multi-purpose room, complete with board game nights, queer music shows, and seasonal events. And that's just the start.
Semeghini is one half of Witch Bitch Thrift, a thrift store, occult shop, and event space that moves into the former home of Take 5 Audio at 105 Whitney Ave. this month. Three years after Take 5 closed its doors after 42 years on the block, she and her partner Eva Ray are bringing the space back to life.
Before opening their storefront formally this fall, the two plan to hold a pop-up from Oct. 15 through the 31. It will run at the space, 105 Whitney Ave., each Wednesday through Sunday from 11 a.m. to 5 p.m.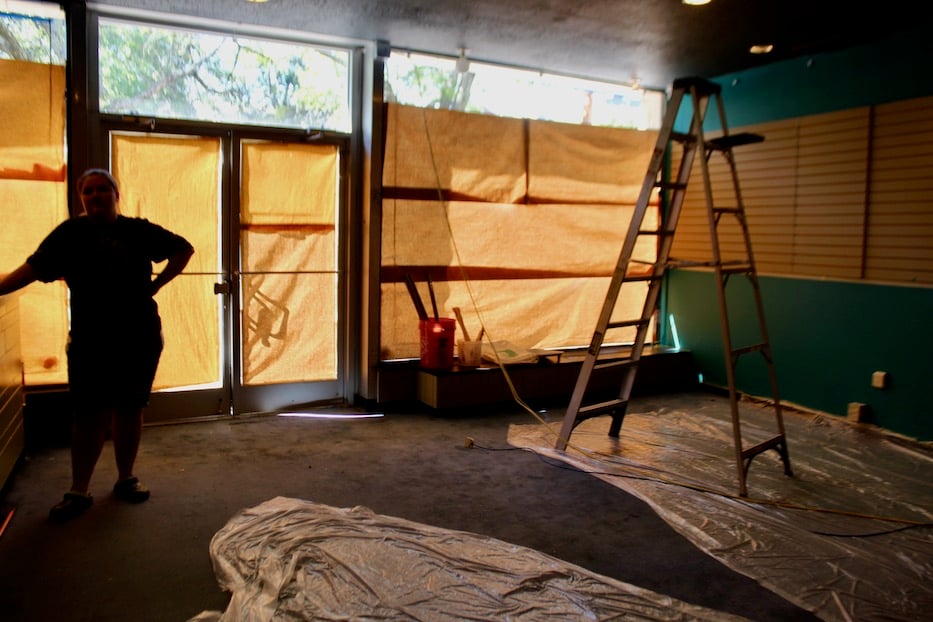 Eva Ray in the space. They've been Witch Bitch since its inception, and co-running it since May of this year. Lucy Gellman Photos.
"I want it to feel like a maze!" Semeghini said last Thursday, as she floated through the space with Ray, her red velvet skirt catching in the sun. "We're going to have classes, events, workshops for witchy stuff. The dressing room, we want it to be like your best friend's bedroom. We just have so much that we want to do here."
The move is as romantic as it is a little scary, they added. Ray and Semeghini are business partners, but they are also engaged to be life partners and co-parents to two dogs and two cats. Before coming to New Haven, they two ran Witch Bitch Thrift from their home and a small storefront in Bridgeport. In addition to a brick-and-mortar store, they still handle online orders from across the country.
While Semeghini has thought of herself as "witchy" since she was 12 and growing up in Brazil—she moved to Bridgeport in 2008—the journey to Whitney Avenue began in 2020. At the time, Covid-19 had put an abrupt stop to Semeghini's touring work as a musician, and both she and Ray were at home during the day. Prior to the pandemic, Semeghini wasn't one to dress up, she said.
But the quiet of quarantine made her think—why not? She had just finished a music degree from the University of Bridgeport. Shows were on hold. The future no longer felt certain. She had nothing to lose.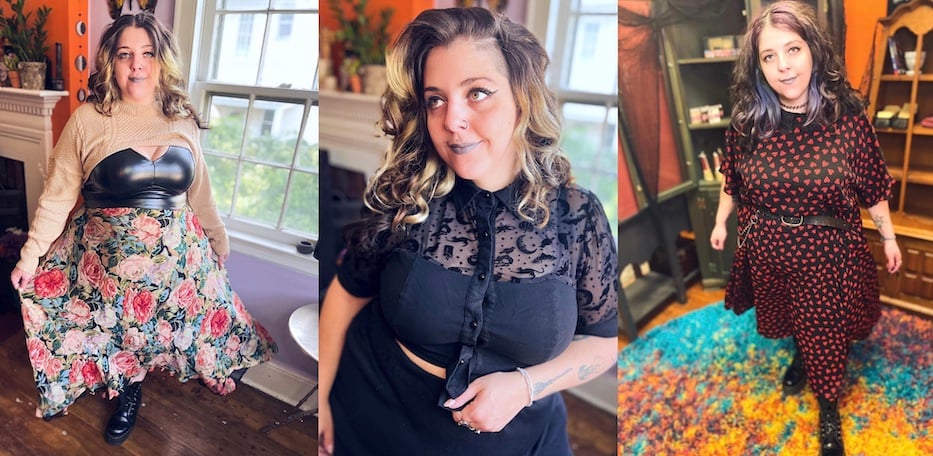 Semeghini modeling outfits. Witch Bitch Thrift Photos.
"I had all these clothes that I didn't want to give away, and then all of a sudden it's a pandemic and we might all die," she said. "I think the pandemic being so doom and gloom, it made every day an occasion."
She started trying out pairings entirely for herself, and wearing them around the house. It might be a green velveteen dress with bare feet one day, and a vest-skirt combination with big jewelry and a peter pan collar on another. Or thrifted, heavy black boots—her go-to—with chunky wool socks and bright florals. She became a sartorial shape-shifter, as natural in red gingham overalls as she was in a billowing skirt, silver lipstick and a cropped lace blouse.
And then one morning in August 2020, a light went off in her brain.
"I was thinking of a witchy thrift store," she said. No sooner had the idea popped into her head than she was searching frantically online, trying to make sure it didn't yet exist. "I was in a total panic" and snapped up the domain that the store still uses, she recalled with a laugh. Then she started building her followers before opening the website to sales.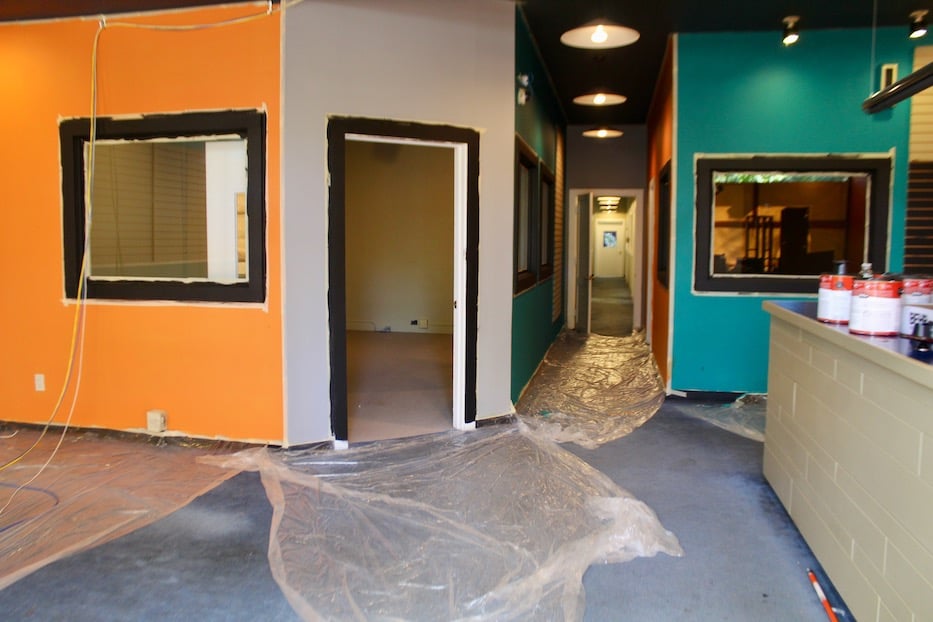 Lucy Gellman Photos.
She thinks of the title as both a lyrical, rhyming play on the word "Witch" and a reclamation of the word "Bitch," she said. As the brand grew, she invited people to sell their clothing to the shop, with the assurance that it was going to a good place.
She found that there was real anxiety around the process for several plus-size people she met, which made her even more dedicated to the store's nascent mission. Both she and Ray wear plus-size clothes ("We share everything except shoes," Ray said), and had lived that anxiety enough to know how it felt.
"It's so hard to find clothes that fit, and so there's this sentiment of 'I can't give that away,'"Semeghini said. "We want to be able to build that trust with people. I want everybody to come in and be like, 'I have choices.'"
She didn't do it alone, she is quick to say: her longtime friend Amanda Kelley started the store with her, and was there for the first-ever Witch Bitch event, a Halloween pop-up at Pious Bird in Bridgeport almost exactly two years ago. Initially, the store's home base was Semeghini's small apartment, in the Brooklawn neighborhood of Bridgeport. As the brand bloomed, it moved into a home in the Bridgeport Innovation Center in early 2021.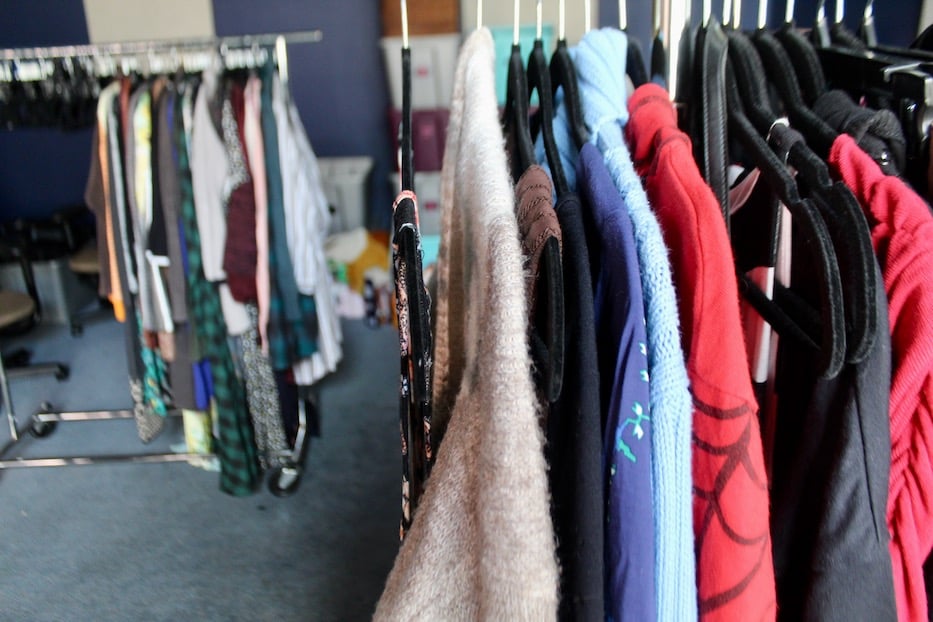 Lucy Gellman Photos.
The first brick-and-mortar shop was small enough that Kelley and Semeghini initially ran it by appointment, with customers who came by to see the inventory in person. Semeghini could see the base growing: shoppers hailed not just from Connecticut, but also from New York, Rhode Island, New Hampshire and the queer, witchy polestar that is Western Massachusetts. By mid 2021, there was so much demand that Kelley and Semeghini opened it to the public for regular business hours.
Online, the store was also gaining traction, with well over 100,000 followers between social media platforms. Semeghini, who had been doing freelance work in marketing and consulting, "dropped everything" to help run the space.
But "accessibility was a huge issue" for the store, she said. Customers sometimes got so turned around in the center's labyrinthine layout that they gave up and went home. The store was so small that it became uncomfortable if too many people were there at once. They knew they were outgrowing the location. When Kelley took a step back in early 2022, Ray jumped into leadership. It opened the door to where the two are now.
From May to July of this year, Semeghini and Ray ran Witch Bitch out of their living room for a second time—a move for which they sold furniture to make space for thousands of clothing items. Then in July, they discovered the Whitney Avenue storefront. Semeghini estimated that they work on the shop 14 to 16 hours each day, and more now that they are moving into a new home. While they still live in Bridgeport, they are looking for an apartment in New Haven.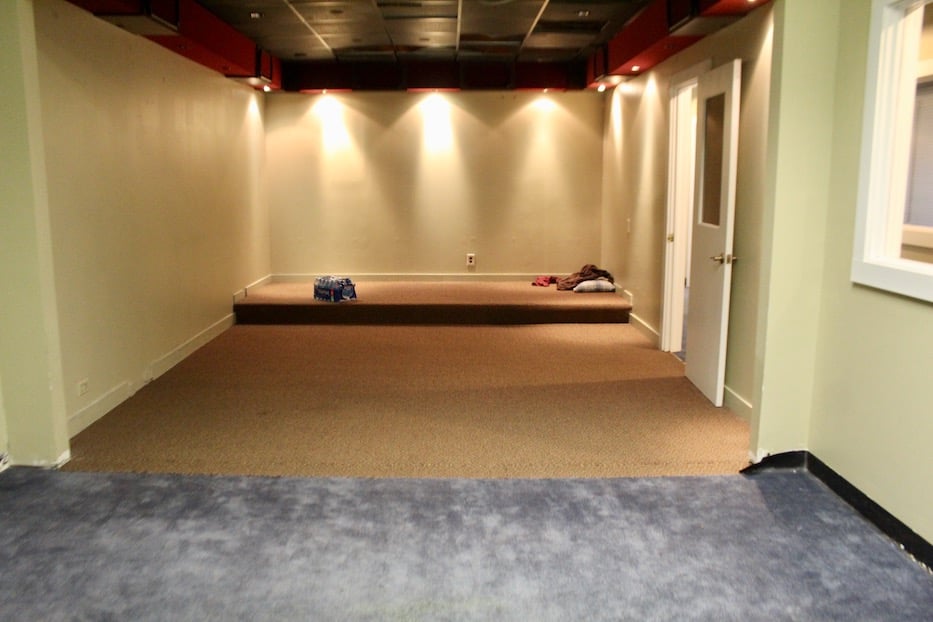 Where Semeghini and Ray envision a multipurpose event space. Lucy Gellman Photos.
"New Haven has been so welcoming," Ray said. The first week they were in the space, painting the front walls, Next Door called to deliver a few pizzas as a welcome gift. The two have been sourcing recommendations for coffee shops and restaurants nearby. Colleagues at Strange Ways and Bark & Vine, with whom they've collaborated many times, have celebrated their arrival to the neighborhood.
With roughly 2700 square feet to work with, the two are building a store with a little bit of everything, Ray said. At the front of the store—already painted orange and turquoise, in their signature colors—the two will have an "ambient apothecary area" with crystals, soap, bath bombs and other goods. Those include several local, LGBTQIA-run and friendly brands like Queerly Departed, goddex apothecary, Fae Treasures, and Zen Zombie Craftworks among others.
In a series of rooms that seem to sprout off the hallway, they plan to balance retail, storage and a cozy, relaxed dressing area (no traumatic Target flashbacks or cruel mirrors, Semeghini said) with an open-ended event space. In a room off the hallway, Semeghini envisions workshops, classes, and queer music nights like AcoustiQueers once brought to New Haven and Bridgeport. As a queer person, "it was important to have a space that felt safe and not focused on alcohol," she said. For LGBTQIA+ people in the city, sober spaces are still few and far between.
Throughout the store, they plan to display clothes, which range from a U.S. size extra small up to 8X. Currently, racks of wool, cotton, rayon and polyester clothes wait to be sorted in a back room; other new arrivals will soon emerge from a dozen bags and boxes that fill the space. Because clothes come into the store from different personal collections, the inventory is constantly changing. It's a full-time job to keep up, Ray said.
"We just want everyone to find something that fits," they added.
"Secondhand clothes just have more character," Semeghini chimed in while lifting the couple's dog, a chihuahua mix named Chubbles, into her arms. In addition to Chubbles and Hazel, the two have spent time with their cats, Carol and Shea, in the space.
Semeghini and Ray. Lucy Gellman Photos.
For both owners, being size-inclusive and gender-affirming is also personal: they've had their share of traumatic dressing room experiences, and don't want to recreate them on Whitney Avenue. Both said they know what it feels like to walk into a thrift shop and go straight to the jewelry display, because it's clear that no clothing will fit.
Semeghini wasn't having any of that when she got Witch Bitch off the ground, she said. Inside the store, there are not separate sections for men and women: clothing is just clothing.
"I hate the idea that 'Oh, people just weren't fat back then,'" she said. "Yes, there were! It just erased the entire history of fat people."
Running the business has helped them build up their own self-confidence, both added. After signing a lease on the space, they've started dreaming of not just the pop-up, but the store that will eventually take form. Inside a front room, light seeps in even through brown butcher paper taped across the windows. The walls are orange and turquoise, making the room into a sort of portal. Eventually, she and Ray hope to tear up the carpet, which traps dust and darkens the whole space.
They also plan to hire staff to make the workload a little lighter. "We love this hustle but we know it's not sustainable for our bodies and our brains," Semeghini stressed.
"It really feels like we just had a baby," she added. "I think through the work here, I'm finding my own style. I had to unlock my brain. It came with the job, with having to explore things. It was very liberating."
Learn more about Witch Bitch Thrift at their website. Their Halloween pop-up runs Wednesdays through Sundays from 11 a.m. to 5 p.m. October 15 through 31 at 105 Whitney Ave.