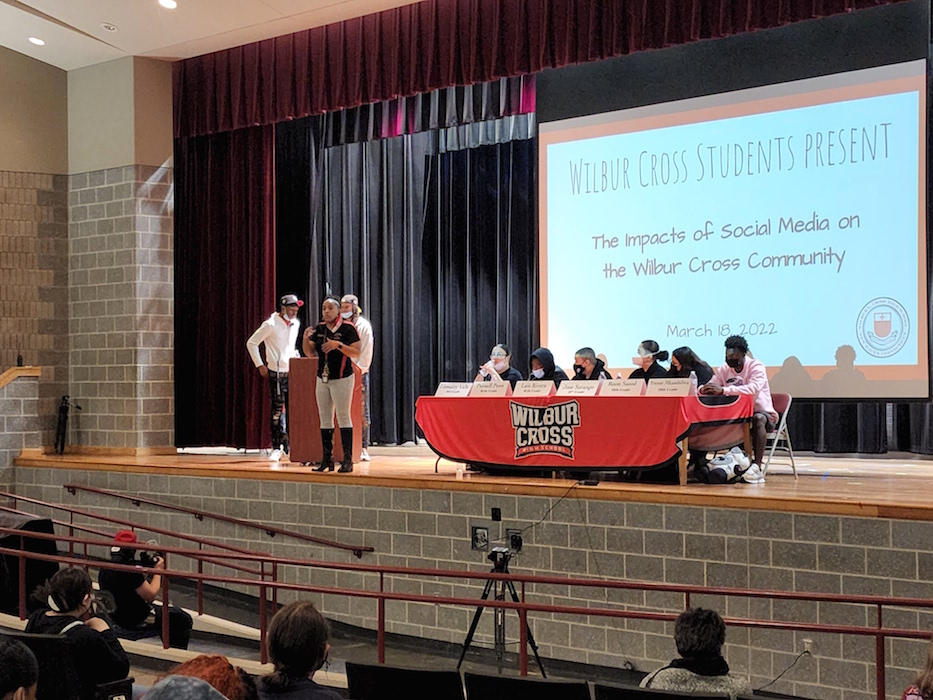 Education & Youth | Arts & Culture | New Haven Public Schools | Wilbur Cross High School | Education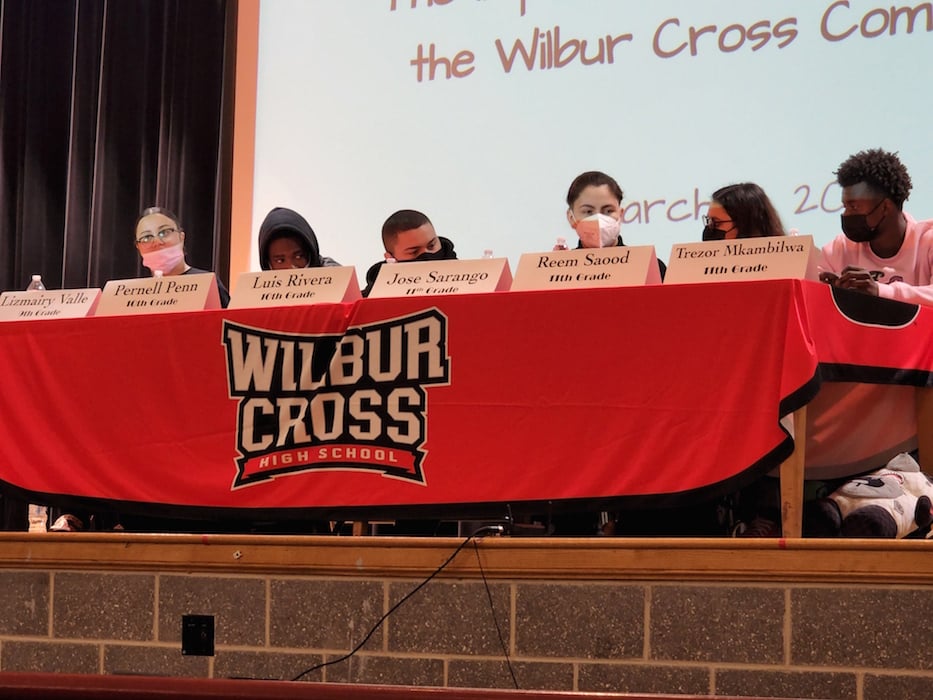 Panelists at Friday's town hall. Danielle Campbell Photos.
Fights in the hallways and the bathrooms. Sleeping during class time. Bullying in person and in the virtual realm. "Tea" and "Expose" pages on social media.
Last Friday morning, students at Wilbur Cross High School took on those subjects during a town hall on social media and online bullying, part of a district-wide "Day of Hope and Healing" held at schools across New Haven. Intended to foster social-emotional learning, the day came into existence last week as part of the Board of Education's response to the ongoing Covid-19 pandemic.
"We are listening to you. We are concerned about what is happening in our schools. [This is] to say to our students, 'We hear you,'" NHPS Superintendent Iline Tracey said of the day at a press conference last week.
This marks the third academic year that the pandemic has been a part of student life at all New Haven Public Schools, from remote learning to chronic absences, reported depression and anxiety, and increased fights among students.
Just after 10 a.m., Cross students, staff, and faculty filed into the school's auditorium for the discussion. As a dodgeball game, school-wide "postcard project" and clean-up of East Rock Park unfolded elsewhere in the school, student panelists Lizmairy Valle, Pernell Penn, Luis Rivera, Jose Sarango, Reem Saood, and Trezor Mkambilwa took the stage. All are students at Cross: Valle is a freshman; Penn and Rivera are sophomores; Sarango, Saood, and Mkambilwa are juniors.
Sophomores Quran Hannans and Kahsim Ryan moderated the discussion, during which students, staff and faculty had time to speak from a microphone set up at the back of the room. Side conversations, giggling, and even slight heckling subsided as students began to speak.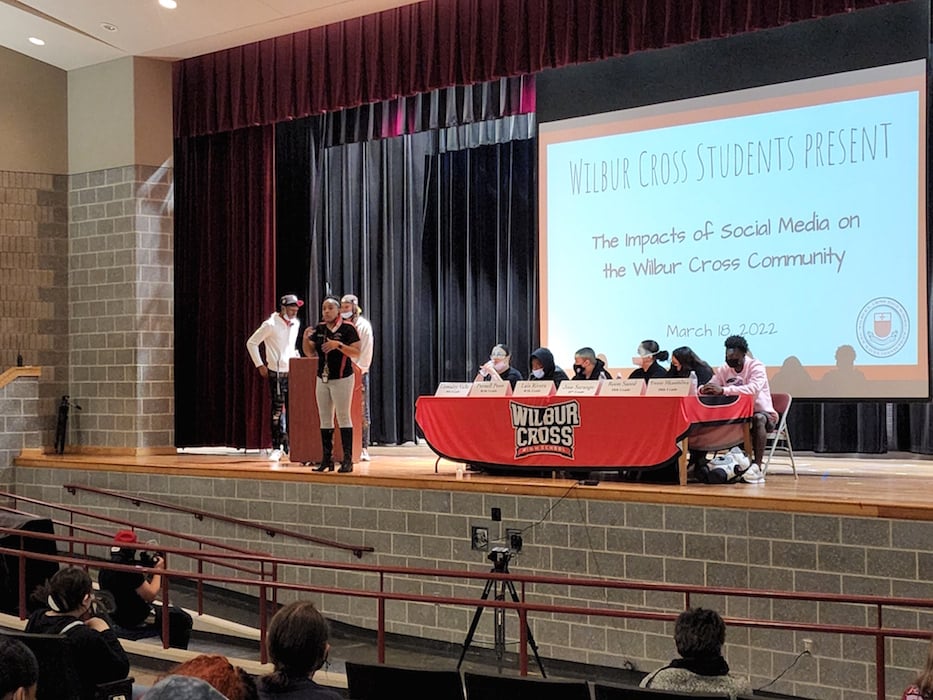 Quickly, the existence of "Tea Pages"—student-run gossip pages, many of which critique fellow students and share content including fights, negative memes and tweets, and screenshots of private conversations—became the discussion's focus. From the stage, Ryan reminded students that the pages create an inherent lack of respect among peers—and that "it's our responsibility to keep the peace."
Students don't have to be best friends with each other, panelists agreed—but they might try to extend a little more grace toward their peers, especially online. A series of questions popped up on a projection screen, prompting students to answer "Yes" or "No" on their phones.
Do you follow the tea/expose IG pages? read one. Have any of you guys posted or commented on any tea/expose pages? read another. Have you been a victim of negative IG pages? Have you ever been a victim of negative social media posts?
"There's definitely a reason as to why this happens," Sarango said. "And it comes down to how the social media companies operate with essentially the more outlandish or attention-grabbing a piece of content is, the more likely more people are to click on it."
Valle sees that too, even as a freshman. She pointed to how frequently fight videos gain popularity, while posts promoting people's young businesses, fundraising for those in need, and supporting positive causes struggle to gain traction. Penn agreed almost instantly.
"I see it all the time," Penn said. "If anyone was to post a rapper getting beat up or something it would get way more views than a rapper helping like a homeless person or something."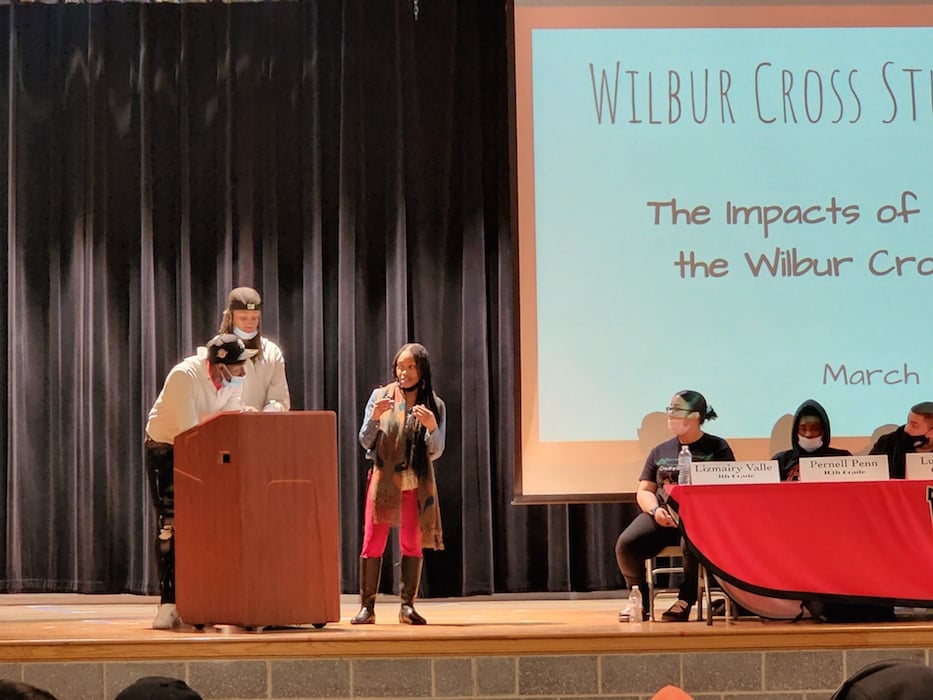 At the same time, panelists told their peers, bullying over social media has continued to rise. Moderators said that 23.7 percent of women, 21.9 percent of men, and over 35 percent of the LGBTQ+ community have experienced online harassment, including from "tea" or "expose" type pages. In the audience, representatives from ALIVE (Animated Learning by Integrating and Validating Experience) sat on hand, listening quietly.
In the auditorium, audible chatter rose among students as they reached for their phones to answer questions. When questions asking whether they had commented on a post came up unanswered, One of the moderators shook his head. "Y'all be lying," he said. Even as the answers rolled in, some attendees eyed the mic at the back of the auditorium, waiting for their turn to speak.
At one point, Principal Edith Johnson asked audience members how they handle comments that other students make about them online, especially those that may not be true. An audience member who did not identify herself came up to the mic, took a deep breath, and began to tell her own story.
Recently, the student posted photographs of herself to social media. A girl who did not attend Wilbur Cross commented on one of her pictures, saying she was "ugly," "fat," and "big," she said. The young woman replied that she knew she was big, but that she was not ugly. They weren't the same thing. She used the moment—in which cyberbullying had very much reared its head—to turn a painful event into ownership of her own power.
After the exchange, the young woman posted another picture of herself for her birthday, and the same girl commented that she was pretty. The student said that women with big bodies are beautiful because they are themselves. The audience broke into applause and uproarious cheers in return.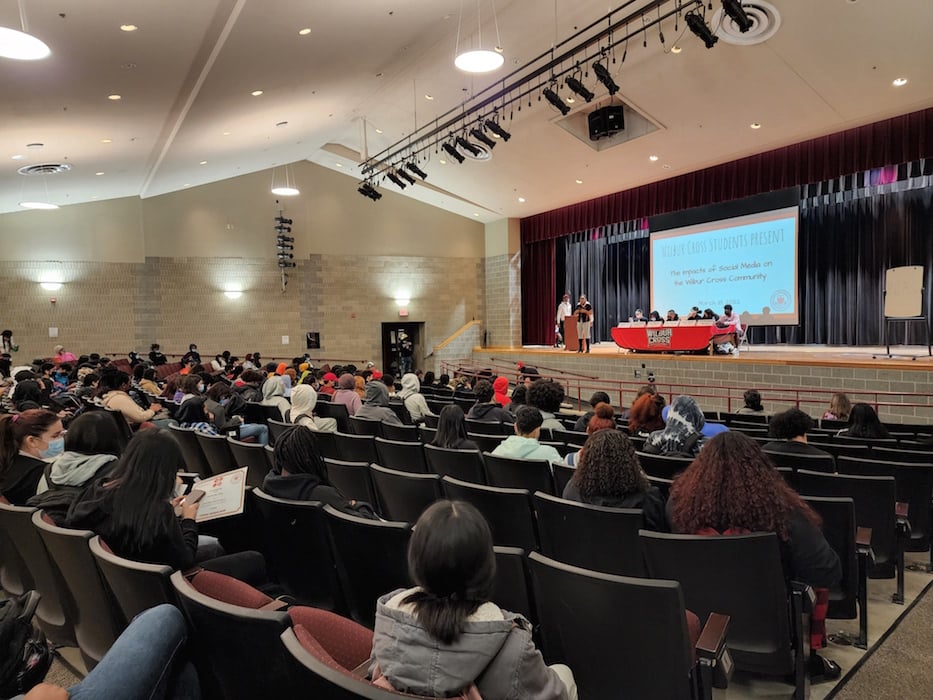 Johnson pushed again, asking what positive change might look like for Wilbur Cross students who are struggling 24 months into the pandemic. Valle suggested more opportunities for students to engage with each other and with their teachers in and outside of the classroom, with classes in financial literacy, job skills and career training, and more robust mental health resources.
"Everybody says 'Oh school is boring. There's nothing to do,'" Valle said. "It's because we're not engaged with the work you guys give us. We're not engaged with school because there's nothing to do."
One student said they weren't happy with the reporting teachers did on their home life. Johnson explained the concept of a "mandated reporter," an umbrella term from the state that asks professionals to report suspected or confirmed child abuse and neglect to the Connecticut Department of Children and Families. In a long list of professions that the state considers "mandated reporters," educators, counselors, and school staff are all included.
Representatives from ALIVE added that members of the organization are present in the school to discuss mental health with students. They are there, one counselor explained, to be a resource for those that need to speak or just scream.
By the end of the discussion, it seemed that peers wanted to know more than Instagram handles from one another. Teachers also expressed an interest in learning from their students, and helping them understand new concepts in return. Before students left the space, Johnson said she hopes to hold more in the coming months.
"This is the first year that they've [some students have] walked into the building," she said. "And so, we have a lot of work to do, but I'm confident."