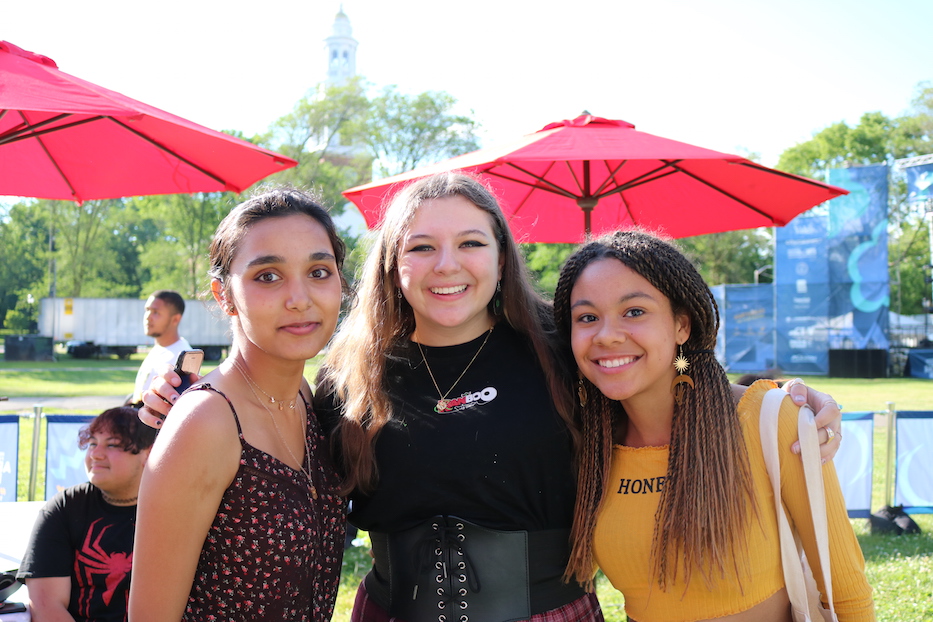 Education & Youth | International Festival of Arts & Ideas | Poetry & Spoken Word | Arts & Culture | Arts & Anti-racism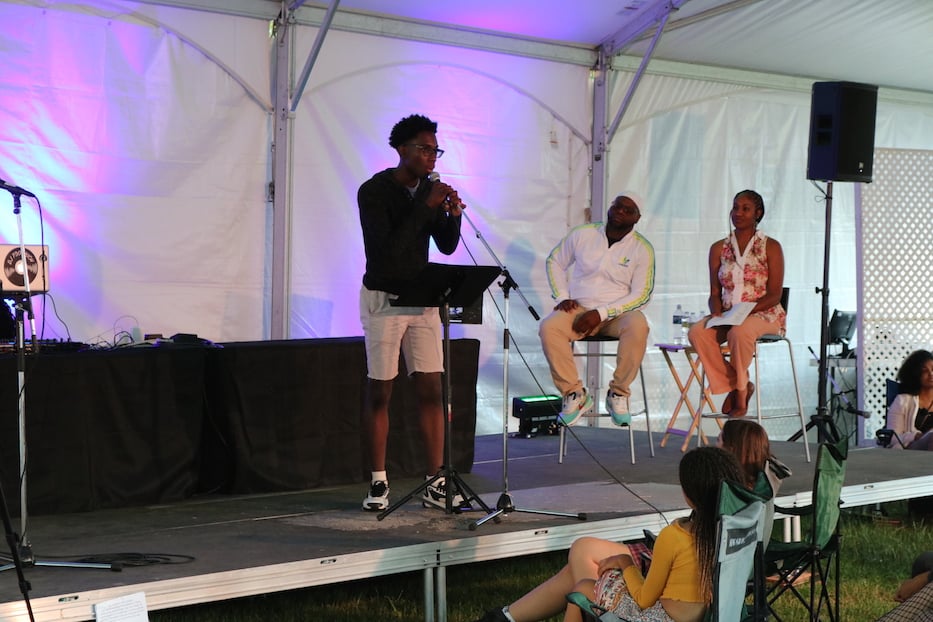 Roodley Merillo. Amelia Dilworth Photos.
"The world is on fire," Roodley Merillo began. "This isn't a metaphor, although it could be."
He described the summer of 2020: forest fires, the murder of George Floyd, his own extreme isolation.
"Dirty clothing landmines" covered the room he couldn't leave. When his mother told him his room was a mess, he responded with a deeper examination of himself, of mental health, of society as a whole.
"She doesn't seem to notice that I am a mess. My life is a mess. The whole world is a mess," he said, his voice slow and deliberate, swinging with the cadence of spoken word poetry. "So why do you draw the line at my room?"
Last Tuesday, Roodley was one of nine poets between the ages of 13 and 19 at the Wordfest Youth Poetry Slam Finals, a collaboration between The Word and the International Festival of Arts & Ideas. For two hours, poets held the attention of an audience on the New Haven Green, competing over three rounds.
Poets included Anna Capelle, Arushi Mallarapu, Bea Rollins, Jaida Taveras, Jayden Carty, Jonathan Lamboy, Roodley Merillo, Syra Barrett-Diaz, and Theo Constantinescu. In addition, "calibration poet" Isabel Carty opened the night, and DJ Too Much played tracks between performances.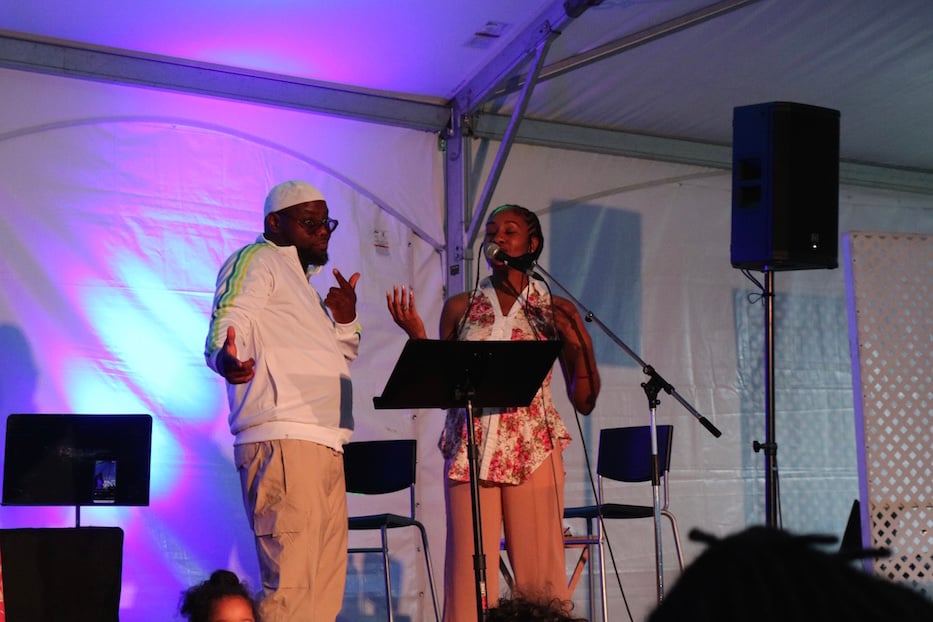 Fly Tye and Lady Obsidian Rain. The two, who co-emceed, are co-founders of the Poets of the Round Table.
"A lot of times, as adults, we snub their voices, right?" said Fly Tye, who emceed with Lady Obsidian Rain, both co-founders of the Poets of the Round Table. "But on this stage, this platform, downtown New Haven—you guys are actually gonna stand here and listen to some of the great minds of our—this—generation."
"There's no losers. They are all winners," he added. "Let it be known that these young poets have a voice, and it deserves to be heard."
A poetry slam is still a competition. Lady Obsidian Rain explained that the poets would perform a poem for each of three rounds: a three-minute round, a two-minute round, and a final one-minute round. Memorization was not required, but there was a penalty for exceeding the time limit. After each poem, five judges would score the poem on a scale of one to ten. They included Black Lives Matter New Haven Co-Founder Ala Ochumare, downtown Alder Alex Guzhnay, Shubert Theatre Director of Education and Outreach Kelly Wuzzardo, podcaster and arts program manager Rebekah Moore, and musician Sketch the Cataclysm
The highest and lowest scores were dropped for a total out of 30 for each round, and then combined for a score out of 90 for the overall competition.
"It ain't easy judging these poems, man," Lady Obsidian Rain said.
"I'd give everybody 10 out of 10," Fly Tye agreed.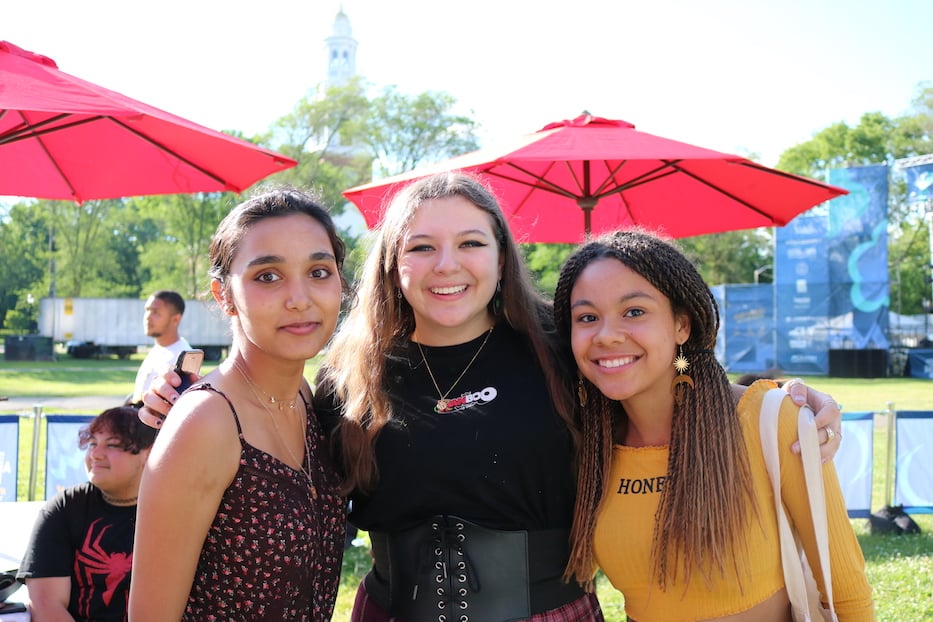 Arushi Mallarapu, Bea Rollins and Anna Capelle.
The poets all engaged with themes of race, sexuality, mental health, family, identity— topics that some adults struggle to discuss, let alone sing or rap or write about.
Anna Capelle described the challenges of thinking of oneself in halves—"half black, half white, half mom, half dad, half sane and half pure and utter madness," torn between identities. She described being indecisive to the point of becoming the "devil's advocate to the devil's advocate, the devil's advocate to the devil's advocate for the freaking devil's grandson."

"Some say it's a unique perspective," Capelle read, "What's unique about the voices screaming in my head, who are you?"
But her poetry revealed the process of realizing that her identity was more than two halves.
"Society is obsessed with things in boxes, but it fails to realize we're all in the same one," Capelle finished.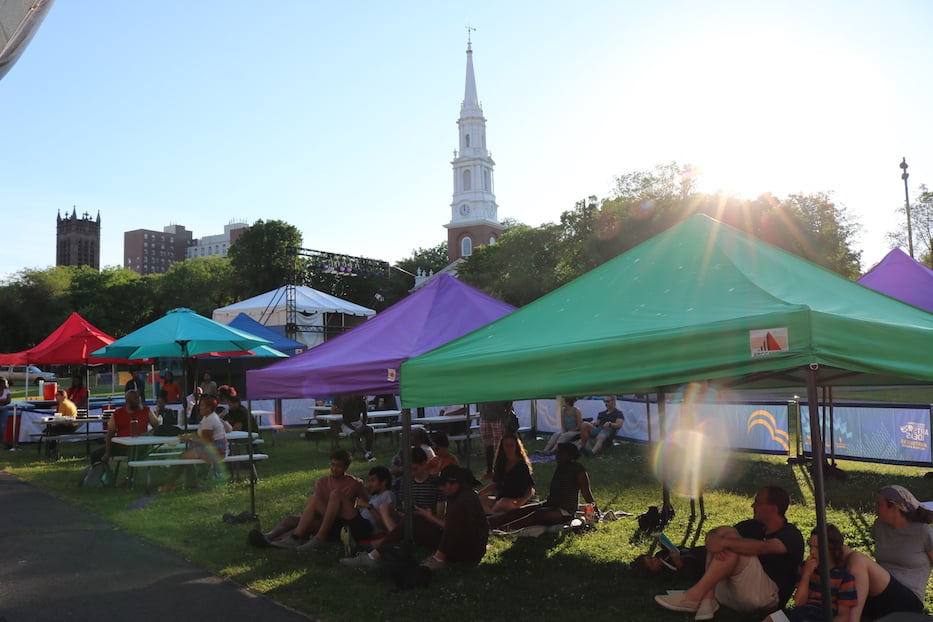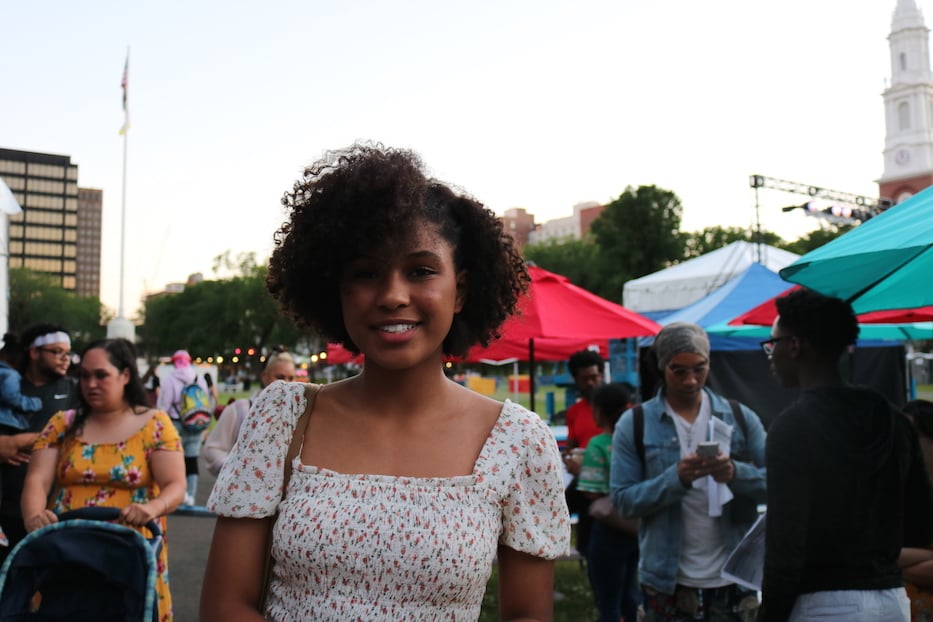 Top: Listeners hang on to every word. Bottom: Jaida Taveras, Connecticut's first youth poet laureate.
Other poems looked outwards, examining today's societal issues from a historical rather than personal perspective.
"August 21, 1791," Jaida Taveras, Connecticut's first youth poet laureate, announced. She began her first poem with a description of the Haitian revolution, her voice was strong and swift, unflinching, propelled by a rhythmic cadence as she told the story of what has been described as the most successful slave revolt in history.
"Now from this," Taveras said, "I need you to learn that hope is the most rebellious thing you can do in search of your own liberation. The marginalized are fed repression and told to say thank you since we are scared we cup our hands and make them spoons and consume such bigotry." Taveras offered a poetic manifesto about power and liberation, about history and about the future, her words powerful, beautiful— and radical.
At the end of the poem, even the hosts were speechless.
"He's gonna sit this one out," Lady Obsidian Rain said, as Fly Tye simply held up a hand, indicating that it was all too much for him.
"This is the reason why y'all are poets," she later observed. "You ask the hard questions and hold the mirror up to people."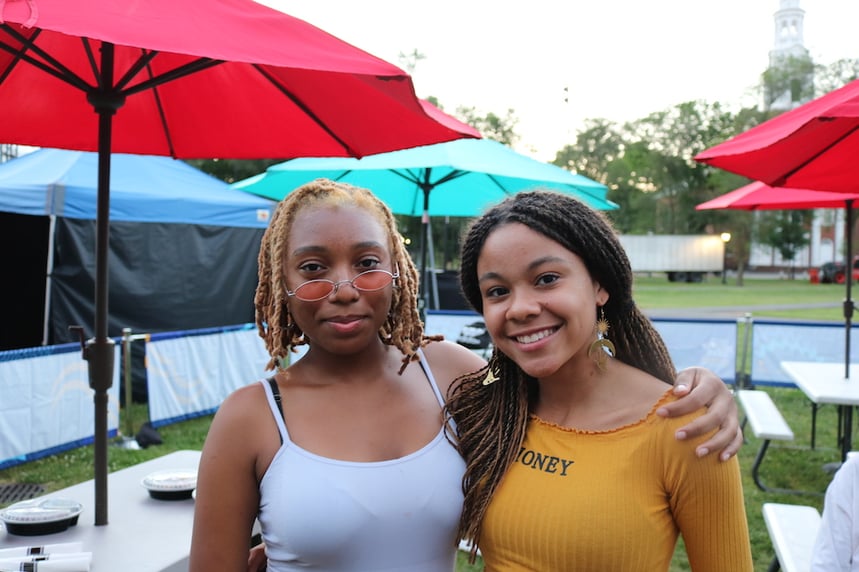 Syra Barrett-Diaz and Anna Capelle.
For many of the young poets, their work was informed by struggles that are both personal and universal, using the vulnerability and artistry of spoken word poetry to describe the experiences that echo across generations.
Syra Barrett-Diaz was one of those voices. She prefaced her first poem with a brief introduction. "I'm really nervous and just wanted to say hi," she said. "I'm having a very vulnerable moment when I am performing."
In her second poem, describing the struggle to be "from" somewhere, she addressed self-harm and personal growth, anxiety and resolution.
"I'm from self harm and attempt to leave, wanting to run away but having nowhere to go, nowhere I can call home, finding my identity all alone—but now I've grown. I came from chaos and havoc, but I moved out of that state. I now live in a place of peace."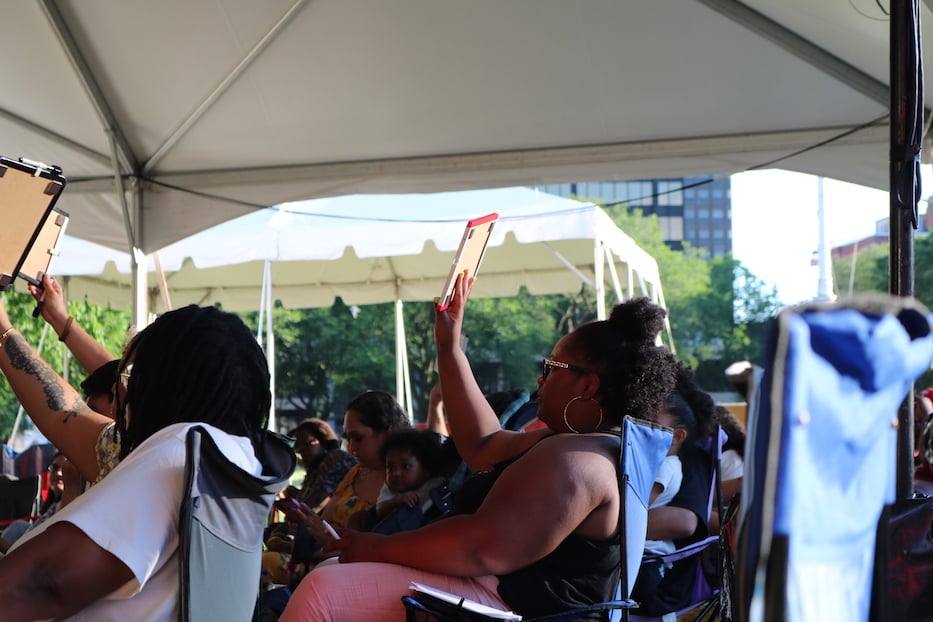 The judges holding up their scores.
In the final round, poets presented poems that were only a minute long– delivering some of the most intense performances of the evening.
"So you want, yet again, to be the size that you were," Theo Constantinescu said, reading from their poem, Relapse. "To hit the nail on the head of that arbitrary number. To be drained so entirely dead, to be bled, to only be happy when you're high," Constantinescu continued, using a single minute of poetry to communicate the brutal, hollowing reality of eating disorders and substance abuse.
"All this nation knows how to do is conquer," Taveras chanted, criticizing Justice Samuel Alito's stance on Roe v. Wade. "So I shouldn't have been surprised when they made my womb a courtroom, saw my cervix as seats, used my fallopian tubes as a gavel to demand silence in my uterus as an incubator for their close minded opinions."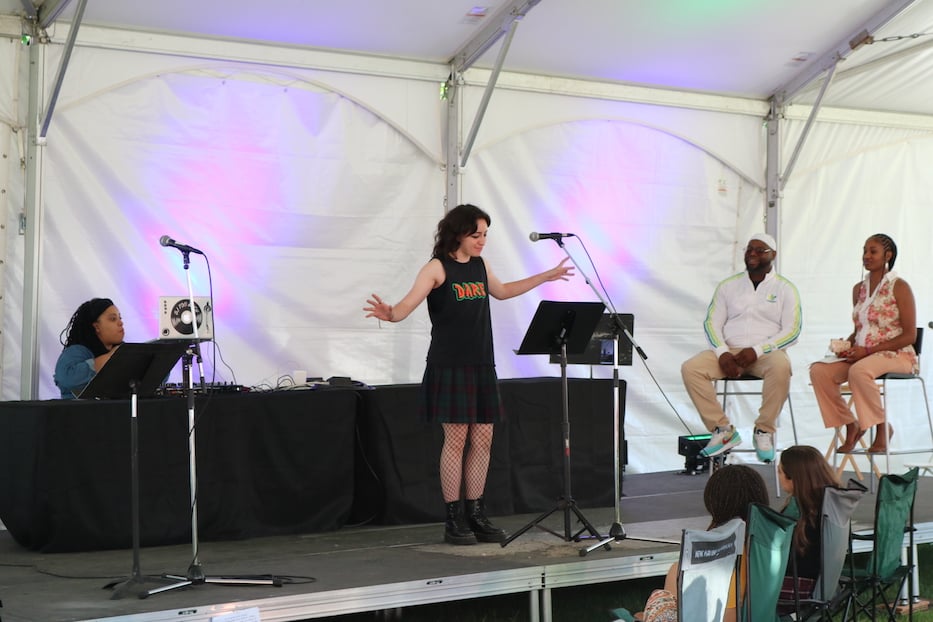 Theo Constantinescu performing.
After the final round, all nine contestants were called back on stage. With a score of 86.3, Syra Barrett-Diaz and Anna Capelle tied for third place. At 86.9 points, Jaida Taveras won second place, and Roodley Merillo, scoring 88.1 points, took first. The four winners received monetary prizes, and all nine participants received tickets to Hairspray at the Shubert Theatre.
Aaron Jafferis, artistic director of The Word, said that participants found out about the event through The Word's workshops and through other slam poetry networks that bring poets from New Haven and from other areas in Connecticut.

"Part of why we're excited is we know that young people are doing amazing things on their own," he said. "But we can connect them to other poets, and they can energize, challenge, and inspire each other."
Learn more about The Word here.