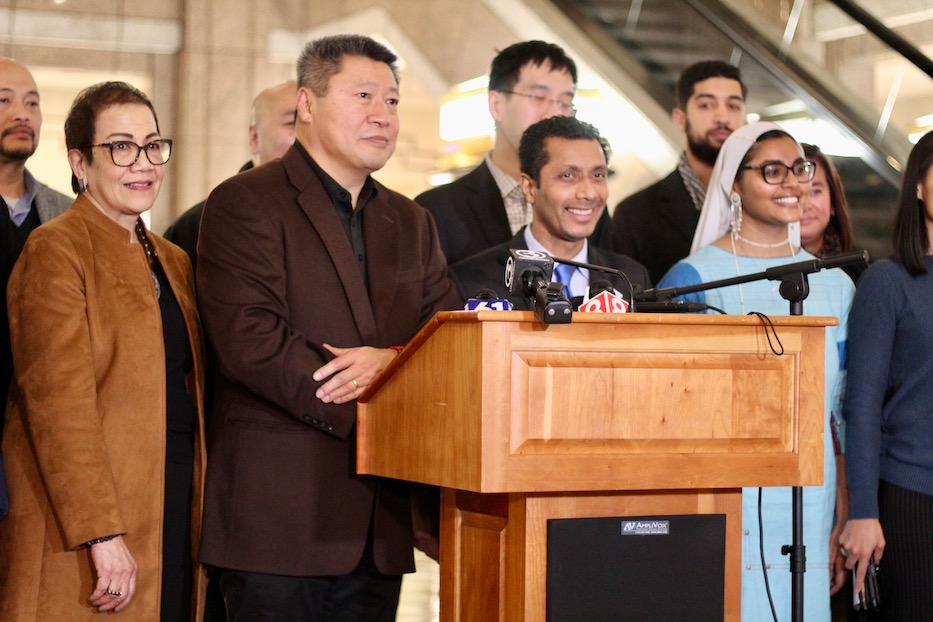 Hartford | Lunar New Year | AAPI | Gun Violence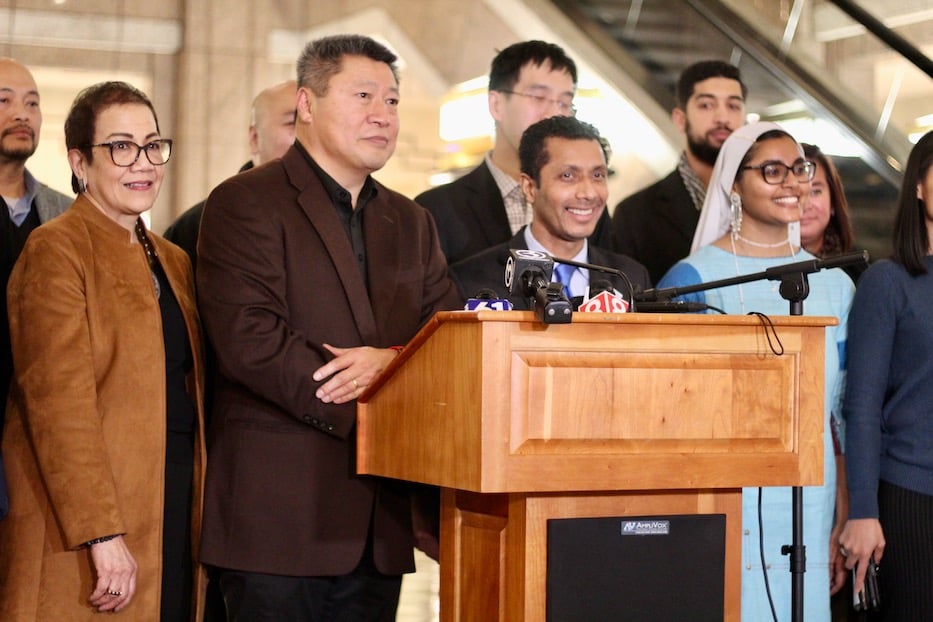 From left to right: Vannak Seng, of the Cambodian Buddhist Society of Connecticut; Angela Rola, founding director of the University of Connecticut's Asian American Cultural Center; State Sen. Tony Hwang; State Sen. MD Rahman; and Khadija Shaikh. Lucy Gellman Photos.
Lauren Chin didn't understand the text message when it first came to her phone Sunday morning. Her friend wanted to know if her family was okay. If she was okay. Then she started reading the news—that her childhood hometown of Monterey Park, still home to her parents, grandparents, and relatives, had become the site of the country's latest mass shooting.
That 11 people, all over the age of 50, had been out celebrating Lunar New Year with their friends when they were shot and killed in a dance hall.
Tuesday night, Chin was one of dozens who gathered at the Legislative Office Building in Hartford to mourn 11 lives lost to gun violence in Monterey Park, California on Saturday night and seven lost in Half Moon Bay, California, Monday afternoon. For over an hour, speakers who ranged from state legislators to college students to community organizers grieved the toll of another mass shooting in the U.S., their voices cracked and raw with grief.
Together, they represented the breadth of a diaspora, with speakers from the Hmong, Chinese, Korean, Vietnamese, Cambodian, Laotian, Taiwanese, and Indian American communities.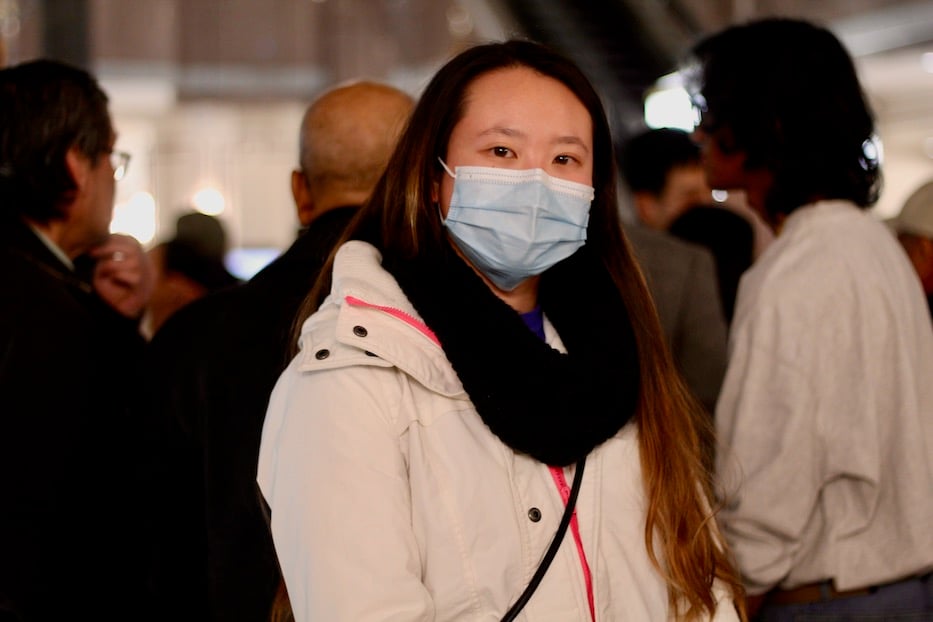 Lauren Chin: A shock.
"I think it's just a shock," said Chin, a second-year graduate student at the Yale School of Public Health. "It's very very unexpected. This is really the first time in my life that I'm not there [in Monterey Park]," and she was suddenly aware of how far away home was.
"We are rising up," said Miriam Yeung, the Fairfield County Chapter President of the Organization of Chinese Americans. "We are rising up to show the community, the public, and the nation that we care. We need to advocate. We need to communicate our needs, our hopes, and our desires."
It brings the number of mass shootings in the U.S. to 39 in the first three weeks of January alone. The timing is particularly devastating: last weekend marked the beginning of the Lunar New Year, a time when over a billion people worldwide travel to gather with family members, particularly children and elders. Globally, the festival marks the single largest migration of humans at one time.
Some of the night's most moving speakers reflected on how personal and immediate the shootings had felt to them, noting how the victims could have been their grandparents, parents, fun and doting aunties and uncles who just wanted to go dancing with their friends. In Monterey Park, several bereaved families have stepped forward to tell the story of the vibrant relatives they suddenly, senselessly lost.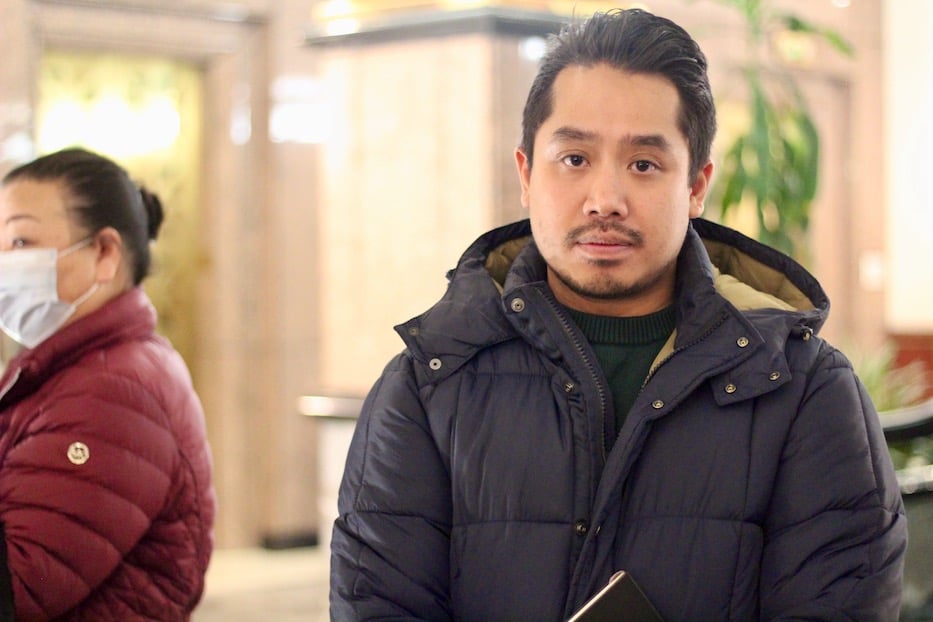 Mike Keo: "I want to see Asian grandparents dancing the tango."
Educator, storyteller, and activist Mike Keo, co-founder of the #IAMNOTAVIRUS campaign and founder of Make Us Visible, recalled seeing the news Sunday morning in West Hartford, and feeling suddenly afraid to leave his home. He had planned to celebrate Tết, or the Vietnamese celebration of spring, with a friend at her temple. A father himself, and the proud son and grandson of Khmer refugees, "I was afraid that we could walk into one door, and leave with less of ourselves."
"I can see my own parents in that dance hall," he continued. Keo was raised by parents who survived the killing fields of Cambodia, where over two million people were murdered by the Khmer Rouge in the mid to late 1970s. In West Hartford, where he grew up and later returned to raise his own sons, his maternal grandmother took care of him as his parents pulled multiple shifts to support their four children. He described an "abundance of love" that personified every part of her being.
"She was always there," he said of his grandmother, after whom his eldest son is named, in an interview Tuesday night. "When I see these attacks, this gun violence, I can't help but think of my grandmother. At this age, when they're older, they should be finding hobbies. They should be finding joy."
"I want to see Asian grandparents dancing the tango," he had said minutes before, fighting back tears at the podium. "I want to see them in art class, painting clementines on banners. I want to see them practicing tai chi and learning the ukelele … I want them to learn a new language if only to gossip about the weather."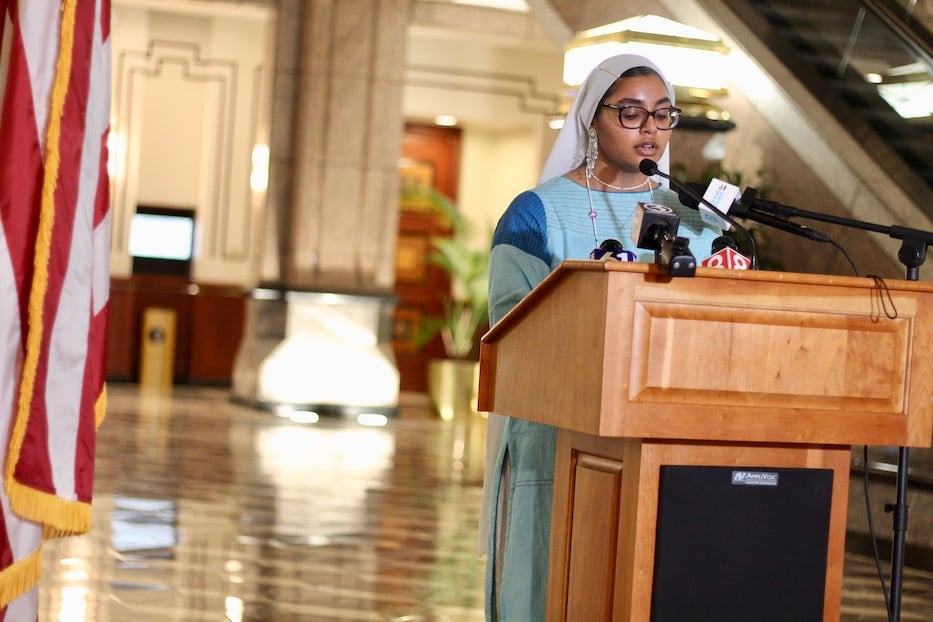 Khadija Shaikh, who runs the student organization Salaam out of the University of Connecticut.
Khadija Shaikh, who runs the student organization Salaam out of the University of Connecticut, knitted her own experience as a young person to her understanding that Islamophobia and anti-Asian hate are very much connected. Returning to the same refrain—Inna lillahi wa inna ilayhi raji'un—she spoke about growing up Muslim, and experiencing Xenophobia and Islamophobia outside of her mosque as a child.
The phrase, she explained, is a "small prayer of peace for those who have lost their lives." She has been able to say it since the time that she could speak.
She recalled praying Jummah, or the Friday prayer, as a young girl in her childhood masjid. All around her, members of her religious community prayed, united in an act of faith. And then Shaikh heard a flurry of angry words coming from outside. The voices were sharp, agitated.
"You don't belong here," she remembered hearing. "Go back to where you came from, terrorists. We're going to kill you."
Shaikh was only seven when it happened. But the pain of that day—and others that followed—has informed the work she continues to do at UConn. She urged attendees to support each other, including building intentional and supportive communities that advocate care work and push back against violence.
"In the midst of rejoicing in our community, like those who left their house in their best clothes on Saturday evening, headed to ballroom dance," she said. "They didn't plan to be fighting for their lives. They didn't know they weren't returning home. Or those that were just going to work at the farm. They were working to provide. They were working to survive."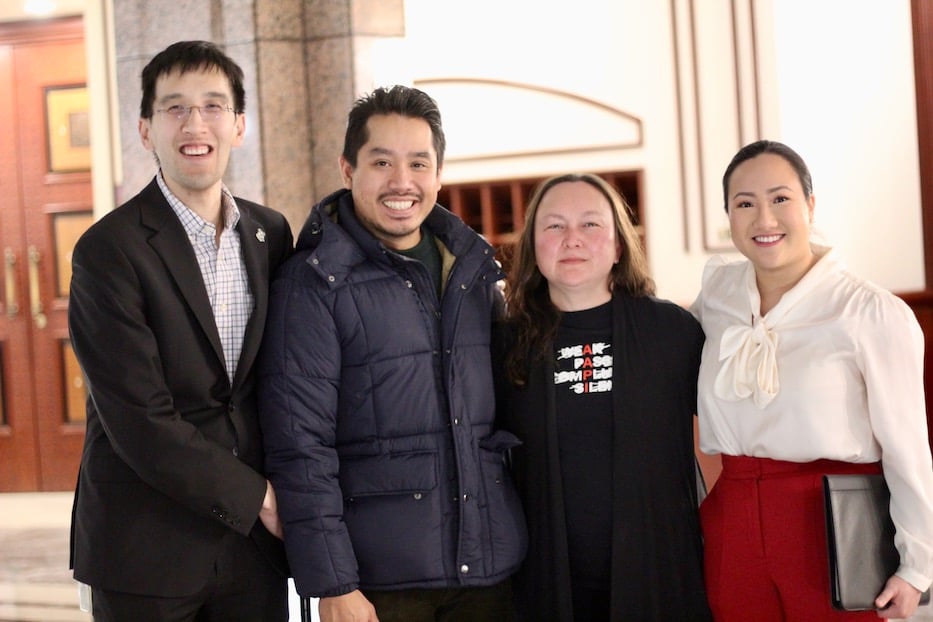 From left to right: Alan Tan, Chairman of the Connecticut Commission on Equity and Opportunity, Mike Keo, Jenny Heikkila Diaz, and Grace Brangwynne. In an interview after speakers left the podium, Brangwynne spoke about growing up as the only Asian American person in her grade in Seymour. It was in college that she was able to "get in touch with my Asian American roots," thanks in part to her roommate. She said that Saturday's violence had left her thinking about the conversations around violence and mental health that she wants to see going forward.
Representing AAPI New Haven, the Asian Pacific American Coalition of Connecticut (APAC), and Make Us Visible CT, educators Jenny Heikkila Diaz and Quan Tran stressed how devastating and difficult the timing is for Asians across the diaspora. Following Saturday's shooting, the City of Monterey Park canceled its second day of events for Lunar New Year.
Diaz said that Lunar New Year may range from one day of three weeks of celebrations, depending on the culture one is coming from. As an educator, she is currently working to teach people about the rich depth and breadth of Lunar New Year celebrations across multiple cultures.
"To have to cancel a Lunar New Year event in your community due to gun violence is a decision that no one should ever have to make," she said. "And to sit at a Lunar New Year table without a beloved grandparent, parent, an auntie, an uncle, a child, a cousin or a friend because they were taken away by senseless violence is something that no one should ever have to face or endure."
"We want you to know that you are not alone in your grief, your anger, and your healing journey," added Tran, who was also representing the Vietnamese Buddhist Association of Connecticut. "We are there alongside you, in our hearts and our minds."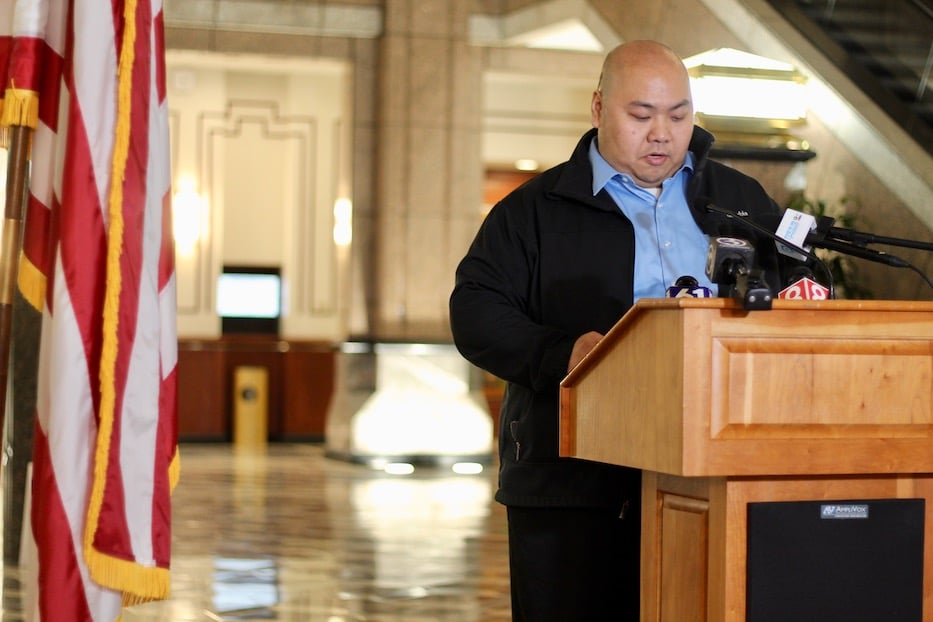 Pheng Yang: "Go well into heaven. And we shall be brothers and sisters again in another life."
His voice breaking, Hmong Foundation of Connecticut Vice President Pheng Yang reflected on the flight of Hmong people from Laos in the 1970s, as they sought asylum in the United States. In the U.S., that displacement and forced migration became the start of vibrant and rooted Hmong communities in California, Wisconsin, Minnesota—and on a smaller scale, Connecticut too.
He thought back to what his elders had taught him—that they must stand in the face of violence, whether it is a war abroad or gun violence at home.
"Go well into heaven. And we shall be brothers and sisters again in another life," he said, first in Hmong and then in English. He struggled to get through the sentence, starting to weep in both languages.
"When Is It Enough?"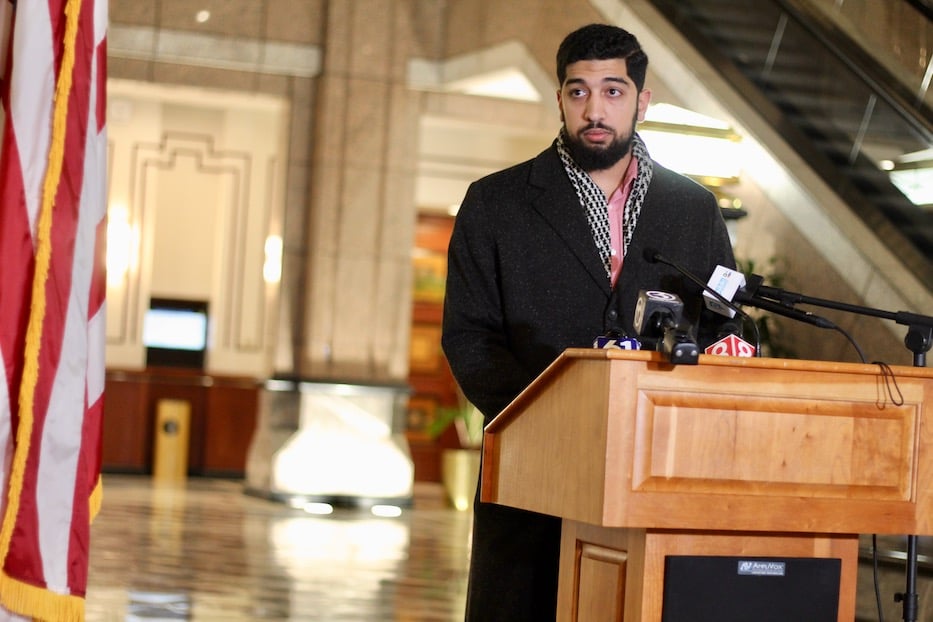 Muhammad Elsabbal, head of UConn's Muslim Student Association.
Others noted the pain and grief of knowing that such loss, the direct result of access to a semiautomatic weapon, was and is preventable.
The child of Vietnamese refugees, Kelly Ha said her mind went first to her parents, who came to the U.S. for the promise of a safer life. Sometimes, she said, it feels like they are still fighting for their basic rights and safety in a country that should protect them. She advocated for stronger gun reform, tying Saturday's mass shooting in Monterey Park to violence that disproportionately falls on multiple communities of color.
"The war is not over when bullets and bombs are still being felt in our communities, in our own backyards," she said. "When is it enough?"
Muhammad Elsabbal, head of UConn's Muslim Student Association, begged attendees not to numb themselves to the daily occurrence of gun violence in America, which he called neither normal nor inevitable. He looked to data that showed that 24 days into January, the U.S. had already seen 39 mass shootings, almost 70 casualties and dozens of life-threatening injuries. That is a little over one and a half mass shootings a day, he said.
"We talk about it over and over and over and over again, on how to stop these senseless tragedies and these senseless hate crimes," he said. "We must learn from the past, and especially the very recent past, and we mourn with our Asian American community members."
"We cannot normalize gun violence," Tran added later in the evening. "I think we should resist our numbness to that. It is not normal. None of us should have to worry about our lives when we go outside, doing our daily things. Going to school. Going to do our shopping. Going to our worship places. Going to work. We have to reclaim these spaces as safe spaces."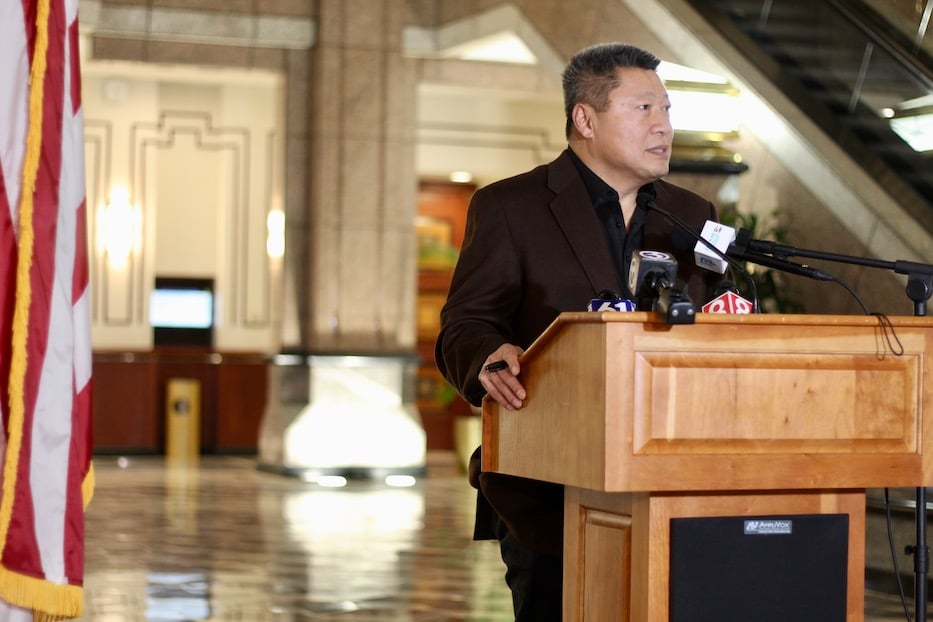 Speaking earlier in the evening, State Sen. Tony Hwang pointed to the need for more comprehensive access to mental healthcare, including in communities where it has historically been stigmatized. While he has voted in favor of gun reform in the state legislature, he would not directly name access to guns as the cause of the violence.
"We are here to honor those that were lost in that tragedy, the two tragedies, but also to honor all that have suffered loss from preventable tragedies," said Hwang, a Republican who represents Bethel, Easton, Fairfield, and Newtown. "I think it's important for us to take a moment to unite, to grieve, to comfort each other, and ultimately, to heal."
He added that the shootings both feel intimately, horribly personal. Hwang is Taiwanese American, raised by parents who escaped Communist China. He loves Lunar New Year, he said Tuesday—so much so that he thinks of it as a combination of Christmas, Easter, Rosh Hashanah, New Year's Eve, and "any bit of holidays" rolled into one.
"To have this kind of violence and tragedy occur at that special holiday compounds the emotion that we feel," he said. He urged attendees to get any help that they may need.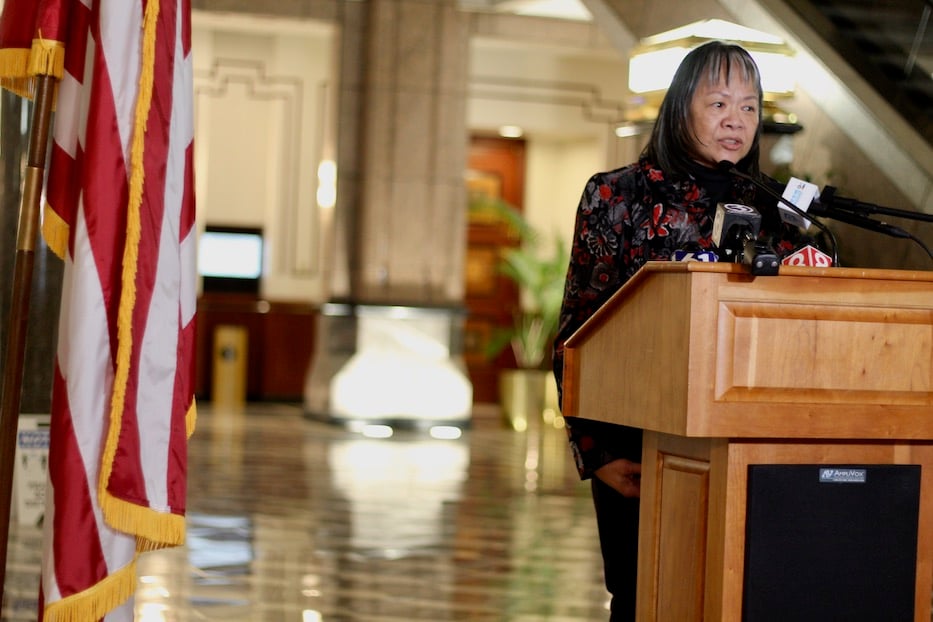 "We are rising up," said Miriam Yeung.
Attorney General William Tong, who has been a strong voice against gun violence, said that he sees the moment as one of anger and profound grief, as well as defiance. Saturday, he celebrated surrounded by his four sisters, nieces and nephews, wife and kids, and 98-year-old grandmother. Smiling, he said that his son is now 12—that he was born in the year of the rabbit.
"This is his year," he said. "And he deserves to begin this year with hope and confidence and strength and pride in being an Asian American and Pacific Islander. And so, I'm gonna let that beauty reign. I'm gonna embrace what has been a wonderful time of love and togetherness … we're not gonna let the hateful and the violence take that away from us."
As he spoke, he pledged to amplify and support Asian American and Pacific Islander (AAPI) communities in the weeks, months, and years to come. He closed with the words gōng xǐ fā cái, wishing attendees an abundant Lunar New Year.
"Let us go forward into the Year of the Rabbit with strength and confidence and with each other," he said.
Watch Tuesday's remarks here.