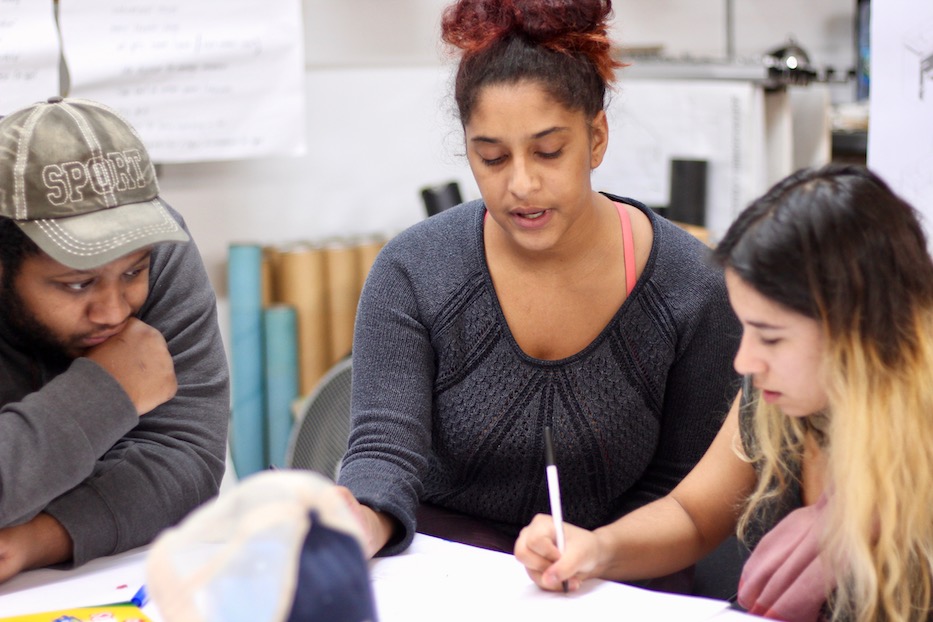 Design | Education & Youth | Fair Haven | Architecture | Arts & Culture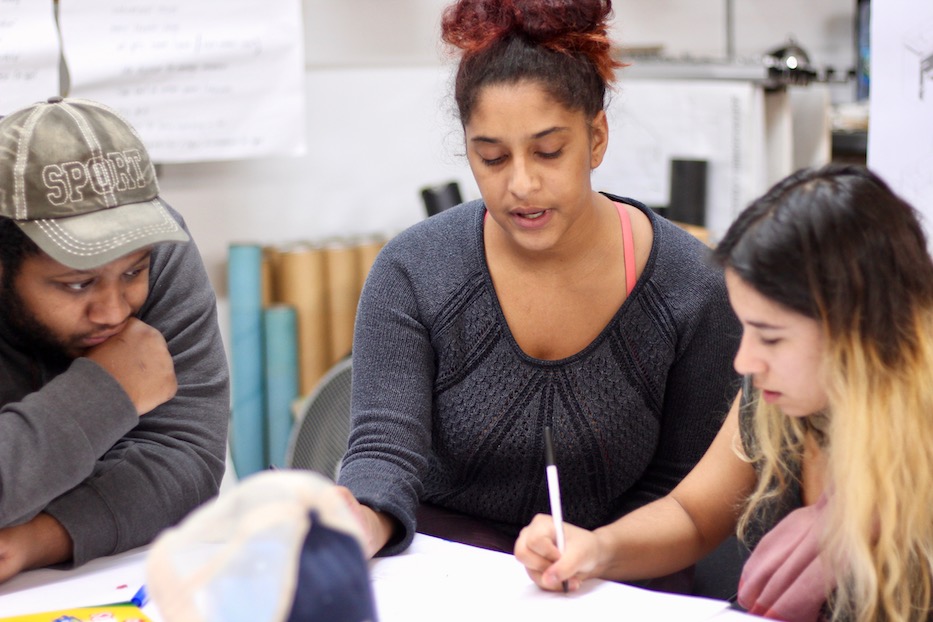 Rasid Whitley, Cassey Ferriouolo, and Michaelle Gonzalez. Lucy Gellman Photos.
During one of her stays in a homeless shelter, 20-year-old Michaelle Gonzalez had her personal items stolen because there was nowhere to keep them safe. Now, she's advocating for lockboxes at New Haven's first overnight program for homeless youth, so that the same experience never happens to one of her peers.
Thursday, Gonzalez told that story at a brainstorming and design session for Y2Y, the peer-led youth homeless shelter planned for 924 Grand Ave. Held at architect Turner Brooks' Erector Square studio, the session invited youth, many of whom are or have been housing insecure, to look at blueprints and 3D models of the space, and give input based on their own lived experience.
With Gonzalez, who has been a vocal and steadfast advocate of the project, 10 other youth participants attended the session. They were compensated for their time through Youth Continuum, of which Y2Y is a project.
"We feel like lived experience is some of the most valuable expertise to inform this project, and will fundamentally make Y2Y a better program," said Y2Y Co-Founder Sam Greenberg in a follow-up conversation. "In many ways, this is a standard practice. You can't imagine a shoe company making a shoe without market research. We see this as standard, fundamental practice."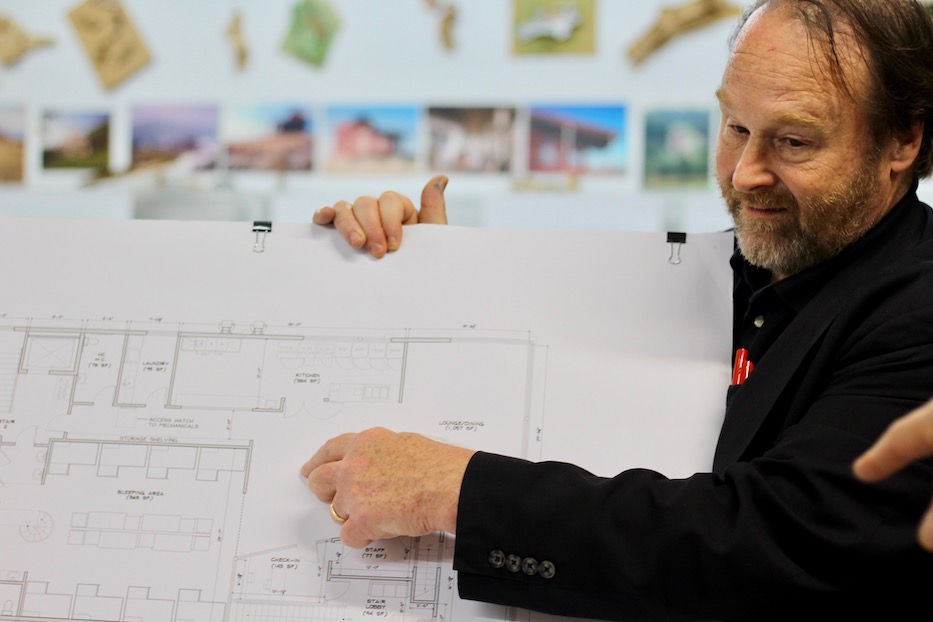 Dickinson: "There's a million things that aren't there, and we need to keep going."
Y2Y New Haven, which is based on Y2Y Harvard Square, is a peer-led model for youth experiencing homelessness. In the current plan, it will operate on the second floor and basement of the building that currently houses Youth Continuum, a service agency dedicated to addressing, responding to, and ultimately preventing youth homelessness in New Haven and Connecticut. The space is currently poised to house 20 residents at any given time.
As of this month, Brooks and fellow architect Duo Dickinson have finished preliminary designs for the 12,000 square foot space, which won approval from New Haven's City Plan Commission in July of this year. While supporters of Y2Y are still working towards a $3.5 to $4 million funding goal, they have secured a $700,000 grant through the State of Connecticut Department of Mental Health and Addiction Services (DMHAS) and mix of state and private funding that Greenberg called "steady progress" in a phone call Monday night.
He added that project partners and supporters hope construction can begin in spring 2020.
In the current design, an enclosed sleeping area sits to one side of the second floor, surrounded by four half bathrooms and an equal number of showers. On the other side, a 1,057 square foot lounging and dining area remains open, hedged in by a corner quiet room, desk areas for staff and check in, and a 384 square foot kitchen. A small laundry room sits next to the kitchen.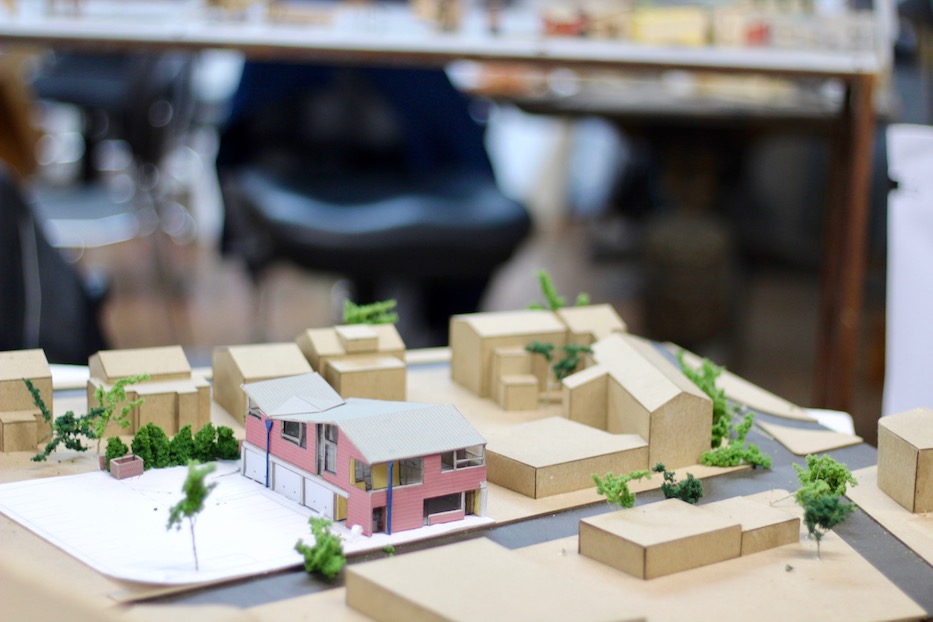 As attendees looked on Thursday, Brooks pointed out details on a doll-sized model of the second story, including a spiral staircase leading up to a second floor, open room for lounging and dining activity, balcony, and tidy, pod-like bunk beds, set up with boxy dividers to provide a basic level of privacy.
"The bed is your own private zone," he said, leaning over the model. "It's like your own little house that you occupy."
Around the studio—which itself is a kind of wonderland, with miniature models in cases and winged installations based on Brooks' Il Risiorgimento—youth-turned-planners spread out, craning over the most recent blueprints. The sound of paper crinkled. Conversation rose. Pens and markers came out to mark up renderings that had been passed out.
Facilitator Elizabeth Nearing and the two architects drifted around the room, answering questions or explaining the details of the rendering. Dickinson and Brooks said they saw the exercise as a chance to imagine a Y2Y where anything is possible, despite the fact that they know they'll likely have to scale back.
"Is there a kind of budget that we get to think about?" asked Gonzalez.
"At this stage, I think it's good to fantasize," Brooks responded.
At a drafting table commandeered by "Team Nightshift"—Chelsi Torres, Victor Noriega, and Youth Continuum Community Outreach Specialist Elizabeth Larkin—those fantasies were well underway. As Larkin listened, both Torres and Noriega talked through how they currently cope with stress and trauma when living with housing insecurity.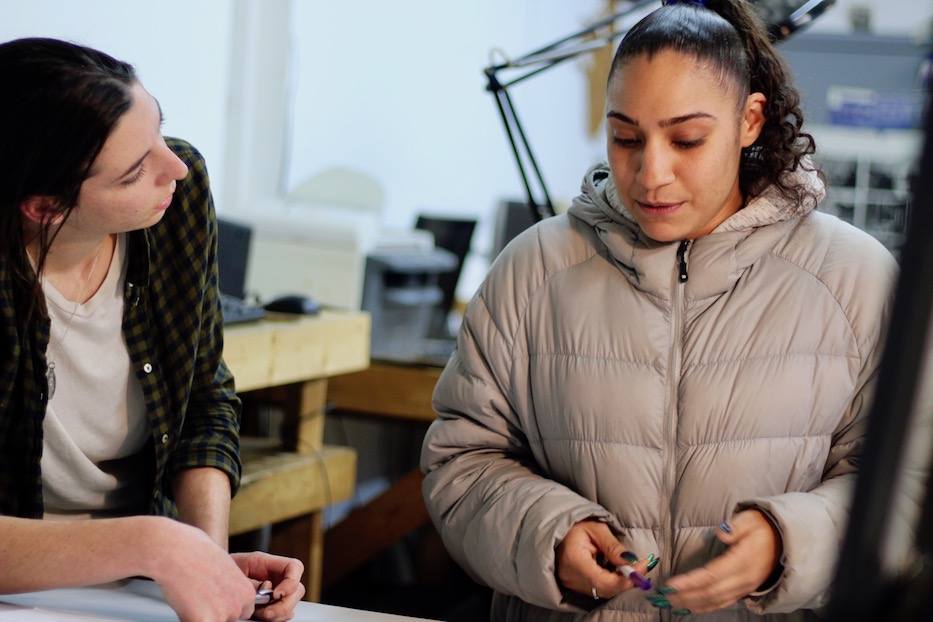 Elizabeth Larkin and Chelsi Torres.
"Laundry and food [are triggering]," Torres said, recalling a night when a fellow resident at a shelter, a truck driver, had snapped at her. "And like, when they come into their sleeping area and the other person's being loud and mouthy."
"I've just gotta like, take that chance and go through it," Noriega said.
Larkin scrunched their eyebrows. "I don't want them [residents of Y2Y] to have to white knuckle it like you guys are doing," they said. "What else could we build in this shelter to make sure people won't go through that?"
Torres suggested a literacy room with computers, where residents would be able to work on resumes, job applications and potential school or work assignments. She recalled Umoja House, a residence for homeless teens that Youth Continuum used to run on Dewitt Street in the city's Hill neighborhood.
"I feel that there should be a separate room for people struggling with mental health," she added, "Like a soft room, right? That's what you call them?"
Noriega inspected the plan for the balcony, leaning in to the blueprint and tracing part of it with a finger. "They should have freedom to go out back," he said.
Across the room, "Team Indecisive" was also elbow-deep in ideas. Rasid Whitley, who is 24, suggested an array of pillows and yoga mats in the quiet room. He and Cassey Ferriouolo discussed a suite of lockers in or close to the sleeping area, so residents wouldn't have to worry about their belongings as they slept.
In the common lounging area, added Gonzalez, there could be recreational activities for residents: board games, balls of yarn and crocheting needles.
"There's A Million Things That Aren't There"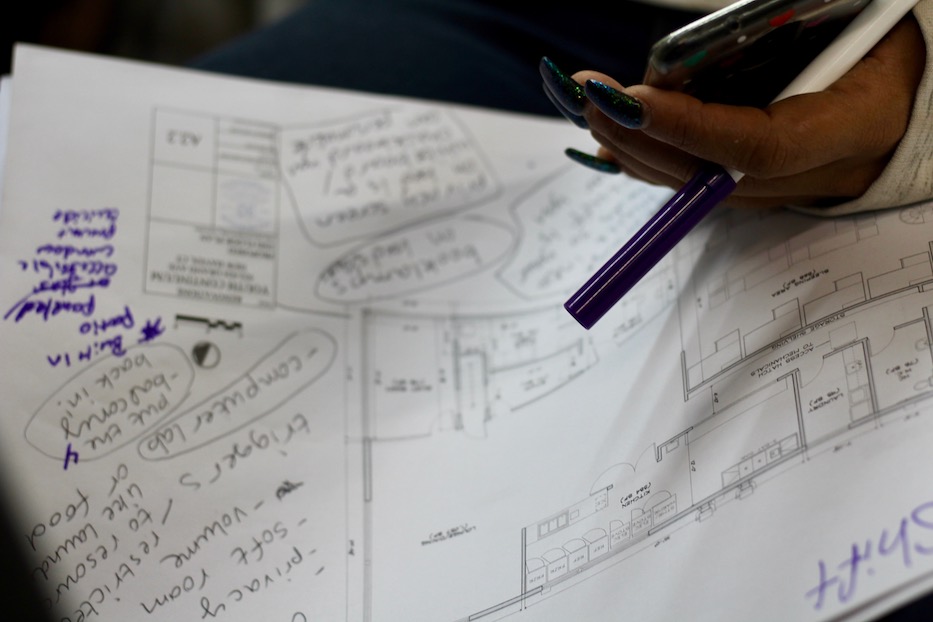 As a 9 p.m. deadline approached, attendees gathered around a large table that had started the evening covered in plates of pizza and chicken wings, and was now spread end-to-end with annotated blueprints. On some, neat suggestions surrounded planned rooms in black and blue pen. On others, bright marker bloomed across the pages and bled through to old renderings.
Team Nightshift took the floor. Torres talked the group through suggestions that included privacy screens on beds to the literacy lab she had dreamed up just minutes earlier. She spoke through a plan for a shelter that was free of harsh fluorescent lighting and offered dimming switches in the bedroom areas, for residents to suggest as they spent time in their bunks and drifted off to sleep. She suggested a "calming fixture" for the lounging area.
"It feels good to know I'm going to be helpful," she said a little later in the evening.
The ideas poured in, recorded on big sheets of paper that hung on one end of the room. Cameras for security ("but not in certain places, cause you don't want no one creeping on you," quipped one attendee). Additional, gender-separated showers, with ventilation that would prevent mold and mildew and a cleaning schedule to keep them tidy.
Extra large twin mattresses in the beds. And lots of washing machines. Currently, several attendees said, they struggle to reliably do their laundry because of scarcity of machines.
"Like, 24," said one participant who asked not to be named or photographed. "Or way more than four."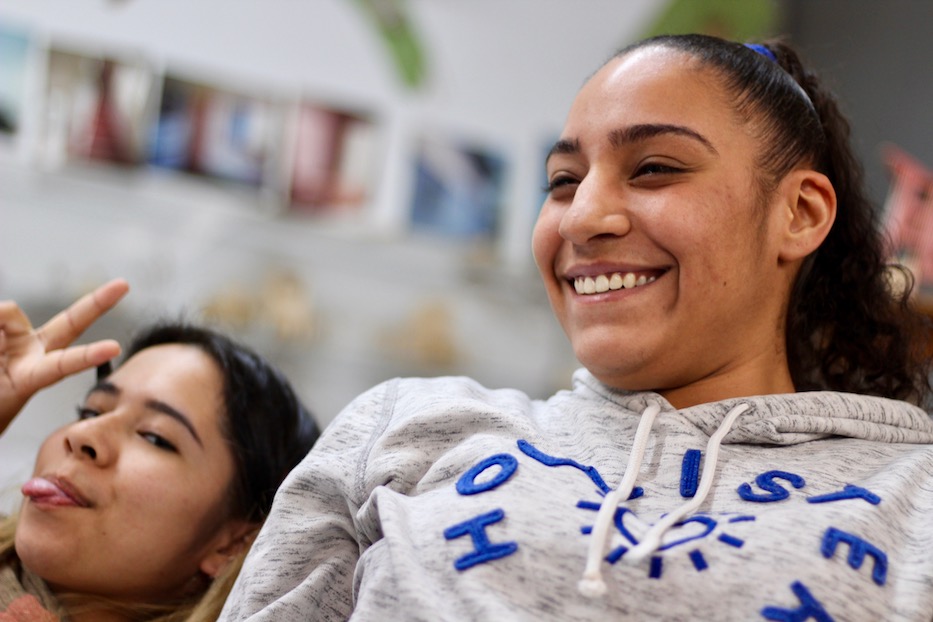 The bedrooms were another topic youth were eager to dig into. Privacy screens on each bed drew snapping fingers. One suggestion to add bookshelves, light fixtures and individual outlets to each bed got nods of approval; another that bunk beds might not be accessible got mmmms of assent. Brooks listened intently, nodding as students spoke.
The installation of a rotating poetry wall upstairs, on which residents could post their own poetry, proved particularly popular with the group. So too the addition of workout equipment and a punching bag in the basement—especially when it was paired with the idea of a game and rec room, where residents could listen to music and have a space to "just be loud," in Gonzalez' words.
"You know, sometimes at a shelter, you just want to punch a pillow and a wall at the same time," said one attendee who asked to remain anonymous. "So I really like the idea of a punching bag."
As youth shared one by one and in groups, Nearing asked them to separate the ideas into public and private space, as a way to see what concepts might fit together. For instance, one attendee suggested, dresser drawers built under each bed, to give residents a place to put their clothes. Or a working desk could become part of the bed setup, saving space in other areas of the building.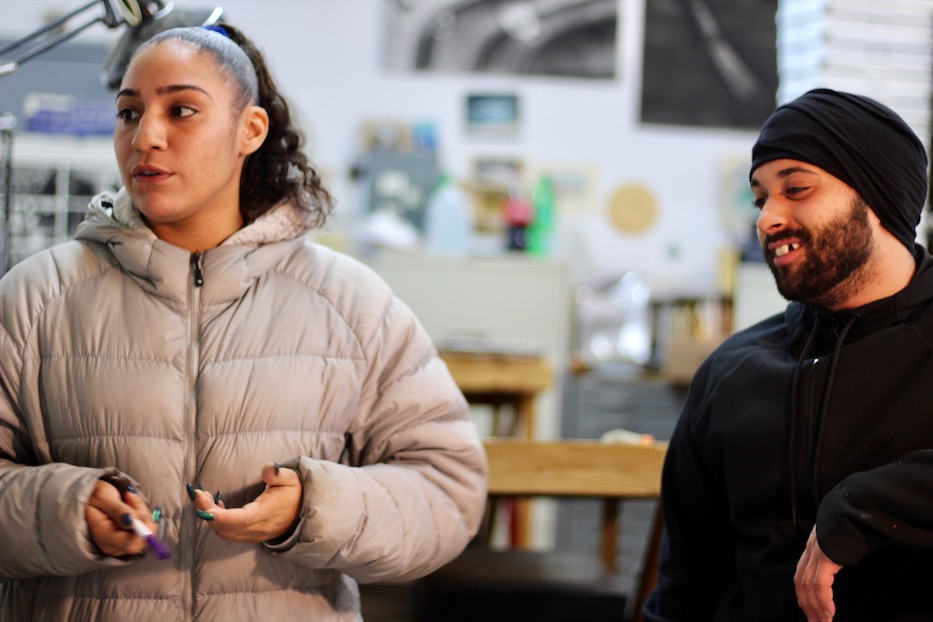 Torres and Victor Noriega.
"There's a million things that aren't there, and we need to keep going," Dickinson said as the session wound down. "but I'm grateful, very grateful, for you guys."
Brooks added that both of them will be trying to weave in the suggestions in the coming weeks, and plan to reconvene with the same group in early 2020.
"We'll take this information and try to integrate it as best as we can," he said. "Some of it will be impossible and some of it will be possible, but we're gonna try to implement everything we heard."