The 43rd Annual Arts Awards
CREATIVE FUTURES
Meet our creative and future-facing winners

Juanita Austin
Curator & Cultural Producer
Juanita "Sunday" Austin (she/her) is a curator and cultural producer originally from New London, Connecticut. She received her B.A. in Digital Media & Design with a concentration in Interactive Media Design from the University of Connecticut and has been a leader in various grassroots community arts initiatives. Currently, she is the founder of Cultured AF, an arts organization that supports underrepresented artists, particularly Black and Queer individuals, and strives to create safe and equitable spaces for their work to thrive.
Juanita transitioned to the New Haven arts community about two years ago and is currently working as an independent creative along with a few special projects including: Special Events Producer for the CT Office of the Arts and as a producer for New Haven's Kulturally LIT. Under Cultured AF, Juanita launched the inaugural 6th Dimension Festival, taking shape as a two-month deconstructed Afrofuturist art experience in New Haven and Hamden.

Ruby Gonzalez Hernandez
Artist, Community Activator, Educator & Curator
Ruby Gonzalez Hernandez (she/her) is an Indigenous Zapotec artist, educator, youth mentor, community activator, and curator born on Quinnipiac land (New Haven, Connecticut). As a lens-based artist, she uses photography as a tool in printmaking, woodworking, and other media to investigate and find language for many themes; religious exploitation, spiritual salvation, redemption, togetherness, oppression affecting BIPOC, and more.
She is passionate about work that serves young people, the New Haven community and grassroots arts ecology. Ruby's work has been supported and recognized by the National Basketball Association, Facing History and Ourselves, United Way, the Arts Council of Greater New Haven, Co-Creating Effective & Inclusive Organizations, and others. In her curatorial practice, she organizes exhibitions concerning themes and ideas surrounding community solidarity. Past projects include an international print exchange program.
She is the founder of Fair-Side, a community of practice that exists to hold a moment, a space, and a place for artists to be in fellowship with one another without shame, outside of the gaze of arts institutions. It is a space to welcome shared learning, with and from and to and through and by each other. In June 2023, Fair-Side had its first exhibition at the Fair Haven Branch Library during Fair Haven Day. In August, she and artist & producer Briana Williams organized the Artists' State of the Union for artists, arts workers, and community organizers to connect, hold space, reimagine, and prepare for soil for collective action in order to respond to the current arts crisis in our city.

Adrian Huq
Climate Activist & Organizer
Adrian Huq (they/them) is a senior at Tufts University and proud graduate of New Haven Public Schools. A climate activist and organizer, they serve as the co-founder of the New Haven Climate Movement Youth Action Team, a group of young activists who fight for bold investments and policies by the City of New Haven to address the climate crisis and mobilize community members to get engaged.
Adrian collaborates with New Haven school district staff and teachers to coordinate the Climate Justice Schools Initiative, a joint program between New Haven Climate Movement and New Haven Public Schools. Additionally, as Youth Coordinator of the Climate Health Education Project, they facilitate an internship program that supports New Haven high school students in advancing climate education in their school communities. Adrian has worked for various environmental organizations and has spoken at dozens of events and panels across the region as a climate organizer over the last five years.
Adrian engages with the arts primarily through their media and communications-related work. They are currently a personal assistant at the Veronica Douglas Media Agency and a freelancer for the New Haven Arts Paper. Adrian was a former Fellow for the International Festival of Arts and Ideas, two-time Artspace Summer Apprentice, WYBC x Yale Radio intern, and a 94.3 WYBC Radio intern hosting a segment titled "Teen Talk."

Sun Queen
Author, Poet & Activist
Sun Queen (she/her) is a poet, artist, activist and inspirational messenger based in New Haven, where she has lived all her life. In 2015, she co-founded Black Lives Matter New Haven (BLMNHV) to inspire and empower the community through advocacy, education, and community service.
As an organizer, she has run annual backpack, back-to-school and winter coat drives, started a BLMNHV scholarship fund, led rallies and tied Black liberation to healing, collective care and communal artmaking. She is regularly in the community, organizing nonviolent marches, rallies, protests, as well as fundraising campaigns geared at empowering and educating the young and older community of their rights.
In 2019, Sun published her first book, It Happened Within The Sun, followed by an affirmation journal and the brand Black Girls Are Sunshine. She prioritizes sharing her work in spaces that empower Black women and Black liberation, as well as schools and other venues that center racial and social justice. Through her passion and love for advocacy and guidance, she plans to encourage others, especially Black women, to be able to share their stories.
Sun's work has been featured prominently in several exhibitions, testimonials, and media outlets, including Nasty Women Connecticut's 2019 Complicit: Erasure of the Body and #MeToo Testimonials project, New Haven Register, Philadelphia Inquirer, Arts Paper, New Haven Independent, Yale Daily News, Hartford Courant and Pittsburgh Post Gazette. She has been a featured speaker for the Bereavement Care Network, Black Women's March in Houston, Texas, and Elm City LIT Fest among others.

Possible Futures
Founder Lauren Anderson Pictured
Possible Futures is a community bookspace that provides a curated collection of books, artwork, events, and goodies that feed the mind, nourish the body, and sustain the soul. It prioritizes shelf space primarily for authors and topics that have been historically underrepresented in publishing and on public shelves.
Founder Lauren Anderson (she/her) loves helping bring bookjoy to the youth, elders and everyone in between. Her work prior to founding Possible Futures, includes serving as tenured professor, teacher educator, researcher, beginning teacher support provider, and upper elementary teacher. For over a decade she has taught about the history and politics of education in the U.S. and about what it means to be an excellent literacy educator in and for these times.
She loves to write, and has written journal articles, books, and op-eds about teaching, learning, schooling, and unschooling. She loves to read (all genres) and believes that "children's books" are for everyone and that poetry can save lives. Her dream day involves visiting our beloved public library, burying herself in a good book, eating spicy vegetarian food, dancing, and biking to the beach, hiking in the woods, porching, or doing just about anything else outdoors with her sweet dog Sugar and friends.

William Graustein
C. Newton Schenck III Award for Lifetime Achievement in and Contribution to the Arts
In his first career, Bill Graustein worked for 25 years in the Department of Geology and Geophysics at Yale University: originally as a graduate student, and later as a research scientist after earning his Ph.D. in 1981.
His early training as a scientist instilled two habits continuing to inform Bill's work, today, in the New Haven community. First is a habit of trying always to bring relevant but seemingly disparate information together into a coherent picture. Second is a practice of framing issues for learning—deliberately creating the space and sense of safety necessary for old assumptions to be challenged, and new ones to be imagined and tested.
In 1993, an abrupt increase in the assets of a small foundation established by his father inspired Bill to profoundly redefine the foundation's mission, structure, and strategies and for Bill to re-imagine what his role would be. During this process, Bill interviewed 40 different people working in all aspects of education. Bill fully expected to hear professional judgments and insights; but he also heard personal stories of life-changing power. Among these many stories, Bill found both particular and universal resonances—each person's story is unique, while at the same time communicating themes that crossed every boundary of background and experience.
In particular, Bill recognized the yearning of local non-profit leaders for help with working collaboratively for support in perfecting the relationship between their values as an organization and their roles as leaders, and for a space in which candid and constructive dialogues across class and race could take place. Hearing this need, Bill helped develop and lead the year-long Community Leadership Program workshop series as well as other activities for community leaders. The program is in its 21st year.
The Community Leadership Program focuses on Individuals. Bill came to recognize that there was also a need for organizations and systems to imagine, support and operationalize more inclusive, just, and collaborative ways of working. In 2010 Bill and Niyonu Spann started Co-Creating Effective and Inclusive Organizations and Organizers, or CEIO, which is now in its 14th year.

Join us for an intergalactic experience as we celebrate the Greater New Haven region. Dress to impress and walk the red carpet with Babz Rawls Ivy. Capture memories with a photobooth by Meet Me at the Booth. Dine on New Haven Style Apizza from the Big Green Truck, sip local libations from New England Brewing Company and various wine selections. Network with the future creatives within our Creative Ecosystem while you dance to the sounds of DJ Ch'Varda. Settle in for a live performance and honor our winners. Get ready for the special night by purchasing some Arts Awards Merch. Ticket sales benefit our grantmaking initiatives designed to support individual artists and small creative organizations within our region.
$43 each - attend in person or watch the livestream from home
$25 - discounted tickets for ages 18-25
Free - Ages 17 and under are free with the purchase of an adult ticket
$300 group of 10 tickets - 50% of this purchase benefits our grantmaking initiative and 50% helps cover the cost of the event
COVID POLICY: Masks are optional. As with other diseases, you are protected best from COVID-19 when you stay up to date with the recommended vaccines, including recommended boosters. If you feel sick or are experiencing any COVID-19 symptoms, we ask that you prioritize your health and the health of others by staying home and watching the Livestream.
You can also become an individual sponsor to help underwrite our event, support our grantmaking initiatives, and applaud our awardees:

Email Mina Khokhar at mina@newhavenarts.org for more information!

Digital Advertising

Put yourself in front of the Greater New Haven Creative Ecosystem and support our grantmaking initiatives
$275 - Full page ad in our digital program book.
$200 - Half page ad in our digital program book.
$50 Shoutout - Purchase a congratulatory 43 word shoutout (or multiple shoutouts) to the winners to be displayed in our digital program book. Examples "Congratulations ____ we love you" or "All the winners are fire!"
Email Mina@NewHavenArts.org with questions or to use a check to reserve ad space.
Creative Team

Independent artists are at the core of our creative ecosystem and we are proud to work with these creatives to produce the Arts Awards
Community Jury: Lee Cruz (The Community Foundation for Greater New Haven), IfeMichelle Gardin (Kulturally Lit), Noah Golden (Fuse Theatre of CT), Jenny Heikkila Diaz (The Word), Adriana Rodríguez (Spanish Community of Wallingford)
Sponsors

Our gratitude to the following businesses and organizations for supporting the Arts Awards this year. They exemplify the mission and vision of the Arts Council and help our Creative Ecosystem thrive.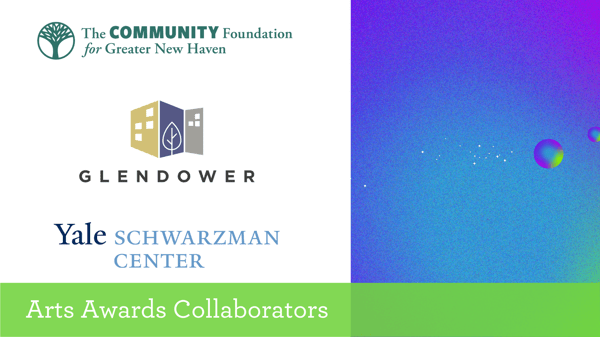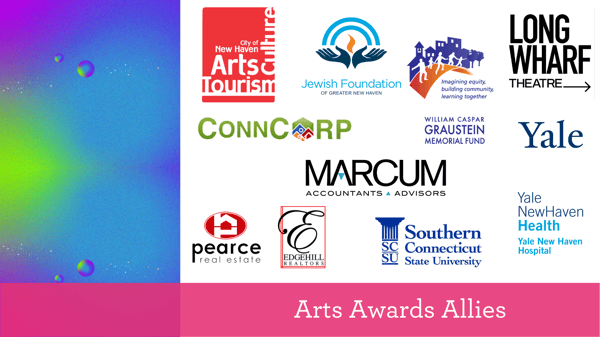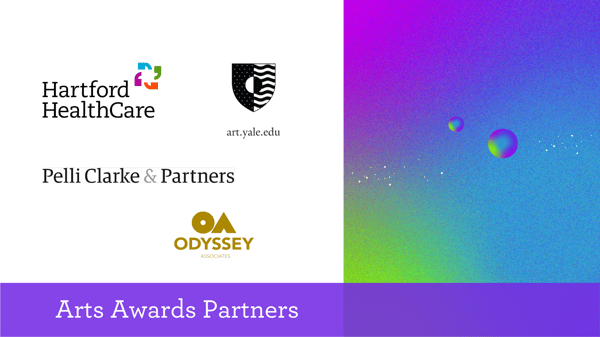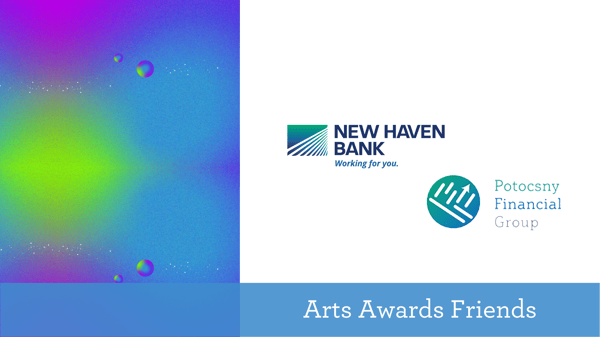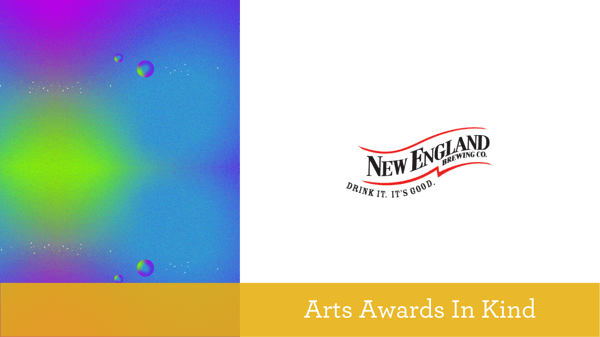 Picture your business or organization here! Explore our sponsorship opportunities. Contact our Annual Fundraising Manager, Mina Khokhar, for more information.