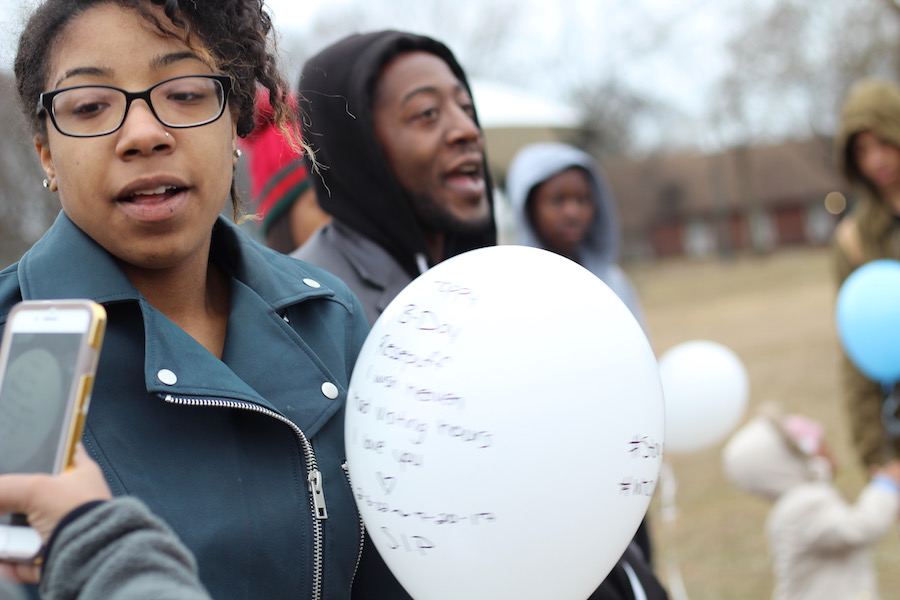 Education & Youth | Ice The Beef | Whalley/Edgewood/Beaver Hills | Arts, Culture & Community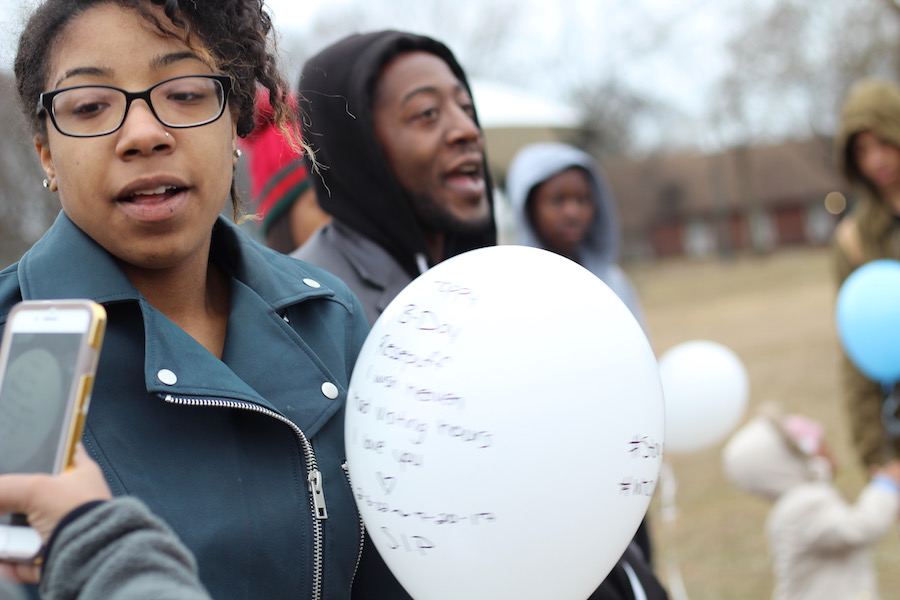 Eliza Vargas gets ready to release her balloon at De Gale field. Lucy Gellman Photos.
Tyrick Keyes didn't live to see his 16th birthday. But that didn't stop nearly two dozen of his peers from celebrating it to make sure his memory stays alive.
Wednesday afternoon, members of Ice The Beef gathered in De Gale Field for a short prayer and balloon release on what would have been his 16th birthday. Over 20 attended, some staying into the evening for the dance, voice, and speech coaching that the group offers each week. This is the third balloon release in two years that the group has done for Keyes.
Keyes—or "Reese," as he was more affectionately known by those around him—was born on Feb. 6, 2003 at Yale-New Haven Hospital. Described by many of his peers as perpetually smiling, big-hearted and quietly, gracefully goofy, he joined Ice The Beef several years ago, becoming a dancer with the group.
His routines were moving and memorable: in 2016 he devised a group piece memorializing Michael Brown and Trayvon Martin, in which he played a surgeon trying to save the young men. By summer 2017, he and his peers had performed it almost 60 times across the state.
Around him, the city was opening up: he had just graduated from Fair Haven School and was preparing for high school classes that would come in late August. As his friend Eliza Vargas remembered it Wednesday, he was elated, sure that he had beat the odds after several teachers had told him that he wouldn't graduate.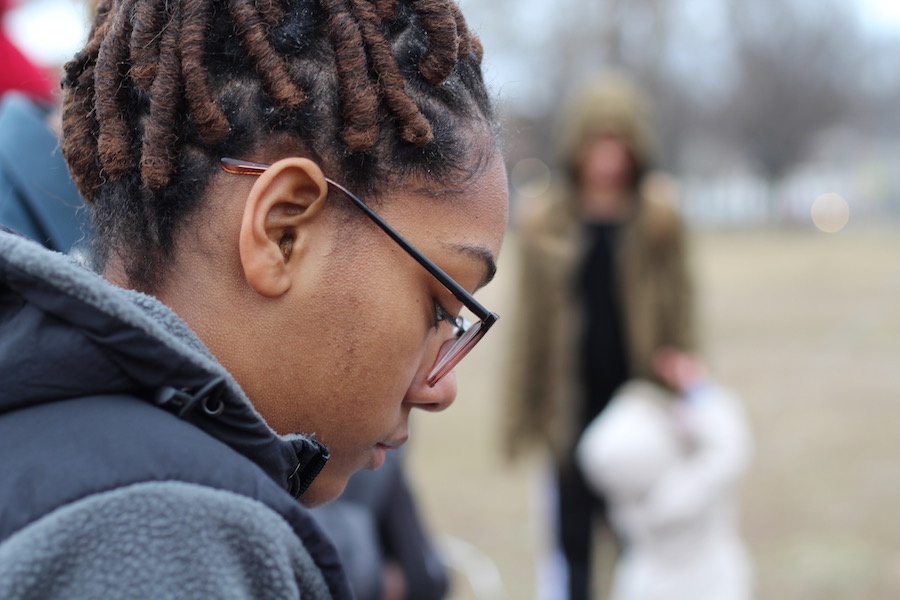 Ronisha Moore, a senior at Hillhouse High School, said she sleeps with a poster of Keyes over her bed. "I just broke down this morning," she said.
Then in July 2017, his life was cut short by gun violence on Bassett Street. He was laid to rest at Bethel AME, just a block from where he had unspooled new choreography with Ice The Beef, and where the group gathered Wednesday under rolling grey clouds. The shooter remains unidentified.
Wednesday afternoon, Ice The Beef Director Chaz Carmon gathered attendees in the De Gale field house where they meet each week, handing out blue and white balloons with tails that streamed behind them, and shimmered even in the low light of the room. Almost 20 of Keyes' peers filed through the door, some longtime members of the group and others intermittent attendees who had gotten a text or phone call reminding them of the date.
Over in one corner, 17-year-old Geronte Hooks worked through the message he wanted to send skyward, his head leaning back against the white wall for a moment. While he played basketball with Keyes until he broke his thumb in summer 2017, he had also come to support his girlfriend Chayann Hauser, a student at High School in the Community who was particularly close with Keyes.
Carmon gave everyone a moment to write messages on the balloons, the squeaky sound of marker filling the room. A few sniffled and embraced each other, holding their new props gingerly as not to pop them. Carmon led a line outside, trekking through mud and wilted grass to get to the center of the field.
"You guys are the future, man," he said as a wide circle formed around him. "You guys gotta change what's going on in our society today … you got so much time to do a lot of things that us elders don't have anymore. So choose wisely. Make positive decisions."
"We can't stop stuff that's not in our control," he added. "But things that you can control, that you have the opportunity to make decisions about, make the best, righteous and positive decision based on your life. Because life is too short."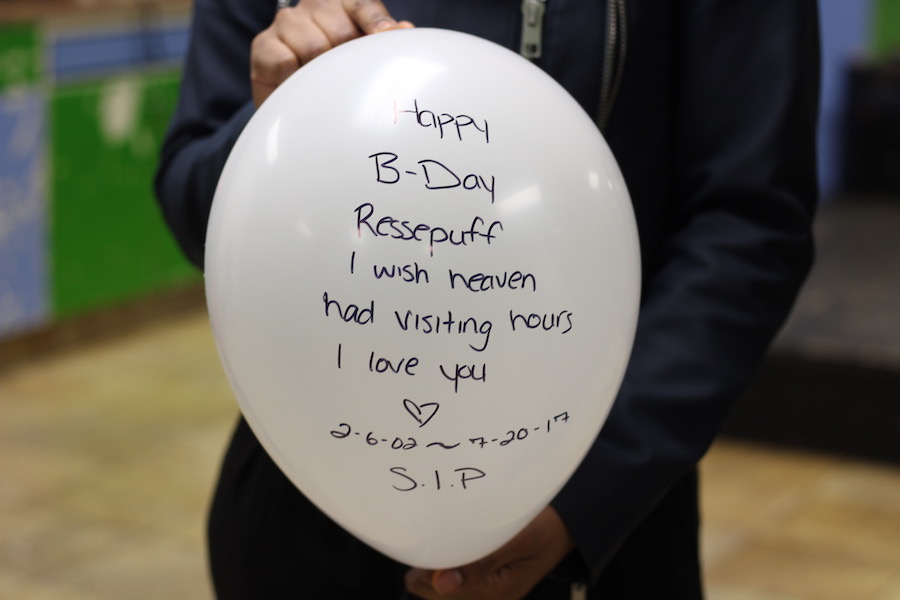 Cars passed by unaware on Sherman Avenue and Goffe Street as he had members bow their heads in prayer. Eyes closed around the circle, a few sniffles audible as he began to speak. On his right, 17-year-old Eliza Vargas took deep breaths, her hands steady on a white balloon that read Happy B-Day Ressepuff. I wish heaven had visiting hours. I love you.
"Heavenly Father, I thank you for waking us up another morning," Carmon said. "I ask you to continue to bless us, watch over all these children, watch over our community, protect our community. Have people put these guns down and the arguments and the fighting."
He extended his blessing to not just members of Ice The Beef, but also to New Haveners who may be struggling, to members of city and state government, to the mayor and the president, to the United States.
"Reese, I know you're watching over us," he said. "I know you love us, and we love you. And we will help you to live on forever."
Then he gave a cue: let the balloons go go. He watched them float upward towards Beaver Hills, then change track for a cluster of storm clouds. He pointed out an impromptu formation as they fell into a line, then seemed to sprout wings. Around him, some of the students stopped what they were doing, mouths agape.
"It made a butterfly," he said.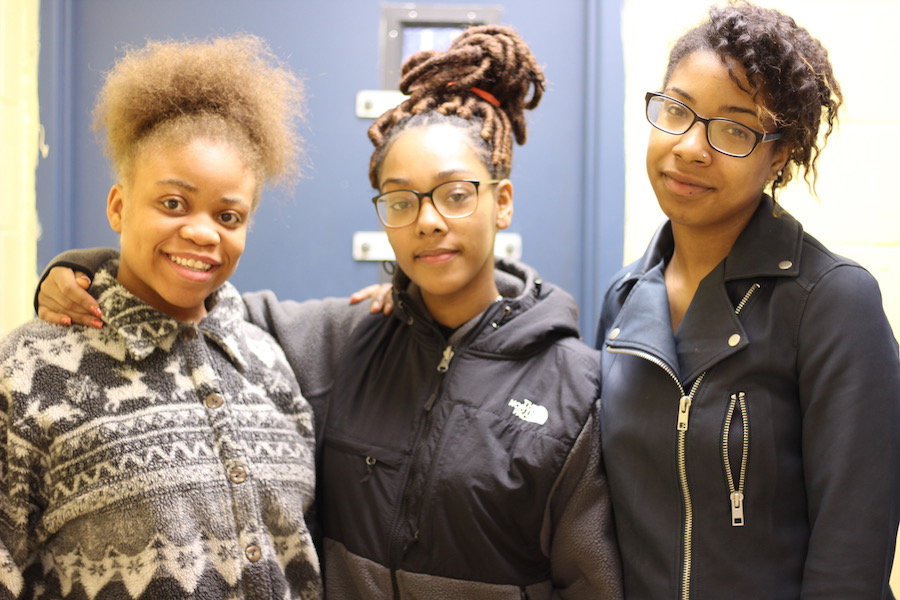 Chyann Hauser, Moore, and Vargas.
Back inside the field house, friends comforted each other with big hugs. On the building's small stage, a few went back to dancing, electric currents running through their bodies as someone turned speakers back on, and Young Money and Lil' Wayne's vintage "Bed Rock" came pumping out. Others moonwalked and shuffled on the floor, or ducked into Carmon's office to talk.
Hauser, Vargas and Ronisha Moore headed into a large bathroom, which sometimes doubles as an area of refuge during sessions that get loud or crowded. A senior at Cooperative Arts & Humanities High School, Vargas recalled how Keyes had come into each Ice The Beef session grinning from ear to ear, the glue that bound the group's cliques together.
"Even when you were having a bad day, Reese would come in and make sure that you're laughing by the end of the day," she said. "The bond that we used to have in this program when he was still around—like, we were a family. We still are a family, it's just everybody kind of shifted after his passing. Nobody was the same."
Moore chimed in, stopping for laughter that rolled in with the memory of a pizza party in Keyes' basement, where members of Ice The Beef had spent hours joking around with each other. An 18-year-old student at James Hillhouse High School, she recalled crying as soon as she woke up Wednesday morning, and again several times throughout the day. She sleeps under a poster of Keyes that his cousin made after his death, and his mom offered to her last year, because it became too painful to keep.
"Like, he would make you feel so much better if you was in a really sad mood," she said. "Even if you was happy, you would be even happier just because he was around."
A year and a half after his death, Moore said that she and several members of Ice The Beef check in on his mom, Demethra Telford, as well as his niece, his brother Silas, and Silas' months-old son. But the pain that she feels, missing him to her core, doesn't get easier.
"I just broke down this morning," she said. "I've cried so many times today. He was only 14. Our generation, it's like crazy. They don't care about nobody but theyselves. It's sad what his mom had to go through. And it's sad for us. We had to go through that too."
Vargas and Hauser agreed, nodding as the jumped back into the conversation. Vargas said when she was releasing the ballon, she didn't feel a sense of clarity that the exercise may be intended to give. Instead, she thought about her own 16th birthday—both the fact that Keyes was absent, and the fact that he would never have one.
"And I just kept thinking, dang," she said. "He's never going to make it to his 16th birthday. That's sad. That's really really sad."
"It just feels like letting go of him all over again," she added. "I get the symbolism behind it. But every time I let go of a balloon … it just feels like I keep letting him go. And I don't want to let him go."