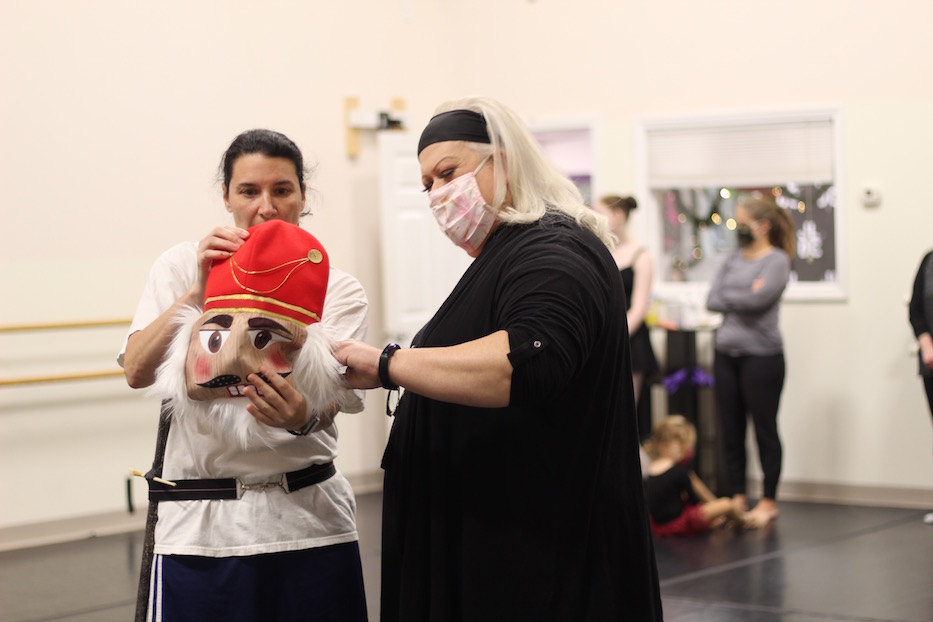 Dance | Hamden | Arts & Culture | Christmas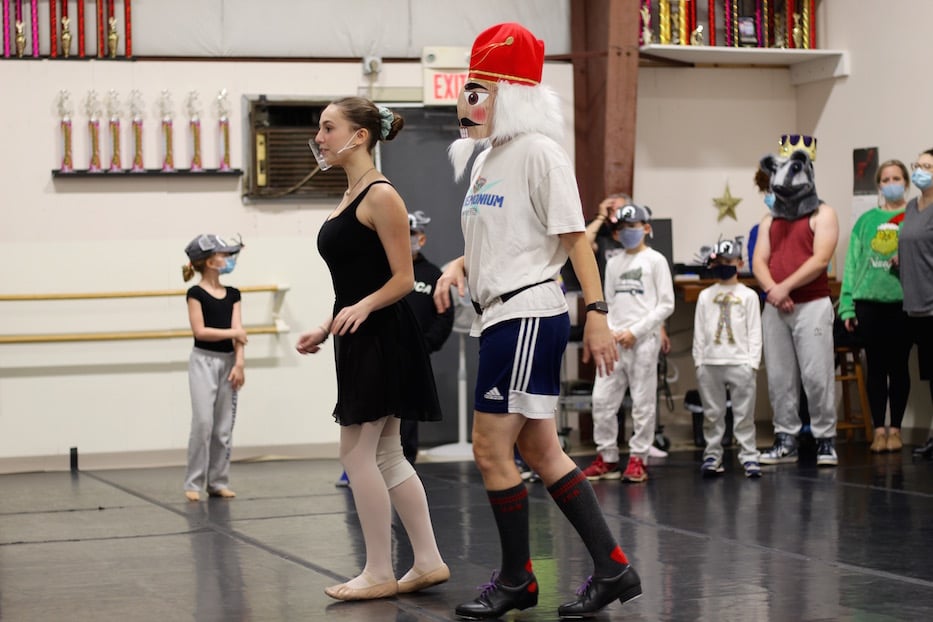 Chiara Troiano and Marcie Monaco. Lucy Gellman Photos.
Tiny mice in pink tutus giggled and squirmed in their parents' arms. A dance battle broke out somewhere between the Christmas party and the snow scene. Clara chasséd her way from ballet right into a jazz number. And after Flo Rida's "My House" boomed over the speakers, a breakdancing rat ended up dead on the floor.
It's all par for the course in Nutcracker: Land of the Sweets, a generous, multidisciplinary adaptation of Pyotr Tchaikovsky's iconic wintertime ballet from Joan Lynn Dance Company in Hamden. One hundred and twenty-nine years after ballet premiered in St. Petersburg, this version folds in jazz, tap, hip hop, and contemporary dance for a show that is entirely about magic in the darkest season.
Joan Christensen, artistic director and owner of the studio, has pulled it off with choreographer Victor Trevino, Director of Ballet Dolores Dégagé Hopkins, and dozens of staff and students. It marks the second year that the company has done the show, and the first that it will be in person. The performance will take place Dec. 18 at 2 p.m. at Hamden Middle School; tickets and more information are available here.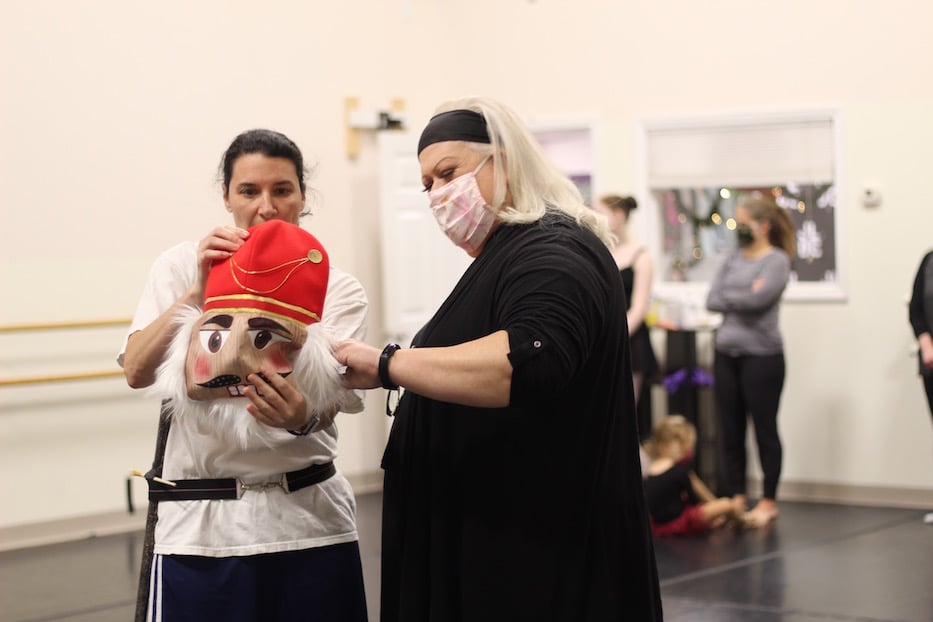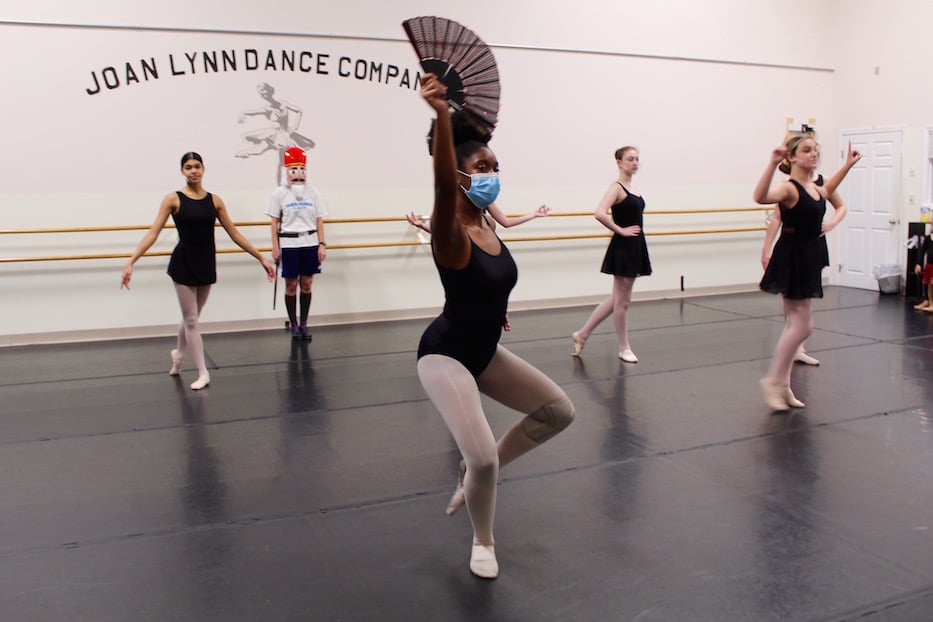 Top: Marcie Monaco and Dolores Dégagé Hopkins. Bottom: Maya Johnson takes the floor as the Spanish Doll.
"I'm really pleased with what we've come up with," said Trevino, founding director of Les Ballets Grandiva and Ballet Eloelle, at a recent rehearsal in Hamden. "Basically, we're trying to start a new holiday tradition. I think this will continue to expand and grow. It's quite a bit of fun."
The performance has emerged over years of collaboration. In late 2019, Dégagé Hopkins arrived as the studio's first director of ballet. At the time, she had been in the ballet world for decades, perhaps best known for founding the New England Ballet Company in 1990. That fall, she had just started transitioning, and said she was grateful for the "family" atmosphere that Christensen provided. It became one of the community spaces in which she felt safe and welcomed, she said (another is the New Haven Pride Center, where she is now chair of the board).
When Covid-19 hit, she taught online for months, and then returned to a studio where masking up and handwashing became as celebrated as the perfect grand battement. She brought the idea of a large, multi-genre Nutcracker to Christensen last year, in the midst of a long and dark pandemic winter. Trevino, who she has known and danced with on and off since 1983, seemed like the perfect choreographer. After filming the work in separate parts last year, they were able to look toward live performance this year.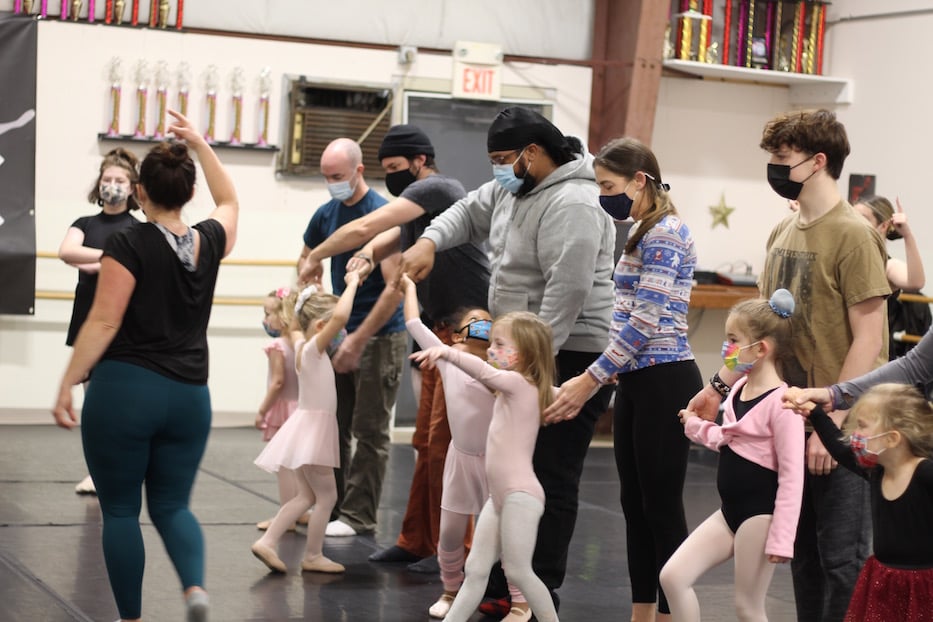 Parents and their little mice. Nicolas Dillon and his four-year old daughter Nandi are pictured third from the left.
When rehearsals began in August, the two pulled in teachers, non-ballet students and parents of young dancers to make it into a community production. They also opened some scenes to kids who didn't have dance experience, but heard about the performance and were interested. Dégagé Hopkins is quick to say that none of the work happens in a vacuum: choreographers also include Christensen's son David and her nephew, Vincent Ianniello. There's a sense of family in the studio: young children often show up at rehearsal, because their parents and siblings are in the performance.
"I thought that when I began transitioning, I was not going to work in the ballet world anymore," Dégagé Hopkins said as she watched dancers run a hip-hop routine with the Rat King for the third time. "I've always liked putting this together, so coming up with these concepts is fun for me."
On a recent Saturday, a group of tiny ballerina-mice stood flush against the studio's wall in their pink leotards, tights, and tutus, waiting for a cue. In the back of the studio, Marcie Monaco slipped on a bright mask, and transformed into the Nutcracker Prince himself. Across the room, Chiara Troiano wedged her feet into a perfect fifth position, channeled the character Clara, and waited for the music. Maya Johnson opened a lacy red fan and became a Spanish Dancer.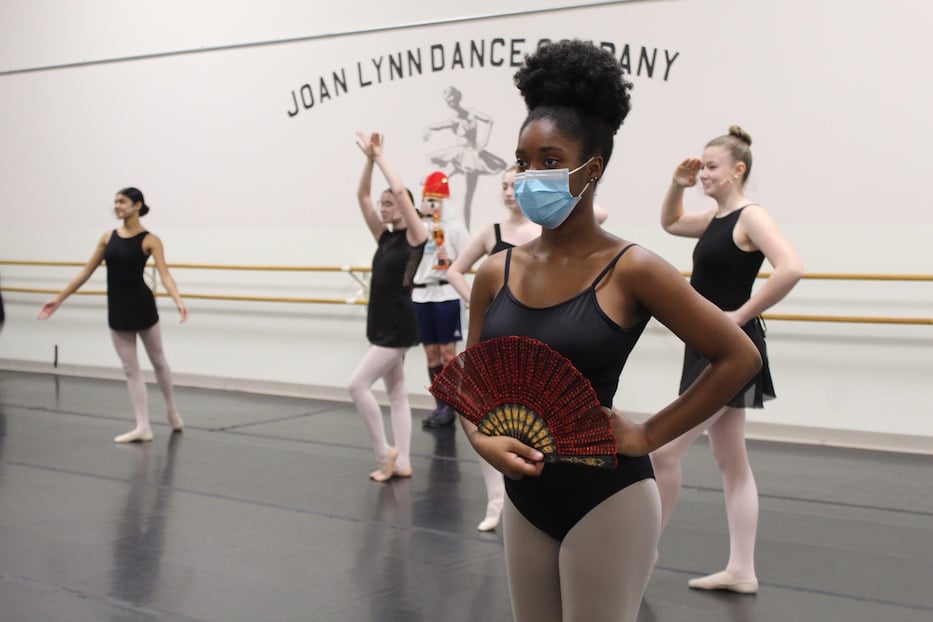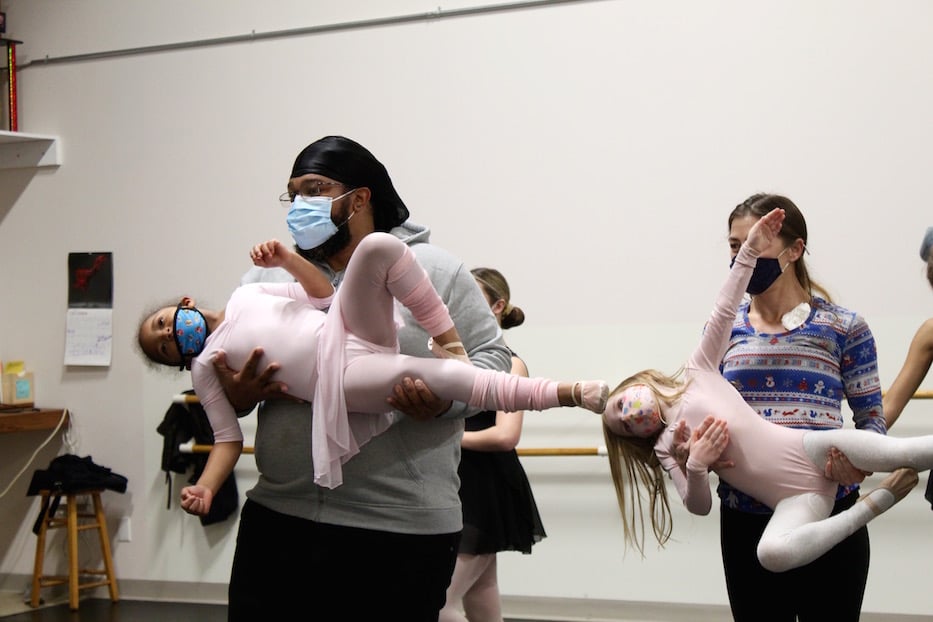 "She likes it, so you know, I just do what I gotta do to make her happy," Dillon said of being part of the show.
From the right side of the room, a sign peeked out, reminding dancers to wash their hands and counting off the days that remained until the performance. At the left, Trevino scanned the space, studying Troiano's Clara for a moment. A new energy vibrated through the space: it was the first time he had been able to join the dancers in person. Normally, Trevino is on a screen, his flattened head floating atop a tripod as he teaches from his home base in Florida.
Strings burst over the room, and suddenly dancers were in motion. Johnson, who had been still a moment before, leapt across the floor. Around her, fellow ballerinas whirled the story's Christmas Party scene into being. Troiano made her way over to a chair, a red and white nutcracker resting between her hands. She looked down to study his flushed wooden cheeks, tiny crown and tufts of white hair as she glided over the floor.
From a speaker, the music shifted; teacher Sharon Monnes took the floor as the mouse queen. She looked around the space, her eyes wide above a fabric mask printed with pink flowers. She put out her hands and wiggled her fingers through the air. On cue, a dozen pairs of small feet pitter-pattered across the floor, a fleet of dancers waving their arms and hands as they made their way toward Troiano. They swarmed around her, a sea of pink, and began to jump in the air.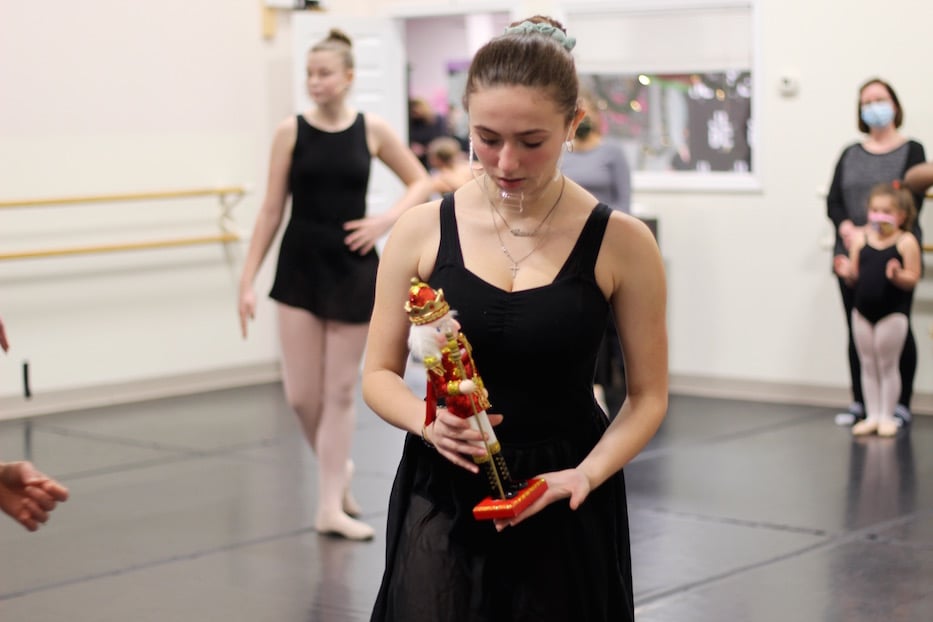 Troiano: Ready to step into the role.
Troiano pulled a graceful, fluttering hand to her forehead, held tight to her Nutcracker doll, and collapsed back in the chair. The mice, gleeful in all manners of chiffon and tulle, ran back to the center of the room. The music cut out, and Trevino excused dancers for a short break. With their backs against a floor-to-ceiling mirror, Christensen and Dégagé Hopkins applauded. Dancers padded out into the wider studio, its small space suddenly full of chatter.
A freshman at Hamden High School, Johnson said that the dance studio has become a haven in a year turned on its head. In nine years, she's picked up classes in ballet, tap, lyrical, contemporary dance, jazz, and hip-hop. She has plans of one day performing with the Radio City Rockettes and owning her own studio, she said. This is the first time she's danced the Spanish Doll, a role that she said "adds a little spice to my part" every time the fan opens in her hand.
"I love spending time with friends and just getting into the Christmas feels," she said. "I like learning it. It's a fun experience."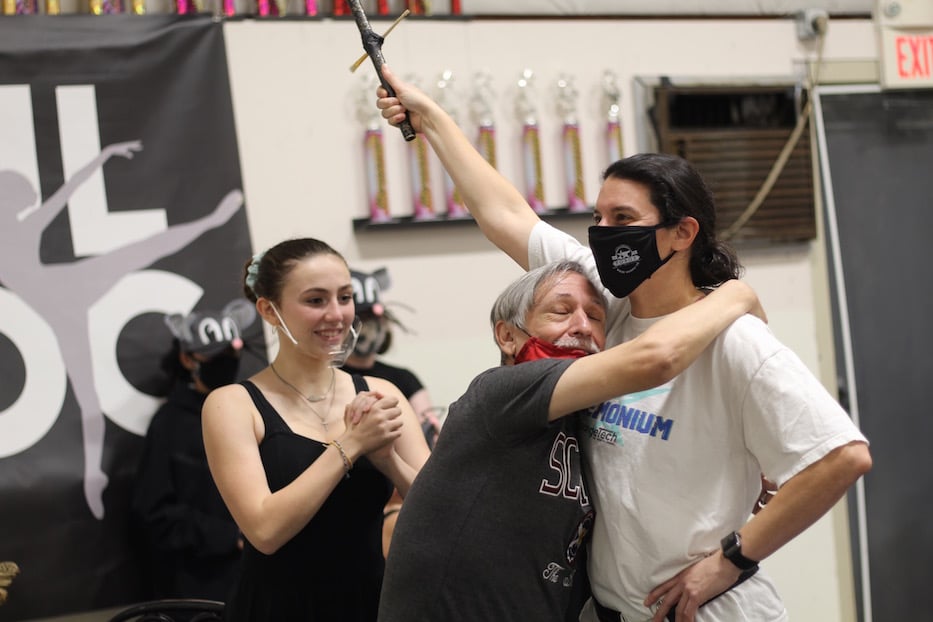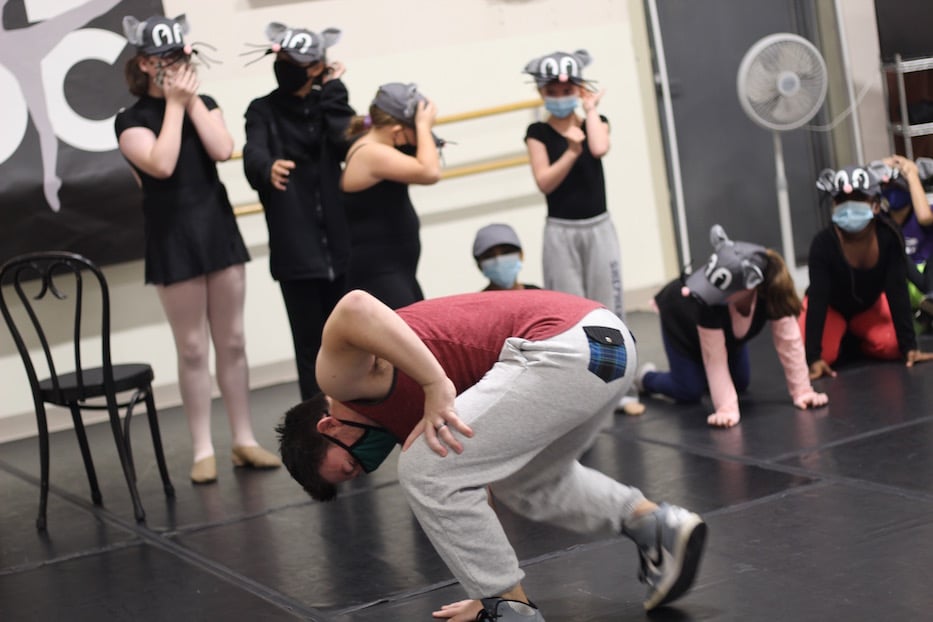 Top: Trevino models Clara's expression for Troiano. Bottom: Ianniello/the Rat King dies.
Troiano, an eighth grader at Hamden Middle School, said the studio has become a home away from home for her. Before a filmed performance of the ballet last year, her run as an icicle was cut short when her entire family became sick with Covid-19. She said she is ready to take the stage at her school as Clara, who is one half of Tchaikovsky's fantastical love story.
After dancing for 11 years—in addition to ballet, she has added hip-hop, jazz, tap, lyrical and contemporary to her wheelhouse—she feels prepared for the role. She said that it's been an added bonus to work with Trevino, who balances humor and drama with precision.
"After school, I'm here," she said. "Weekends, I'm here. It's family."
As he zipped up his daughter Nandi's puffy coat, dad Nicolas Dillon praised the studio for bringing parents into the performance. Just minutes earlier, he had scooped four-year-old Nandi up off the floor of the studio as she did a sideways retiré and extended her arm in midair. Now, she wandered into the front office looking for a lollipop. This is her first year dancing at the studio.
"She likes it, so you know," he started, "I just do what I gotta do to make her happy."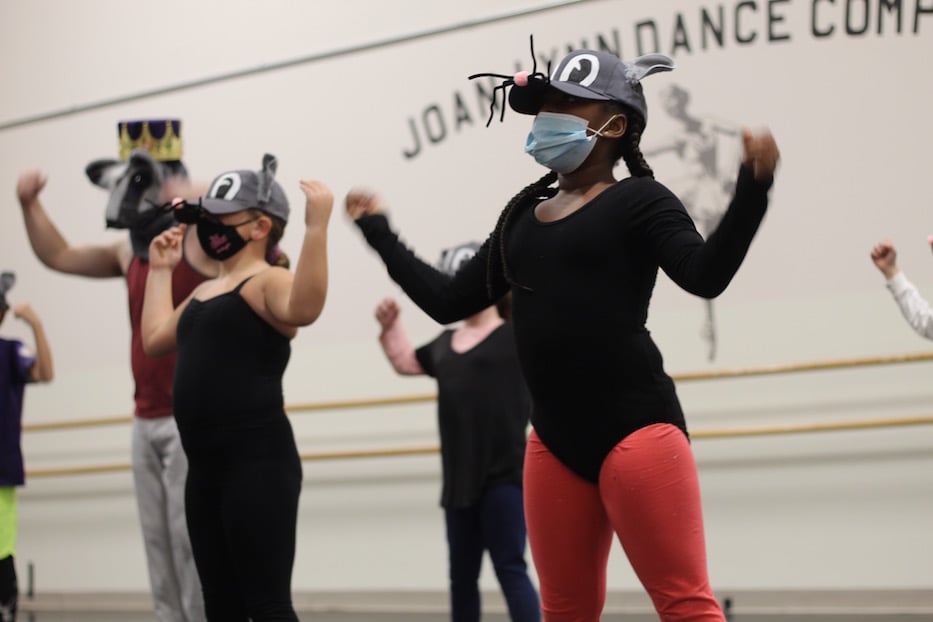 The performance includes a hip-hop number set to Flo Rida's "My House."
Back inside the studio, Ianniello gathered the members of his hip-hop class and fitted them with grey baseball caps with big white eyes and pink cotton-ball noses with pipe cleaner whiskers. Against the back wall, he pulled on a furry rat head and adjusted it so he could see. The first strains of Flo Rida's "My House" boomed over the space, and students formed a triangle, knees relaxed as they sank into the song.
"I love The Nutcracker," Christensen said as dancers moved forward, leading with their shoulders. "I just love it. I always wanted to do my own version. They've really brought this gift to me."
Ianniello made his way to the front and began to breakdance. The group watched him, at one point flicking the imaginary dirt off their shoulders. It was only when Monaco-as-Nutcracker entered the space that something shifted in the air, and Ianniello stepped forward with his chest puffed out. The music merged right into the first strains of Michael Jackson's "Beat It."
It was a far cry from the sweeping, building strings that score the original duel between the two—and nobody seemed to mind.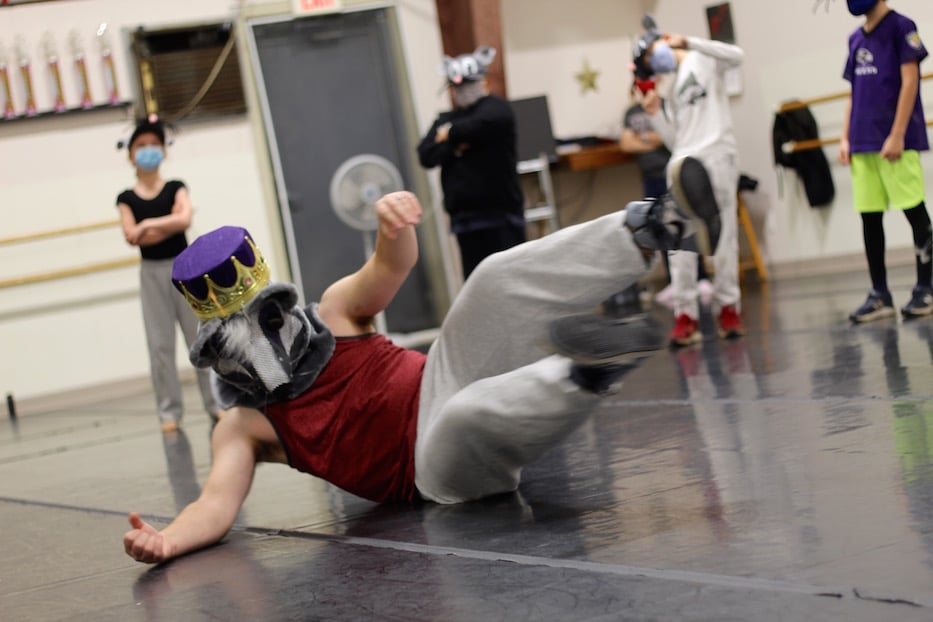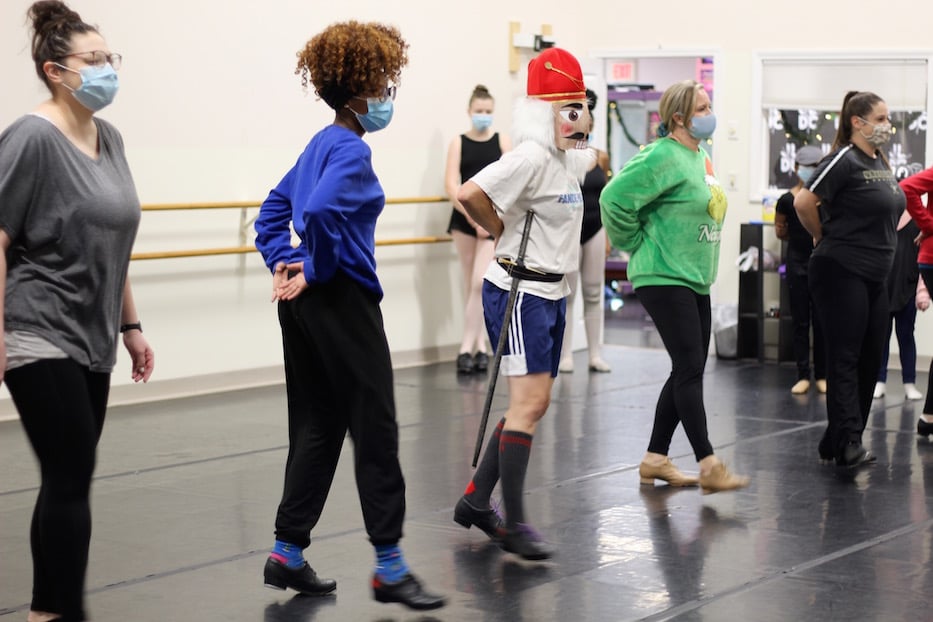 Top: Vincent Ianniello breaks it down. Bottom: The Nutcracker directs the toy soldiers into line.
In front of the mirror, the two copied each other's movements, showing the audience how quickly a hip-hop dancer can take a set of tap moves and make it their own. Monaco extended the Nutcracker's sword, and lunged forward just as Ianniello looked away. He crumpled, as a row of toy soldiers rejoiced behind Monaco. The slow, dramatic theme music from The Godfather filled the room as Ianniello tried to stand, busted a final move, and died before an army of despairing rats.
Trevino rewound the scene to its beginning, a side-by-side number between Clara and the Nutcracker that fuses jazz, tap, and ballet. Duke Ellington's Nutcracker Suite coasted through the room, as buttery as the day it was composed. Monaco and Troiano took the floor, sailing to as horns announced a swinging overture. Three rats, transformed back into their adolescent selves, watched from the corner.
One of them, sixth grader Ee Ellis, said that rehearsals have helped them maneuver through a rough year. As primarily a ballet dancer, hip-hop has also pushed them outside of their comfort zone. They get to flex their ballet skills earlier in the show, in the "Waltz of the Flowers" and "Russian Dance." They described themselves as a particularly big fan of Dégagé Hopkins, known and beloved around the studio simply as "Ms. DeeDee."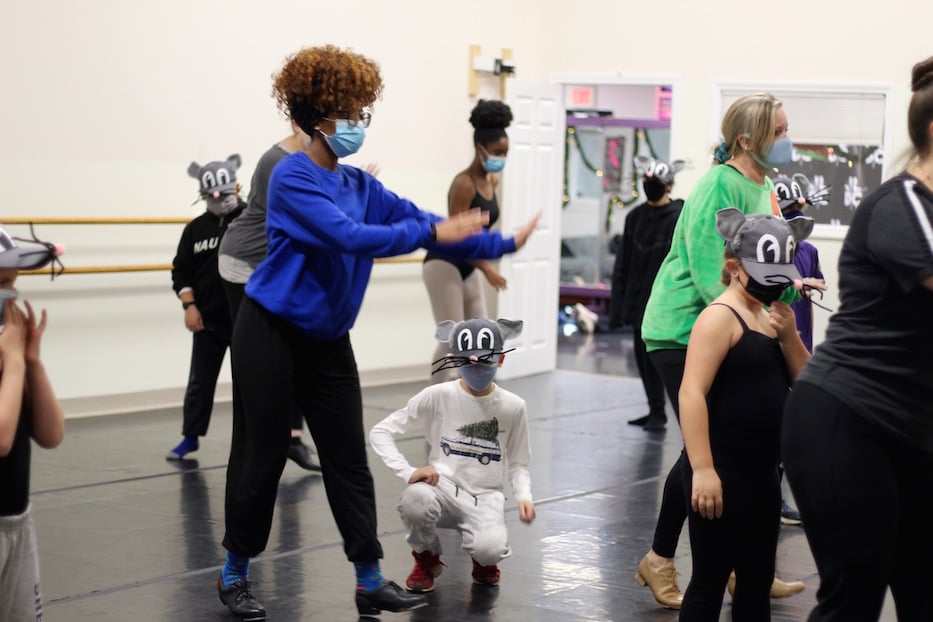 The rats invade! Alas!
"I just like expressing myself through feeling," they said. "When I'm having a hard time, it really helps me cope. I also enjoy dance because I get to meet new people … I love it. It's the high point of my week."
"I get all my emotions out," chimed in fellow dancer Mia Butler, who had drifted over to Ellis while watching Troiano out of one eye. "I like being with other people."
As they chatted, Trevino and Ianniello reworked the Rat King's death, so that he would fall into the arms of toy soldiers. He tried it, tipping back on his heels to a few giggles from his students. The music to The Godfather filled the room once again, for what would be one of five or six times that hour. Ianniello raised one arm, outstretched, in a dancer's final goodbye. Tap dancers turned soldiers shuffled him off to one side.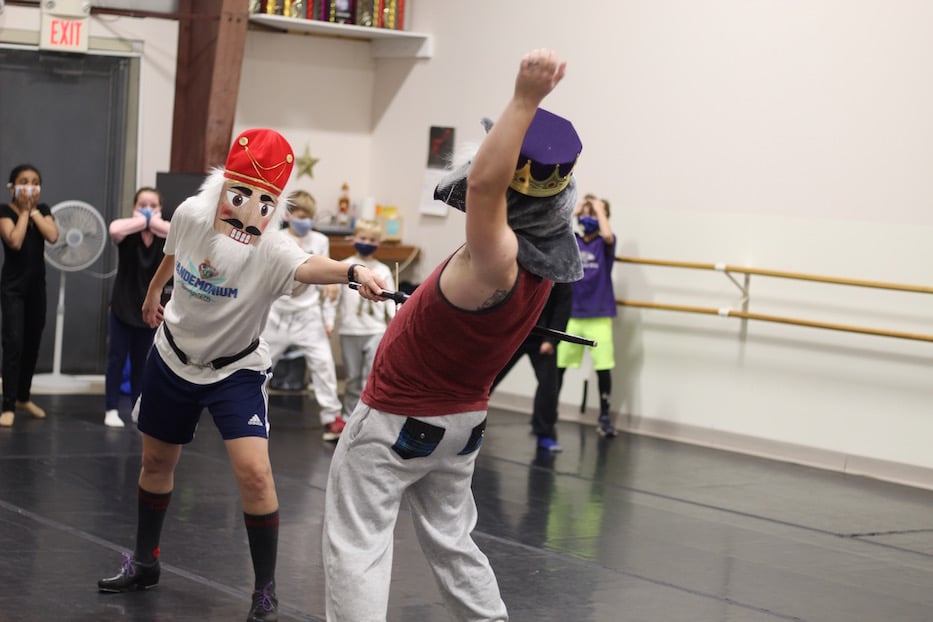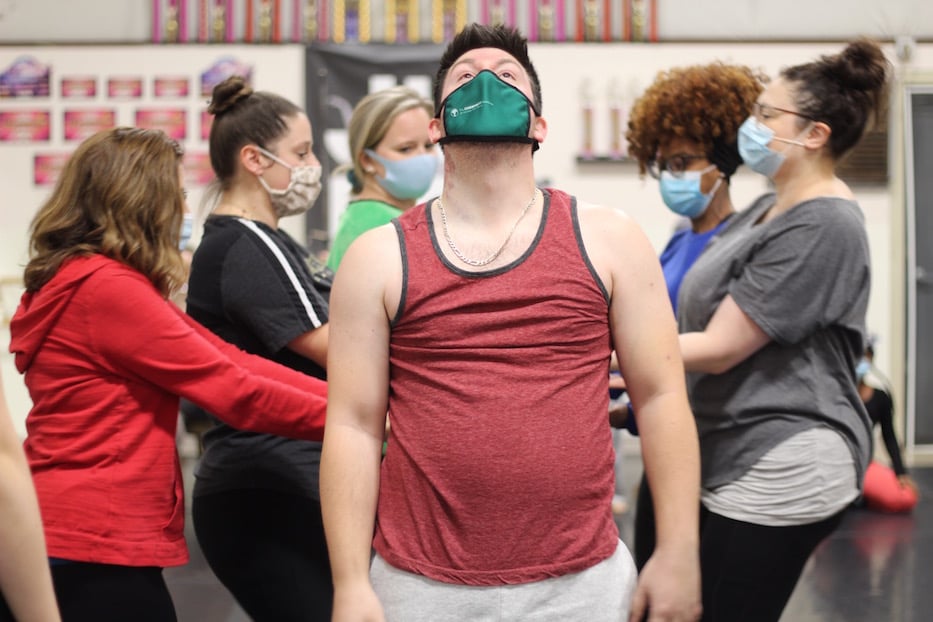 Top: Farewell, Rat King. Bottom: Cue the music from The Godfather.
After learning hip-hop from music videos, Ianniello started teaching at the studio 12 or 13 years ago, when he was just 18. When he isn't in the studio or taking care of his young daughter, he's a finance associate at the Community Foundation for Greater New Haven. It's a job he heard about through Monaco, who has taken tap at the studio for years and is the Foundation's director of finance and accounting.
As dancers paused for lunch, Trevino cheered them on and then took a seat himself, still after hours buzzing around the studio. Based out of West Palm Beach, he said he was excited to finally be in the space after months choreographing online. Doing the job remotely is hard, he said—it often means that a seconds-long correction may take minutes, disturb rehearsal, and leave dancers flustered.
While the work may already be part of his wintertime routine—The Nutcracker "becomes part of you" in the ballet world, he said—this specific performance is part of "trying to start a new holiday tradition" with a dancer who has been his friend and collaborator for decades. After he and Dégagé Hopkins first shared a stage as members of Ballet Florida, they have remained close. Trevino has acted as a choreographer, artistic director, and advisor to the New England Ballet Company, where he worked on a more traditional, regimented Nutcracker for years.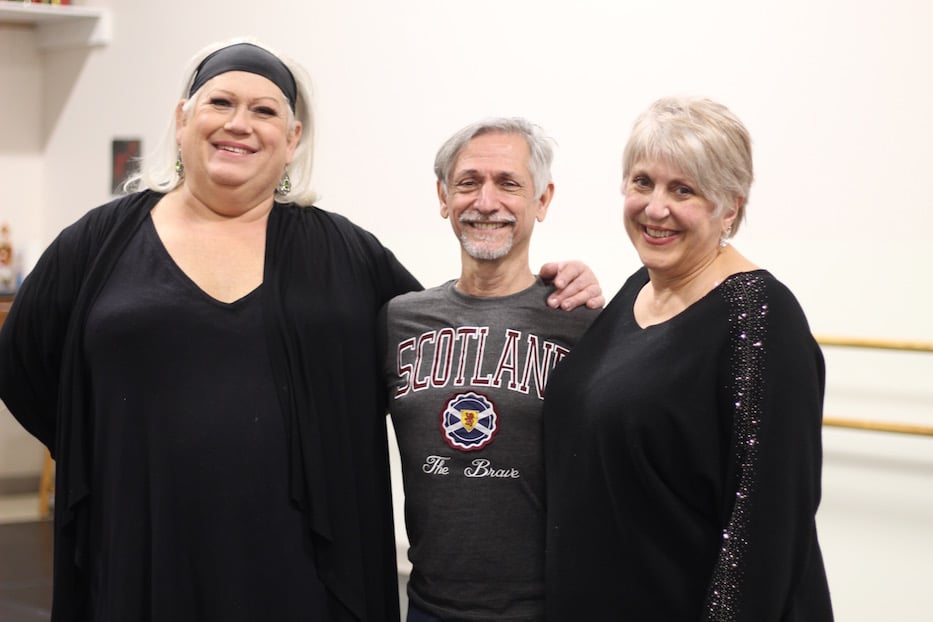 f Ballet Dolores Dégagé Hopkins, Victor Trevino, and Joan Christensen.
This performance feels wonderfully different, he said. From the pint-sized, uncoordinated mice to the Rat King's over-acted, bombastic dance battle to Clara's voyage through another universe, it's a performance that is meant to create total delight and summon humor in a cold, dark winter.
"It becomes part of your holiday, and a way to give back," he said. He pointed to the parents who had danced alongside their young kids earlier in rehearsal. "They're gonna remember that. I don't want dance to be thought of as something that's elitist, but something that's accessible and that's part of people's lives."
That enthusiasm flows through every level of rehearsal Saturday. Monaco, who grew up in North Haven, returned to tap dance eight years ago after studying it as a kid. She never expected to become the Nutcracker, she said. But she's been working on coming out of her shell: this year, Dégagé Hopkins convinced her to do a routine at Bridgeport's OUTWorks Pride celebration. She said that she's nervous but excited for the performance. Her daughter Mia also dances at the studio, meaning that it's very much all in the family.
"I've never done anything like this before," she said as a volunteer pinned her trousers to where they would need to be shortened. "It's a lot of fun … and it's all new to me."
Learn more about Joan Lynn Dance Company and this performance on its website.