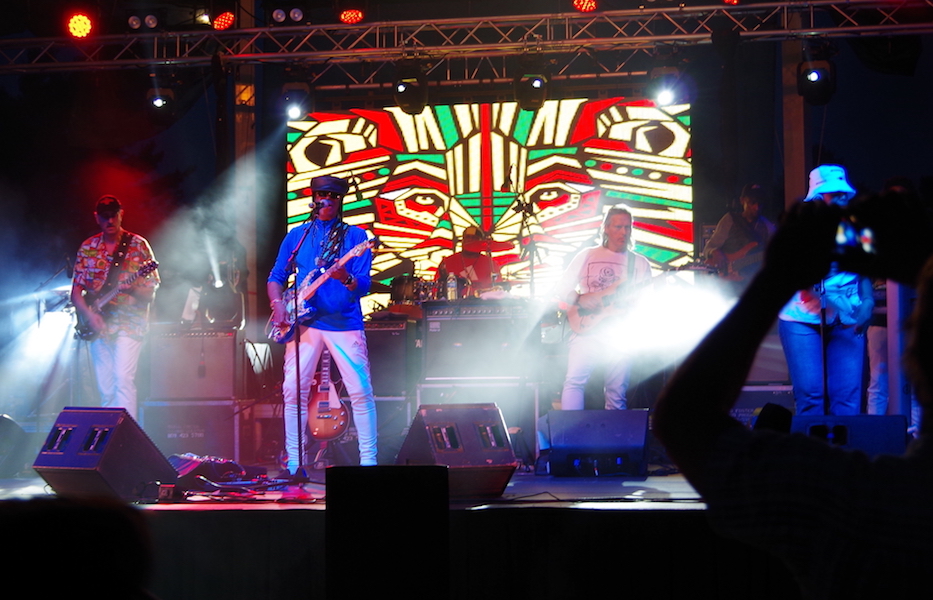 Hamden | Music | Arts & Culture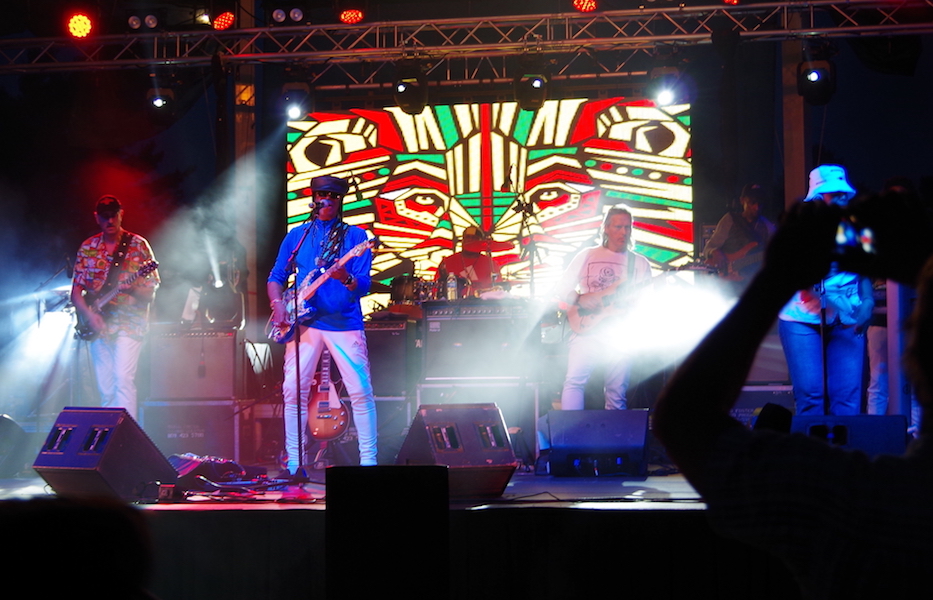 The crowd was already standing before Julian Junior Marvin plucked his six-string guitar. Even in the heat, hundreds of attendees gathered close to the stage. They extended further back, some with lawn chairs and picnic blankets and others dancing on the grass. With no wasted movement, Marvin and members of The Wailers jumped into two-hour performance of songs that sounded like one giant song.
Friday night, Hamden welcomed reggae legend Julian Junior Marvin and his Wailers for the third installment of the Hamden Free Summer Concert Series. Held in Hamden Town Center Park, the concert drew between 8,000 and 9,000 attendees, according to the Hamden Department of Arts & Culture. Some arrived in time for the opener, local favorite Blue Trail, and fare from food trucks that idled around the edge of the park.
"The Wailers are an iconic powerhouse band with a message of love and unity," said department Director Julie Smith. "The band had a great night, the audience had a blast and we are thrilled to continue our mission of providing a musical series that reflects the beautiful tapestry of cultures that is Hamden."
In keeping with this year's tilt toward greater diversity, the group was a perfect fit for a town that is increasingly kaleidoscopic. Julian Junior Marvin & The Wailers aren't a cover band: Marvin was a member of Bob Marley & The Wailers from 1977 through Marley's death in 1981. With his version of The Wailers, he works to keep Marley's discography alive while remaining faithful to the pieces. They are performed with ease but also calculation, channeling the same musical spirit with which they came into being.
"There is a certain type of awe you get to experience while working a show," said Alisha Martindale, arts and marketing manager with the Hamden Department of Arts & Culture. "When you are lucky enough to be able to move between the crowd and the stage, you not only get to experience the show through the eyes of the audience, but you also get to turn around to see the elation in the very same eyes watching along with you."
"It makes you feel like you are absolutely doing something good—seeing so many different people sharing a positive experience together," she added. "It is what reminds me that every single event we work to put on is so much bigger than us. This is what the Wailers concert felt like—a gift, not only for myself to experience having grown up listening to them on the radio but also a gift to have the platform to provide people with these experiences."
In his several decades of performance, Marvin has become legendary for his work, which channels both Marley's revolutionary roots and reflects his own training in the U.K. and U.S., spanning jazz, rhythm and blues, rock and reggae. After joining the Wailers at the end of the 1970s, he played on the band's album celebrated Exodus, a component of the reggae diaspora that was later dubbed the best album of the twentieth century by Time magazine.
He brought that to Hamden Friday, his face splitting into a wide grin several times over the evening. Despite balmy weather, attendees crowded in close to the stage, watching as performers moved under a spray of green and blue light. As the group grooved, a wide screen beamed their image over the audience. To each lyric, the crowd answered back with cheers, clapping hands, and whoops that wove in and out, rising to screech levels that no one seemed to mind.
Gammy Moses, a musician and artist who has used his work for environmental education and nonviolence training through the arts, praised the Wailers for spreading reggae across the globe at the end of the last century. He recalled original Wailers Peter Tosh and Bunny Wailer, the latter of whom is still living. Their legacy lives on well post-Marley, he said: even his five-year-old daughter knows the word to Marley's songs.
"It's because of them that people know about reggae," he said. "Wherever you go people know Bob Marley. You may not know a world of English, but you can sing a Bob Marley song."
Back on stage, the group went from one song right into another. When they launched into "No Women No Cry," performers eased into a rhythmic sway and step, reassuring the audience that "everything's gonna be alright/everything's gonna be alright." Marvin's voice rose over the chorus, dipping into a whine and then bouncing back again. The chorus never seemed to end.
When it did, it flowed right into Marley's ballad "Buffalo Soldier" and "One Love/People Get Ready," perhaps the singer's most celebrated anthem. The crowd seemed to embody the lyrics: attendees hugged each other, mouthed to the words to the band and to each other, and danced like no one was looking.
Attendees Scott Burnyak and Caleb Leventhal said that "Lively Up Yourself," during which they danced with local character Eric Triffin, had been their favorite moment of the night. As the song coasted out into the crowd—You rock so, you rock so/Like you never did before/You dip so, you dip so/Till you can dip through my door—they could feel the reggae working its magic.
"We were so close and jamming, you could feel the music," they said.
Lucy Gellman contributed reporting. The Hamden Free Summer Concert Series concludes this Friday, July 26, with the group 10,000 Maniacs and Hamden-based Steve Rodgers and Friends. The show starts at 7:30 p.m. Find out more here.