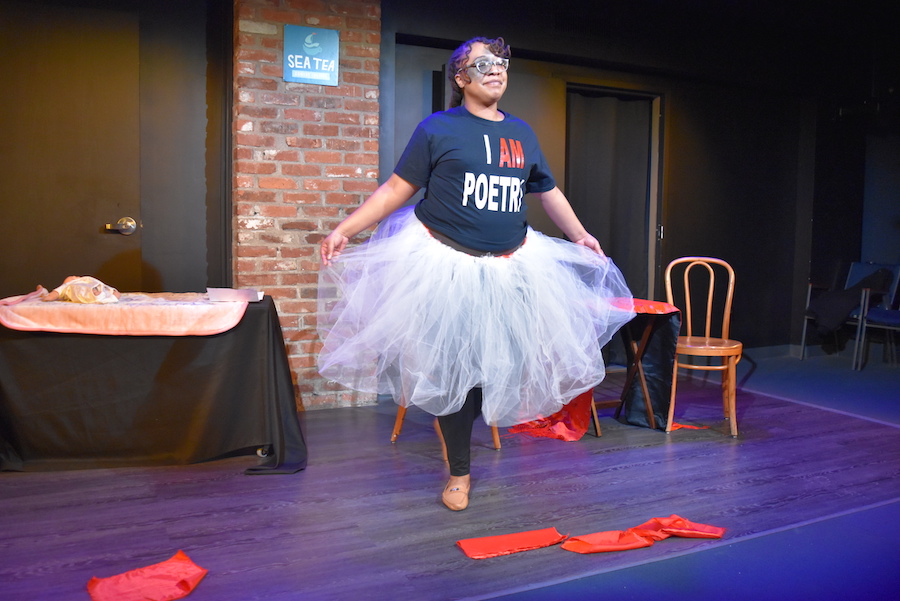 Hartford | Poetry & Spoken Word | Arts & Culture | Theater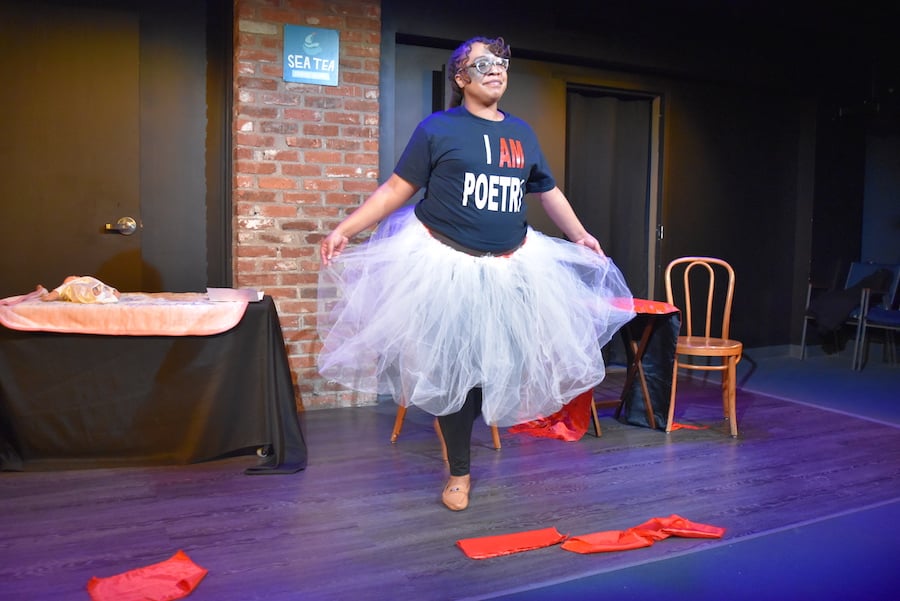 Tracy "Mind.Evolution" Caldwell: "I talk about the things people don't want to talk about in public. I talk about the hard stuff." Leah Andelsmith Photo and Videos.
Tracy Caldwell knew when she was six years old that she was in love with the stage. Singing "Ribbon in the Sky" out the window as she did dishes, she waited for someone to walk by and hear her, to discover her and make her famous.
Instead, it was Caldwell herself who discovered how to listen to her own voice.
This vignette was just one of the stories Tracy "Mind.Evolution" Caldwell told an audience of 30 at Sea Tea Comedy Theater last Sunday afternoon during her one woman show "Exposure." After a successful performance in 2017 that focused on "life, love, and lame-ass promoters," the Hartford spoken word artist decided to return to the stage with "The Baby Momma Edition," this time laying bare the challenges of family and romantic relationships through a mix of storytelling and poetry.
Caldwell came back to the theme of finding her voice again and again throughout the show. In first act she delved into her childhood and the example of her parents, particularly the way her mother lost her voice during her marriage to a man who cheated on her. In the second act, Caldwell turned the lens on herself, exploring the relationships and choices that dampened her own voice.
She entered the stage wearing a full, floor-length camouflage skirt with red cloths tucked into the waistband.
"Ooh, who is that?!" she squealed, reliving the day on the middle school playground when she saw her first "baby daddy" for the first time. A friend gave her the answer.
"By the way she said his name like he wasn't shit, I should have known. Red flag number one," she said, taking one of the red cloths from her waistband and throwing it to the floor, accompanied by peals of laughter from the audience.
Several years later, when Caldwell was pregnant with his child, that same baby daddy at first agreed to co-parent. "Then, when I was five months pregnant and starting to show," he changed his tune, saying his friends were going out and having fun, not worrying about baby clothes and formula.
"'I don't know if I can do this,'" Caldwell recalled him saying, and she silently dropped another red flag to the floor.
Over the years, Caldwell struggled to work and support her children, while their father chose to have other priorities.
"I lost my voice and I felt like he was winning," she told the audience.
Then one Christmas, her baby daddy's parents bought carefully-chosen presents for the kids and labeled them "from Nana and Grandpa."
"And then that fool put his chicken scratch at the bottom: 'And Dad,'" she said, ripping the rest of the flags from her skirt and hurling them to the floor with a tired, shaking-my-head expression that loosed several guffaws from the audience.
Finally, Caldwell decided to send him a letter, a fake invitation to the "Deadbeat Dads Club."
"Due to your high balance in child support, lack of physical time spent, and constant overall neglect of your children, our staff is convinced that you will become a great addition to the club," she pronounced from the stage. "In voting to offer you admission, the committee has demonstrated it's firm believe that you don't give a damn about your children."
"It was my way of finally using my voice to tell this man exactly how I felt," she told the audience.
Caldwell said that blend of humor and honesty is one of her trademarks. She can't help the comedy that comes out, even when discussing tough situations.
"That's just how I tell a story," she said in a post-show interview. "It's just how my mind works."
She likes to dig deep. Both in her one woman shows and in her spoken word performances, she uses her art to process the difficulties in her life, a philosophy she laid out in her self-titled poem "Mind.Evolution," a piece which serves as both manifesto and creation myth.
like a quiet storm that builds
I sneak up behind you with words that heal…
life is merely decisions made during a survival test
and with that conclusion I've just introduced you to
Mind Evolution
"The show is pretty raw and in your face, and that's how my poetry is," she said. "I talk about things people don't want to talk about in public. I talk about the hard stuff."
That "hard stuff" included how Caldwell had to apply for public assistance and go to court to get her first baby daddy to pay child support. She also told the story of her second baby daddy. The relationship was marked by domestic violence, including physical fights that threatened Caldwell's life and landed her in jail.
"So what have I learned?" she asked the audience towards the end of the performance. "I've learned it takes me too long to learn a lesson."
She recalled "The Little Red Hen," a story that was a childhood favorite of hers, and she now sees as a metaphor for her own voice. In the story, a little red hen is left all alone to grow wheat, grind it into flour, and knead dough. Only at the end do her barnyard friends get involved to ask for some of the bread, a request that the hen refuses.
"Bare Naked," the final poem of the performance, was about Caldwell accepting herself for who she is and treating that self with honesty and kindness.
I bleed what I write whether you like it or not
I have a need to make things right so I apologize too much
Don't take my kindness as a crutch, cause I'm a beast when it's a must…
I'm silly, love life, and know all my bumps are necessary…
Marching to my own beat, I'm courage in the face of defeat
Powerful, Black woman, capable of anything
Despite all of her challenges, Caldwell chose to end the show with hope and positivity, telling the audience that from now on she's going to focus on her first love—the stage—and go back to the joy of singing out her window.
"I'm going back to being the little, red hen," she said. "I'm going back to using my voice at all times."
Caldwell will be appearing in "Worst Date Ever!!" a sketch comedy show by Tianna Glass-Tripp at Sea Tea Comedy Theater in Hartford on Feb. 9. Tickets are $15.