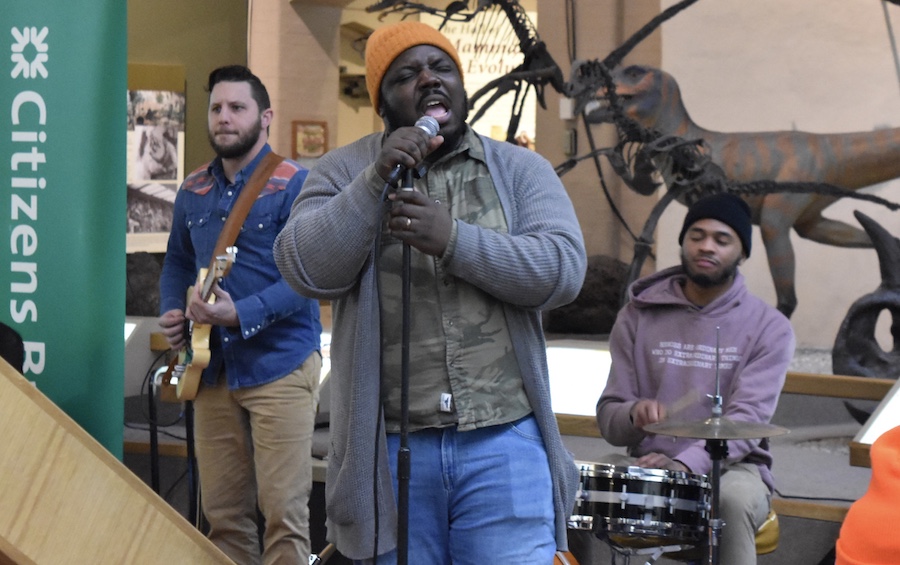 Dr. Martin Luther King Jr. | Music | Poetry & Spoken Word | Arts, Culture & Community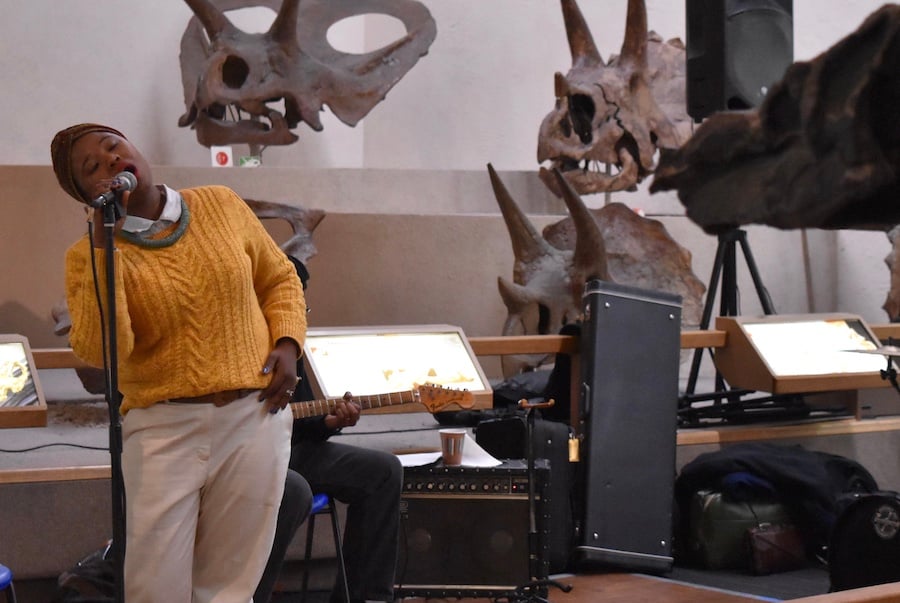 Thabisa Rich: "I'm a woman and I am liberated and I'm still fighting. I'm very appreciative of his life and sacrifice for me." Leah Andelsmith Photos and Videos.
Singer Thabisa Rich was all smiles on the stage, jumping and twirling with the littlest audience members in the room. She took a cue from one of her young admirers, who had started to do the floss. Swinging her arms and hips, she tried to catch on before giving the pint-sized dancer a round of applause and picking up the mic to immerse the hall in her vibrant vocals.
Monday, Rich's performance kicked off programming at the Yale Peabody Museum of Natural History's 23rd annual celebration of Martin Luther King, Jr.'s legacy of social and environmental justice. It was the second day of events that included performances from local musicians and dancers, as well as the Zannette Lewis Environmental and Social Justice Professional Poetry Slam and Community Open Mic.
Throughout the day, performers took the opportunity to broaden and deepen the message of Dr. King, weaving his legacy of social justice through their work, and finding unique personal connections to the holiday.
They included Rich, a Westvillian who was born and raised in South Africa, and sings in a mix of English and Xhosa. Though Rich began her set with a pair of sultry ballads, she turned quickly to upbeat numbers. Before long, the singer had taught the crowd a new word in Xhosa and had them singing along, trying out the new sounds.
"The word Eyodidi means "one of a kind.'" she said of another number. "So I say to women in this song, don't be a 'type' of a girl or a 'type' of a woman. Be one of a kind. Be yourself, authentically you, because you're one of a kind."
For Rich, the message of the song went hand in hand with the day's focus on Martin Luther King. Not only because she loves the chance to do what she calls "edu-tainment"—teaching kids about her own culture—but because she sees King's legacy in the life she is able to live.
"Everyone should have a connection with Martin Luther King. He is one of those few men and women that went out to sacrifice themselves so we can have a free world," she said. "I'm a woman and I am liberated and I'm still fighting. I'm very appreciative of his life and sacrifice for me."
"I have a husband of a different race and to be together and not go to jail" or be in danger is extremely important, Rich added. She later said she is filled with optimism about the next generation, calling them "diamond kids."
"A diamond is beautiful, but before it's a diamond, it's covered with dust and soil," she said. "It's ugly. We have been seen as an ugly people, but we're not. We're better than that." Rich added that "information, education and freedom" are what uncover the diamond within each person.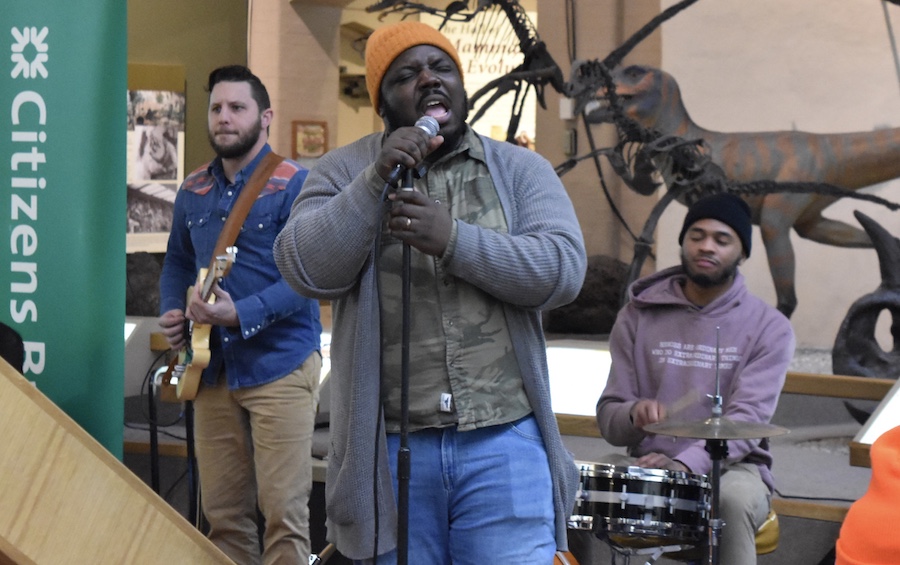 Paul Bryant Hudson: "I like to use this particular day to reflect, not just on the work of Dr. King, but on the work of people like them as well."
Afterward, soul singer and arts educator Paul Bryant Hudson took the stage, starting off with a stretched out, ethereal version of "Smile," a jazz standard made popular by Nat King Cole. His voice was smooth and quiet and thoughtful and added complexity to what seems on the surface to be a simple song.
Smile though your heart is aching
Smile even though it's breaking
When there are clouds in the sky, you'll get by
"I love the contrast between the messaging in that song and, as an artist, the grace or space I give myself to be angry or to be enraged," Hudson said in a phone interview after the show. "It's almost … an ironic way to confront the notion that Black folks and people of color specifically should smile through pain and trauma."
In a set full of intentional song choices, one of Hudson's untitled compositions stood out.
Sometimes I feel like an angel with no wings to fly…
But if you ask me my favorite color
I say somewhere between black and brown
It's like mirrors reflecting on my spirit man,
Who I am when no one's around
The chorus was a wandering, wordless melody over brooding music. Hudson's voice was soft and rich, creating an intimate, confessional space. It soared as he repeated parts of the verse at the end, belying hints of pain at the edges.
Hudson said the song came from a journal entry he wrote about his identity as an artist and the struggles he faces in the world as a Black man.
He followed that up with another untitled song, one about "the contributions of Black women in my life…the other-worldly power and strength of the Black women who raised and continue to support me."
One of those women is his great-grandmother and New Haven musician Syla A. Artis Branch, who died in 2009 at the age of 92. Before her death, Hudson said, she dedicated her life to work on "creative economic equity and access for people of color in New Haven."
He also takes the day to remember his grandfather John Head, "who did lots of activism and liberation work in the Jim Crow South in the sixties and seventies."
"I like to use this particular day to reflect, not just on the work of Dr. King, but on the work of people like them as well," Hudson said.
"There are very few instances, or recurring instances, where people are gathering to celebrate Back legacy and Blackness and Black heroes," he added of the Peabody's event. "The Yale community, the Greater New Haven Community, white folks, Black folks just know that this needs to happen and it's not something that they're willing to let slip through the cracks."
From Song To Spoken Word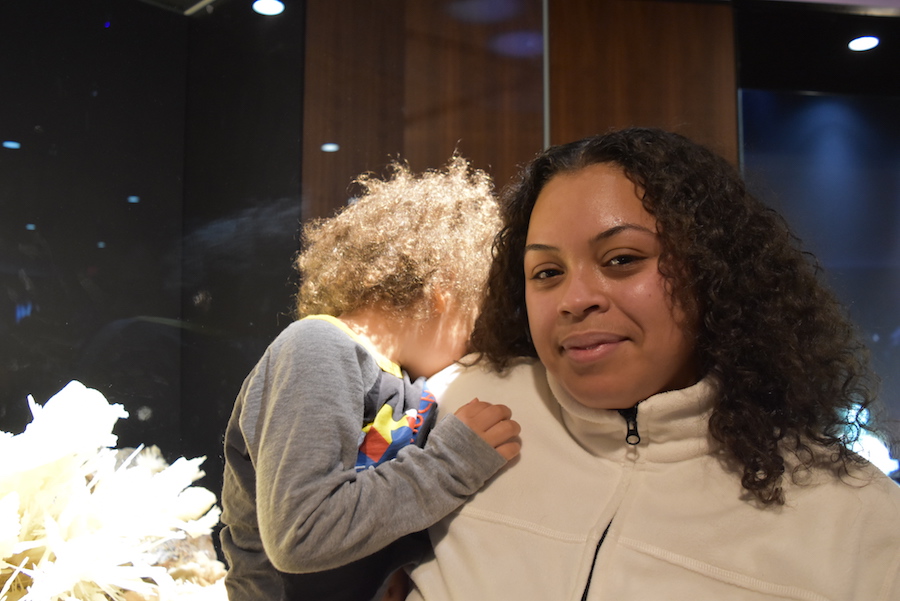 Upstairs, the community open mic was underway and New Haven poet Yexandra "Yex" Diaz had taken the mic to perform a piece entitled "Skipping Stones in Muddy Waters," which she described as an open letter to her daughter.
Dear Cyra,
I should have named you Amber,
Just in case the police aren't as quick to place your picture on the back of a chocolate milk carton
As they are to put you in handcuffs
The poem started out rooted in a mother's fear that, if her child ever went missing, authorities might classify her as a runaway instead of issuing an Amber Alert. From there it blossomed into a constellation of related worries about the weight a name can carry, like whether having a "ghetto name" will cause her to be passed over for job interviews.
Standing still at the mic, Yex took the audience with her as she journeyed through defiance, sadness and rage—each emotion bearing itself in the rises and swells of her voice. But despite the despair in the poem, Yex ended on a note of pride
I should have named you Amber,
But you were much more precious than a stone.
Later, Tracy "Mind Evolution" Caldwell took the stage during the first round of the professional poetry slam with "Suits and Ties." Caldwell's first piece dealt with a Facebook friend who reacted to a post Caldwell made after Walter Scott was shot in North Charleston, South Carolina.
I should change my stance because she's uncomfortable?
No laws have been changed because I'm frightened.
Caldwell's voice soared with the musical quality of a preacher as she repeated the words "over and over,"
We watch these public executions over and over
And over we cry
And over we are angry
And over we are frustrated
And over we are silenced
She stood with feet hip distance apart, pronouncing every word as if each one were a gift or a lesson. Her voice was resonant and steady, but laced with the hint of angry tears.
We are not the violent ones
We suffer from PPSD: Purposeful Traumatic Systemic Destruction
Told to keep up with the American Dream
Got chained to the starting block at the beginning of the rat race,
Broke free and get shot any time we start catching up at the finish line...
But if they won't stop shooting us,
At least play a video of a good cop arresting a bad cop one time,
So I can play that over and over and over…
In a moment of poignant resonance, she again repeated the words, this time walking away and leaving the audience with the stark image of an empty mic. Electricity seemed to pass from listener to listener as the crowd erupted in applause.
Caldwell lasted through all three elimination rounds, eventually placing third in the slam. In a phone interview later that day, she said it was an honor to be among such a talented and competitive group. Caldwell said her work is social justice-oriented.
"Because I'm Black and I'm a woman and I have to live through a lot of the stuff that's happening, sometimes there's no one that you can say 'I'm angry' to," she said. "So that's where poetry comes in."
Caldwell has been performing her poetry for almost 20 years, but celebrating the legacy of Martin Luther King has been personal for her since elementary school.
"I went to elementary school at Martin Luther King School here in Hartford," she said. She remembers learning in those years about the civil rights movement, African-American history, Native American history. "We had a lot of rich culture," she said.
Caldwell said that changed in fifth grade when she started being bussed to a predominantly white West Hartford school.
"Basically it was to help integrate the schools in West Hartford because there weren't enough residents who lived there to diversify the school," she recalled. "So we were bussed from Hartford…and other surrounding towns so that they would be in compliance with the desegregation laws."
Though Caldwell wasn't alive when the Brown v. Board of Education decision ordered the desegregation of schools, "I still was a product of that verdict," she said. "I went through a lot…I faced a lot of racism and microagressions that I didn't really understand at the time and I didn't know how to deal with."
Caldwell's experience is that Martin Luther King's work has continued well beyond his lifetime. "It's just ironic that I went to a school named after Martin Luther King and his whole goal was to desegregate and integrate Black people into white society," she said.
"Martin Luther King Day is a big deal," she added. "Even if I weren't in the poetry slam, I'd take it off every year, just to make sure I can remember all those things and teach my kids all those things."