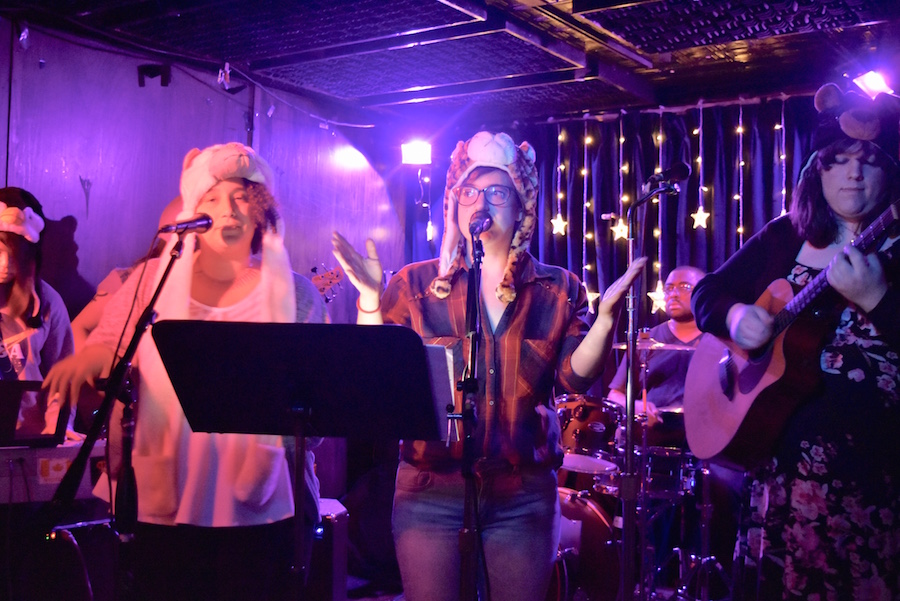 Cafe Nine | Music | Arts & Culture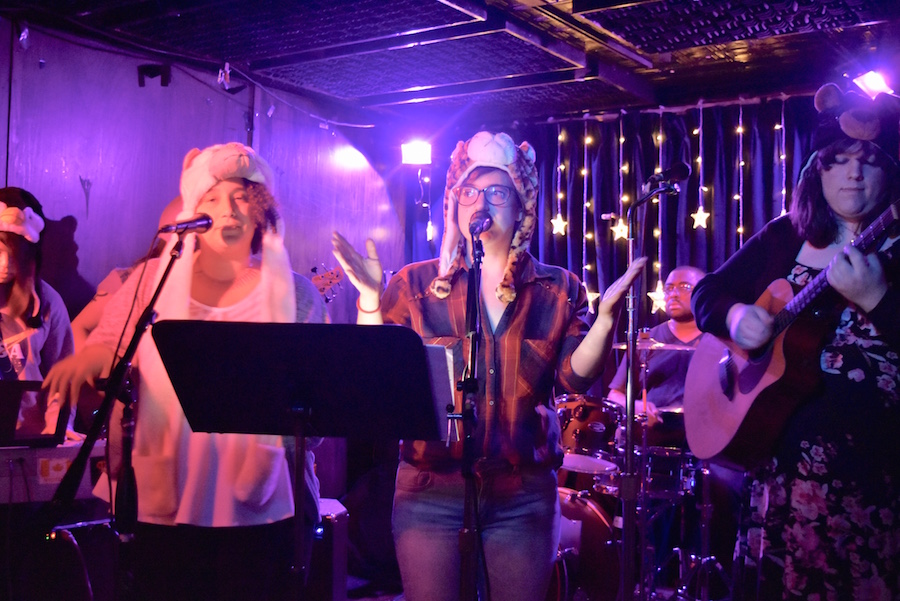 The members of Semaphora donned fuzzy, animal hats with long ear flaps and piled onstage, launching into a song "about a kid who won a spelling bee." Piano and guitar dug into a low, vamping riff before the beat dropped and the melody came in, hitting the offbeats in a way that swung.
I've got a story but I don't know where to start
I'll have a heart attack before I have a heart
"Scomberdae" was just one of the songs Lydia Arachne and her band Semaphora played during a late afternoon set at Cafe Nine last Friday. It was the last in a short series of winter shows that also included performances at Fast Eddie's Billiard Cafe in New Milford and Three Sheets New Haven. The band was joined by blues musician Vange Durst, who opened with a short, bluesy set that featured Arachne on the bass. A small but engaged crowd of 10 grew to two dozen over the course of the show.
Durst started her set with "Chance to Fly." With a quick strumming pattern, the song was both emotional and hopeful, and when she slid into to the softer sections, her voice was gritty and fluttery at the same time.
Thank you for this love inside
Thank you for these eyes open wide
Thank you for this chance to fly
Durst worked the pedals at her feet, looping a section of the rhythm guitar she'd been playing. Then, with an appreciative whistle from one of the audience members, she launched into a soulful guitar solo that the crowd couldn't get enough of.
"I love her! She's so good." An audience member said to their neighbor.
"Listen to that riff!" came the reply. Folks sidled up to a tip jar as she played.
Durst has a rock-blues voice that tears a little at your heart each time you hear it, and that was on full display as she sang "Road to Damascus," a song that is soft and earnest, like a prayer.
The music was evocative, with sustained notes in the guitar holding over from measure to measure to give the chords tension. Her shoulder started to move with the rhythm as the beat picked up part way through the song.
Come lay yourself down on the road to Damascus…
Face to the wind, look on to progress,
Lay it all down on the road to Damascus…
What a beautiful journey, don't be afraid
The song takes as its inspiration the biblical story of Saint Paul, who was originally a persecutor of early Christians. Traveling to Damascus, he was struck down by Jesus and subsequently converted to Christianity. The image was particularly powerful for Durst, and she put her own spin on the story.
"I'm not particularly Christian, but a friend helped me with the lyrics," she said. "It's about the struggle for sobriety. It's about the struggle to be authentic, the struggle to recover and to get through whatever shit we come up against … without killing yourself with drugs and alcohol."
There's a depth in Durst's experience that floods out when she takes the stage. Even just sitting still, she holds the audience rapt with her emotional presence.
She followed "Road to Damascus" with "Ain't it Crazy," which was bright and upbeat, with Durst's voice dropping down to reach some rich, low notes in the melody.
"Life's so crazy, but you're so fine," she sang.
Afterwards she explained that "Ain't it Crazy" is about "how we let fear run our lives, but beyond it all there's something that brings us back to life."
Durst plays locally once or twice a month with her all-female funk outfit Dee-lish, and will be playing another solo show March 3 at Next Door New Haven. Both "Road to Damascus" and "Ain't it Crazy" are slated for Durst's upcoming EP, which she is recording with the help of Arachne.
"It's all a part of trying to be better," she said. "What I've found in life is that we all struggle to overcome some kind of fear."
Afterwards, Semaphora took the stage, filling Cafe Nine with an indie pop-rock sound full of catchy hooks and the hint of a harder alternative edge. Semaphora is the brainchild of Arachne, who is the sole songwriter and plays most of the instruments on the group's debut album, Zoonotic.
Arachne moved to New Haven from Buffalo, New York five years ago and said she "immediately began to join as many bands as I could."
The connections she made in the local music scene paid off when she started looking for bandmates to help her play her songs live. Friday's lineup included Liz Ashkins and Sarah Golley on lead vocals, Branden Girtman on drums, Lucy Loffredo on bass and Jessica Plude on keyboards. Arachne played guitar and was a third voice on the group's harmonies.
Zoonotic is a collection of songs Arachne worked on from 2010 to 2016 that explores "connections between human and non-human animals." Arachne has always been into animals, and it's shown up in her songwriting since she was eight. But it's more than just animal songs, she says.
"I write songs that tell stories," she said. "This American Life is a huge influence on my lyric writing because I want to convey something interesting that people haven't heard of or thought of before." Arachne said she hopes her music will make people "curious about the world."
That ethos was clear during "Arturo's Song," about a polar bear in an Argentine zoo who was said to have suffered from extreme heat in his enclosure. Though the lyrics about a bear longing for his Arctic habitat were grim, the music was upbeat. Ashkins and Golley bounced up and down as Arachne counted the band in, then the pair started dancing as the music began.
It's called home
A place that puts the cat in catacomb
A break from color back to monochrome
It traces out a circle like a palindrome
The song bounced between time signatures, and at one point, the groove changed and Arachne laid down a guitar solo set off from the rest of the song like a jewel. Following her, Plude leaned into a jazzy, fast-paced piano solo that led into the punchy final chorus.
Although onstage she playfully called it "a song about chickens," Arachne explained that another song, "Modern Dinosaur," is "really about factory farming, told from the perspective of a chicken."
"If they were to be aware of their situation, how would they cope with that?" she elaborated after the set. "They would think about their history as dinosaurs and tell each other not to lose hope."
The song started slower and moodier than others in the set, with a lulling piano vamp to anchor the verses. Like many songs on Zoonotic, it had a broadway feel, as if it were from a rock musical about animal rights activists.
There was a talk-singing, recitative quality to the deliciously wordy verses, but when the melody raised in pitch to meet the chorus, there was an emotional lift that tugged at the chest.
We're standing on the edge of noble heritage
Despite what our surroundings imply
Flap your wings and roar
Like a modern dinosaur
On the bridge, Girtman's drums rumbled under a haunting melody before he let rip on a rock beat as Ashkins and Golley's vocals soared above. Arachne said she's been influenced by musical theater "maybe by accident," as she's played in pit orchestras since she was in middle school.
Later on, "Mobilnik," a syncopated, bluesy number, had some audience members playing a little surreptitious air guitar or tapping in time on the tables. Afterwards, several listeners came up to tell Arachne "that was a really sick set" or marvel at how she managed to make her acoustic guitar sound like an electric one.
Sharing both musical chops and the desire to write songs that mean something, Durst and Arachne's Semaphora made for a good pairing. Their sets perked up a Friday afternoon and left audience members wanting more as they headed out into the night.