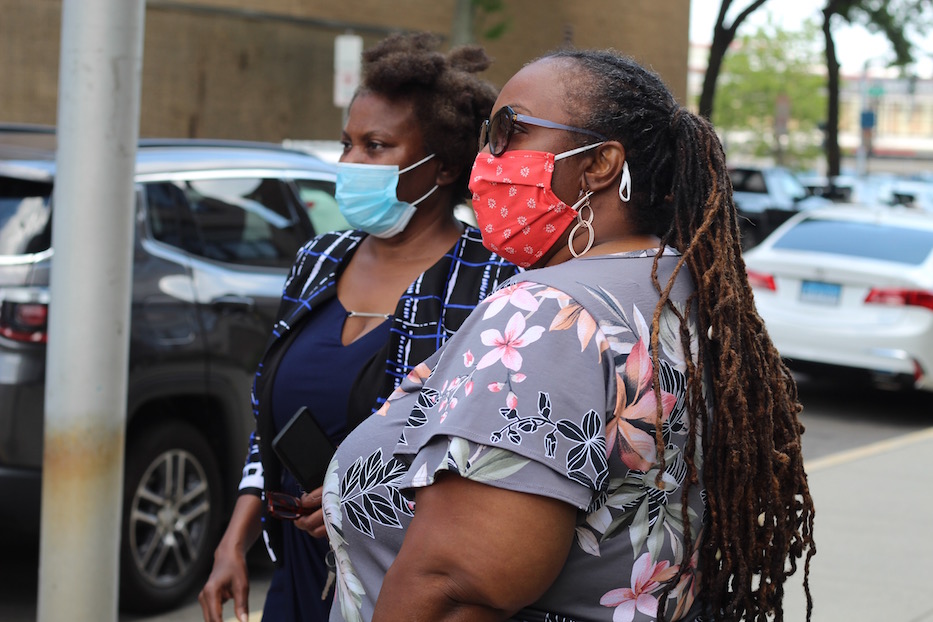 Education & Youth | Black Lives Matter | COVID-19 | New Haven Board Of Education | Education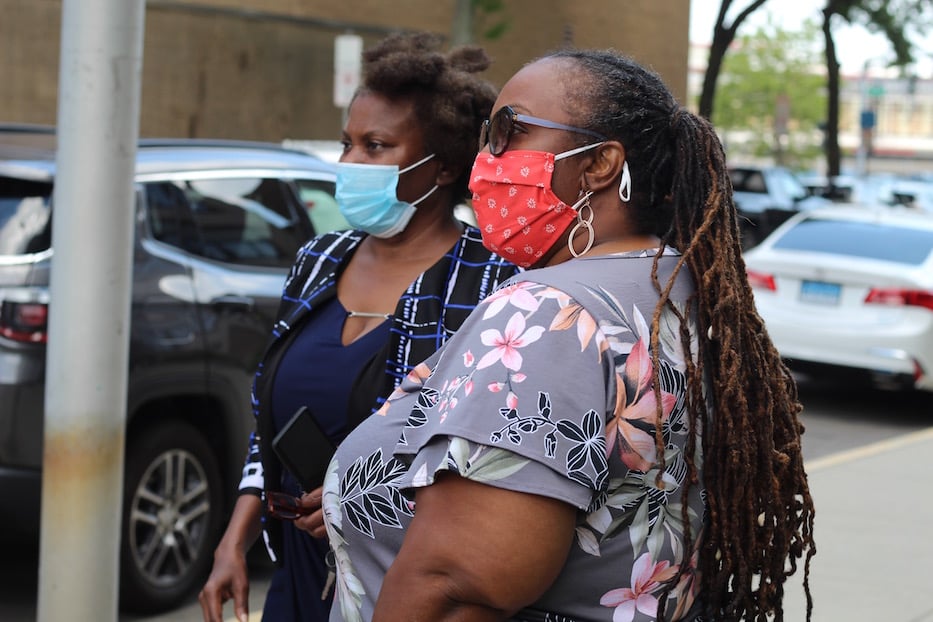 ESUMS teacher Kirsten Hopes-McFadden (in the blue) and Nijija-Ife Waters at Tuesday's gathering. Lucy Gellman Photos.
ESUMS teacher Kirsten Hopes-McFadden didn't plan on spending her birthday protesting outside of the city's Board of Education. But when she found out that a principal at another school had used "the N-Word" in an anti-racism training, she got in her car and headed straight to its Meadow Street headquarters.
Hopes-McFadden is an eighth grade social studies teacher at Engineering and Science University Magnet School (ESUMS) and the proud parent of an ESUMS grad. Tuesday afternoon, she joined a handful of parent advocates, activists, educators, clergy and members of the city's Board of Alders to protest what they see as unchecked racism in the city's schools.
The protest came one day after New Haven's Board of Education narrowly voted to demote and reassign—but not to terminate—Brennan Rogers School Principal Laura Roblee after her use of the N-word in an anti-racism training earlier this year. According to those around her at the time of the incident, Roblee used the term while pushing back against the facilitator's use of the terms "white people" and "white privilege" to describe white people and white privilege.
"Last night was so insidious," said Hopes-McFadden. "And what was so insidious was the Black people supporting her. Anti-racism anti-bias [work] requires action."
Board members Darnell Goldson, Tamiko Jackson-McArthur and Larry Conaway voted against the demotion, on the grounds that it was not sufficient and that the investigation was largely kept out of public view. Board President Yesenia Rivera, Mayor Justin Elicker, and members Matthew Wilcox and Edward Joyner voted for the demotion. Watch the full meeting here.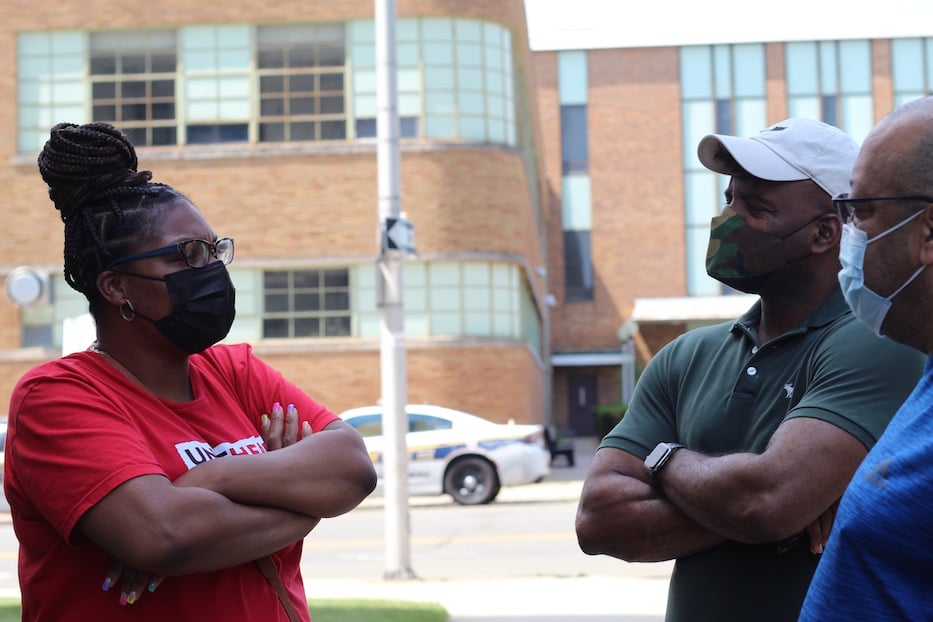 Those present included New Haven Board of Alders President Tyisha Walker-Myers, Ward 27 (Westville/Amity/Beaver Hills) Alder Richard Furlow, and Board of Education member Darnell Goldson among others.
Roblee was placed temporarily on leave in late March, pending an investigation into the incident. Monday and again on Tuesday, parent advocates slammed the Board of Education for what they see as a lack of transparency and accountability around the investigation and the vote. After a small protest on Tuesday, Black Lives Matter New Haven (BLMNHV) has scheduled another protest at the Board of Education's Meadow Street building on Thursday morning at 11:45 a.m.
"My heart is very upset and frustrated," said BLMNHV co-founder ala ochumare, whose son is currently a junior at James Hillhouse High School. "I'm definitely feeling a lot of ways concerning the status quo, and really ready for folks to make better decisions. "
For ochumare and others who gathered Tuesday, the demotion is not sufficient—they want to see a public apology from board members, schools Superintendent Iline Tracey, and Roblee, as well as a copy of the documents from the investigation. Rev. Steven Cousin, himself a parent and a member of the Greater New Haven Clergy Association, said he is "hurt" and angry that Roblee has not yet made "any type of [public] statement" or apology.
In the past year, Cousin transformed his church into a learning hub for students struggling with remote school. He said it worries him to think about the harm such language would cause to students and to fellow educators.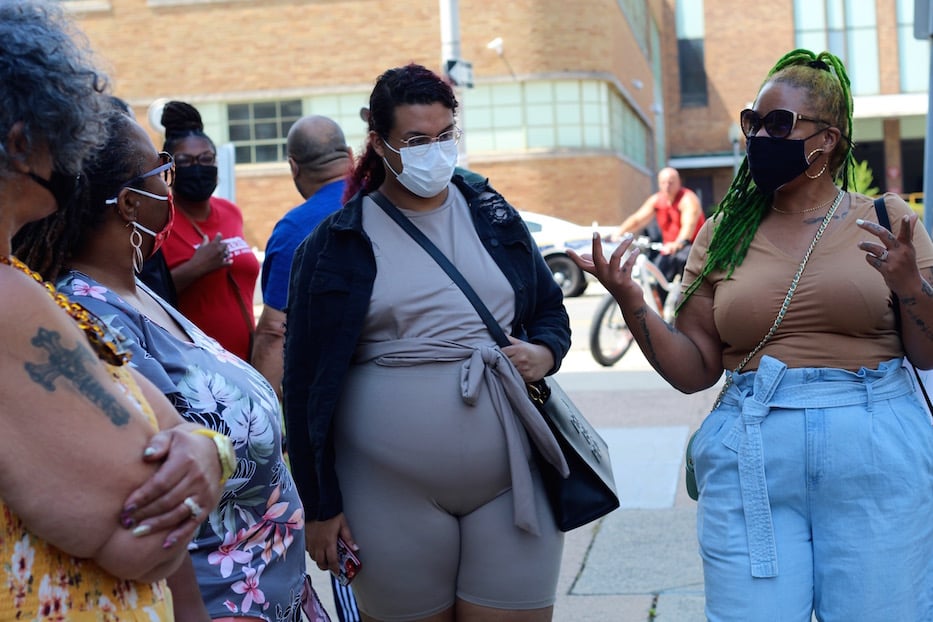 BLMNHV Co-Founder ala ochumare and Citywide Youth Coalition Director of Organizing Jahnice Cajigas.
ochumare said that without an apology, she plans to call for Rivera, Elicker, Joyner and Wicox to step down as she organizes Thursday's protest. She called it particularly "violent" to see Tracey and Joyner, both of whom are Black, speaking out in support of Roblee. She also admonished Mayor Justin Elicker for his relative silence on the matter.
Citywide Youth Coalition Director of Organizing Jahnice Cajigas, who graduated from High School in the Community in 2017, said that she was equally frustrated to learn about the incident—but not surprised. While HSC is largely recognized as the district's law and social justice high school, Cajigas said she often encountered racism in its classrooms and hallways.
She heard one teacher "tell their students in their classrooms that they were too dark to see in the moonlight," she said. During an event in honor of Trayvon Martin, an unarmed Black teen who was shot and killed in Miami Gardens as he walked home with a pack of Skittles, a teacher allegedly told his class of freshman "that if Trayvon Martin was walking down his street, he would have shot him as well." When Cajigas spoke to school officials, she said that nothing changed.
"She [Roblee] did it behind the scenes," Cajigas said. "There's teachers who have done it out loud and proud and not been held accountable for years, so it's not surprising to see this happening. It is disgusting that the Board of Education would allow this behavior and not hold her accountable."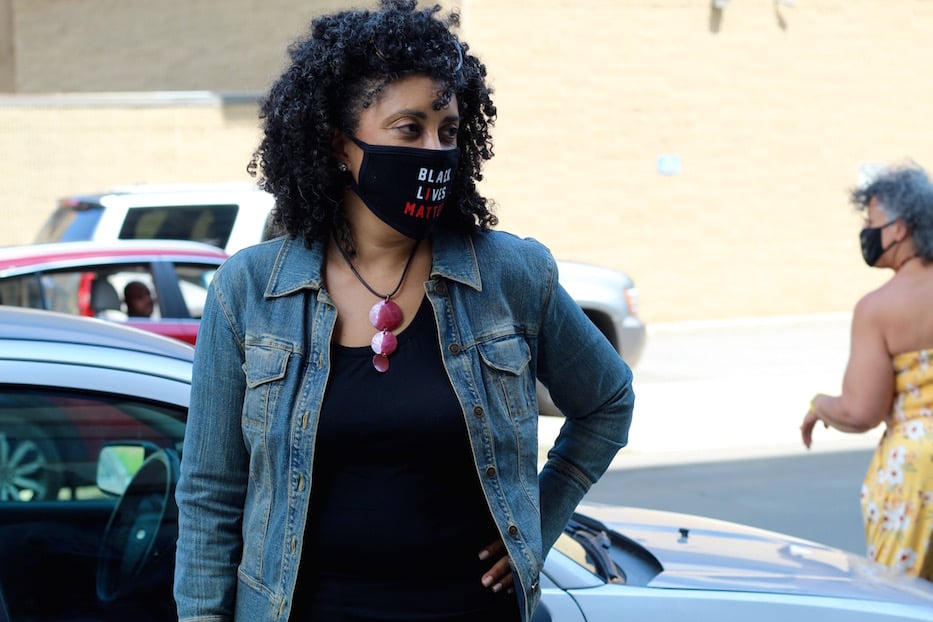 Mayoral candidate Karen DuBois-Walton, who spent most of Tuesday's gathering listening to parents. "This is a moment to show what it looks like to implement equitable school policy and practice and to show what putting kids, family and community needs first looks like. The board of education should commit to doing the same work that district staff is expected to on racial equity," she later said at a press conference outside Wilbur Cross High School.
For a little under an hour, the gathering also became an intimate discussion on how parents feel the city's Board of Education is failing its Black students. Both ochumare and parent advocate Nijija-Ife Waters, who leads the City Wide Parent Team, expressed frustration over the lack of programming on "Wellness Wednesdays," which began as a response to remote school last year. When they speak up, Waters said, it's as if no one is listening to them.
In the fall, ochumare said, the Board of Education framed the days as a chance for students to catch up on assignments, take care of their physical and mental health, and check in with teachers in classes where they needed extra help. But few schools have actually offered programming for students to tap into. Those that did had teacher-led initiatives, such as mindfulness meditation and yoga at Cooperative Arts & Humanities High School.
ochumare said that on Wednesdays, her son checks in to his homeroom so he won't be marked absent, and then checks out with nothing to do for the rest of the day. She's thinking about homeschooling him for his senior year, just as she did the year before he entered Hillhouse as a freshman. At least then, she said, she'd know what he's learning in the classroom. This week, the Board of Education announced that it would return to in-person instruction five days a week in the fall.
"We pay them tax dollars!" ochumare said of the city's educators. "We put our children through this. We are paying this woman six figures to educate our children. This is what happens in the city right now."
As federal dollars arrive in New Haven this year, Waters said she also wants to know more about how and to whom those resources will be allocated. She said that she hopes to see more coalition building among New Haven Public Schools parents. When Waters called for greater parent turnout at Board of Education meetings, ochumare added that she'd also like to see it become easier for parents to submit prerecorded testimony.
"We have to say enough is enough," Waters said.
Mayoral candidate Karen DuBois-Walton listened patiently as parents and activists, sometimes one in the same, spoke. When Waters called for a paradigm shift, she stepped in.
"You can make a change on that," DuBois-Walton said. "You can make a change September 14."
She later hosted a press conference Tuesday afternoon outside Wilbur Cross High School alongside several concerned parents. At the exact same moment, Mayor Justin Elicker was announcing plans for the Fourth of July fireworks at the top of East Rock.
"Too frequently, we watch Black people and other people of color do the emotional work while those in leadership and those who proclaim to be allies sit silently by, watching from the sidelines, refusing to use their voice to make a contribution, to shift power, to amplify the experience of others or simply to let everyone know where they stand," she said. "This silence is simply unacceptable. It is especially unacceptable coming from a leader in our time and in this city."
Last month, DuBois-Walton released a 15-point plan focused on educational equity in the city's schools. Read more about that here.