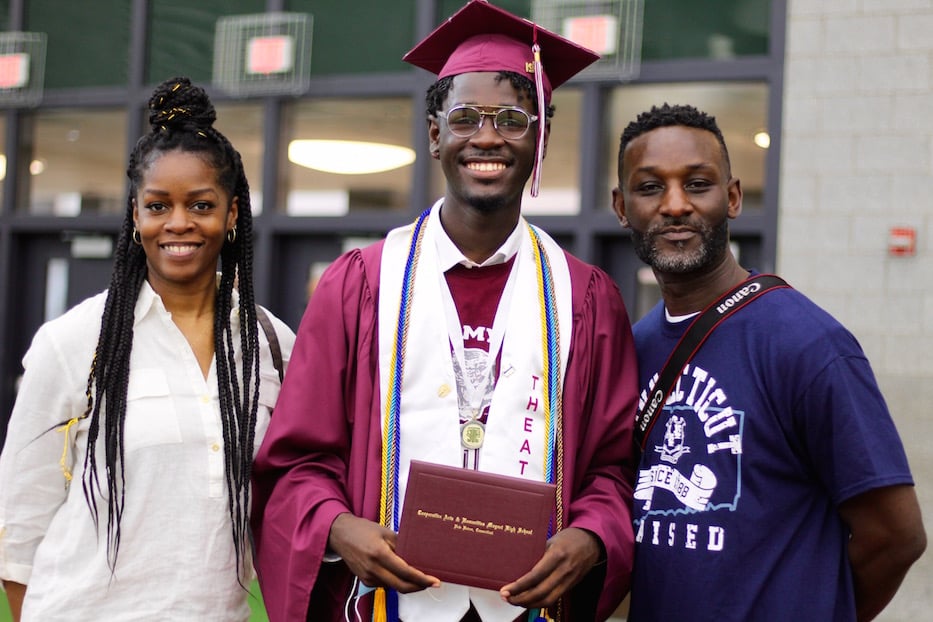 Co-Op High School | Education & Youth | New Haven Schools | COVID-19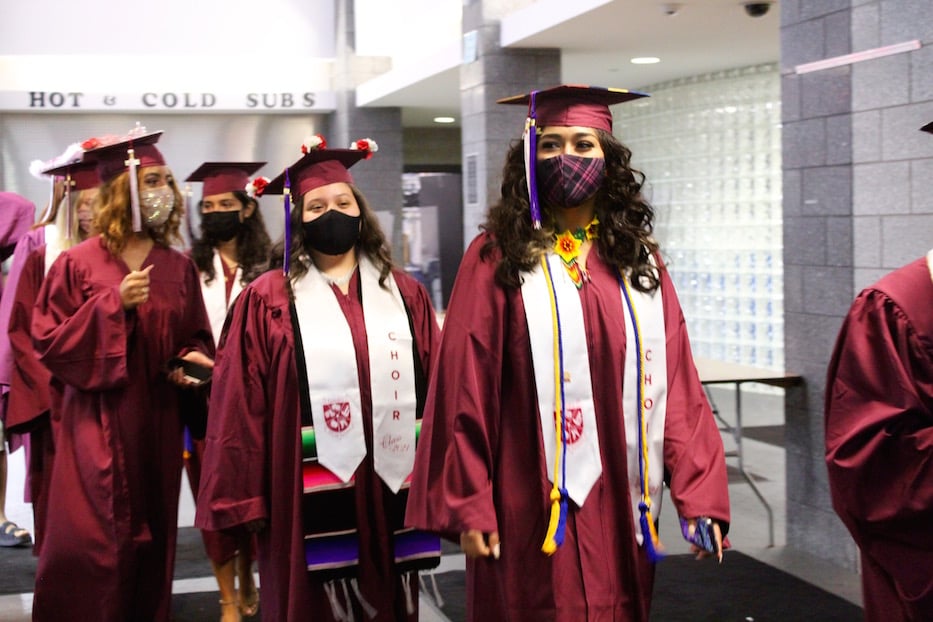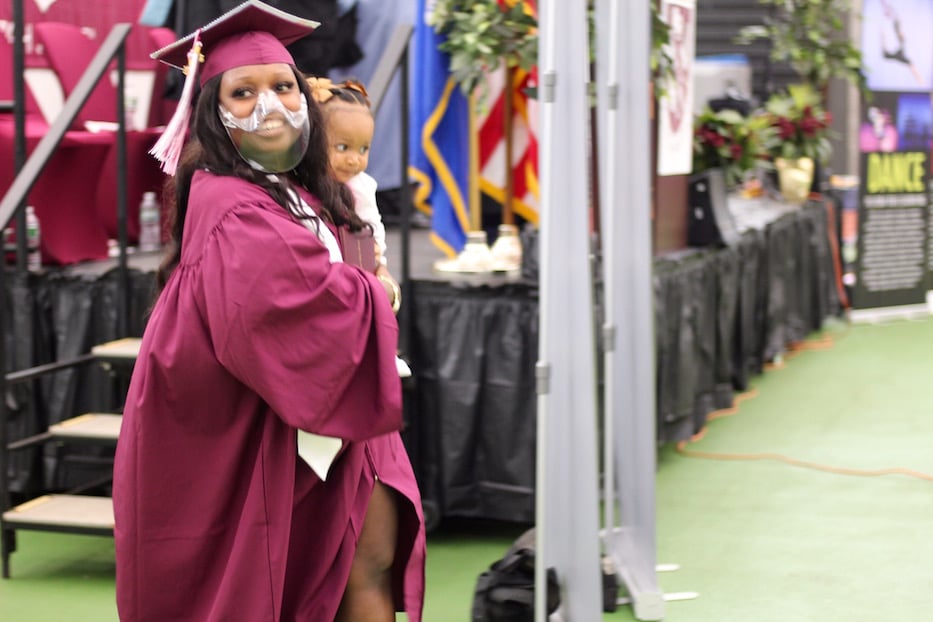 Top: Co-Op students get ready to walk in. Bottom: Tynasiah Renee Cloud.
One student finished high school as she started motherhood, and made sure assignments were still turned in on time. Another made a lifelong HBCU dream into a reality at the 11th hour. A third joined the most published, most compensated class of creative writers that the school has ever seen. And a fourth used her family as the inspiration for her senior capstone.
They all made it through.
Those stories of resilience filled the Floyd Little Athletic Center on Monday morning, as Cooperative Arts & Humanities High School graduated 135 seniors in a pandemic-safe, masked ceremony that still made room for celebration. Families, friends, and teachers filled the bleachers to cheer students on as they walked across the stage. For many of the graduates, it was the first time they had seen teachers and classmates in a year.
"In spite of the pandemic that we had, that devastated a number of lives and turned homes upside down, here we are," said Superintendent Iline Tracey, who later broke out into Diana Ross' "Reach Out And Touch." "We weathered the storm."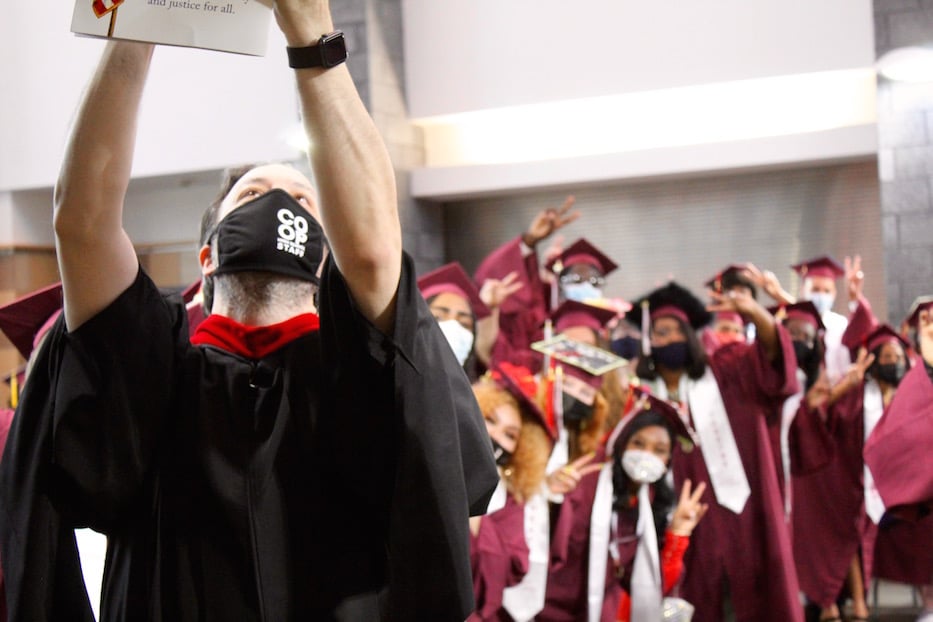 Theater teacher Robert Esposito—or Espo, as he is known and loved—with students.
Monday, the storm was literal: students gathered in the complex's lobby as the heavens parted and it poured outside. To get to graduation day, members of the class of 2021 waded through both their junior and senior years in a pandemic, many holding down first and second jobs to support their families (some chronicled their experience in this publication). They watched school plays get cancelled as stages went dark. They wrote entire essays on their phones when school-provided Chromebooks wouldn't do the trick.
Across miles of distance, they made multi-track concert recordings, plowed forward with after-school arts activities, and premiered dance performances and visual arts exhibitions through Zoom and YouTube. They recorded a musical online and sent scripts to mailboxes across New Haven. They turned their bedrooms and kitchens into their dance studios and kept moving.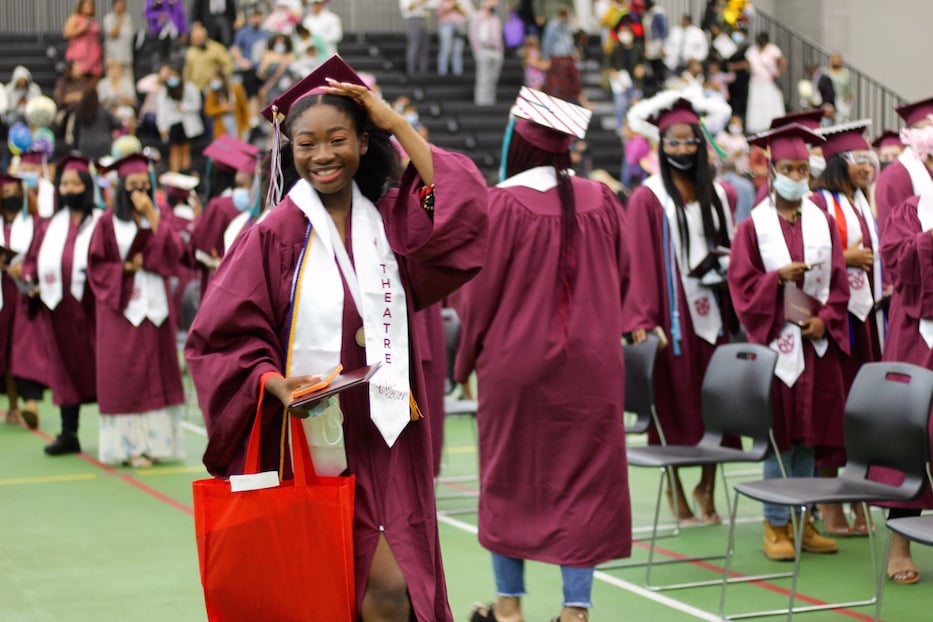 Lihame Arouna.
As they took the stage, both student and guest speakers praised grads for their ambition, grit and pluck in a year turned completely upside down. Valedictorian Lihame Arouna, already a fierce advocate for education who is headed to the University of Pennsylvania in the fall, started by noting how excited she was to see her classmates in person. She turned around to take a selfie with fellow grads before getting serious.
"The past year has taught us that life is not easy or fair," she said.
In school, she and classmates struggled with remote learning and months of social isolation. Outside of the classroom, the world was on fire. Arouna, who has served as a nonvoting member on the city's Board of Education, spent much of last year with her classmates and members of Citywide Youth Coalition in the city's streets. She led calls for the removal of cops from schools and pushed for the reallocation of city resources to better fund public education.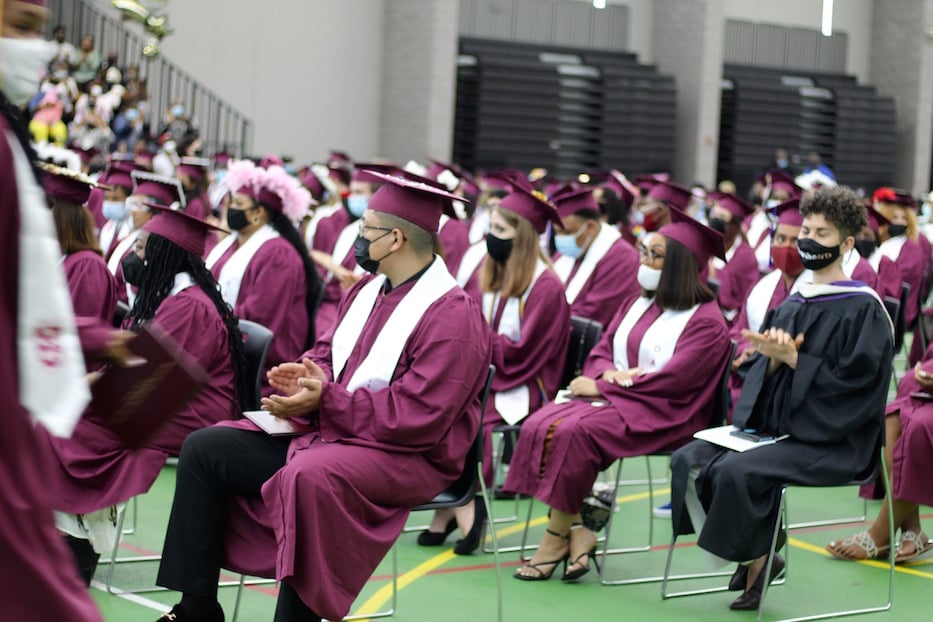 At Co-Op, she told classmates, she has learned that the arts are a living part of that fight. Maybe the disruption that Covid-19 created was supposed to happen, she said. It forced her to think differently about the world around her. When she suggested that it was on classmates to "continue to be disruptive," it was met with uproarious cheers and applause that filled the space.
"The time we've spent accessing our artistry is the time we spent accessing our humanity," she said. "It's up to us to turn that knowledge into action."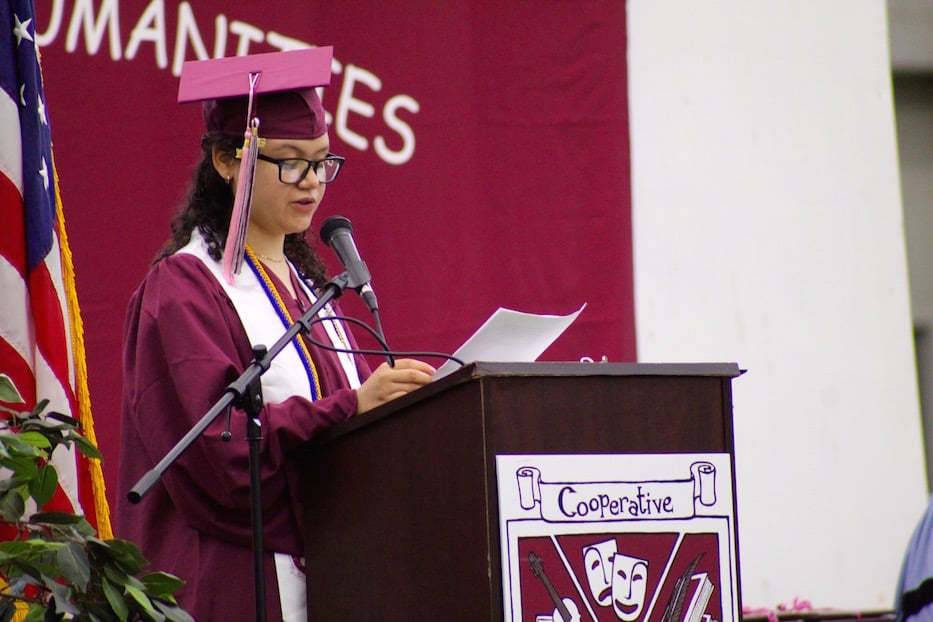 Others spoke to the unfixed-ness of the past year. Yale-bound Salutatorian Kiana Flores, who is a leader with the New Haven Climate Movement, told her classmates that she is often struck with a feeling of panic, aware that there are more problems in the world than she can face in a single day, week or month.
This year, that anxiety has been compounded by inadequate WiFi, crashing AP testing sites, remote learning, and a vast scale of human tragedy wrought by the twin pandemics of Covid-19 and systemic racism. No one has been immune to the death and destruction of the last year, she said—especially not students.
"I bet this past year, all of you have felt this helplessness," she said. The small things, like eating breakfast with her mom in the morning, have helped pull her through.
Flores urged classmates to hold onto their empathy as a tool for navigating the world. She recalled laying in bed with her older sister on a recent weekend, worried that she didn't have an entire day to veg out. Her sister insisted it would help her relax a little. Together, the two watched documentaries on the Second World War, the work of several U.S. senators, and the history of presidential first ladies.
Then, something clicked.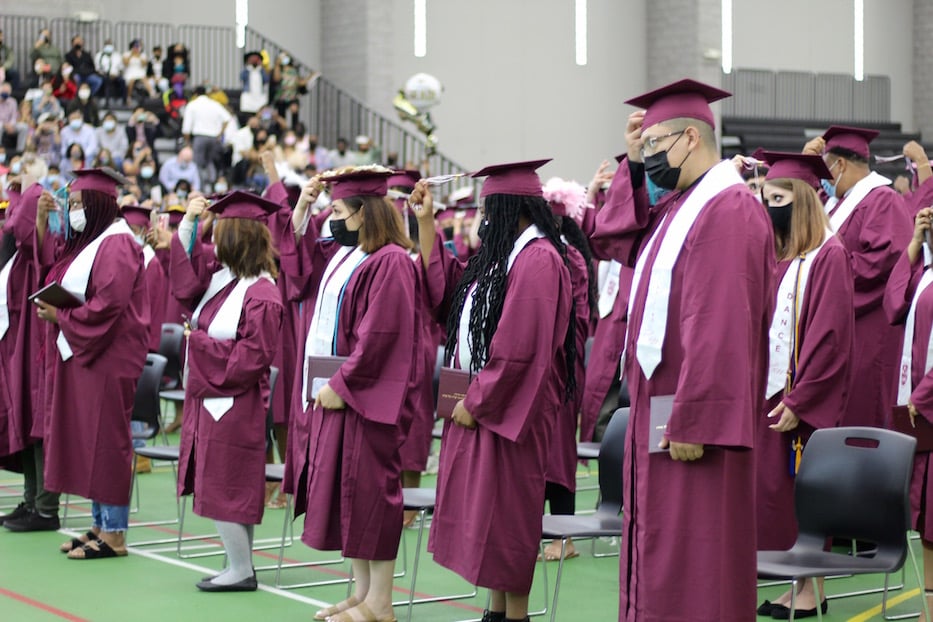 Students move their tassels.
"After considering these themes of heroism and bravery, I then began to wonder, how could we, the class of 2021, survive this year?" she said. "I identified one trait that connected these historical figures and us together. It was passion, a desire to move forward. It was having an interest in something greater."
Looking at her classmates, she said, she already knows that there are lawyers, doctors, entrepreneurs, artists, architects, politicians, policy makers, bakers, dancers and professions not yet discovered in her graduating class. Like Arouna, she said that the lessons they've learned at Co-Op may serve them going forward.
"I think the only way to overcome this scariness and doubt is to remember what we care about," she said. "It is when we care that our achievements and endeavors become more meaningful and genuine … We've begun to see that not only do we carry the flame, but we are also able to invigorate it with our new ideas."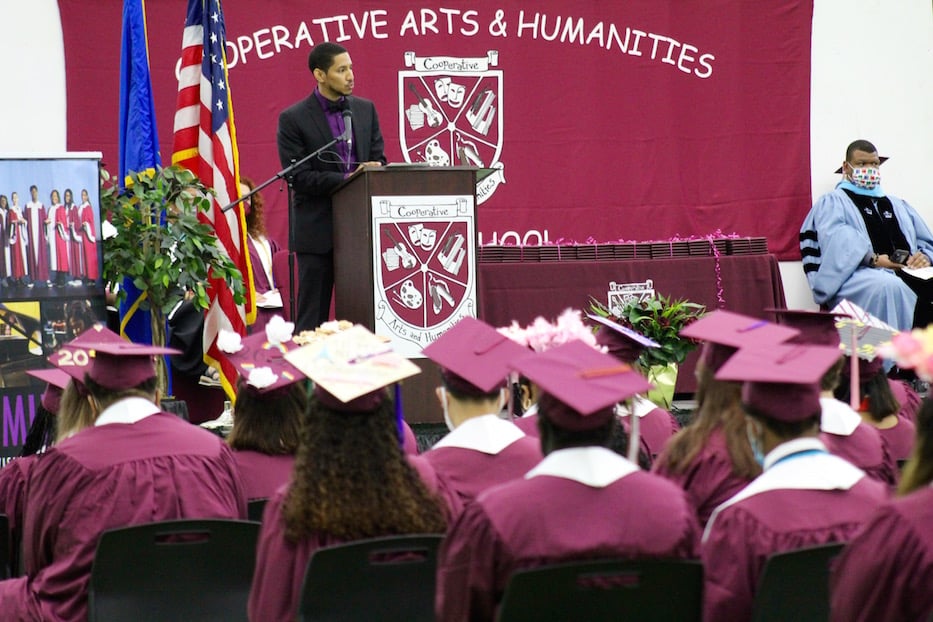 Guest speaker Anthony McDonald, recently appointed the executive director of the Shubert Theatre, praised the students for making it through the year. He recalled starting his own college journey at Howard University, where Co-Op students Miles Saxton and Elijah Cheeks are soon headed, 15 years ago.
"You all have lived and fought through something none of us have experienced," he said, later adding "Do not throw away your shot."
The greatest stories of resilience, however, came from students themselves, who decorated their caps with glitter, pink and white feathers, photographs of siblings and parents, fabric flowers, and strings of glowing holiday lights. Across the school's disciplines—creative writing, dance, band, choir, strings, theater and visual arts—it seemed that everyone had an anecdote about how they had made it through the year.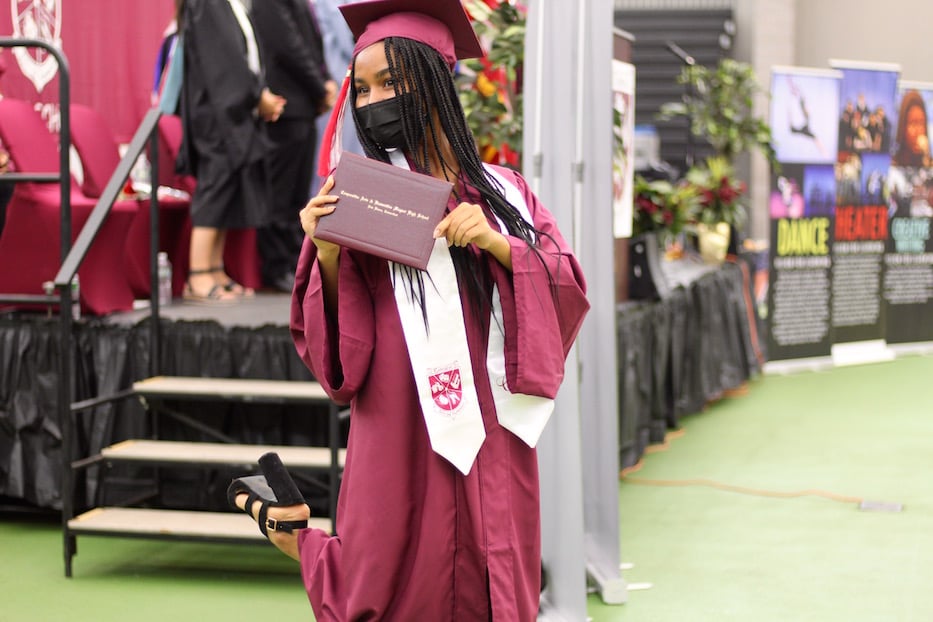 Theater grad Tatiana Ramirez, whose dad stopped by the stage to cheer her on.
Assistant Principal and Arts Director Amy Migliore told students that they are living proof that the arts—and artists—can rise and adapt to meet the moment. She pointed to her own child's 2021 yearbook, emblazoned with the words The Year You Want To Forget. She didn't know if the title rang true.
"I saw things that inspired me every single day," she said. "You used new platforms, software, technology, and you showed us how truly creative you were … you helped us be better educators."
On stage, many students strutted in long, celebratory gowns and homemade sashes that sported Pan-African colors and the Puerto Rican flag. With their families in the huge field house afterwards, they laughed, posed for photos, and traded Instagram handles, college plans and long-awaited hugs with classmates.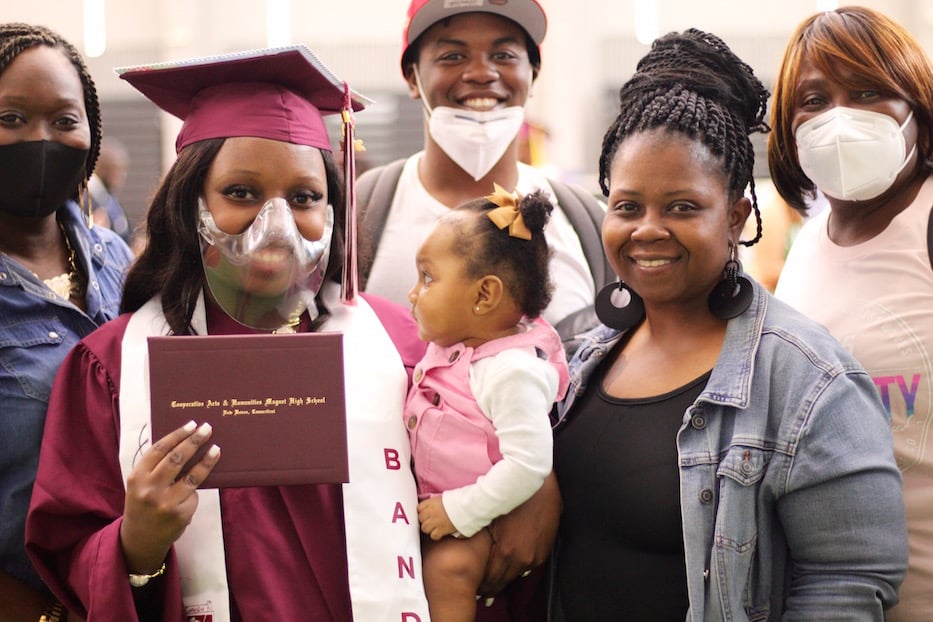 As she lined up to receive her diploma, band student Tynasiah Renee Cloud picked up her nine-month-old daughter Amora and prepared to carry her across the stage. For the past 16 months, she said, she struggled to stay on top of assignments as schools pivoted to remote learning, and then recently back to in person.
When asked what got her through, Cloud looked down adoringly at a wide-eyed Amora.
"Her," she said.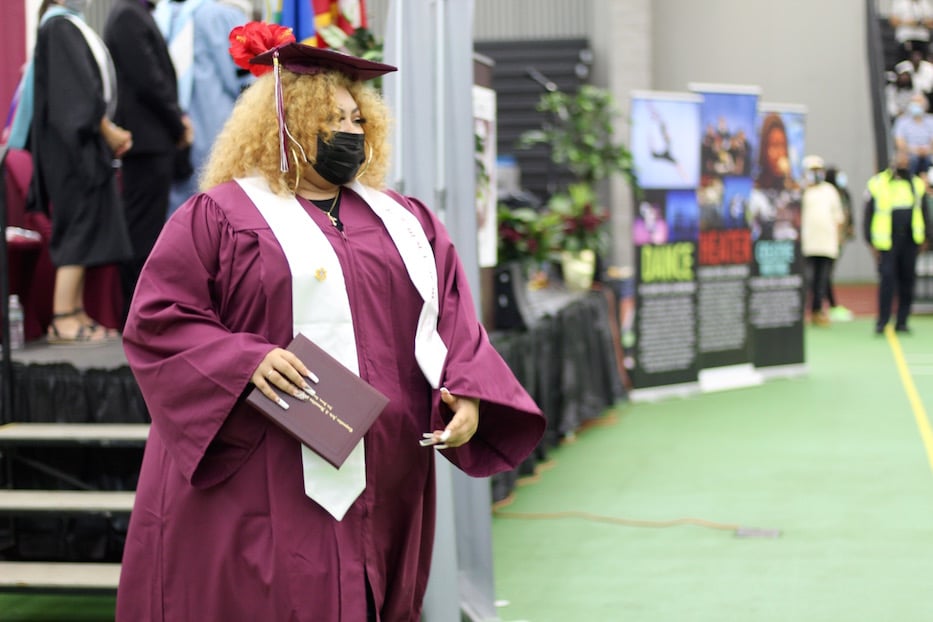 Efrencheli Ducos Rivera.
Theater grad Efrencheli Ducos Rivera, a fellow with Citywide Youth Coalition, referred to the past year as "a roller coaster." As the end of the year approached, she remained unsure of what to do for her senior capstone project. Since freshman year, she has fantasized about her capstone—and always imagined it would happen in person. This year, she struggled to make peace with the idea of doing it on a screen.
"I had so many hopes and dreams for my senior year," she said.
When it became clear that she wasn't going to be back onstage before June, she looked to her greatest inspiration—her family. Ducos Rivera has long wanted to look into her place "between Black and white" as a Puerto Rican woman. She can trace her heritage to the Afro-Caribbean diaspora, and wanted a chance to learn more about it.
She ultimately settled on a slideshow of her family, accompanied by a monologue. In the field house, she hugged her family members before heading over to fellow members of Citywide. She plans to study sociology and political science at Southern Connecticut State University.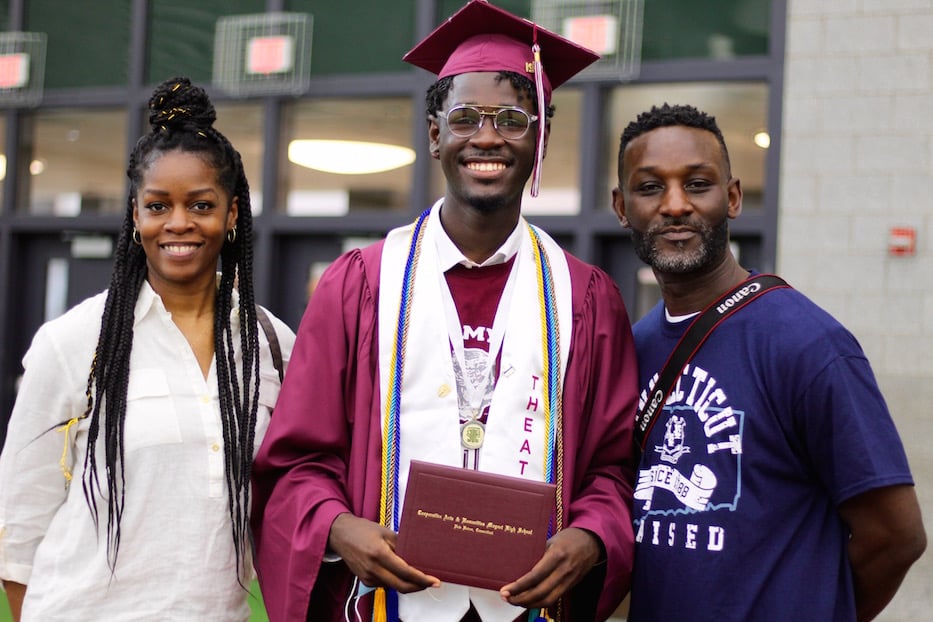 Juwan Lee with his parents, Nicole Briers and James Lee.
Juwan Lee, who competed in the finals of the August Wilson Monologue Competition (AWMC) earlier this year, savored the moment with his mom and dad before heading out into the drizzle. After getting into Morehouse College earlier this year, Lee originally did not have the funds to pay for it, and accepted a full ride at the University of Connecticut. He had dreamed of attending the school for over a decade.
Then a funder came forward to cover his freshman year. Lee was able to tell Morehouse that he was coming. He is currently raising funds for the remaining three years.
"It feels awesome," he said. "It's kind of overwhelming."
Samantha Torres and Nicdaniel Charles. Both plan to continue music as they head to college.
Outside, friends Samantha Torres and Nicdaniel Charles shared a long hug before parting. This year, Charles has stayed motivated by teaching music to younger students through ARTE New Haven. In giving lessons to students who remind him of his younger self, he's reminded why he got into music in the first place. In the fall, Torres is headed to the University of Connecticut.
Charles will attend the University of Hartford for music education and vocal performance. He intends to return to New Haven as a music educator. Already, he has used the past year to start writing additional compositions and arrangements for his students. He said that he's nervous about college, but ready for the challenge.
"It's definitely been a roller coaster, I would say, but honestly it was great," Torres said. "Even the bad times, it was still great to me. What got me through it? Friends, people, teachers, and just having hope."
"We made it," she added. "I'm happy."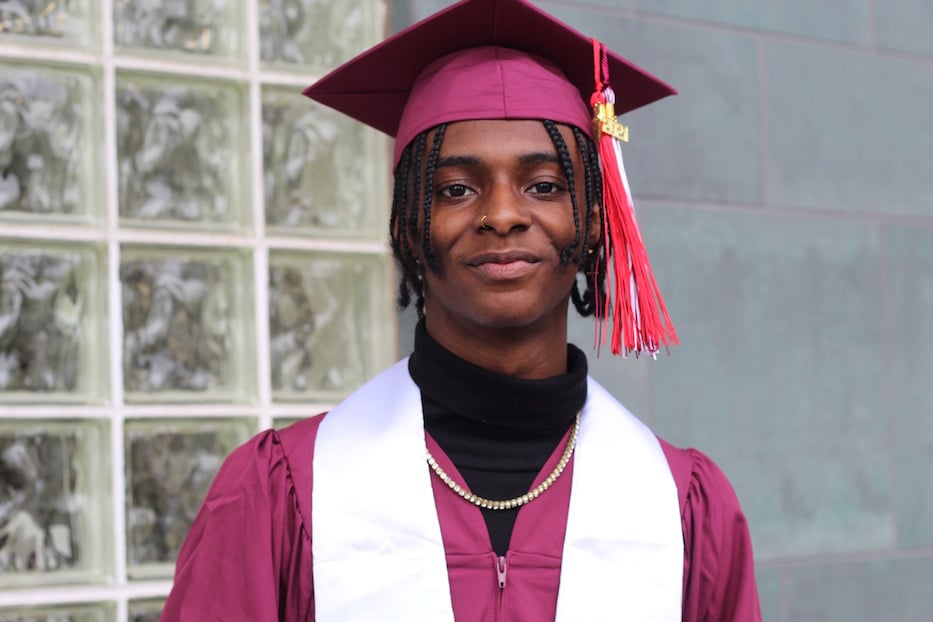 So was theater grad Donte Warren, who said the year has felt "crazy." Just before the pandemic, Warren was acting on stage at Long Wharf Theatre in Sharece Sellem's Matthew Rising. A month later, he watched as theaters shuttered across the city and the globe. He said the hardest part of the pandemic has been the isolation.
"It's been kind of a lonely struggle," he said. "There are all of these emotions pent up in there."
This year, he pushed back against that loneliness with his capstone project, which looked at the intersection of Covid-19, systemic racism and social justice as it swept the country. It is also a topic he's worked on as an apprentice at NXTHVN, just a few blocks from where he graduated Monday. He plans to major in acting when he arrives at the University of Connecticut in the fall.
Read more of our reporting about Co-Op here. Read more of our arts and education reporting here.