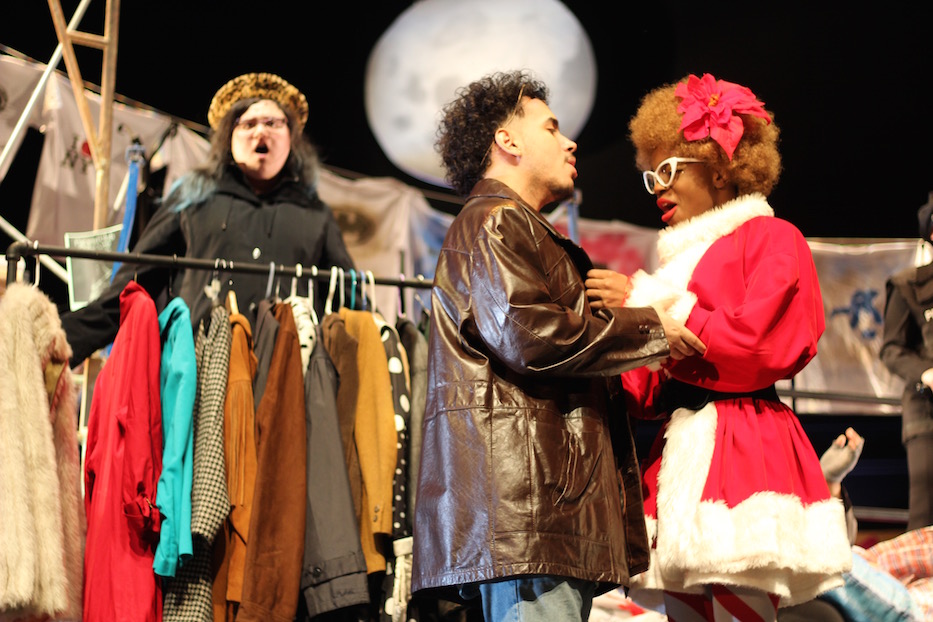 Co-Op High School | Education & Youth | Arts & Culture | Musical Theater | COVID-19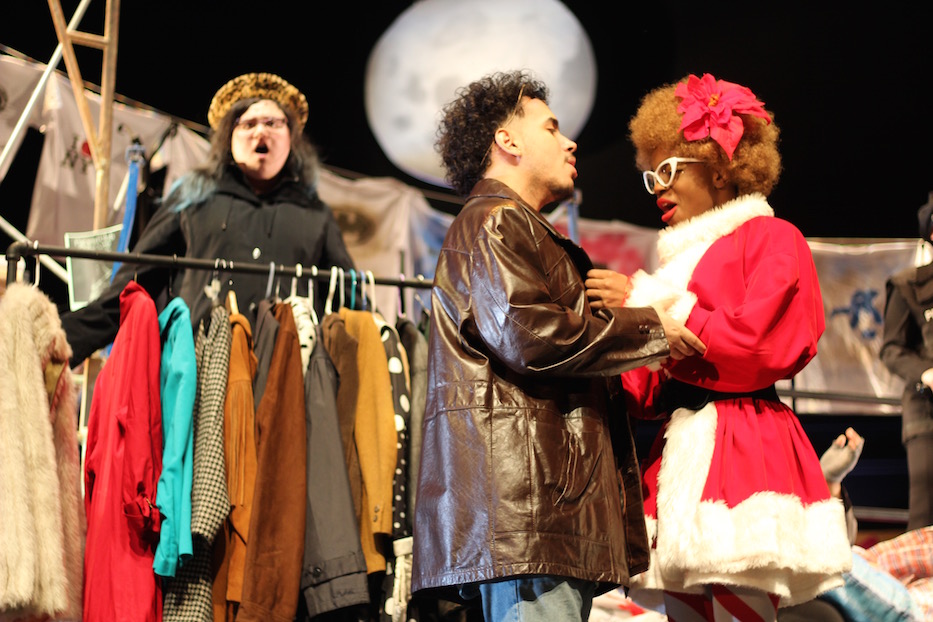 Students Tomas Echevarria and Ajibola Tajudeen at a rehearsal for RENT in early March. The performance was postponed and then cancelled; its lessons have continued to live on. Lucy Gellman Photos and video.
The number isn't the way Ajibola Tajudeen ever imagined it. He is standing tall for a moment, dressed in skinny jeans, black heels, and a t-shirt tucked in at the waist. A parking lot sprawls and dips behind him where a stage once was. He looks right into the camera. Then his body is in motion: he shimmies, kicks, crouches and vogues until Paris is burning all over again.
Tajudeen, who performed virtually for the Sondheim Awards last week, is one of the dozens of students who would have appeared in this year's performance of RENT at Cooperative Arts & Humanities High School (Co-Op). After an initial postponement in March, the show was cancelled entirely. Had the postponed show gone on, it would have run Friday through Sunday.
Instead, close to 60 cast, crew, band and tech members have been away from their friends, teachers, and physical classrooms almost 100 days. The set is still sitting inside of the school, where it was primed for a performance in front of the student body on March 13. After a final rehearsal that Thursday, many of the students left books in their lockers that they don't know if they'll see again.
In the meantime, many of them have used the lessons they learned from a musical about one global pandemic to live through another.
"I'm trying to remind people to hold on and understand that this is necessary," said Tajudeen, who hosts the podcast "Konversations with Keeme" and played the character Angel Dumott Schunard. "Even if you may not understand why this is necessary, just trust the process. They have to understand that this is affecting us as a community. We need to come together."
In some ways, Director Valerie Vollano always intended for RENT to be a learning experience—just not in the way it has been. Written by Jonathan Larson in 1996, the musical follows a group of friends for a little over a year, as they grapple with rising rent, rapid gentrification, and the AIDS crisis in New York City's East Village. For Vollono, who has directed several shows at Co-Op, it's was also personal: she has been the director of the school's Gay-Straight Alliance (GSA) for years. RENT would have been the school's first main stage musical to feature several LGBTQ+ characters.
Just days after the cast list went up in October, Vollono took students to see a performance of the show at the Shubert Theatre, where it also appeared in 2017. Weeks later, she had a history teacher come to rehearsal and teach the history of the HIV/AIDS epidemic from the 1980s to today, with a specific focus on its first 20 years. She arranged visits from local drag queens including Rory Roux Hart, a Co-Op grad who came out as a trans man at Dragpalooza last year.
"Some people say RENT is dated because of the AIDS epidemic being in the eighties," Vollono said at a rehearsal in March. "But I feel like the ideas of it are so timeless. If you think about today, with immigrants, undocumented people, all of these people that are treated as 'dangerous others' … they're treated as less than human because of who they are. That was such an important connection to make."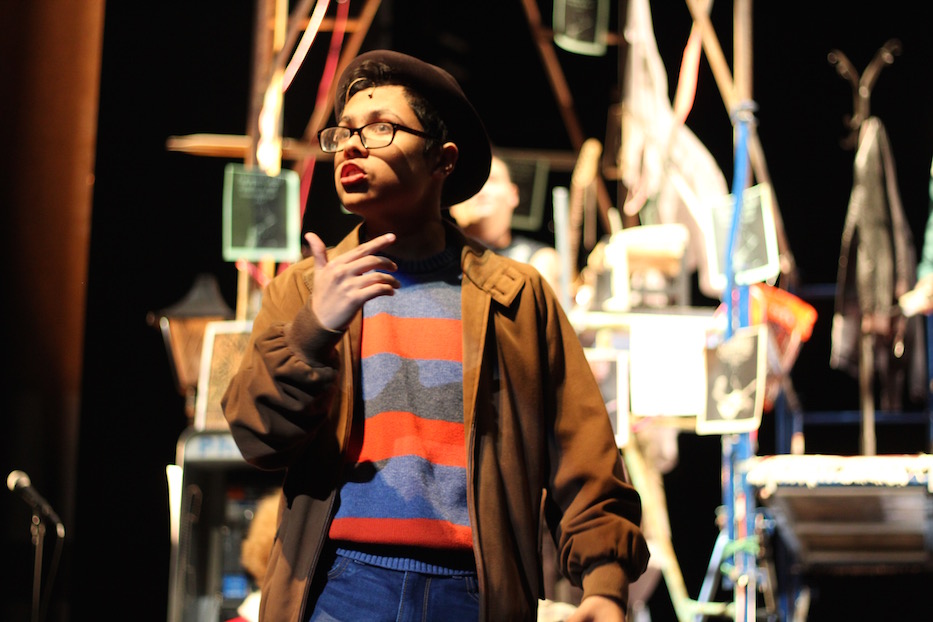 Christopher Cazarin as Mark Cohen.
As the play came together, Vollono pushed for a production that merged the music and drama of the work with the history of HIV and AIDS in the 1980s and 1990s. Several of the show's cast and crew members are also in the school's GSA, and offered to fill in historical gaps that they were learning for themselves.
Sophomores Piper Zschack and Emma Hatjopoulou, for instance, designed a timeline of the HIV/AIDS epidemic from April 1981 (San Franciscan Ken Horne is the first confirmed case in April of that year) to 2020 (the statistic that 1.1 million Americans are still living with HIV, and 14 percent are unaware that they are infected).
In between, the two found markers for over 100 milestones in HIV history, including Rock Hudson's public announcement of his AIDS diagnosis (1985), Tony Kushner's Angels In America (1993), and the 25-year anniversary mark of the first reported case (2006).
"There's a lot of misinformation that's still out there," Zschack said. "I think it's nice to feel seen, and to see yourself represented."
They finished it just before March 12, the last day they set foot in the school. At the time, Zschack said he couldn't help thinking about commonalities between the HIV epidemic and the panic that was spreading around COVID-19. In the first weeks of March, he recalled seeing the a similar kind of discrimination around Asians and Asian-Americans that members of the LGBTQ+ community faced decades ago—and still sometimes face today.
With the school closed, several of his classmates have taken that same message on. Naiyara Diaz, who played the headstrong and big-voiced performance artist Maureen Johnson, recalled feeling a deep, immediate sense of loss when she heard the performance was cancelled. Separated from each other, students made a group chat where they could stay in touch. It wasn't the same, but it was something.
"The cast, we were like a family," she said. "Not getting to see people you saw is very rough. They're all like brothers and sisters to me."
As Co-Op closed its doors, the COVID-19 pandemic became her new reality. Instead of attending school, she was at home with her brother, trying to navigate distance learning while "being barricaded in with four other humans." She started thinking about the history that she'd learned at Co-Op, about a different virus decades ago.
"The amount of judgement is almost exactly alike to me," she said. "People suddenly don't want to come in contact with each other. They don't want to touch each other. They aren't sure what's happening."
She's also been taking what she learned as Maureen, and using it to stay sane—and keep her family safe to the best of her ability. At home, Diaz' mom is at higher risk of COVID-19 due to limited lung capacity. Much of her day-to-day has been making sure no one brings the virus back into the house after grocery runs or trips outside. She joked that she's also been working extra hard to get along with her brother.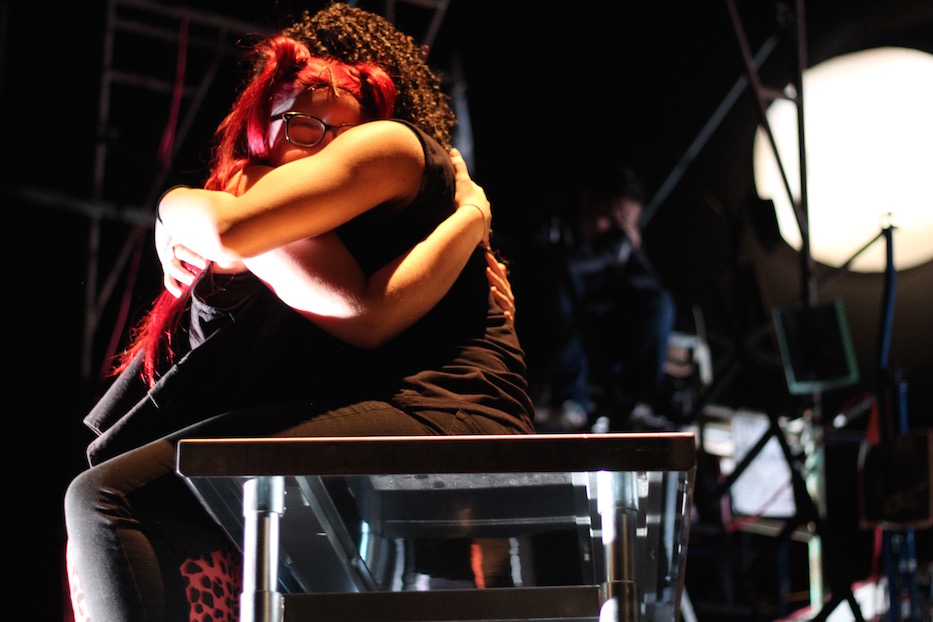 Naiyara Diaz as Maureen Johnson and Ruth Green as Joanne Jefferson at a rehearsal in early March.
"I learned a lot from Maureen," she said. "I took away that like, your community and family is very important. If one of us is struggling, all of us are struggling. We all love each other and have to keep each other afloat."
"We're all in this pandemic together," she added. "We need to stay united and connected."
Rising junior Autymn Brown, who played Mimi Marquez, said that she's used the play's libretto and script as a sort of user's manual meets coping mechanism. For the six months leading up to March, she had been working to make Mimi her own. Then overnight, the stage went dark.
The character had her demons, she said—Mimi is an exotic dancer, fighting both substance use disorder and an HIV diagnosis—but Brown could also see in her a tenacious will to survive. In conversations with her family, she learned that both of her mother's parents had lived with HIV for years, until complications from the virus took their lives.
When she stepped onto the school's stage earlier this year, she summoned them. That strength still helps her get through warmups and vocal practice that she now does at home, including in a virtual, recorded performance for the annual Sondheim Awards earlier this month.
"My grandparents were very strong," she said. "They fought through everything. When I'm performing, I try to step into my grandmother's life. I wanted to put this show on for her, and her memory."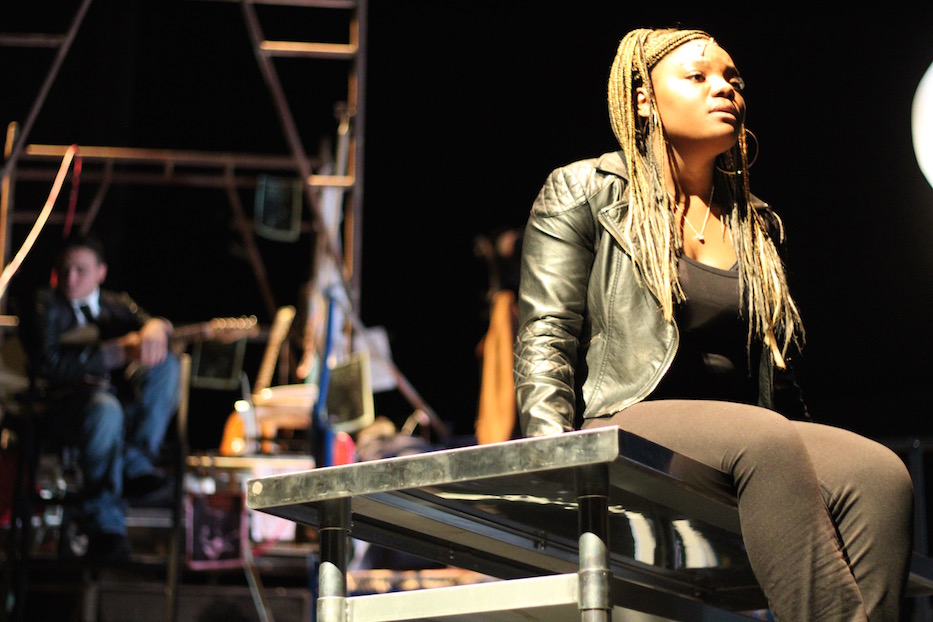 "When I'm performing, I try to step into my grandmother's life. I wanted to put this show on for her, and her memory."
She has also been thinking about the similarities between early cases of HIV and those of COVID-19. Earlier this year, she watched waves of anti-Asian and Asian American discrimination sweep through the country in February and March, as schools and businesses began to close in New Haven. She watched a national response to the virus that some have compared to Ronald Reagan's failure to address and respond to the AIDS crisis in the 1980s.
Within weeks, she learned that coronavirus was killing Black Americans at a rate three times higher than their white counterparts. The news hit home: this spring, two of her aunts died due to complications from the virus. She couldn't help but see a connection between the HIV epidemic, COVID-19, and the way racism wove itself into the fabric of public health.
"You don't realize how real this is until it sadly affects your family," she said. "They were beautiful souls. It hits really hard."
"When HIV was starting, people were looking at them [patients] like they were poisoned," she continued. "This is what's happening right now with Asians and Asian-Americans. You don't want a disease to define you. These are not the people who started it."
Through that grief, she's been singing. With Tajudeen, she was chosen to perform for the Stephen Sondheim awards, which were presented virtually this year. Instead of taking a stage, she belted a piece from her bedroom, a Bluetooth mic ready to go in the absence of a mic pack. She's been returning to the lyrics of the song "Another Day" and "No Day But Today," in which her character sings through her own memento mori moment.
"The message matters," she said. "There are people that we don't know, and that we do know, who may be going through something. We have to live life to the fullest, with love and equality and acceptance."
Tajudeen has also been pulling from the show as he navigates quarantine and distance learning in Bridgeport. While he is not a fan of the musical—he recalled running through a classroom, screaming, and hiding under a desk when it was first announced at Co-Op—Angel was "one of the hardest roles I've ever had to play."
Originally, Tajudeen found himself making an entire backstory for the character, who gets the musical moving in high-heeled boots and red-and-white Christmas frock, throwing dollar bills into the air to the drag number "Today 4U" (video above).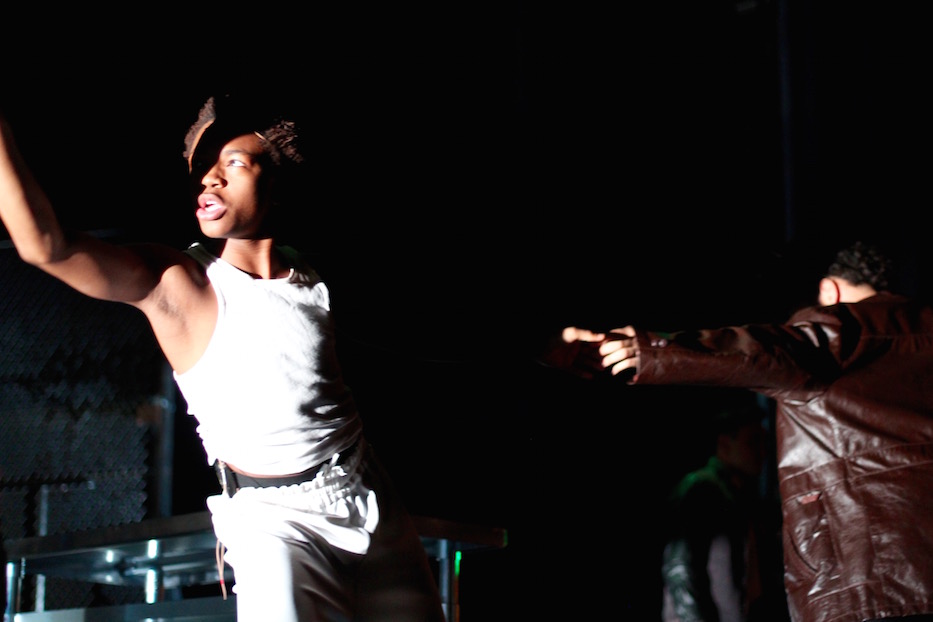 Ajibola Tajudeen performing "Contact" at a rehearsal in early March.
The longer rehearsals went on, the more he saw parallels to his own life: Angel often put the needs of others in front of his own. Tajudeen understood the character—and himself—as the glue holding the parts of the play together.
Now, the character has also helped him get through the isolation and personal loss of COVID-19. In the play, Angel dies of AIDS in the arms of his love, Tom Collins (Tomas Echevarria). It is a gut wrenching sequence: Angel grows frail, sprawls out on a hospital bed, and then ascends to heaven with a balletic, surreal ensemble number titled "Contact." When he was rehearsing, Tajudeen recalled the emotional stress of dying onstage over and over again.
"They experienced this love in what was more than a pandemic," he said. "Us as African-Americans, we understand that we are the ones that are being affected the most [by coronavirus]. This is a time when we're not only thinking about politics and celebrating those who are on the front lines, but we have to think about our community."
It was the power of a different song that he looked to this spring, when he received the news that his aunt had passed away from coronavirus. In act two of RENT, Tom Collins commemorates Angel's life with a reprise of the song "I'll Cover You," which the two sing together on a city street in act one. His voice rises to the rafters, then breaks with grief. Tajudeen found himself summoning the character when his family asked him to sing at a small, socially distanced celebration of her life.
"It was the hardest thing ever," he said.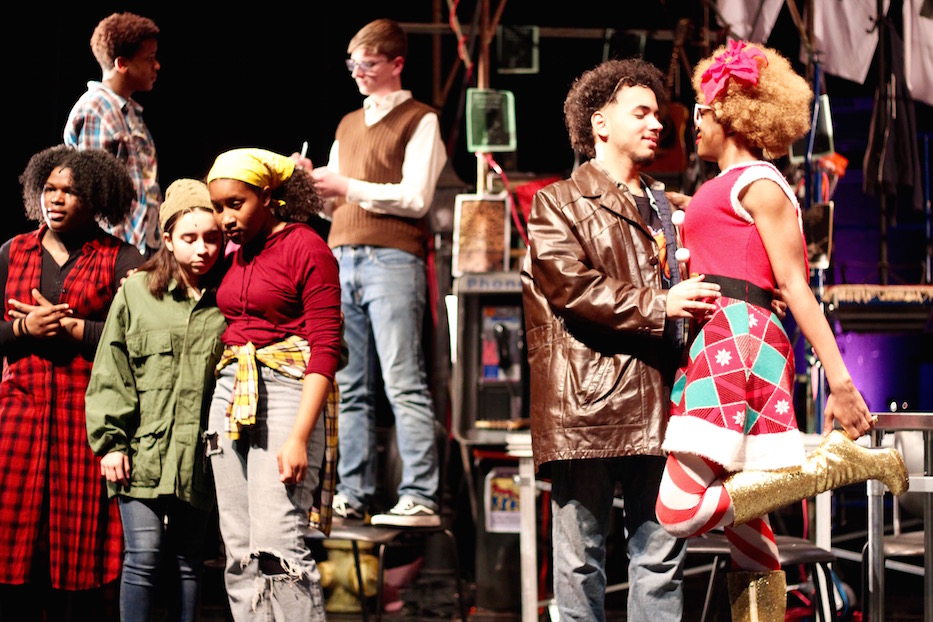 Now, he is trying to use the character's message to spread awareness of the virus—and of the compassion needed to combat it—as he heads into summer. With summer performances cancelled, he said he is also taking the time to do something Angel was never able to, and focus on his own work for the first time in a long time.
"His storyline can connect to so many people in and out of my school," he said. "He's having to fight through the fact that love needs to liberate. A lot of time, you have to tell that story."