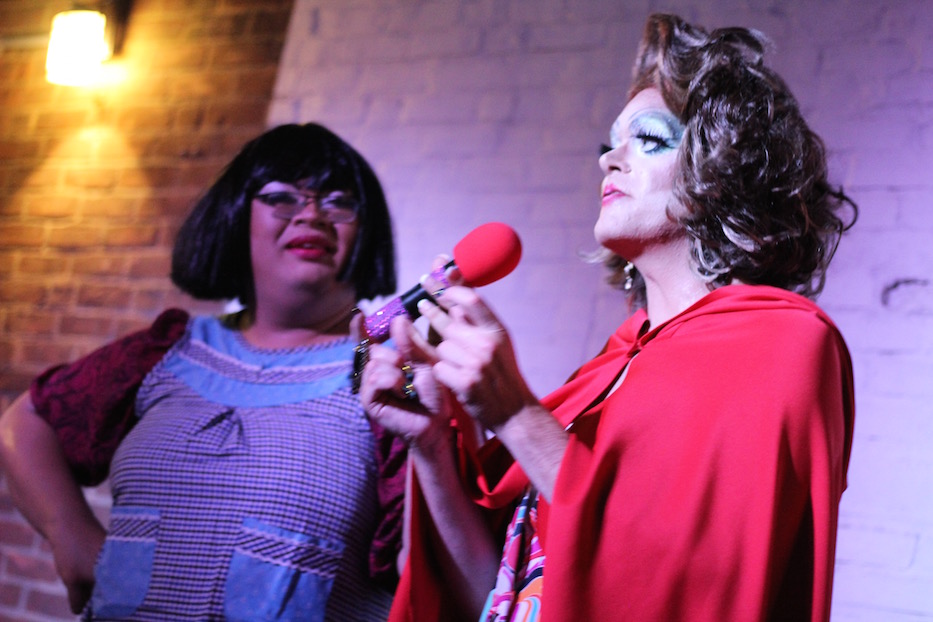 Drag | LGBTQ | Arts, Culture & Community | APNH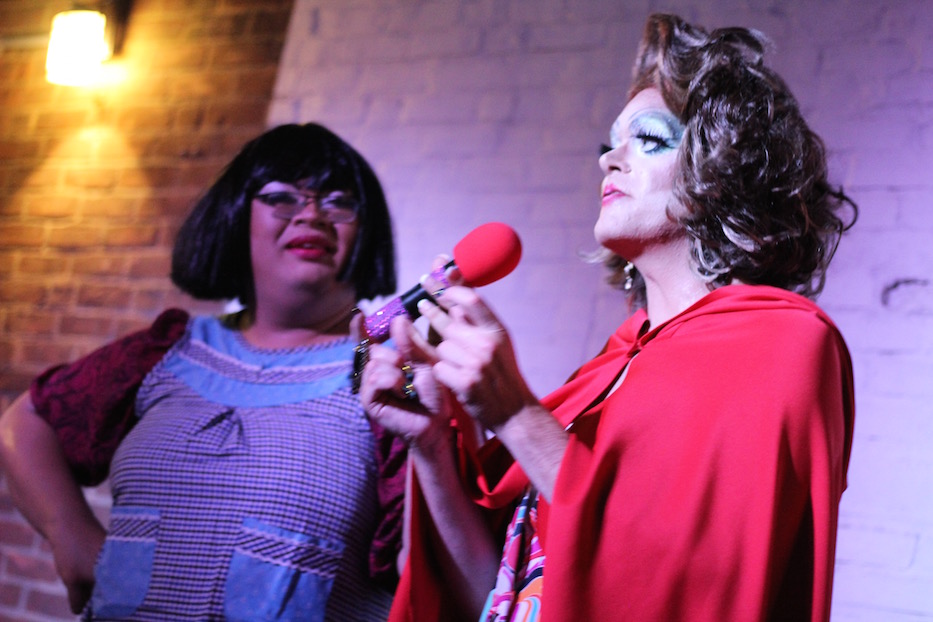 Co-Host Moana Cash with State Rep. Jeff Currey Lucy Gellman Photos.
A State Representative transformed into a high-heeled wonder, then ended the night in her stocking feet. A trans man came out onstage. A handmaid got out of Gilead, and into a New Haven bar. Paris burned, and burned, and burned some more.
And at the end of the night, thousands had been raised to make sure homeless kids, many of whom are queer, have a safe place to stay.
A celebratory, often political tone defined a sweat-soaked Dragapalooza Saturday night, as the annual fundraiser rolled into 168 York Street Cafe for the third year in a row and fourth overall. Established by New Haven-based queen Dandy Lions in 2015, the event is a statewide fundraiser by the Imperial Sovereign Court of All Connecticut for two beneficiaries that change each year.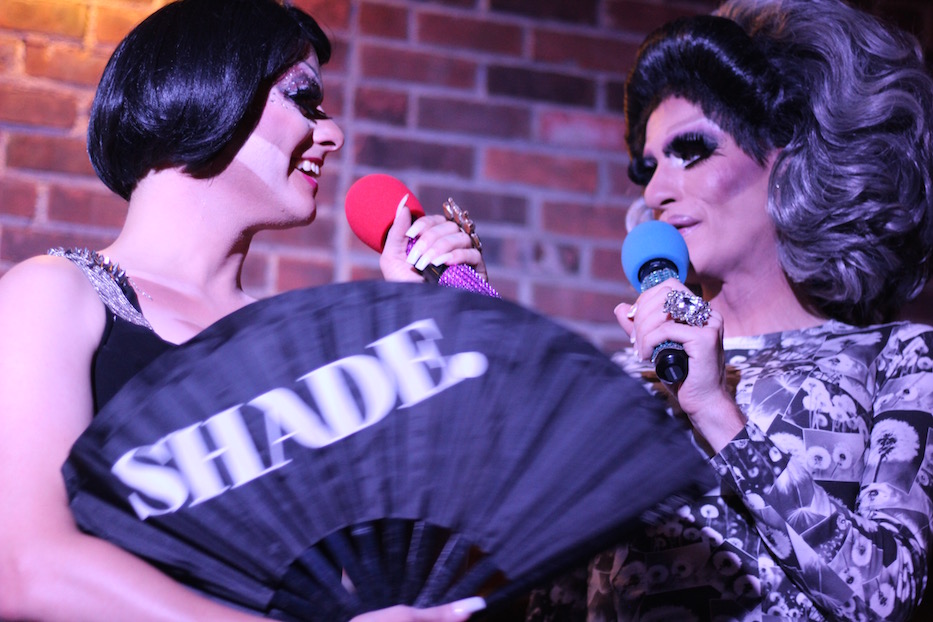 Co-Hosts Kiki Lucia and Dandy Lions.
This year, funds went to A Place To Nourish Your Health (APNH; formerly AIDS Project New Haven) and Y2Y New Haven, a youth-led homeless shelter slated for the city's Wooster Square neighborhood. Despite steamy weather, the event raised over $3,000 in just under four hours. Over 20 queens, some from Long Island, New York City, and Rhode Island participated for a packed house. Like many of the court's charity events, 100 percent of tips went directly to APNH and Y2Y.
"We need to be there for the youth because they're the future," said Kiki Lucia, who co-hosted the event with Lions and Moana Cash. "In 10, 20, 50 years, when I'm too old to go do drag every day and fight at the State Capitol, it's the youth right now that are going to replace me. We have to make the world better for them and we have to give them opportunity."
Lucia explained that she also sees Y2Y's mission as both a New Haven issue and a distinctly queer one (her boy self, New Haven Pride Center Director Patrick Dunn, is on the organization's advisory board). Across the country, LGBTQ+ youth are more likely than their peers to struggle from housing insecurity. In Connecticut, 40 percent of the state's homeless population between 18 and 25 identifies as LGBTQ+, according to the Trevor Project. As part of its work, Y2Y pairs youth who are struggling with housing insecurity with youth who have housing security, to problem solve with peers.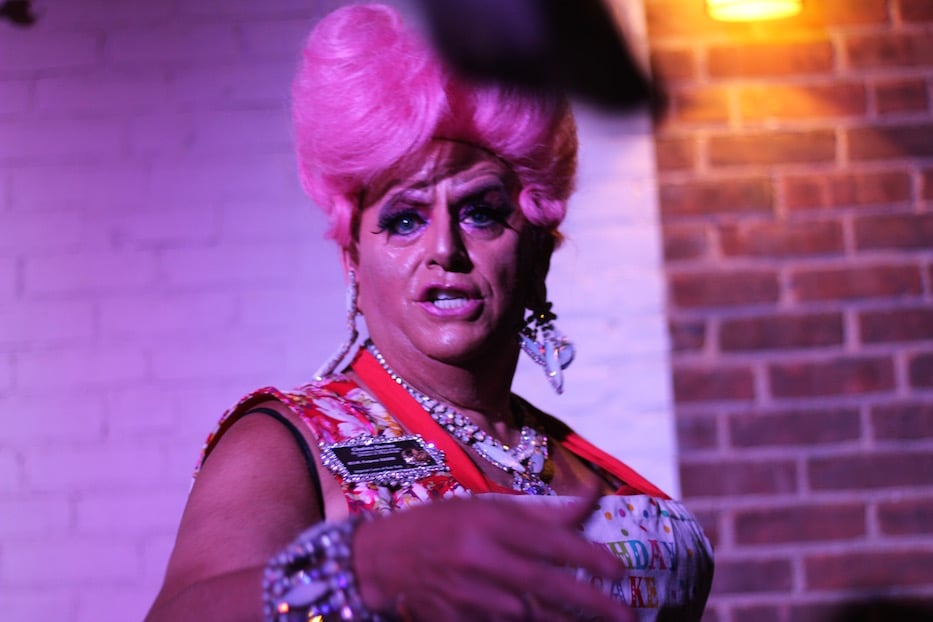 Chuleta Divine. Pictured also is a bag of potato chips flying at this reporter's head. Yum.
"It's going to be this incredible resource for LGBTQ youth that nobody else in Connecticut and most of the U.S. are doing," she added. "It's youth helping youth, which will make the world a better and safer place."
Throughout the night, performers championed LGBTQ+ voices, some lightening a relentlessly hot, sweaty mood while others pointed a middle finger straight at the White House. Chuleta Divine, the current reigning empress from the Imperial Sovereign Court of New York, turned her routine literally sweet as she threw prepackaged cookies, brownies, and bags of potato chips at attendees to Eileen Barton's "If I Knew You Were Comin' I'd've Baked a Cake."
Lions went for an evolving staple, the crowd singing along as she revived a black-and-white dress for a galvanizing "This Is Me." Later in the evening, longtime queen Robin Banks went for deep belly laughs, mixing Moana's "How Far I'll Go" with clips that channeled robocalls, the Book Of Mormon, Adele's "Hello" and Banks' own funny mock-dependency on technology, which included stopping during her routine to take a call that ostensibly came in.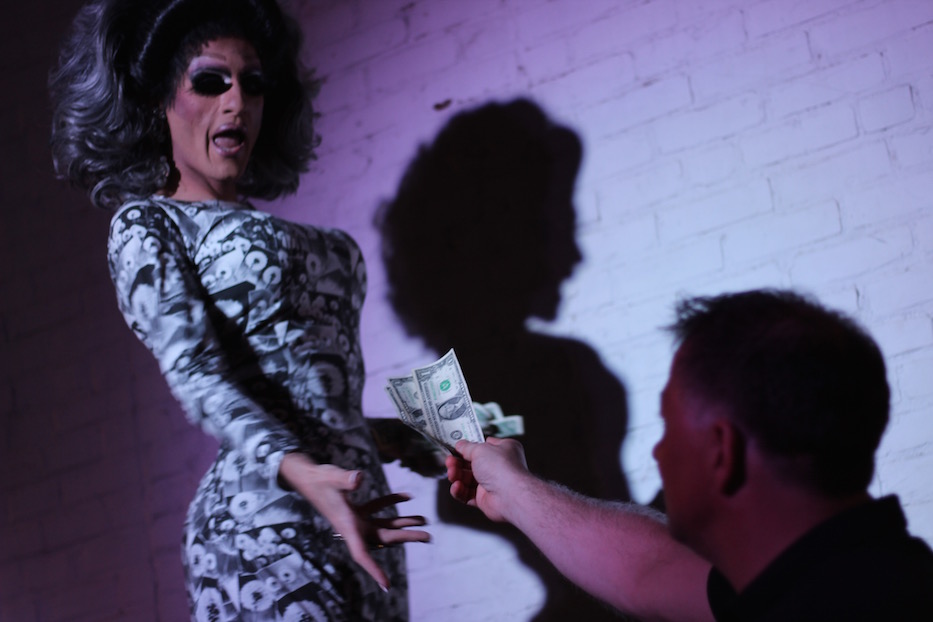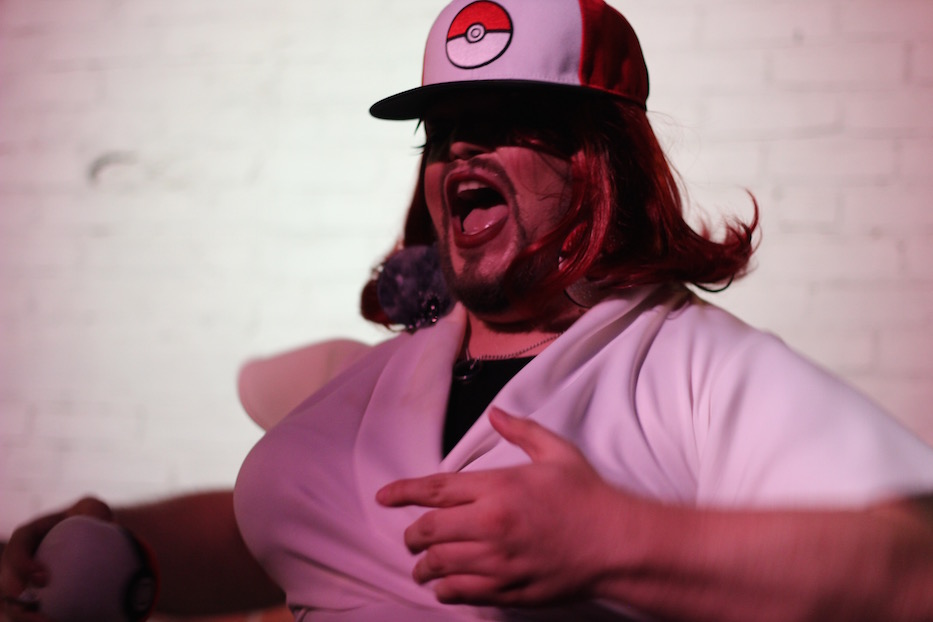 Top: Dandy Lions performing "This Is Me" during the first half of the evening. Bottom: Myst Oppor Tunity tries to catch 'em all.
Some seemed to channel the youth angle of Y2Y, tapping into recent nostalgia that got the audience screaming with delight, some members singing along. In town from Hartford, bearded queen Myst Oppor Tunity gave a rhapsodic and raucous performance as the Pokémon character Ash, pulling squishy Pokéballs out of her bra to a sped-up, auto-tuned version of the theme song.
But others dedicated their performances to protest drag and LGBTQ+ voices that are still underrepresented in the mainstream, testing out both quiet and not-so-quiet approaches. Taking the stage early in the evening—and in a wool coat that earned her a bucket overflowing with tips—Rory Roux Heart began an understated routine to "Journey To The Past," from the 1995 Disney version of Anastasia.
As the words landed one by one—"Arms will open wide/I'll be safe and wanted/Finally home where I belong"—she seemed to get lost in them. Then she let the coat drop to the stage in one swoop, revealing a dress in blue, white, and pink, the same colors as the transgender pride flag. The audience cheered. Heart lifted her arms above her head one more time, then reached for a mic that Lucia held out like an offering.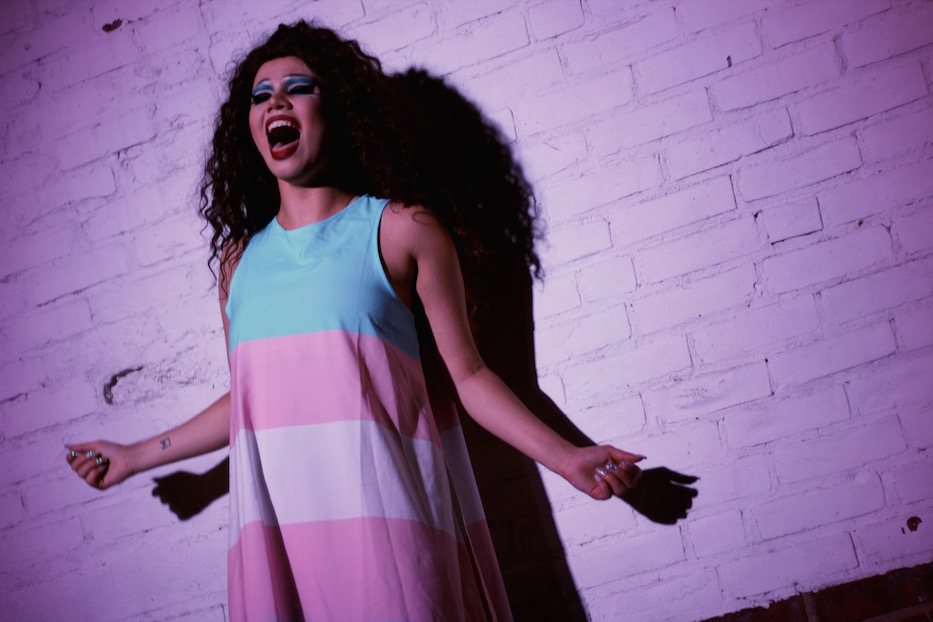 "Hi, I'm Rory Roux Heart, and this performance was me coming out as a transgender man."
"Hi, I'm Rory Roux Heart, and this performance was me coming out as a transgender man," they said. The audience cheered even louder as she scooped up her coat, and stepped off the stage.
Strutting out before an audience that included the Connecticut drag icon Bubbles, Sylvia Heart opened her set with a clip from Paris Is Burning dedicated to the art of reading—or as the film describes it, "the real art form of insult." As those voices from the past halted, Alaska Thunderfuck's cutting, sure vocals rose over the speakers. Suddenly, attendees were somewhere between a hot bar in New Haven and a RuPaul-sculpted dreamland.
Sylvia Heart paused long enough for the audience to recognize "Your Makeup Is Terrible," then broke into an exquisite voguing routine, hands a blur as she worked the area in front of the stage. In the easy, calculated bend of her legs was an extraordinary homage to the history of drag, and the fact that it is still here, living, in an administration that has tried to legislate and pray the gay out of America.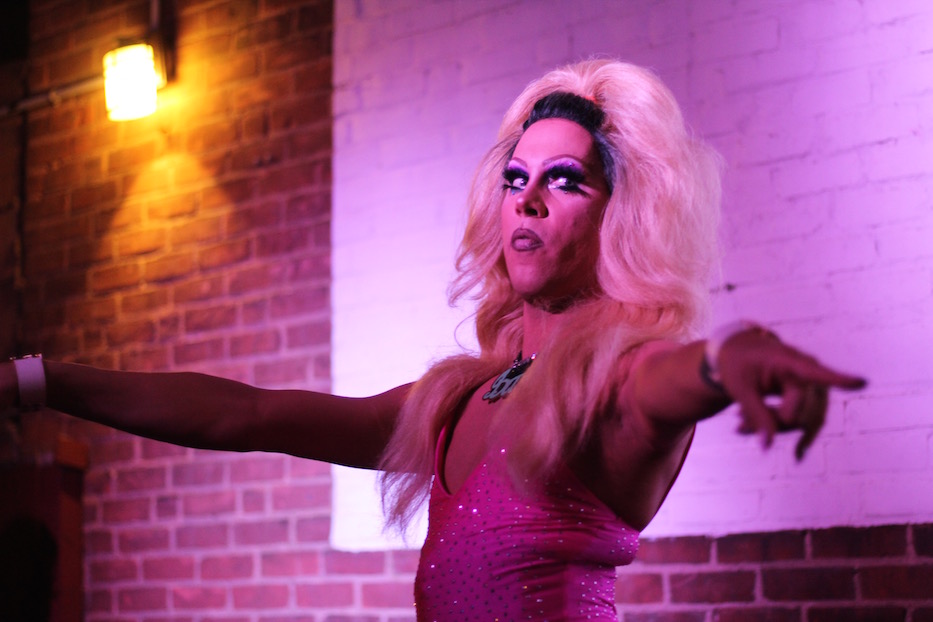 That sense of resistance and pride kept the night going. Midway through the first act, East Hartford State Rep. Jeff Currey appeared not as Jeff Currey at all but Bianka Merica, the drag brainchild of Kiki Lucia and a several hundred dollar campaign (all of which went to the beneficiaries) to get Currey to perform for charity.
Taking a mic in front of the crowd, Merica recapped LGBTQ+ wins in the most recent legislative session: legislation creating a LGBTQ Health & Human Services Network, removing parental consent for youth access to PrEP, banning the gay and trans panic defense, and passing paid family leave with the addition of one's chosen family.
"We had the gayest legislative session in Connecticut history," Curry/Merica said to screams, claps, and pumping fists from the audience.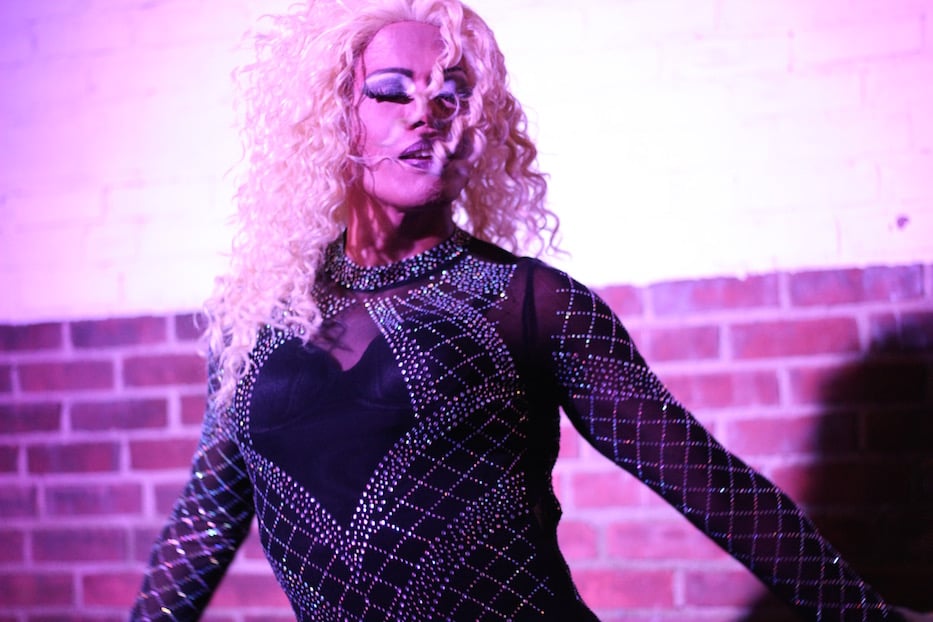 Lucia Virginity. To watch her performance below, click on the video at the bottom of this article.
But she didn't just stand there—she got ready for her music, and slayed. Watching as the tips rolled in just to get her to perform ("That's a real five!" Cash exclaimed at one point to peals of laughter), Merica jumped into a routine with Whitney Houston's "Queen Of The Night."
She worked it to Beyoncé's "Get Me Bodied," crossing the patio and catching on a long red cape that matched her heels. No problem: without missing a beat she picked herself up, and continued to "I Am A Woman," Aerosmith's "Dude Looks Like A Lady," and selections from Lady Marmalade and Madonna's "Vogue," inspired by New York's drag balls and not the other way around.
That tone kept going for much of the night, but never so loudly as in the final piece. Creeping onto the stage to the trailer to The Handmaid's Tale, Kiki Lucia pressed her hands into her body as if she was in physical pain, looking up at the audience to reveal a red X painted over her lips and mouth.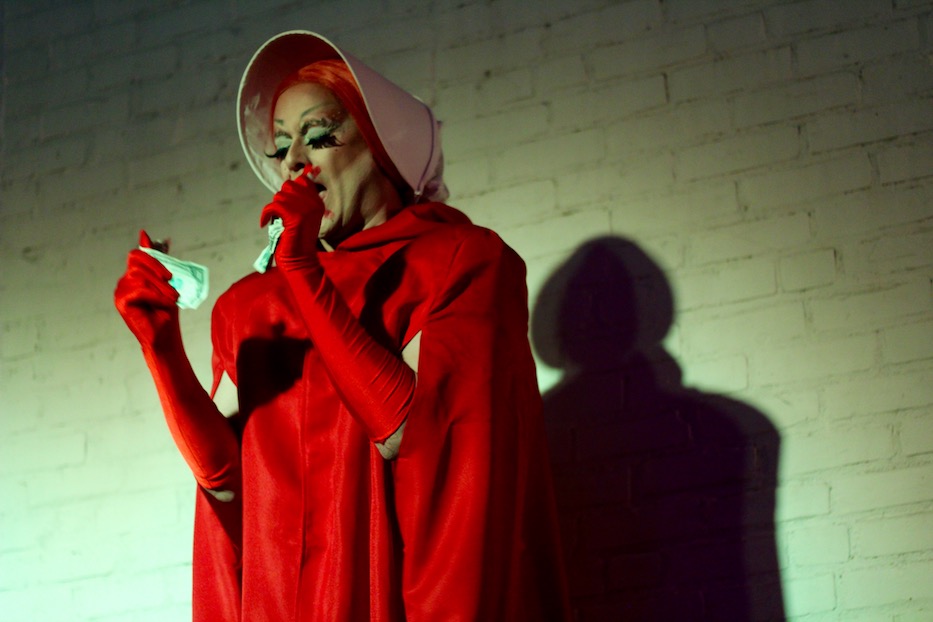 As the trailer ended, a different voice crackled to life: Chaka Khan's "I'm Every Woman." The audience began clapping along.
She canvassed the stage, the music switching up as she brought the routine. Donald Trump's voice cut in—"Grab em' by the pussy!" he exclaimed—but was cut off by Halsey, and again by Cher, belting "This Is A Woman's World."
In the audience, it was hard not to cry and cheer at the same time. As Cher commanded "All the women in the world/Stand up come together now," some did, unsure what exactly they were supposed to do. Back close to the stage, Lucia was picking up speed. The cape came off, revealing a wonder-woman like red leotard underneath.
"My body/My choice," read her legs in thick, red lipstick.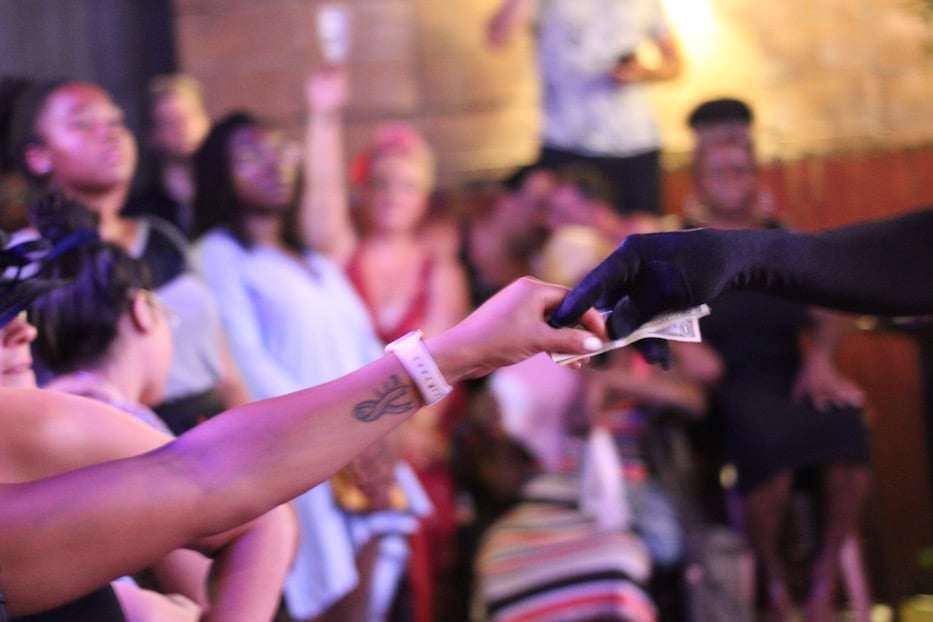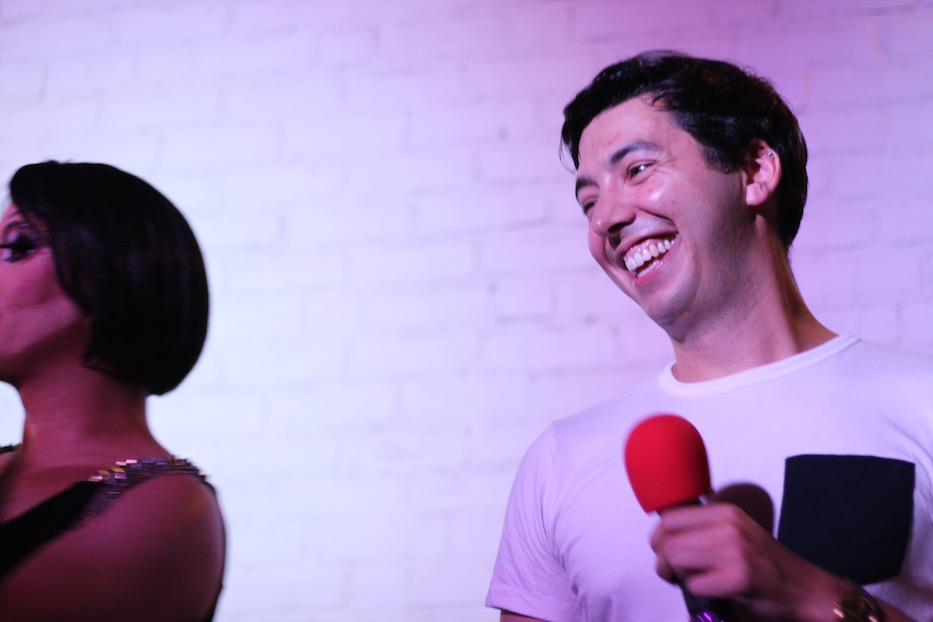 During the event, representatives of both APNH and Y2Y said that they were excited to have been chosen for this year's event. Barry Walters, media outreach manager at APNH, said that the organization will be putting funds toward the organization's "Caring Cuisine" program, which provides meals to people and families affected by HIV who may be unable to travel or grocery shop.
"It's such an honor for us," said Y2Y Co-Founder Sam Greenberg. "This [the Imperial Sovereign Court] is a community that has come together again and again to support all folks in the LGBTQ community who need assistance in all sorts of different ways."
"This is choosing to support young people who are experiencing homelessness who disproportionately identify as LGBTQ," he added. "The fact that this is a group that has such an incredible legacy of doing so makes the honor even greater for us."
The Imperial Sovereign Court is still taking donations to benefit the organizations. To donate, click here. To watch excerpts from Saturday, click on the video below.