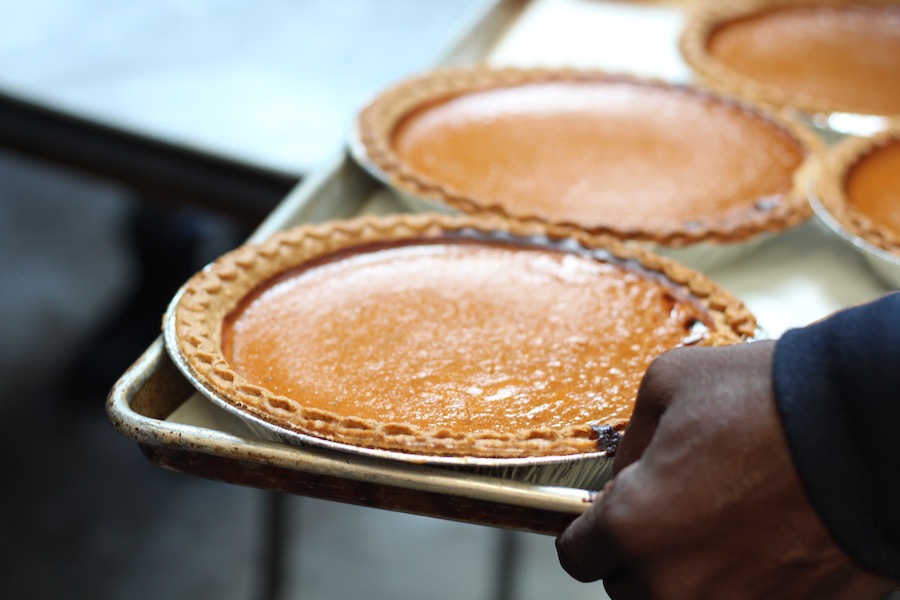 Culture & Community | Dwight | Food & Drink | Food Justice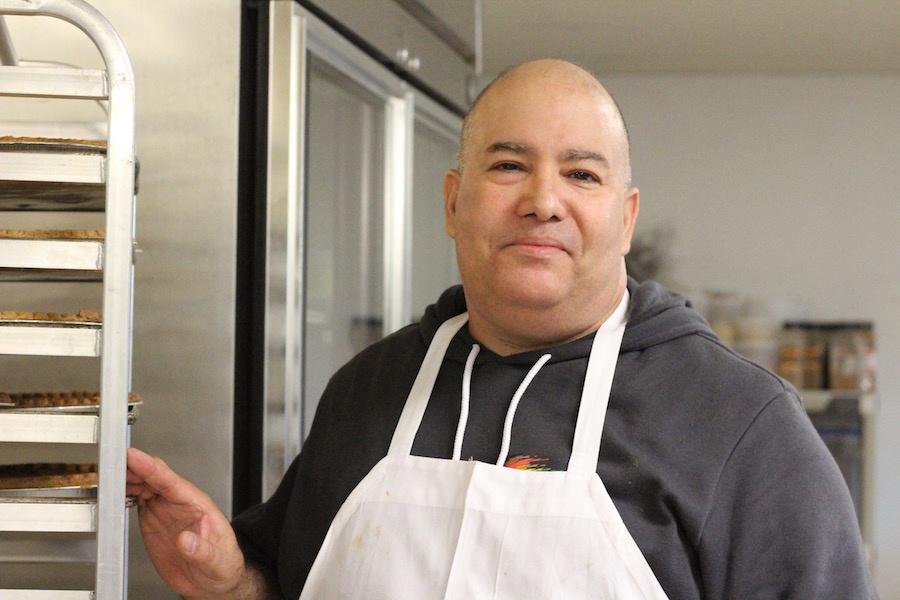 Frank Cintron, who spends most of his waking moments as a Medical Case Manager for APNH, and occasionally brings those job skills to the kitchen. Lucy Gellman Photos.
Five days a week, Frank Cintron spends his time finding medical care, housing, and employment for New Haveners newly diagnosed with HIV. But one day a year, he takes his job to the kitchen, mixing pounds of pureed pumpkin, eggs, milk, sugar, nutmeg, and cinnamon, and pouring it all into a prepared pie shell.
Cintron is a medical case manager for A Place to Nourish Your Health (APNH), known as AIDS Project New Haven until it was rechristened earlier this year. Saturday, he was one of a handful of APNH staff, volunteers, and clients to head to La Cuisine Cafe, Market & Catering in Branford for a now-annual tradition: making 180 pies for 180 clients affected by HIV and AIDS, so they can celebrate a sweet Thanksgiving with their families.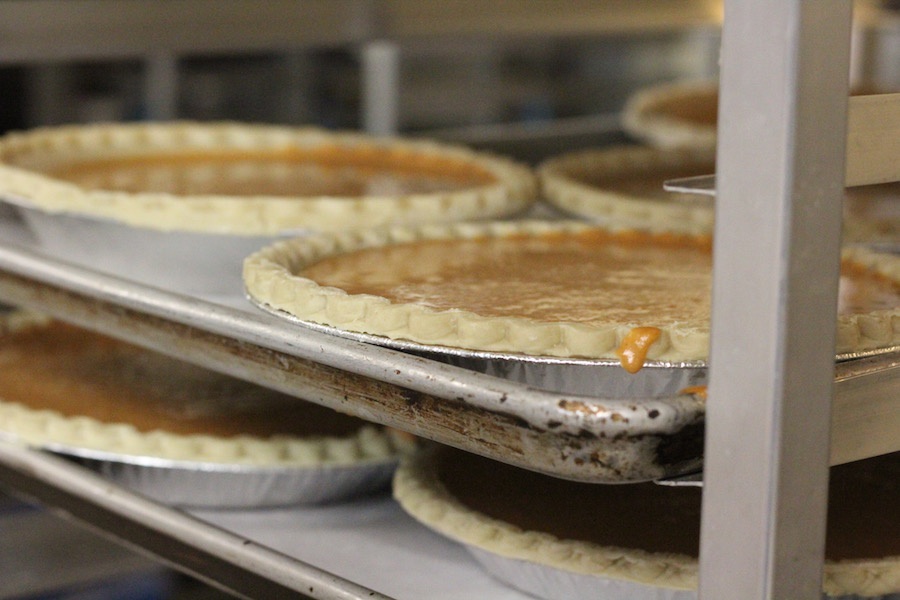 Ben Bloom (who asked not to be photographed): It's part of treating the whole person.
The pies are just part of a large Thanksgiving meal that APNH provides for almost 200 clients, including whole turkeys, stuffing mix, vegetables, and canned goods. While 20 of those turkeys come from the Connecticut Food Bank, APNH also relies on food and monetary donations from the community to provide the service.
"The majority of our clients are living with barriers," said APNH Program and Development Manager Fran McMullen, noting struggles with mental health and substance abuse that some of the clients face. "And we are trying to eliminate those barriers."
The tradition began close to a decade ago, when La Cuisine's then-owner Ben Bloom joined the board at APNH, and heard about the work that the organization did every Thanksgiving, in addition to its weekly "Caring Cuisine" program. At that time, Cintron recalled, APNH had done a similar program called "Pie In The Sky," enlisting home cooks to make the Thanksgiving concoctions.
Bloom did the math: he had a commercial kitchen with industrial equipment, and was able to make the pies at just a fraction of the cost (this year, for instance, it worked out to about $1.60 per pie), then donate them to families in need. While La Cuisine is now owned by his son Brendan, the business has continued the squash-flavored tradition for almost over a decade.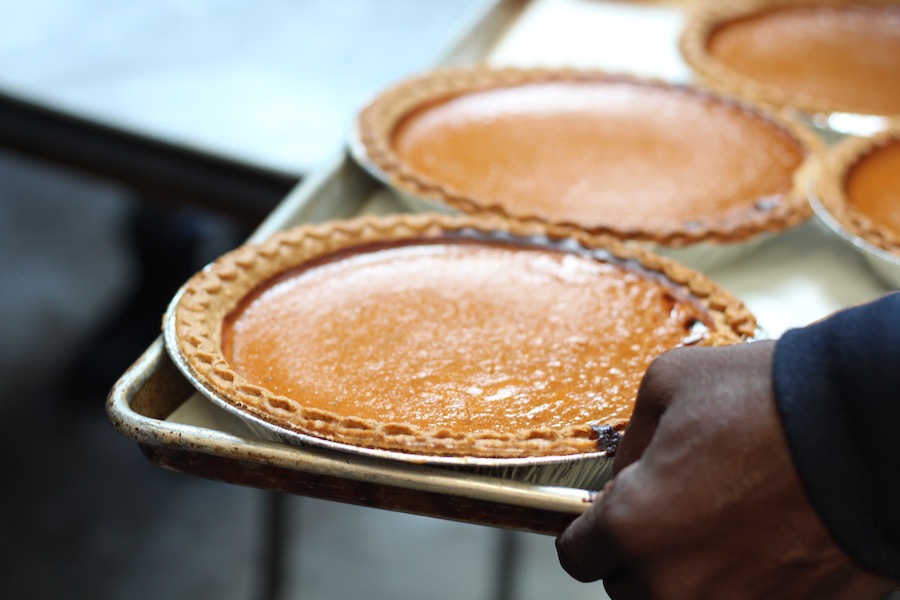 After the pies are baked and cooled, they're slipped into boxes and brought over to APNH on Monday. Clients pick them up the Tuesday before Thanksgiving. As he supervised the massive pie operation, Bloom listed some of his own Thanksgiving favorites: sweet potatoes (no marshmallows or brown sugar), apple, pear and rum pie, turkey legs cooked in duck fat. He said it was, and continues to be, natural to pass on some of that culinary goodwill.
"APNH has always had a pretty holistic approach to taking care of clients … trying to take care of the whole person," he said Saturday, bouncing around the kitchen in an orange-splattered apron. "Food is an integral part of that."
Around him, Cintron stirred milk, eggs, sugar and spices into pumpkin puree, making the sweet, custardy mix that would soon brown in the restaurant's ovens. Beside him, an APNH volunteer named Carl (he asked that The Arts Paper use only his first name) said that he jumped at the chance to give back to the community after receiving services from the organization.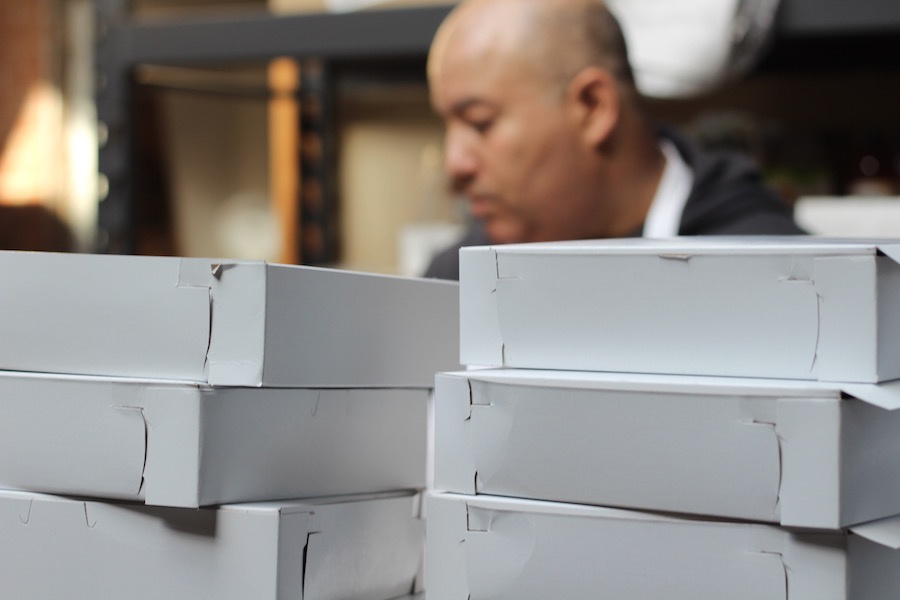 Cintron with just a few of the day's 180 boxes.
A full-time employee in the food service industry, he goes all out for Thanksgiving—lamb, pheasant, and curried goat that channels his native Antigua. He and an uncle spend hours in the kitchen getting everything ready before they serve the spread to family in Bridgeport.
While he's "all pumpkin pied out!"—it's sweet potato pie or cheesecake that makes it onto his table—he's happy to do his part in feeding those at APNH who may not otherwise get a Thanksgiving dinner, or a Thanksgiving dessert.
"It's a way to be grateful and thankful for time to be together," Carl said. "For me, I get a high, a rush at people's faces when I present them with a meal."
In part, that's Cintron's experience too. While he has been an employee at APNH for several years, he first came to the organization as a volunteer over two decades ago, watching as New Haven was ravaged by the HIV/AIDS crisis in the late 1980s and early 1990s. Born and raised in New Haven, he began losing friends to the disease, and thinking about what he could do to get involved.
"If it wasn't someone you knew personally, you knew someone who knew someone," he recalled.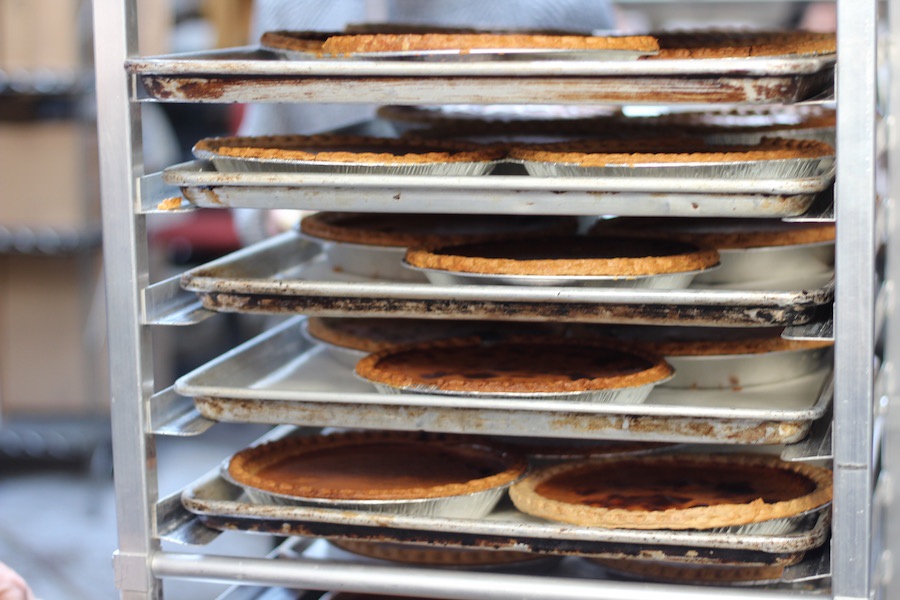 At the time, APNH had just started its electronic outreach efforts, operating with a shoestring budget and nascent AOL chatroom. Cintron had a background in retail and design. After hearing about the organization on its chatroom, he offered to do flyers centered on HIV prevention. Two decades later, he's still there as a full-time staff member—and has added expert pie baker to his list of job functions.
In an adjoining room, volunteers Erin O'Neil-Baker and her daughter Julie Baker chatted with a client from APNH and reporter-turned-volunteer from the New Haven Independent, turning 180 boxes from flat white cardboard to rectangular containers, ready for their precious cargo. As the four traded traditions—mac and cheese at one person's table turned into cranberry sauce and turkey at another—each unspooled the story of what had brought them to APNH, the air sweet-scented as pies made their way from the ovens into the room.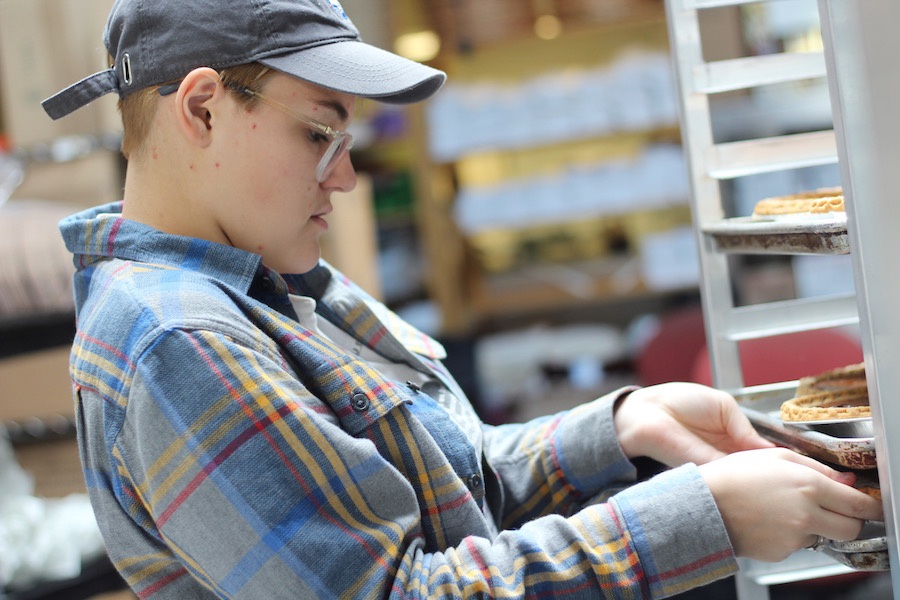 Julie Baker: Learning about stigma, so they can help break through it.
A senior at E. O. Smith High School in Storrs, Baker said they became interested in volunteering with APNH after starting a senior project researching a persistent stigma around HIV and AIDS diagnoses, and how viruses and infectious diseases affect human bodies.
The project, they said, has been years in the making. Years before at the urging of a teacher, they'd read Carol Rifka Brunt's Tell The Wolves I'm Home, a novel that focuses on the AIDS epidemic in the 1980s. It spurred years of research, from a study their sophomore year on how World Wars I and II helped foster LGBTQ+ community to their current project, on how to fight stigma even as HIV rates continue to rise among Black and Latinx men.
A member of E. O. Smith's vibrant Gay-Straight Alliance, they said they'd also learned about queer history through not just school, but UConn's annual True Colors Conference.
After outlining the project's parameters earlier this year, Baker did a Google search for local advocacy and health organizations with health- and prevention-focused missions. APNH was one of the first to pop up.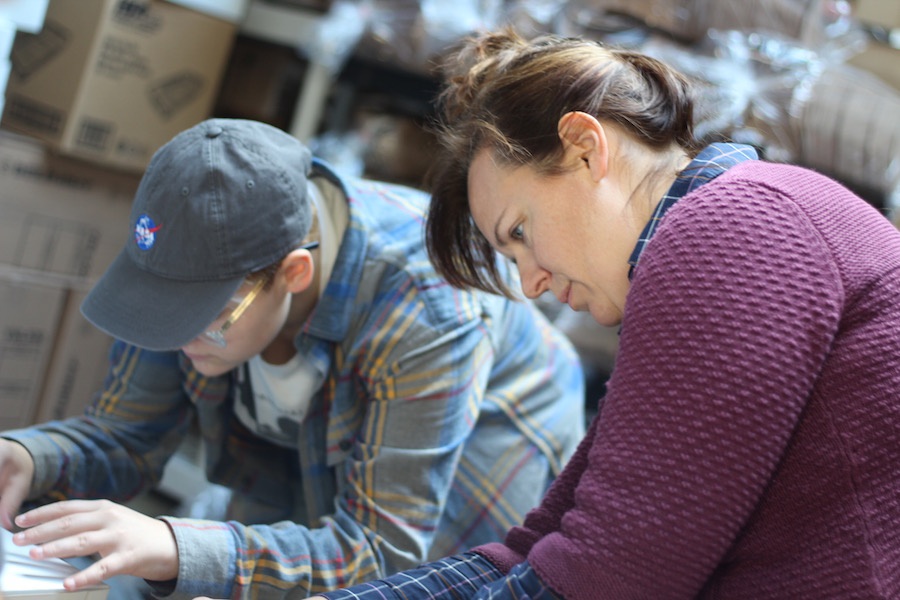 Julie Baker and Erin O'Neil-Baker.
O'Neil-Baker, who serves as an immigration attorney when she isn't packaging pies, came as Baker's chauffeur and stayed for the volunteering.
Seated nearby, an APNH client who asked to remain anonymous said that he was excited to help out for the day. Born and raised in New Haven, he grew up watching his mother and grandmother churn out dishes from the kitchen, from still-warm plates of macaroni and cheese to a glistening, steamy whole turkey with two kinds of stuffing. Decades ago, those women passed away, and he connected with friends and extended family for the holiday.
Then he got sick. After starting out at the now-defunct AIDS Interfaith Network on Chapel Street, he matriculated to APNH several years ago, working with the organization to find sustainable housing, pay his rent, and secure employment. He said that "I try to volunteer as much as I can, because it seems like they never have enough help."
"It gives you a certain community," he added. "It's just a place where you can survive."
To find out more about APNH or donate to any of its outreach programs, visit the organization's website.