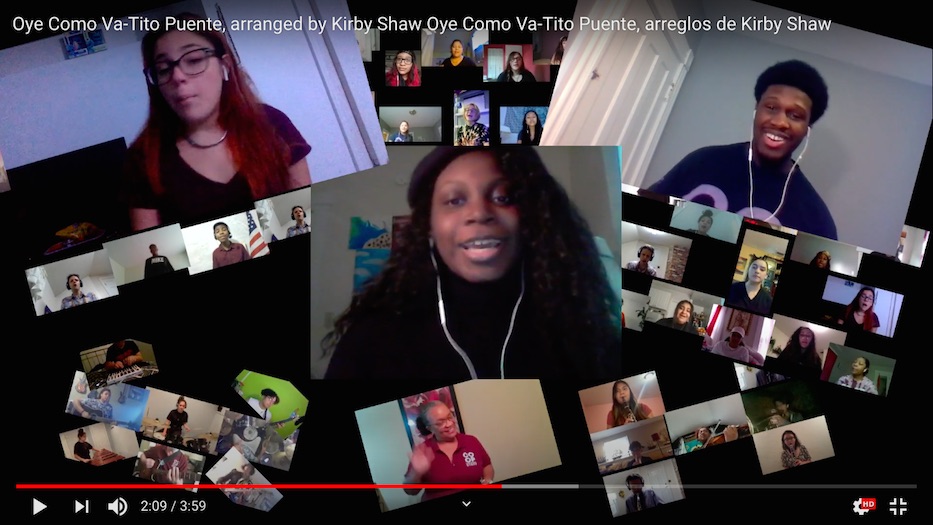 Co-Op High School | Downtown | Education & Youth | Music | Arts & Culture | COVID-19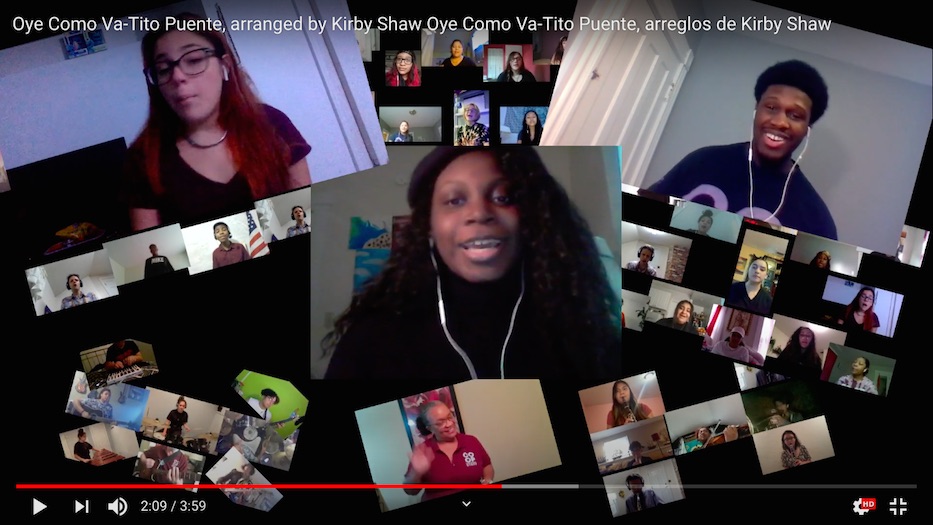 YouTube Screenshot.
At first, it's just a drummer on a bright background, the beat ringing a listener into being. The frame shifts: Grammy winner Marcos Sanchez is at his piano, fingers flying across the keys. It shifts again, and students begin to appear in boxes, moving with the music. Strings mingle with percussion. Vocalists cha-cha-cha in harmony. At the bottom of the frame, choir director Harriet Alfred bounces as she conducts.
The adaptation of Tito Puente's "Oye Como Va" is one of the ways students at Cooperative Arts & Humanities High School are using music to navigate the isolation of remote learning during COVID-19. Thursday morning, music instructor Patrick Smith debuted the video for Co-Op juniors and seniors, as a model for senior capstone projects and socially distanced ensemble performances. He added that it is a belated nod to Hispanic Heritage Month, which ended in October.
"We wanted to invite the juniors and seniors, because you are looking down the tunnel of capstone [projects]," he said Thursday. "We had wanted to do this together ... to be creative and expand their repertoire. My hope is that as the students see this ... we don't need to mourn the loss of school."
The finished video is a joy to watch. Initially, Smith is alone with his drums, a pair of huge black headphones fitted snugly around his ears. One by one, tiny rectangles fly into the frame, arranged side-by-side as if they are together in a choir. If a listener squints, they can see each individual student carrying their part of the song. By the two minute mark, a joyful cacophony fills the frame.
The surprises keep coming. Smith pulls up images of student soloists, who snap and shoulder shake to the music. Sanchez, who graduated from Co-Op in 2001, plays a jazz solo as dozens of voices become a hush, and then rise back to a roar. The sopranos come in and, for a moment, steal the show from everyone. Thursday, students and teachers filled the chat with applause as the credits rolled.
In part, "Oye Como Va" is a story of triumph, resilience and technological innovation in a school year turned on its head. Co-Op closed its doors on March 12, in what many students thought would be a temporary reprieve from school. By March 16, Smith and Alfred were meeting over Zoom to discuss how to keep students engaged during the pandemic, as schools faced the overlapping crises of COVID-19, access to technology, and online engagement.
During the spring, the two worked with area music educators and Yale Bands Director Thomas Duffy to produce a video for the Namibian hymn "Meguru," which features several students from Co-Op and Neighborhood Music School. Smith stayed in close contact with the Co-Op students that he'd looped into that performance. Over the summer, he taught himself to use video and audio editing software that would enable the same kind of projects at the school.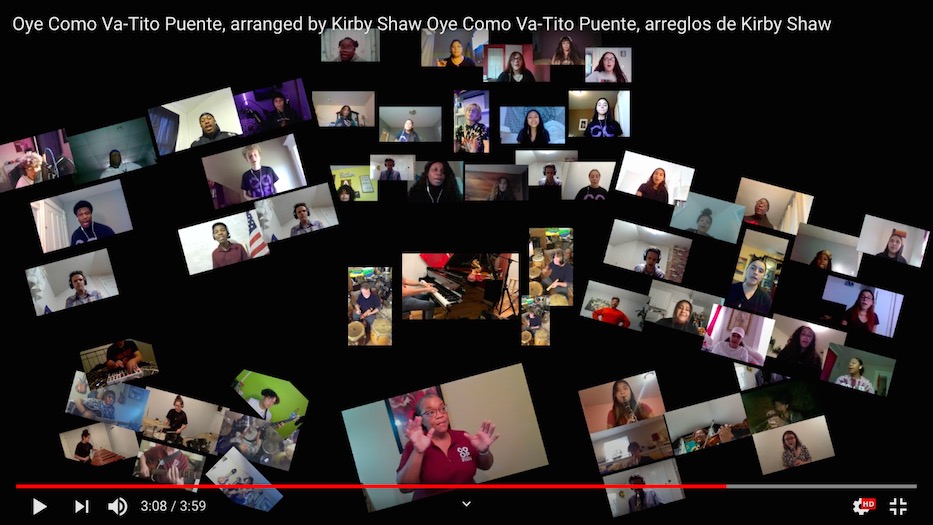 When school resumed online this fall, he and Alfred asked students to record themselves from home as part of their schoolwork. Without the possibility of in-person rehearsal, they laid down tracks and sent them out to students. The idea was simple: students could practice with the track in one ear, record themselves performing their part, and send the video back for the project.
That's where the video became a testimony—and perhaps an anecdote—to how taxing the year has been on both teachers and students. During both the spring and fall semesters, Co-Op worked to get laptop computers and WiFi hotspot devices into the hands of students that needed them. As of this month, however, some students still don't have computers at home. Many are doing schoolwork on their phones; others have reported that they can power up their laptops, but are unable to get online.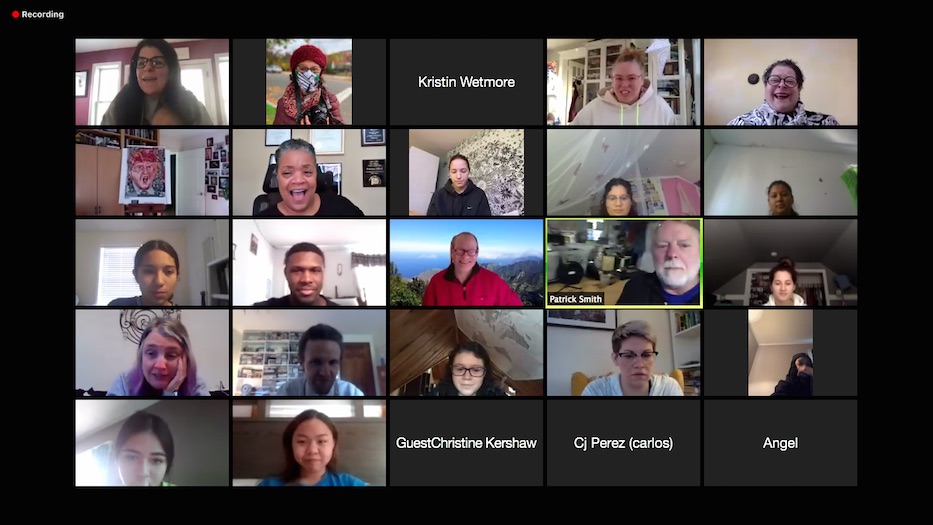 Even if they are able to get online, they don't always have access to the software they need to finish projects. While Co-Op makes Adobe Creative Suite available to all of its students, school-supplied laptops and email addresses won't allow download or use of the program. That means that to edit video, they have to install and use an app called Rush on their phones.
Co-Op Arts Director and Assistant Principal Amy Migliore said she is working closely with the district to troubleshoot the software, particularly as seniors near their capstone projects. Thursday, she encouraged students to stay positive as she works to get them the software they need.
"I think it's good that we showed you what we can do," she said. "And now it's just the how."
"This Is Not How I Pictured My Senior Year"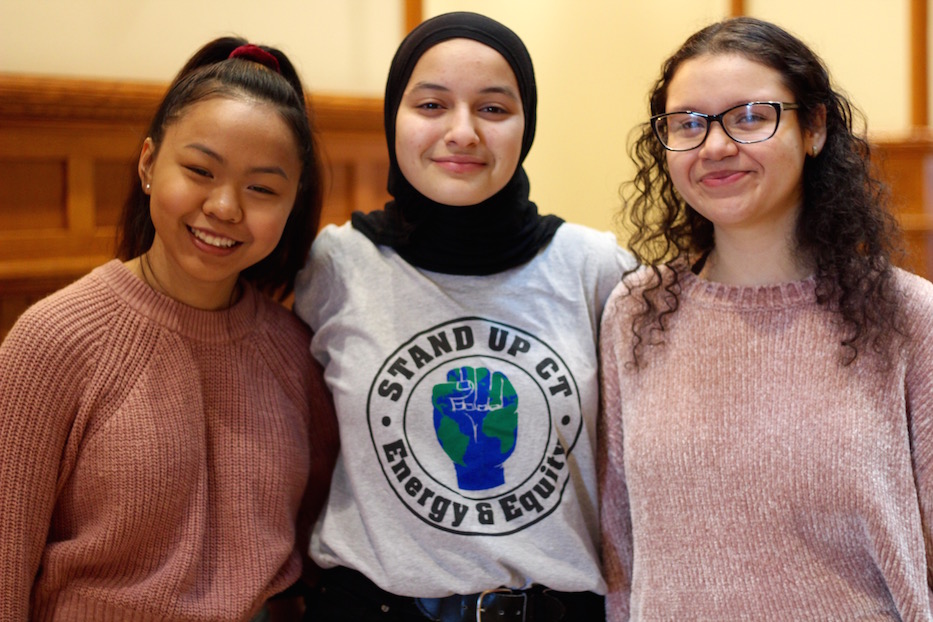 New Haven Climate Movement members Alissa Boutviseth, Alia Salem, and Kiana Flores at an event in February, before COVID-19 hit New Haven. Lucy Gellman File Photo.
For several students at Co-Op, the video is one more aspect of a year they couldn't have predicted. Each morning at 5:30 a.m., clarinetist Kiana Flores wakes up and starts getting ready for school, even though her classroom is now a learning station in her home. She eats breakfast, settles in, and turns her camera on. But it's not because she likes online learning—she needs that routine to stay motivated.
"It's been tough, especially as a senior trying to do college applications," she said in a phone call Thursday. "I try not to think of the negatives of remote learning and screen time. We are slowly adjusting and trying to find ways. My friends … we're really forced to rethink the way we interact."
Flores, who lives in Fair Haven and volunteers remotely with the New Haven Climate Movement, said it's not the senior year she imagined. Before COVID-19, she played clarinet for close to 90 minutes each day as a member of multiple ensembles. Since March, she's been practicing the instrument in remote band classes and online one-on-one lessons from a teacher at Neighborhood Music School.
"It's very different from actually playing in a classroom," she said. "When you're playing in a classroom, you have that sense of cover. Having to record with a track in your ear is different. it took a lot more to actually feel the music."
She said she's thought a lot about what it means to hone skills in solitude. Earlier this year, she was elected president of Co-Op's National Honor Society, a position that seemed more exciting when it was in-person. Each week, she stays on top of schoolwork by finding new recipes to make when she finishes assignments. When she plays music, she tries to concentrate on how much she's improving as an individual player instead of thinking about how much she misses her peers.
"I've been able to go deeply into the technicalities of playing," she said. "This time has been really good for artistic development. But I definitely miss being in that ensemble setting."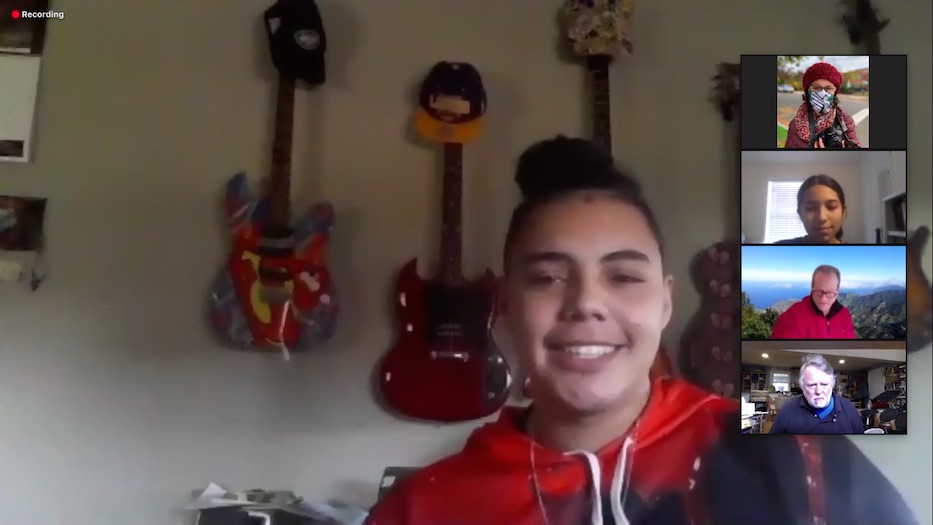 Musician Alex Dambruoso: "The second I give up, everything goes out the window."
Flores isn't alone. When musician Alex Dambruoso used to think about the fall of his senior year, he imagined joining Smith as a teacher's assistant in band classes and mastering his jazz technique on drums and guitar. For a brief moment in time, he was looking forward to being "kind of the top person in the school," and a section leader in band.
Instead, he's mastered the balance of online learning and a part-time job at Stop and Shop. When he leaves the classroom for work, he said, he faces a near-daily fear that he will bring the virus home from work to his mom and five younger siblings. Making music has kept him sane.
Last summer, Dambruoso worked to turn his room into a studio, with eight guitars on the wall and a full drum set to one side. When he returns home from work, he often practices by picking up his drumsticks and hammering out rhythms into his pillow so he doesn't bother other people in the house. His mom, an ESL teacher at John C. Daniels School, doesn't like the noise.
"My drums have a lot of dust on them, because at least someone is home all the time," he said in a phone call Thursday afternoon. "If I accidentally hit a cymbal, the whole house knows it.
The pandemic has made him inventive, he said. In the spring, he was one of the students Smith tapped for the performance of "Meguru." Over the summer, he sent the teacher videos shot at different angles, all of him playing instruments at home. In one, he taped his cell phone to the ceiling to record an overhead shot of his hands. His choice of song—Offspring's "The Kids Aren't Alright"—seemed prophetic for 2020.
When Smith told him about the "Oye Como Va" project this fall, he said he was excited to join. While recording—he played six different parts on guitar, bass, and drums—he recalled stopping and starting the video obsessively, worried that he'd done something wrong. He caught himself flinching, and started the track from the top. A bug flew past his face, and he reset the video. He finally pushed his way through.
"It definitely opened my mind to a lot of possibilities," he said. "This is not how I pictured my senior year, definitely. but it definitely opened my mind."
"Everyone just has to keep trying," he added. "It's not even about who can run the fastest anymore. It's about who is still running. You really have to do that now. Not giving up is really the key. Not giving up. The second I give up, everything goes out the window."
Arleth Gavilanez, a senior studying alto saxophone, said that the fall has also been a particularly hard one for her. Gavilanez moved to New Haven from Ecuador 10 years ago, and lives with her family in an apartment in the Hill. After schools closed in March, her neighbor complained about the noise her saxophone made. Then her landlord paid her family a visit and gave her mom a warning.
That was the beginning of silent saxophone practice. During the day, she tries to keep up with the instrument by doing the fingering without making any noise. She's also expected to stay on top of her classes, sit online for hours each day, and keep an eye on her 13-year-old sister, Samantha. When her brother returns from work, her homework time competes with the sound of the television. Most days, she doesn't leave the house.
"The hardest part has been losing a lot of things that come with senior year and having to go through it alone," she said. "You talk to friends, but it's not the same. You go through this motion of school, and then work, and that's it. As a senior, your art is like the biggest thing."
She finds solace in small, meaningful wins, she said. This fall, Gavilanez's second marking period felt easier than the first. Earlier this year, her older brother bought her a guitar because he saw how sad she was without her bellowing sax. Next month, her family plans to move to a new apartment and she will be able to play her saxophone out loud for the first time in almost ten months.
When Smith reached out earlier this year, Gavilanez told him that she wouldn't be able to play along with the group. She asked if she could contribute visual art instead.
In the video, a row of women freeze mid-movement, lifting their full skirts against a swirling rainbow background. She called it an homage to her own Latinx heritage, and to New Haven's kaleidoscopic Latinx community. She added that through the difficulties, she has remained grateful for her teachers.
"They're taking care of us, but no one is taking care of them," she said.
"We Are Still Movers And Shakers"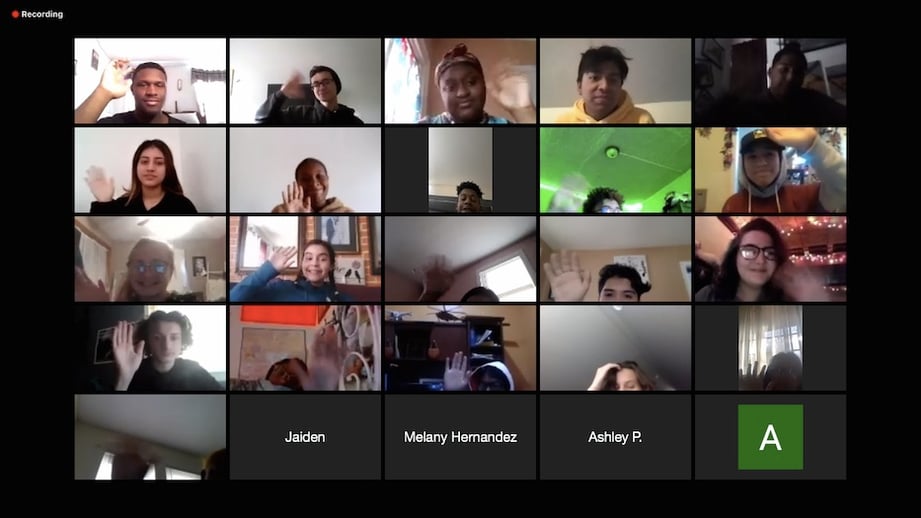 Students on Thursday's call. Screenshot from Zoom.
In the meantime, the video is giving both students and teachers a template for future projects as school remains online. Thursday, close to 150 teachers and students gathered in one-inch boxes, their bedrooms, kitchens and learning spaces expanding behind them. Several suggested that the video format might open up new opportunities for dance, poetry, creative writing and the performing arts in addition to music.
"This is just one way that we can put it out there and say, we are still here. we are still here, and we are still movers and shakers in the community," Alfred said.
Students also praised the project, many excited to see their peers performing for the first time in 10 months. Singer Vanessa Rivkin, who helped carry Puente's spirit right into 2020, noted that students "have to get over your insecurity" and remember that they are still part of an ensemble.
Senior Ajibola Tajudeen suggested that the video was proof Co-Op could handle a prerecorded school musical or dramatic performance. Last year, Tajudeen was poised to play Angel Dumott Schunard in the school's production of RENT when the play was cancelled. Naiyara Diaz, who was also part of the show, echoed the request.
"Aji, I am here for this!" wrote theater teacher Christi Sargent.
"Well look at God!" Tajudeen responded. "Amen."