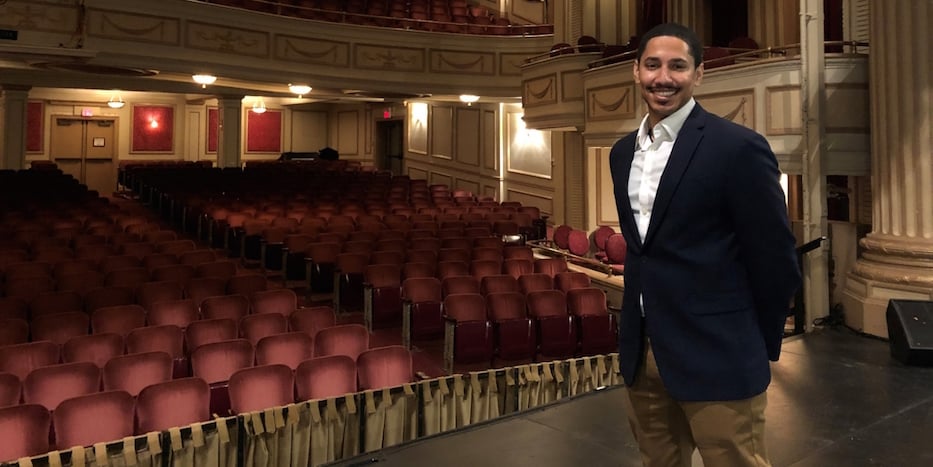 Downtown | Arts & Culture | Theater | COVID-19 | Shubert Theatre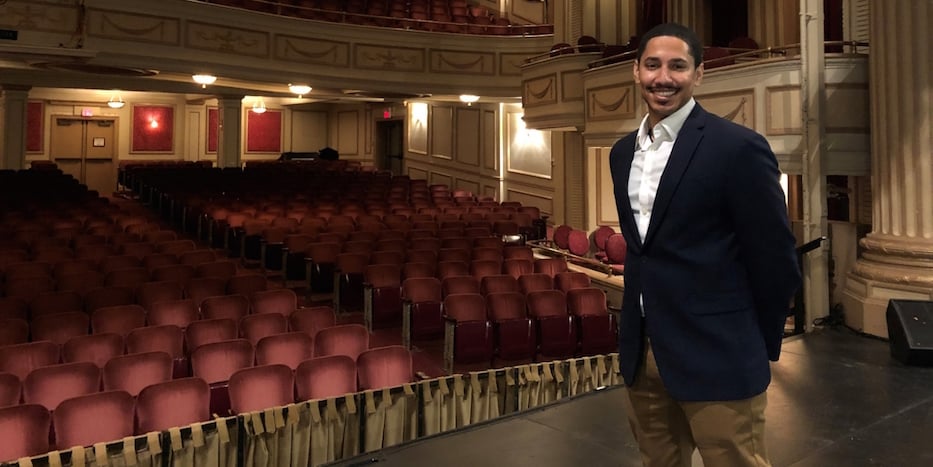 Photo Courtesy of the Shubert Theatre.
Anthony McDonald knows what it's like to be the only Black person onstage, backstage, in the audience, and in theater management. As he takes the helm at the Shubert Theatre, he's working to create an artistic hub downtown that looks more like New Haven.
McDonald outlined that vision in a phone call Thursday, as the 32 year old steps into the role of the Shubert's next executive director. His appointment, which the theater formally announced on Tuesday morning, comes a full year into twin pandemics of Covid-19 and deep-rooted structural racism.
Both have ravaged the performing arts sector and pushed arts organizations to face longstanding and entrenched white supremacy in their practices. He takes over for John Fisher, who has led the theater since 1997.
"I think this past year has opened up a lot of people's eyes," he said. "People are starting to realize that talent isn't exclusive to white people. Talent is not exclusive to any one race. And when you allow yourself to open yourself to these possibilities, I think something magical can happen."
McDonald's vision for a more inclusive Shubert Theatre comes from his own background as a lifelong drama geek. Born and raised in Roselle, New Jersey, McDonald grew up with New York City's Broadway stages in his backyard. In sixth grade, he caught the theater bug while watching a live performance of The Phantom of the Opera, now the longest-running show in Broadway history, with his parents. Watching their son delight in the play, "they had the wherewithal" to send him to drama camp, and then to a performing arts high school in a neighboring town called Kenilworth.
He immersed himself in the dramatic arts, as well as six years of training in the French horn. What brought McDonald back to the theater every time was a sense of magic, and a knowledge that he played some part in making it happen. After high school, he studied theater and arts administration at Howard University, and then pursued graduate work in theater management at Columbia University. In New York, he wrote his MFA thesis on the need to increase early access and exposure to the arts among kids of color, who are less likely to have the same opportunities as their white peers.
That mission stayed with him as he became a house and general manager on Broadway, including for the consulting group Show Shephard and The Nederlander Organization. He was working as a house manager on The Lion King when Covid-19 hit New York, and shut theaters down exactly one year ago this week. Even during the pandemic, he said, he's held onto the knowledge that theater can be transformative for young people—and for the adults who see it alongside them.
"The whole world came to see Lion King," he said. "And there is something that happens when you see these kids watch 'Circle of Life' for the first time—kids and adults too. It's more of those moments that I want to bring young kids. We can inspire them in some way. And if we do our job right, they can discover the plethora of opportunities in theater. We need to continue to cultivate that ... so that we have the future patrons of theater, but also the future thespians and workers of theater."
In New Haven, he plans to diversify programming at the theater as Connecticut navigates reopening its economy and getting residents vaccinated. He sees a pivot away from touring Broadway performances to smaller acts, concerts, and musicals that may resonate with more diverse audiences from the region, and from the city itself. He was quick to say that he is not opposed to Broadway—to the contrary, it has been his life—but wants to widen the net.
For instance, there's no reason the Shubert shouldn't program Jill Scott one night, Barry Manilow the next, and a musical in Spanish the following week, he said. When he visited for a final interview three weeks ago, he tried to square how vibrant and young downtown New Haven was—even in the midst of a pandemic—and how few of the people he saw had likely ever stepped foot in the Shubert.
"I saw so many young people all around the area, and I wondered in my own head, 'How is that one of the smallest demographics that supports us right now, and yet they're all here?'" he said. "My vision board has everything, from comedy to jazz, to concerts. Something else that's going to be completely different than what it was the week prior."
"If we don't do that now, ten years from now, we may not be here," he added.
As director, he hopes to see people not just from all of New Haven's neighborhoods—although he called that a starting point—but also from Hartford, Bridgeport, Waterbury and Stamford who are willing and eager to commute to New Haven for entertainment. He said he is hoping to build out regional partnerships, some of which tap into the Shubert's very early history as a hub for new work that later lived on Broadway.
Part of that process starts within the theater itself, he added. Currently, the Shubert's staff and board remain disproportionately white, a trend that is mirrored in many of New Haven's fine and performing arts organizations. McDonald sees himself working with a team that both reflects and celebrates the diverse, polyphonic canvas that is New Haven. The city is roughly one-third Latinx, one-third Black, and one-third white.
"My plan going forward is to try to have a staff that more closely aligns with the demographic and breakdown of the city that we're in," he said. "If I want to reach out to my entire community—Black, Latino, Asian, Native American, the category that is always labeled 'other' … if I want to reach those people, I need to have all of those people on my staff."
He is also excited about strengthening the Shubert's existing educational partnerships, and growing them out to encompass much more of the city. Currently, the Shubert has a strong relationship with Cooperative Arts & Humanities High School, which sits just down the block from the theater on College Street. It also runs story time with the Stetson Branch of the New Haven Free Public Library and its "Shubert Sophomores" program, through which New Haven sophomores can score discounted tickets.
Using those as a launchpad, he hopes to expand the theater's impact to reach more of the city's young people, with programming that more frequently reflects their lived experience. He said he also sees theater—especially after this year—as very much alive and evolving. As a longtime house manager, he's witnessed the delicate, sometimes messy tug-of-war that can happen between younger and older audience members, who may react to theater in fundamentally different ways. He's already thinking about what it looks like to hold one show exclusively for students, similar to the Yale Repertory Theatre's former Will Power! program.
"I want people to feel okay expressing themselves," he said. "And no, there shouldn't necessarily be a standard of sorts in terms of what's acceptable and not. I can relate to the person who is like, 'I paid to see this show, not to see you.' Is there a way where we can buy out a whole show, and the idea that someone is more responsive is a good thing?"
He added that he's hoping to reopen the Shubert's doors in the fall, but feels "very much at the mercy" of the state and local governments. Currently, he's already in talks with staff about how to take every precaution necessary for the health and safety of patrons, box office managers, cast members, stagehands working the show and everyone in between. In the meantime, the Shubert is continuing to provide online programming, including virtual student camps and shows that patrons can experience from their homes.
"Everything we can do is prepare," he said. "And every day, everything has to be written in soft pencil."
Find out more about McDonald's appointment at the Shubert Theatre here.